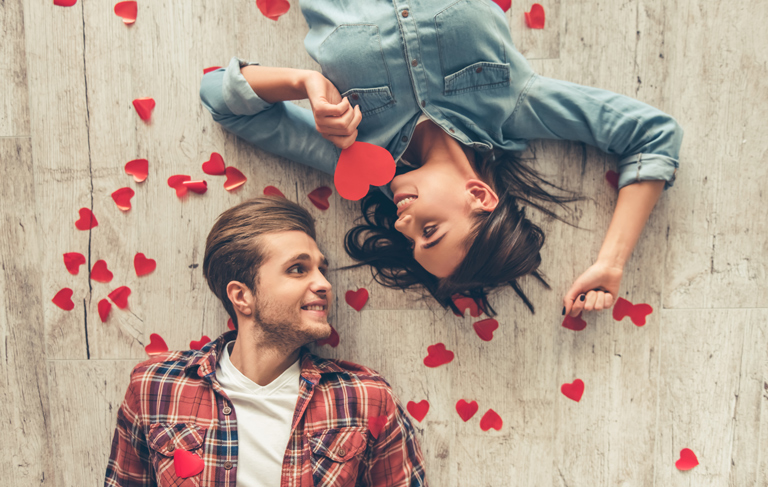 Valentine's Day is often focused on finding romantic gifts for women, which can make it hard to find great gift ideas for men who equally deserve to be showered with love on this special day. If you're running short on ideas, this list of 20 Valentine's Day gifts for your boyfriend will make choosing a gift he'll love a fun and easy task.
There's something on this list for every type of man. Everything from jewelry, clothes, tools and decor is covered right here. This Valentine's Day you're going to give him a gift that he'll love almost as much as he loves you.
1.
Luxury Toiletry Bag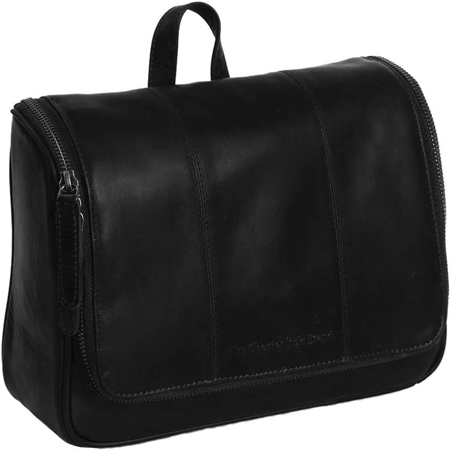 Give your boyfriend a Valentine's Day present that will help him get organized and clear the clutter from his bathroom counter. This high-end toiletry bag is the perfect gift for any man that appreciates luxury, even in the smallest details of his life.
It's made of incredibly soft, top-grain leather that will look better with every year he uses it. It's the last toiletry bag he'll ever have. This gift would be great if your boyfriend travels or likes to take his man-care things to the gym with him.
2.
Complete Body Wash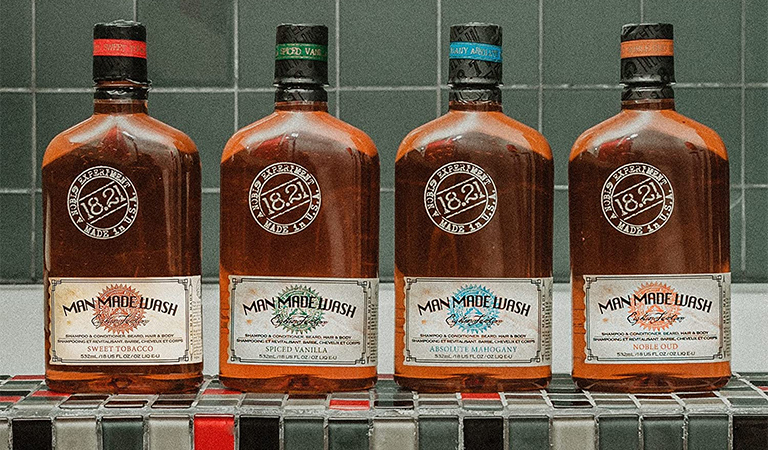 If your boyfriend is tired of smelling like flowers and perfume because he's using your body wash, this is the Valentine's Day gift he's going to want. The manly and sophisticated scent of sweet tobacco will leave him smelling amazing after every shower. It's not just a body wash though. It's an all-in-one cleanser he can use on his body, hair and beard.
It contains jojoba and macadamia oil that will provide deep hydration as he suds up. Feeling clean and smelling scrumptious aside, can we just talk about how cute that bottle is? It looks like an old-fashioned liquor bottle. He's going to love having this on display in his shower.
3.
Stylish Flannel Shirt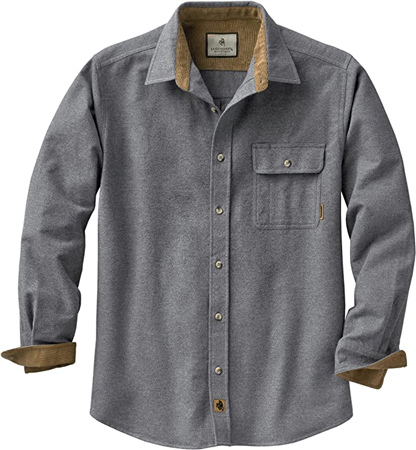 Your boyfriend is going to need something stylish but comfortable to wear for your romantic Valentine's Day dinner together and this gift is going to solve that problem. This flannel shirt is made of pure cotton and features a relaxed fit so it won't cling to him in places it shouldn't. The cuffs and collar are lined with contrasting corduroy which gives it a boost of style while still keeping it casual enough for everyday wear.
It's available in various colors but you won't go wrong with the classic grey. Your boyfriend will look great wearing it. More importantly, he's going to feel great wearing it.
4.
Soft Boxer Briefs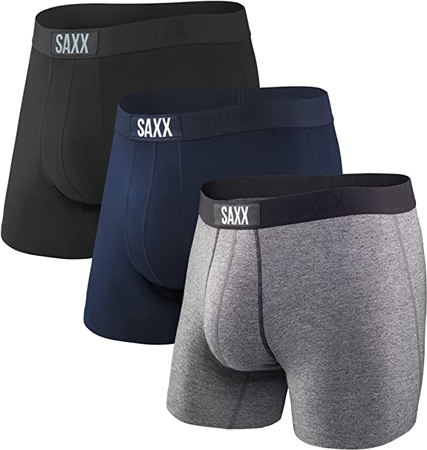 Here's a Valentine's Day gift that every part of your boyfriend is going to love. These boxer briefs by Saxx are made with a special panel that is designed to offer extra comfort and support where he needs it. The panel is super soft and also odor resistant.
The set of three comes with a black, navy and grey pair. Tell your boyfriend to ditch his worn-out and ill-fitting boxers and replace them with these. They're going to be his new favorite underwear.
5.
Designer Sporty Sunglasses

This Valentine's Day gift is going to have your boyfriend looking like he just stepped out of the pages of GQ magazine. These sunglasses by Oakley are the ultimate stylish accessory. The sporty black plastic frames are contrasted by ruby-colored lenses.
The polarized lenses provide complete UV protection that not only protects his eyes but also makes it easier to drive in bright sunlight. Whether your boyfriend is heading to the office or hitting the ski slopes, this gift is going to have him doing it in total style. He won't ever want to take them off.
6.
Luxury Money Clip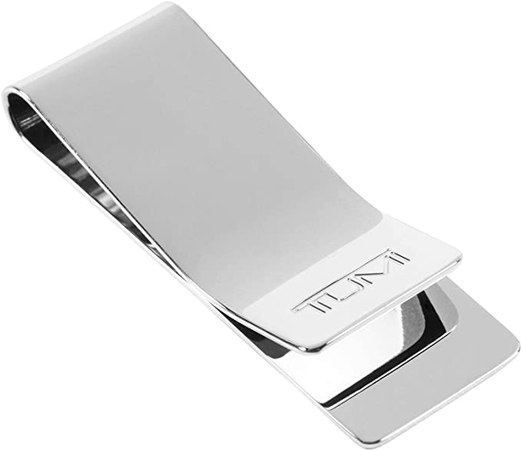 Take your boyfriend's style up a notch with this chic Valentine's Day gift. This money clip with RFID ID Lock is designed by Tumi, a coveted name in men's fashion and travel accessories. It's made of silver metal with a chrome-like shine.
The front is etched with a detailed pattern that not only looks great but also makes it easy to grip. The backside is plain, providing you with the perfect place to have a special personalized message engraved. This is the kind of keepsake gift that he'll have with him for the rest of his life.
7.
Brushed Steel Bracelet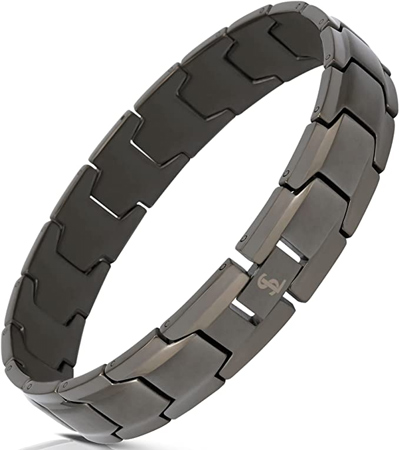 If your boyfriend likes to wear stylish jewelry that looks modern and masculine, this Valentine's Day gift is going to be a winner. This bracelet is made of hypoallergenic stainless steel that won't corrode, rust, or chip. It's available in four different colors, including a very on-trend brushed gunmetal.
He'll be able to easily adjust it to his perfect fit with the included link kit. It comes ready to gift in an elegant presentation box. Just put a bow on it and call your Valentine's Day shopping done. He won't be disappointed when he opens this gift from you.
8.
Bold Wrist Watch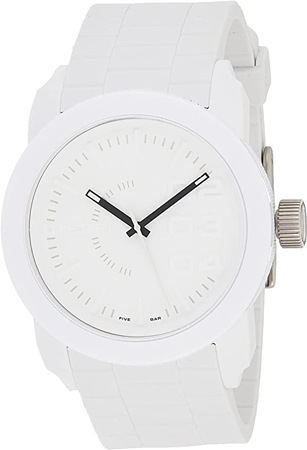 This amazing chronograph watch by Diesel is going to be the gift your boyfriend wants this Valentine's Day. If he's big on fashion that grabs attention, this gift is made for him. Instead of classic stainless steel, this watch is made of bright white silicone. If that doesn't catch everyone's attention, the 52mm white face will.
It's huge, both in size and in style. It's also water resistant so he can leave it on when he's showering. This unique watch is going to be a welcomed addition to his watch collection. It'll probably be the only one he ever wears.
9.
Watch Display Case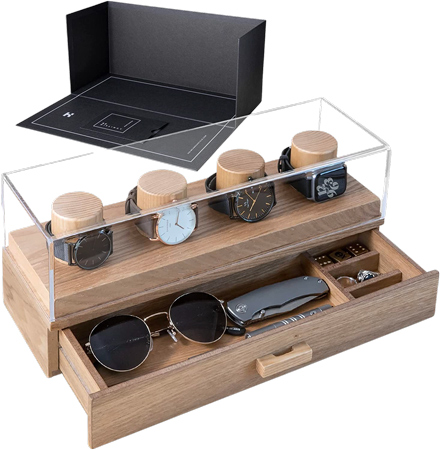 Give your boyfriend a better way for him to admire all of his wrist bling with this Valentine's Day gift. If he's into collecting watches, he'll love being able to display them in a way that will also protect them from dust and damage. This case is the perfect way to do that.
The base of the case is made of solid wood while the hinged lid is made of clear acrylic. The base also features a pull-out drawer for cufflinks, watch straps or other small pieces of jewelry. No doubt your boyfriend is going to love having this on his dresser so he can admire his collection whenever he wants.
10.
Humidor Cigar Case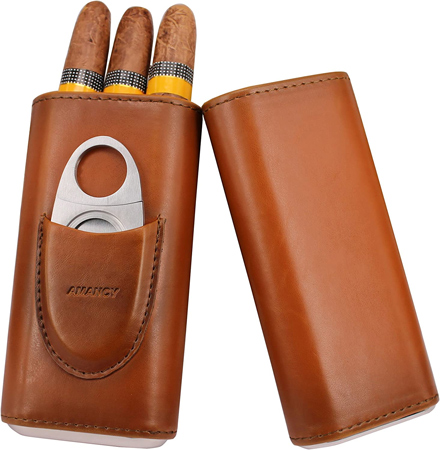 Does your boyfriend enjoy the occasional celebratory cigar? If so, this Valentine's Day gift is one he'll be happy to have. This cigar case will not only give him a stylish way to carry three of his favorite cigars, it will also keep them from going stale. The inside is lined with cedar wood while the outside is covered in brown vegan leather.
The outside also features a clever pocket that snuggly holds the included cigar cutter. It's the perfect size to slip into a coat pocket so he'll be prepared with a fresh cigar next time there's something to celebrate.
11.
Heart Whiskey Stones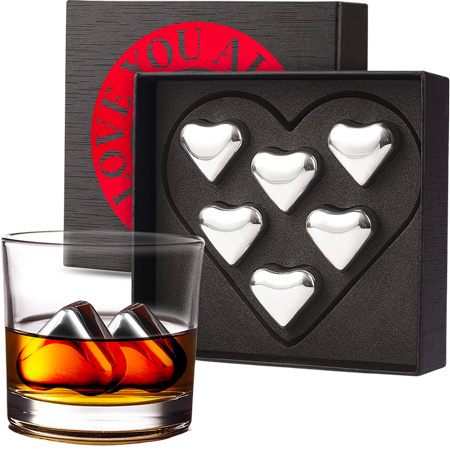 This gift is on theme for Valentine's Day and one you'll be able to enjoy together with a perfectly chilled drink. These whiskey stones, shaped like hearts, are made of food-grade stainless steel. The set comes with six stones that can be placed in the freezer and used instead of ice.
Putting regular ice in expensive drinks like whiskey or scotch is a huge blunder. Nobody likes a watered-down drink. Pop a few hearts in his whiskey glass this Valentine's Day and make a toast to being the power couple you are.
12.
Man Cave Coasters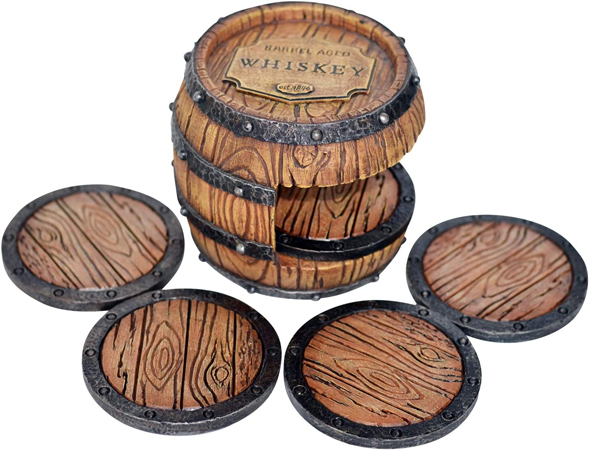 If your boyfriend has a man cave or bar area that he likes to decorate, these coasters would make a fun addition to his decor. The coaster set comes with five round coasters that store in a holder that looks like an aged whiskey barrel. The set is made of cork but finished in a way that looks like real wood.
Each coaster has nonslip and anti-scratch feet on the bottom so he won't have to worry about damaging his bar top. This useful Valentine's Day gift turns something as ordinary as coasters into something even his guy friends will think is cool when they come over for poker night.
13.
Beer Mug Set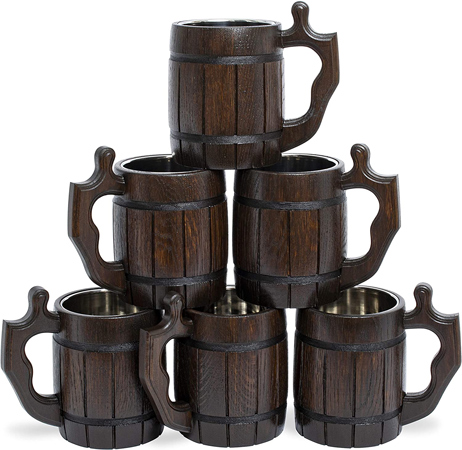 This Valentine's Day gift is going to have him blown away with how cool it is. If your boyfriend likes beer, this set of massive beer steins is what his BBQs and house parties have been missing. Drinking out of these will make him feel like he should be wearing lederhosen and dancing on tables at the beer fest in Germany.
The set comes with six matching mugs that are made of real wood on the outside but double-insulated stainless steel on the inside. They'll look amazing while keeping his beer ice cold. This gift will inspire him to start planning his next party so he can show them off to all his friends.
14.
Magnetic Screwdriver Set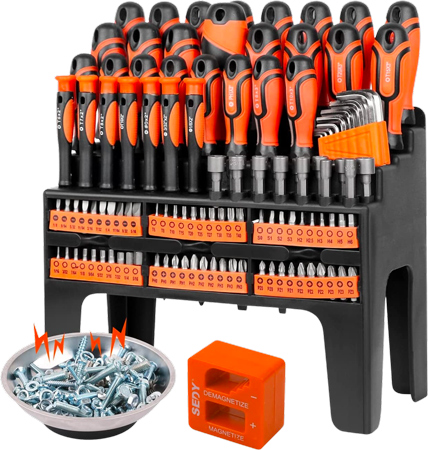 Here's a Valentine's Day gift idea that is going to have your handyman boyfriend ready to get to work on his next DIY project. This tool set comes with every type of screwdriver he could ever need. It includes 124 magnetic screwdrivers and a complete set of hex wrenches.
The set is organized in a plastic rack that can be stored on his workbench. Whether he's building a table, hanging a picture or working on tiny electronics, this set has the right-sized tools to get the job done.
15.
Tool Display Organizer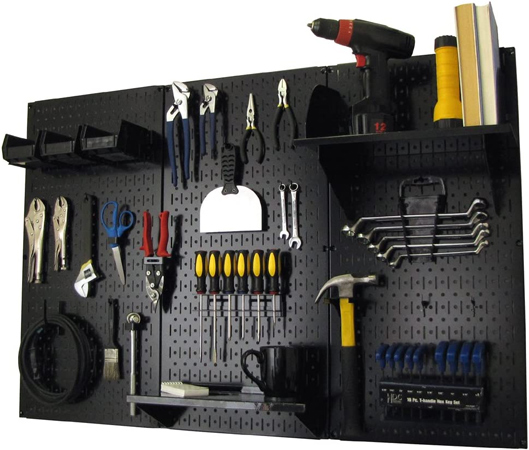 Help your boyfriend get organized with this Valentine's Day gift. Tools are expensive and throwing them in a toolbox or drawer can cause damage to blades or edges that need to stay sharp. This wall-mounted tool display will get everything organized and keep it within easy reach. No more digging for tools at the back of his tool chest.
It's made of metal and designed like a pegboard so he can configure shelves or hanging hooks however he wants. Your boyfriend is going to appreciate how great this looks hanging in his work shed or garage.
16.
Shiatsu Chair Massager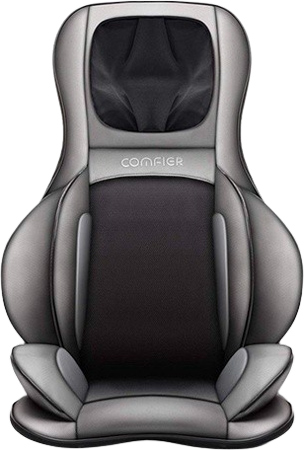 This Valentine's Gift is going to be a real treat for your boyfriend. Instead of giving him a massage, give him this chair massager so he can have one whenever he wants it. Unlike massage guns that only work on one area at a time, this luxury gift will simultaneously massage his back, neck, shoulders, thighs and buttocks.
It features rotation nodes that knead tired and sore muscles in an inward and outward motion, just like a real shiatsu massage. It even has a heat mode that can be turned on and off. If your boyfriend has to sit at a desk all day at work, this gift is going to make it a lot more comfortable.
17.
Leather Laptop Bag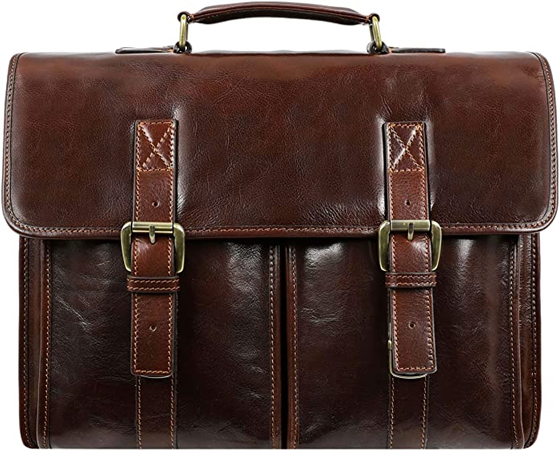 Looking for something to splurge on that shows your boyfriend you love him and appreciate his timeless sense of style? This Valentine's Day gift is what you should get him. This laptop bag is handmade in Italy using only the highest quality top-grain leather. Even tanning the leather to this beautiful shade of brown is done by hand.
Inside has a ton of space for all his files and tech gear and also has a padded laptop sleeve that will hold his full-sized laptop. This bag is going to turn heads the next time he walks into the office.
18.
Floating Lightbulb Lamp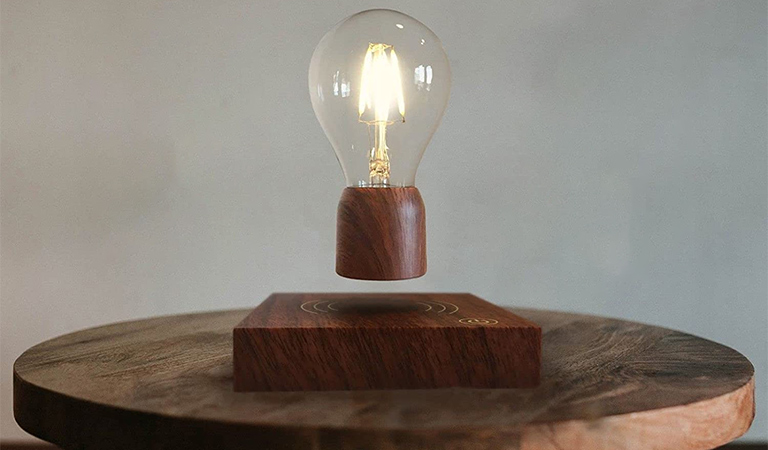 If you're looking for a unique piece of decor that you can give your boyfriend this Valentine's Day, this gift idea won't disappoint. This nightstand or desk lamp is made using magnets in the base of the lamp and inside the lightbulb. The magnets repel each other making the light bulb float off of the base.
The light, which turns on via touch, is powered through the magic of induction. Ok, sure, it's more science than magic but it looks really cool and would be the perfect addition to your boyfriend's bedroom or office.
19.
Smart Golf Simulator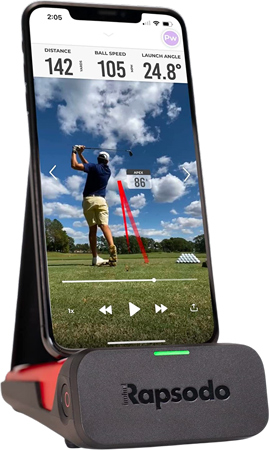 If your boyfriend is into golf, this gift idea is going to have him singing your praises. All his buddies will be impressed with how great his golf swing has gotten because of this high-tech golf swing monitor. It connects to his phone or tablet and keeps a record of his swing statistics.
It was named the best launch monitor by Golf Digest and featured in My Golf Spy as the most reliable monitor for improving swing skills. This is one gift that definitely won't be a swing and a miss.
20.
Portable Ping-Pong Table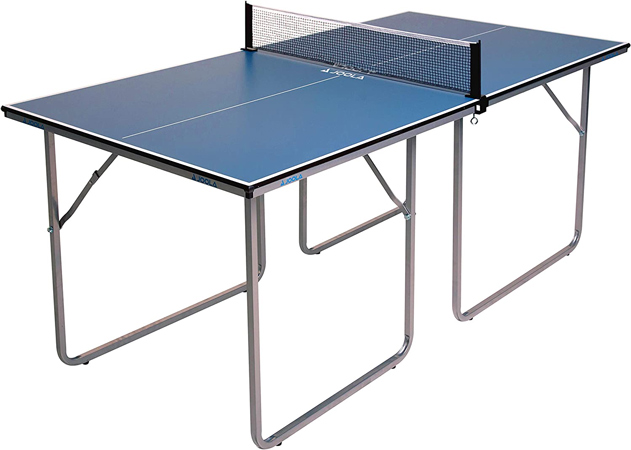 This gift will definitely add some excitement to your boyfriend's Valentine's Day. If you're the kind of couple that would rather celebrate the day by spending time at home, this ping-pong table will give you something even more fun to do together than lazing on the couch.
This compact table folds down small enough to fit in a closet or slide under the bed but opens up to a table large enough to enjoy some friendly competition. Grab a bottle of wine, a ball and some paddles and make some fun V-Day memories way better than an overpriced meal.
Need more inspiration?