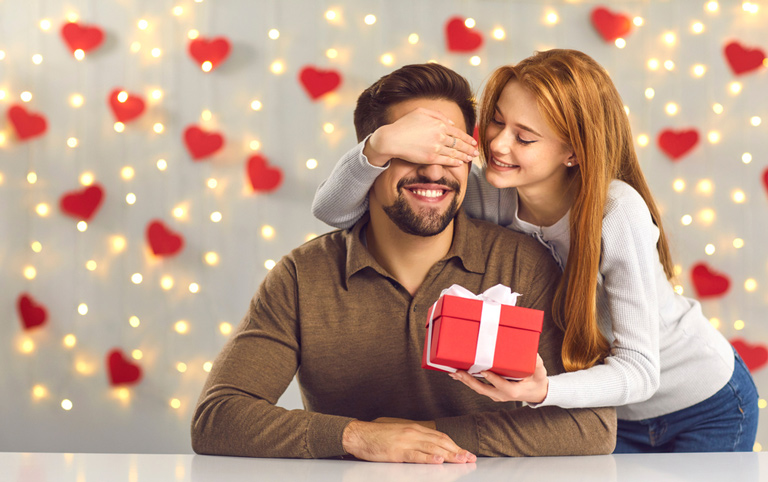 Give your significant other something for his anniversary that truly does justice to the amazing time you've both shared together. Shopping for anniversary gifts that show him how much you care about him doesn't have to be a difficult or stressful project. It's as easy as browsing this list of 26 anniversary gifts for men and choosing the one you know will make him happy.
Whether he's a fishing enthusiast, golfer, whiskey connoisseur, or just loves to collect gear for his man cave, this is the ultimate list of man-approved anniversary gifts that he'll actually be excited to get from you. Celebrate your history together and show him how well you know him with these thoughtful gifts. Happy anniversary!
1.
Vegan Leather Hip Flask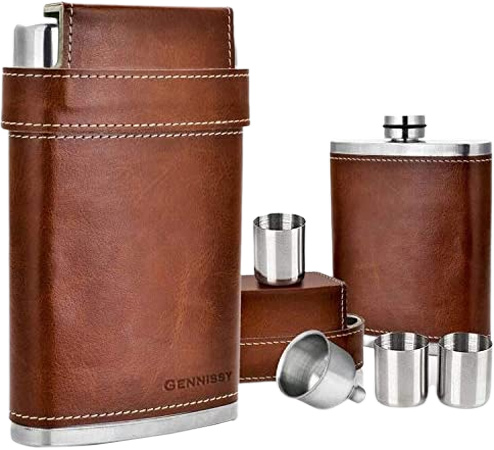 If you're looking for a classy anniversary gift for the man in your life, this stainless steel and vegan leather hip flask would be perfect. The eight-ounce flask can be easily filled with the beverage of his choice with the included wide-mouth funnel. The slimline design allows it to easily slip into a pocket or be tucked away into a golf bag for a sophisticated way to always bring the party wherever he goes. It comes in four elegant colors, including black, navy, saddle brown, and a fun green.
2.
Whiskey Infusion Kit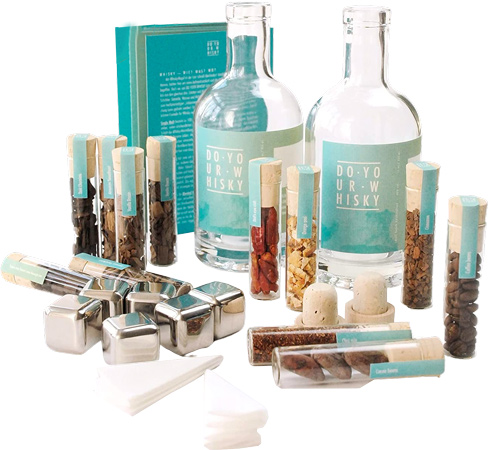 Give the man in your life a special cocktail he can concoct himself with this whiskey infusion set. This set of twelve wood chip and botanical blends allows him to infuse his own combination of flavors for a beverage that is unique to him. It can be used in whisky, gin, vodka or whatever liquor he prefers to drink. The kit even comes with two prep bottles, six stainless steel whiskey stones and customizable labels, so all he needs to do is add his own alcohol.
3.
Crystal Whiskey Glasses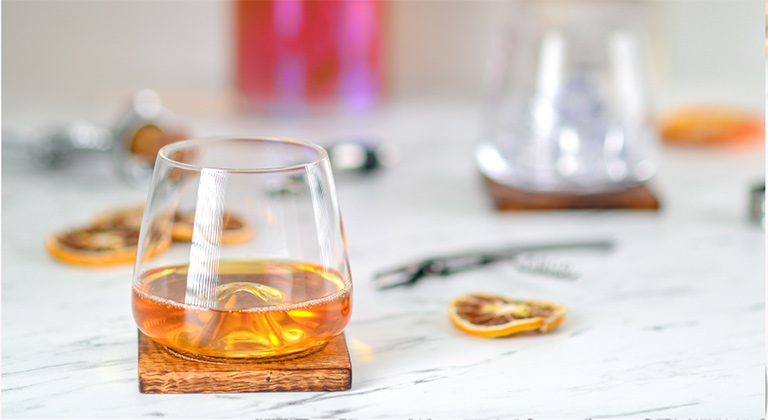 These unique crystal whiskey glasses would be a special keepsake anniversary gift that he can appreciate every time he enjoys his nightcap. The fourteen-ounce glasses come in a set of two and are made of 100% high-quality, lead-free crystal. The unique design with an indented base is made for easy swirling to allow the drink to aerate, which opens up the flavors and provides an elevated drinking experience. These sleek glasses will look elegant left out on a bar cart or displayed in a liquor cabinet. Cheers to all your great years together.
4.
Cigar Case Humidor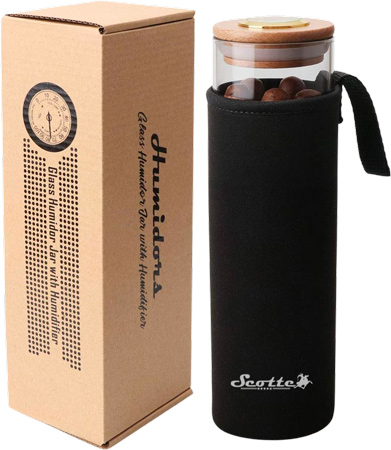 Does the man you're shopping for enjoy the occasional cigar with his whiskey? Then this anniversary gift idea is one that he'll love. This traveling humidor is made to keep up to five of his favorite cigars fresh while on the go. Whether that's a business trip or a round of golf, his cigars will always stay by his side and taste the way they should. The humidor is made of high-quality borosilicate glass that is sealed with a wood lid with built-in hygrometer. For safety and easy transport, the humidor snuggly fits into the included neoprene sleeve. If your man is a cigar lover he needs this gift in his life.
5.
Carbonated Beer Growler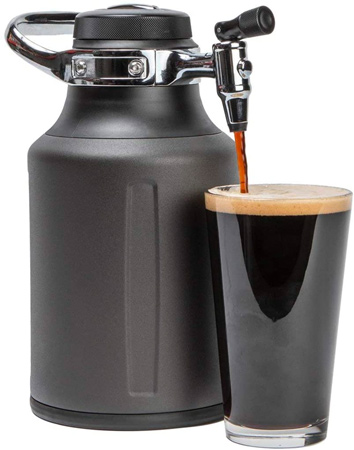 This fun anniversary gift will get lots of use at his next camping trip, fishing trip, or backyard BBQ. This mini keg will keep his beers or beverages carbonated for weeks! The large capacity means there's enough room to bring up to a twelve-pack of beer and the double-wall stainless steel vacuum insulation will keep it cold for days. If the man you're shopping for loves to be outdoors while still enjoying a cold beer, this gift is exactly what you've been looking for.
6.
Leather Journal Set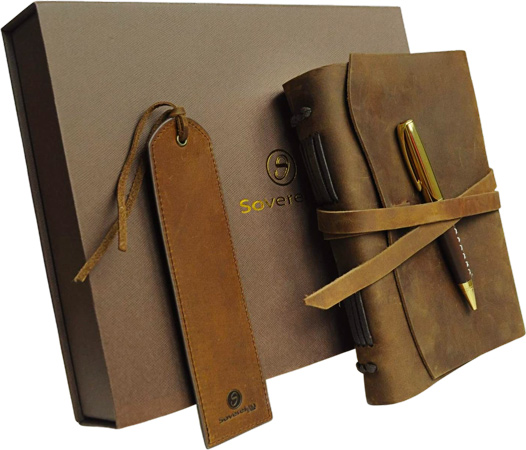 Give your love this unique leather journal set so he always has somewhere special to collect his thoughts. The set comes with an unlined journal made of buttery soft buffalo leather, a leather bookmark and an elegant gold pen to jot down whatever he sees worthy enough of penning into this beautiful journal. The asymmetrical flap closure and leather wrap cord give this journal a vintage look and the convenient size makes it easy to throw in his bag or leave on a nightstand as a piece of masculine decor.
7.
Sophisticated Designer Cologne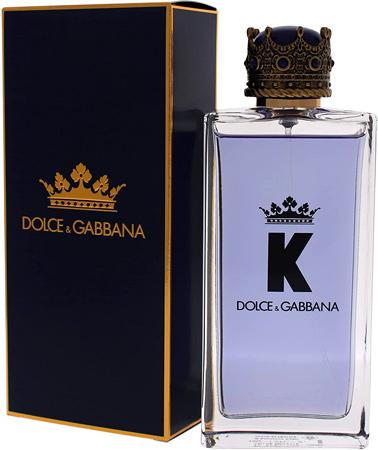 Give your significant other a gift that you can both enjoy with this designer cologne by Dolce & Gabbana. This sexy smelling cologne has a woody base with top notes of blood orange, lavender and geranium. It's a sophisticated and long-lasting scent that's suitable for all-day wear. He'll appreciate the gift; you'll appreciate how amazing he smells.
8.
Fashion Forward Cardigan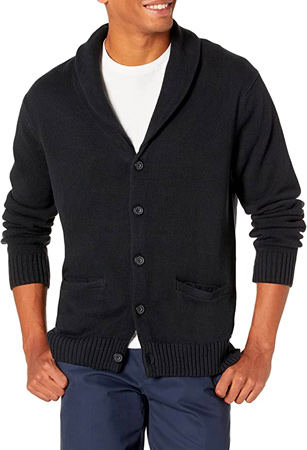 Keep your man looking on-trend but still warm and comfortable in this stylish cardigan. The cardigan comes in 13 different fashionable colors, all made of pure cotton that is soft on the skin. It's also machine washable for easy care. This sophisticated cardigan would look great with a pair of jeans as well as dressed up with some slacks for the office. This is a gift that will see a lot of use and make him feel like the high-class man that he is.
9.
Reversible Leather Belt
Give your better half two anniversary gifts in one with this reversible leather belt. The belt is made out of high-quality vegan leather with two different color sides. One side is black, the other brown. The clever swivel buckle allows the belt to be flipped so he'll never mismatch his shoes and belt again. It's the perfect belt for the minimalist man or the man who travels a lot and likes to pack light.
10.
Tie Gift Box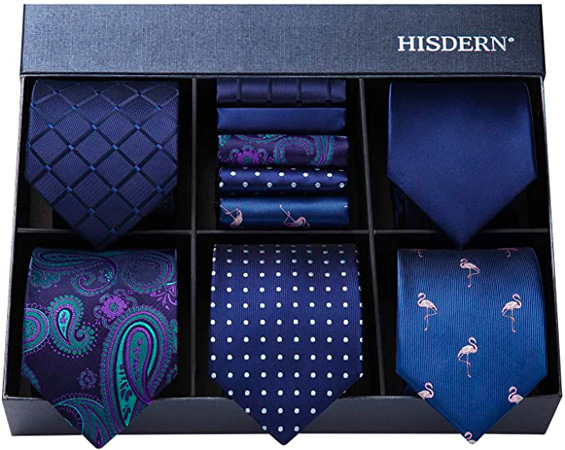 Give your man an anniversary gift that will make him feel like a million bucks. This classy tie set comes with five elegant ties with matching pocket squares. The designs range from classic to quirky so your man can show off his personality in style. The silky microfiber material makes them stain-resistant and extra durable. It's the look of silk without all the hassle. Next time he's heading out to the office or for a romantic meal with you, he's going to look good in one of these stylish ties.
11.
Luxury Crystal Watch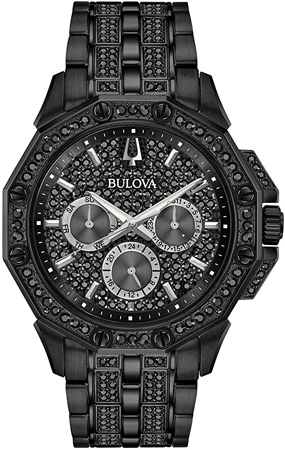 Give him an anniversary gift that will leave him lost for words. If your man loves the finer things in life, it doesn't get more over-the-top luxury than this crystal watch by Bulova. The stunning black steel case and watch face are covered with three hundred black crystals. This eye-catching watch exudes extravagance and will look amazing dressed up or dressed down for everyday wear. It's also water-resistant up to thirty meters so it's as rugged as it is beautiful.
12.
Leather Laptop Sleeve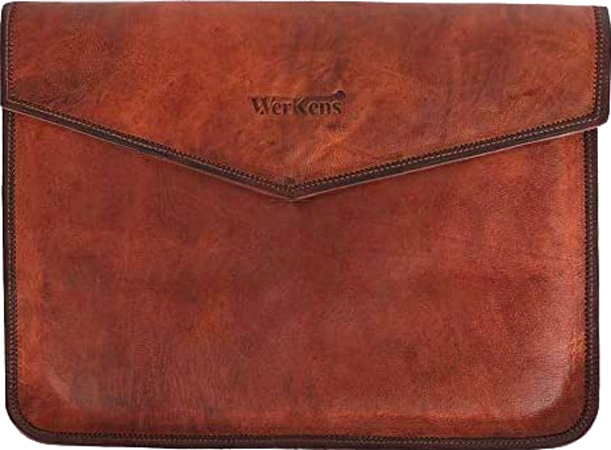 This handmade leather laptop sleeve would make a great anniversary gift that he can use every day. The 14-inch sleeve can hold a small laptop or full-size tablet with room left over for documents. It can easily slide into his briefcase or backpack but also offers enough protection to carry it on its own if he wants to be minimal for the day. The beautiful classic brown leather will look even better with use and age. It's a useful gift that will last for many years to come.
13.
Pebbled Leather Briefcase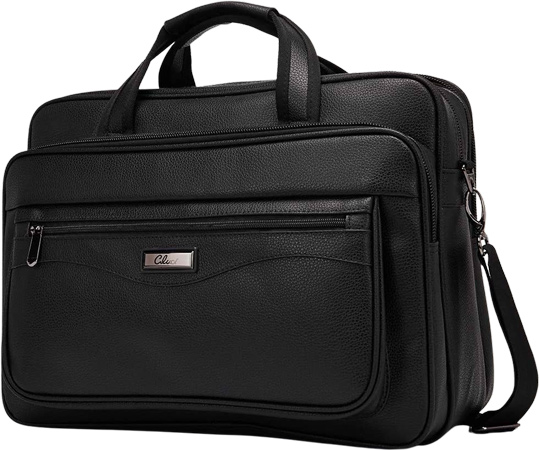 If your man likes to carry everything he could possibly need with him when he leaves the house, this large capacity briefcase is a thoughtful anniversary gift that he'll be happy to receive. The briefcase is made of a beautiful pebble textured vegan leather that makes it highly durable and water-resistant to protect all his expensive gear. The integrated computer sleeve holds a 15-inch laptop and all the various compartments and zipper pockets mean everything has a place and stays organized.
14.
Business Card Holder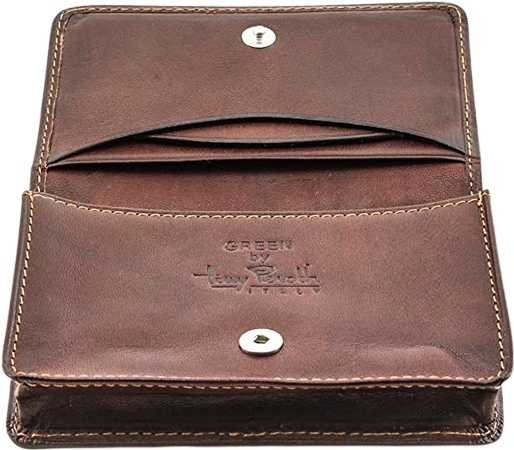 For the businessman in your life, this anniversary gift will make him look professional every time he pulls out his business cards. This business card holder is made of full-grain Italian leather and comes in classic brown or black. It has a large section to hold up to fifty of his business cards and also has dedicated slots to hold a few essential credit cards or an ID. The snap closure keeps everything secure while it's in his bag or pocket. Next time someone asks for his card, he'll be proud to pull out his new cardholder.
15.
Leather Passport Holder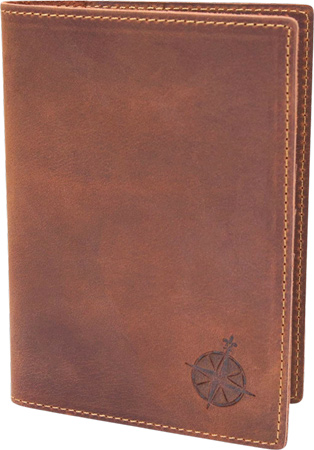 If the man in your life travels, this genuine full-grain leather passport holder is the perfect travel accessory to give him as an anniversary gift. This passport holder not only looks beautiful while protecting his passport, but it also protects the sensitive information inside with the RFID blocking protection layer. The slim design makes it perfect for easy access in small front pockets in his bag or coat. This would be a special gift to surprise him with if you've planned a getaway together. Definitely an anniversary he won't forget.
16.
Heated Neck Massager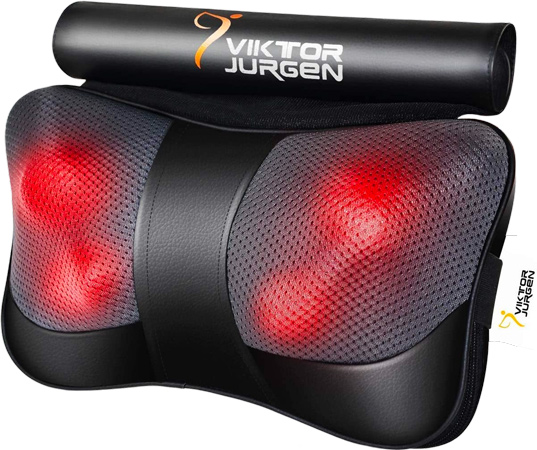 Give your man the gift of relaxation with this heated neck and back massager. This massager features eight kneading nodes with three adjustable speeds that deliver an extra deep tissue massage to soothe and relax muscle tension. The heated function also helps improve blood circulation to further relax muscles. It's easily transportable so he could use it in his favorite recliner while watching TV or use it while sitting at his desk. It even comes with a car charger so he could use it to relieve tension from driving. This is an anniversary gift that will have him feeling relaxed and stress-free.
17.
Body Grooming Kit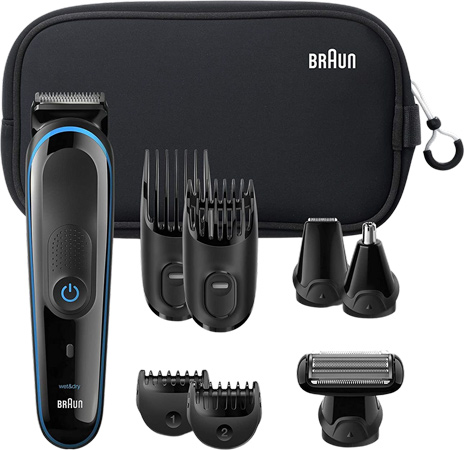 This complete body grooming kit by Braun would make a great anniversary gift for the man that likes to always look his best. The set comes with nine different attachments that will help him manscape from head to toe. Unlike a lot of other trimmers, this one is completely waterproof so it's ideal for use in the shower. The set stores away in the included carrying case when not in use. This is the perfect way for him to get ready for your special anniversary dinner. He'll look and feel amazing.
18.
Hydrating Skin Care Kit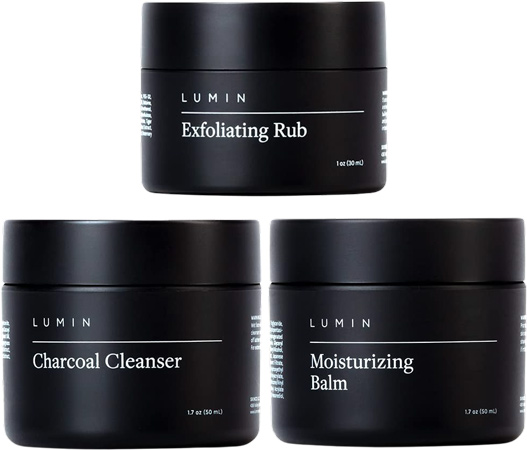 Help your man look as young as he feels with this thoughtful anniversary gift. This skincare kit by Lumin is specifically made for men and includes everything he needs for daily anti-aging maintenance. Daily skincare will not only keep him looking young, but also helps alleviate any discomfort caused by shaving. The set comes with a charcoal face wash for deep cleansing, an exfoliating rub to encourage new cell growth, and a rich moisturizer to keep his skin hydrated and feeling soft.
19.
Portable Outdoor Speaker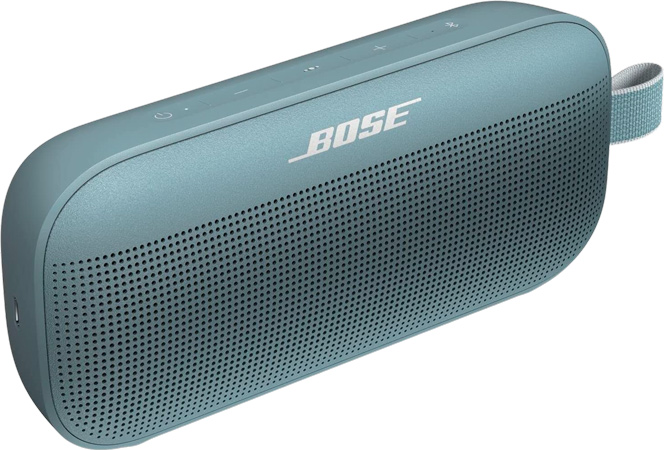 This high-end portable speaker by Bose is a great anniversary gift if your man loves tech gear and likes to spend time outside. The compact size makes it easy to throw in a bag for a day of hiking or a fun day at the beach. Don't be fooled by the size though. True to Bose quality, this little speaker pumps out some serious sound and the long-lasting battery will give him up to twelve hours of his favorite songs wherever he goes. It even has a built-in microphone so he can make and receive calls through Bluetooth.
20.
Professional Poker Set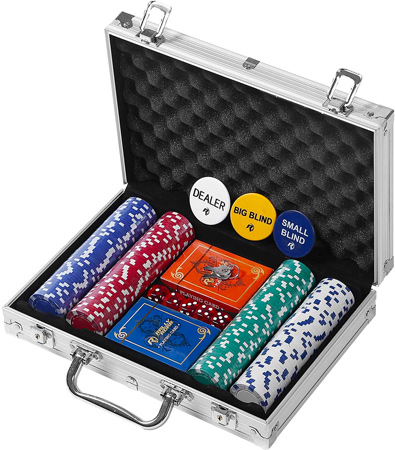 This professional poker set will help him level up his weekly poker night with the boys. The set comes in three different chip quantity options, either two hundred, three hundred or five hundred chips, depending on the size of his games. Along with the chips the set also comes with dice and two decks of cards. Everything he needs to have some high steaks fun with his friends is included in this professional set. When not in use it all packs away in the included high-quality aluminum case.
21.
Golf Putting Range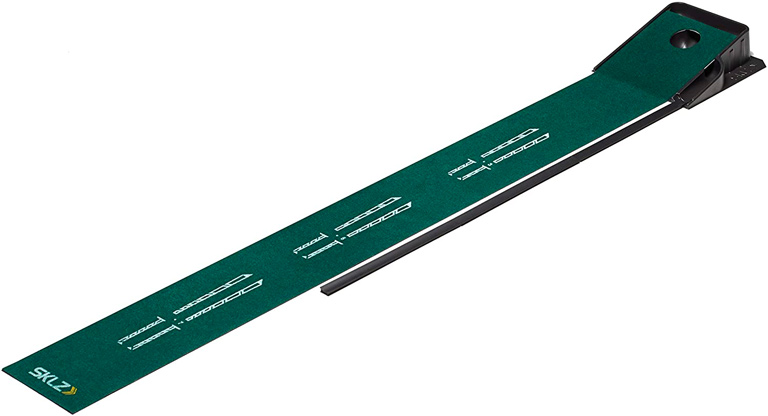 This anniversary gift is not just a fun toy for him to play with, it will also help him improve his golf skills from the convenience of home. This huge indoor putting green is nine feet long and includes a ball return to help him practice his short game without having to visit the course every day. He can practice in the privacy of home and impress his friends with his new putting skills when he's out on the green.
22.
Luxury Fishing Chair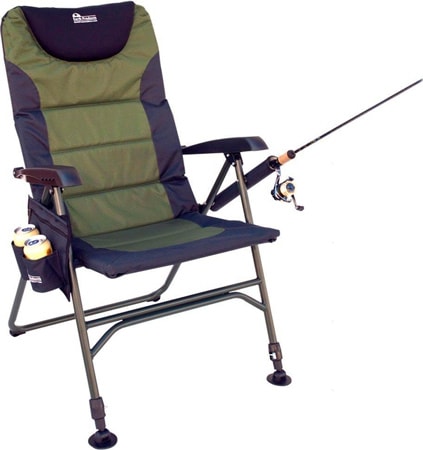 For the fishing enthusiast in your life, this luxury fishing chair is an anniversary gift that will keep him comfortable while he's out fishing for dinner. The chair features special front legs that extend to compensate for uneven ground and are capped with flat feet that stop it from sinking in mud. The folding steel and aluminum frame make it extra rugged for outdoor use but still light enough to easily take it along on fishing or camping trips. The chair also features four different adjustable positions so he'll be relaxing in comfort while he waits to hook his prize-winning catch.
23.
Regulation Dartboard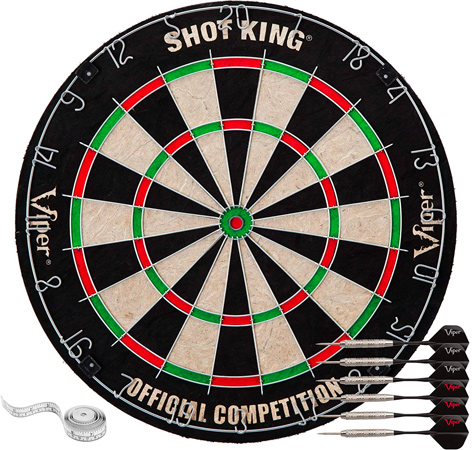 If your special man has a special man cave, it won't be complete without a regulation-sized dartboard on the wall. This dartboard is made with professional quality compressed sisal fibers that self-heal so the board stays looking good and intact for a long life of catching darts. The board also comes with two sets of darts and a throw line for a pro-level game with all his buddies.
24.
Tool Magnetic Wristband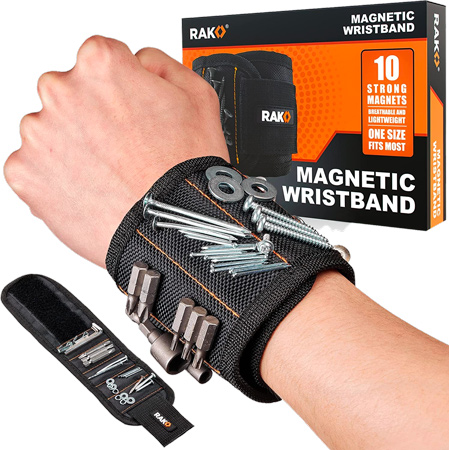 This magnetic wristband that holds and organizes tool pieces is a perfect anniversary gift for the man that loves his tools. The wristband hides ten strong magnets that easily hold screws, nails, drill bits, or any other small metal pieces that he wants to keep quickly accessible. The wide-band construction with adjustable velcro closure makes it easy to get a comfortable fit so he won't even remember he's wearing it while he's doing his DYI around the house.
25.
Himalayan Salt Block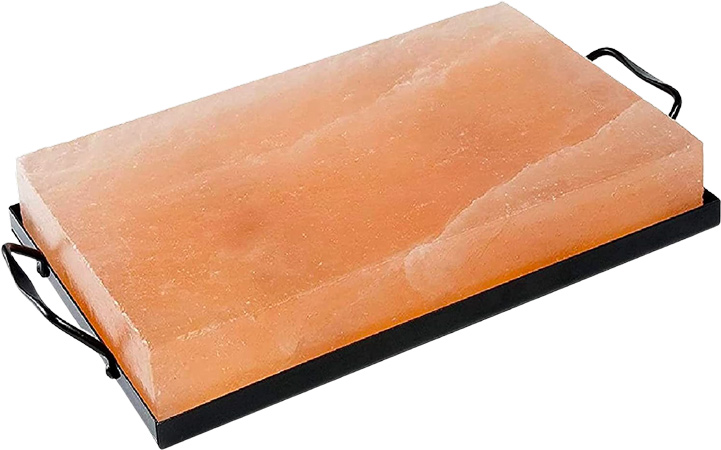 If the man in your life loves to cook, this high-end Himalayan rock salt block is going to bring a whole new dimension to his cooking. This block is made of a solid slab of pink salt that rests on a black, rustproof steel base. When meat, fish, seafood, or vegetables are prepared on this salt block, the food is naturally infused with the salt from the tray, which is healthier than seasoning with traditional salt. The block can be used on the stovetop, on a BBQ grill, or used to chill food in the refrigerator. Whether he's using this for cooking or just using it as a very impressive serving tray, this anniversary gift will make him feel like a professional chef in a five-star restaurant.
26.
Car Lover Mug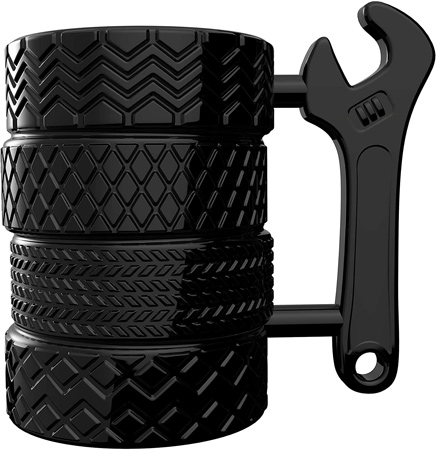 If your man loves cars and coffee, this is an anniversary gift made just for him. This oversized mug holds twelve ounces of coffee and is made of 100% ceramic so it's super durable and dishwasher safe. It's the perfect mug for him to drink his morning coffee in the garage or workshop. Its unique tier design will make it his new go-to mug.
Need more inspiration?