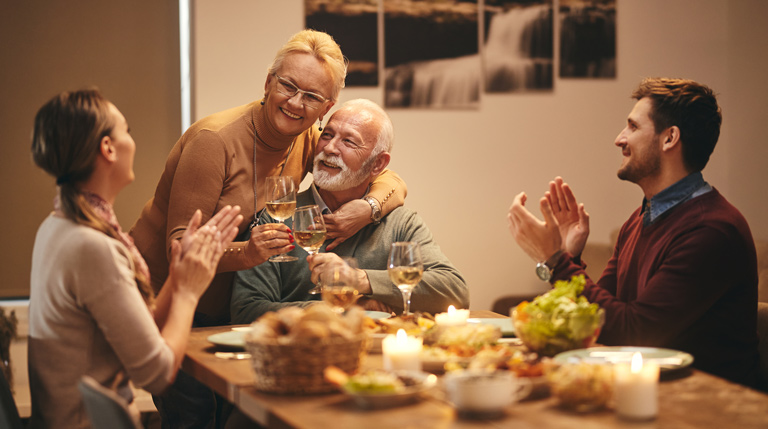 If Mom and Dad's anniversary is coming up, then you will want to get them a present they can share and enjoy. Versatile couple's gifts can be a fun way to celebrate, or to bring a touch of thoughtful sentimentality to the occasion. Depending on how your parents like to spend their time, they may enjoy a shared hobby or pastime together like cooking or being outdoors, so get them a gift that is useful or practical. Or for a more traditional present, get them something for the home or that they can keep on display as a reminder of their special day.
1.
Iron Couple Sculpture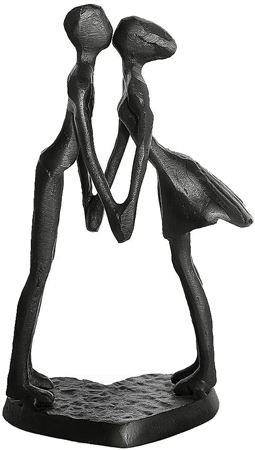 This handcrafted iron sculpture will look lovely on the bookcase or the coffee table. The romantic kissing figures represent a couple in love and it will make a delightful anniversary gift for any couple. A heart shaped base supports the two figures and is padded with a velvet base which will protect surfaces from scuffs and scratches. Create a contemporary feel and keep this item in the home or at the office as an anniversary reminder. Comes gift boxed and ready to send.
2.
Insulated Picnic Backpack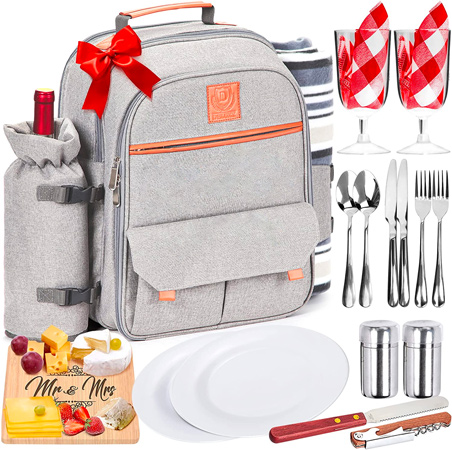 If your parents are the type that like to get outdoors walking or hiking, this insulated picnic backpack will be ideal. It's lined interior and pockets can be used to carry food, snacks, and drinks, and the pack comes with all the implements and accessories needed for outdoor dining. Silverware, cups, and even a cheeseboard and wine opener have been included. Throw down the soft picnic blanket and enjoy sharing a meal under the sun or the stars depending on the time of day. Great for weekends away or camping trips.
3.
Bamboo Cheese Board Set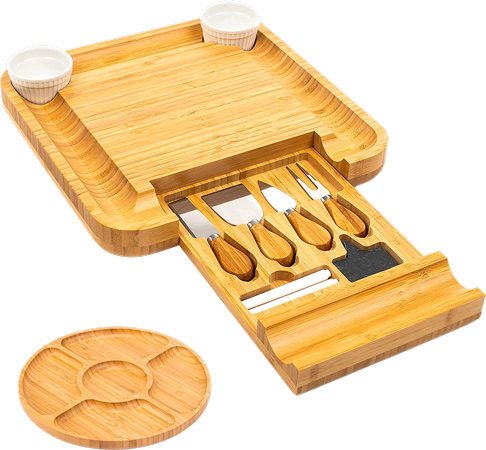 Serve up cheese, crackers, meats, and snacks with this versatile cheese board. Make from durable and eco-friendly bamboo, this tray can be used for parties and entertaining guests. It features a handy slide out drawer that contains cheese knives and tools, and an accompanying fruit tray completes the set. It will make a useful and stylish anniversary present for parents who like to have their friends round, and it will make a wonderful addition when holding family get togethers or wine evenings.
4.
Cocktail Shaker Set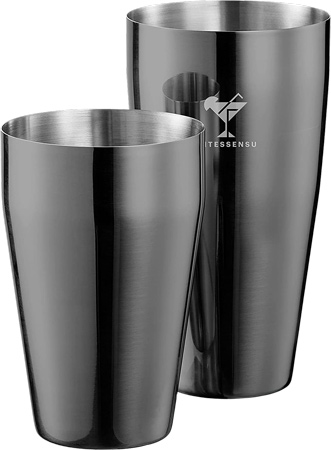 This stylish black cocktail shaker is great for bringing out your inner mixologist. If your parents like to sample different cocktails and make tasty creations then this contemporary drink mixer will dispense the perfect Whiskey Sour, or Gin Sling. The polished edges and interior brushed metal make the shaker easy to hold and clean, and it is bound to be a big hit at parties. Great for entertaining, or to make a relaxing and tasty cocktail at the end of a long day.
5.
Family Tree Photo Frame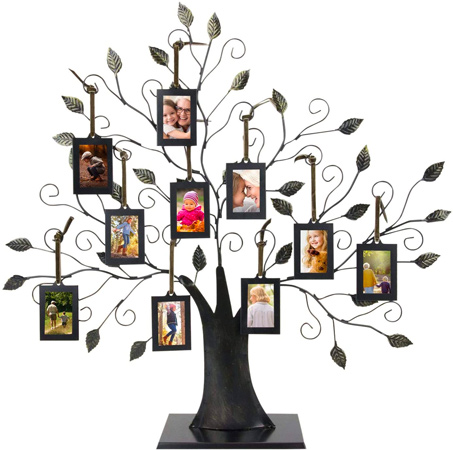 Celebrate your parent's anniversary with a thoughtful and sentimental gift. Display favorite pictures and family photos using this large brushed bronze family tree. It can hold up to ten photos and the frames can be arranged to suit. Each one hangs from a soft velvet ribbon and frames are suspended from the tree's branches. It will look fantastic on a hallway table or displayed in the living room and will keep photos of friends and beloved relatives easy to view and look at.
6.
Shiatsu Foot Massager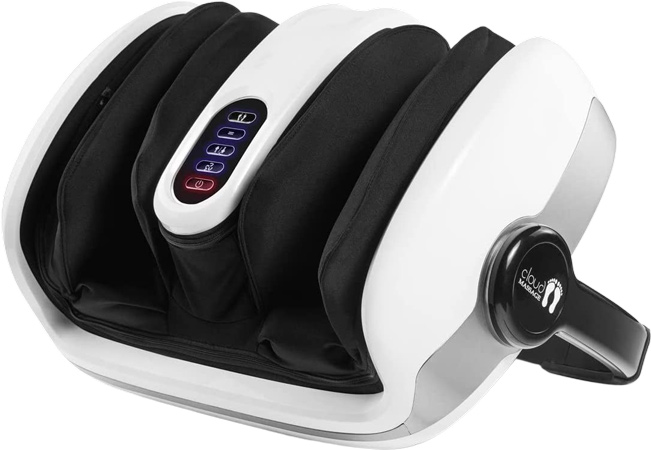 Be careful that Mom and Dad don't fight over who gets to use this heated foot massager first! Deep kneading action and therapeutic massaging rollers soothe away aches and pains and it will be a lovely anniversary gift for the parents. It will help to relieve foot and ankle pain, and ease foot problems like plantar fasciitis. Just place feet on the massager and adjust heat, speed, and intensity settings to heal sore muscles or simply to relax at the end of a long day. The massager can be positioned to target the massaging motion to legs and calves to gently revive tired legs.
7.
Matching Mugs Set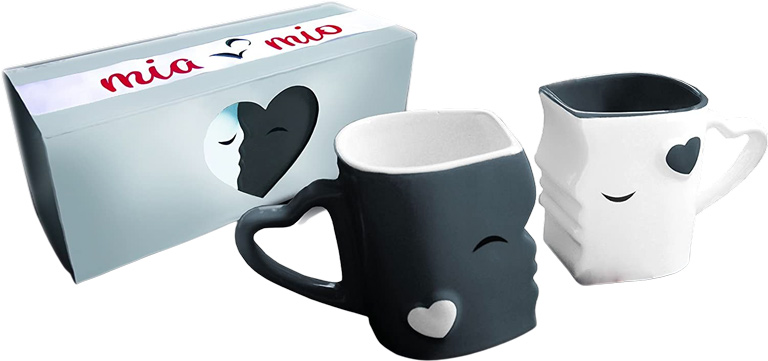 Parents who enjoy sharing a hot cup of coffee or sweet tea together will love using these cute matching anniversary mugs. Each one is styled with a modern design and creates the image of kissing when placed side-by-side. Made from modern gray and black ceramic these mugs look stylish and contemporary and will make an anniversary gift that is both fun and useful. Both mugs are decorated with a heart motif and have a matching heart handle, and they are perfect to use for both hot and cold drinks.
8.
Electric Wine Opener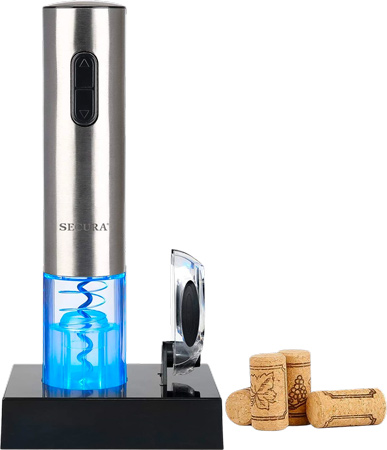 Enjoy a bottle of red or white wine easier than ever before with this versatile electric wine opener. It is compatible with most size bottles and can remove a cork in just a few seconds. Simply pop the opener over the top of the bottle and use the side control buttons to unscrew the cork. It comes on its own storage stand and will look cool and modern on the kitchen counter. For an elegant touch the wine opener lights up with a soft glow and it recharges every time it is placed back on the stand. Comes complete with a foil cutter and can be easily stored when not in use.
9.
Pair of Table Lamps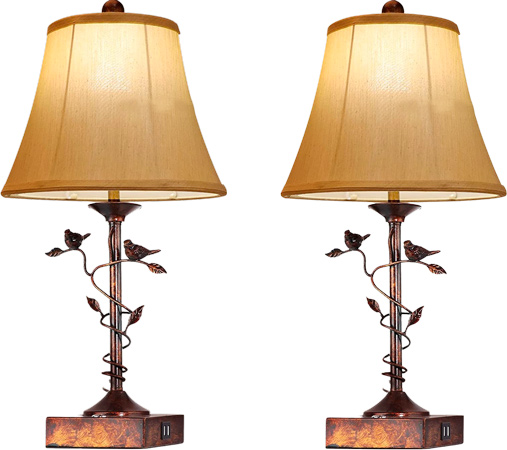 Add an original and antique touch to your parents' home and give them this pair of table lamps for their anniversary. Each one features an easy touch switch to dim the lights. Select the preferred level and use the lamps for reading or to add a decorative touch. The iron stand and linen lampshade means that these lamps can be used on a living room coffee table or end table, or they will look just as good in the bedroom. A phone charging outlet is discreetly built in to the lamp's base to keep mobile devices fully powered. The lamps come with two energy-saving LED bulbs.
10.
Crystal Wine Carafe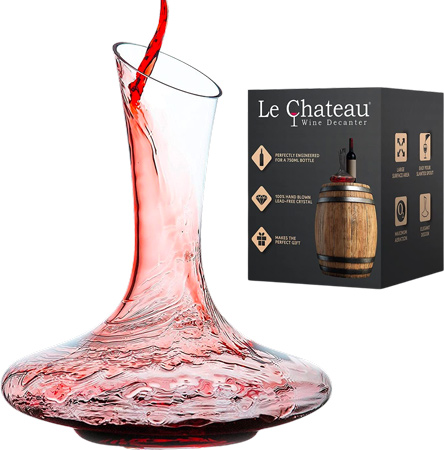 Dispense wine in style with this ultra-modern and stylish carafe. The flowing design and large base help to aerate the wine and bring out all of its natural flavors. With a slanted spout for easy pouring, this wine decanter can hold the contents of an entire standard size bottle. Keep it out on display to make a striking conversation piece and impress guests as your refill their wine glasses. The decanter will make a fantastic anniversary gift for parents who are wine enthusiasts or connoisseurs.
11.
Turkish Cotton Bathrobe

Stay warm and dry when getting out of the bath or shower with this one hundred percent Turkish cotton bathrobe. Made from ancient weaving techniques, the all-natural materials make this robe soft and comfortable to wear, and it won't chafe or irritate sensitive skin. Perfect for absorbing residual water and the robe can be worn by men or women. Get one for mom and dad for their anniversary to make a comfortable and unique gift. Completely safe to machine wash the robes will come out fresh and even softer every time.
12.
Ceramic Flower Pots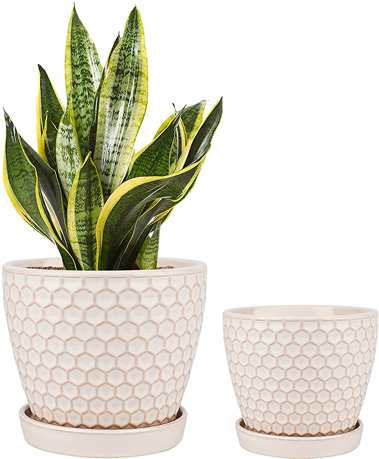 Bring out the parent's green thumbs and fingers with these lovely and decorative plant pots. Finished in an attractive pattern and hand glazed for durability these high-quality ceramic planters can be used both indoors and outdoors. Use them to plant a favorite bloom and make a stylish window display, or place them outdoors to add interest to a garden or patio area. The moveable base can be used to collect water and prevent leaks, and the pots will not fade or crack when exposed to the elements.
13.
Matching Winter Set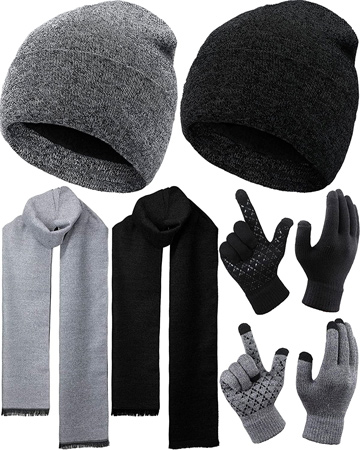 Make sure that your parents stay toasty warm in the winter with this delightful matching set. Includes warm knit hats, scarves, and gloves, to keep icy winds and cold weather at bay. It will make a cute and practical anniversary present and can be worn while out walking or for shopping trips to the store. All items are made from double-layered thermal materials and the gloves include touch screen fingertips, so they don't have to be removed to use your phone. Keep head, ears, neck, and hands warm with this cozy winter set.
14.
Health Dessert Blender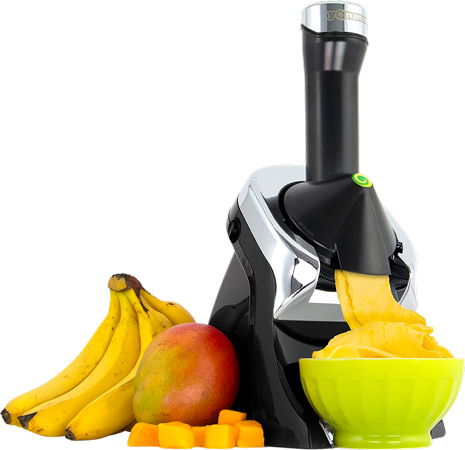 Feed their sweet tooth while keeping them healthy at the same time with this versatile dessert blender. Just fill it up with your favorite fruit and make a healthy and low-calorie fruit yogurt snack. Slice and freeze fruit then turn it easily into soft and tasty treats. The dessert maker is easy to use and the parts detach for cleaning. It is completely dishwasher safe to make cleaning simple, and when ready to use again, just reattached the parts and you are ready to go.
15.
Elegant Kitchen Towels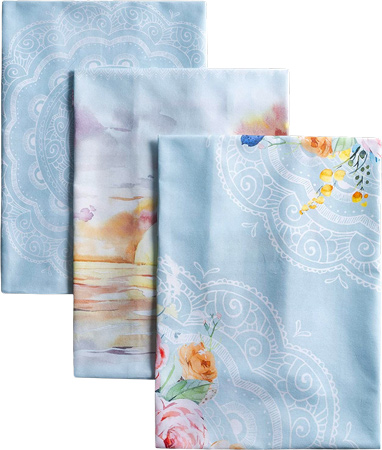 Make their kitchen look elegant and classy with these pretty kitchen towels. As part of the Maison d'Hermine collection the towels are both decorative and functional. The attractive European design will make any kitchen space look appealing. Decorated with colorful flowers and fresh leaves, the collection has a classic spring design. Use them to dry dishes or glassware and hang them up to keep them ready to hand and ensure the kitchen stays fresh and clean.
16.
Black and White Socks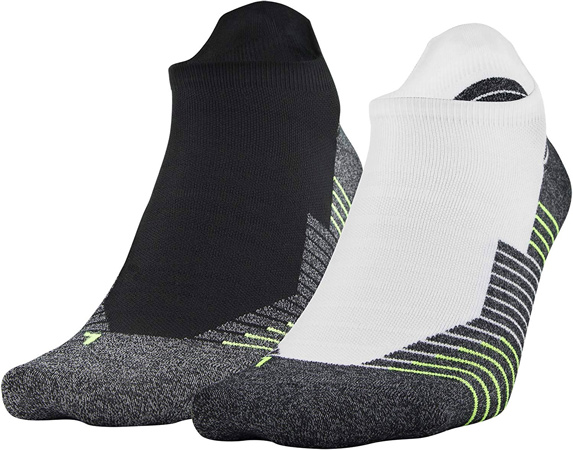 If your parents are health conscious and enjoy running, jogging, or working out at the gym then these socks will be handy to keep in their bag. Low cut to wear comfortably with sneakers and jogging shoes, these socks will keep feet dry and fresh. Designed to be completely breathable and with built-in arch support they can be worn for any number of uses. Anti-odor and moisture wicking technology makes sure that feet stay dry, and the socks are fully machine washable.
17.
Marble Drinks Coasters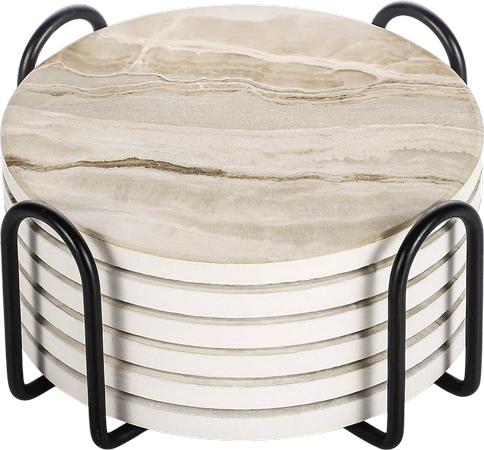 Keep tables, surfaces, and counters clean and moisture free with these elegant coasters. Designed to resemble a marble-style finish, the sandstone coasters are absorbent and durable. With a padded base to prevent scuffs or scratches, the hard-wearing coasters are ideal for holding mugs, tumblers, and glasses. When not in use, store them in the included metal coaster-stand, then put them out when needed.
18.
Italian Wine Glasses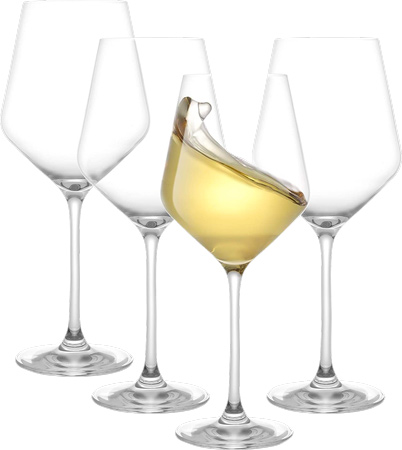 Wow the neighbors and impress family members when entertaining with these stunning Italian wine glasses. Fashioned with a long stem and a large bowl to bring out the full flavor of the wine, these glasses will make an elegant table setting. The glass is crystal clear, yet shatterproof and virtually unbreakable. They come in an embossed gift box with a magnetic closure for safety and will make a lovely anniversary present for parents.
19.
Matching Pair of Watches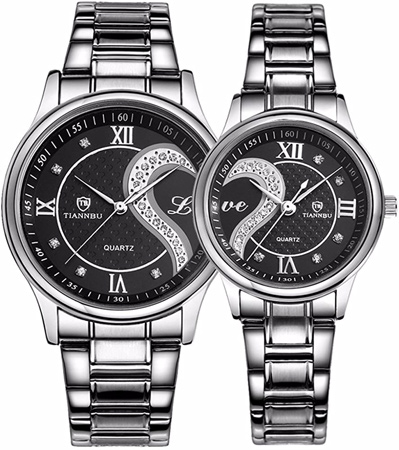 These matching watches will make a fabulous anniversary gift which can be worn for work or evening events. Made from shining and durable stainless steel each watch features a black dial finished with a sweeping inlaid rhinestone swirl. When the watches are placed side by side the swirls combine to make a complete heart and the watches are waterproof with a precise quartz movement. Give them as a cool and fashionable gift which can be worn as an anniversary reminder.
20.
Funny Rooster Doormat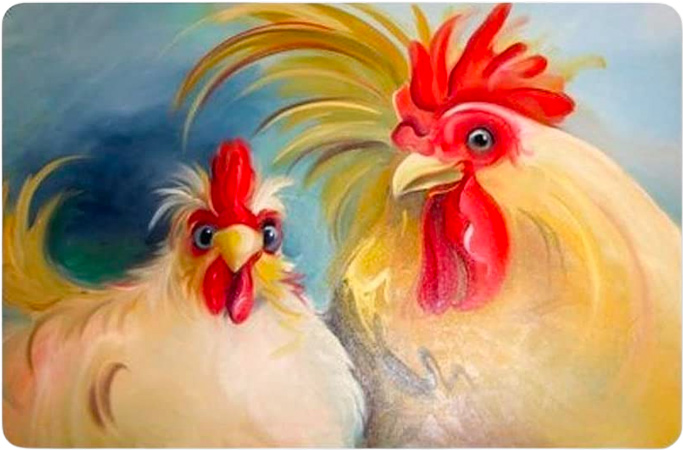 Make a great decoration for any home with an artsy and comical doormat. Mom and dad will be sure to get a chuckle out of these funny roosters and the mat can be used anywhere in the home. Colorful, and soft to stand on the mat can be placed in front of doors or used in high traffic areas to prevent dust and dirt. Non-slip and absorbent it can be used in a kitchen, bathroom, or even in a shed or garage.
21.
Black Sushi Set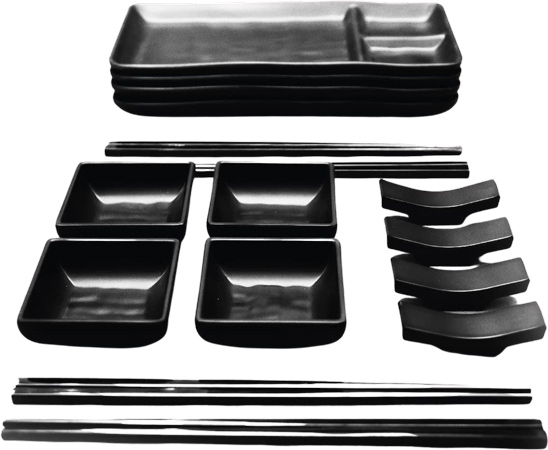 Help the folks experience Japanese cuisine with this modern and durable sushi set. Complete with serving trays, dishes, and chopsticks it can be used to serve sushi or other Japanese dishes. Dishes feature compartments for holding soy sauce, wasabi, or ginger, and the smooth finish feels nice to the touch. The plates and trays are lightweight but not easily breakable and can be easily cleaned in the dishwasher.
22.
Double Laundry Hamper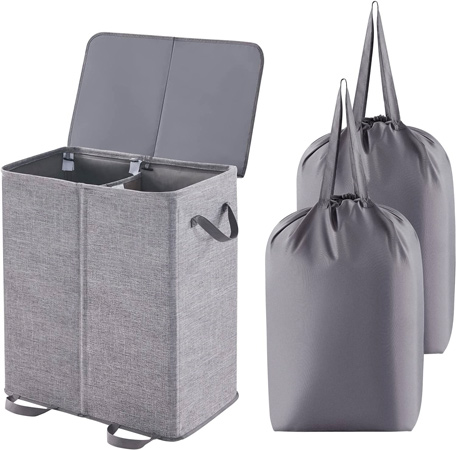 Keep his and her clothes separate, or make different loads for light and dark laundry with this handy laundry hamper. Use them to keep dirty clothes off the floor and then carry them easily to the washing machine with this lightweight laundry organizer. A fixed lid opens and closes easily and the interior liner can be lifted out using the sturdy attached handles. The hamper is reinforced with supporting rods making it solid and secure, and it will not collapse or lose its shape when empty.
23.
Bathroom Counter Organizer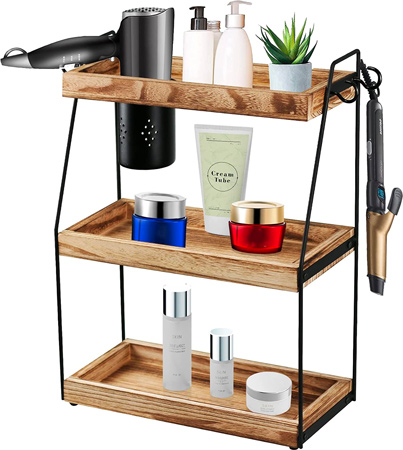 Store her lotions and potions and give him a shelf for his shaving things with this neat bathroom organizer. It can sit right on the counter top and provides a place to store all bathroom essentials like soaps, creams, and gels. Made from attractive textured wood and metal it includes four hanging hooks to hold appliances like hair dryers and electric razors. For an alternative look the stand can be hung on a wall as a decorative piece and used to hold plants and ornaments, to add a stylish look to the bathroom.
24.
Hypoallergenic Bed Pillows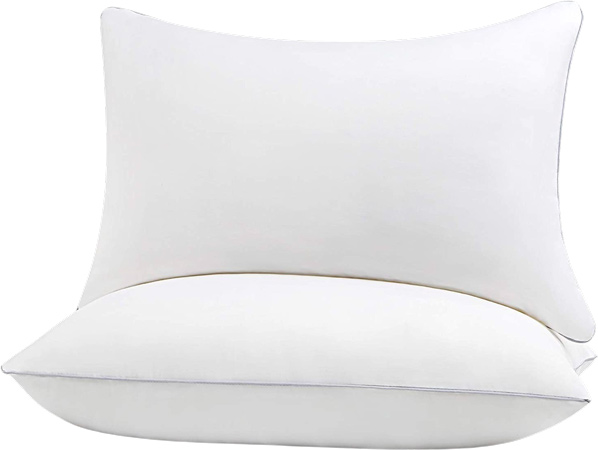 Get a great night's sleep with these hotel quality hypoallergenic pillows. Firm yet comfortable they are perfect for back or side sleepers and promise to provide a great night's rest. If your parents are restless sleepers or struggle with insomnia then these pillows will make a great anniversary gift. No more head or neck pain, and no odor or irritation as the material is super absorbent and breathable for maximum comfort. Safe for anyone who suffers from allergies and will promote a better night of sleep with less disturbance.
25.
Samsonite Luggage Set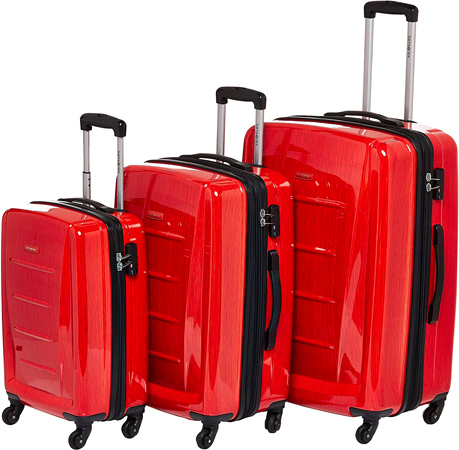 Make their next vacation or trip easy and comfortable with these robust suitcases from Samsonite. The strong outer exterior protects clothes and personal items, yet the case is lightweight and easy to move. Four built in castors make maneuvering the cases through stations or airport lounges a breeze, and each case features a side mounted TSA approved combination lock for safety. Cases are finished in an attractive brush pattern and come in a range of different color options. Pick your favorite and make a practical anniversary gift that parents can use every time they travel.
26.
Luxury Cotton Bath Towels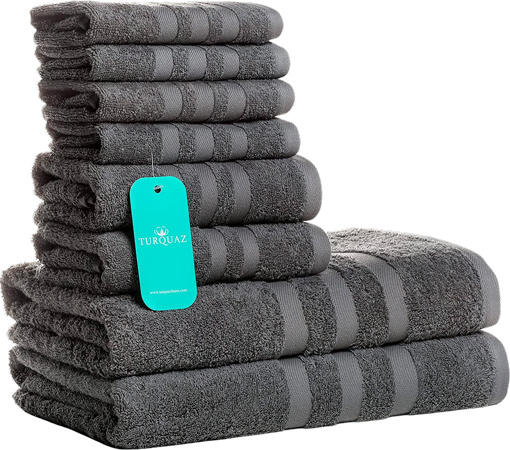 Feel like you are in a luxury spa with these soft, premium quality towels. Made from 100% Turkish cotton these luxurious towels feel great against the skin. Ideal for everyday use and are guaranteed to not harden or stiffen like cheaper versions. Each time these towels are cleaned and dried they will come up softer than the last. Use them to dry off after a bath or shower, take one to the gym or yoga class and enjoy the soft and skin-friendly cotton.
27.
Dual Portable Speakers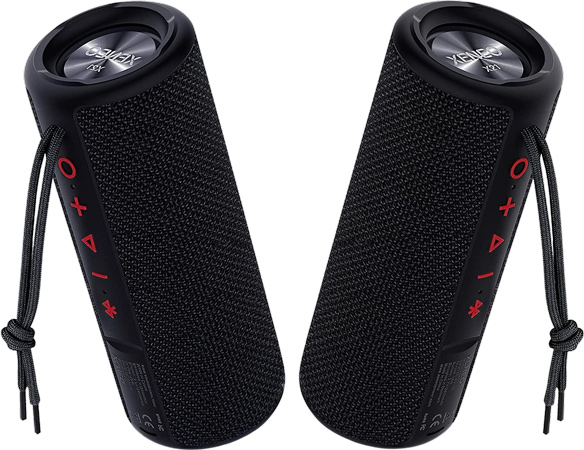 No more arguing about who's music to listen to. This pair of Bluetooth portable speakers will solve that problem. Lightweight, but completely waterproof and durable they can be taken anywhere. Hang one in a tent or RV when on vacation, take one into the bathroom when showering and keep your tunes playing. Pair them with a mobile device and play your songs or listen to the radio. These speakers will make an ideal anniversary gift for parents who have different musical tastes.
Related Posts