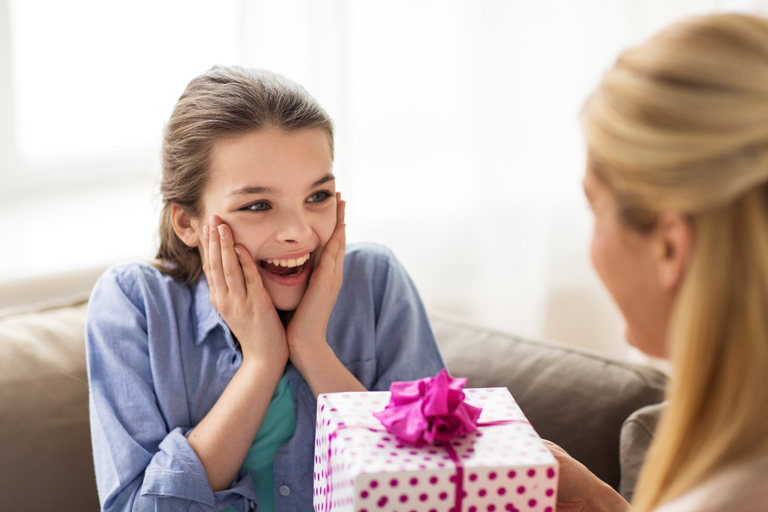 If you're looking for a teenage girl approved gift, your search can stop here. This list of 29 cool gifts for teenage girls is full of ideas that will make her appreciate your intuitive gift-giving skills. There's definitely something on this list that will be a perfect match for whatever she's into.
Whether she's into self-expression, sports, makeup or jewelry, this all-inclusive list is just waiting to make your life easier. Give her something she'll use now and still want to keep as she continues to grow into the wonderful woman you know she is. Give her a gift as cool as she is.
1.
Perfect Selfie Light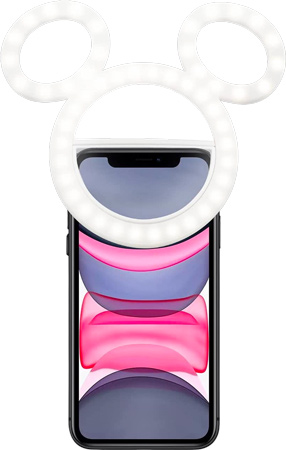 Help the teenage girl in your life take the perfect selfie with this Mickey Mouse clip-on selfie ring. This Disney-inspired ring light clips right onto her phone and has three light-level modes to provide the perfect lighting to make her pictures look Instagram-ready. When not being used it's compact enough to easily slip into her purse. It comes with a USB charging cable so she can quickly charge it from home or from a portable battery pack. This gift will make her the envy of all her online friends.
2.
Creative Body Markers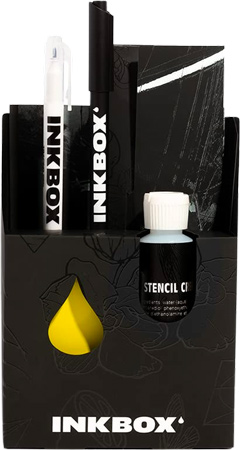 For the edgy teenage girl, this temporary tattoo kit will help her express her artistic side. The kit includes a chemical-free body marker, a tracing pen, 50 pieces of tracing paper, two development patches, stencil cream, and a glove. It also includes access to an app for design inspiration. The temporary tattoo will last up to two weeks and is water-resistant. This kit has everything she needs to rock her body art without any of the life regrets of a permanent tattoo.
3.
Colored Hair Chalk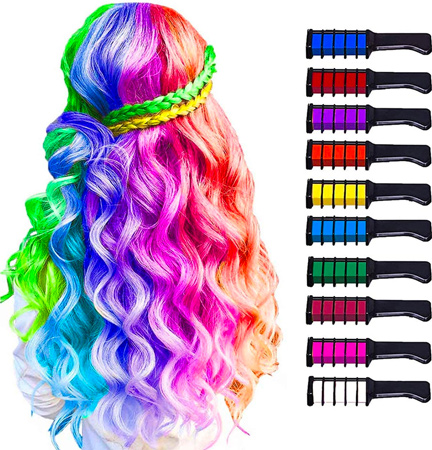 Help her express her teenage individuality with these fun, colored hair chalks. The set comes with ten different vibrant colors that are easily applied by combing them in. The chalks are non-allergenic, non-toxic and environmentally friendly. The colors are long-lasting for all-day wear but when she wants to go back to her natural color, the chalks easily wash out with ordinary shampoo. This is the perfect gift for the teen girl that loves to stand out.
4.
Natural Lipgloss Set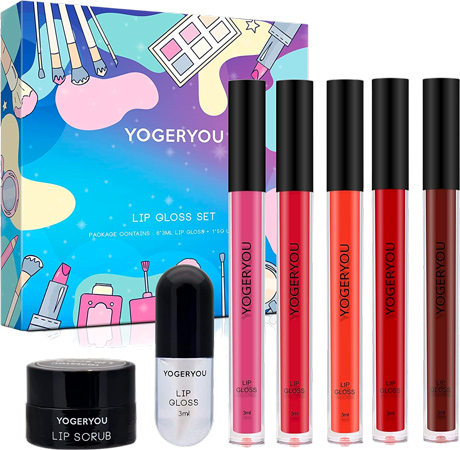 This lipgloss set is a perfect gift for the teenage girl that loves her make-up. The set includes five lip gloss shades, one clear lip gloss and a lip scrub for preparation. The glosses are chemical-free and formulated with natural Jojoba seed oil, coconut oil and shea butter so they not only look great but are also ultra-hydrating. These lipglosses provide long-lasting, high gloss coverage to keep her looking picture-ready all day long.
5.
Makeup Organizer Bag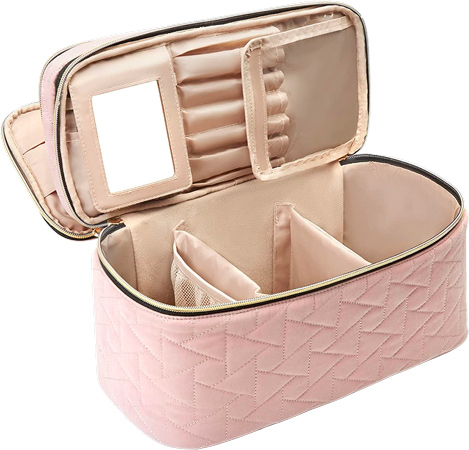 Give her a stylish way to store her makeup with this large makeup case. The case is available in four beautiful colors, including a timeless and feminine blush pink. The extra-large capacity of this case gives her plenty of room to store all her favorite makeup, toiletries and brushes. It's even large enough to hold a full-sized curling iron. The padded construction with water-resistant fabric makes sure all of her expensive makeup stays protected. Whether she uses this at home or takes it with her on trips, she'll love this classy makeup bag.
6.
Vanity Makeup Organizer
For a way for her to organize her makeup at home, this white acrylic vanity organizer looks great on display while keeping all her makeup handy and within quick reach. The organizer comes with multiple drawers for storing small items as well as two main open shelves that feature various dedicated compartments for items like lipsticks, perfumes, lotions and makeup brushes. The chic design blends easily with any decor style so it's something that she'll be able to keep and use for many years.
7.
Makeup Brush Set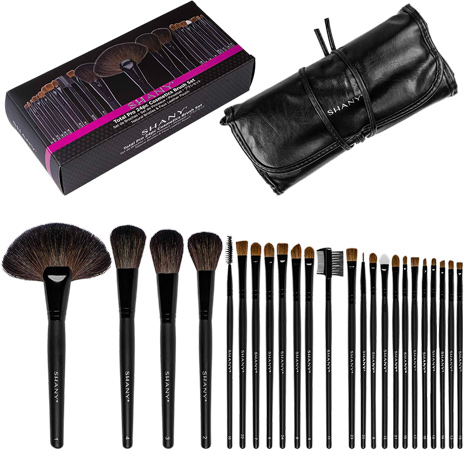 This professional-grade makeup brush set will be the perfect gift for the teenage girl that takes her makeup routine seriously. The set comes with 24 full-sized brushes, including various eyeshadow brushes, a foundation brush, a powder brush, a concealer brush and a unique eyelash comb for perfectly separated lashes. The brushes are made with only natural bristles for smooth and even application. To keep them organized and protected the set also comes complete with a vegan leather roll bag. She can store it at home or take it with her on the go.
8.
Flower Eyeshadow Pallet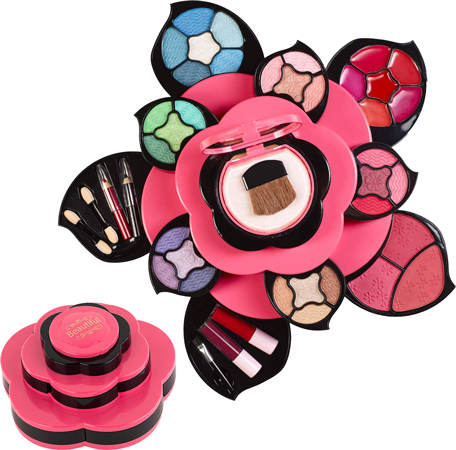 Any makeup look a teenage girl could want comes nicely packaged in this flower pallet. This beautiful pallet is designed like a flower with multiple petals. The petals expand out to reveal concealer, blushes, tons of eyeshadows, lip glosses, a lip pencil and a distortion-free mirror for easy application. It's an entire makeup kit in one little package. Whether she's a seasoned pro or a beginner makeup artist, this is the ultimate kit that she'll want to have.
9.
Vanity Makeup Mirror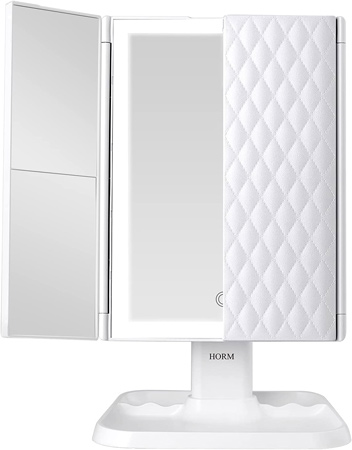 Give the teenage girl you're shopping for the perfect way to put on her flawless makeup. This trifold vanity mirror features seventy-two bright LED lights with three different lighting modes. The light can be adjusted between warm, cool and neutral light, which emulates sunlight. The mirror features three different magnification levels which are perfect for applying eyeliner or tweezing eyebrows. It can be run off of either the USB charging cable or with double-A batteries so it can go wherever she does.
10.
Deep Facial Cleanser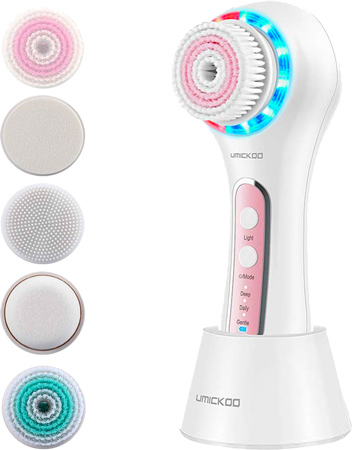 With all her different makeup looks she'll want a way to keep her skin clean and makeup-free at the end of the day. This facial cleanser by Umickoo cleanses, messages and exfoliates with the automatic rotating brush head. It features three cleaning modes that range from gentle to deep and comes with five different changeable head options. Cleansing with this is six times more effective than washing with just face wash and water. It will leave her skin clean, healthy and glowing.
11.
Aromatherapy Shower Steamers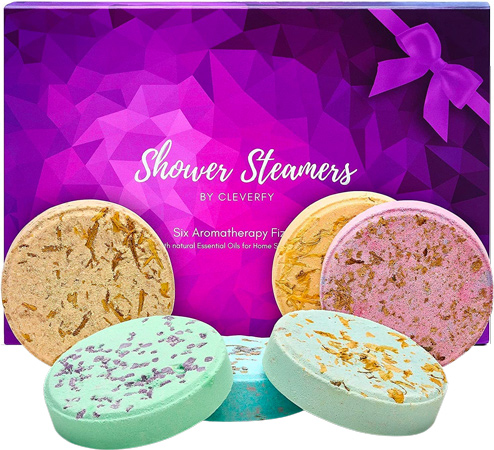 Give her this set of aromatherapy shower steamers so she can enjoy a mini spa treatment whenever she showers. The set comes with six shower bombs that are scented with natural essential oils. The scents include a relaxing lavender, an invigorating menthol and eucalyptus, a summery watermelon, a sweet vanilla and a refreshing grapefruit. These shower steamers are formulated for maximum scent for a truly relaxing moment of self-care. The set comes in a gift box so it's ready to wrap and gift to the lucky teenager you're shopping for.
12.
Travel Manicure Set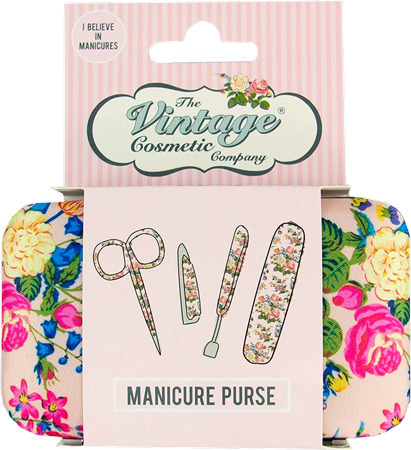 Help her keep her manicure on point with this travel manicure set by The Vintage Cosmetic Company. The set comes with everything she would need for on-the-go touchups, including, scissors, nail clippers, a cuticle pusher and a shaping file. The tools are made of stainless steel for long-lasting durability and covered in a feminine flower motif to match the travel case it comes in. It's the perfect purse accessory to keep her looking her most fabulous self.
13.
Classy Designer Watch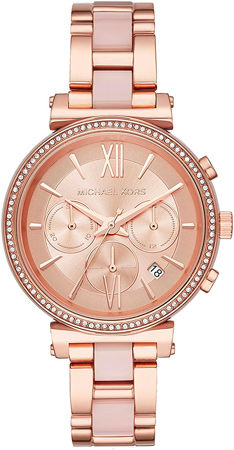 For a grown-up watch that she'll keep through her adulthood, this chronograph watch by Michael Kors is a luxurious gift for a special teenage girl. The watch is made of a rose gold stainless steel case with a timeless dial featuring roman numerals. The bezel is adorned with pave crystals that give this watch a subtle and elegant bit of glitz. The watch is water-resistant up to 50 meters so she can leave it on all day long without worrying about water damage. This is the perfect gift for any occasion that calls for something really special.
14.
Trilogy Crystal Necklace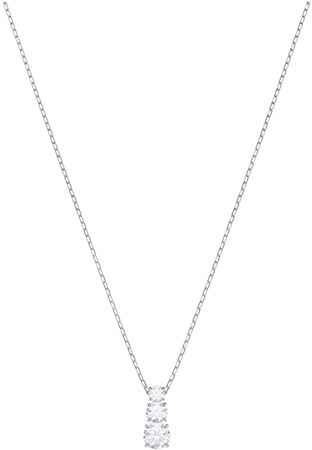 This elegant necklace would be a breathtaking gift to give to any teenage girl that appreciates elegant jewelry. This necklace is designed with three sparkling Swarovski crystals that symbolize the past, present and future. It would make an amazing graduation present or just a special gift to say how much she means to you. It's a gift she'll keep for the rest of her life.
15.
Jewelry Making Kit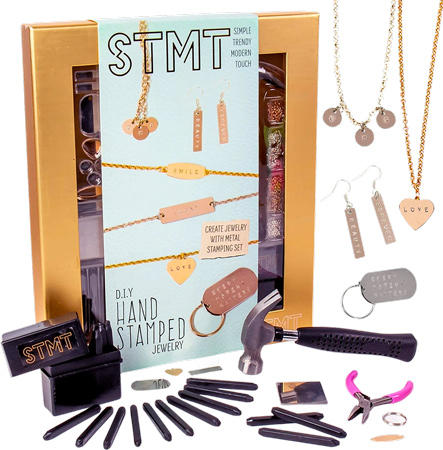 This jewelry-making kit is the perfect gift for the creative teenage girl that loves a DIY project. Unlike cheap, plastic kits made for younger kids, this kit is for the serious jewelry maker. The kit comes with everything she needs to make her own stamped metal jewelry and keychains. The premium hand stamping tools make it easy to stamp out letters to spell her name or favorite sayings. This gift will definitely get her stamp of approval.
16.
Lockable Jewelry Box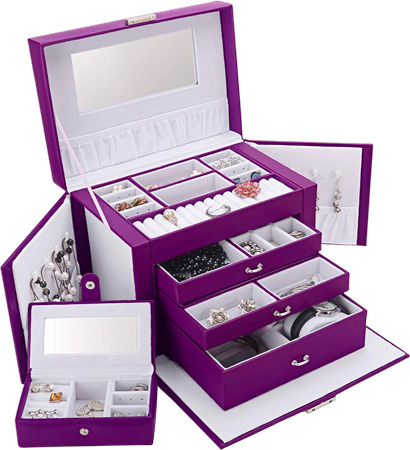 If she loves wearing jewelry, this genuine leather jewelry box is the perfect way for her to store all of her favorite bling. This beautiful jewelry box comes in classic black or fun purple, each with a contrasting velvet interior to protect her jewelry. The box features three slide-out drawers and over 20 different compartments to keep all her small pieces organized. It also features a removable travel box that is perfect for storing in her suitcase for her next trip. When not in use the box locks with a key for safekeeping.
17.
Funny Fluffy Slippers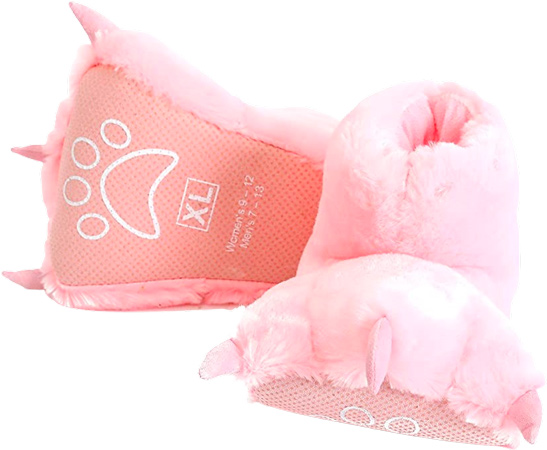 These funny slippers are a great gift for the teenager that loves to lounge in comfort. The fluffy slippers are designed to look like bear paws, claws included. They come in many different color options, including baby pink, cotton candy ombre and even a cool camo. While the tops offer thick padding and soft faux fur, the bottoms feature a non-slip coating for safety while walking on bare surfaces. These funny slippers are the perfect gift for any teenage girl.
18.
Trendy Backpack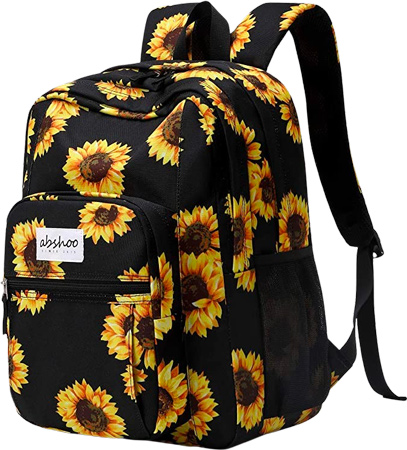 Whether she's going to school, the gym or traveling, this is the perfect backpack for the teenage girl who has style and wants to show it off. This backpack comes in a ton of different color and pattern options. It's made of lightweight water and rip-resistant material so it's ready to stand up to everyday wear and tear. Inside there is plenty of room to hold all her gear, including a 16-inch laptop. This cool bag is definitely teenager-approved.
19.
Rattan Beach Tote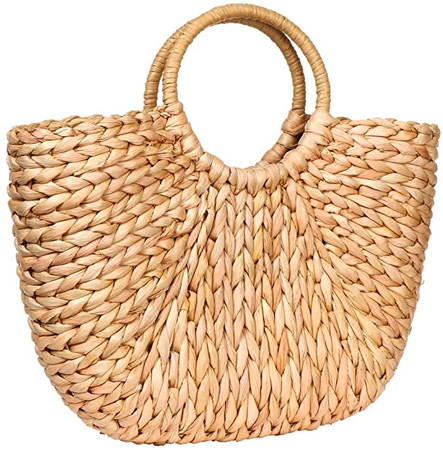 This on-trend tote is perfect for the teenage girl that loves to hit the beach or chill by the pool. Made of handwoven natural rattan it easily blends with any style. It offers plenty of room for all the beach necessities like sunglasses, magazines, sunscreen, headphones and snacks. The drawstring top keeps the items inside secure and free from sand. When not lounging poolside or on the beach, it makes a versatile tote she can use all year round to carry her everyday essentials. It's totes cute.
20.
Fairy Light Photo Display

Give her a way to show off all her favorite pictures with this photo string light display. This 20 feet strand of lights features 50 lighted clips that make hanging and changing out pictures quick and easy. The lights are controlled by a remote that can change them between seven different modes, including, fade, jump, twinkle, wave and strobe. They can also change between 16 colors. Not only will she be able to look back on all her favorite memories with her friends, it's also a piece of decor that's going to make her room look very cool. She's going to love this gift.
21.
Stylish Water Bottle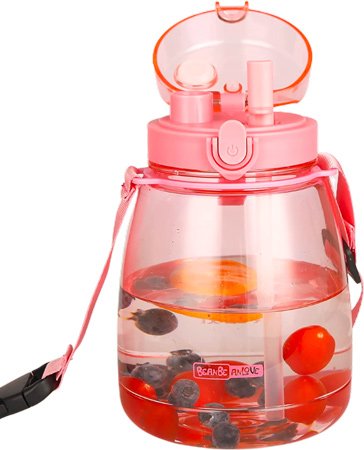 Help her stay healthy and hydrated with this forty-five-ounce water bottle. The bottle comes in three jewel-tone colors, purple, green and pink. The bottle features a built-in straw, a large open mouth, a safety buckle for secure closure and a removable strap that allows the bottle to be carried over the shoulder like a purse. This huge but stylish bottle will make sure she always has water wherever she goes.
22.
Trendy Headband Set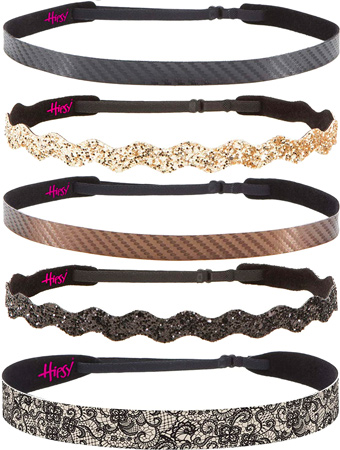 This trendy set of headbands is a great gift for the fashion-forward teenage girl. The set comes with five different headbands, including two glitter bands and a beautiful lace printed band. The bands are adjustable for a custom fit and feature a nonslip velvet-textured interior so they'll be comfortable for all-day wear. These headbands will be the perfect accessory to finish off her favorite outfits. It's a fashionista-approved gift she'll be excited to wear.
23.
Ponytail Baseball Cap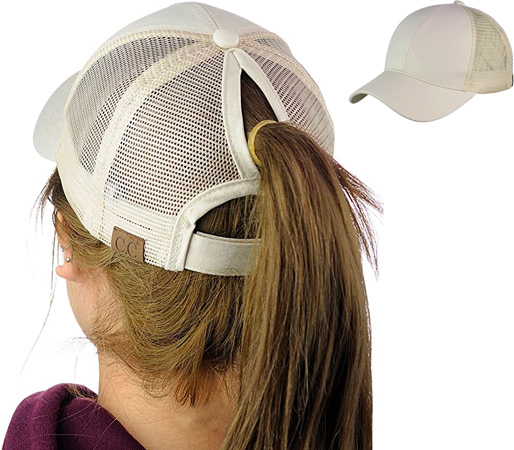 Every teenage girl with long hair loves to put it up in a ponytail or messy bun. With this gift, she can still wear her hair up while wearing a super cute hat. This baseball cap is made specifically for women and features a cutout that she can pull her hair through. The hook and loop closure allows for a custom fit so it stays comfortable for all-day wear.
24.
Heart Locking Journal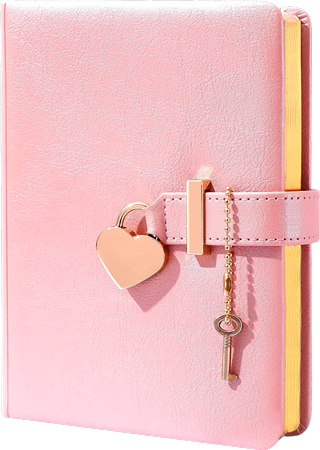 For the pensive teenager that likes to journal her thoughts, this is the gift for her. This beautiful journal is made of vegan leather and comes in fifteen color options. The interior features eco-friendly, all-wood pulp paper with gilded edges. The strap closure locks with the included heart-shaped lock and vintage-style key. All her deepest thoughts and life goals will stay safely locked away and for her eyes only.
25.
Luxury Handcrafted Pen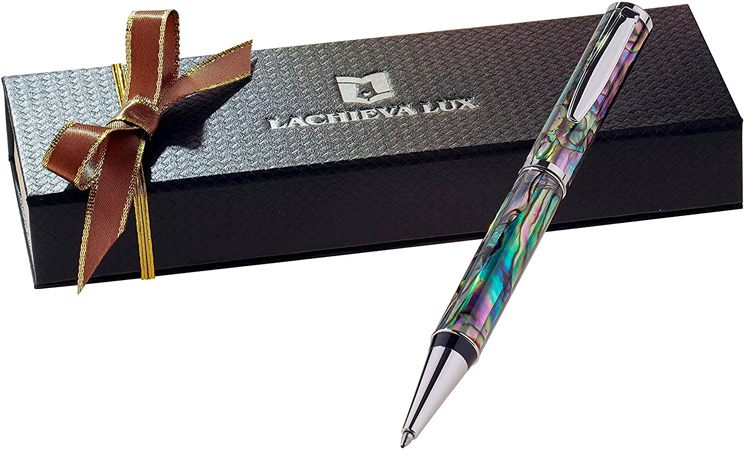 This handcrafted ballpoint pen would make a great keepsake gift that she can use now but keep as she graduates and goes off to college. The barrel is made of genuine seashell inlay that is covered in a clear resin for durability and comfort. The pen comes with both a blue and black refill that are German engineered for a smooth writing experience. This beautiful pen comes in a velvet pouch and elegant gift box. It's definitely a pen she'll cherish forever.
26.
Funky Lunch Tote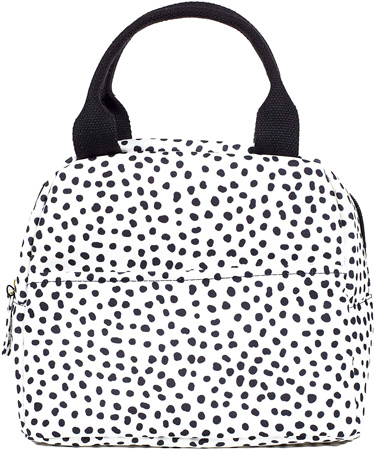 This super cool lunch box is worthy of carrying any teenage girl's lunch. With the available trendy and loud patterns it comes in, it's as expressive as she is. The bag features an insulated interior that will keep her lunch fresh all day. The outside provides space for her keys, phone and wallet in the open pocket. This is a grown-up lunch tote that she'll be proud to flaunt.
27.
Bean Bag Chair
This is the ultimate bean bag chair to go in a cool teenager's bedroom. This giant chill sack is the perfect place for her to kick back and relax after a hard day at school. It comes in so many different fun and vibrant colors so finding one to match her decor will be a breeze. It's made of a soft memory foam blend interior with a micro-suede, machine washable cover. This huge gift will get an even bigger reaction.
28.
Crochet Mermaid Tail Blanket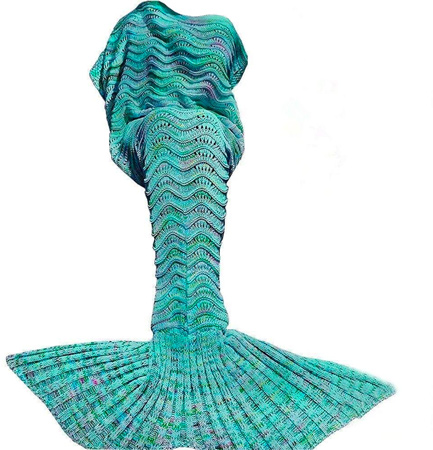 This whimsical blanket is every teenage girl's perfect blanket for cozying up and watching her favorite shows. Made of crocheted cotton and available in four beautiful colors, this blanket will keep her feet warm in the mermaid tail design. Both the back and the bottom of the blanket are open so she won't have to worry about not being able to move it in. This gift is so cute.
29.
Colorful Soprano Ukulele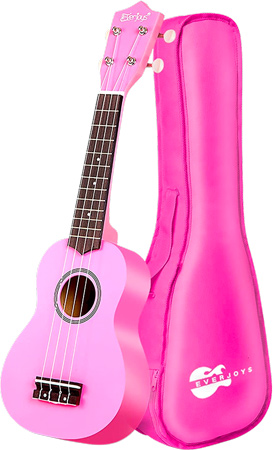 For the musically inclined teenage girl, this gift will make her dance with joy. (Hull-a dance!) Sit back and enjoy the sounds of Hawaii as she learns how to play the ukulele. Music is a great way to express yourself and your emotions, and this ukulele will be perfect for that! This high-quality instrument is a full-sized, genuine ukulele made of solid wood. It's not a toy, but she'll have a ton of fun learning how to play it.