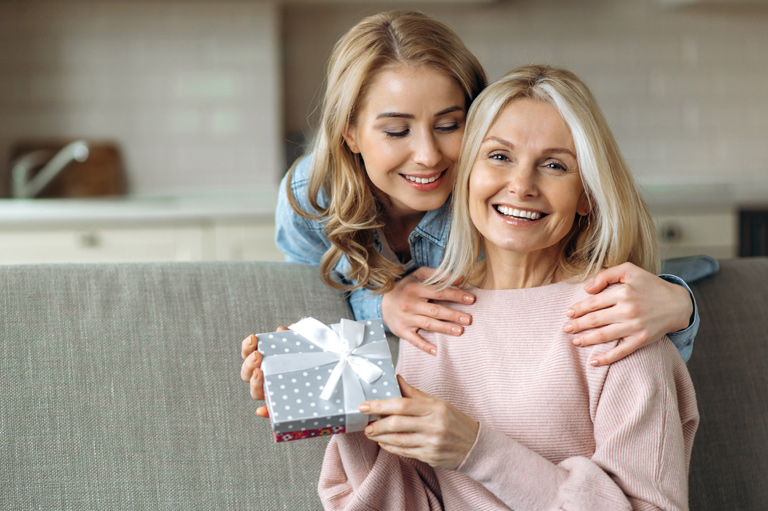 If you're shopping for the perfect gift for mom, this list of 27 gift ideas will make it easier to pick the right one. Moms do so much for us so giving her a gift that shows her how much she's appreciated can seem daunting. You want to get her something that's worthy of the amazing woman she is.
That's why this list has been thoughtfully curated to include only the highest quality, useful gifts that will make mom happy she has someone as thoughtful as you in her life. Everything from self-care to help her pamper herself, to home decor and fashion is covered right here. Give mom the surprise she deserves.
1.
Terracotta Plant Pot Set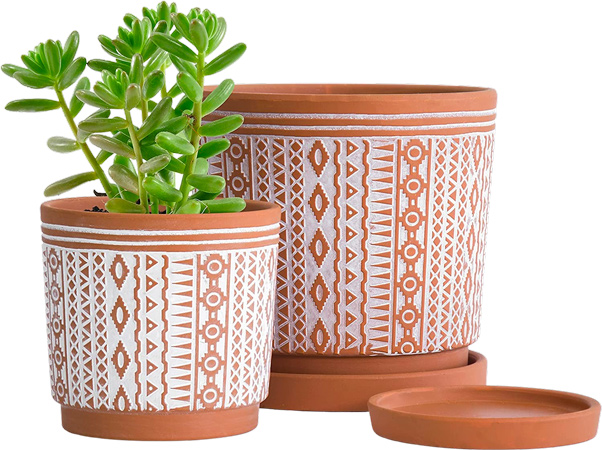 Help mom bring some nature into her home by giving her some plants in these eye-catching terracotta plant pots. The set of two includes one 4.5" pot and one 6.5" pot, each with a contrasting white painted design that pops against the natural terra-cotta color. The pots come with a predrilled drainage hole and a matching drip tray for easy watering. They would be perfect for a beautiful succulent or an easy-to-care-for Peace Lilly.
2.
Picture Bud Vase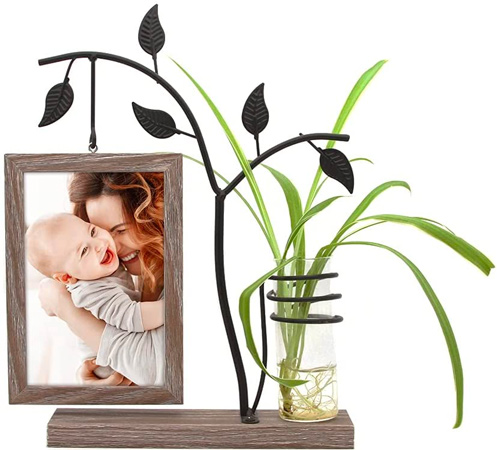 Give mom a unique and beautiful way to display her favorite picture with this metal and wood picture frame with an attached bud vase. The frame holds a 4×6 picture and the vase is perfect for a single stem of her favorite flower. This frame will stand out from all her other frames and will surely become one of her favorite pieces of decor.
3.
Minimalist Bud Vase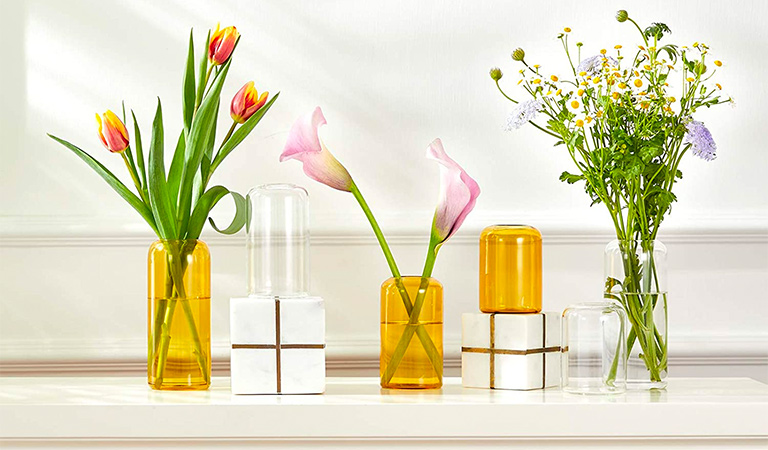 These glass bud vases would make a perfect gift for the mom that loves fresh flowers without the fussiness of a large ornate vase. They are the perfect size for a few stems and the minimalist design won't detract from the beauty of the flowers. They come in a set of three so she can either create a table centerpiece or split them up around the house. The small size also makes them perfect for a nightstand where there's not a lot of room but she still wants to wake up to fresh flowers.
4.
Gardening Tool Set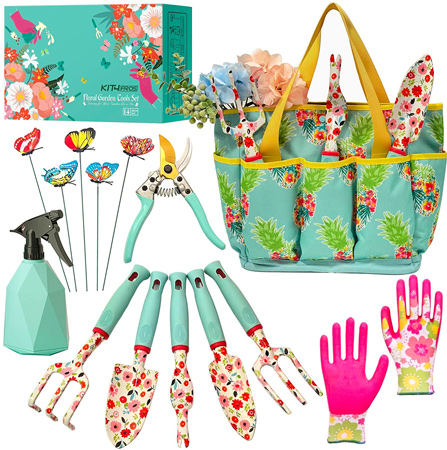 Give mom a gift that will help her enjoy some mindful time in the garden with this ten-piece garden tool kit. Everything mom needs to take care of her own backyard oasis is included. The tools are made of rust-resistant aluminum for long-lasting durability so they can stand up to any task. What makes this set unique though is the ultra-feminine, retro-inspired design. It even comes with decorative butterfly stakes to adorn her plant beds with a splash of colorful whimsey. This gardening set will be a gift mom will love by her side as she tends to her personal piece of nature.
5.
Woven Blanket Basket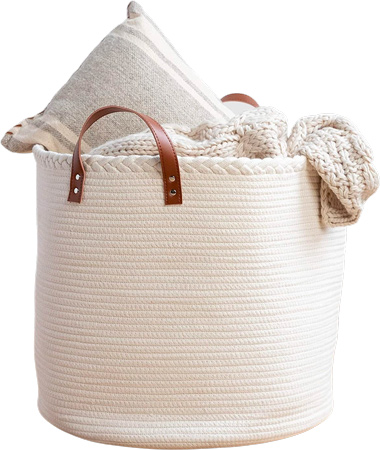 For a practical gift with many uses, mom will love this versatile woven basket. It's great for storing throw pillows, blankets or any other miscellaneous pieces she wants to store in a stylish way. The basket comes in four trendy colors that will elevate any style of decor. The vegan leather handles also make it easy to carry so she could also use it as a luxury laundry basket. This is a gift mom will get tons of use out of.
6.
Flower Throw Pillow Case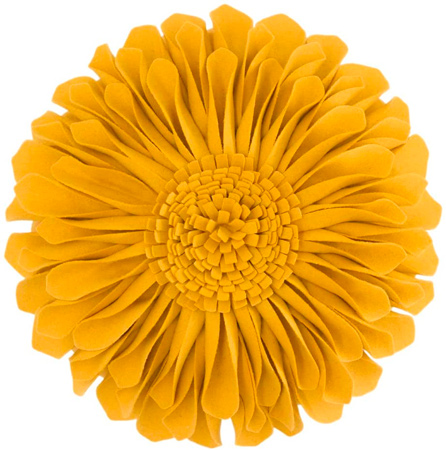 Brighten up mom's couch or bed with this delightful flower throw pillowcase. This pillowcase comes in many vibrant colors and different flower designs to choose from, including a beautiful bright yellow sunflower design that's perfect for sprucing up a room for spring. It's made of high-quality wool with a 100% cotton backing so it's resistant to pilling and made for everyday use. Get one for an accent pillow or mix and match to make mom's living room look like a beautiful spring garden.
7.
Luxury Throw Blanket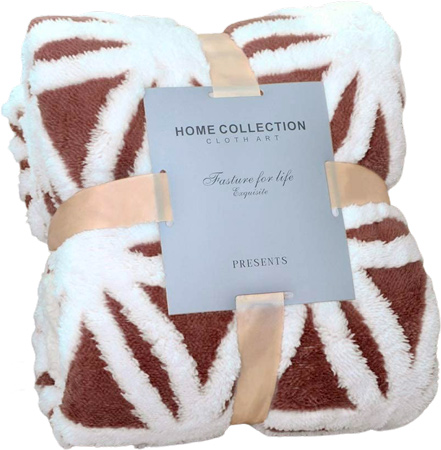 This stylish sherpa fleece blanket would look beautiful draped over mom's couch or bed. Whether she wants it to cuddle up on the couch to read a book or she wants to drape it on her bed as a bedspread, this blanket will add a splash of classic style to her decor. This extra soft throw comes in various colors and sizes to choose from. It's also machine washable so it's great for daily use. Mom will love cuddling up under this ultra-soft and chic blanket.
8.
Designer Wallet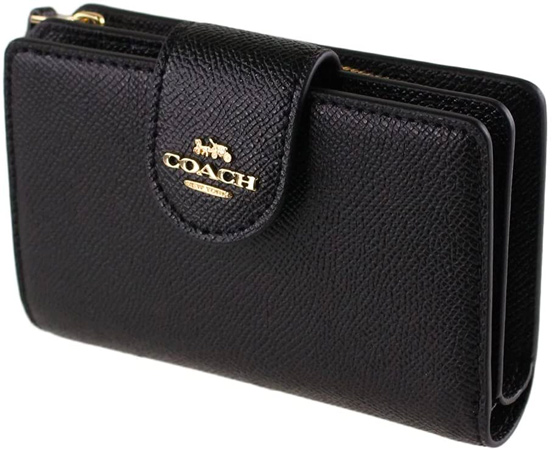 This luxury, designer wallet is a gift mom will be ecstatic to get as a gift. This black, pebbled leather wallet made by Coach is the perfect way for mom to carry all of her essentials in style. It holds seven credit cards, her id card, loose change and has a billfold for cash. It's a classy wallet with understated luxury that holds a ton of stuff without being bulky. This is a gift that will impress her with your excellent and timeless taste.
9.
Removable Purse Organizer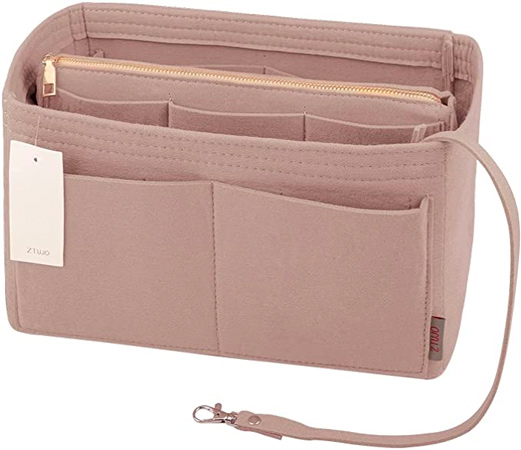 Help mom stay organized in her purse with this removable organizer. The clever design not only provides tons of pockets so everything has a place, it also easily lifts out of her purse so she can slide it into another purse. Switching out purses is easy and can be done in seconds. The felt construction stops it from sliding around in her bag and the attached key lanyard means she'll never have to search for her keys again.
10.
Perfume Atomizer Set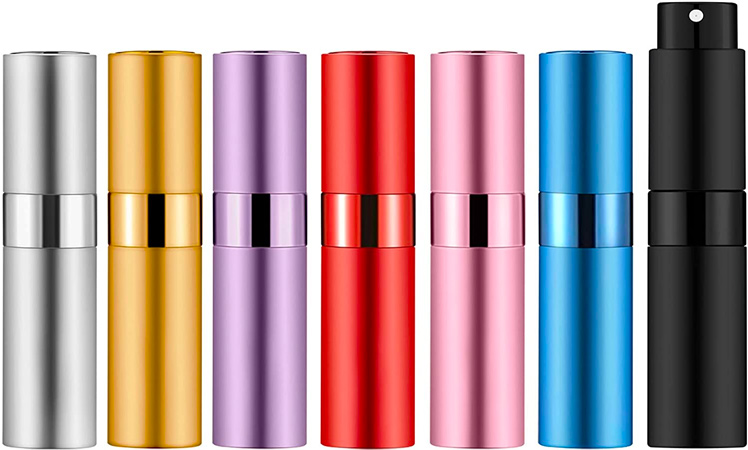 This set of perfume atomizers is perfect to allow mom to take her favorite scents with her on the go. The set comes with seven different atomizers, each a different color so she can tell her scents apart. The atomizers can either be filled with the spritz pump, like traditional atomizers, or can be filled with the included funnels. Most atomizers don't allow for the lid to be removed but because these do, they are also a great way to carry around hand sanitizer, body sprays or even facial hydrators that don't come with a spritzer.
11.
Modern Tea Set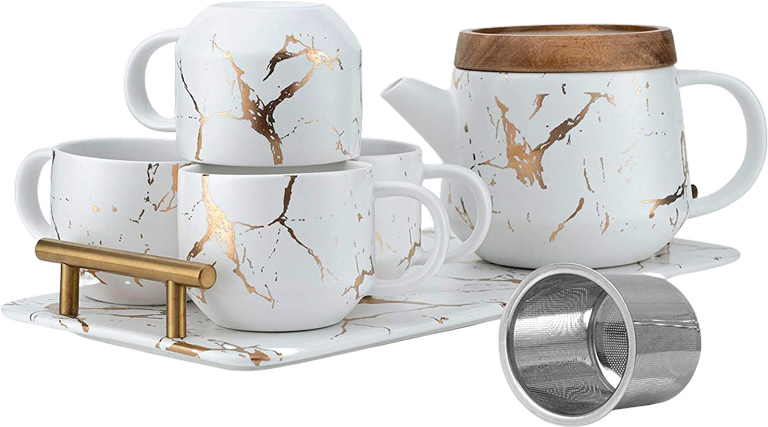 This modern tea set will make a great gift for the mom that enjoys her tea. The beautiful white and gold marbled design with bamboo accents makes this set super modern. It comes with a teapot with an infuser basket, four teacups and a matching serving tray that would be perfect to serve tea sandwiches or biscuits. The set is made of durable ceramic that makes it dishwasher safe so clean up is a breeze. When not in use this set is stylish enough to leave out on display. It's just too pretty to stash away. Mom has never had a tea set like this before.
12.
Vintage-Inspired Apron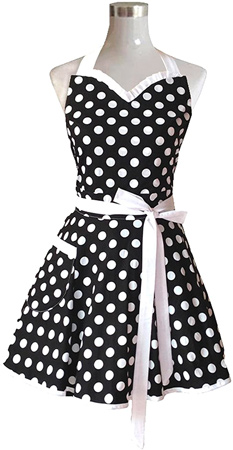 This vintage-inspired apron will look so cute on mom while she's whipping up her magic in the kitchen. The sweet, feminine cut and polka dots make this '50s-inspired apron flattering while the neck and waist ties make getting a comfortable fit on anyone easy. It's also machine washable so it's up for anything in the kitchen. Choose from red, black or ultra-feminine pink. It will be mom's new favorite apron.
13.
Versatile Cutting Board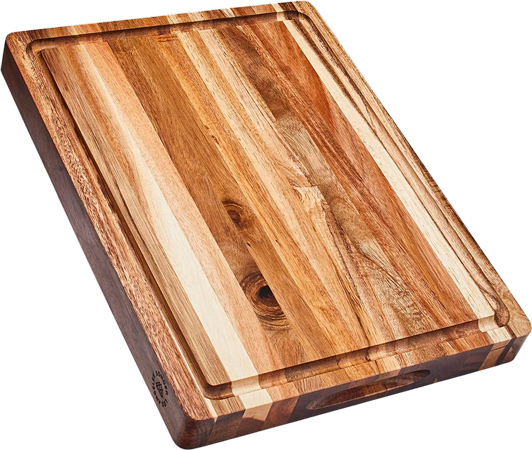 This high-end cutting board is a great gift for the mom that likes to spend time in the kitchen and loves to entertain. Made of thick Acacia wood with a beautiful grain, it's made to stay out on display and guaranteed to last a lifetime. This unique board is designed to be used on both sides. One side is bordered with deep grooves to catch excess liquids while chopping and the other side has a deep cutout made to hold crackers when used as a charcuterie board.
14.
Modern Crystal Bowl
This large lead-free crystal bowl by Nachtmann will find many uses in mom's house. The beautiful basket weave design makes it a perfect fruit bowl to leave out on the counter. Or she could use it as a very luxurious salad serving bowl. However mom decides to use it, the intricate design makes this crystal bowl a modern piece of luxurious decor that she will be proud to use around the house.
15.
Marble Serving Tray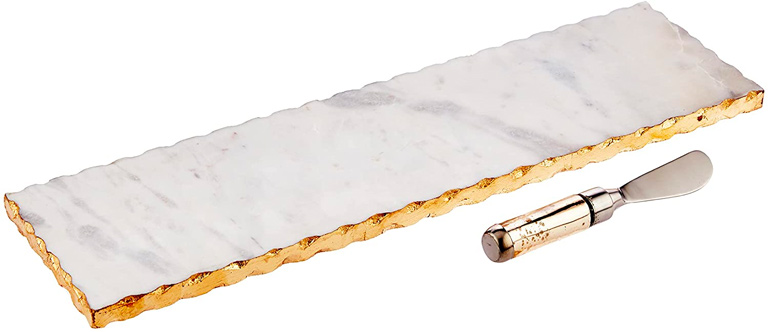 This unique serving tray is a great gift for mom to have in her entertaining arsenal. The white marble top with a bright gold foiled edge accent makes a real statement when used to serve fruits, nuts and cheese. It even comes with a matching cheese knife for guests to serve themselves. When not being used a serving board, it provides a trendy way to display candles or perfume bottles. Mom will love having this stunning tray ready for the next time her guests come over.
16.
Stemless Wine Glasses
If mom enjoys a glass of wine at the end of the day, gift her these modern stemless wine glasses by Mikasa. The set of four each has its own etched pattern that adds a bit of playfulness to its design. The glasses hold 17 ounces of wine or can be used as water glasses for everyday use. They will definitely be a set mom will be happy to add to her glassware collection.
17.
Crystal Wine Stopper

This stunning wine bottle stopper made of stainless steel and genuine cut crystal will not only help mom preserve her open bottles of wine, but it also makes a statement on the counter. The facets in the crystal will catch the light and reflect rainbows the way a diamond does. If mom likes her expensive wines, this is a wine stopper that is worthy of keeping them fresh.
18.
Fashionable Shopping Tote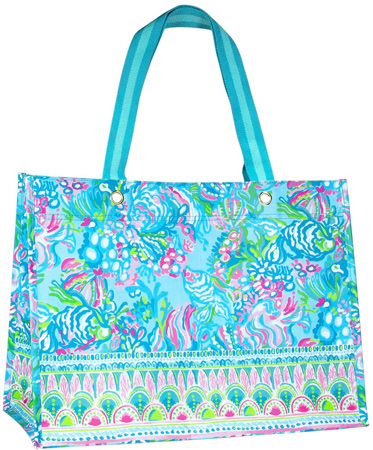 This stylish and eco-friendly shopping tote by Lilly Pulitzer will look great on mom's shoulder as she does her weekly grocery shop. The extra-large tote will hold a huge amount of shopping while the wide straps distribute the weight evenly making it comfortable enough to carry for long shopping trips. The bag comes in five different fun and vibrant designs that will keep mom looking on trend while she's out and about. When not in use it folds flat and can be stored in a cupboard or left in the trunk of her car.
19.
Genuine Diamond Watch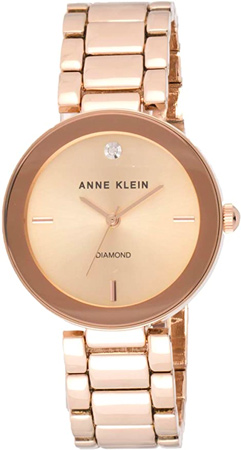 Mom will be so happy when you give her this genuine diamond watch by Anne Klein. The minimalist face has a slightly domed lens that is made of mineral crystal for extra durability and optical clarity. The 12th hour is set with a single, colorless diamond and the adjustable link bracelet is made in a beautiful rose gold color. This watch has class written all over it. It can be worn for any occasion and is even water resisted up to 100 feet so it doesn't have to be removed while bathing or swimming.
20.
Travel Jewelry Box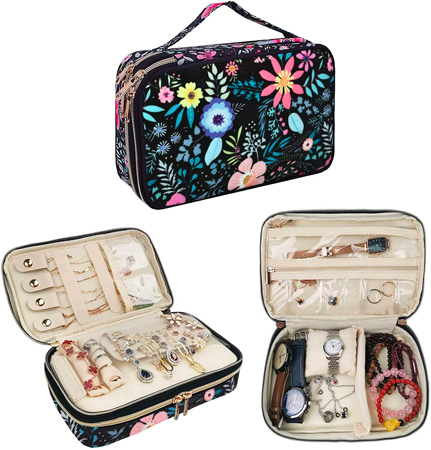 Give mom something to keep her best jewelry in with this fashionable organizer. The jewelry organizer has dedicated space for her rings, watches, bracelets, earrings and even a snap faster section to keep her necklaces from tangling. It's great for using at home but also easily fits in a carry-on bag for travel. The whimsical designs are adorable and make this high-quality travel jewelry organizer stand out from the rest. This practical gift will help mom stay organized while protecting her expensive jewelry.
21.
Silky Kimono Robe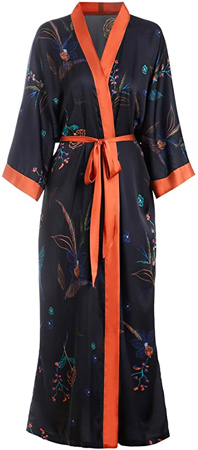 This silky kimono robe will make mom look elegant while still staying comfortable around the house. The flattering cut with tie closure will make her feel amazing while the high-quality satin charmeuse material will keep her cozy without the extra bulk of traditional robes. It comes in many different patterns and colors to choose from so finding one to suit mom's style will be easy. It's also machine washable so it's easy to care for, unlike high maintain silk. An elegant robe for an elegant mom.
22.
Fuzzy Slippers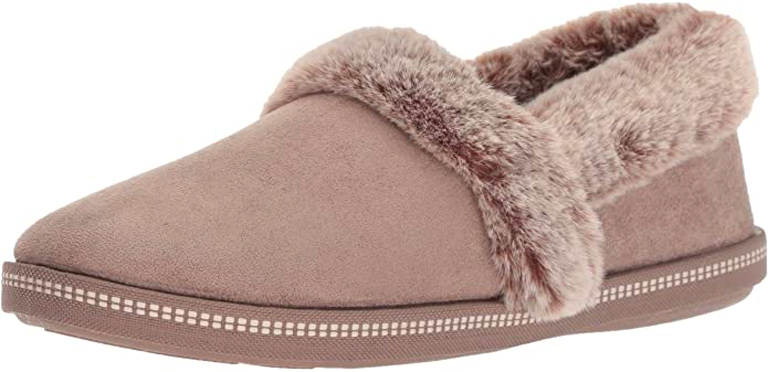 These fashionable slippers by Skechers will keep mom's feet cozy with their faux fur lining. The slippers come in six different colors, including a beautiful blush pink. The outer suede-like material makes them easy to clean and the rubber soles make them nonslip and suitable to wear for outdoor use in the garden. These slippers will be a gift mom will be able to use every day.
23.
Rejuvenating Foot Spa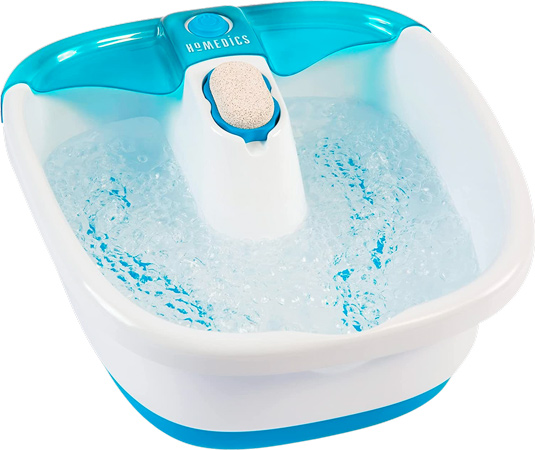 Make mom's feet really happy with this luxury foot spa by HoMedics. The foot spa not only rejuvenates tired feet but the massage nodes and removable pumice stone will make mom's feet look and feel like she just walked out of a pedicure salon. The water jets can be controlled with the convenient toe-touch button so there's no need to put her hands in the footpath to turn them on and off. It's easily transportable so she can move it from room to room as she wants. The splash proof design even makes it safe to have in the living room so she can be enjoying a foot spa treatment while she's catching up on her favorite shows.
24.
Manicure Set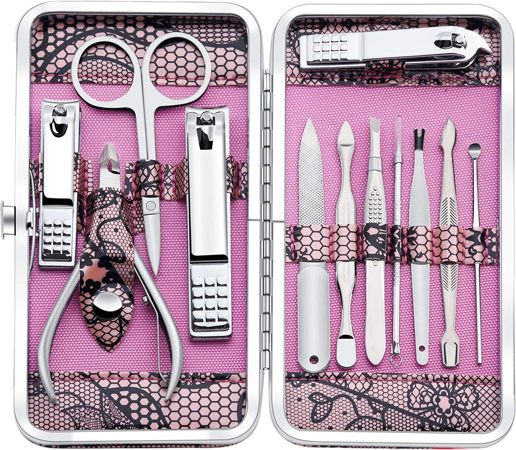 Help keep mom's nails looking their best with this complete manicure set that comes in a stylish and convenient storage case. The twelve-piece set includes everything she needs for a professional-looking manicure, including scissors, files, clippers and cuticle care tools. The hard shell carrying case stores everything while not in use and also makes it easy to throw the set in a purse or gym bag so it will be ready for any nail emergency.
25.
Relaxing Candle Set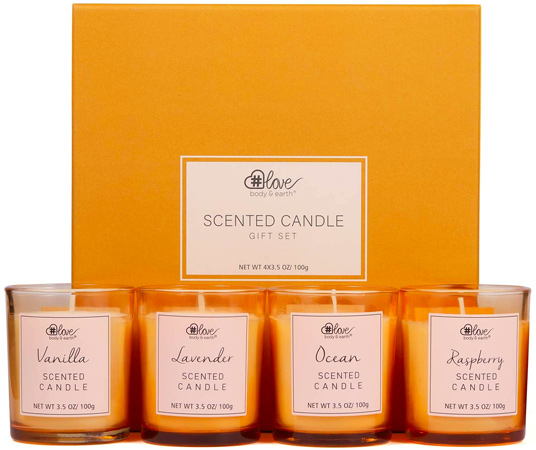 Make mom's house smell amazing with this set of luxury soy candles. The set comes with four relaxing fragrances, all made with 100% essentials oils. Each candle is made with natural wax and lead-free cotton wicks to give a clean and long-lasting burn. This is the perfect gift to give mom to help her sit back and feel relaxed while her house fills with the scent of fresh-cut lavender or sweet and calming vanilla. The transparent glass vessels also allow the candlelight to shine through, providing a beautiful ambiance to any room.
26.
Candle Accessory Set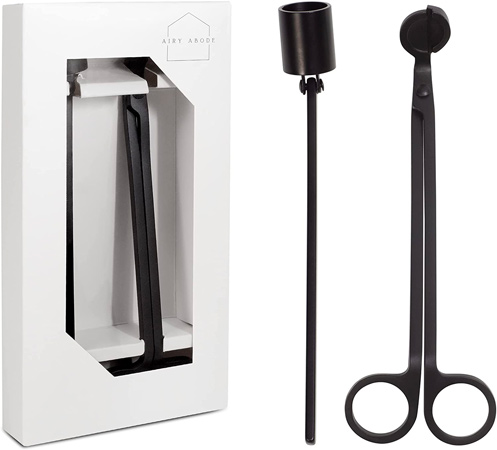 This candle accessory set not only helps mom's candles last longer, they also look stylish displayed as decor on a tray or candle plate. The set comes in five different colors to choose from, including a trendy matte black that will easily blend with any decor style. The wick trimmers make trimming hard-to-reach wicks easier while the snuffer makes putting out the candle without blowing wax everywhere quick and effortless. If your mom loves candles, this set is definitely a gift mom should have.
27.
Italian Cashmere Stole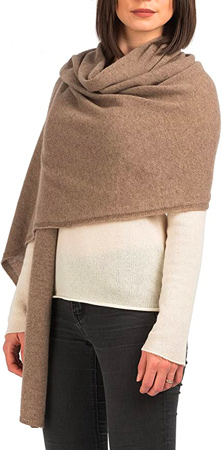 Give mom something so soft and luxurious she won't want to take it off with this Italian-made, 100% cashmere stole. This wrap is so versatile it will look great worn with a pair of jeans and a t-shirt or even over an evening gown. The cashmere makes it lightweight but still warm enough to wear on chilly evenings. It comes in twenty beautiful colors, from neutrals like tan and black to vibrant colors like purple and bright fuchsia pink. This is a luxurious gift that is definitely up to the task of leaving mom lost for words over such a thoughtful surprise.