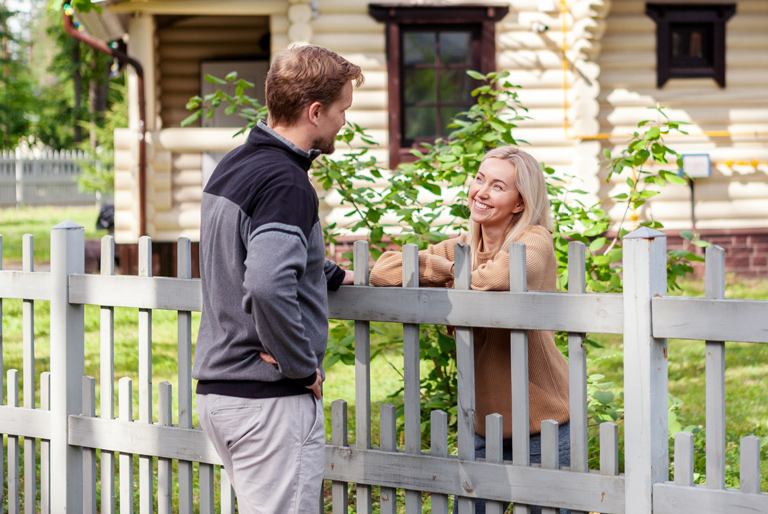 Living next door to a cool couple or single person is really awesome. Maybe you spend time with your neighbors socially or go over for a BBQ, or perhaps they are the kind of people you can enjoy a drink and a fun games night with. Either way, you may need to find a present for your neighborly friends to convey your good wishes.
A gift for the home can be a good choice, or something useful like a tool kit can come in handy and make a thoughtful present. This list will give you some great suggestions and ideas for a great gift to get your neighbor.
1.

Spice Grilling Set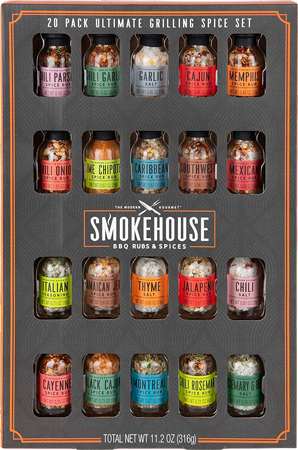 If you regularly go over to your neighbor's house for a cookout then bring this spice set along the next time you get an invite. It will make a fantastic gift for any barbecue fan and contains herbs, rubs, and spices that can be used to season and flavor meat. Burgers, steaks, and chicken will all taste amazing and new combinations of flavors can be experimented with each time. The set includes twenty bottles that contain original seasonings like chipotle lime, chili rosemary, and black Cajun to make your barbecue go with a bang.
2.

Walnut Chopping Board
This elegant and high-quality chopping board will make a fantastic housewarming gift for any new neighbor. Made from super durable walnut wood this board is perfect for chopping and slicing all kinds of meat, fruit, and vegetables. Designed to provide an extra-large food preparation surface, the tough, dense wood will resist slices and scratches without blunting knife blades. With built in handles and a draining groove, the board can be picked up and moved easily to pour away collected meat or fruit juices.
3.

Silicone Utensil Rest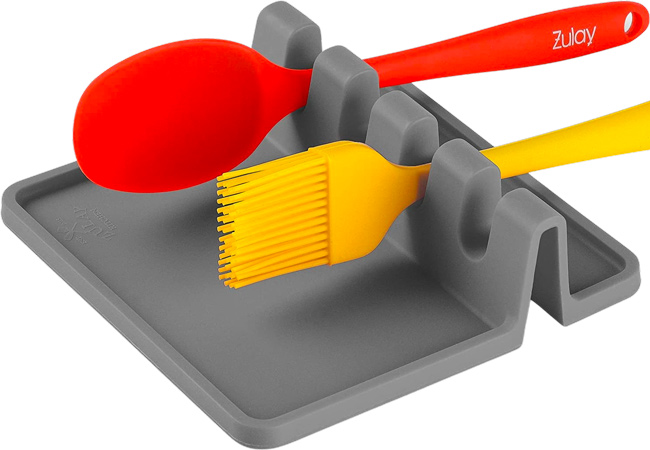 Keep kitchen messes and spills to a minimum while cooking with this handy silicone utensil rest. The tough material can be used to hold spoons, spatulas, or ladles and will prevent food from dripping onto counter surfaces. Use it while cooking then wash and put away until needed again. The flexible silicone makes the utensil rest easy to clean and store and it can be kept in a drawer or on a shelf until needed. Capable of holding up to four utensils at a time this rest will make a simple yet practical gift for friends or neighbors.
4.

Cocktail Shaker Set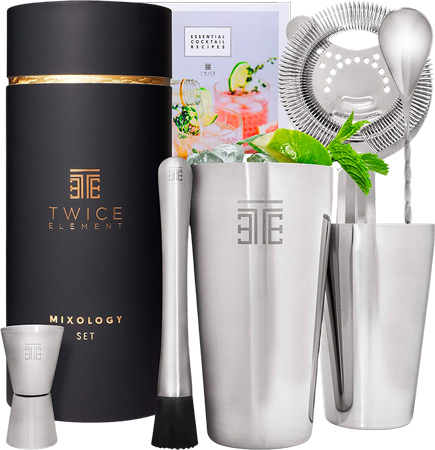 Budding bartenders will love using their own cocktail shaker to blend their favorite beverages. Stop mixing drinks by hand and prevent spills and messes by putting everything inside this solid steel shaker. Blend, muddle, mix, and stir like a real professional and make everything from a Mojito to a Whiskey Sour. Use it outside for garden parties or mix cocktails in the man cave to share with friends. Family get togethers will be fun and entertaining, especially if you can learn some bartender tricks and flips.
5.

Patterned Cotton Throw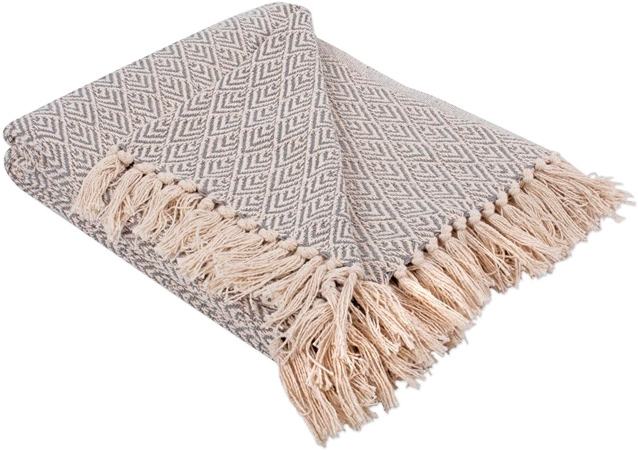 Use this stylish cotton throw to make a lovely gift for a neighbor. It can be used on the bed as an extra blanket or throw it over a living room chair to use as needed. Great for snuggling up on the couch and reading a book or watching TV, this blanket has dozens of uses. Put it in the car for the kids to use, or lay it down as a picnic blanket. The grey coloring and subtle pattern will match any type of décor and the blanket be easily cleaned and reused.
6.

Salt and Pepper Set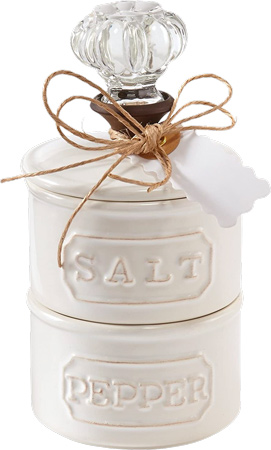 Surprise your neighbors with a classic white ceramic salt and pepper set. Designed in a way that it won't look out of place in a modern home, country farmhouse, or French kitchen the dual salt and pepper containers are finished with a glass doorknob for an original touch. It will look great when placed on a kitchen shelf or counter, or leave it on the dining table to use as needed. Season food to perfection and keep condiments dry and fresh with this lovely kitchen accessory.
7.

Set of Coffee Mugs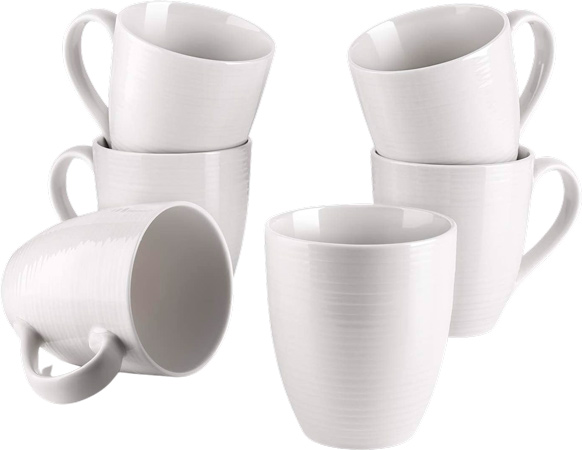 If you are hoping for the neighbors to invite you over for coffee then you better make sure that they have enough mugs! This set of mugs are made from hardwearing porcelain and can be used to serve up tea, coffee, cocoa, or hot chocolate. The perfect size to use and hold, these durable mugs are safe in the dishwasher, microwave, or refrigerator. Give them as a neighborly present or use them for welcoming newcomers to their home and share a beverage together.
8.

Garden Kneeler Set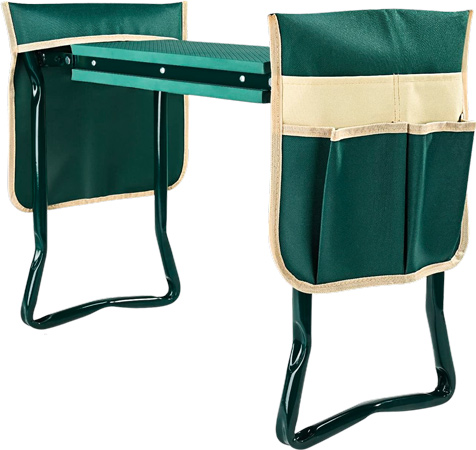 For those who have been friends with neighbors for many years, you will be aware of much time they like to spend in the garden. If tending flower beds and pulling up weeds is something your neighbor enjoys doing, them give them their own kneeling bench to make life easier. Made from lightweight materials this bench is easy to move and carry. The adjustable seat can be raised and lowered for sitting and kneeling, making it great for getting into hard-to-reach places. Two large pouches are included for storing seeds, tools, gardening gloves, and anything else that's needed.
9.

Cute Cactus Tealights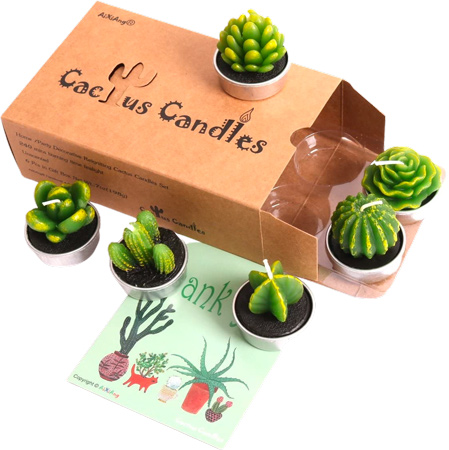 Make a delightful gift that's absolutely adorable with these tiny cactus tealights. Your neighbors will love these super cute little candles and they can be used on their own or placed in a tealight holder. Each one is designed as a different type of cactus and the green leaves contrast nicely with the metal candle holder. Each one will burn for a period of four to five hours and are made from eco-friendly materials. The set contains a total of six tealights which come packaged in a lovely gift box.
10.

Gin Making Kit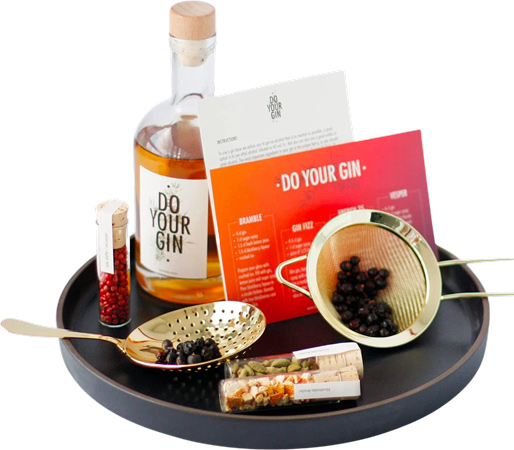 Share a drink in the company of neighbors and design your own original cocktails with this gin making kit. Contains everything needed to design your own drinks concoctions and it will make a fantastic housewarming gift. Great for sharing with friends or enjoying alone, this gin set includes botanicals, flavorings, and berries along with a funnel and prep bottles so you can make your own craft gin. Experiment with different recipes and create new and original flavors.
11.

Vegetable Chopping Tool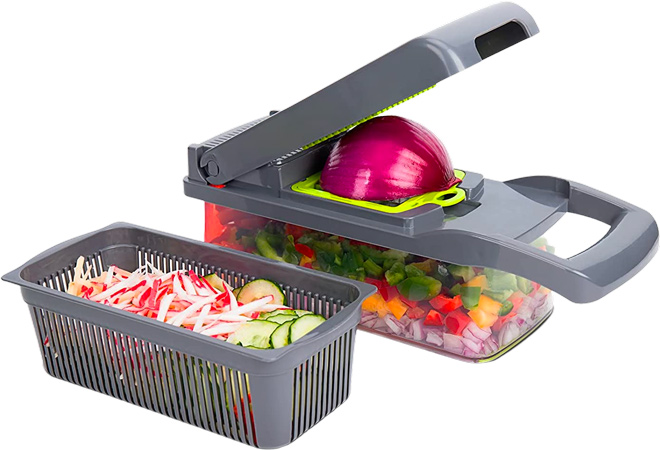 Make cooking and meal prep ten times easier with this versatile chopping and slicing tool. Carve up veggies, slice fruit, and grate citrus zest easily and save time on cutting and chopping. This handy cool will make a great present for the neighbors and the veggie chopper comes with a total of eight different blades. The chopped food is caught in the plastic container and is easy to distribute onto plates as needed. Take it apart easily and rinse it clean ready to use for next time.
12.

Popcorn Popping Jug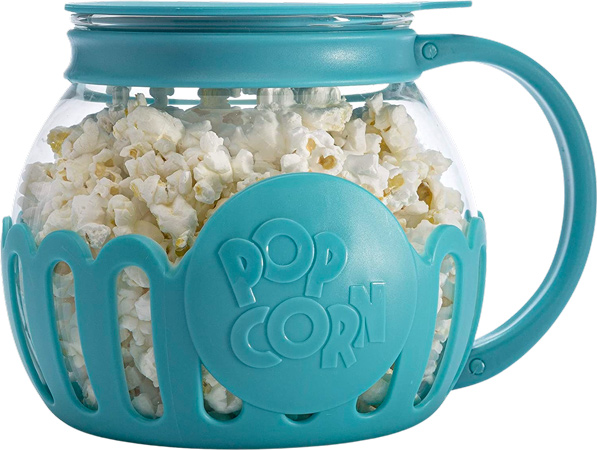 Most people enjoy a popcorn snack when watching a movie or TV, so for an easy housewarming or neighborly gift this jug is about as ideal as you can get. Made from durable borosilicate glass it can withstand high microwave temperatures and pop your favorite corn to perfection. Hot air circulates freely around the jug and prevents burning or scorching, and toppings or melted butter can be added using the dual function lid. Available in different colors this will be a nice gift to get your neighbors. But be careful! It works so well that you might not want to give it to them!
13.

Red Rose Figurine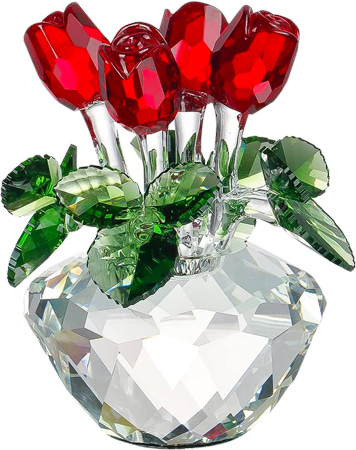 Make a stunning gift for any neighbor with this delightful red rose ornament. Made from sparkling crystal this fantastic piece can be used as an ornament, or as a paperweight to keep on the desk. The cluster of deep red rose buds catch the light and are contrasted perfectly by the deep green leaves. The rich colors and stunning detail make this a keepsake gift that can be displayed anywhere in the home. Your neighbors are bound to love the thoughtfulness that went into this gift.
14.

Jar Wall Décor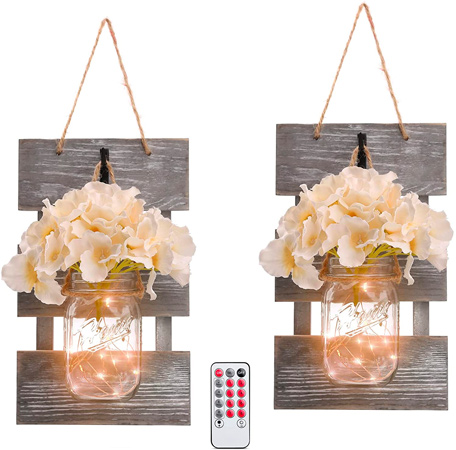 Add subtle highlights to a wall, room, or porch area with these rustic and natural looking mason jar sconces. Each one can be hung up from the attached rope and the natural colors mean these jars will blend in with any décor. The delicate flowers are lit by a string of tiny fairy light and can be set to numerous modes with the included remote control. Set the timer so the lights will come on and go off on a schedule and save energy. The sconces are made from all natural materials and will make an eco-conscious gift.
15.

Modern Geometric Planters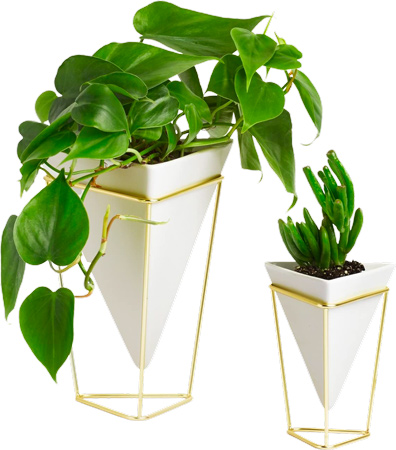 Display plants with a modern and dramatic effect using these small open wire planters. The gold finish and minimal use of materials will not detract from the plant in any way, so your favorite flowers can be shown off to full effect. Put them on a coffee table, a side table, or place them on a desk to show off small houseplants, cacti, or succulents. Two white triangular plant pots are included and the geometric design makes these planters a unique and interesting piece of home décor. They will be a great housewarming gift for new neighbors.
16.

Flameless Glass Candles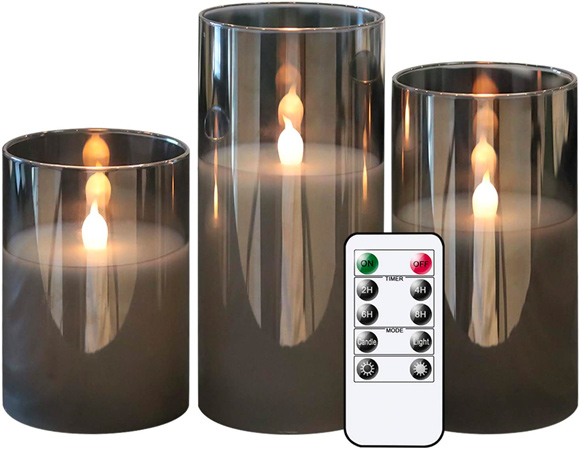 Set the mood and ambiance with these lovely flameless glass candles. The set of three candles come in different sizes and can be used individually or together. Place them on a mantelpiece or cluster them together to make a nice table centerpiece. As the candles are flameless, they can be left on for extended periods and will not release smoke into the air. Choose from different brightness modes and settings and use the remote control to light the candles as needed.
17.

Modern Photo Album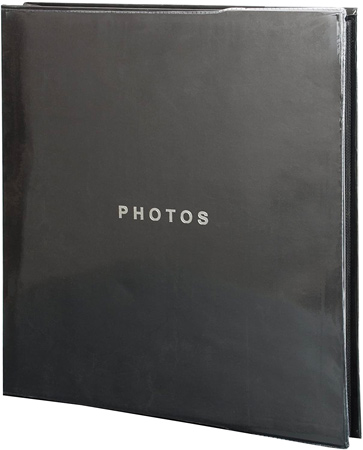 Help your neighbors keep their family photos and sentimental pictures together with this handy photo album. Give it as a sentimental gift that they can use to keep special memories and flip through them whenever they feel like. The album can contain up to 400 standard size photos and the easy slide pockets make photos easy to add or remove. A protective just jacket and plastic sleeves will keep images protected and prevent fading from the sun and the album is available in a choice of black or grey colors.
18.

Natural Coir Doormat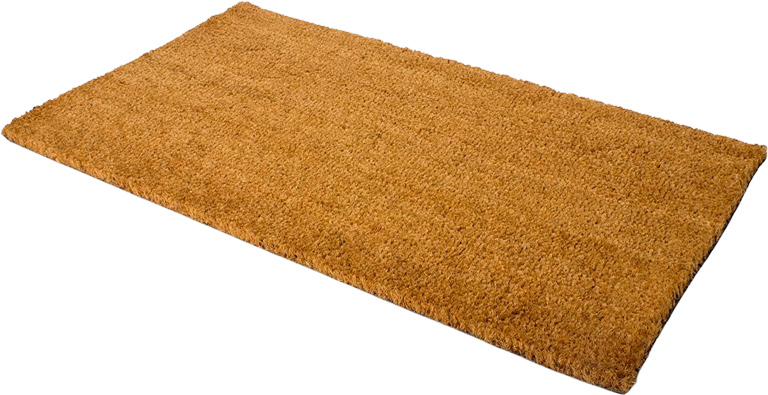 Give a neighborly housewarming gift with this beautiful natural doormat. The traditional looking mat is made from pure coconut coir and will last for many years of use. The tough material will help to trap dust, dirt, and soil on shoes and prevent it from being walked into the house. It is eco-friendly and moisture resistant so no need to worry about damp, mold or mildew. Put it outside the front door or use it for indoor areas. Clean it easily with a shake and a vacuum and let the natural coir do the rest.
19.

Adult Jigsaw Puzzle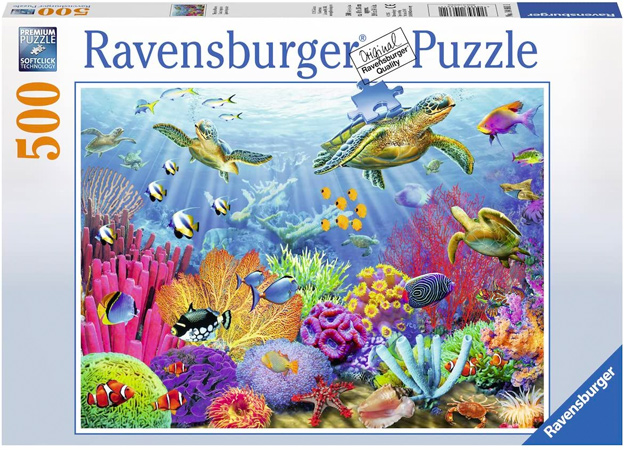 If you have neighbors who like to do puzzles then this jigsaw will help them pass hours of time. The tricky picture is designed to be challenging for adults and the vibrant pieces may have them scratching their heads until the 500-piece puzzle is solved. Relax and fit together a few pieces a day, or spend a few hours enjoying mindful relaxation.
20.

Cotton Bathroom Towels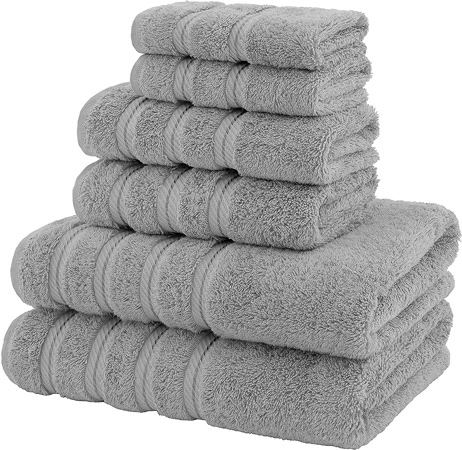 Everyone can always use fresh towels so this set of Turkish cotton bath towels will be sure to come in useful. Made from premium cotton the soft fluffy towels are highly absorbent and gentle on the skin. The set includes hand towels, bath towels, and wash cloths and will add a touch of elegance to any cloakroom or bathroom. Give them as a birthday gift or use them as housewarming present.
21.

Contemporary Umbrella Stand

Avoid hallway drips from wet umbrellas with this modern stand that's designed in an attractive Asian-inspired pattern. Made from top quality metal that is coated in special paint so it won't rust or corrode. Put in the hallway to place walking canes, poles, and umbrellas inside and prevent mud, dirt and water from spoiling the floor. It is a thoughtful and practical gift that your neighbors will appreciate.
22.

Extendable Magnetic Light
This handy LED light has a ton of versatile uses. The exterior of the light is magnetic so it can hold or pick up items like screw and nails or small washers. It will be a great DIY gift for a neighbor and can be used in the home, when camping, or on fishing trips. An extendable stem and flexible neck can be adjusted to point the light in any direction that is needed and light up small or tight spaces.
23.

Metal Tool Organizer

Assist your neighbor with garage or shed organization with this durable metal tool rack. Attach it to the wall of the garage or shed and store common gardening tools like shovels and rakes for easy access and retrieval. Adjustable and fixed hooks help to store all types of items large and small and the metal rack will not damage easily. No need to worry about rain or heat exposure, the rack is made from iron and is treated with an anti-corroding substance.
24.

Exotic Hand Soaps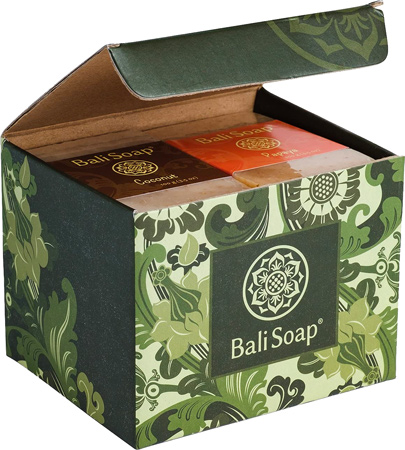 Spruce up the bathroom and make it look like it belongs in a high-end hotel by adding these exotic hand soaps. This pack of soaps has been handmade in Bali and features luxurious scents like ylang-ylang, lemongrass, and jasmine. The exotic ingredients provide an invigorating scrub and a rich lather to clean hands thoroughly, and the soaps will make a lovely gift for your neighbor's home.
25.

Large Oil Burner
Use your favorite blend of aromatherapy oils to enhance mood or promote relaxation, as the scents release gently into the air. Make a practical and stylish gift for your neighbors or a lovely housewarming present with this contemporary oil burner. Give room a pleasant smell and create the atmosphere you wish with this simple to use burner. Just place a tealight inside and enjoy delightful scents and smells for hours.
26.

Kitchen Dish Towels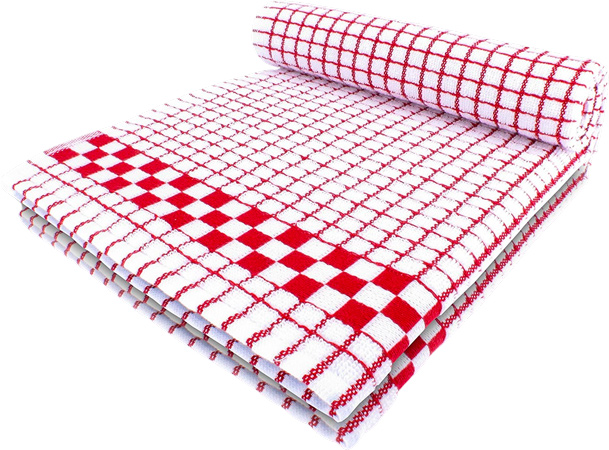 Keep the kitchen looking smart with these classic checkered design kitchen towels. Use them for cleaning or drying dishes, and keep one on hand when cooking to remove hot dishes from the oven. Made from pure cotton these towels are durable and highly absorbent to handle everyday kitchen tasks. Available in a range of colors to match any décor, they will not fray or leave lint on kitchenware.
27.

Household Tool Kit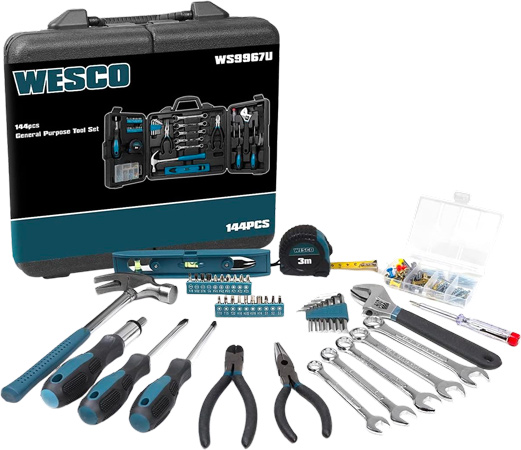 There are always tons of little jobs that need doing around the house. So why is it that you can never lay your hands on a screwdriver or a hammer when you need it? Solve that problem with this household tool kit. It is packed full with all the tools you will need to handle household jobs, including wrenches, drill bits, and pliers, all held together in a handy carry case. Need to change a plug? No problem, just grab the case and take your tools the room you need them.
28.

French Lavender Sachets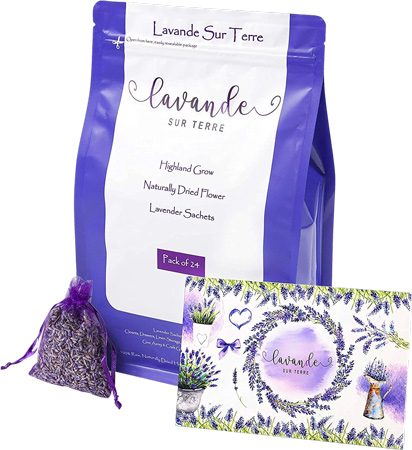 Make a lovely housewarming or thank you gift for your neighbors with these gorgeously scented sachets. Each one contains highly-aromatic French lavender which can be placed in cupboards, drawers, and closets to keep everything smelling light and fresh. Lavender is known as an insomnia cure so if you are having trouble sleeping, place a sachet under your pillow for a good night's rest.