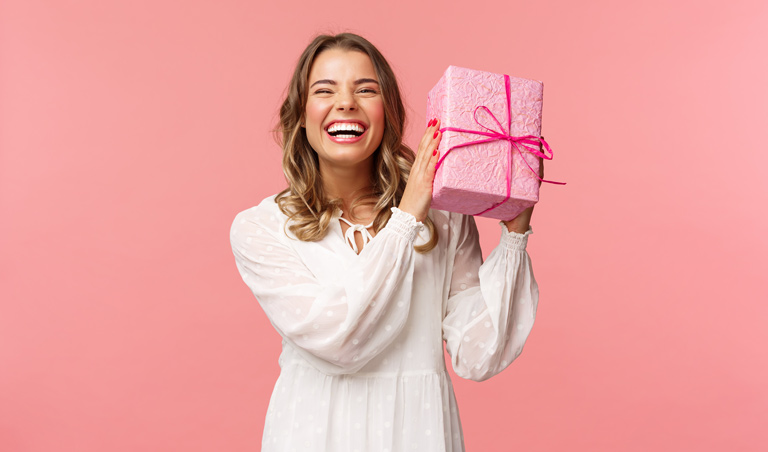 The workload and stressful weeks that come with being an adult are not insignificant. During these stressful days, a fun girl's gift can be a beacon of light. So get your girls something fun and exciting that can chase away those stressful feelings.
Not sure what to buy? Do not fret, as there is something for everyone in this gift guide, including DIY kits and cute decor pieces.
1.
Cute Animal 3D Cup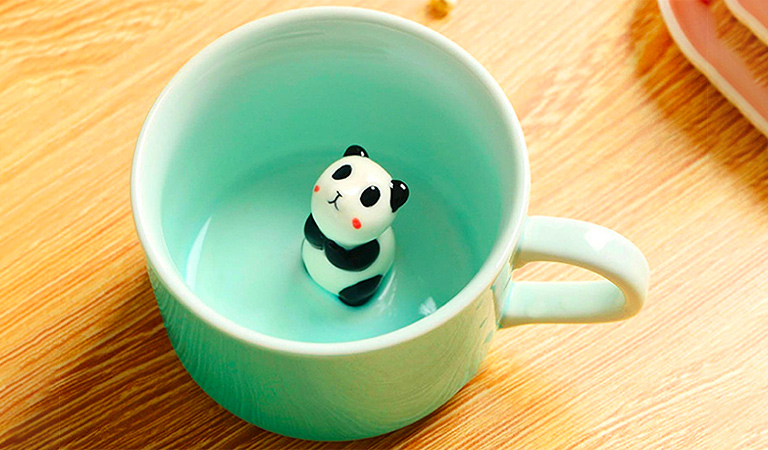 By far this is the most adorable gift on this list. The hand-crafted cup is easy to maintain and is sure to collect many adorable giggles. Made of ceramic material that is smooth and gentle, this cup is bound to make your friend's coffee/tea times joyful. You sure are not going to disappoint anyone with this wonderful gift. After all, life is all about bringing a smile to people's faces.
2.
Bamboo Cheese Board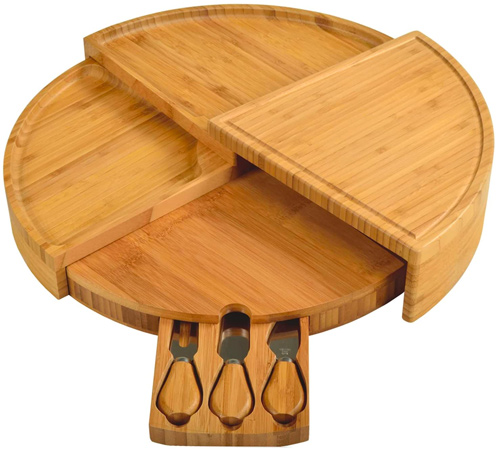 Does your beloved woman like cooking and is it her medium of fun? Then this bamboo cheese forest is a thoughtful offering for your friend who is a professional in cooking. The Picnic at Ascot's bamboo cheese board has three levels with a hidden drawer at the lowest consisting of three stainless steel cheese tools. The best thing about this cheese board is that it folds away into a compact wedge for easy storage. It is low maintenance; soap and water are enough to clean the cheeseboard. The bamboo cheese board is an ideal gift to motivate her to host more gatherings.
3.
Coca Cola Diner Style Steamer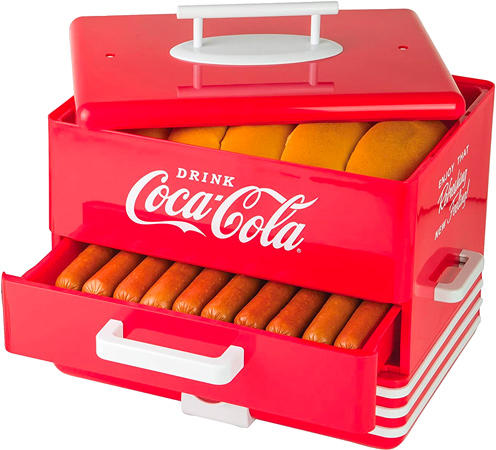 We all know our girlfriends have been the biggest cheerleaders in our lives. Gossiping over soda and enjoying vintage diners, a Coca-Cola dinner style steamer will be a perfect gift to celebrate the love. This fun steamer can cook twenty-four hot dogs simultaneously. It can also steam dumplings, fish, vegetables etc. This steamer also comes with a bun warming tray, which has the capacity of twelve buns. There is a three-position cooking dial allowing them to control the temperature. They only have to add water to the steamer, and their food will be ready. Get this fun cooking appliance for your female friends; they will love it, guaranteed.
4.
Popcorn Making Machine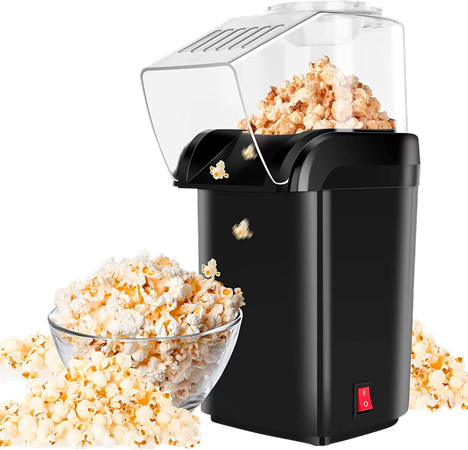 We all have that one friend who makes movie nights extremely exciting. Even the horror ones can turn into comedy with them. Show your appreciation for them in your life by gifting them this popcorn making machine- because what's a better way to symbolize love for movies than warm buttery popcorn? This popcorn maker is fast and efficient, making theater-style popcorn in a matter of minutes. Now she can enjoy fresh popcorn whenever she wants to see a movie. Its sleek black design looks beautiful on kitchen countertops; a perfect gift for a perfect woman.
5.
Vintage Cotton Candy Maker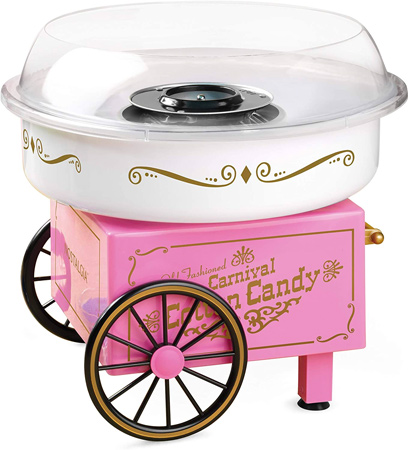 Gift a wondrous experience to your friend in your life with this vintage cotton candy maker. Cotton candy always takes one down memory lane. When the sugary floss hits your tongue, nostalgia hits hard. Make her relive her childhood with this make-it-yourself cotton candy maker. Heat the unit, add the flossing sugar of choice, and their cotton candy shall be ready in a few minutes. The units disassemble for cleaning, and the suction pump keeps the machine in place, ensuring stability. She will love making cotton candy using this vintage cotton candy maker.
6.
Electric Tabletop S'mores Maker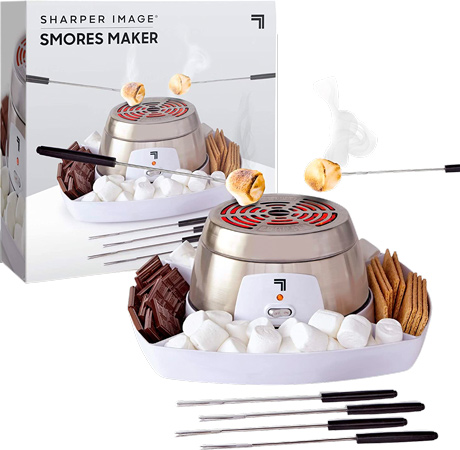 Campfires were all about roasting marshmallows to make tasty S'mores. Camping with your friends is a whole new experience filled with laughter and joy. If your friend relishes campfire S'mores and the laughter it brings then surprise her with this electric tabletop S'mores maker! It's light and portable and will help them to have fresh S'mores and camping times all year long by bringing those outdoor camping straight to her tabletop. So what are you waiting for, make her happy with this delightful present!
7.
Electric Nail Drill Machine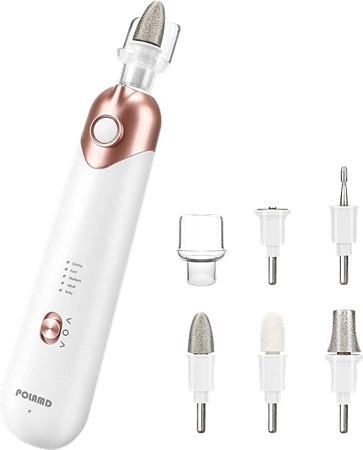 If there is one thing a boss lady enjoys doing is getting a manicure and pedicure. But waiting for appointments and commuting to nail salons is no fun. To save her this hassle and let her truly enjoy manicures and pedicures, bring the nail salon to her house by gifting her this electric nail drill machine. It provides salon-grade performance and is appropriate for clipping, grinding, and perfecting natural thick and fragile nails. She will love you a thousand times more for gifting her this amazing tool!
8.
Inflatable Water Slide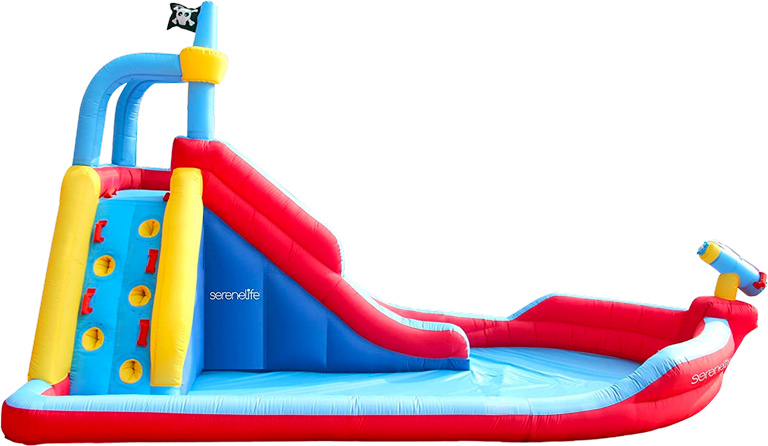 Does your friend love to have pool parties? After all, it's filled with fun memories and that is what matters the most. If so, then this inflatable pool slide is a great choice for gifting them. For endless fun, it has a dependable climbing wall, a huge water pool, a water splash feature, and a tall water slide. To endure years of recurring use, inflatable water slides are crafted with exclusive strong nylon building material and high-quality stitching technology. Ideal for both inside and outside use, this bounce house water slide pairing is extremely simple to set up and dismantle. It's the ideal gift for your friends who want to love having a good time!
9.
Bird Paradise Jigsaw Puzzle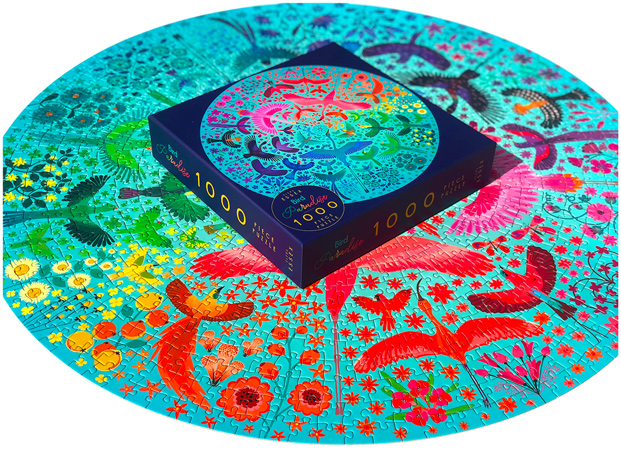 To see the big picture, you have to solve the puzzle. It makes a great gift for a curious soul. It contains 1000 pieces that all combine to make a fantastic picture. These oddly shaped pieces of a puzzle are relaxing and satisfying to the mind. After a long and hectic day engaging in a relaxing activity is all that matters.
10.
Professional Sphere Ice Ball Mold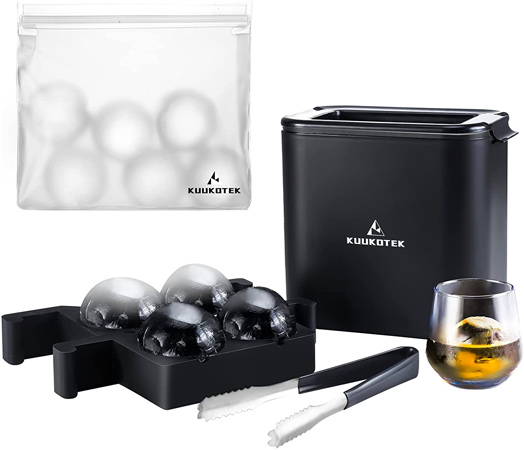 An ice ball mold would be the most thoughtful present for those women in your life who love to have their drinks on the rocks but whine about watered-down drinks. The Kuukotek crystal clear ice ball mold uses directional freezing technology that drives the impurities and air bubbles to the lower level, giving them a clear ice ball. Pure ice balls melt slowly and prevent over-diluting their drinks. Instead of gulping down diluted drinks, they can taste their drinks with these ice balls.
11.
Automatic Pan Stirrer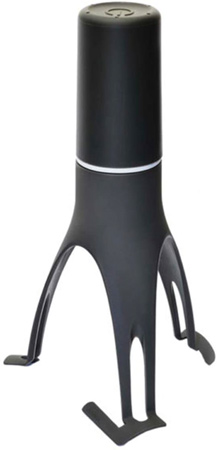 Cooking demands more attention than a newborn baby. But it is all worth it in the end. If you have a friend who loves to cook, and you want to make their journey easier, then this automatic pan stirrer looks like the ideal gift for them. They can put this fully automated stirrer to work when the recipe calls for constant stirring. This stirrer has soft, shiny legs made of sculpted plastic. It has a one-handed start button to spin it on and off, as well as three-speed settings. They simply have to lay it in a pan or bowl, turn it on, and it will rotate instantly. The stirrer is battery-powered and hands-free.
12.
Pancake Pan With Seven Animal Designs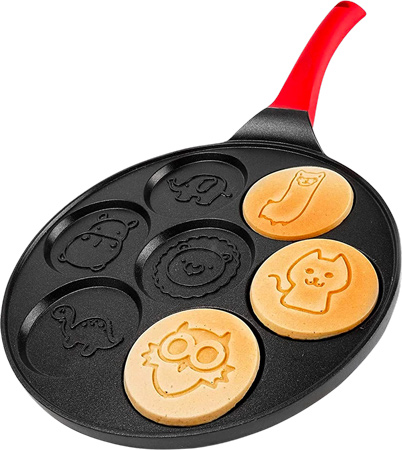 If your friend is a child at heart and loves sweet things, then gift her the best of both by giving her this fun animal-shaped pancake maker! Now she can have her breakfast in "shape" and feed her inner child too! She will also absolutely adore you each time she decides what animal pancake she wants to eat!
13.
Self-Watering Planters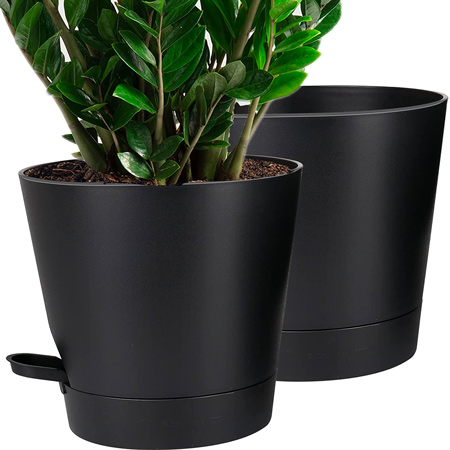 In these busy times we all have a friend who is obsessed with plants but taking care of them seems to be a tricky part. We have the perfect solution for this problem- a self-watering planter! With elegant colors and a balanced design for indoor plants, these will go with any home furnishings style she has. She can have all the greens in her house without worrying about watering them! An ideal gift for your plant-obsessed yet busy friend.
14.
Paint By Number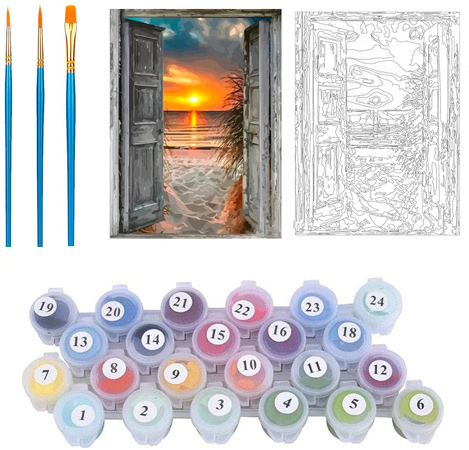 If your beloved girl loves to paint but hates every piece she paints, then take away her misery by gifting her this paint by number canvas. She can finally have the satisfaction of making a great art piece that is worthy of hanging in her apartment. It comes with superior non-toxic acrylic paint as well as proficient linen canvas with a uniform texture. So what exactly are you waiting for? Take advantage of the next opportunity and spoil your girlfriend with this wonderful kit.
15.
Flower Fondant Cake Mold Set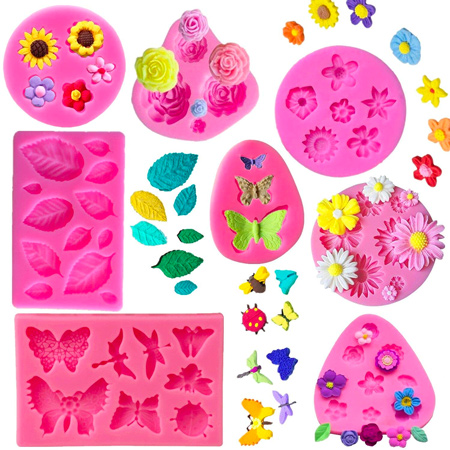 If you know a woman in your life who loves baking, then gift her these fun flower-shaped molds to make her next baking experience more flowery and pleasant. This flower fondant cake mold set has a set of eight silicone fondant molds, including one daisy flower mold, one rose flower mold, three small flower molds, two butterfly molds, and one rose-leaf mold. The adjustable silicone bakeware's nonstick discharge feature makes it a perfect baking mold, very easy to maintain, and secure to use in ovens, microwaves, freezers, and dishwashers. It can be used to make any type of mold including wax, ice, melted chocolate, muffin, soap, jelly, fondant and hard candy. A perfect gift for those who have a knack for sweets!
16.
Cake Decorating Supplies Kit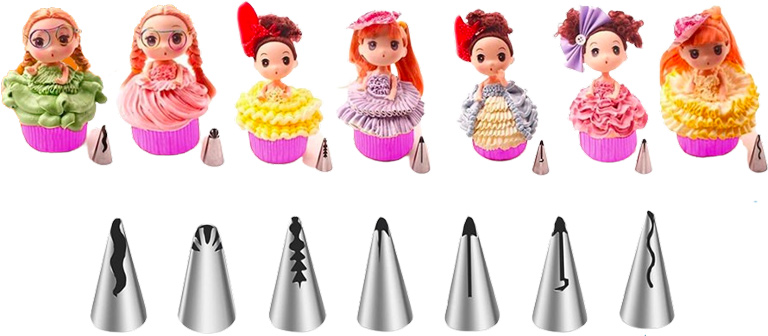 Know someone who wants to bake but has no idea what supplies to buy? Well, you have the perfect opportunity to gift them this cake decorating supplies kit. With this, they will have everything they need to start customizing their cakes, muffins, and cupcakes like a pro. All cake tools included are BPA-free and have been tested in a variety of environments, so you can rest assured that your friend has a healthy time baking.
17.
Shimmering Spray Powder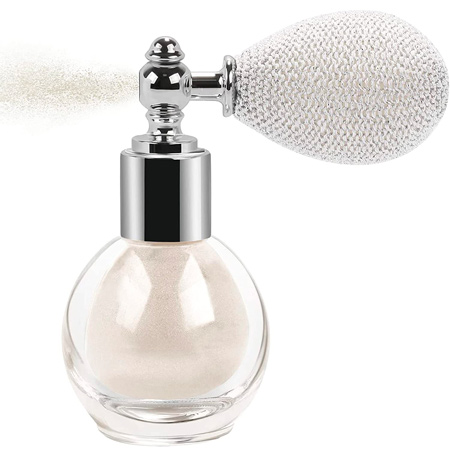 Is your friend out in the dating world and you want her to shine out there but don't know how to help her? We have the perfect present for you to give her. This shimmering spray will add sparkle to her face and body and will make her stand out like she truly does. Made of high-quality materials, this mineral formula is oil-free and talc-free, making it ideal for all skin types. It truly is a lifesaver and makes the ideal gift for your boss lady and close friends.
18.
Lip Gloss Making Kit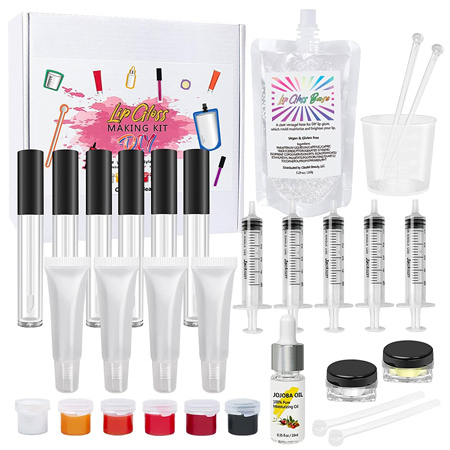 Women keep their friends close, enemies closer and lip gloss closest. Every woman has a tube of lip gloss in her bag at all times. Gift the adored woman in your life her lip gloss making kit. This kit includes everything imaginable from empty tubes, pigment powders to oils, clear versagel etc. The lip gloss base is vegan and gluten-free and leaves the lips soft and glossy. This kit gives complete creative freedom. She can add whatever glitter or pigment powder her heart desires. This DIY kit is a fun activity for women and makes a great present.
19.
Bath Bomb with Surprise Ring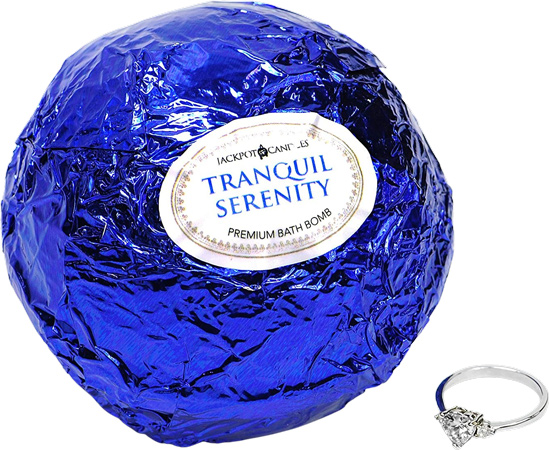 There are times when one wishes to lay back and enjoy and there is no better way to do this than a warm relaxing bath. Give your friend the joy of a soothing bath by giving them this bath bomb that has a sparkling surprise waiting for them. Mixed with all the essential oils, this bath bomb radiates fragrances of Jasmin, refreshing lime and apricot. It sure makes its cut in the gifts you want to give to your beloved lover or your friends.
20.
Skincare Mini Fridge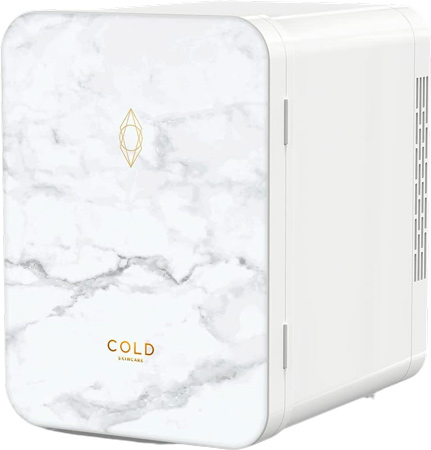 Not everyone's definition of fun is the same. Your skincare loving girl pal may have way more fun doing skin care regimes than they can have on amusement park trips. If so is your friend, then surprise her with this cute little mini-fridge that can store all of her skincare favorites. She will adore you forever whenever that bursting cold skincare product will nourish her skin.
21.
Thermal Transfer Portable Printer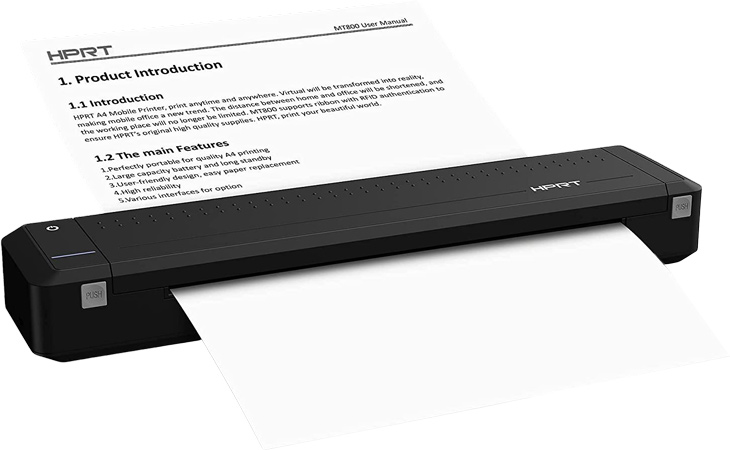 Sometimes hardcopy is way more valuable than softcopy. If you have no idea what unusual yet fun gift to give your girl pal, then the thermal transfer portable printer is to the rescue. It allows them to save their chats, pictures, recipes, notes, etc. in hardcopy. The quality of the print is pretty decent with black and waterproof text. It can also easily fit in their bags and can be accessed from anywhere. It is compatible with both android and iOS devices allowing Bluetooth prints as well. This gift will surely leave a lasting impression.
22.
Fujifilm Instax Mini 9 Instant Camera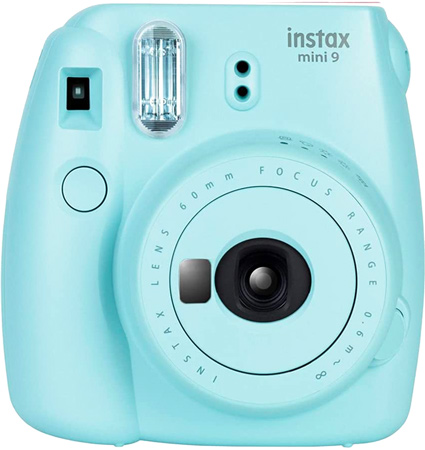 If the woman you love enjoys taking pictures to save memories, a Fujifilm Instax might be the best gift you can surprise her with. It's cute, trendy and tiny, perfect for taking it on her vacations. She can capture polaroids and selfies as much as her heart desires.
23.
Disney Beauty and the Beast Chip Mug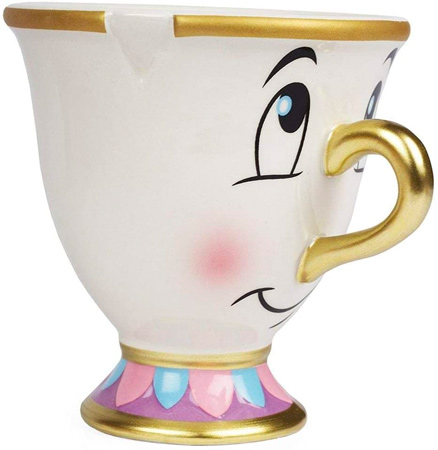 Is your friend a fan of Beauty and the Beast? And loves drinking tea too? Well, this beautiful chip mug is the perfect gift for your friend. It will make her tea time fun and will make her feel like a real Disney princess drinking tea straight from a chip mug! So add fun to your beloved girl's tea time and gift her this.
24.
Ginny Weasley Wand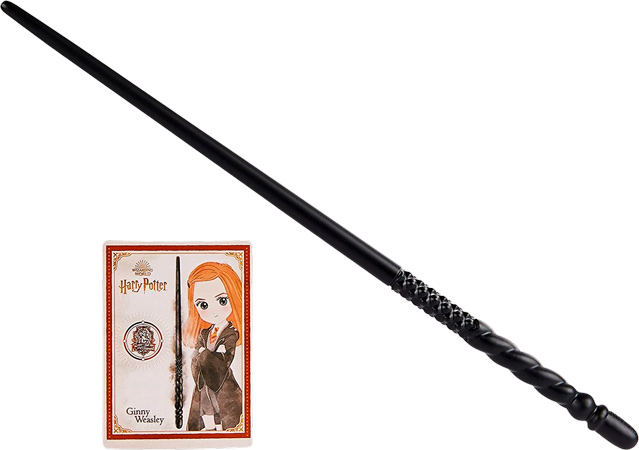 Did you and your friend have enjoyed Harry Potter together in your childhood and are unable to let go of the craze? You are not alone. How about giving your friend a perfect magic wand to turn their lives around? They can pretend to cast spells with this wizarding world Weasley wand. Each Spellbinding Wand comes with a unique card to assist your girl in mastering classic Wizarding World spells and charms!