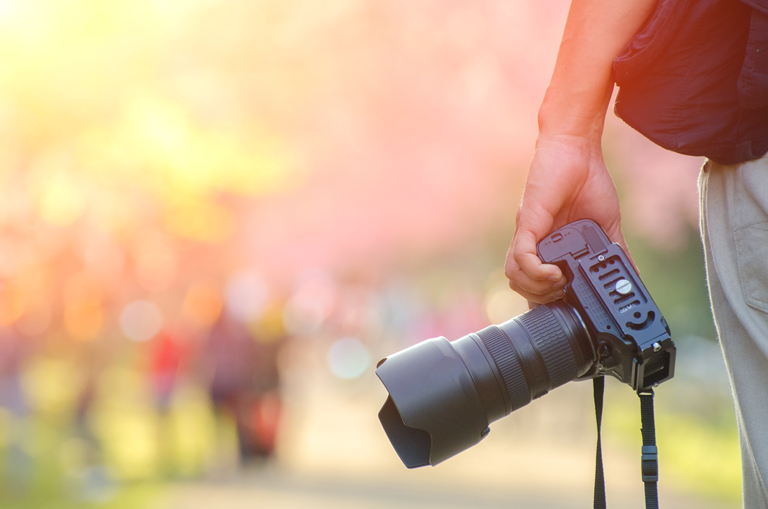 Photographers are passionate about their craft, which means they usually don't think twice about investing in new gear that will improve their skills. That might leave you wondering what to get your photographer friend that already seems to have all the equipment they need.
We're going to take the pressure off by giving you 20 gift ideas for snap-happy photographers that go well beyond the basics of photography. Whether your friend is a professional photographer or a hobbyist that wants to delve deeper into the world of photography, there's something here that they'll love. Whichever gift you choose from this list, you can be sure your friend will appreciate you and the picture-perfect friendship you share.
1.
Waterproof Photography Backpack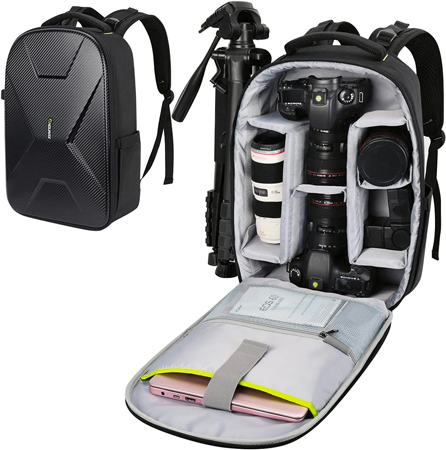 Every photographer needs a quality bag that will get their gear to where it needs to go without the possibility of damage. This bag features a hardshell front panel that will provide a higher level of protection than other backpacks on the market.
The spacious interior can be customized with padded dividers and the front panel zips all the way around, providing unobstructed access to gear. Outside of the bag there is even a dedicated pouch to attach a full-sized tripod. Whether your friend is going on a hike or taking it as a carry-on during a flight, this is the perfect-sized everyday camera bag.
2.
Padded Gear Case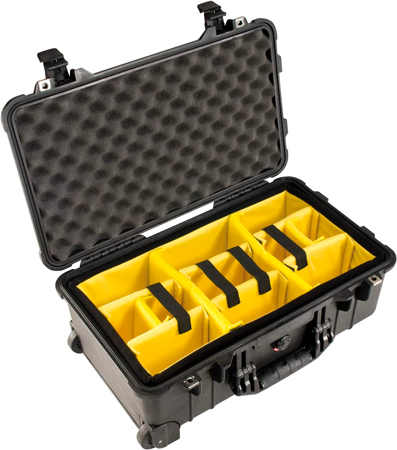 If the photographer you're shopping for has to do a lot of air travel to get to photoshoots, this gift is going to make sure they never have to worry about damaged equipment when it has to be checked in the hold. This professional hard case by Pelican is made for the pro on the go.
Inside offers configurable padded compartments while the outside is designed to be watertight and lockable with a reinforced padlock. Your friend can rest assured all their gear will show up to their destination undamaged and ready for work.
3.
Photographer Folding Multitool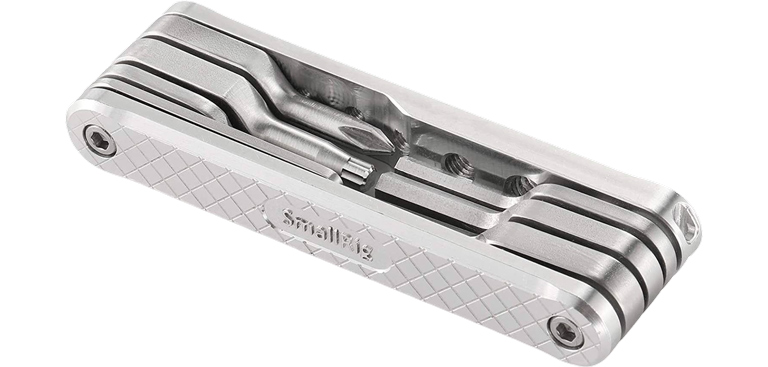 This multi-tool is the perfect gift to give to your photographer friend. Most photography equipment uses hex keys instead of standard screws so always having a tool on hand for any adjustments is going to make your friend's life easier. This gift is a great choice for photographers that like to stay prepared while they're out in the field.
4.
Color Calibration Tool
It's said that it's always best to get the correct shot "in camera" so there is less editing to do after the shoot. This color calibration tool will make sure your friend's colors are always true to life.
It's small enough to slip into a coat pocket so it's always handy when it's needed. This gift is going to cut down on your friend's editing time, and that is something every photographer will be thankful for.
5.
Leather Camera Strap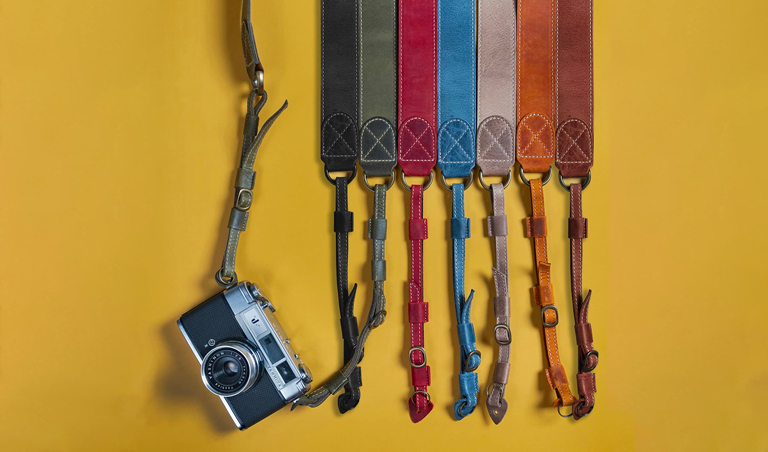 This gift looks good and is a practical piece of gear that any photographer would appreciate getting as a gift. Made of genuine leather, this camera strap by MegaGear will provide comfort during long shoots as well as added security from camera drops. The strap is designed to be worn either over the shoulder or around the neck.
The thick design helps distribute the weight of the camera evenly, preventing tension and muscle strain. If your friend is still sporting the ugly nylon strap that came with their camera, this simple upgrade will make them excited to get out and start shooting.
6.
Double Camera Strap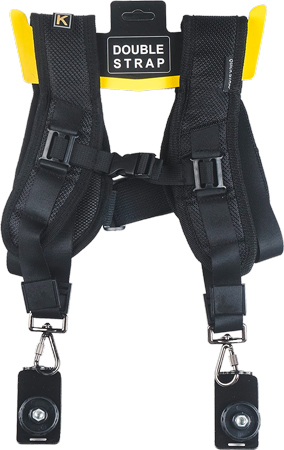 Is your friend the type of photographer that needs two cameras at the same time? This pro-level gift is going to change their workflow and make their life a whole lot easier. Instead of having to set the camera down in between shots, this double camera strap will ensure their cameras stay ready so they'll never miss the perfect photo op.
It's made of breathable nylon and features reinforced mounting plates that attach the camera to the straps. The design also allows the cameras to be mounted to a tripod without detaching them from the straps.
There are a million things going on during a shoot and with this gift, your friend will have one less thing to worry about. That's something they'll be immensely grateful for.
7.
Lightweight Travel Tripod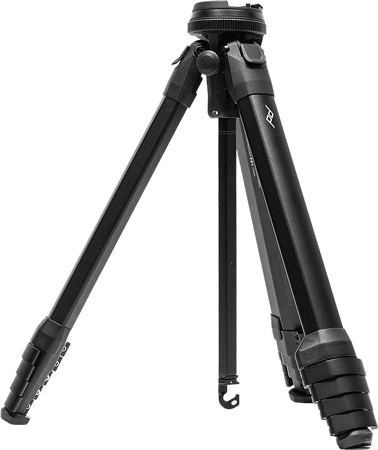 If your friend is an on-the-go photographer, this top-of-the-line tripod is going to be a permanent fixture in their travel kit. Made by Peak Design, an esteemed name in photography gear, this tripod made waves all over the internet when it was released. While it provides reliable stability with a high load capacity, it's still small enough to fit inside a backpack.
The unique five-section design folds up so tightly there is hardly any space between sections, making it a much smaller alternative to other travel tripods. The aluminum construction not only makes it lightweight but also weather and impact resistant. You won't be disappointed if you choose this gift.
8.
Flexible Compact Tripod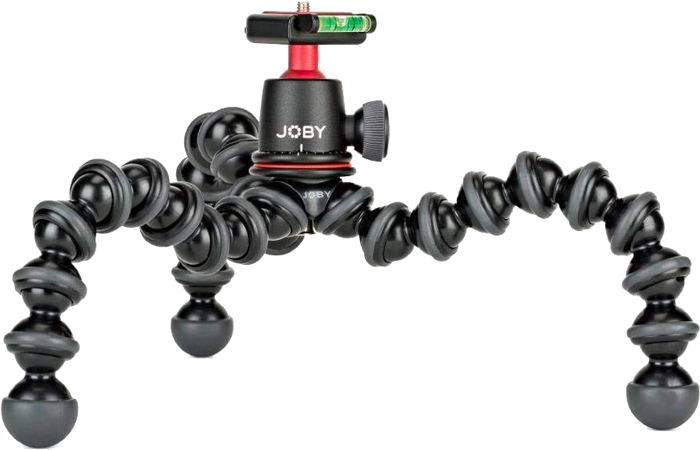 For the photographer that is always trying to get a unique shot, this tripod is going to make it easier. This flexible tripod by Jobi can wrap around poles, railings, trees or whatever else your friend wants to use to get creative.
It features a 360-degree pan as well as a 90-degree tilt, making getting the right angle for the shot a breeze. It's designed to hold a full DSLR but also has optional adapters to attach a GoPro or mobile phone. This gift will have your friend getting artsy with their photoshoots.
9.
Tech Organizer Bag

Photographers have a never-ending list of gear. As in, shopping for new photography gadgets never really ends. That makes this gift a perfect option to get your friend. This tech organizer bag will provide a ton of space where your friend can stash all their small equipment to keep it organized and safe from dust and damage.
It's made of durable polyester with genuine leather accents and features weatherproof zippers to keep the contents safe from rain and accidental splashes. Inside the bag are a variety of zipper compartments, mesh pockets and dividers. All of your friend's things will be exactly where they left them.
10.
Memory Card Case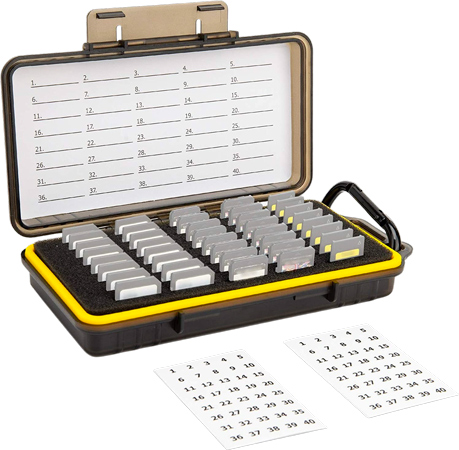 This gift is going to give your friend peace of mind that all of their most prized possessions stay safe from loss or damage. Whether your friend is a hobbyist or a professional photographer, no doubt they are racking up an impressive collection of SD cards. Instead of having to keep them all haphazardly stored in those flimsy plastic cases they come in, this memory card case will keep them all protected and professionally organized.
It even features a labeling system that will ensure your friend knows exactly how to find what they're looking for. The case is made of water-resistant plastic with a foam interior that will store up to 40 cards. Help your friend protect their work with this great gift idea.
11.
5TB HDD Storage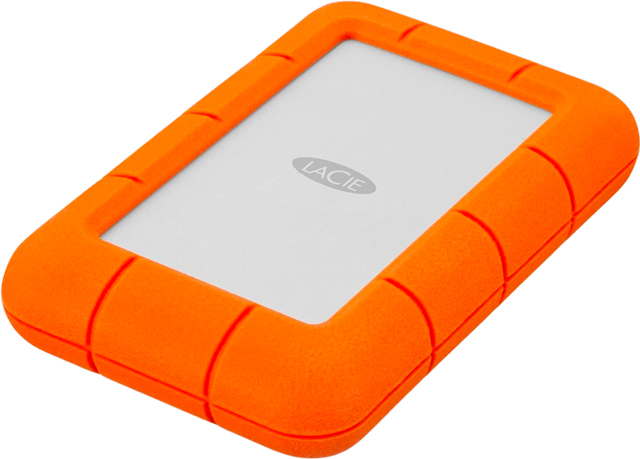 Backing up work is always a concern for photographers. The rule of thumb is always to get a backup for your backup. The LaCie Mini 5TB HDD is one of the most popular among photographers.
It's designed to be rugged enough to toss in a camera bag. Due to no moving internal parts, it's less likely damage will occur. Protect your friend's art with a useful gift like this one.
12.
Lens Protector Bags
Lenses can be even more expensive than the actual camera body, which is why your photographer friend will love this great gift. Made from high-quality neoprene, these protector bags offer a soft and protective layer around lenses. The padding helps prevent damage from accidental drops and the scratch-resistant interior keeps lenses looking brand new.
The set comes with four bags, all a different size, so whichever lens your friend wants to toss in their camera bag, this gift will keep them safe.
13.
Camera Rain Cover
For shooting out in the rain, this is an essential piece of gear that is going to save your friend's camera from some serious damage. Whether your friend is shooting sports games or enjoys nature photography, having this rain cover in their camera bag is always a good idea.
It's made from water-resistant nylon that folds down ultra-small but opens to easily cover most professional DSLR cameras, even when mounted on a tripod. Both the rear and the front of the cover cinch closed for a tight seal that will protect gear from water damage.
14.
Popup Photo Studio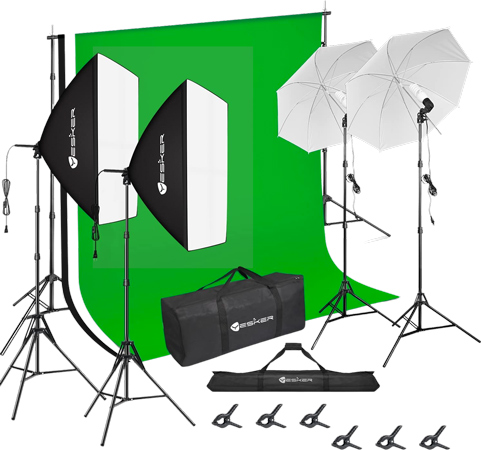 If your friend is just getting started in their photography journey, this complete studio is a great entry-level set that your friend will be excited to get from you. Everything your friend needs to get set up for professional photo shoots comes with this kit, including multiple continuous lights, light modifiers, a massive green screen backdrop and all the applicable stands.
Everything fits into an easily portable carrying case so it's great for both at-home use and for on-the-go photography jobs. This gift will instantly elevate the quality of your friend's new skill.
15.
Rotating Photography Box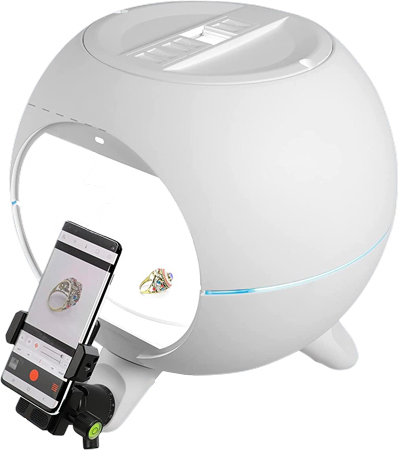 Do you have a friend that does product photography? If so, this gift is going to be a game changer for their studio. This incredibly compact photography box is designed to be portable, unlike the huge alternatives on the market that require a tedious setup.
Also unique to this product is that it rotates 360 degrees to ensure your friend will get the perfect shot from any angle. Most importantly, it diffuses light evenly, eliminating harsh shadows and providing a more natural look to final images. If product photography is your friend's gig, this gift is the one they'll really want.
16.
Collapsible Light Reflectors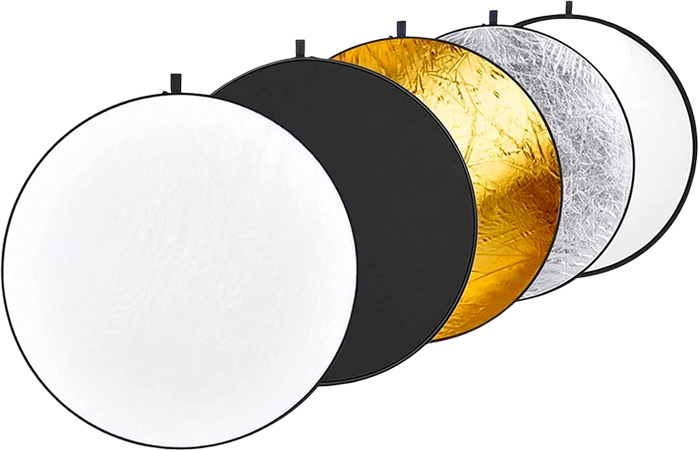 Serious photographers know the importance of lighting and know how to use light modifiers to get the shot they want. This collapsible light reflector disc is a must-have on any photoshoot and definitely a gift your friend will love getting from you.
The single disc comes with a cover that can be reversed to provide multiple colors, including white, black and gold. If the cover is completely removed it also acts as a large diffuser.
17.
Picture Frame Set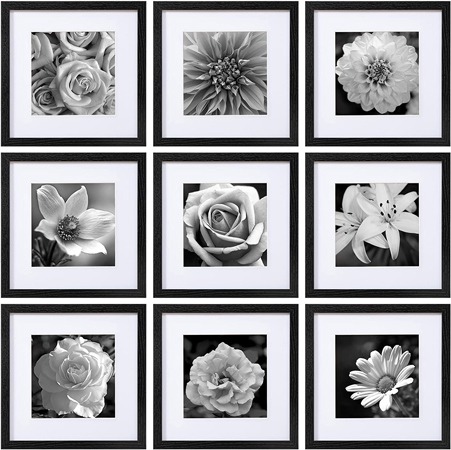 Shopping for a photographer doesn't have to mean being restricted to equipment. Photographers take a lot of pictures, so why not give them a gorgeous set of frames to create a gallery wall of their favorite photos? The only thing a photographer loves more than pressing the shutter button is showing off their finished work.
This set of black wood frames comes with nine 12×12 frames that will make the perfect display wall to show off how talented they are. Your friend will love that.
18.
Crystal Camera Paperweight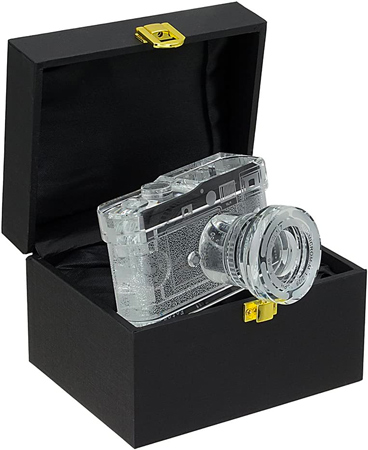 For a fun piece of desk decor that expresses your friend's love for photography, this gift is going to make an impression when they open it. Made of high-quality K9 crystal, this paperweight is a life-size replica of a Leica M9 camera.
It comes beautifully presented in a hinged gift box with soft felt lining. This would look stunning on a shelf, end table or just placed on the corner of a desk. It's a classy and timeless piece of art that your friend will appreciate for years to come.
19.
Lens Inspired Mug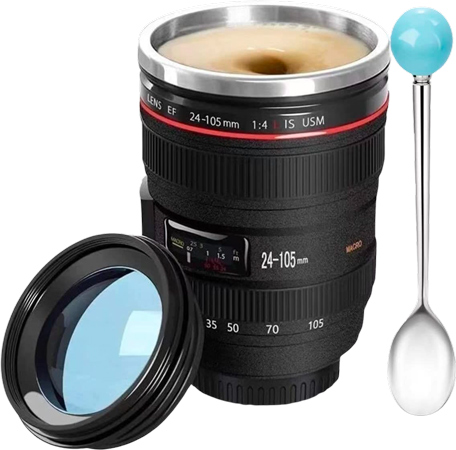 If your shutterbug friend loves to take their coffee with them on shoots, this is the only mug they'll want to use. This unique mug is designed to look like a super realistic camera lens, complete with real glass in the lid. It's made of insulated stainless steel, which will keep drinks hot or cold for hours.
With a capacity of 12 ounces, it's the perfect size for your friend's daily caffeine fix. If they're not into coffee it's also great for smoothies and cold drinks. The set comes with a tumbler, a leakproof lid and a matching spoon for mixing sugars or protein powders. This mug is the perfect gift for any photographer that wants to show off their passion for photography.
20.
Camera Pen Holder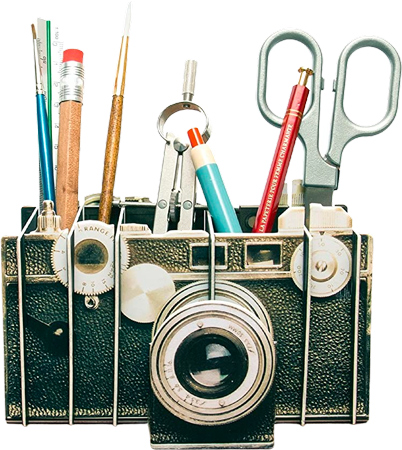 This cool gift is going to help your photographer friend add some vintage-inspired flair to their desk. Designed in the shape of a vintage camera, this pen holder is a functional piece of art. It provides multiple divided sections to keep pens, pencils, highlighters and other office supplies organized and within quick reach.
It's made of thick cardboard that has been coated for long-lasting durability. This would make an excellent choice if you're planning on shipping a gift to your friend because it comes flat-packed, ready to be punched out and easily assembled.
Need more inspiration?
Need more inspiration?