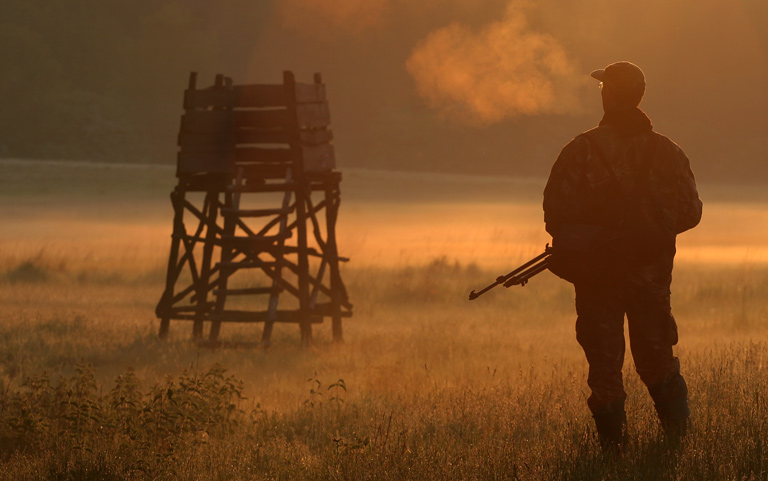 Buying gifts for hunters can be an arduous task because there is so much to this activity. There are loads of choices available on the market, making the process of selecting gifts more tiresome. It is time to surprise all your hunter friends with thoughtful presents.
From hunting gear to apparel this gifting guide has everything a hunter would love to receive. So keep on reading for some useful gift ideas for your beloved hunter!
1.
All Cotton Flannel Shirt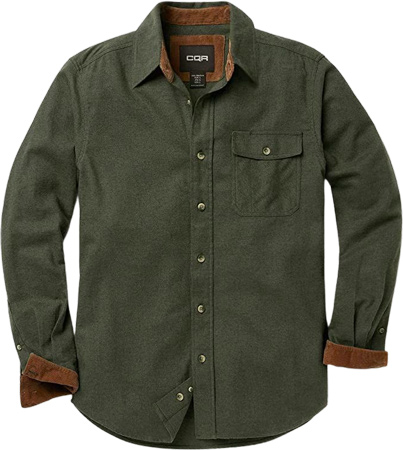 Make sure your beloved hunter is comfortable during their hunting expedition with the right clothes. These flannel shirts are the perfect gifting choice for hunting. Specially curated for outdoor activities, they are made from 100% cotton for that breathable and soft feeling so your hunter friend won't have to worry about the heat in the jungle! They also feature pre-dyed cotton and yarn to maintain that vibrant color for a long long time. So without further ado get the hunting aficionados these trendy shirts for their next hunting trip.
2.
Scent Crusher Roller Bag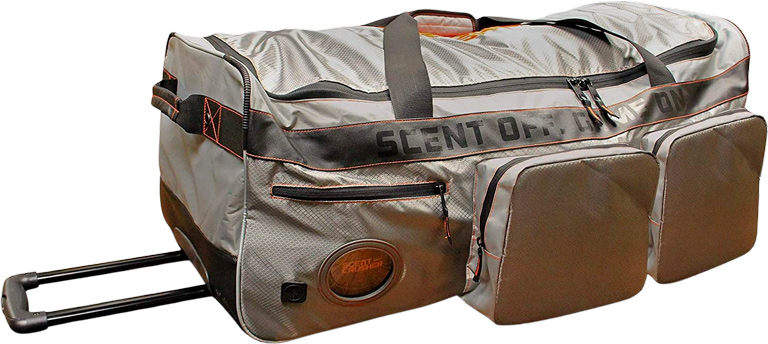 How many times have your hunter friends whined about their tattered bag, and there is never enough space for their things? If a spacious bag is all they need then that is what they will get! The Scent Crusher Roller bag has heavy-duty rugged roller wheels and large space needed for long hunting trips. And the best part – this bag comes with a battery-operated ozone generator that eliminates odors by killing bacteria. The bag also comes with an exterior pocket for keeping snacks cool. This fantastic bag is a hunting essential and a great gift hunter.
3.
Trifold Wallet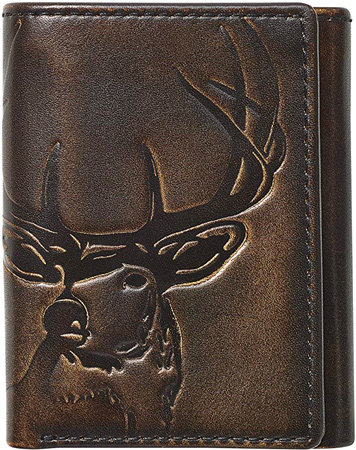 If your hunter friend still sports their old, dingy wallet, then help them ditch it by gifting them this House of Jack's deer trifold wallet. With a whitetail deer embossed graphic on its front side, this wallet has that perfect sublime masculine touch to it. It also has a camouflage lining with the message, "Eat. Sleep. Hunt."-which is their life motto! These wallets are handcrafted from burnished, full-grain leather giving them a rustic, rich appearance. The deer trifold wallets have eight credit card slots, six card slides, two storage pockets, and a single bill compartment. This wallet is a union of functionality and style; a perfect gift for hunters to keep their bills and love for hunting intact.
4.
Slim Rechargeable Hand Warmer

Sometimes it gets really cold on the field waiting for the right prey. So keep your hunting buddy equipped for those chilly times by gifting them a ThermoGear hand warmer. They are both small and compact so will fit inside their pocket or palm, ready for use whenever they need that extra heat. Unlike disposable hand warmers, these rechargeable hand warmers can be used repeatedly without harming the environment-making them an incredible present for environment-conscious hunters. Trust us your hunting friend will thank you for days for this quick solution to keep hands warm during chilly hunting days.
5.
Portable Espresso Machine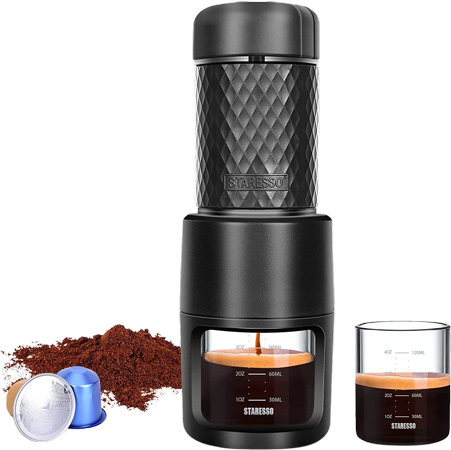 Coffee is a lifeguard during those long hunting days when exhaustion is a recurrent visitor. Portable coffee machines are a delight and should be included in every hunter's packing. The Staresso Compact Espresso machine makes rich, frothy coffee; one that seems straight out of an Italian cafe. Your hunter friends will be able to drink a cup of espresso anytime and anywhere with this light and small coffee maker. The stainless steel used in the machines is durable and prolongs the service life. This reliable espresso machine will be a big hit among your hunter friends.
6.
Deer Call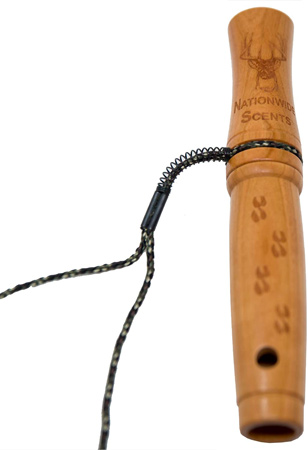 Help your hunter friends lure their target and take a great shot with this deer call. The Nationwide Scent's deer calls are designed to mimic the sound that a deer makes to catch the interest of a buck or catch the attention of a whitetail deer. The volume calls can be adjusted through the ring provided on the freeze-proof tip. This wooden deer call can mimic regular doe bleat, estrus doe bleat, breeding buck, young buck and a rutting buck grunt. What are you waiting for? Get them this deer call and make their hunting tours successful.
7.
Leather Hunting Log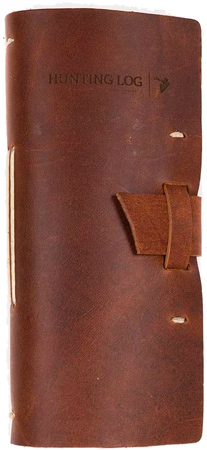 Hunting logs are a great way to keep track of hunts and pen down important details. Natural leather gives the Rustico Hunter Log its raw and rugged appearance. The templated pages allow you to log important details about their hunting trips, such as weather, barometer, hunt setup, scents used, the weapon used, etc. Hand-sewn spine increases durability and gives it a vintage impression. The small size and vertical build make it easy to store in pockets. We are sure the hunters in your life will make the most of this present.
8.
Binocular Harness Strap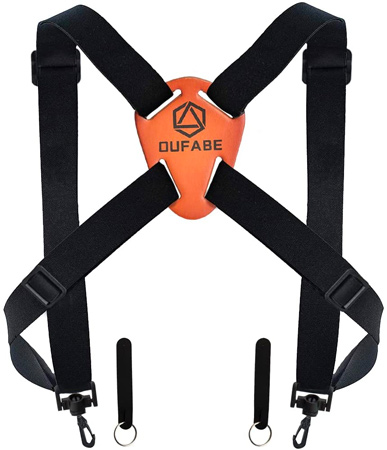 Binoculars and hunters are best friends, but sometimes carrying them throughout the hunt can cause muscle fatigue. Free them of this annoyance and buy them a binocular harness strap. The harness is made from a nylon belt with two buttonholes for any brand of binoculars. Thanks to the harness cross design it the distributes the weight of the binoculars evenly freeing the muscles from tension and fatigue. It is multifunctional as it can be used to hold cameras as well.
9.
Sawyer Squeeze Water Filtration System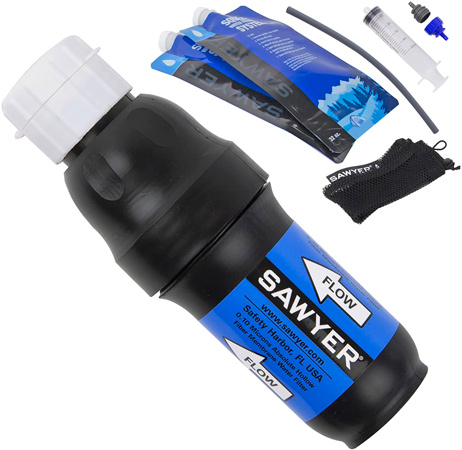 A portable water filtration system is an important survival essential. There might have been times when your hunter friends had to resort to a pond to drink the water due to limited options. Water streams and ponds do not always have fresh, drinkable water hence a water filtration system is the best solution to such problems. The Sawyer Squeeze water filtration system removes harmful bacteria, protozoa, cysts, sediment, and 100% of microplastics. It comes with two reusable 32-ounce pouches, three drinking straws, a set of sawyer inline hydration pack adapters, and a mesh storage bag. Perfect for outdoor adventures or long hunting days. No matter where they are, this filtration system will make them always have clean water to drink.
10.
Hand Forged Knife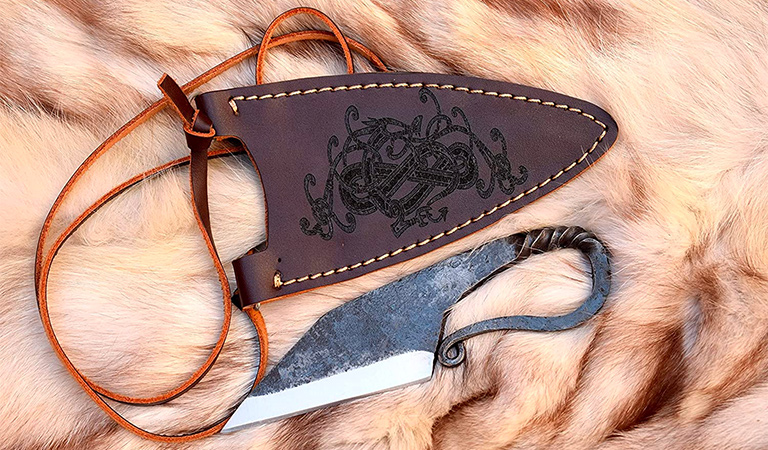 Vintage looking knives are in trend these days. One such vintage knife is the "Medieval Supplies" seax style viking knife. It is made from a 4-inch seax blade, and 2.5-inch twisted medieval-style blade. The sharp and durable blade makes it an excellent hunting knife. These vintage knives are great for those vintage loving hunters, who would undoubtedly treasure this present for the rest of their lives!
11.
Spotting Scope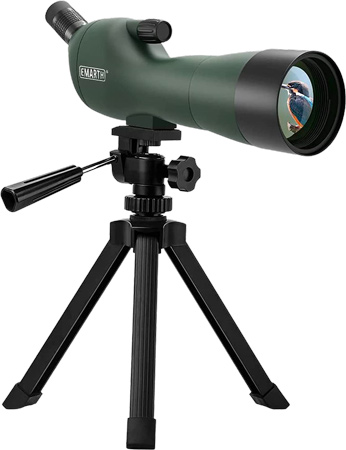 Spotting scopes are excellent for a clearer image of prey when it comes to hunting. A good spotting scope is any hunter's dream. The Emarth 45 Degree Angled Spotting Scope is equipped with a multi-coated lens and roof prism for bright, high-contrast images even in low light. The spotting scope is water-proof with a non-slip grip. The package includes a spotting scope, telescopic tripod, carrying bag, cleaning cloth, lens cap, manual, and a spotting scope phone adapter. With this spotting scope, the prey will only be inches away.
12.
Scent Crusher Ozone Go Max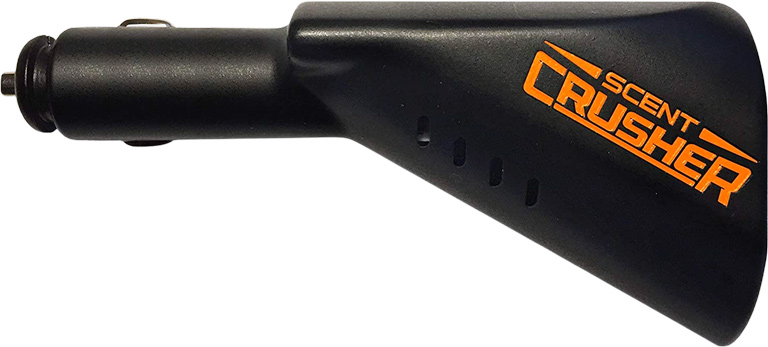 Scent crushers are crucial when it comes to hunting. It is life-saving before the hunt and can be used after the hunt as well. Any competent hunter comes loaded with scent crushers. The Scent Crusher Ozone Go Max destroys most odors in a single cycle and can be plugged into any 12/24-volt outlet. This maintenance-free device will remove all unpleasant odors from your vehicle on your way back from a successful hunt. Make sure to get your hunter friends this useful device as a present.
13.
Beanie with Light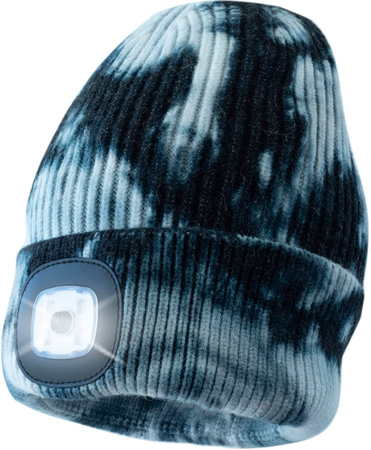 Nighttime hunting escapades can always use a flashlight, but your hands must remain free during hunting. A beanie with light is perfect for chilly nights when you want warmth and night vision. The bright LED light recharges for up to eight hours and has three brightness settings. This beanie is machine washable, and the light can be removed. These beanies come in a variety of colors and patterns; they are soft and comfortable to wear. Get your hunter friends these cool beanies and watch how their faces light up.
14.
Stanley Classic Vacuum Bottle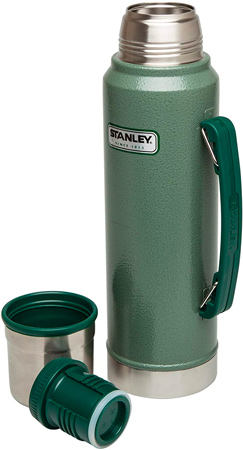 A good vacuum bottle is a must-have during long and tiresome hunting tours. The Stanley Classic Vacuum Bottle is made from superior insulation that keeps its content hot or cold for up to 24 hours. The lid of the thermos is leak-proof and can also be used as an eight-ounce cup. Since the bottle is durable, they can drop it, kick it all they want, and the contents will remain at the right temperature. This bottle will become their trusted companion during their hunts. Get this thoughtful present for them now!
15.
Compact Adventure First Aid Kit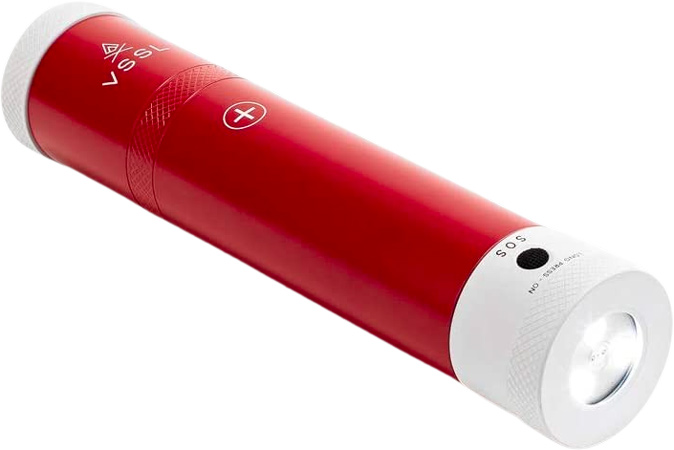 One should always be prepared to combat any difficulty while hunting in the wild. Cuts, bruises are common during hunts, yet they must be taken care of to avoid infection. The VSSL Compact First Aid Kit is perfect for hunters to carry with them during hunting. This compact first aid kit includes an LED light to access 46 first aid essentials. This vessel keeps everything intact and is very travel friendly. This first aid kit is what every hunter should have for his survival in the wild.
16.
Camo Insulated Tumbler Cup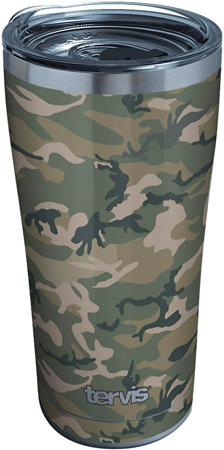 Everyone enjoys a good cup of coffee or their favorite chilled soda on the go, but these beverages are unable to stand the test of time. The Tervis Insulated Tumbler Cup has triple insulation, which reduces condensation. The triple insulation feature ensures your drinks are hot for 8 hours and cold for 24 hours. This tumbler is made from stainless steel, and a camouflage print made from plant-based inks and powders. The lids of the tumblers can be closed with ease, and they are easy to clean and leak-proof. Now your hunter friends can enjoy their favorite beverages while on the hunt with these incredible tumblers.
17.
Thermal Socks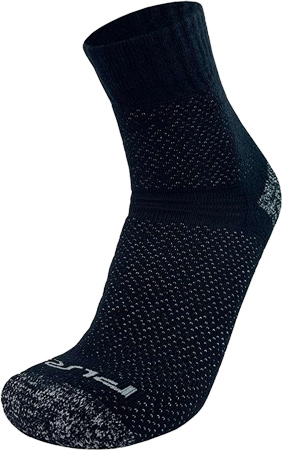 Who does not love a warm and thick pair of socks during lengthy hunting adventures in chilly weather? One must always have good thermal socks. Thermal socks trap heat to keep the feet warm and prevent loss of moisture. They feel like a blanket to the feet; made from the breathable knit structure and soft merino wool. These socks are perfect for long days of hunting; their light and comfortable material will be a big difference compared to normal socks.
18.
Hamburger Grilling Gift Set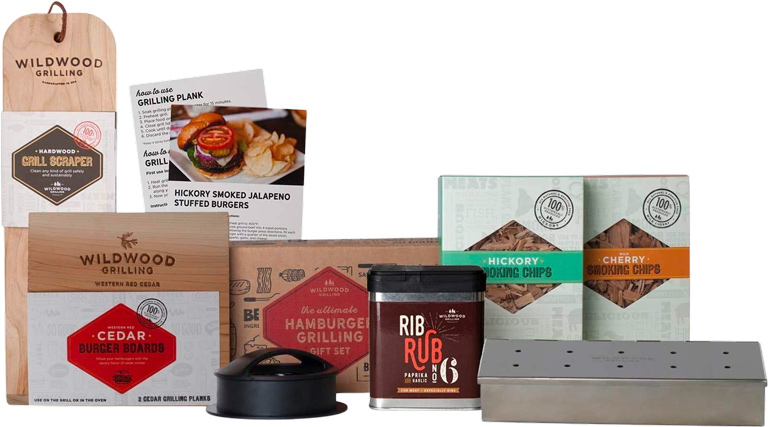 There is nothing more rewarding than a good barbeque at the end of a long day of hunting. A complete grilling set is the most suitable gift for a hunter. One such wonderful grilling kit is the Hamburger Grilling Gift Set. It contains a smoker box, burger press, grill scraper, seasonings, smoking chips and more! Make delicious burgers with this outstanding grilling set. Get them this grilling gift set and secure an invitation to their next grill party.
19.
Antler Cutting Board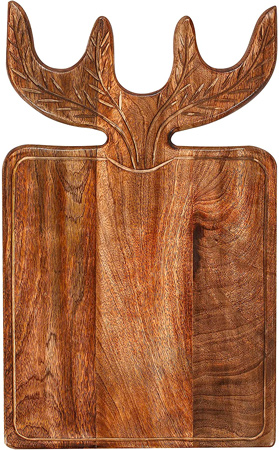 A cutting board is an apt present for a hunter considering all the meat cutting. Winlay's handcrafted swamp deer cutting board will make heads turn with its beautiful carving and exquisite design. It can also be functional as a decorative piece. The cutting board is manufactured from durable and porous wood that is excellent for knives and does not weaken their edges. Surprise them today with this well-crafted cutting board.
20.
Rubber Hunting Boots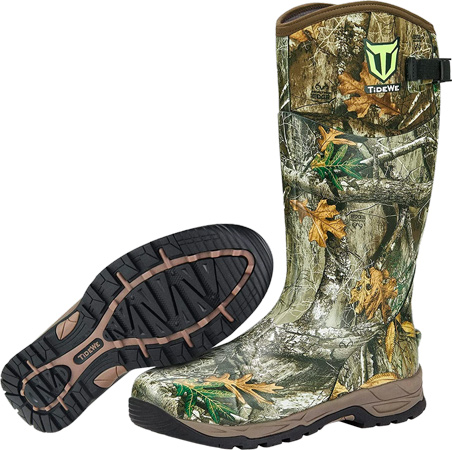 Hunting can be a difficult task considering the long distances hunters have to travel; they must have suitable footwear. The Tideway Hunter Boots ensure the feet remain dry and comfortable with their breathable mesh-lining. These boots have a midsole for lightweight cushioning, shock absorption and comfort and they come with a rubber sealed exterior that provides extra protection and sturdiness. Get your hunter friends these top-notch boots and motivate them for more hunts.
21.
Rechargeable Solar Lantern
For overnight camping adventures in the jungle, a good light source is necessary for hunters. Torches run out of power quickly and leave them lost in the dark. An easy to use, the collapsible solar lantern will never disappoint. These solar lanterns provide up to twelve hours of warm light with eight hours of solar charging. The lanterns are light to carry and serve to be an excellent light source at night with three light modes.
22.
Disposable Female Urinal Funnel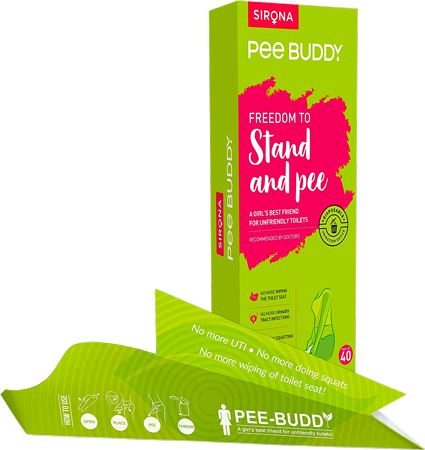 It becomes hard to urinate for female and trans hunters during the long hunting days. Since there are no public toilets, you have to do it out in the open. Female urinal devices are a must-have during these situations. The PeeBuddy disposable urinal funnels come in a pack of 40 and are travel-friendly. These funnels are environmentally friendly and hygienic. The single-use funnels are fresh, and you can toss them out after using them without worrying about sanitizing them. These urinal funnels are lifesavers when restrooms are not available. The portable urinal devices are a thoughtful gift for your female or trans hunter friends.
23.
Hunting Laser Rangefinder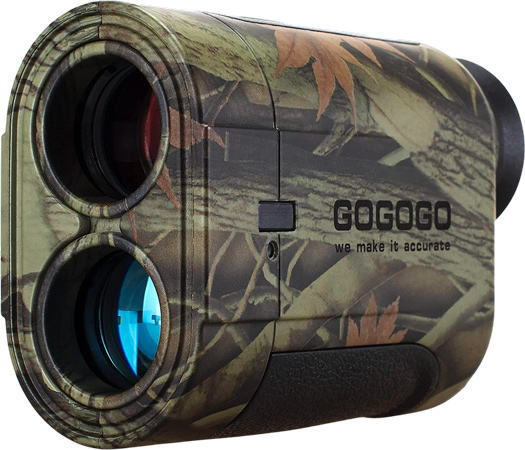 Help your hunter friend aim and make a successful shot with a hunting rangefinder. These hunting rangefinders measure distance with high precision; the multi-coated optical lens reduces the reflection of light, giving a clear and brighter image. This rangefinder comes with one CR2 battery, a canvas carrying bag, a manual, a microfiber cleaning cloth and a strap. Get this hunting rangefinder for your friend and help them get a good shot.
24.
Blood Tracking Light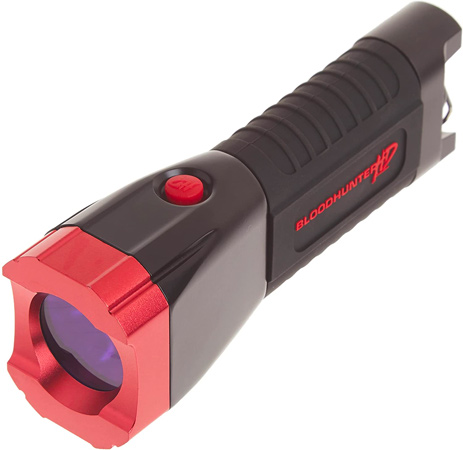 Sometimes, after a great shot, the wounded animal is nowhere to be seen without any visible blood trail. A competent blood tracking light will lead you to your wounded prey. One such tracking light is the Primos Blood Hunter HD Blood Tracking Light. Its sleek design and flat handle make it easy and comfortable to carry. It features two power settings- intense and bright HD tracking or low illumination. This blood hunter light is equipped with 600 Lumen LEDs, making it one of the best blood tracking lights on the market. Such a state-of-the-art device will make an impeccable gift.
25.
Folding Camping Chair Stool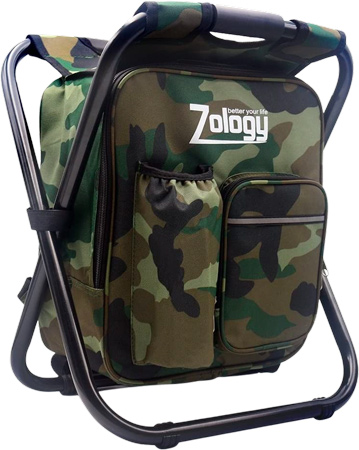 Hunting for a prolonged time can be tedious, and a comfortable hunting chair will make the experience much less tiresome. The Zology Folding Chair is one such competent hunting chair. The chair is only 3.3 pounds and is very easy to carry around and store. It comes with numerous pockets to store your belongings and a cooler bag to keep your drinks and snacks cool. The chair is manufactured from high-quality polyester and oxford fabric, which adds to its durability. This chair makes a good gift for your skillful hunter friends.
Related Posts