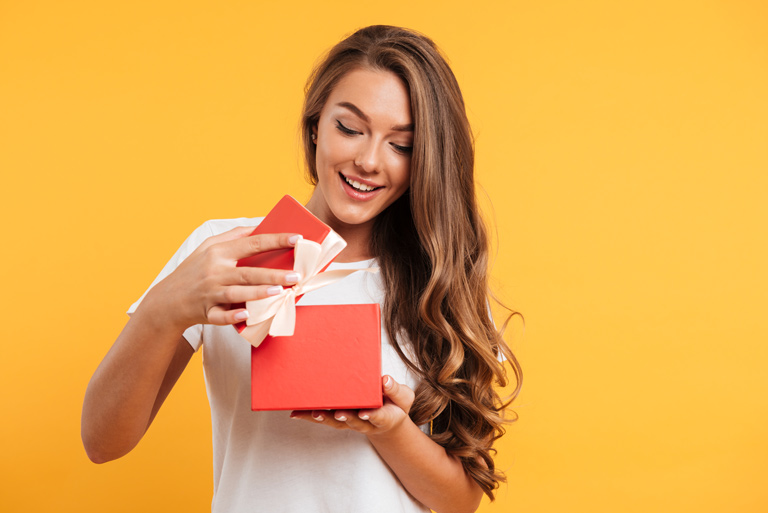 If you're shopping for a gift that is going to show your sister how glad you are that fate chose her to be your family, this is where you need to be. This list is packed full of 27 great gifts to surprise your sister that will keep her smiling long after she unwraps the bow.
Whatever your sister is into, there's something here that is going to add value, style and long-term happiness to her life. The only thing that could possibly make her happier is knowing she's got a sibling as great as you.
1.
Richly Scented Candle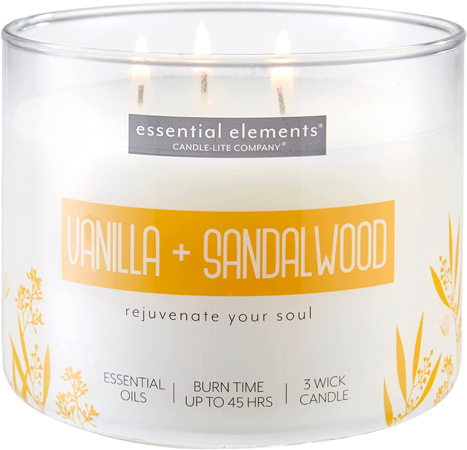 Everyone appreciates a candle and this highly scented luxury candle will be sure to make your sister happy. The trio of cotton wicks makes the candle burn hotter which releases the vanilla and sandalwood essential oils into the air for a longer-lasting scent. The essential oils are all-natural, as is the pure soy wax, so it's a candle that's also environmentally friendly. Even the candle lid is designed to be up-cycled into a drink coaster. Your sister is going to love relaxing with this gift.
2.
Classy Desk Set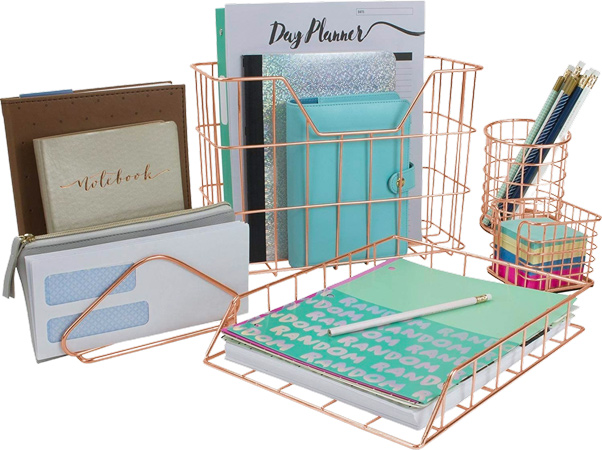 This on-trend desk organizer set is great if your sister works at a desk or likes to keep an office nook in the kitchen. The set comes with five matching pieces, including a pencil cup, letter tray, letter sorter, file organizer and a sticky note holder. It comes in multiple color options but the rose gold is especially beautiful and sure to blend with any style of decor she has in her home. Help your sister get organized with this thoughtful gift.
3.
Beautiful Notebook Set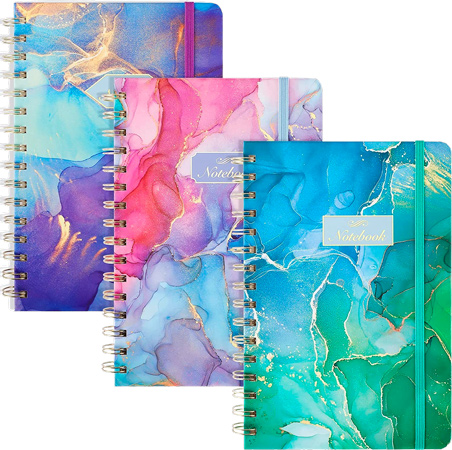 If your sister loves to journal, take notes, sketch or just keep a book for reminders on hand, this set of notebooks is the gift for her. The marbled abstract covers come in three complementary vibrant colors, including blue, pink and green. The water-resistant hardcover bindings and the A5 size makes them a convenient notebook to keep in her laptop bag or purse.
4.
Luxury Rollerball Pen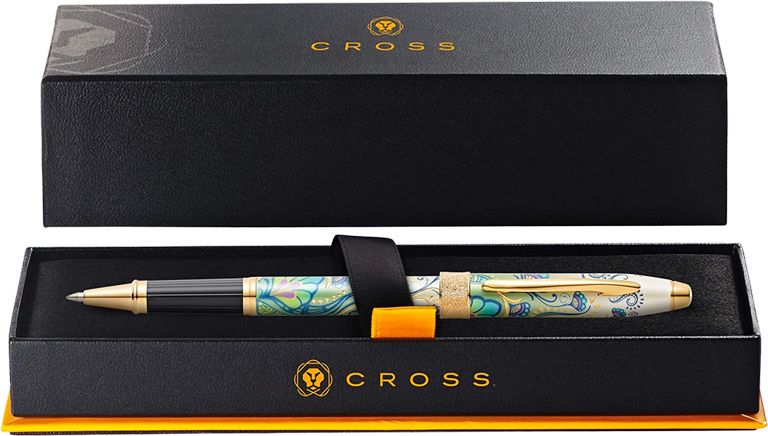 This stunning pen is a gift that will commemorate any special occasion. It's the kind of pen that's meant to be kept for a lifetime. The unique and delicate pattern of green and pink paisley florals is accented with luxurious 24k gold inlays. The rollerball nib guarantees smooth and flawless gliding across the paper for effortless writing. Whether you're getting your sister a wedding gift or a special birthday gift, this pen is going to make it an occasion she won't soon forget.
5.
Makeup Brush Organizer
Give your sister this beautiful makeup brush holder to keep all her expensive brushes organized and protected from dust. This luxury organizer features four different-sized holes and holds 29 full-sized brushes. It's constructed out of environmentally friendly bamboo with durable acrylic walls. The brushes are housed in the leather tray that pulls out for quick and easy access. Not only will this gift prolong the life of her favorite brushes, but it will also look beautiful displayed on her vanity or bathroom counter.
6.
Travel Makeup Case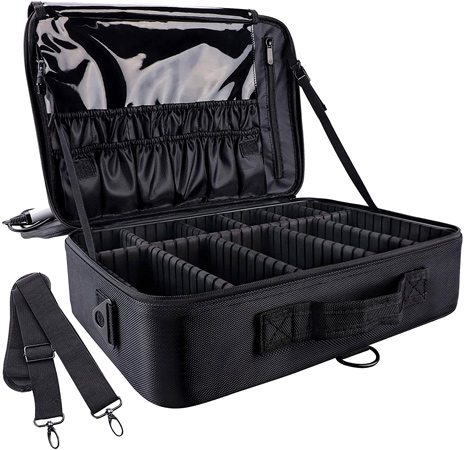 If your sister likes to travel with all her beauty supplies, this extra-large case is going to be the only makeup travel tote she needs. The case features nine adjustable dividers so it can be configured to her specific needs. There's not only plenty of room for all her makeup but will also hold her hair accessories, hair styling tools, jewelry and skincare. The shockproof padding will keep all her essentials protected and perfectly organized. She'll have all the luxuries of home with her wherever she goes.
7.
Designer Tote Purse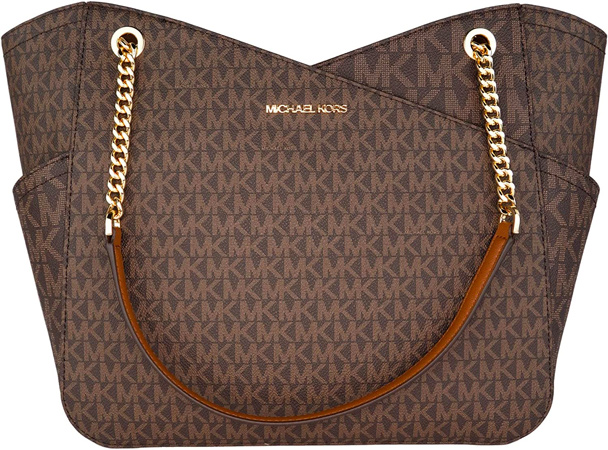 If your sister appreciates designer luxury, this gift is going to get her excited. This carry-all tote by Michael Kors is not only classically stylish, but it's also large enough to carry whatever she needs when she's away from the house. It can work as a daily shopping tote or can be used to carry her laptop, tablet and files to the office. It comes in multiple color options, including the timeless logo pattern that will match any outfit. It's the perfect everyday tote and she's going to love it.
8.
Collapsible Grocery Basket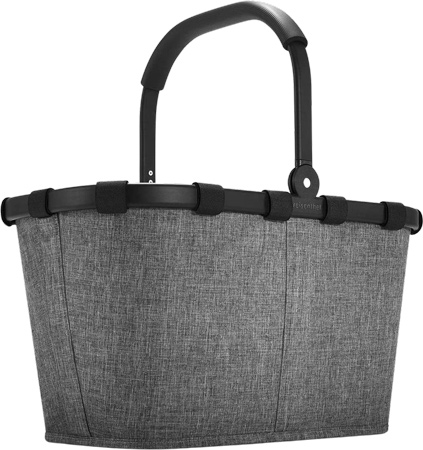 Help your sister be eco-friendly and do her grocery shopping in style with this collapsable grocery basket. The aluminum frame construction keeps this basket lightweight and portable while the water-repellent and rip-resistant material makes it durable enough for everyday use. It's not only great for taking to the grocery store but it's also the perfect basket to take to the farmers market, beach or even on a picnic. The collapsable design means it can easily slide under the back seat of her car, always ready for her next shopping trip.
9.
Crystal Watch Set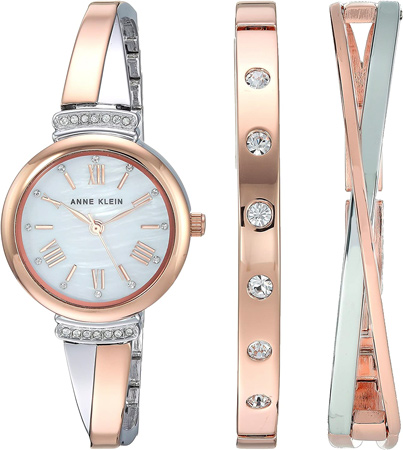 Give your sister some serious bling with this designer watch and bracelet set by Anne Klein. This beautiful set comes with a stylish chrome and rose gold watch with a mother of pearl face and two matching bangles. The watch and bangles are subtly studded in crystals that will catch the light and add a bit of sparkle to her day. They can be worn separately or for a very on-trend look, they can be layered all together. This is definitely a gift that is going to make a statement every time she wears them.
10.
T Bar Necklace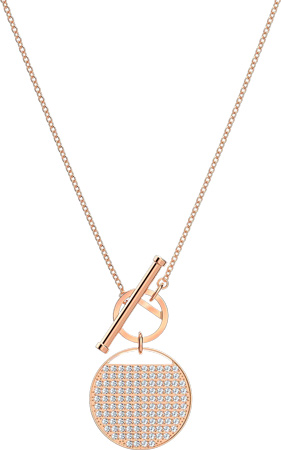 This elegant necklace is the gift you're looking for if you want to give your sister something that will leave her lost for words. It's very on-trend with the T bar closure and rose gold plating but the subtle disc pendant with dainty crystals gives it a timeless and classic look. This is going to look good with whatever your sister is wearing.
11.
Leather Clutch Wallet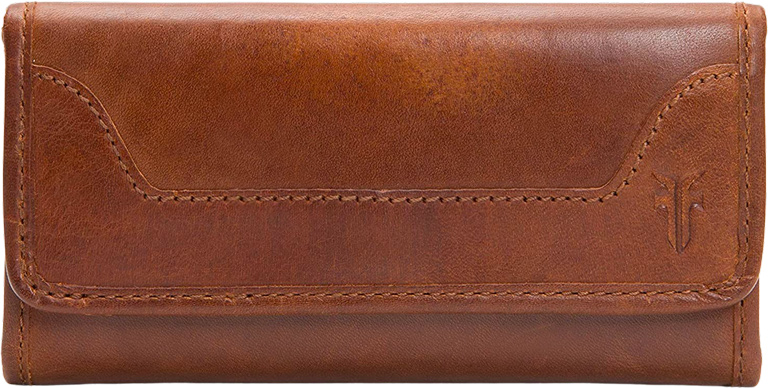 This luxury leather wallet is a great gift idea for your lucky sister. The wallet is made of buttery soft leather that will continue to look more beautiful with age. It comes in multiple color options, including a statement red or a more classic cognac brown. The snap closure flap opens to reveal plenty of storage and organization for all her essential cards and IDs. There's also a zipper pocket to hold loose change so all of her cash can stay in one place. If you're looking for a gift that will serve her for many years to come, you can't go wrong with this classy wallet.
12.
Kitchen Gadget Set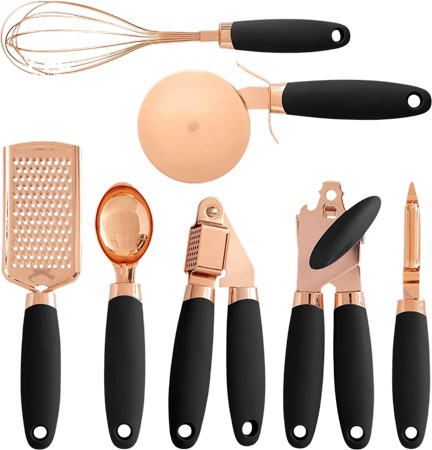 If your sister loves to cook and has an appreciation for stylish details in her home, this kitchen gadget set is a winning gift idea. The set comes with seven pieces including a can opener, ice cream scooper, potato peeler, cheese grater, garlic press, pizza cutter and a long whisk. What makes this set unique though is the stunning rose gold color that is set against the soft-touch black rubber handles. While this set will help her cook in the kitchen, its true purpose is to look good left out on display in a utensil jar. They're definitely too pretty to toss in the drawer.
13.
Unique Picture Frame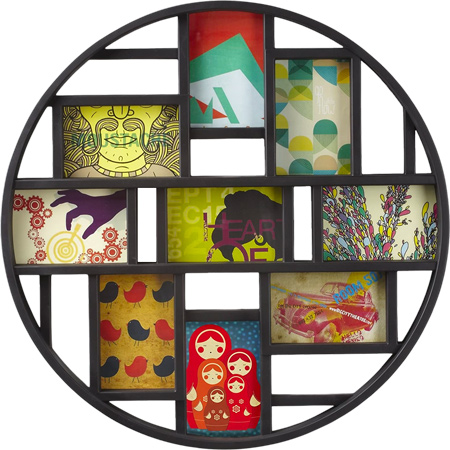 Give your sister a unique way to display her favorite pictures with this modern picture frame by Umbra. The contemporary black circle design contrasts with the straight lines of the picture collage inside. It holds nine 4×6 pictures in a way that is going to make a statement and draw attention. This gift will turn your sister's fondest memories into a work of art and conversation piece.
14.
Ceramic Plant Pots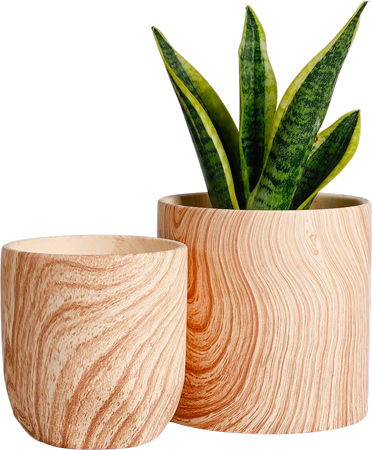 Give your sister a gift that will bring life into her house with these unique ceramic plant pots. The set comes with two different-sized planters, both in a matching wood pattern. It's the natural beauty of wood but with the added benefit of being watertight for adding real plants. Pair this gift with a trendy succulent for a surprise that will make her happy every time she sees it.
15.
Message Light Box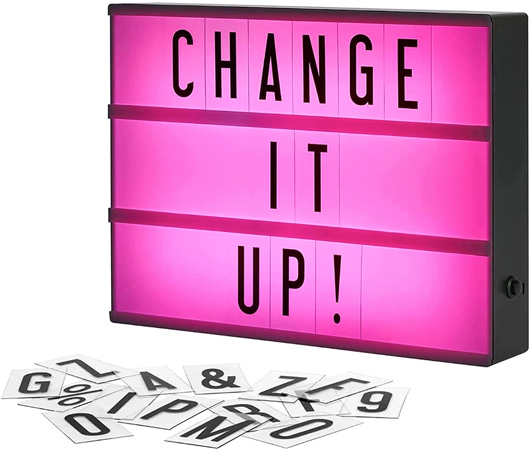 For a fun gift idea, give your sister this cinema-inspired light box where she can display her own custom messages. This would be great in the kitchen or bedroom to leave positive messages of inspiration or reminders. The box, powered by an LED battery, lights up in whatever color she chooses to match her decor. It also features a built-in letter storage tray in the back so it would be a cute decor piece to put by the front door or wherever she stores her mail. You can even make it extra special by preloading it with your own special message to remind her that you're glad you've got such a great sis.
16.
Waffle Weave Bedspread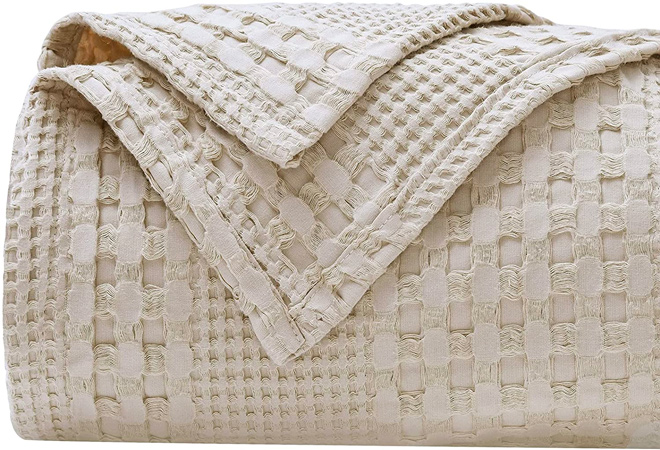 This high-quality waffle weave bedspread is a thoughtful gift if your sister appreciates comfort and quality that's made to last. The classic design will add an elegant touch to her bedroom while the special weave that encourages air circulation will keep her in comfort all night long. It's made of pure cotton so it's not only smooth on the skin, it's also machine washable for easy care. This quality blanket is one that will last for generations. It never goes out of style and only gets softer with age.
17.
Silk Sleep Mask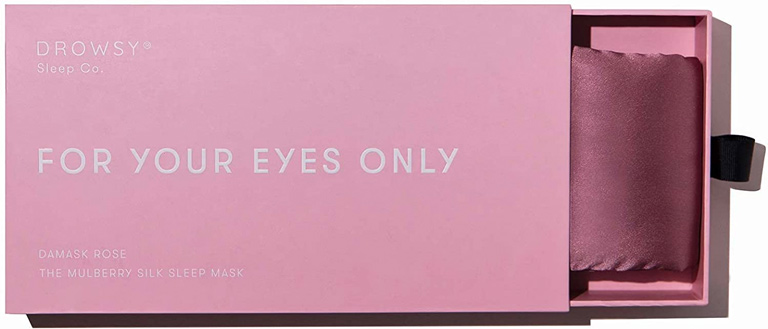 Give your sister deeper sleep with this luxurious silk sleep mask. This padded mask is made of pure momme mulberry silk, which is less drying to the skin than cotton. Less moisture-wicking means fewer fine lines in the morning. Its wide design is made to block out all external light so your sister can sleep uninterrupted. It's great for home use but also the ideal travel accessory for planes.
18.
Shawl Wrap Blanket

This beautiful, handmade pashmina is a great luxury gift if your sister likes classic fashion. The shawl is made of pure, certified merino wool so it's super soft and sure to keep her very warm on chilly days. It's also an extremely versatile accessory. Not only can she use it to top off an outfit for that trendy layered look, it's also the perfect accessory to take on a plane as a wearable travel blanket or to take to the office to keep the chill off. It comes in various colors so finding one to suit your sister's style won't be an issue. She'll really appreciate this gift.
19.
Memory Foam Slippers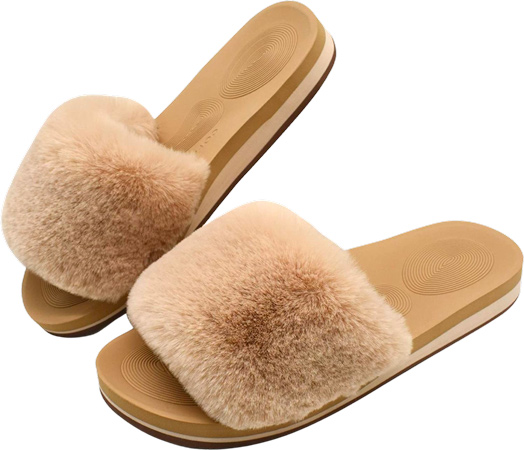 Give your sister these ultra-comfortable slippers to keep her feet happy around the house. The slippers feature a memory foam bed that also offers superior arch support. The soles provide rubber treading for nonslip safety while walking on potentially slippery floors. Besides being comfortable, they are also totally adorable with their fuzzy design that comes in a plethora of different colors to choose from. These will be your sister's favorite house shoes.
20.
Healthy Smoothie Blender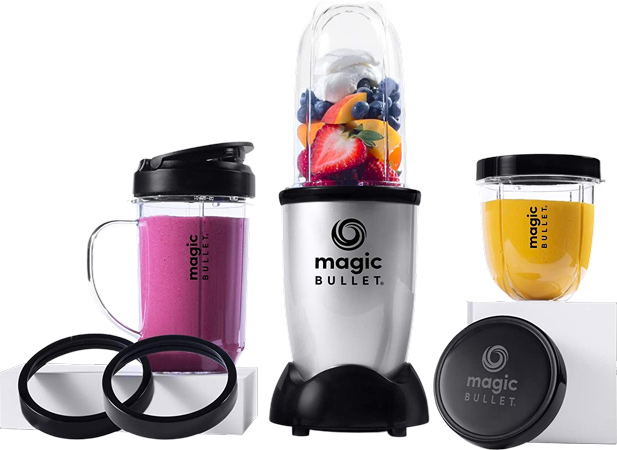 Give your sister a head start on her health kick with this healthy smoothie blender by Magic Bullet. This eleven-piece set comes with all the accessories she will need to make her favorite smoothie. She can easily blend up her favorite fruits and vegetables to make sure her day gets started out on the right foot. The blender also blends ice if she wants to use it to make a sneaky margarita!
21.
Copper Cocktail Set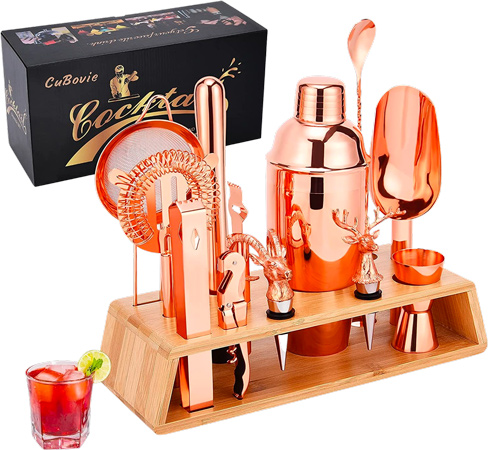 This gift is the perfect finishing touch to your sister's bar cart. It's made of a highly reflective rose gold stainless steel so it's going to make an impression whether she's using it to make her favorite cocktail or just leaving it on display. The set comes with fifteen pieces, including a beautiful wood display stand to keep everything organized. If your sister likes to entertain, this gift is for her.
22.
Iridescent Drinking Glasses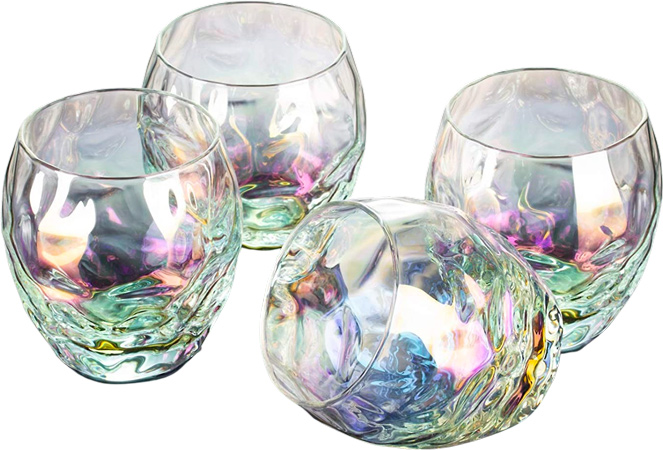 Treat your sister to something beautiful to drink out of with this set of four crystal cocktail glasses. The unique design makes these really stand out among traditional plain glasses. The textured surface reflects the light off of the iridescent coloring. They are made of lead-free crystal so they're safe for everyday use if she chooses to use them as fancy water glasses. They're also dishwasher safe so they're low maintenance. They are the perfect set of glasses for her next cocktail party.
23.
Ceramic Travel Mug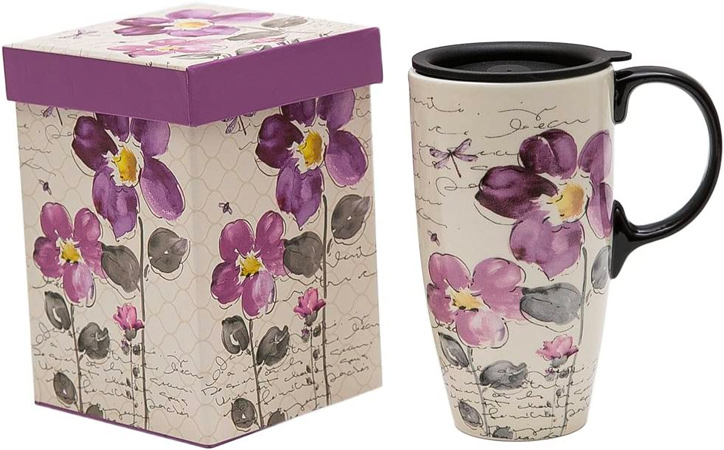 If your sister loves her daily dose of caffeine, this travel mug will be a gift she'll be happy to get. This tall ceramic mug holds 17 ounces of her favorite hot or cold beverage. The ultra-feminine motif of purple flowers has a vintage vibe while the large ceramic handle makes it easy to carry without scalding her hands. It includes a removable spill-proof lid that makes is perfect for taking in the car to and from the office. Your sister is going to really enjoy her new favorite coffee mug.
24.
Mounted Jewelry Holder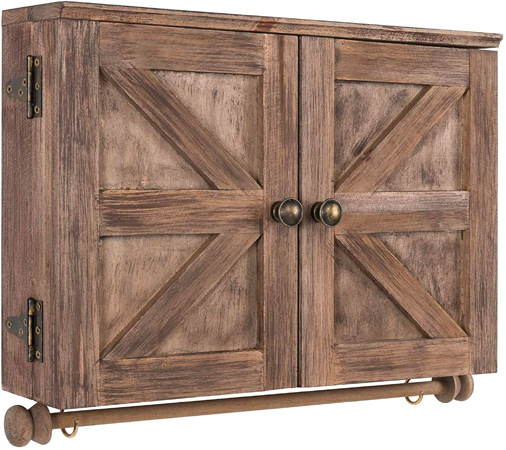 This jewelry box would be the ideal place for your sister to be able to store all of her jewels and treasures. It's not just a jewelry organizer though, it's a beautiful piece of wall-mounted furniture that doubles as a jewelry box. The solid wood exterior opens to via the double barn doors to reveal dedicated space for her earrings, bracelets, necklaces, watches and rings. It's available in multiple finishes, all of which are neutral enough to complement whatever decor your sister loves.
25.
Spa Gift Basket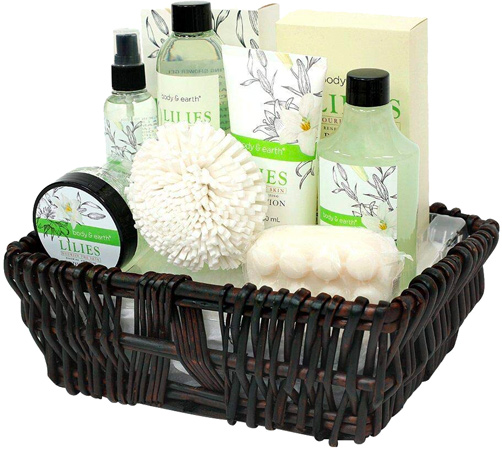 Give your sister a reason to treat herself with this over-the-top spa gift set. It includes ten indulgent products, all standing by to make her feel like she just left a five-star spa. All the products are made with natural ingredients and enriched with nourishing moisturizers like sunflower oil and vitamin E. The floral essential oils give off a relaxing scent while she soaks in the tub and reinvigorates her mind. All the products come presented in a trendy black wicker basket that can be reused as a towel caddy or bathroom storage organizer. This gift tells your sister you know she's worth it.
26.
Beauty Roller Set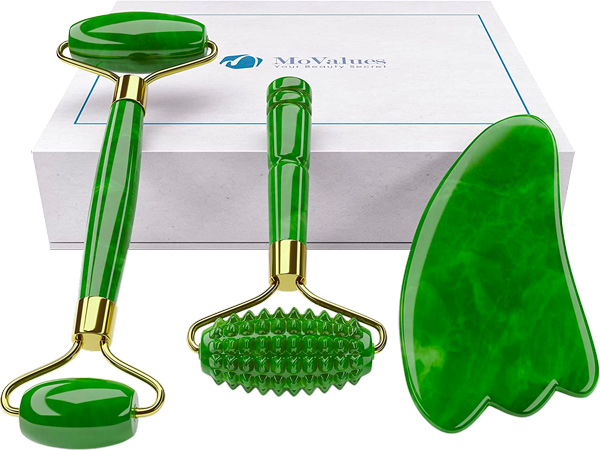 Your sister takes care of so many people, give her this gift to help her take care of herself. This 4-in-1 set comes with multiple face rollers that are made of genuine green crystal jade. The tools, which include an eye-roller, a face roller and a skin stone, all promote better circulation via healing ions which help alleviate fine lines and puffiness. Being a natural stone, they retain temperature so they can be used warmed or kept in the refrigerator for a cooling morning treat to get rid of puffy eyes from poor sleep or allergies.
27.
Light Therapy Mask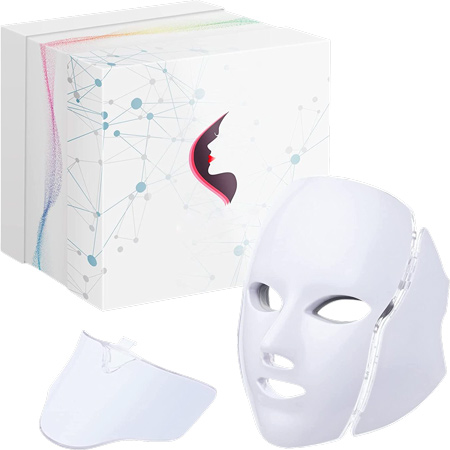 For a high-tech facial from home, this light therapy mask is going to help your sister look her best. Light therapy facials are proven to control oil, lessen the appearance of wrinkles, fade freckles and age spots, shrink pores and reduce redness. This mask emits seven different colors of light, each colored wavelength meant to treat a different skin problem. All your sister has to do is wear the mask for ten minutes a day, three times a week to get a total skin makeover that will have her praising you for this amazing gift.