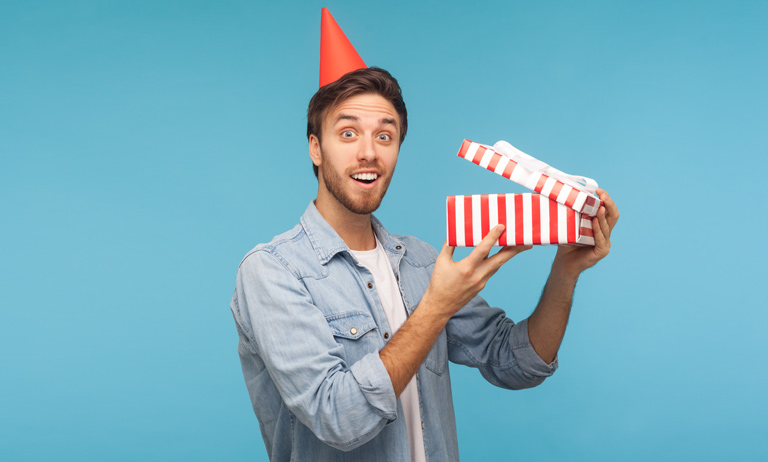 Brothers, they drive us crazy when we're younger and then become our closest friends when we're older. So what can you get your brother that shows him you're thankful for the amazing friendship you have with him?
If you want to give him something that shows him you appreciate what a great brother he is then this list of 27 best gifts for the world's best brother is going to help you find that perfect something that will show him how much you care. And show him you're the better gift giver! (Because a little sibling rivalry never hurt anyone.)
1.
Professional Bartender Kit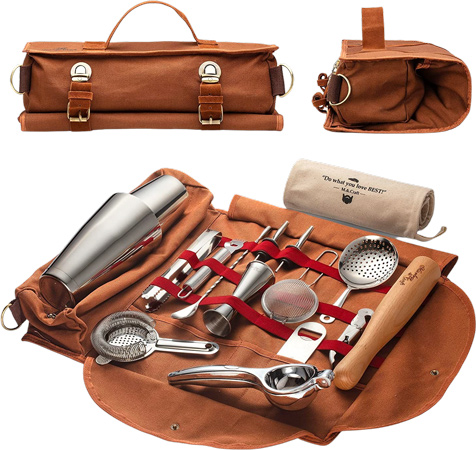 If your brother loves to flaunt his bartending skills this professional kit is going to turn him into the next top-level tender in town. This 17-piece set includes everything he needs to make award-winning drinks wherever her goes, including a full-sized shaker, strainer, pourers, stirrers, and even a bag and wooden mallet specially designed to crush ice. The set stores away and transports in the durable canvas roll bag that comes with a removable carrying strap. This gift will be something to raise a glass to.
2.
Cap Gun Beer Opener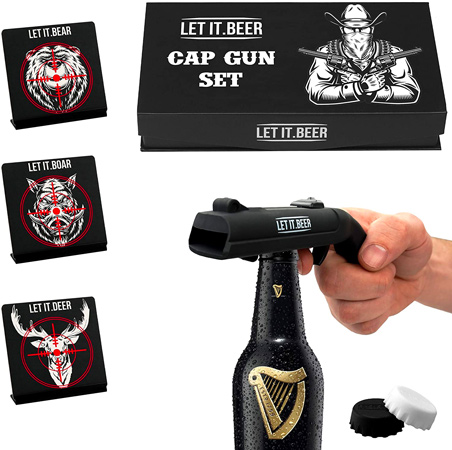 This fun gift will be a hit at your brother's next party. This unique bottle opener doesn't just remove the caps off his beer bottles, it will fire them over 16 feet away! The bottle opener slides over the cap to open the beer. The metal cap is stored in the opener until the trigger is pulled and projects it toward the intended target. There are so many fun drinking games that can be played with this unique gift. Just remember to duck next time you hear him pop open a beer.
3.
Funny Drink Dispenser

If your brother has a sense of humor, he's going to want this in his man cave. This funny liquor dispenser can serve him his favorite drink in a truly unique way. Based on the Manneken Pis fountain in Belgium, the little boy figurine dispenses vodka, gin, whiskey, rum or whatever else he wants to drink in a way that will certainly get a reaction from him and his guests. This will look great sitting on a bar cart or counter ready for the next time he wants to enjoy a well-deserved cocktail.
4.
Wood Beer Caddy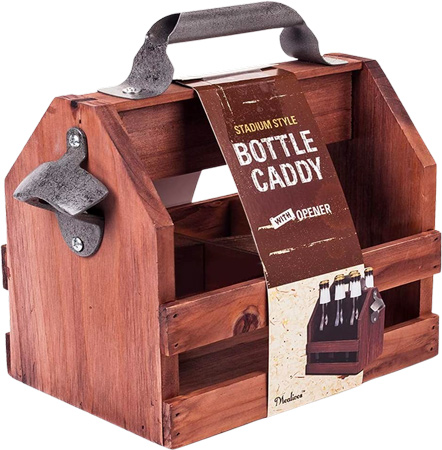 Give your brother his favorite six-pack of beer without looking like you just did your gift shopping at the local grocery store. This really cool beer bottle caddy is made of solid wood with a metal handle and an integrated metal bottle opener. Not only does this make an impression as a gift, he can also reuse it when he brings beers to his next backyard BBQ or picnic. The beers won't last long, but this caddy will be something that he'll keep for years.
5.
Cooler Backpack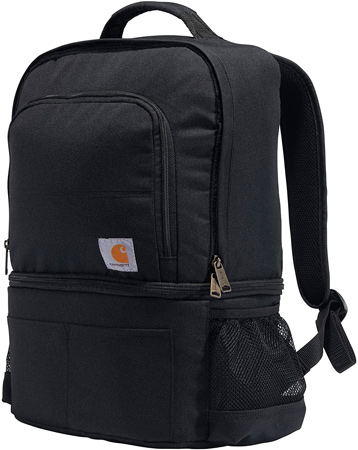 This cooler backpack is a perfect gift if your brother enjoys the outdoors. The backpack is divided into two compartments. The top compartment gives him plenty of room to carry everyday essentials like tech gear, books, clothes and a wallet, while the bottom compartment is insulated for food and drinks on the go. The insulation will hold up to 12 cans of beer or soda and will keep them cold for up to 24 hours. Unlike other cooler backpacks that look like what they are, this backpack is designed to look like a regular daypack so he can use this for any occasion. It's perfect to take with him camping or hiking or he can use it to take to work and store his lunch.
6.
Waterproof Outdoor Blanket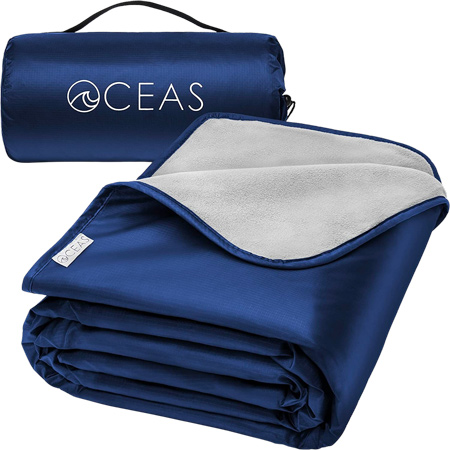 If you want to get your brother a blanket that he'll actually use, this versatile blanket by Oceas is a gift he'll be thankful to have. This large fleece blanket is lightweight and compact enough to take camping while still being windproof, waterproof and insulated for warmth and protection while out in nature.
It's also great to use as a picnic blanket or stored in the back of his car as an emergency blanket. The blanket is large enough for three adults but packs down small enough to slip into a backpack or to be stored under a car seat. If you're looking for a great Christmas gift for your brother, then you can't go wrong with this one.
7.
Sushi Making Kit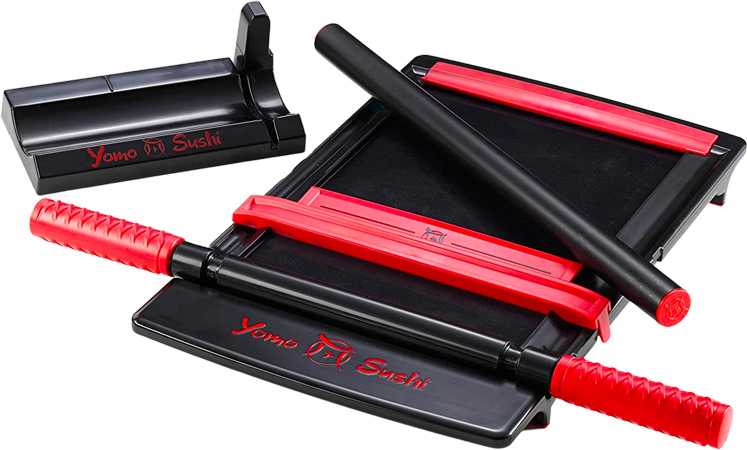 Help your brother step up his sushi game with this easy sushi-making kit by Yomo. Everything he needs to make the perfect Futomaki, Maki, Uramaki and Hosomaki comes in this kit. The rolling device takes the hassle out of rolling so he won't have to worry about broken rolls that fall apart or lose their filling. It also comes with a professional-grade cutter for evenly sliced pieces every time. With this kit your brother will be making restaurant-worthy rolls all from home. Just make sure he invites you over for dinner.
8.
Ceramic Pizza Stone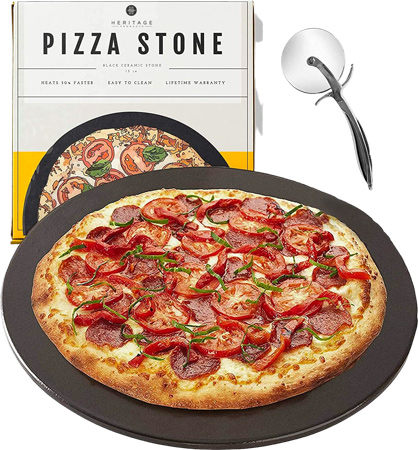 If your brother thinks he makes the best pizza, wait until he tries this gift. This 15-inch ceramic pizza stone will help him get the crispiest crust he's ever had. Due to the heat retention of the stone, the pizza starts cooking from the bottom as soon as it hits the surface. While the oven cooks from the top, the stone is working on the bottom. The result? No more soggy crusts. Just delicious pizza that tastes like it's been made in Italy. Time for a pizza party!
9.
Stovetop Popcorn Maker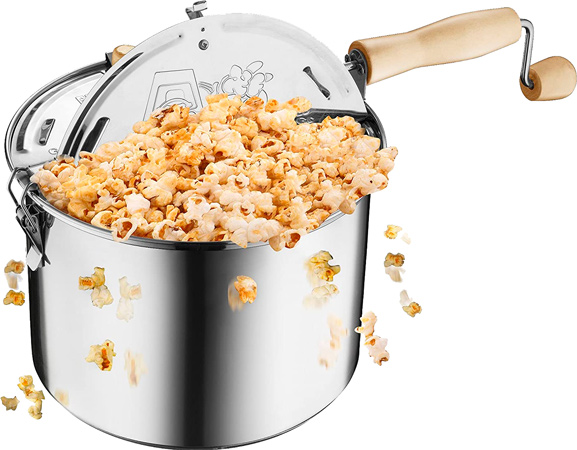 No Netflix movie night is complete without popcorn. With this gift, your brother will be making delicious movie theater popcorn from the convenience of his stovetop. It's made of stainless steel for even heat distribution and features a unique spinner stirring mechanism to stop the popcorn from burning. The vented lid releases moisture to prevent soggy popcorn. Now your brother can make up to five quarts of his favorite gourmet popcorn within just a few minutes.
10.
Portable Gas Grill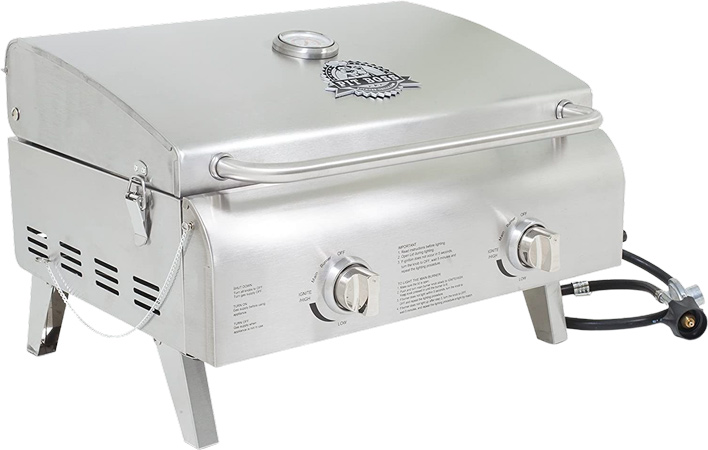 If your brother loves to BBQ but doesn't want to be tied down in the backyard, this portable grill by Pit Boss is standing by to make him one happy guy. This little grill is made out of solid stainless steel for long-lasting durability and features a dual BTU burner design for powerful and even heat distribution. The folding legs and latched hood make it easy to transport so it will be ready for his next camping trip or tailgate party.
11.
BBQ Tool Set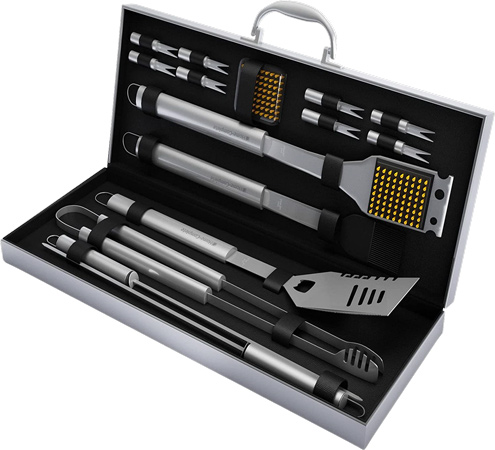 This set of BBQ tools is going to have your brother looking the part while he's grilling up his delicious masterpiece. This 17-piece kit includes everything he could possibly need, including, a spatula, tongs, skewers, basting brush, eight corn holders, and a grill scrubber. All the tools are made of high-quality, rust-resistant stainless steel with heat-resistant handles so they're durable and made to last. The set comes in a sturdy carrying case to store and protect them when they're not in use. It's great for using at home but also easily travels for camping trips or your brother's next street party.
12.
Leather Messenger Bag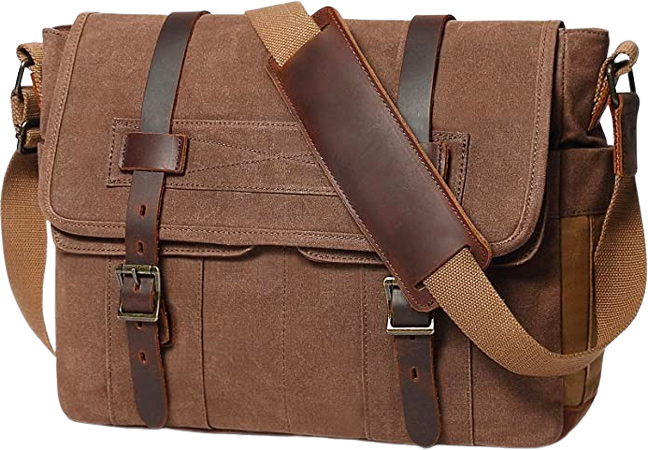 If your brother works in an office or just likes to carry a bag with him throughout the day, this handsome messenger bag is a great gift for him. The bag is made of a thick, waxed canvas with genuine leather accents. The material naturally makes it waterproof and durable enough for heavy everyday use. Inside the bag are eight different spacious pockets while the outside has five, which are perfect for small items that need easy access. The inside also has a padded sleeve that holds a 15-inch laptop and a full-sized tablet. This stylish bag looks good enough to carry for any occasion.
13.
Leather Slim Wallet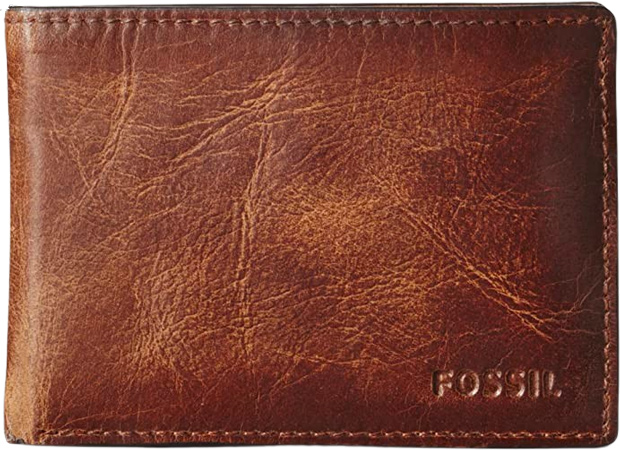 Help your brother get rid of that old beat-up wallet he's been carrying around and get him this beautiful leather wallet by Fossil. This bifold wallet has a minimalist, slimline design that won't cause pocket bulge. It holds six credit cards, his ID and his folded cash. The aged saddle brown leather gives it a vintage feel that looks timeless and sophisticated. He'll be happy to upgrade to this wallet.
14.
Ultimate Tool Kit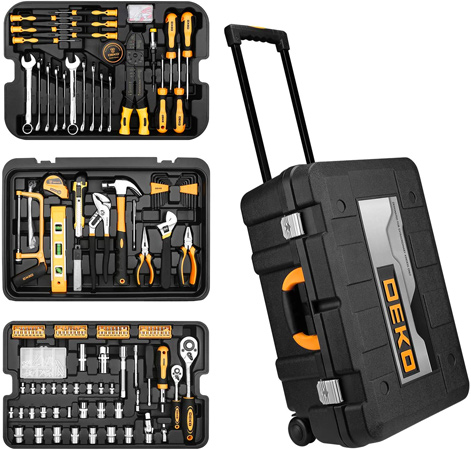 If your brother is in the market for tools, this massive kit by Dekopro has everything he could possibly want to get his DIY game on. The kit has 258 high-quality pieces, including hammers, screwdrivers, wrenches, drill bits, pliers, hex wrenches, a tape measure, a level, and tons more. The whole kit comes in a rolling, hardshell tool case with a retractable handle for easy transport. If there's a tool your brother needs, chances are it's in this kit. He won't be disappointed.
15.
Compact Multi-Tool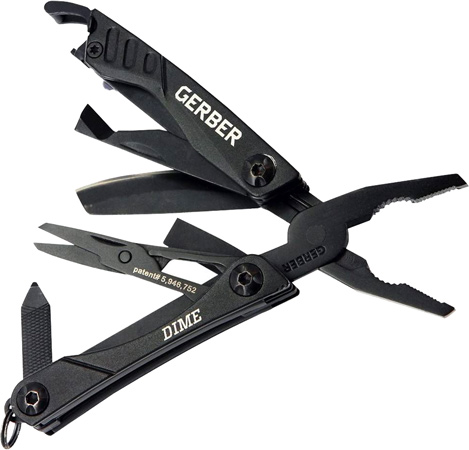 For an arsenal of tools that can fit in his pocket, this multitool by Gerber Gear is what your brother has been looking for. This little tool is just 2.75 inches while it's closed but opens up to reveal needle nose pliers, wire cutters, scissors, flat driver, crosshead driver, a bottle opener and even tweezers. It's the ideal tool to always have on hand for whatever emergency or task might come about. Give him the gift of being prepared with this cool present.
16.
Tire Air Compressor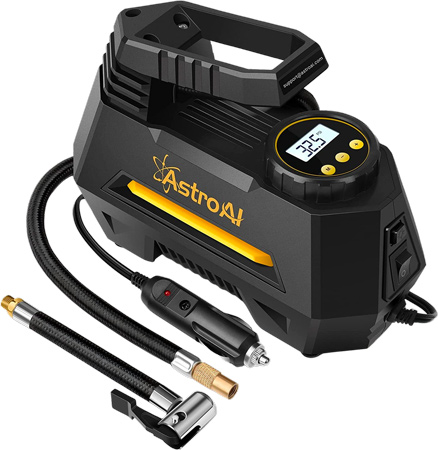 Make sure your brother is never stranded with a flat tier with this gift. This compact, portable air pump can inflate a car tire in as little as five minutes. The advanced accuracy technology reads within 1.5% of tire pressure to make sure the tires are never overinflated. It features programable settings for custom pressures based on his specific needs. The large backlit LCD screen makes reading it at night easy and the integrated flashlight with independent switch control serves as an emergency light. This is a great gift he'll appreciate always having in the back of his car.
17.
Canvas Workshop Apron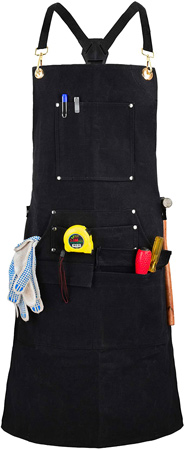 If your brother is the type that always has a DIY project going on, this shop apron will be a welcomed gift. The apron is made of a strong waxed canvas that's tear-proof, water-resistant and flame retardant. It features ten pockets of various sizes for all the tools he needs to keep within quick reach.
The apron is extra long to protect his clothes while painting, woodworking, gardening or whatever else he's working on. Unlike aprons that rest around the neck, the cross-back design of this apron makes wearing it more comfortable for longer periods. Help him look the part with this attractive apron.
18.
Reversible Golf Belt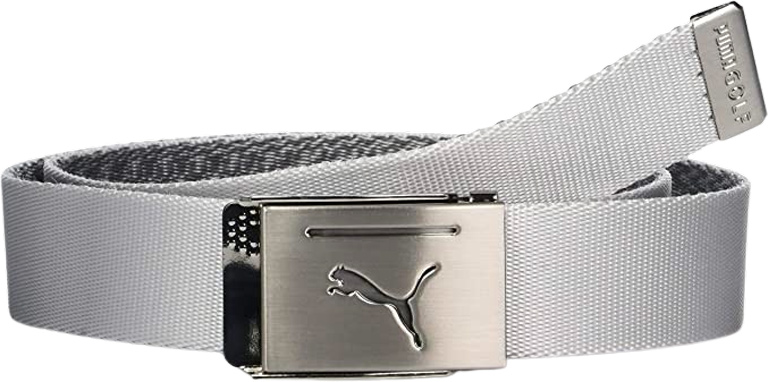 This reversible golf belt by Puma is perfect if your brother always likes to look his best when he's playing 18 holes. The belt is made of strong webbing material and can be flipped to either a solid light gray or a speckled dark grey. The metal clamp closure with the Puma logo features a hidden built-in bottle opener, because what's golf without a fresh beer to celebrate that hole in one?
19.
Tile Mate Locators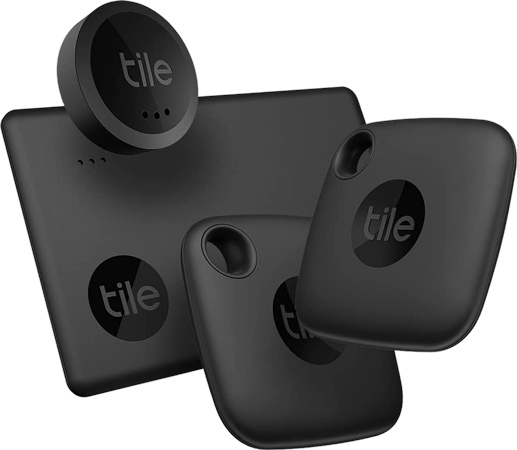 Make sure your brother never loses his keys, phone or remote again with this genius piece of tech gear. This set of Tile Mates comes with four different Bluetooth trackers, including two keychain fobs, one slim tracker and one sticker tracker. The tracker will ring when within the Bluetooth range and can even work through smart home devices. The devices work with both iOS and Android. They're not only great for everyday items like keys or a wallet but they're also a useful gift if your brother travels a lot. He can discreetly hide one inside his luggage or carryon to always keep track of his belongings.
20.
Cell Phone Sanitizer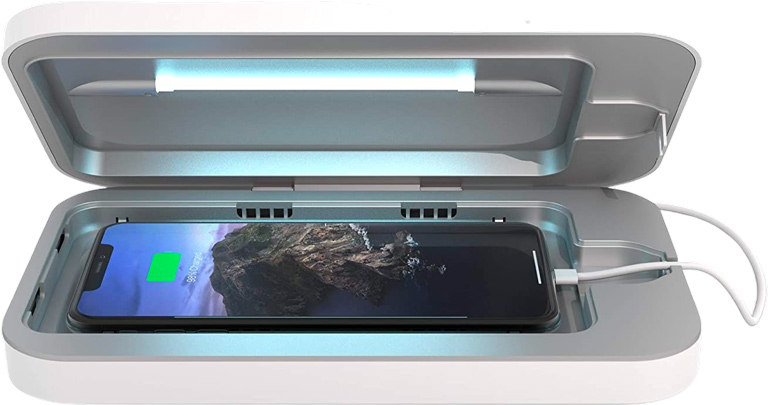 Keep your brother in optimal health with this UV cell phone sanitizer. The scientifically proven germicidal bulbs sanitize and kill 99.9% of bacteria and germs. The design can accommodate the largest of smartphones but it's still compact enough to carry in a briefcase or backpack. What makes this sanitizer unique though is it plays a dual role as a charger. When not keeping your brother (or sister) germ free, he can charge his phone through the built-in USB and USB-C ports.
21.
Cell Phone Thermal Viewer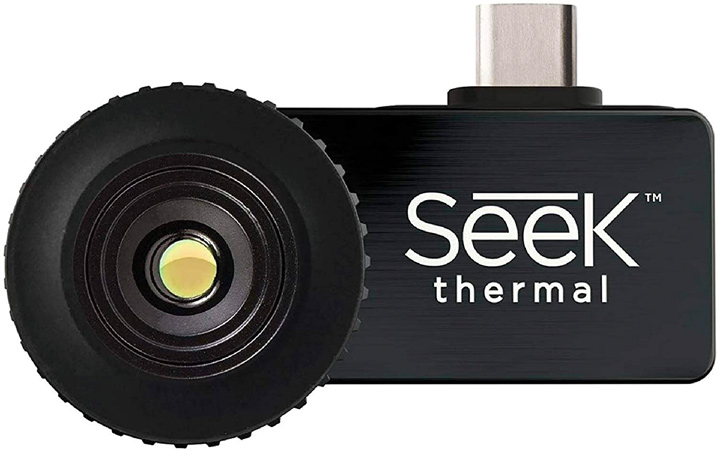 If your brother loves tech but already seems to have it all, this cool gadget will get him excited. With this little device, you can turn a cell phone into a thermal imaging camera. He can just plug this into his phone and through the app can see heat variations of different objects. It's great for contractors and DIYers to see problems that can't be seen with the naked eye. It's also great for night vision for camping or other low-light situations. Plus, it's just a fun piece of tech to play with. Very James Bond.
22.
Puzzle Clock Kit

If your brother loves puzzles and getting creative with DIY projects, it doesn't get any better than this kit to build his own pendulum clock. The puzzle kit comes with 251 pieces, all made of eco-friendly birch ply. No glue is required to build it and no batteries are needed to keep time. Just wind the clock and let the pendulum do the rest. Time will fly while he's having fun putting together this unique 3D puzzle.
23.
Luxury Playing Cards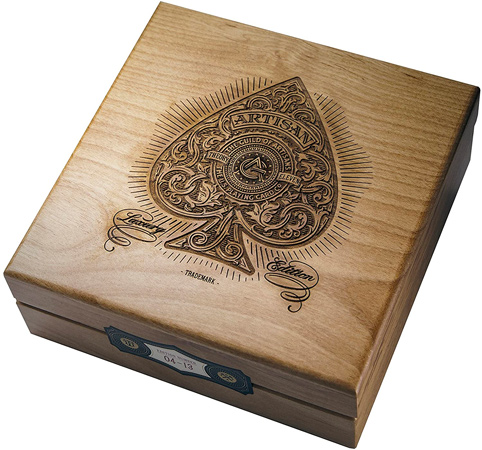 This luxury set of playing cards would be a beautiful keepsake gift if your brother likes to play poker or have game nights. This special collector's edition is a set of four decks that come in a laser-etched and carved wood storage box for storage and safekeeping. It's a unique gift that your brother will keep forever.
24.
Classic Pajama Set

Help your brother stay comfortable while lounging around the house with this classic pajama set. The two-piece set includes a short sleeve top and relaxed-fit bottoms with an elastic waist. They're made of a cooling cotton blend that will keep him comfortable all night long. The set is available in multiple colors and extended sizes so finding your brother's new favorite pajamas will be a cinch.
25.
Home Gym Kit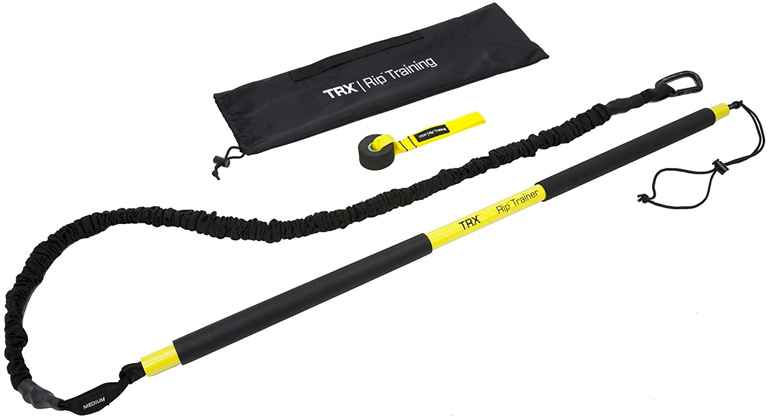 For the days your brother doesn't have time to drive to the gym, this gift will have him covered. The TRX training kit includes everything he needs to turn his home into a full-body workout gym. It includes a door-mounted trainer, a door anchor for safety and a resistance cord for an intense workout without having to leave home. The kit stores away in the included carrying bag so it can easily be put out of sight when not being used.
26.
Protein Mixer Bottle

Help your brother up his protein intake after a workout with this electric protein shaker bottle. The BPA-free bottle holds 24 ounces of his favorite shake. The unique mechanism creates a vortex to evenly mix powders into the liquids. With this gift, he'll no longer have to suffer chunky protein shakes while he's out and about.
27.
Mini Muscle Massager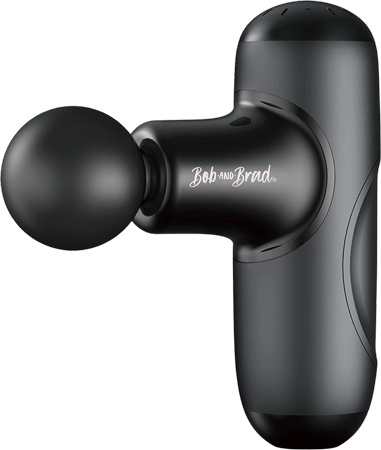 Give your brother the gift of having a massage whenever he wants it with this mini massage gun. While it's small enough to fit in his pants pocket, it's powerful enough to deep massage tense muscles to relieve tension and pain. It offers five adjustable speeds, the max speed being an impressive 3,000 rpm. That's a lot of power for something that's the size of a small water bottle. This would be great to go with your brother on business trips or to throw in his gym bag for a sports massage after a tough workout.
Related Posts