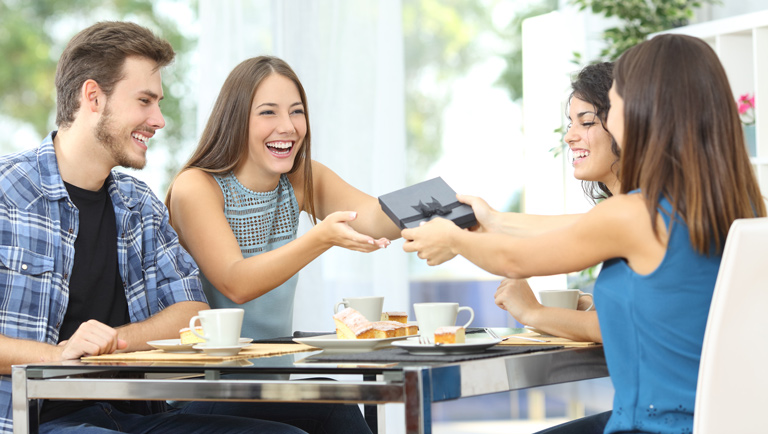 Looking for gift ideas for that special couple that already seems to have it all? This list of 30 creative ideas will definitely come in handy once you start your shopping quest. This list is for the classy couple that doesn't want kitschy gifts that are made just for couples. No cheesy, "Mr and Mrs" stuff here. Just practical and thoughtful gifts that will make them thankful they've got a friend like you.
Make it easy on yourself and pick the perfect gift from this list. They'll be so impressed at how much time you must have put into finding such a thoughtful gift. (Don't worry, it will be our little secret!)
1.
Picnic Backpack Made for Two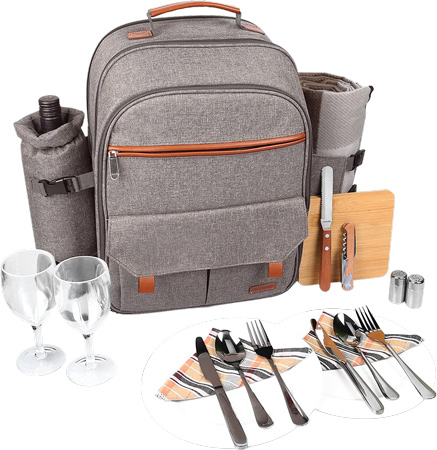 A picnic for two is always a romantic day out. Whether it's in the park, at the beach or just in the backyard, it's sure to be a memory any couple would enjoy creating. This picnic backpack is designed for everything a picnic for two would need, including two wine glasses, two sets of cutlery and two shatterproof plates. It even comes equipped with its own wine insulator and picnic blanket. Nothing will be lacking at the perfect picnic for two with this great gift idea.
2.
Portable Picnic Table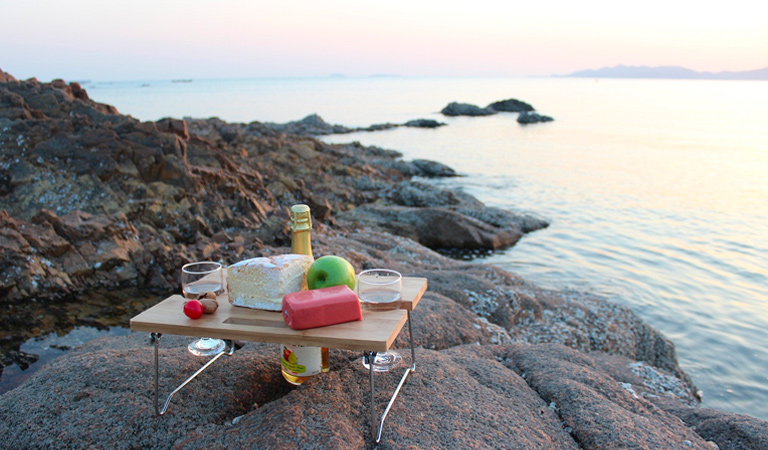 This gift will take their romantic picnic to a whole new level. While it's nice to sit out on a blanket, it's even better to have something to hold the food and wine off the ground. This portable wooden picnic table is the ideal solution to bring the comfort of eating at a table with them to the outdoors. Made for a romantic meal for two, it includes cutouts to hold two wine glasses and a place to hold a full-size wine bottle. Its foldable design makes it easy to set up and compact enough for hassle-free carrying. They'll be the envy of everyone in the park.
3.
Photo Album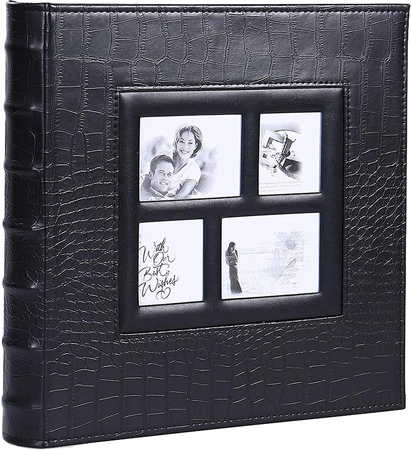 A classic gift for any couple that loves to share their memories with their loved ones. This photo album holds a whopping 600 4×6 photos so there is tons of room to collect all those memories in one place. With its black PU leather cover with an embossed snake design, it makes a beautiful coffee table book to leave out all the time for when guests come over. The cover also holds four photos for outward display so they can showcase their favorite memories.
4.
Luxury Faux Fur Blanket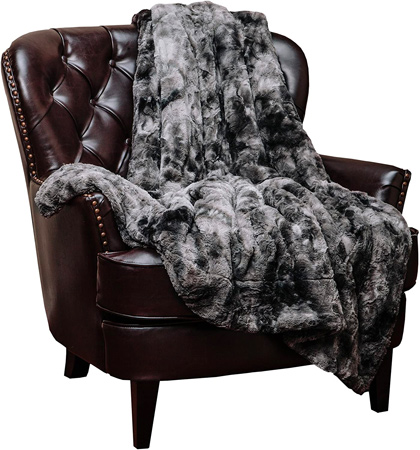 There's no such thing as having too many blankets and this luxurious faux fur blanket will be a welcome addition to any cozy collection. It's perfect for any couple that wants to cuddle up on the couch and watch Netflix together. Not only does it come in five different sizes it also comes in twenty beautiful colors to choose from so finding the perfect blanket to gift the lucky couple will be an easy task to do.
5.
Popcorn Maker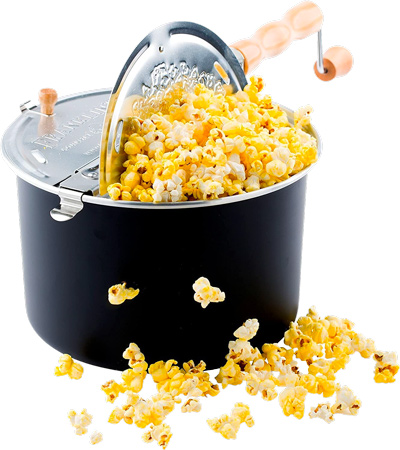 No movie night is complete without delicious homemade popcorn. This popcorn machine will provide authentic movie theater popcorn from the convenience of the kitchen stovetop. The six-quart aluminum pot evenly distributes heat so it makes perfectly prepared popcorn without burning the kernels. It's also easy to wipe clean and the compact design makes it easy to store until the next movie night. The best part is they can start popping right away with the included gourmet popcorn kit.
6.
Kissing Mugs Set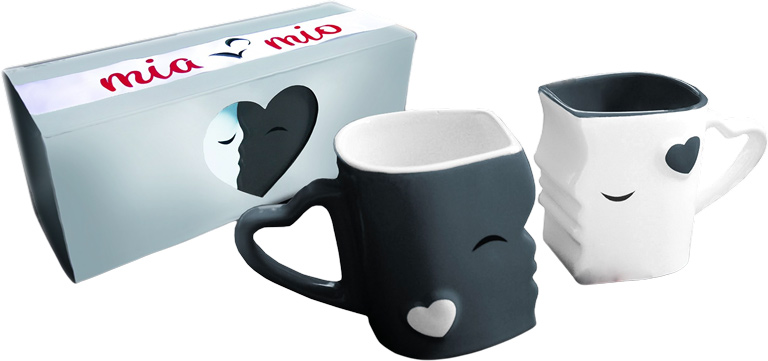 These adorable ten-ounce coffee mugs would make a great gift for any couple. Made of high-quality ceramic they are very durable and dishwasher safe. One black and the other white, they're designed to fit together to simulate the mugs smooching. So cute for the couple that likes to drink their morning coffee together.
7.
Sensual Massage Candle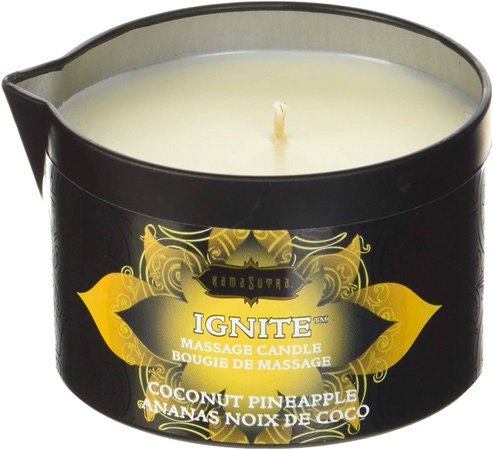 This Kama Sutra massage candle makes the perfect addition to a romantic date night. Not only does the tropical scent of coconut and pineapple smell amazing, but the melted wax can also be used as a warm, deep moisturizing massage oil. The six-ounce size provides plenty of wax for multiple burns and many relaxing couples massages.
8.
Hand Cast Kit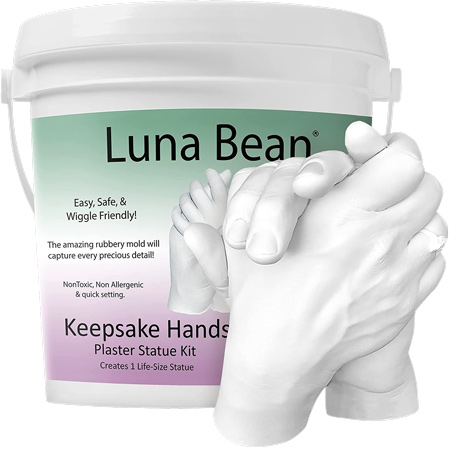 This plaster hand casting kit by Luna Bean makes a memorable keepsake for the couple that wants something more than just a picture to commemorate their love for one another. The easy DIY kit comes with everything they would need to cast their holding hands. The special plaster is so precise it can even capture the details of wedding rings. Not only will it be a moment captured in time, but it will also create fun memories while making it.
9.
Apron Set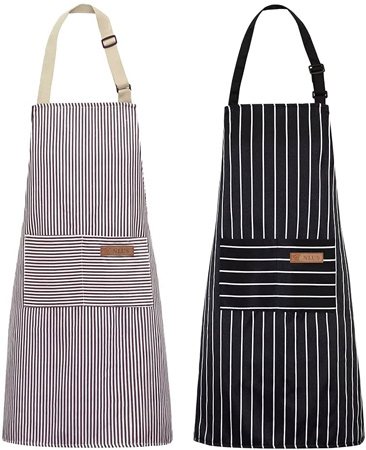 They say the couple that cooks together, stays together and now they can cook in style with this set of aprons. Each apron has two large pockets spacious enough to hold cooking necessities as well as having an adjustable neck strap that makes getting the perfect fit for comfort possible. These high-quality aprons are machine washable, fade-proof and wrinkle resistant so they're easy to throw in the washer after a fun night in the kitchen.
10.
Fondue Set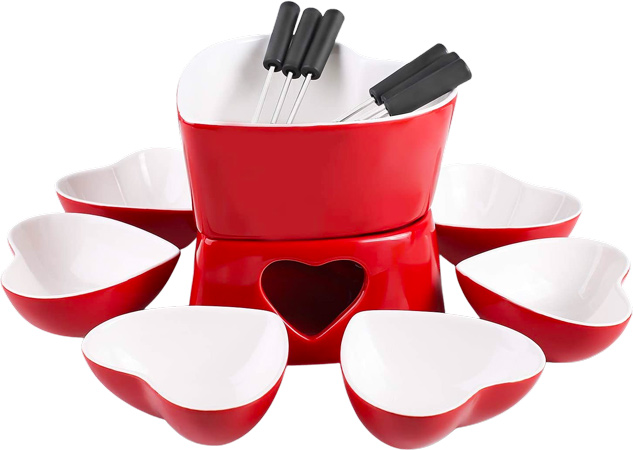 Give a romantic fondue for two with this love-themed fondue set. This ceramic, dishwasher-safe fondue set is a gift that can be used for both a special occasion dinner or a melted chocolate dessert spread. The unique vibrant red, heart-shaped design would make it perfect for a Valentine's Day or anniversary dinner for the couple that likes to celebrate their love with a delicious meal made at home. Whether it's melted cheese or melted chocolate, you can't go wrong with this lovely gift.
11.
Bread Making Kit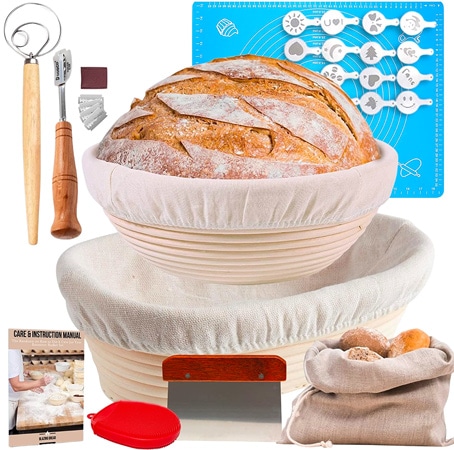 The gift of warm and fresh homemade bread is an out of the (bread) box idea that will be sure to please. This bread-making kit is equipped with all the basics anyone would need to try their hand at baking bread at home that tastes like it just came straight out of their favorite bakery. For the couple that likes to spend quality time in the kitchen together, this is a gift that will definitely rise to the occasion.
12.
Sushi Set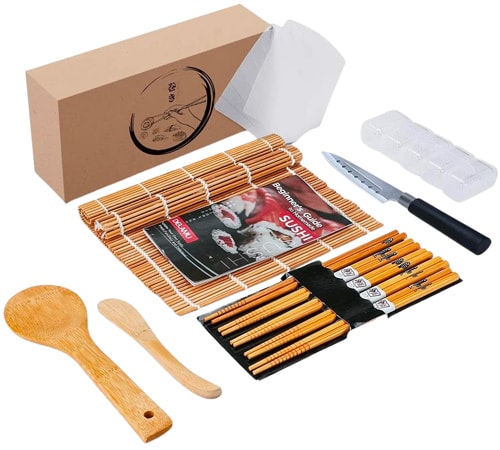 A romantic sushi night is in order with this DIY sushi set for two. The set, designed for beginner sushi makers, comes with a step-by-step instruction book with six easy-to-make sushi recipes. It also comes with everything needed for a restaurant-quality evening at home, including two premium bamboo mats, five sets of chopsticks, two temaki sushi rollers and a sushi knife and spreader. It's a gift that will give a couple something new to learn together while being able to enjoy a delicious meal at home.
13.
Matching Keychain Set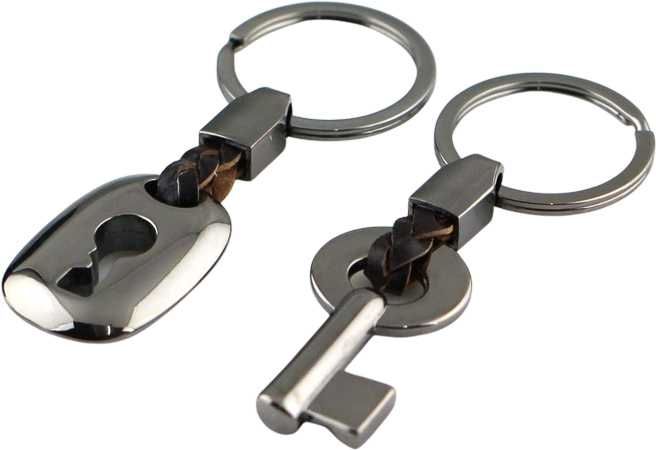 This fashionable keychain set is a minimalist way for any couple to carry their keys. Made of eco-friendly zinc alloy with braided leather detailing, they are a classy and subtle reminder that the person that completes them has the other half of the lock and key set. A sweet and practical gift that will get daily use.
14.
Wine Glass Set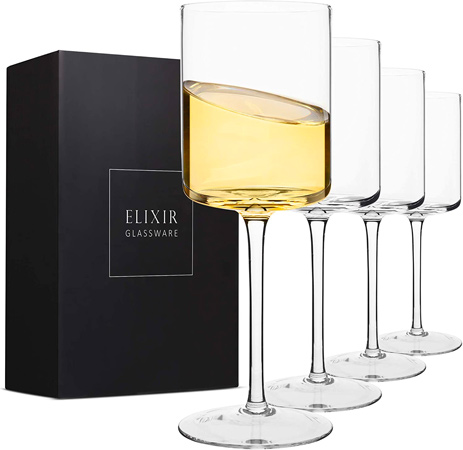 For the couple that loves their wine this handmade set of four, 14oz wine glasses makes a winning gift idea. Made of ultra clarity crystal that's 100% lead-free, they offer the charm and class of high-end crystal without the harmful side effects of lead. Best of all these wine glasses are a statement of luxury with a timeless design that will last that special couple for years of enjoyment. Cheers to the perfect couple.
15.
Special Occasion Cork Holder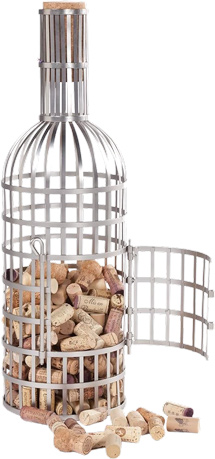 Couples love to keep wine corks from special occasions and with this gift they will have an attractive way to store their collection. This sculptural piece of art is shaped like a wine bottle, with its own removable cork at the top that makes it easy to add to the collection. It also has a hinged door for easy access to the corks. It's an attractive piece of decor that can be left out on the counter to remind them of all those memories they had over that special bottle of wine.
16.
Bar Kit Set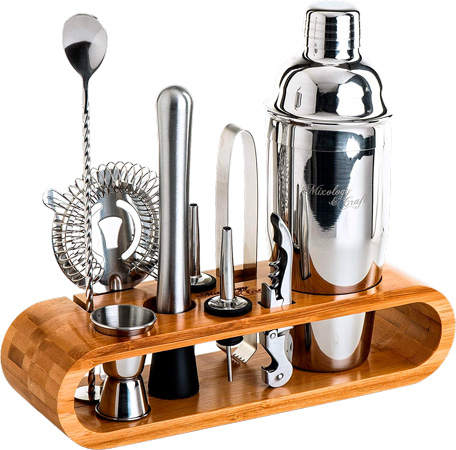 It's time for a well-deserved cocktail! This 10-piece bar kit would make any couple happy after a hard day at the office. The kit includes everything, minus the alcohol, that the happy couple would need to mix delicious cocktails from home. The highly durable pieces are made of stainless steel alloy, making them dishwasher safe and the stand is made of eco-friendly bamboo, which makes it great for the environment. Whether it's a cocktail for two or cocktails for the masses, this timeless bar set is always at the ready to get the party started.
17.
Champagne Cooler

What couple doesn't love the occasional glass of champagne on special occasions? With this hand-made marble champagne cooler, they'll always be able to enjoy it at the perfect temperature. It's large enough to hold a full-size 750 ml bottle of champagne and when not in use as a wine cooler it can also double as a kitchen utensil holder or a vase for flowers. The natural polished white marble makes it a seamless fit for any decor style and the versatility of the gift will mean they'll get plenty of use out of it, no matter what the occasion.
18.
Silk Pillow Cases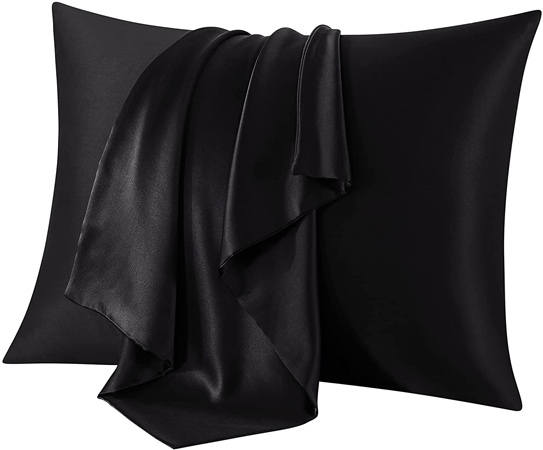 These silk pillowcases will be a thoughtful gift for any couple that wants to lay their head on a bit of luxury every night. Made of 100% pure mulberry silk they provide an ultra-soft and smooth surface to sleep. Silk also helps minimize fine lines and keep the skin moisturized throughout the night, unlike cotton which can draw out moisture and cause irritated skin. Every morning they'll wake up feeling like royalty and thankful you gave them a gift they can enjoy every night.
19.
Picture Frames Set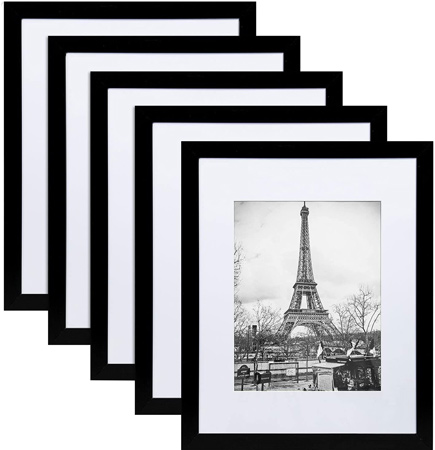 For the couple that loves to display their pictures on the wall, this classic picture frame set will definitely find use around the house. From wedding pictures to vacation pictures, these frames will beautifully display their fondest memories. The set comes with five matching black frames that hold an 8×10 picture with a mat or an 11×14 picture without a mat. The timeless design will blend with any decor style so this set makes a safe bet to gift any couple.
20.
Milky Way Puzzle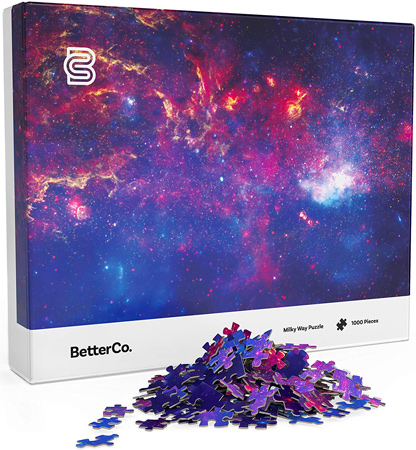 For the couple that loves to puzzle, this one will give them a challenge they can solve together. This 1,000-piece puzzle of the Milky Way Galaxy is not for the easily deterred. Rated with a high difficulty level it will be a long-term puzzle project that will provide many hours of quality time together. (And probably a few frustrating ones!) Plus once it's finished they will have a vibrant picture of the Milky Way to frame and keep forever.
21.
Couple Love Sculpture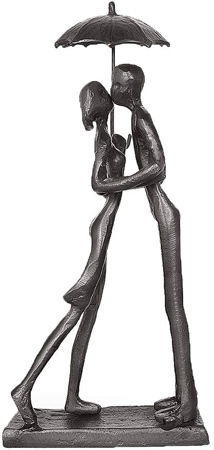 For an adorable piece of home decor that will remind them of the love they have for each other every time they look at it, this handcrafted cast iron sculpture makes a great gift idea. The kissing figurine would make a beautiful addition to a tabletop or shelf. It's also a great gift idea for a sixth anniversary, known as the "iron" anniversary. It's an elegant gift for the couple that enjoys a bit of artistic influence in their home decor.
22.
Natural Candle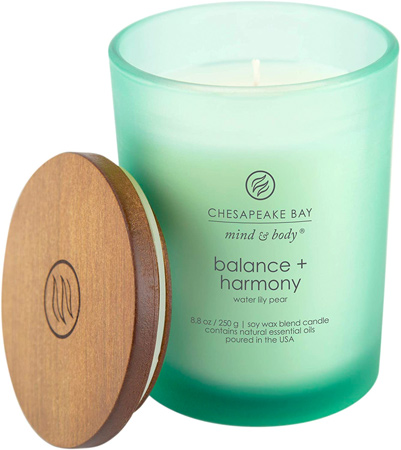 A candle is a perfect gift to make a home feel like a mini escape for the mind. This candle will fill the air with over 50 hours of delicious water lily and pear aromas. It's made of all-natural ingredients, including 100% soy wax and toxin-free essential oils. It also features a unique self-trimming wick to keep the candle clean and burning for longer. A candle would make a wonderful gift for the couple that enjoys spending time together in a home that smells like a luxury spa vacation.
23.
Relaxing Scalp Massagers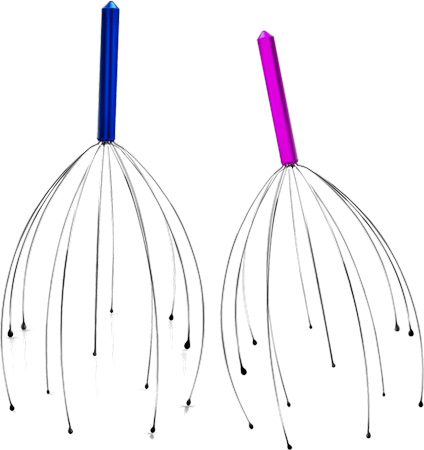 This pair of his and hers scalp massagers make it easy for a couple to give each other a relaxing and stress-reducing head massage at the same time. They're simple in design but deliver a proven way to relieve tension and increase blood flow whenever they're needed. Not only useful on the scalp, but they can also be used on other pressure points such as knees, elbows and ankles to provide a moment of pleasure after a stressful day.
24.
Massage Gun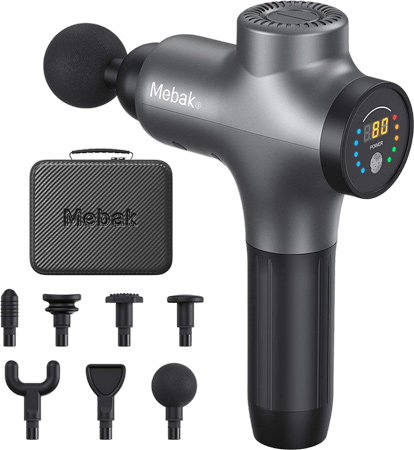 This massage gun by Mebak will make the couple who loves getting a massage very happy. We all love getting a message but who actually likes giving them? This message gun with seven head attachments and five adjustable speeds will take the strain out of giving their partner a massage. Just turn it on and let the massager do all the work. This powerful gun cranks up to a speed of 3,200 beats per minute so giving a deep tissue massage on the back, legs, neck, or wherever else it's needed, becomes an effortless task. A professional couples massage without the spa prices. They'll love it.
25.
Essential Oils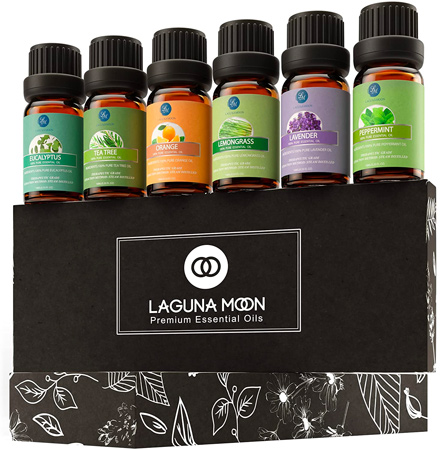 These all-natural, 100% pure essential oils not only smell divine but can also be used to make a custom scent massage oil. The set of six oils comes in the classic scents of lavender, eucalyptus, tea tree, peppermint and orange. Unlike other massage oils that often contain toxic chemicals and synthetic fillers, these all-natural oils are undiluted, spa-quality oils that are skin safe and long-lasting. They can even be used to scent a room in an oil burner or added to a romantic bubble bath.
26.
Memory Box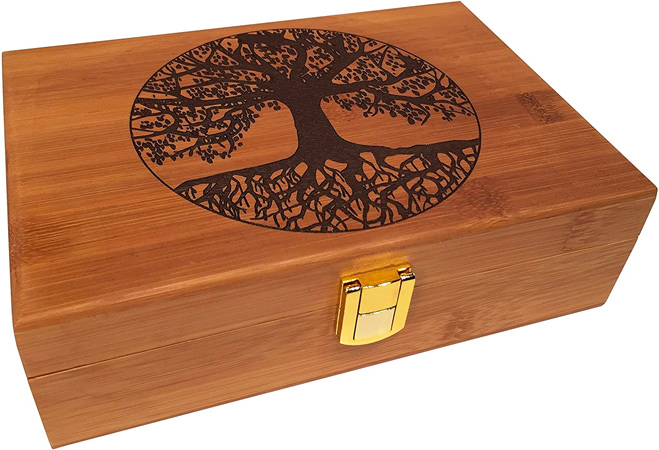 Know a sentimental couple who likes to keep everything? Whether it's movie stubs, handwritten poems or seashells from that special vacation, this handmade bamboo memory box is a great way to store all their beloved keepsakes. The outside of the box is engraved with the Tree of Life so while it's a functional catchall box, it's also a beautiful piece to keep out on display.
27.
Ticket Shadow Box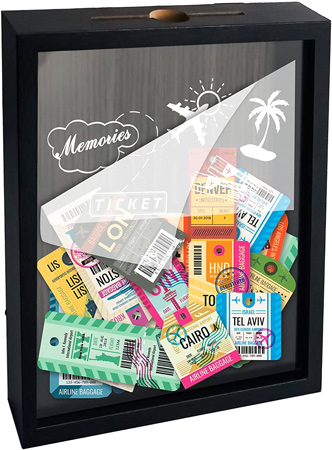 For the couple that loves to travel together, this ticket shadow box is a cute way to save all their ticket stubs. The 8×10 wood frame can be placed on a bookshelf or it can be mounted on the wall with the included hangers. It also comes with adorable DIY vinyl stickers to decorate the glass window. The open slot at the top makes it easy to add to the collection without having to open the box. It's a nice reminder of all the wonderful places they've been together.
28.
Rose Petals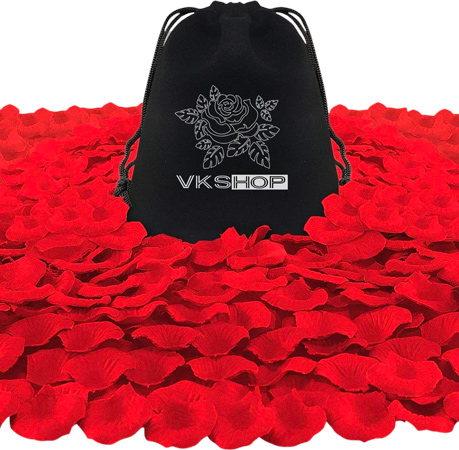 This gift is for the couple that wants to turn the romance up to a level 10. It's like something out of a movie! These faux rose petals can be used to scatter over walkways, a bed, or even floated in a bath. Not only do they come in two shades of red, they also come in white, blue, pink and black. The petals come in packets of 4,500 individual pieces that are non-toxic and reusable. They can even be used as a gift box filler that can be saved and used for future special occasions.
29.
Camping Loveseat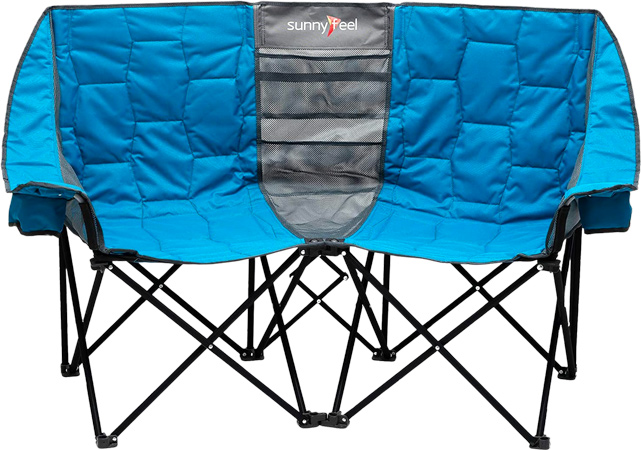 This foldable camping loveseat is for the outdoorsy couple that loves to carry along the comforts of home. The unique love seat design makes it suitable for them to share at the same time. It would be perfect for camping, tailgating, festivals, watching fireworks or just cuddling in front of a bonfire. The roomy cupholders and mesh storage pockets provide plenty of room for refreshments, snacks and books while enjoying the outdoors. Though this extra-large chair comfortably seats two people, it still folds up small enough to fit into the included carrying case so it's easy to take wherever they want to go.
30.
Cheese Board Set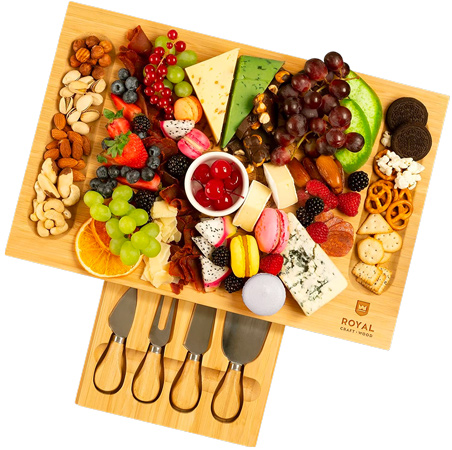 This cheese board set is a useful gift for the couple that likes to entertain. The clever design not only provides plenty of room to display nuts, fruits, cheeses, meats and crackers, it also has a hidden drawer to store the four cheeseboard utensils that complete the set. Made of 100% bamboo wood it's not only durable and easy to clean but it's also an eco-friendly gift that will last for years to come.