Lawyers help to keep the scales of justice balanced and help those who find themselves on the wrong side of the law. It can be a tough job, so if you happen to have a friend or relative who works in the legal profession then these gifts will be perfect for them.
Select from attractive jewelry pieces, sentimental items, or practical gifts that they can use every day at the office. Or get them something that they can use at home like a set of stylish wine glasses or a decorative item. Whether they work as a lawyer, a paralegal or are about to graduate from law school, a lawyer or legal-themed present will make a thoughtful gift.
1.
Wooden Tissue Box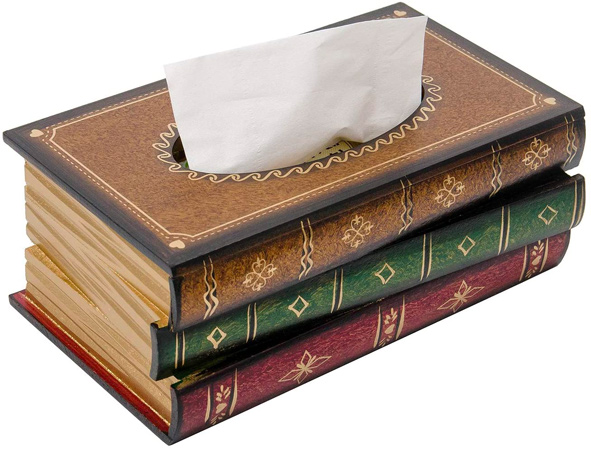 Lawyers have all kinds of visitors who come to their office so it's a good idea to keep a box of tissues on hand in case of emotions running high. This stylish box is designed to look just like a stack of leather books. They are so well made that at first glance they could almost be mistaken for legal manuals. Slide out the cover and place a box of tissues inside to use as needed. Hand painted to include gold details the books have a classic, retro look and will fit perfectly in any legal office. Can also be used in a bathroom or hallway area.
2.
Lawyers Pen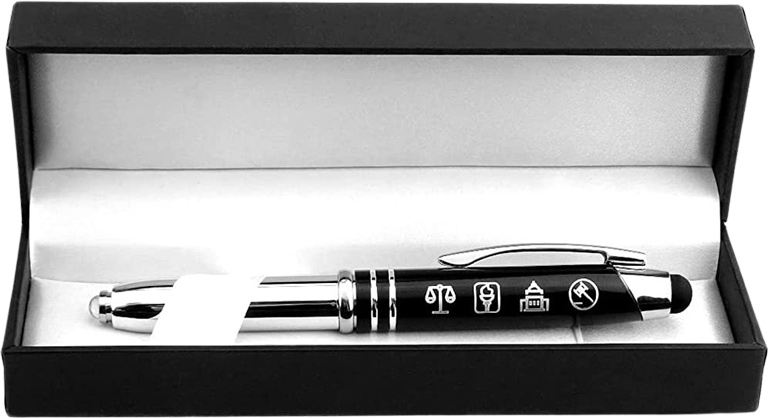 This fantastic pen will make an amazing present for a lawyer or anyone else who works in a law office like a paralegal. The black and silver pen is designed with legal and government symbols printed along the barrel and the chucky design makes it easy to hold and write with. The stylus tip makes the pen smooth to write with and an LED light is included for convenience. It comes in a lovely gift box and will make a super gift idea for legal people.
3.
Silver Scales Earrings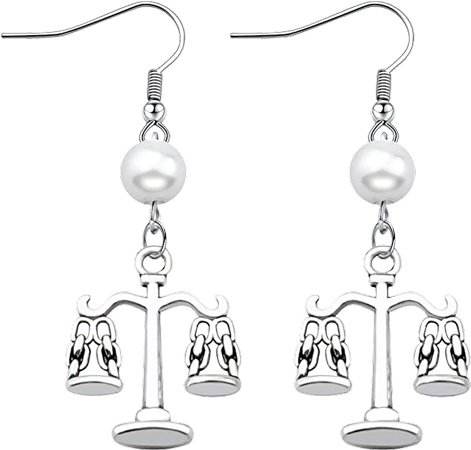 Ladies who work as a lawyer will appreciate these lovely scales of justice earrings. Made from polished silver and finished with a single lustrous pearl, these delicate earrings can be worn for the office, or for formal occasion. Lightweight and easy to wear the mix of metal and natural pearls is elegant and attractive. The neutral metal finish mean that these earrings will complement any outfit and they will be a delight to wear. Give them as a birthday gift or as a special anniversary present to your family lawyer or paralegal.
4.
Wooden Gavel and Block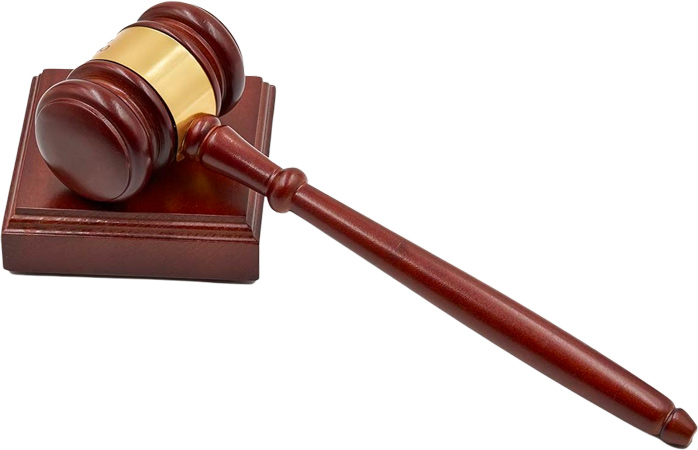 This stylish wooden gavel and block works just like the real thing. Made from solid polished wood and finished with gleaming brass details, this hammer can be brought down sharply on to the gavel block a few times to get people's attention and make a loud 'call to order' sound. Keep it at home as an interesting decorative piece, or take it to work and keep it in the office. It's a reminder of the legal systems processes and if you don't like the judge's verdict, you can use the hammer and gavel to make your own.
5.
Heavy Tumbler Set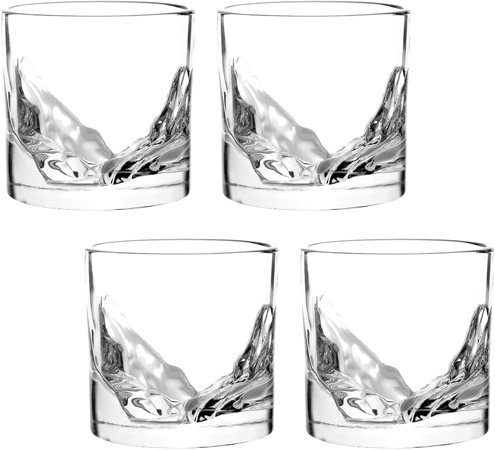 After a hard day in the court room or reading legal briefs, a cool drink might be just the thing. Designed with a glass pattern that rises up the inside of the glass, the rocky ledges have the effect of aerating spirits and whiskey. The solid glass is smooth and solid in the hand and is attractive to look at. Enjoy the luxurious experience of sipping your favorite malt or Scotch from this glass and relax after a hard day at work. The glasses come as a set of four and are ideal to use when guests come over.
6.
Italian Leather Belt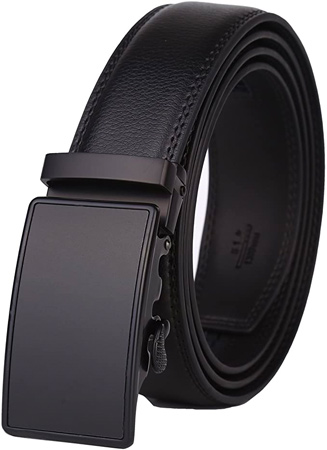 Need a gift for an uncle or a brother that works at a law office? Make a fantastic Christmas or birthday gift with this contemporary Italian leather belt. Crafted from premium leather and finished with a black metal clasp, it will be ideal to wear with any courtroom outfit and will add a contemporary look. Adjust it to any length and wear it with work attire, or slip it on with a pair of jeans and a shirt for a casual look. It will look great however it is worn and the highly fashionable belt can be cut to fit any size as needed.
7.
Gold Champagne Flutes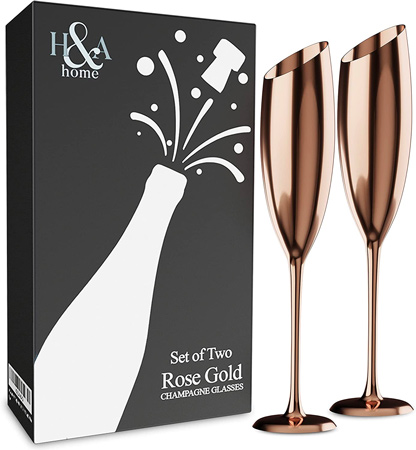 Celebrate your most recent court case win with these elegant rose gold champagne flutes. They are the perfect glasses to raise a toast and the crystal glasses are finished in rose gold electroplating for a unique and stunning look. Watch as they catch the light and turn different shades of color as you sip your celebratory drink. The top-quality glasses are scratch and chip resistant so you can use and share them without any worry. Share a bottle of sparkling wine or champagne in perfect style with these luxurious glasses.
8.
Crystal Fountain Pen and Holder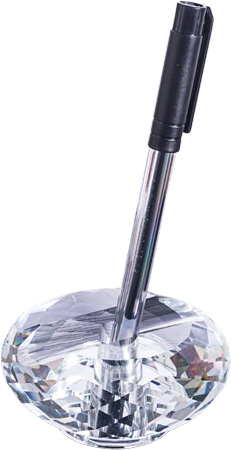 Give a gift that is elegant and classic and make his or her office desk look amazing with this stylish fountain pen and crystal holder. It is an ideal gift for men or women and can be given for any occasion such as a birthday or an anniversary. Holding a traditional fountain pen that is completely useable the writing instrument stands firmly in the sparkling crystal base. A felt pad prevents the stand from slipping, or scratching delicate surfaces. Use the pen to take notes, write memos or sign important documents.
9.
Scales of Justice Cufflinks

Make a definite fashion statement with this pair of shining silver cufflinks. The highly detailed links are fashioned as the scales of justice and are made with fine details that will be perfect for any lawyer. The cufflinks can be attached to any shirt cuffs and will be a stunning fashion accessory for stylish legal employees. They will make a fabulous gift for a lawyer or a recent law school graduate. The links come in a stylish presentation box and with a polishing cloth to remove marks and grease and keep the links shining bright.
10.
Rolling Laptop Case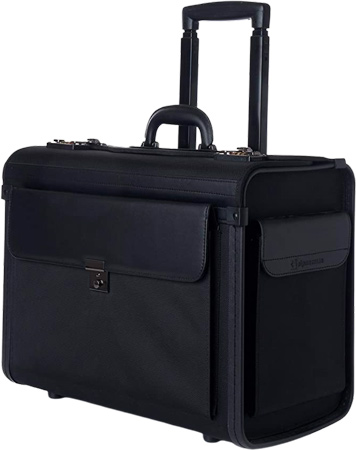 Keep all necessary items together and wheel this case along easily on your next trip to the courthouse. Conveniently designed to include separate storage compartment and pockets, this bag can be used to keep paperwork, files, and folders neatly stored. A padded section is available to protect a tablet or a laptop and the extendable handle makes the case easy to move. Use it for work purposes or as an overnight bag when traveling and keep everything tightly fastened with the solid clasps and snap locks.
11.
Beard Care Kit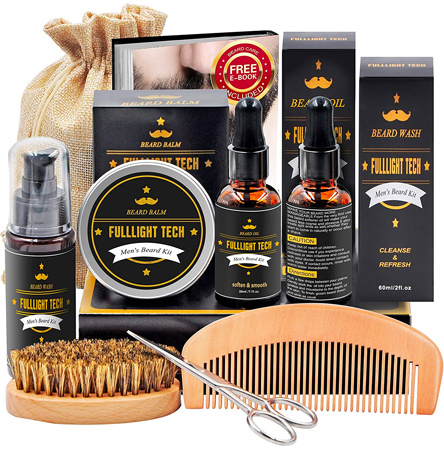 Look your best the next time you have to plead a case in front of the judge and make sure your beard is neat and tidy. This beard care kit is the ultimate in male grooming and contains top-quality beard oil, balm, combs and brushed to keep beards in prime condition. It will make a lovely personal gift for a partner or relative and help to keep their beard shiny and trimmed. Made from paraben free ingredients and natural scents, this kit will not strip or remove natural oils from facial hair. It will make a great pamper gift for well-groomed guys.
12.
Traditional Brass Scales
The scales of justice are synonymous with law and the legal profession so these traditional brass scales will make a lovely ornamental gift with a nod to your friend or relatives chosen occupation. A polished gold finish with colored embroidery flower designs adds a touch of elegant detail and suspended chain links hold the identical brass scale plates firmly balanced in place. Made from durable metal this decorative piece is built to last and is the perfect accessory for a legal office or lawyer's desk. It will make a sentimental and thoughtful graduation gift for anyone who is completing their law degree.
13.
Fashionable Legal Tie
Help your brother or husband look as smart as possible with this fashion accessory This highly patterned and fashionable tie will make a fun and practical gift for anyone who is a lawyer. Wear it with a favorite shirt and let the world know you are a practicing attorney. Give it to a husband or father to make a special present for Father's Day, or give it as a congratulatory gift when the time comes to be made a law firm partner. Give it as a Christmas stocking stuffer and use it for work or outside of work to look sharp at company events or days out.
14.
Lawyer's Tie Pin

If you know someone who wears a tie regularly help them to keep it firmly clipped down and prevent having to tuck it inside a shirt with this elegant tie pin. Made from polished silver the pin features the legal scales and will make a super gift for a judge or an attorney. Pop it in a giftbox and make a heartfelt sentimental gift for your family lawyer. It can be worn daily and will not look out of place in the courtroom as this stylish pin will look great with any outfit or suit. The shining silver will blend nicely with any color.
15.
Leak Free Flask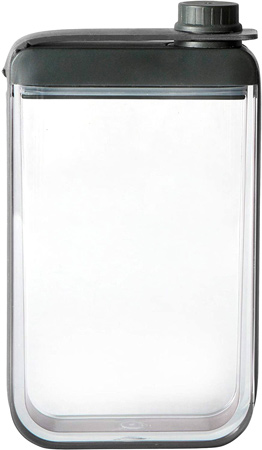 If a drop of whiskey is required on occasion, then use this slim and discreet flask to store the liquid safely. Unscrew the cap and fill it with your beverage of choice. The flask is constructed with a slim design to be completely unobtrusive and the flask can be slipped easily into a bag or pocket, or kept tucked away in an office drawer. The lightweight plastic construction will not break or scratch and a leakproof lid prevents drips and spills. It can be cleaned in the dishwasher and used to take drinks to games or concerts.
16.
Marble Style Coasters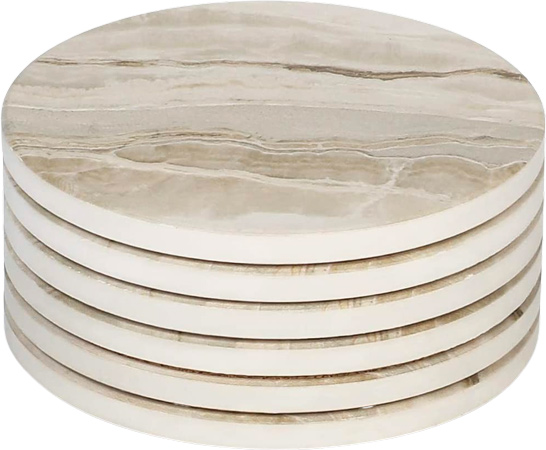 Keep office desks and woodwork free from stains and coffee rings using these stoneware coasters. The absorbent ceramic is styled to look just like natural sandstone and a soft cork base will prevent scuffs and scratches. The neutral colors will blend in and match with any type of décor. Use them to hold mugs, cups and glasses and when not in use, stack them up until needed again. They will make a great gift for anyone about to start a job as a lawyer or for those who are moving offices.
17.
Smart Notepad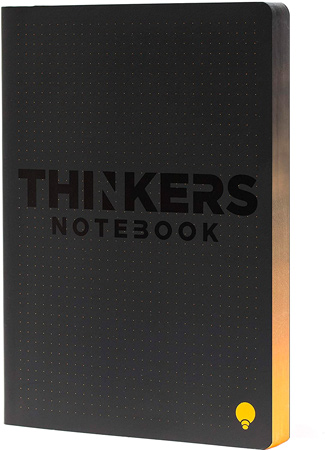 Take down important information, record details, and keep notes all in one place with this handy notebook. Big enough to write in comfortably but small enough to fit into a briefcase or desk drawer, this book is ideal for documenting your thoughts. Sketch, jot, and write to your heart's content and share information with friends and colleagues using the companion app. Simply snap a photo and share with your work assistant or private group so information can be viewed simultaneously.
18.
Law Office Candle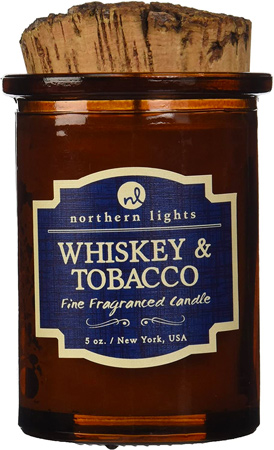 Law offices have a bit of a reputation for being musty and stuffy. Dispel the myths by using this gorgeously scented candle. Delicately infused with notes of whiskey and tobacco, this candle, once lit, will release its subtle and pleasing fragrances into the air. Create a calm and pleasant atmosphere with its warm glow. With over 30 hours of burn time this candle can be used as needed and when unlit, can be sealed with the natural cork topper.
19.
Bathtub Caddy Tray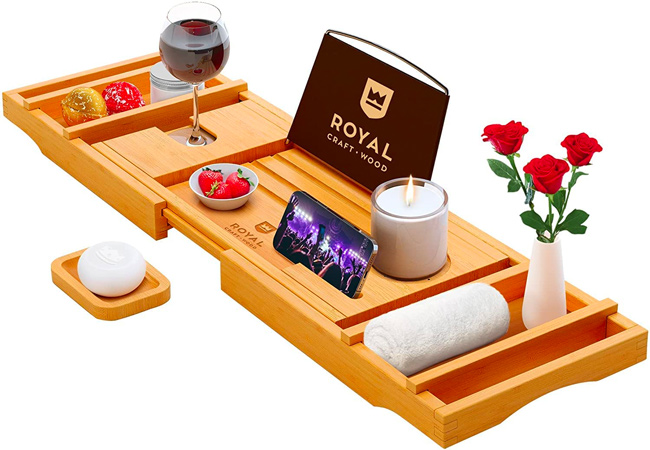 After a long day's litigation, a nice bath can be just the thing to relax and unwind. Make it even better using this useful bath caddy and keep all of your essential toiletries close to hand. The tray can be used to store soaps and bath gels, and the custom designed grooves are ideal for standing a book or laptop for easy reading. Made from natural bamboo this tray is durable and moisture resistant and can be used by men or women who want to relax and soak in the tub.
20.
Modern Letter Opener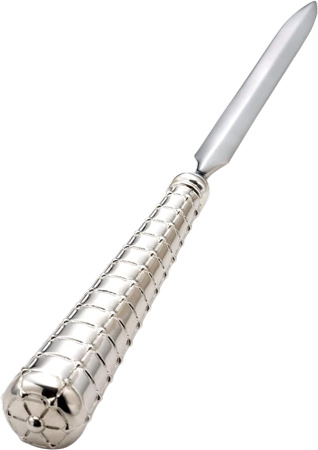 Slice open letters and cut open parcels and packages with this stylish letter opener. The nickel-plated opener features a blade and an etched handle that sits comfortably in the hand. Even though it looks highly polished and attractive, the letter opener is fully functional. It will cut open envelopes and bags in a snap but don't worry, the blade is not sharp enough to cut the skin. It would make a stylish and practical gift for graduates, new offices, or job promotions.
21.
Under Desk Foot Rest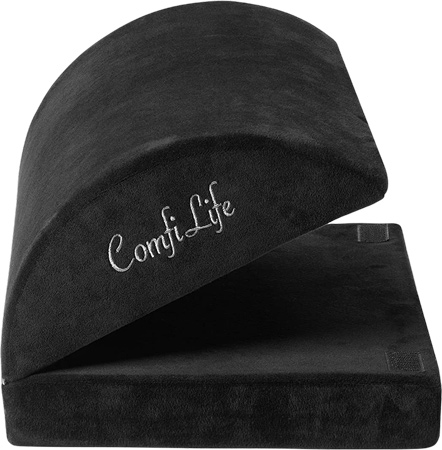 Relieve foot pain and keep feet elevated when working at the desk. Sitting for long periods of time can cause strain on the knees, ankles, hips, and calves. If your relative suffers from leg or back pain then they will appreciate this foot rest. This ergonomic pad has been specially designed to keep feet positioned at the correct angle and minimize stress and muscle strain. The foot rest can be raised and lowered until it is in the desired position, and the memory foam offers soft yet firm support.
22.
Magnetic Chess Set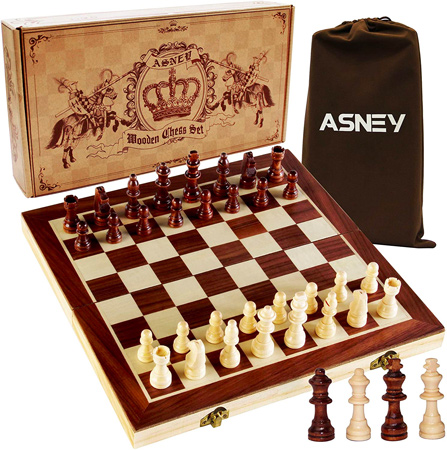 This stunning chess set will give a classic look to any office side table or bureau. With a board made from solid wood and inlaid with a magnetic surface, chess pieces will stick to the board like glue. No lost pieces and no abandoned games due to pieces moving and shifting. The board can be left out on display as a charming office feature, or folded in half and kept in a draw. Give it as a gift to any friend or relative who is a lawyer and challenge them to a match.
23.
Real Leather Bookmarks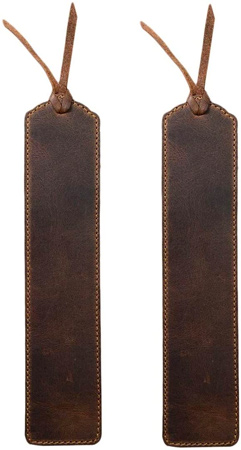 If your lawyer relative or friend is an avid reader then help them keep their page with these lovely real leather bookmarks. Slim and lightweight they can be slipped between the pages to mark the place. Use them to mark important statue or legal arguments in law books, or take them to use at college or university to keep up with lessons in reference books. Simple and stylish, these bookmark will make a great little stocking filler to give to friends or relatives at Christmas time.
24.
Leather Writing Journal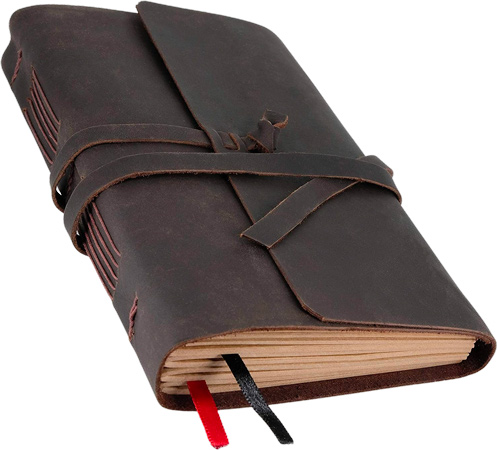 For those who like to records and document their personal thought or events, or keep notes on a pastime or a hobby, this traditional looking leather-bound notebook will be the ideal place to write their secrets. Give it as a special birthday or to congratulate a friend on a new job or promotion. Featuring a hand stitched leather binding, the book can be seal shut using the leather wraps. Use it to write down dreams, or track your successes and accomplishments.
25.
LED Magnifying Glass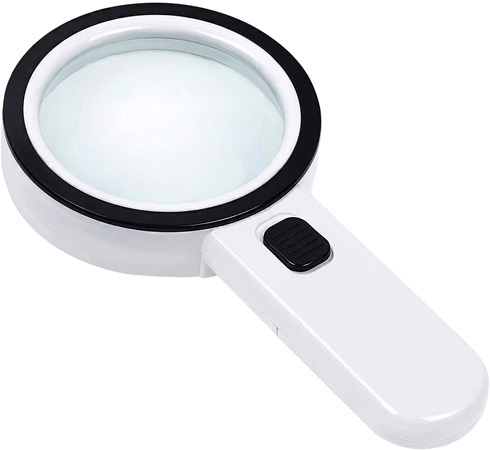 Lawyers are famous for combing through the small print so make sure they can see all the minute details clearly with this handheld magnifying glass. Inspect clauses closes with up to 30 times magnification. Built in LED lights illuminate the subject being examines and the stunning brightness makes even small details easy to see. Lightweight and maneuverable the magnifying glass is a useful home or office tool. Keep it on the desk, or place in a hobby drawer for easy retrieval.