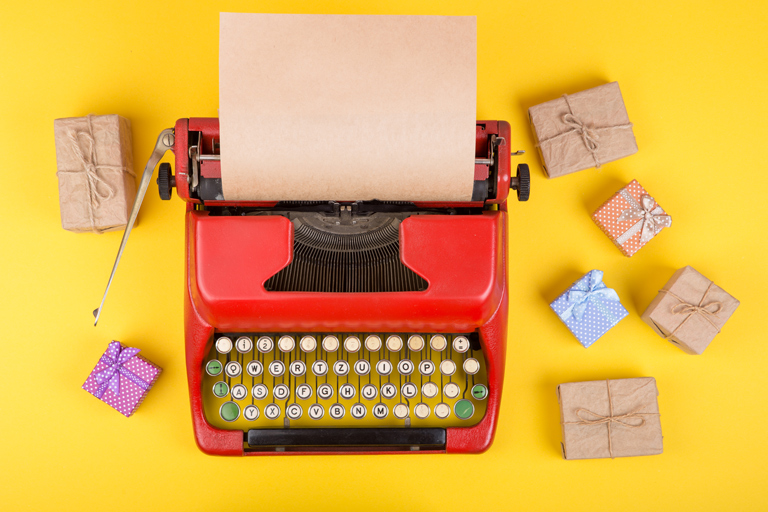 Having a friend is a gift, though having a friend who loves to write is even more special. Writers are a unique and creative bunch, always thinking deeply about the world around them and finding beauty in even the smallest of details. Despite their often introverted nature, writers are incredibly thoughtful and caring friends. They may spend hours lost in their own world of words, but they're always willing to make time for the great friends they care most about. Great friends like you.
We want to help you show your friend you value the bond you've forged together. That's why we've created this list of 17 gifts for the writer in your life. Whether you're searching for decor to spruce up their desk, gadgets to make their writing day more comfortable or tools to streamline their workflow, there's something here they'll love. Choose any one of these gifts and you can be sure you'll be getting the most thoughtfully written thank you note you've ever received.
1.
Coffee Mug Warmer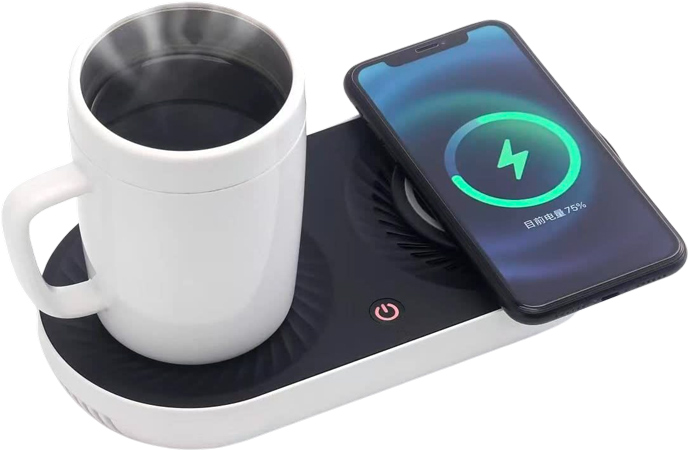 Next time your writer friend is sitting down to write their next best selling novel or thought provoking blog article, make sure they don't have to do it with a lukewarm cup of coffee with this great gift idea. By now we've all seen smart mugs but this innovative product does way more than just heat up a writer's go-go juice.
It can also wirelessly charge their smart phone or keep drinks cold for hours. This gift is going to be a perfect addition to their desk to keep them fueled for creativity all day long.
2.
Noise Canceling Headphones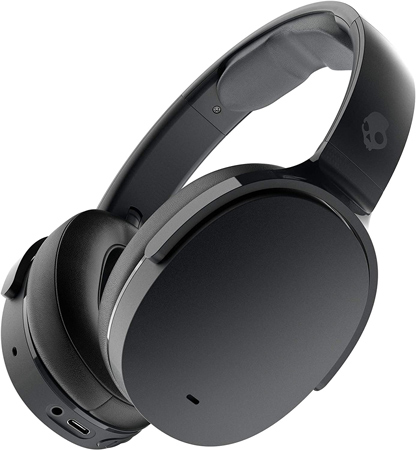 Help your friend block out distractions and get into their writing zone with these high-quality noise canceling headphones by Skull Candy. These headphones not only offer high quality sound with deep bass and clear highs, the ultra comfortable plush ear pads and 22 hours of battery life mean these headphones can stand up to even the longest of writing sessions.
Whether your friend is writing to their favorite playlist or editing while they listen to white noise, this gift is going to help them stay in a deep state of concentration, no matter how loud the world is around them.
3.
Chrome Fountain Pen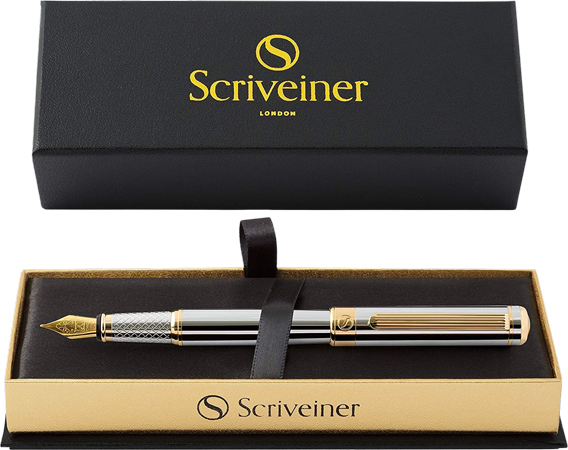 Although you friend probably does all their professional writing on a computer, chances are they till have an appreciation for journaling or note taking with a traditional pen and paper. Give them a gift that they'll want to keep forever with this beautiful fountain pen by Scriveiner.
The pen body is made of solid brass that is covered in a shiny chrome finish and accented by genuine 18 and 24 karat yellow gold embellishments. Even the writing nib is trimmed in genuine gold. Pens don't get more impressive than this one and any writer is going to cherish such a luxurious gift.
4.
Classic Large Notebook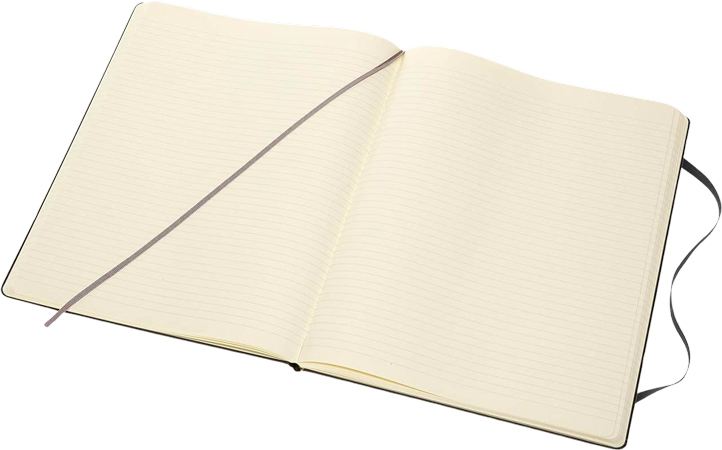 Every writer needs a great notebook where they can take notes, outline projects and brainstorm their ideas before they take them to the keyboard. This classic notebook by Moleskin is no stranger to serious writers. This extra large one would be a welcomed gift, giving them plenty of space to organize their thoughts.
The inside of the notebook features ivory pages that are lined for easy note taking, a ribbon bookmark to quickly access where they left off and an expandable inner back pocket to organize all those sticky notes that keep popping up all over their desk. The hardcover and elastic closure make this durable enough to carry along in a backpack or purse. It might just seem like a regular notebook to you, but your writer friend is going to love it.
5.
Waterproof Shower Notepad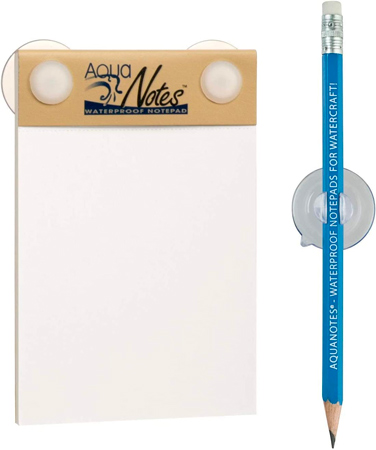 Here's a cool gift idea that your writer friend didn't even know they wanted but they'll be so excited to have. Writers never know when inspiration is going to strike. This waterproof notepad is going to make sure they'll be ready when it does, even if they're singing in the shower.
The pad includes 40 sheets of waterproof paper with a perforated top edge for easy removal. It comes with a special pencil that uses non-toxic vegetable based ink that can even write under water.
Both the pad and pencil feature strong suction cups to secure them to the shower wall so your writer friend will never have to worry about forgetting a thought again. If you're looking for a unique gift, this one won't disappoint.
6.
Reusable Sticky Notes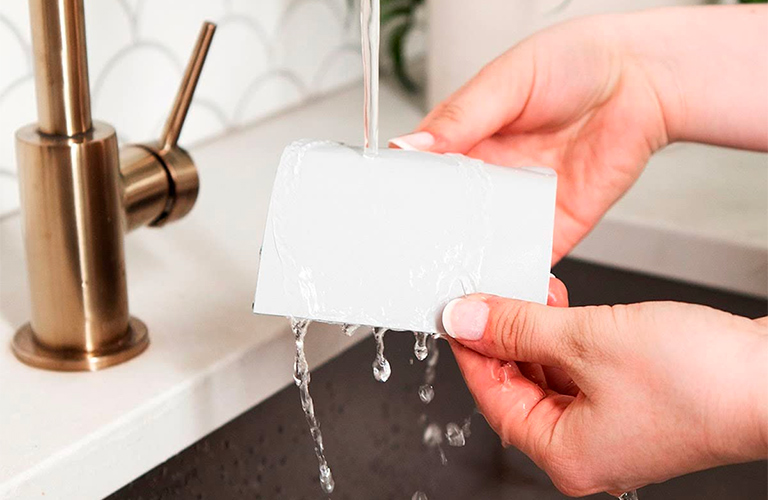 Writers love sticky notes. They end up all over the desk, the walls, mirrors, wherever there is space to help organize the flurry of thoughts constantly rattling around in their heads. If your friend is a sticky note hoarder, this gift will not only save them money but will also help them do their part for the environment. Made with a surface akin to a whiteboard, these sticky notes are rewritable.
Unlike other reusable sticky notes that are only useful with metal surfaces, these sticky notes don't rely on magnets to stick. They use a special micro-suction technology that allows them to stick to any smooth surface, even their computer. Sticky note loving writers are going to love this gift.
7.
Digital Magnetic Timer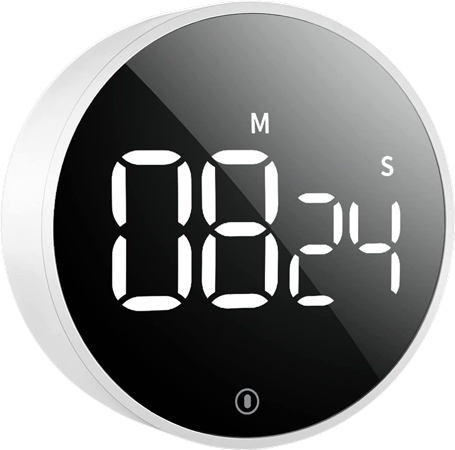 Next time your friend sits down for an uninterrupted writing sprint they'll appreciate having this gift on hand. This digital timer features large, easy to read numbers and can either be set to count up or count down. The back of the timer is magnetic so it can be attached to a work board or it can be set on the desk with the fold out stand.
This is great gift to help improve productivity and prevent burnout from writing sessions that go on a little too long. Plus they can use it in the kitchen to time those freshly baked cookies they can indulge in after another productive day of writing.
8.
Adjustable Computer Riser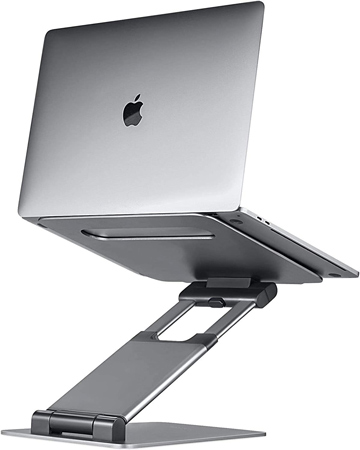 For any writer that spends extensive time on their laptop, which is probably most of them, this adjustable computer riser is a great gift idea. This versatile riser can be be positioned in various ways so it can be used on a regular desk to reduce neck strain, a standing desk to provide the perfect angle or even extended to the highest level to be used as a free standing desk while sitting on the floor or bed.
It also folds completely flat so it can be stored away at home or carried along to work in any standard laptop bag. Once your writer friend uses this, they'll never want to go back to looking down on their computer again.
9.
Luxury Desk Set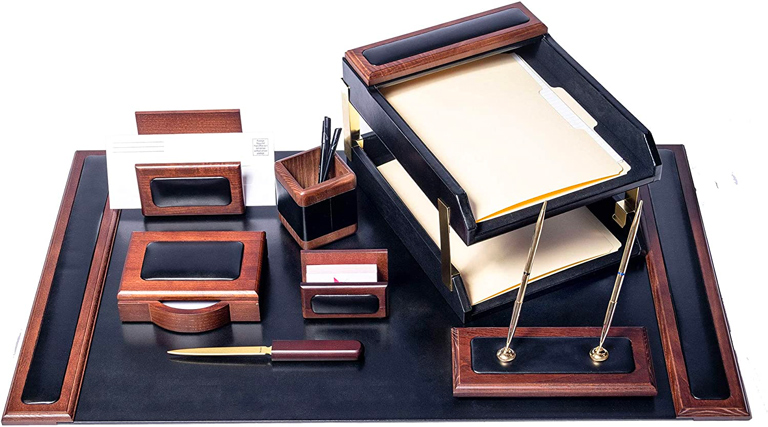 This premium gift is going to impress your sophisticated friend that values style as much as they do functionality. As a writer, your friend spends a great deal of their day at their desk, which is why it's important it's a place that reflects them as a person. This 10 piece desk set is going to inject a whole lot of class into their daily routine.
The set, which includes a desk pad, letter tray, pencil cup, memo holder, business card holder, letter opener, double pen stand and two accessory holders, is made of genuine wood and top grain leather. It's everything your friend will need to keep their workspace free of clutter while they blissfully lose themselves in the creative process.
10.
Whimsical Pen Holder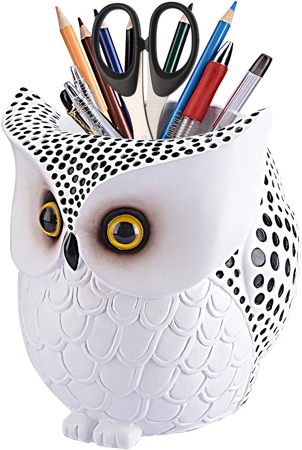 If your friend appreciates quirky decor, this gift needs to be on their desk. Made from high-quality resin, it's designed to look like an owl, a symbol of wisdom. Inside provides plenty of space for pens, pencils and highlighters. Unlike smaller pen cups on the market, this one features a heavy base that will prevent tipping, even when it's packed full of all of their essential writing tools.
The black and white color scheme makes this a trendy piece of decor that will easily blend with any type of style your friend is rocking in their office. This charming gift is something your friend will appreciate every time they're sitting at their desk.
11.
Zippered Portfolio Organizer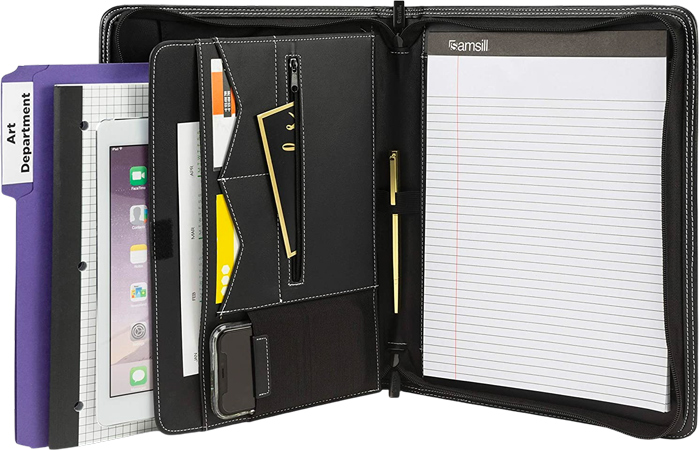 Give your writer friend a place to keep all their brainstorming tools organized and within quick reach with this zippered portfolio. It features a large zippered pocket, a document pocket, a tablet sleeve, business card slots, a pen holder and a refillable notepad, making it the perfect accessory for writers on the go.
The vegan leather not only provides a professional aesthetic but also makes it water resistant and durable enough for every day use. Next time your friend is heading to Starbucks to work on their novel, this gift will make it easy to get up and go.
12.
Chair Back Massager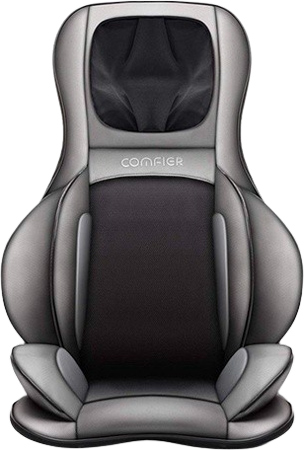 With this gift, your friend can comfortably spend even more hours at their desk without experiencing neck or back strain. This Shiatsu massager will transform any chair into a stress-busting machine. It features four rotation nodes that can be adjusted to target different areas of the body, including the neck, shoulders, back and waist.
It even has a heating and cooling function that can target muscles that need extra attention. The intensity, temperature and speed of the massager can all be controlled via the included remote. Your friend will feel like they're getting a professional massage every time they sit down to write.
13.
Typewriter Lego Set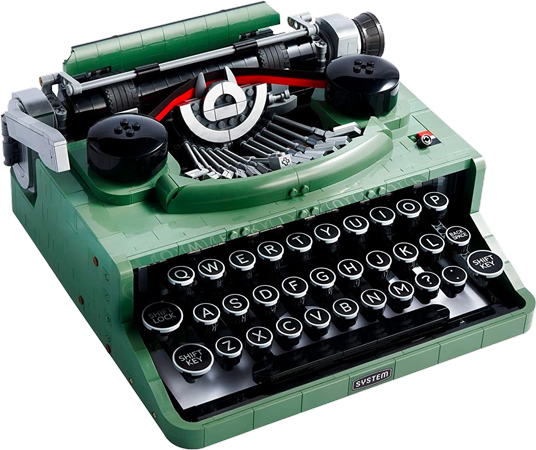 Your friend is going to be thrilled with this amazing gift. There's something about an old typewriter that really gets a writer excited. This one is even more impressive because they can build it themselves out of Legos! The 2,000 piece set assembles into a life-sized typewriter that sounds and moves like the real thing.
Not only will they have fun putting it together, they'll also have a unique piece of decor to keep on the shelf in their office. If your friend loves puzzles, or just needs something to do when writers block hits, this is the gift they'll appreciate it.
14.
Reading Glasses Holder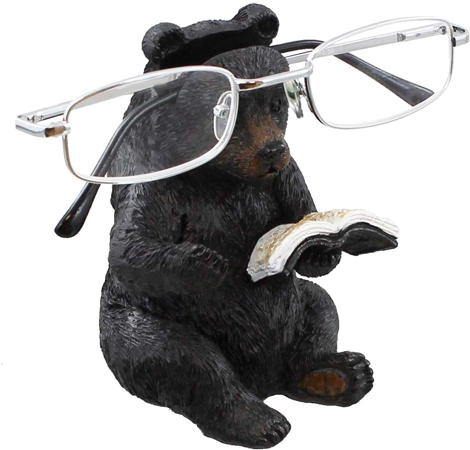 This adorable bear is a cute way for your friend to keep their reading glasses from getting scratched on the desk. It's made of painted poly-resin and stands at just over four inches tall.
The head of the bear features a cut out that the arms of their folded glasses can be inserted into, making it look like the bear is wearing the glasses while he reads his book. It's the perfect size to keep on their desk or would even look good on their nightstand for when they're doing their editing in bed.
15.
Decorative Metal Bookends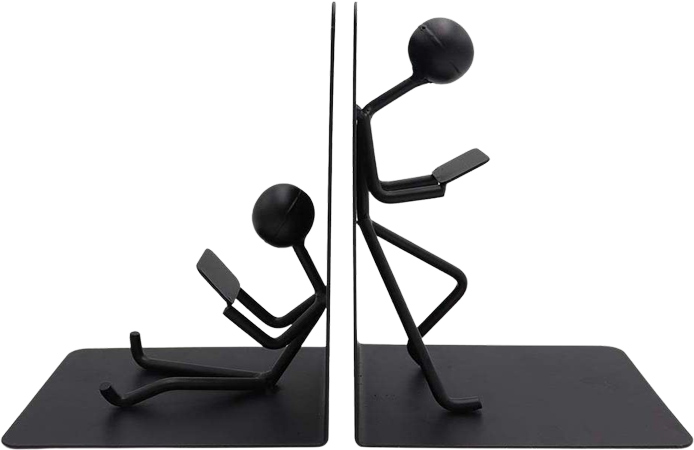 Writers love to read and this gift is going to keep all their books propped up in style. These bookends are made of matte black metal and feature two stick figure people that are getting lost in the pages of their favorite books. The minimalist design makes them an easy addition to any type of decor and would look great on a book shelf or on the corner of a desk.
Whether they're propping up their writing references or showcasing their collection of inspirational books, this set of bookends is a practical gift your friend will be happy to add to their home.
16.
Floating Plant Pot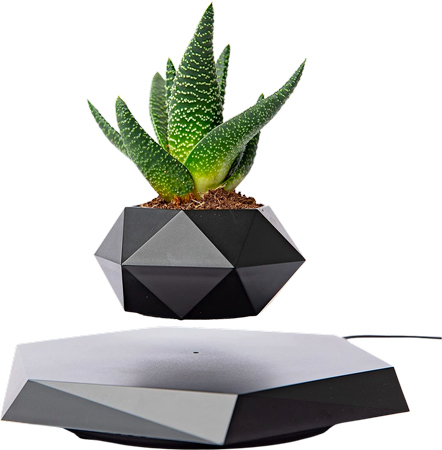 Your friend is going to be impressed with this piece of desk decor. This plant pot does more than just add greenery to their workspace, it actually levitates off the display platform using the power of magnets. It even rotates while it's floating in mid air to make sure every part of the plant gets equal light.
This would be the perfect way to gift your friend a small succulent that will cheer up their desk and keep their creativity flowing.
17.
Desktop Punching Bag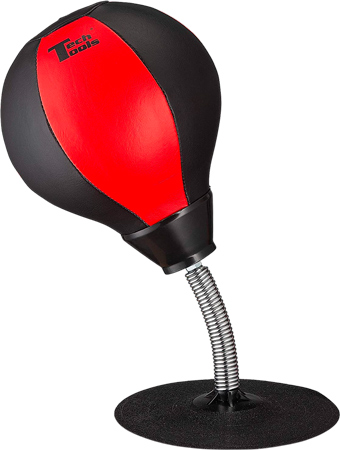 This is a funny gift any writer is going to appreciate. Every writer suffers from occasional writers block. Sometimes it's like all their words have been used up and there's nothing else to give. It's frustrating, which is why this desktop punching bag will make your writer friend laugh. It secures to a desk top via the strong suction cup on the bottom.
Next time they have a deadline nipping at their heels and they can't find the words they're looking for, this mini punching bag is going to be great for stress relief and a fun reminder they have a friend with a fun sense of humor.