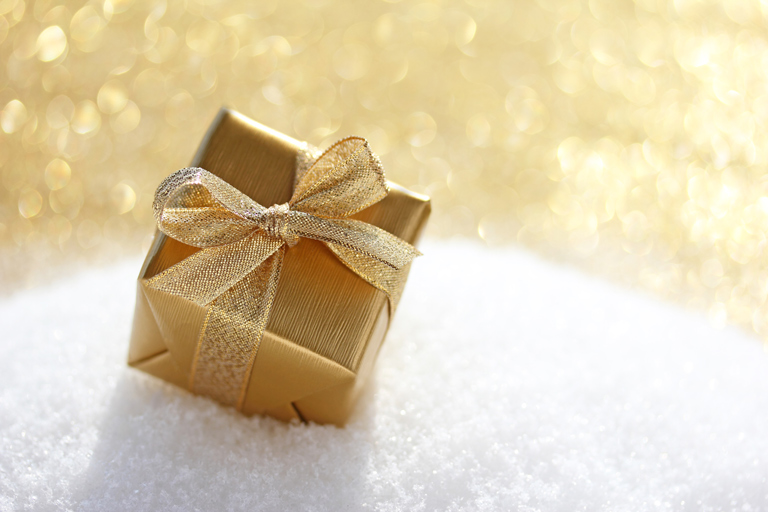 You're here because you need to find a luxurious gift for a deserving and stylish woman in your life. You've probably hit Google pretty hard trying to find something that is going to live up to her standards. Maybe you've even started second-guessing everything you've considered. Worry not, my friend. Your frustrations end here.
This list of 17 fabulous gifts for women who love luxury is full of high-end, lavish gifts that are going to have any woman elated with your gift choice. Whether she's into big-name fashion designers, blinged-out jewelry, luxurious homeware or indulgent self-pampering essentials, this handpicked list is going to make your life a lot less stressful. There's no need for a gift receipt if you go with one of these recommendations, there's no way it's going back. You're about to make her a very delighted woman.
1.
Layered Watch Set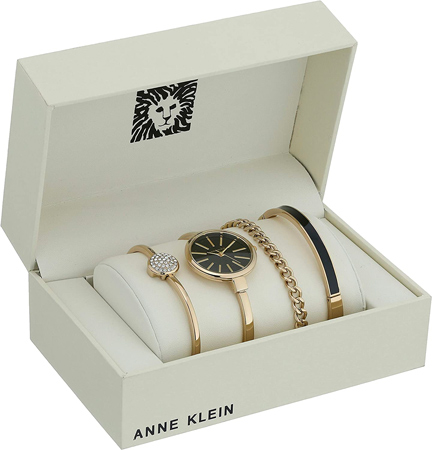 If you're shopping for a woman that appreciates style and elegance from head to toe, this watch and bracelet set by Anne Klein will not disappoint. The watch features a glossy yellow-gold finish that pops against the black 32 mm face.
In addition to the beautiful watch, the set also includes three complimenting bracelets. They can all be worn individually or worn together for a very on-trend layered look. Between the bold black accents and sparkling crystal adornments, this gift is going to make any sophisticated woman one happy fashionista.
2.
Crystal Hoop Earrings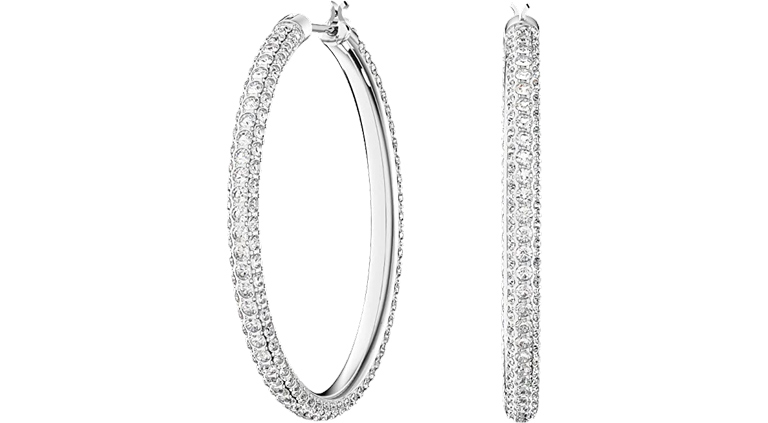 These stunning crystal hoop earrings by Swarovski are the ideal luxury gift for any woman who likes to wear stunning jewelry that will have all eyes on her. They're made of high-quality rhodium-plated metal that won't tarnish and are covered in hundreds of light-catching crystals.
The timeless hoop design makes this gift perfect to wear with any outfit that needs to up the glamour factor. The lucky woman you're shopping for will appreciate this jaw-dropping gift.
3.
Designer Canvas Satchel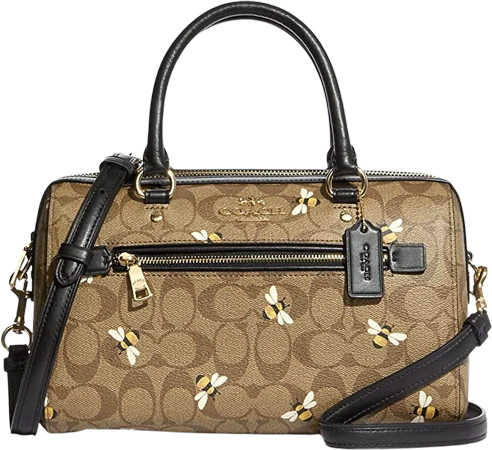 Give the woman on your gift list something that she'll be proud to show off at her next girl's brunch. This satchel by Coach is the perfect everyday tote bag. It's made from the signature Coach canvas material that's printed with the repeating brand logo, though it also features a fun twist on the classic style. The outside is scattered with adorable bee prints that make this bag stand out as both a luxurious and fun piece of fashion.
The bag features a lined roomy interior and a top zip closure to keep all of her belongings safe inside. Whether she's using this bag as a daily purse or as a travel accessory, she'll be thankful this is the gift you chose.
4.
Cozy House Robe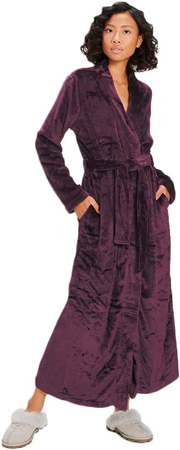 Give the gift of comfort with this amazing gift. Every woman needs her favorite robe to slip into after a long day at work and this one by Ugg is going to be the only one she'll ever reach for again. It's made of pure polyester so it's not only soft on the skin but can be easily machine washed without having to worry about it losing plushness or shape.
The full-length design means she'll feel like she's walking around in her coziest blanket. It features a drawstring closure at the waist and two oversized side pockets to hold small essentials, the remote or secret candy stashes that she doesn't want to share.
5.
Bold Designer Perfume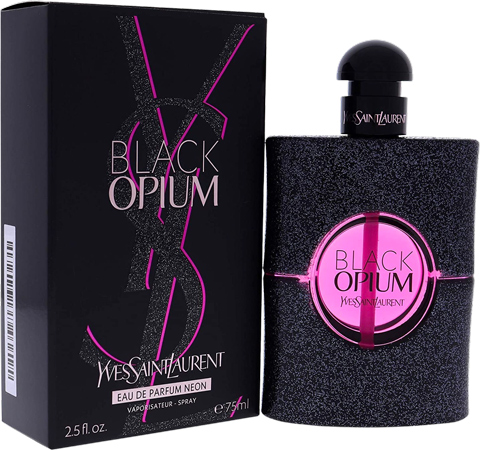 If the woman you're shopping for loves smelling as amazing as she feels, this gift is going to be a smash hit. Black Opium by Yves Saint Laurent is an iconic fragrance and a must-have for her fragrance collection. It boasts a blend of rich, bold notes that create an alluring and sophisticated scent.
The top notes of pink pepper and orange blossom are beautifully balanced by the sweet and creamy heart of vanilla, coffee, and jasmine. The base notes of patchouli and cedarwood add depth and complexity to the fragrance, making it a deliciously confident aroma. This captivating perfume is going to be her go-to scent for every fancy date night or special occasion.
6.
Glamorous Polarized Sunglasses

This gift is going to have the woman you're shopping for feeling like a glamorous Hollywood movie star. These sunglasses by Versace are the perfect everyday accessory for the fashion-forward woman who values luxury brand names. They're made from durable metal in a timeless black and gold design. The not-so-subtle Versace logo adorns each of the temples, making sure everyone knows she likes the finer things in life.
The lenses are scratch-resistant and polarized, which reduces glare and enhances color contrast, allowing for clear and crisp vision in any setting. These authentic sunnies come in a branded gift box and include a stylish sunglasses case, ideal for tossing in her lavish designer handbag.
7.
Temperature Controlled Mug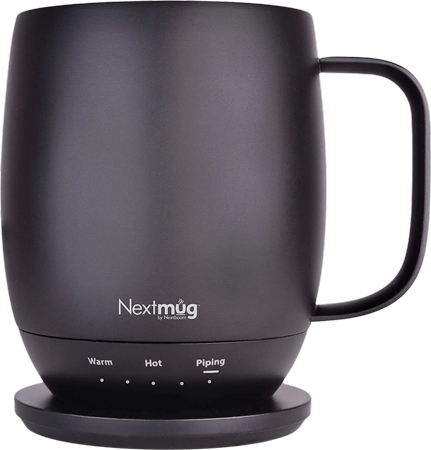 Looking for a luxury gift for the coffee-loving woman in your life? This temperature-controlled coffee mug by Nextmug will impress even the most discerning caffeine connoisseur. With the smart temperature control system, this ceramic mug will ensure her coffee stays at the perfect temperature, no matter how long it takes to drink it.
The modern and minimalist design would look great sitting on her desk at work. While she's enjoying her delicious cup of hot java all her co-workers will look on in jealousy as they sip their room-temperature coffee that's been sitting far too long in the office coffee machine. This is a gift she'll be thankful for.
8.
Cosmic Kitchen Knives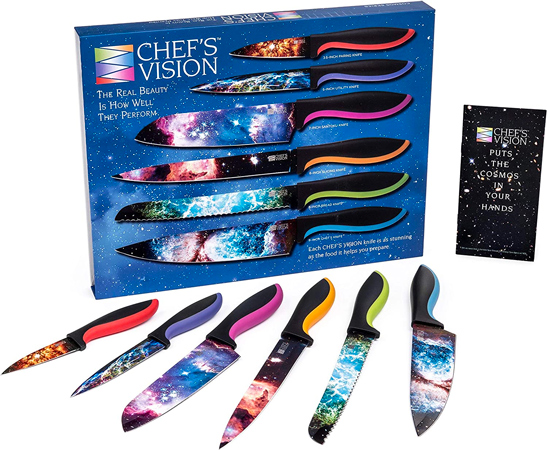 If you're on the lookout for a high-end gift for a woman who loves to cook, this gorgeous knife set is going to be what she wants. This set of knives includes six essential chef knives, all with ergonomic handles for comfortable and precise cutting, chopping and peeling. The knives are made with a durable stainless steel blade that can withstand regular use and the non-stick coating makes them easy to clean and maintain.
The show-stopping feature of these knives though is the colorful cosmic design of the blades. Each knife features a different design that depicts a mesmerizing scene in the galaxy. These knives will look amazing on her kitchen counter or displayed on a wall-mounted magnetic knife rack.
9.
Cooking Utensil Set
This impressive gift is worthy of any woman that wants every part of her kitchenware to be of the absolute highest quality. Made of 300 series high nickel stainless steel, this set of kitchen utensils is going to last her a lifetime. The set includes an ice cream scoop, a serrated pie server, a spatula and a wheeled pizza cutter. The handles are made from permanently cast aluminum that features a silver satin finish.
The set comes in a luxury gift box that can be used for storing when they aren't in use. This definitely isn't the kind of set she'll want to throw in the drawer with all her other less remarkable kitchen utensils.
10.
Enameled Cooking Set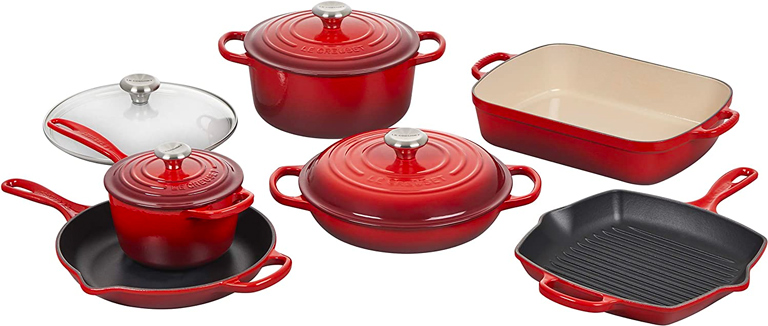 Here's a gift that is going to have the woman you're shopping for giddy with joy. You'll for sure be getting major points if you give her this complete set of enameled cast iron cookware by Le Creuset. It is the epitome of luxury in cooking gear. This 10-piece set includes a casserole dish, a frying pan, a griddle pan and multiple casserole dishes with matching lids, all made of high-quality cast iron that has been coated in a chip-resistant enamel.
The enamel finish makes this a low-maintenance alternative to traditional cast iron cookware. There is no need for seasoning the surface with oil to keep it in optimal condition. This is the kind of kitchen set that gets passed down through generations and she's going to love being the proud owner of this gift.
11.
Unique Wine Glasses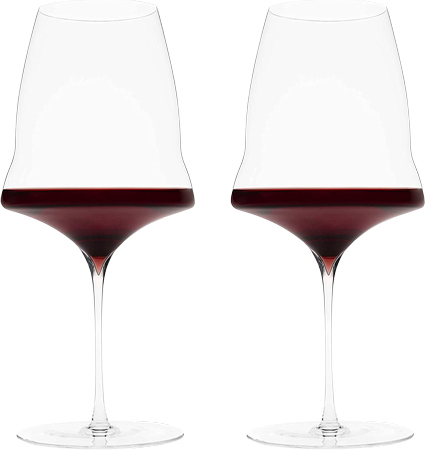 If you're looking for a unique gift that will please the wine-loving woman in your life, these premium wine glasses are going to be her new glasses of choice. These glasses, designed by the artist Josef Zalto, are handblown in Europe from lead-free glass. They feature graceful curves that provide a more comfortable grip and allow the wine to better swirl and naturally aerate.
These glasses not only provide a powerful visual impact but they'll make expensive wines taste the way they should. They're even dishwasher safe so they're just as great for everyday sipping as they are for the fanciest dinner parties.
12.
Microwavable Heat Pad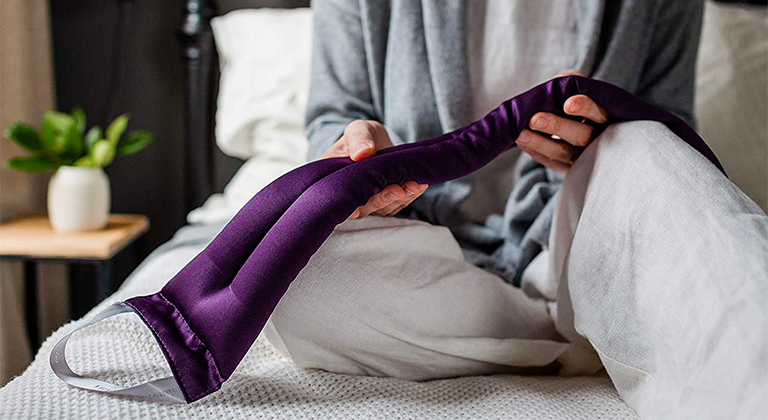 Treat the busy woman in your life to the ultimate relaxation experience with this luxurious neck wrap. Crafted from silky material with a natural flax seed and dried lavender filling, this wrap offers a soothing aromatherapy experience while relieving sore muscles.
The wrap can be heated in the microwave for quick relief of muscle tension or placed in the freezer to provide a cooling sensation during the hot summer months. This handmade gift will melt away the pressures and stresses of everyday life, making it an ideal gift for any woman who deserves a bit of pampering.
13.
LED Makeup Mirror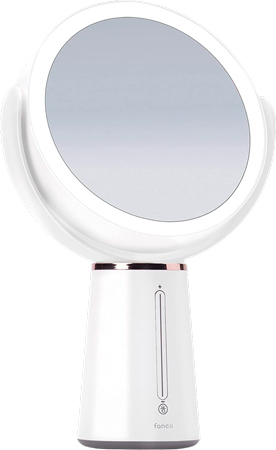 Help the woman on your gift list look her absolute best every day with the high-end makeup mirror. This beautifully designed mirror features bright LED lights that simulate natural daylight, providing the perfect lighting for flawless makeup application.
It features two sides, one with no magnification and the other with 10x magnification, allowing for close-up detail work. The magnified side is great for precise makeup application, eyebrow grooming and other intricate beauty tasks. The sleek and modern design makes this makeup mirror an attractive and useful addition she'll be glad to add to her vanity or bathroom.
14.
Light Therapy Wand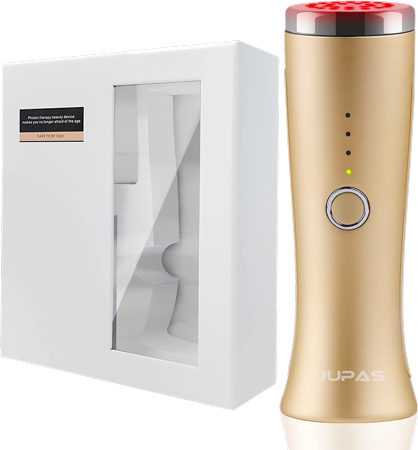 For the woman who is always perfecting her age-defying skincare routine, this red light therapy wand is going to have her looking as young as she feels. This innovative device is designed to stimulate collagen production, reduce fine lines and wrinkles and improve overall skin tone and texture. It uses safe and effective red light therapy technology, which penetrates deep into the skin to stimulate cell renewal and rejuvenation.
Regular use will increase blood flow, reduce inflammation and promote healing, resulting in a youthful and glowing complexion. This luxury gift is going to be a constant in her daily skin regimen and she'll be forever thankful you decided to get it for her.
15.
Epilator Hair Remover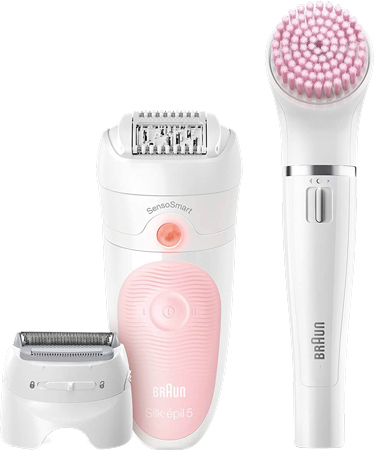 If you're shopping for a woman who always likes to have smooth and beautiful skin, this gift is going to be a winner. This epilator set by Braun will eliminate the need for frequent shaving. Instead of cutting off body hair at the surface like traditional razors, this epilator removes hair from the root, leaving smooth skin for up to four weeks.
The anti-slip grip and waterproof body make it safe to be used in the shower or bath. The set also comes with a shaver attachment and a separate handheld facial exfoliator. Smooth, glowing skin from head to toe is just one gift away.
16.
Lip Rejuvenation Mask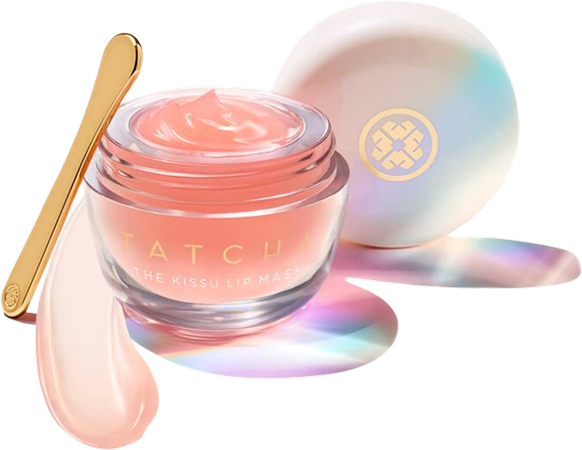 What woman wouldn't want the perfect pout? Give her exactly that with this luxurious gift. This lip mask by Tatcha Kissu will reverse the signs of time around her mouth, which often develop unwanted fine lines that can age a woman.
It contains Japanese peach extract, which is rich in antioxidants and helps to protect lips from environmental stressors. It also contains squalane, a fast-absorbing plant-derived ingredient that helps to lock in moisture and keep lips soft and supple. This gift will have her smiling with her new and improved, beautiful smackers.
17.
Mineral Body Lotion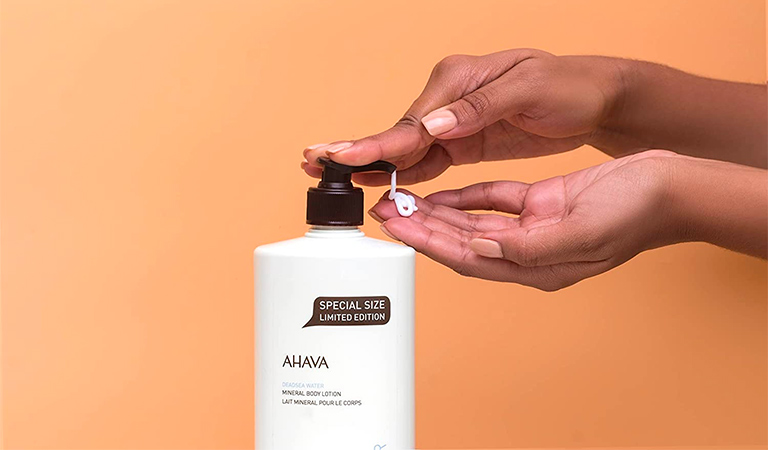 Give a gift that lets the woman you're shopping for know she's worth the splurge with this decadent body lotion. This premium lotion by AHAVA is packed full of so many beneficial ingredients that will have her skin feeling better than it ever has.
The mineral-rich formula is infused with Dead Sea minerals, natural plant extracts and essential oils that provide deep hydration and protection for the skin. It's also enriched with aloe vera and chamomile, which work together to calm and soothe irritated skin, making it perfect for sensitive skin types. After you give her this lotion she'll never go back to her drug store brand again.
Need more inspiration?