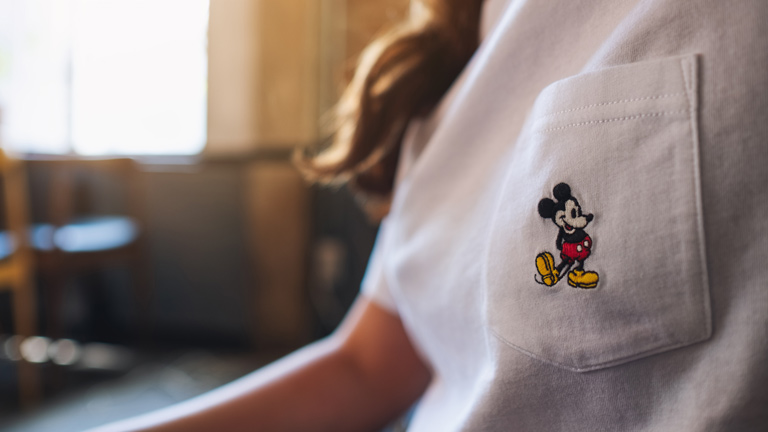 The movies and characters created by Walt Disney have amassed a loyal following of fans over the years, and a Disney-themed present can make a sentimental and amazing gift for those who want to relive their childhood. If you have a lady in your life or a female relative that loves Disney films or enjoys visiting the theme parks, then a Disney gift will be ideal.
Whether her favorite character is a hero, a princess, or a villain, or if she's a fan of the more traditional and iconic figures of Mickey Mouse, a Disney gift will be bound to make her day even more special.
1.
Disney Frozen Art Book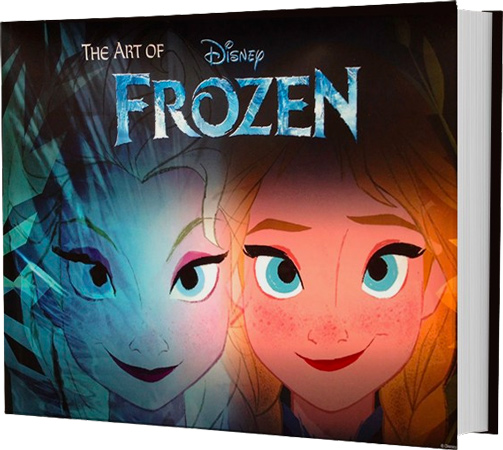 Film buffs and budding directors will be able to really get behind the scenes of the animated movie with this Disney art book. Featuring development art, character sketches, and storybooks, the book features exclusive information and never-before seen content from the film. Frozen fans will love the movie insights and the facts and details provided by the creative production teams. Filled with stunning photos and images, this is a must-have gift for any Frozen fan.
2.
Cruella Doll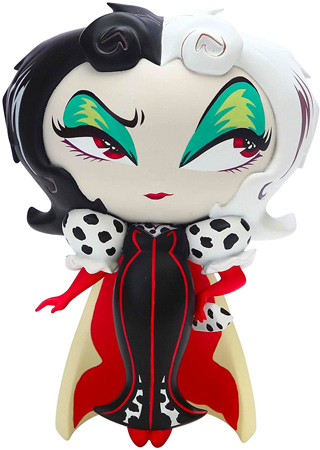 Give a fun gift and put her favorite villain on display with this characterized Cruella De Vil doll. This tiny doll stands at just an inch tall and will make a cute and sentimental gift for mom or a female relative. It will look adorable peeking out from a bookcase, sitting on a shelf, or standing on an office desk. The bright colors and sarcastic facial expression make this doll instantly appealing to any 101 Dalmatians movie fan. Give it as a Christmas stocking filler or as a cute birthday gift for a best friend.
3.
Rapunzel Salt and Pepper Shaker
Make meal times even more interesting with this matching salt and pepper shaker set and add a touch of color to the dining table. Designed as Rapunzel and her tower, this highly detailed set will sit neatly in place and hold condiments until they are needed. The crafted stone wear is hand-painted by ceramic artists, and this set will make a special housewarming or cooking gift for any woman who likes to cook.
4.
Cinderella Wallet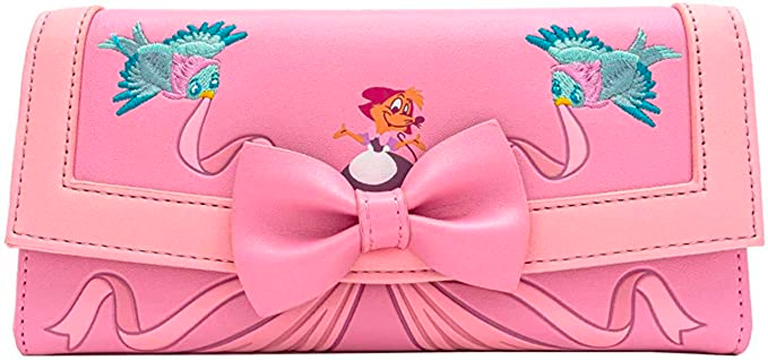 As one of the enduring Disney animated classics, Cinderella is a film that has inspired women young and old for decades. This faux leather wallet features stylish embroidered and printed characters from the popular movie, and includes a large feminine Cinderella style bow on the front. Made in delicate pink this wallet encompasses all that is feminine and can be used to hold money, receipts, and credit cards. The magnetic snap clicks firmly closed to keep items safe, and any romantic Cinderella fan will be delighted to receive the wallet as a gift.
5.
Mickey and Minnie Backpacks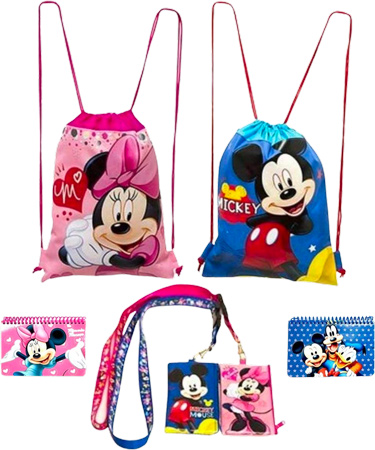 Keep personal items tucked away while traveling around a Disney theme park or anywhere else! Choose from either Mickey or Minnie and use these handy drawstring backpacks to keep items safe and secure. This bright and fun gift provides a full theme park set and in addition to the backpack, includes a coin purse and an autograph book. Kids and grown-ups never grow out of Disney and this set will give them the perfect excuse to go. Throw the pack over your shoulder and take your essential items along on your trip.
6.
Cinderella Women's Watch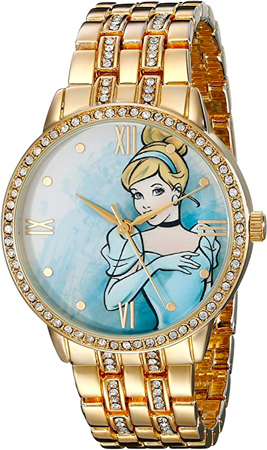 She will love telling the time with this delightfully decorated Cinderella watch. Featuring the famous Disney princess illustrated on the dial, this timepiece is finished with stunning rhinestone details. The glittering stones highlight the watch and attached gold strap, and the whole thing fastens securely around the wrist with a fold-over metal clasp. The watch comes in a lovely gift box and will be a fabulous item for any special occasion. Give it to a girlfriend or wife to celebrate an anniversary or Valentine's Day.
7.
Mickey Shopping Tote Bag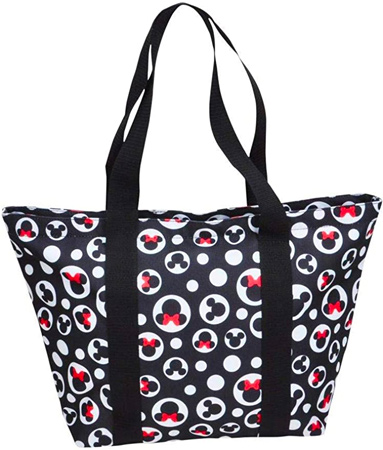 Get some retail therapy and take a shopping trip using this tote and leave other shoppers in no doubt about your Disney preferences. This study tote bag can be used for the weekly shopping or to carry any number of items or essentials. The front of the bag features a colorful pattern of Mickey Mouse ears. Fully lined with a zip up closure, it can be used for travel or to carry water and snacks to open air events. The washable material means that the bag is easy to clean and wipe down after each use.
8.
Cruella Faux Leather Journal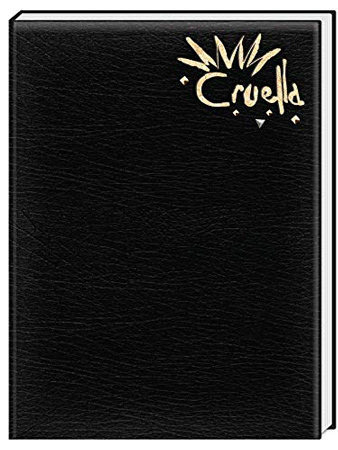 Keep notes, shopping lists, and important information safely written down in this elegant faux leather notebook. In a nod to the Dalmation chasing Disney villain the name 'Cruella' is embossed onto the front of the book in stylish gold letters. The notebook can be used for keeping a diary or journaling and is small enough to be easily carried in a bag or a backpack to take out whenever it needs to be used. Jot notes on its pages and keep favorite family recipes written safely in one place.
9.
Winnie the Pooh Vintage Throw Blanket
Stay wrapped up safe and warm with this lovely vintage-style Winnie the Pooh blanket. Cute little Pooh-bear is depicted sticking his head out of a rabbit hole, and the decorative blanket features a fringed edge all the way round. The blanket is ideal for wrapping up warm and watching movies on the couch, or can be used as a picnic blanket or a place to sit at outdoor concerts or events. Winnie the Pooh fans will love snuggling up in this thick, cozy blanket.
10.
Mickey & Minnie Sterling Silver Earrings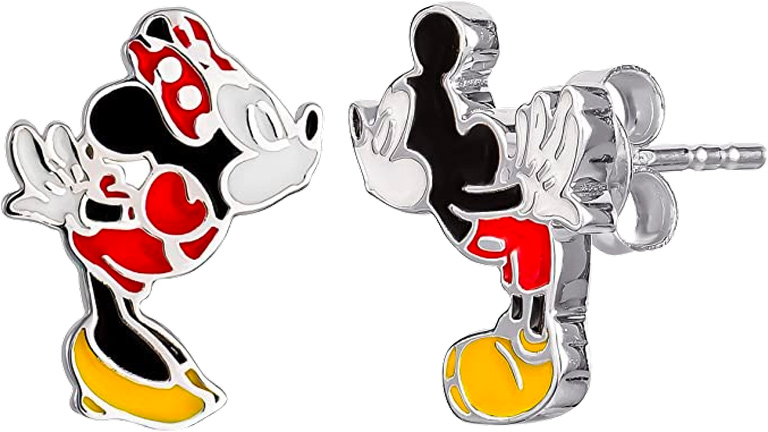 Give any lady a fantastic present with a pair of stunning Mickey and Minnie earrings. Made from smooth sterling silver these earrings each feature one of the famous Disney mice, and will make a great gift idea for a birthday or anniversary. If different characters are preferred then these stylish earrings are also available in other well-known animated movie combinations. Choose her favorite and create a thoughtful and wearable present that shows off her fandom.
11.
Chip Mug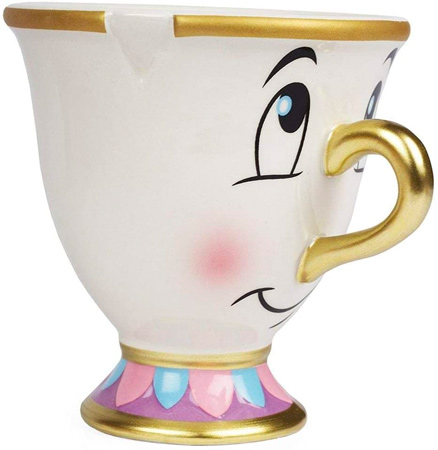 If you have a friend or a sister that enjoys all of the characters from Beauty and the Beast, then this Chip mug will appeal to any fan of the film. The mug features Chip's sweet little face and the gold rim edging has a chip added to look just like the movie version. This cool and unique gift idea will be a huge hit and it comes in a presentation box that includes sketches from the film as an extra bonus. Display it on a shelf or use it on a work desk to hold pens or pencils and create a novel and unique present.
12.
Princess Make-up Pouch
Do you have a female relative or a niece that's a bit of a princess? They why not treat them to their very own princess pouch? Featuring a large colorful image of Snow White, this bag will be useful for storing cosmetics, make-up and other items. Take it to work or use it on overnight trips to keep toothpaste, deodorant and other essential toiletries on hand. Keep everything tucked away safe and close the bag with the zip fastener.
13.
Jack Skellington Women's Slippers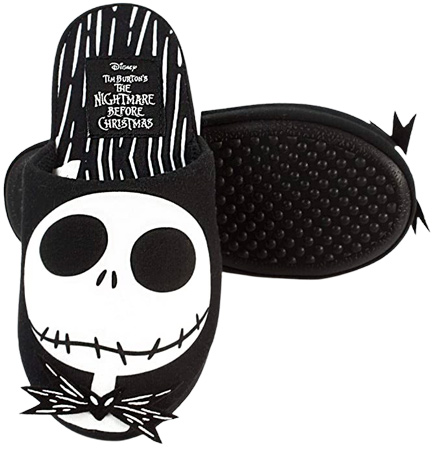 How cool are these slippers to keep your toes toasty and warm! Jack Skellington is a beloved character from the Night Before Christmas, and these monochromatic slippers features Jack's round skull-like face. These rubber soled slippers will keep feet warm and cozy while showing off their Disney favorite. The lightweight slippers come in most sizes and are ideal for wearing around the house or while sitting on the couch watching TV. They will make a fun Christmas or birthday gift for a wife or girlfriend.
14.
Princess Nesting Tumbler Set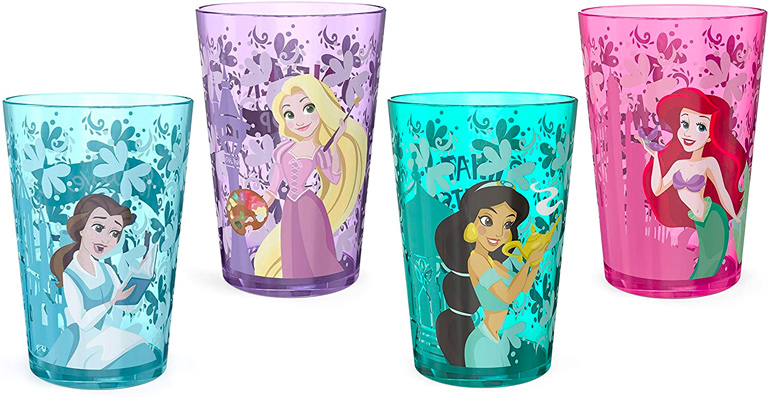 Get your drink on in the garden with your girlfriends or family with these Disney plastic tumblers. Can be used to serve water, juice, or even something a bit stronger. Each glass displays a famous Disney princess on the front. Choose your favorite and enjoy sipping a drink from these colorful BPA-free glasses. Dishwasher safe and durable these beakers are great for outdoor events, parties, and summer get-togethers with family or friends. Use them for entertaining or as a fun accessory for kid's sleepovers.
15.
Minnie Mouse T-shirt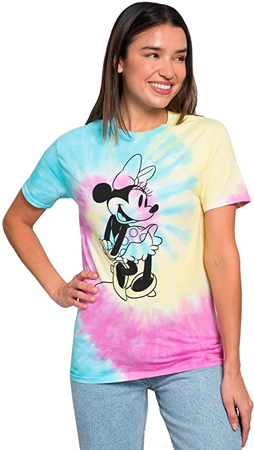 This cool and trendy tie dye t-shirt will make a great gift for any young-at-heart Disney mom or aunt. The brightly colored shirt features an attractive blend of colors that wrap around in a vibrant spiral, and will be great to wear for casual nights out, days shopping, or trips to the beach. Slip it over swimwear, or wear it around the pool or at the spa. A large image of Minnie Mouse is printed on the front of the shirt and its long length makes it comfortable to wear during the day or as a nightshirt at night.
16.
Eeyore Pajama Bottoms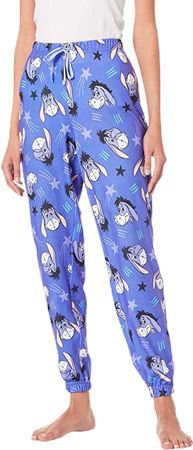 Sleep warmly and soundly with this lovely blue Eeyore pajama bottoms. Featuring a pattern that shows the face of everyone's favorite donkey, these pajamas will be sure to guaranteed a good night's sleep. Made from soft comfortable material the pants are easy to wear when lounging around the house and can be fastened using the adjustable drawstring. Simple to care for and wash, the double stitched hems will prevent the material from coming apart or fraying.
17.
Mickey & Minnie Oven Mitts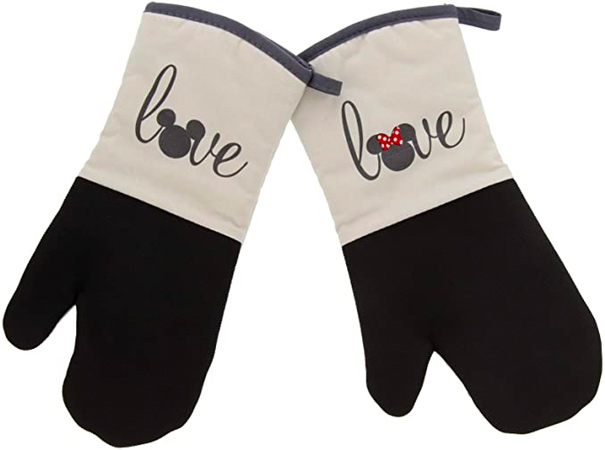 Protect hands from spills or burns in the kitchen with these neoprene oven gloves. Non-slip and heat resistant the gloves are perfect for carry hot pan and handling ovenware. Great for Disney fans who like to cook, these gloves are the ultimate accessory and will make a fun birthday gift, or an ideal present for any lady's wedding or bridal shower. The strong grip texture means that dishes can be carried securely and the gloves are created with an oversized cuff to protect wrists and lower arms.
18.
Lion King Socks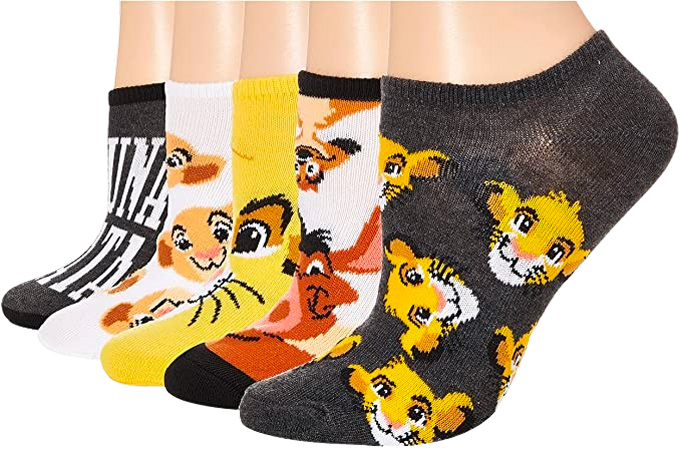 What do you buy for the woman who has everything? Lion King socks of course! These delightful and colorful socks will keep toes lovely and warm and be a fun wardrobe accessory. Each pair features a different graphic design of familiar Lion King movie characters and the no-show socks can be worn to add a touch of color beneath shoes or trainers that only the wearer can see. Or display them in all their glory by wearing the socks around the house.
19.
Haunted Mansion Shower Curtain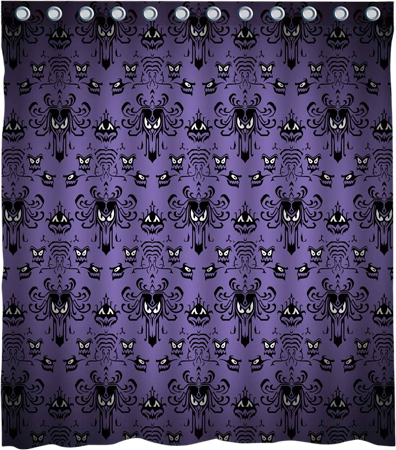 Bring a touch of Disney into the bathroom décor with this Haunted Mansion shower curtain. The spooky design will make a great Halloween present and create a creepy gift for Disney theme park fans who love the Haunted Mansion attraction. The curtain is completely waterproof and can be easily washed for cleaning. It will fit a standard shower rail and look great in any bathroom. Use it for holidays, or give it as a gift just because.
20.
Stitch Soft Touch Keyring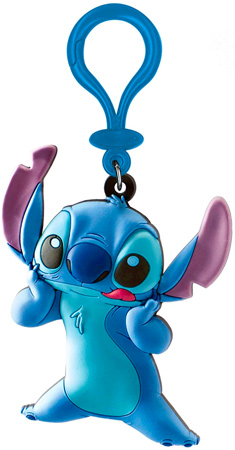 Keep car and house keys safety at hand with this brightly decorated Stitch keyring. Made from soft PVC so it can slip easily into a bag, this lightweight keyring will make a fun gift, party favor, or Christmas stocking filler. Makes a fun gift for any fans of the Lilo and Stitch movies and will be a reminder every time she uses her keys. Easy to carry and durable, the bright colors will not fade from use.
21.
Genie Statue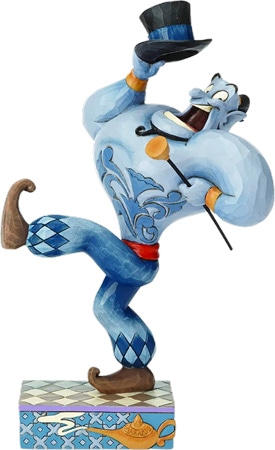 If the genie from Aladdin is her favorite character, then she will love this statue. It features the blue genie from the film in a typically tongue-in-cheek hat-raising, high-kicking pose and captures the genie's personality perfectly. This will make a thoughtful gift for genie fans and is a piece of Disney memorabilia that can be kept forever. The statue will look amazing in a cabinet, or it will perfectly compliment any desk or bookshelf. Made from durable stone resin with a solid base this statue will remain proudly on display for many years.
22.
Mary Poppins Ceramic Travel Mug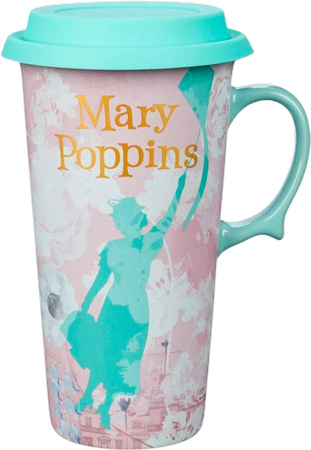 Take hot and cold drinks to go with this Mary Poppins travel mug! Covered with umbrellas and a large picture of Mary, this mug is insulated to keep drinks at the right temperature and made from stylish ceramic. It's microwave and dishwasher safe and will be ideal for carry coffee on the train or to the office. It will make a lovely gift for any fan of the Mary Poppins films and can be cleaned and reused for favorite beverages.
23.
Tinkerbell Earring Set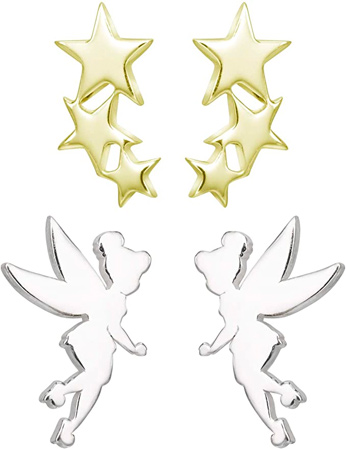 Win some serious points by giving these Tinkerbell earrings for a birthday or anniversary gift. The set includes two pairs of earrings, one with the silhouette of the famous fairy, and one is a pair of magical stars. Made from genuine sterling silver and gold plating, these earrings are a great jewelry gift for any woman. The shiny finish makes these earrings an attractive accessory and they will pair with any outfit. An authentic Disney gift box adds the final touch to this gorgeous gift.
24.
Under the Sea Lanyard

Keep phones, passes, tickets or cards safe when travel or visiting outdoor events. This brightly patterned lanyard features images of Dory and friends and can be easily adjusted to any length. Slips over the head and use the strong metal clip to attach keys or other items for safekeeping. Use it to show off your favorite character at work, or to brighten up a dull uniform. Will make a great extra gift or stocking stuffer.
25.
Mulan Jigsaw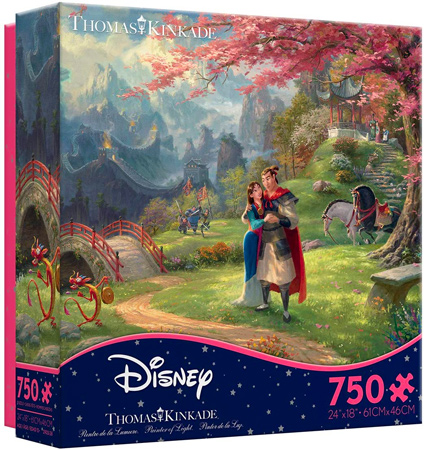 Test the brain cells with this entertaining and tricky jigsaw that will keep friends and relatives busy for hours. Contains over seven hundred pieces which fit together to create a stunning image of Mulan. Made from completely recycled materials this eco-conscious jigsaw puzzle will be great to share with friends or complete together at family gatherings, and will entertain guest for hours with its challenging pieces.
26.
Lady and Tramp Pin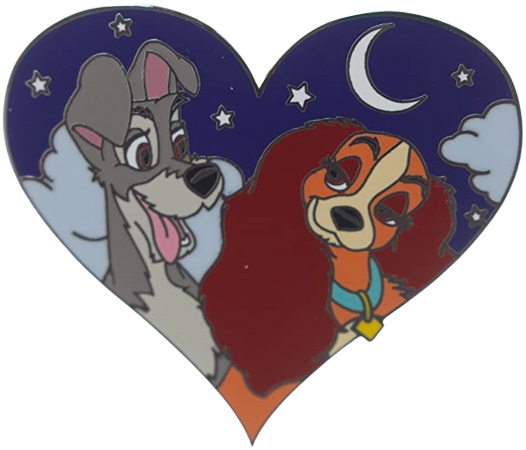 This cute gift will make a great present for a best friend or sister with its adorable and romantic image of Lady and the Tramp. The solid metal and enamel pin is crafted in a heart shape and can be worn on clothing or attached to a backpack or tote to add a splash of color. A soft rubber fastening means the pin can be fixed to any item without pricking or scratching and is a fantastic way to display favorite Disney characters.
27.
Mickey Phone Charging Pad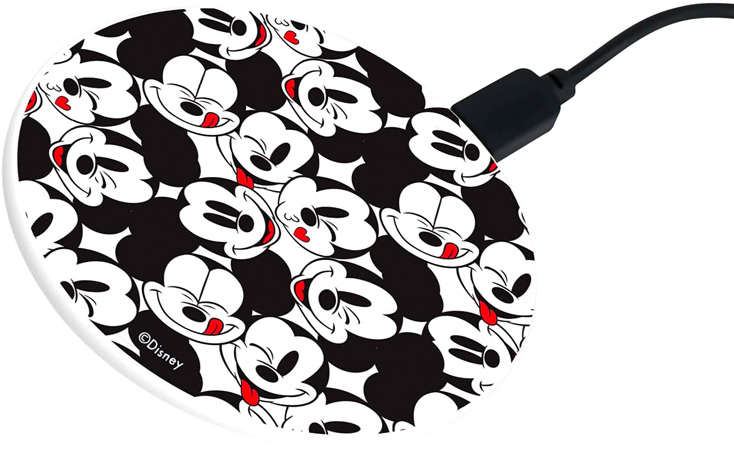 Ensure that mobile phones stay charged and ready with this convenient wireless charging pad. Check phone for compatibility and then use the pad for easy and fast charging. Features a pattern of Mickey's face and can be used anywhere. Simply set your phone on the pad and watch it charge with enough power to work through a phone case or cover. Includes safety features like temperature control, surge protection, and short circuit prevention.
28.
Villains Necklace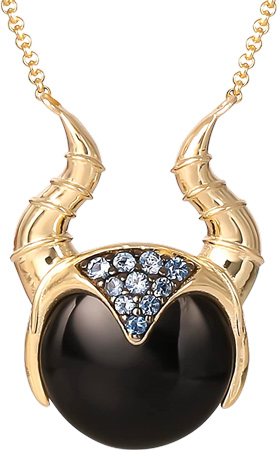 Everyone loves a villain and Disney fans are no exception. For your best friend or female relative this Maleficent necklace will be a great reminder of why they love the grace and power of the evil Queen. Made from gold and onyx the pendant features the familiar horns of the wicked tyrant and dazzling cubic zirconia accents make a stunning contrast to the black onyx stone. Comes in a gift box and will be a fabulous birthday surprise for any woman who loves Disney.