If anyone needs a bit of a treat it's a new mom! The early days of motherhood are both magical and utterly exhausting, often at the same time. With emotional highs and lows and physical challenges to overcome (think sleepless nights, carrying the baby around, healing from labor and delivery) it's only right that moms should get a few presents!
With that said, knowing what to buy can be difficult, whilst some moms are going to love practical, baby-related items that will make their life caring for their little one just a little bit easier, other moms may be in need of a bit of pampering and something that's just for them. We've brought together 30 of the best gift ideas for new moms in 2023 to help point you in the right direction, with gifts from a range of categories so you can choose what will suit the mom you're buying a gift for best.
1.
BabyBjörn Baby Carrier One Air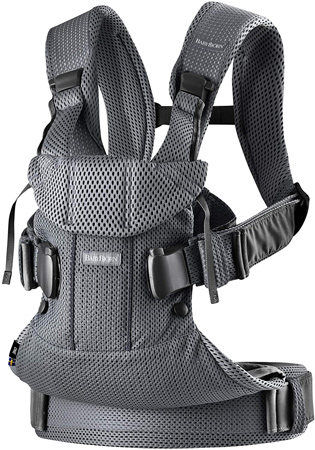 Why we like it: Babies love to be held close, so babywearing is a great way to keep the baby close, whilst having hands free. This carrier is a fantastic and ergonomic option.
Babies love to be held close, and after being inside mum's body for 9 months is it really any surprise that they feel safest close to mum's body? Babywearing, which is wearing your baby close to your body in a sling or carrier, is practiced the world over by indigenous peoples who understand the value of keeping babies close. Babywearing promotes bonding, prevents flathead syndrome and lowers the risk of SIDS. With ergonomic carriers becoming more widely available in "westernized" countries too, this is a great way to keep babies close and happy whilst also having hands free to get on with life.
The BabyBjorn Baby Carrier One Air is an ergonomic carrier with wide leg position which ensures that babies hips are not placed under any additional strain for optimal development. This carrier is also ergonomic for the parent with a sturdy waist belt and padded shoulder straps to distribute weight evenly and make carrying comfortable. As well as being comfortable, this carrier is designed to be cool as it's made with soft and airy 3d mesh so even on sticky summer days, both mom and baby will stay cool and comfortable.
Pros
4-way front and back carrying
Perfect from new-born to 3 years with a built-in infant position
Sturdy waist belt and padded shoulder straps
Ideal way to bond with baby
Ergonomic position for baby; promotes healthy hip development
Cons
May need to buy rain cover/ teething bib separately
2.
Burt's Bees Moisturising Almond & Milk Hand Cream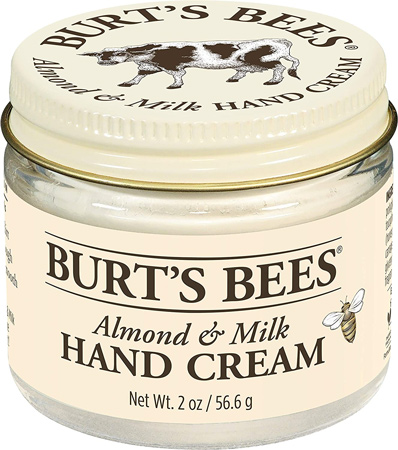 Why we like it: Made with natural ingredients this super-rich hand cream heals and hydrates hard-working hands.
If there's anything we've all learned over the last year it's the importance of handwashing! And with a new baby around this is even more crucial. However, repeated handwashing quickly dries out hands, so a nice hand cream makes a great gift for a new mum.
The Burt's Bees Moisturising Almond & Milk Hand Cream is made with natural ingredients including sweet almond oil, vitamin E and beeswax and is designed to hydrate and heal to keep hands looking and feeling soft and smooth. Free from parabens or phthalates, the power of nature in this cream also shields hands from further damage.
Pros
Made with natural ingredients
Hydrates skin
Helps heal damaged hands
Free from parabens and phthalates
Shields hands from further damage
Cons
May not be suitable for bee allergy sufferers
3.
Kodak Dock Plus Instant Photo Printer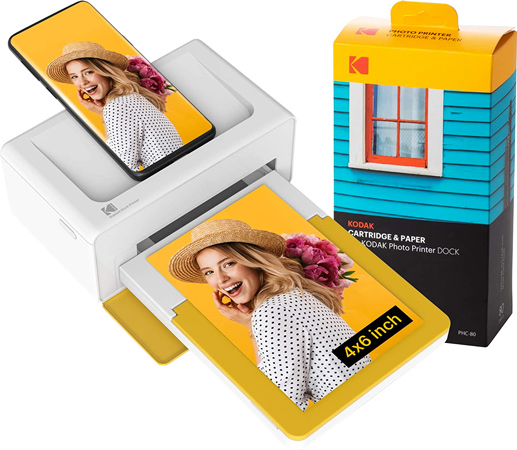 Why we like it: Don't let photos get stuck in the cloud, preserve precious memories of the new baby with this instant photo printer.
In the early days it's completely normal to take thousands of photos of your new baby and marvel at the absolute miracle that you've created, but unfortunately in our digital age these photos often never make it off of our devices. The Kodak Dock Plus Instant Photo Printer makes it easy to print photos straight away even from mobile devices.
Using a stable Bluetooth connection and 4Pass Technology this printer reliably produces flawless photos instantly. Even better, especially with a new little one around, the photos are fingerprint-proof and water-resistant for long-lasting quality. The free Kodak app allows you to decorate real photos with stickers, frames and filters for a really personalized touch.
Pros
Instant prints
Stable Bluetooth connection
Fingerprint and water-resistant photos
Free app
Cons
Requires specialized inks and papers
4.
Mulberry Silk Pillowcase for Hair and Skin Health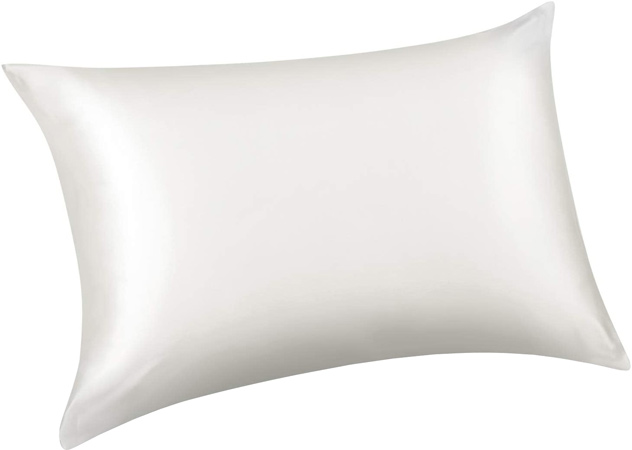 Why we like it: Treat a new mom to a luxurious silk pillowcase to maximize the effects of any sleep she can get!
Sleep and the early days of motherhood aren't a very natural pair! And whilst many new moms joke about the lack of sleep it genuinely does begin to take its toll on the body. Many new moms feel quite self-conscious as their body has changed significantly and they often don't get the time they need for their regular self-care routines like skin and hair care.
The Mulberry Silk Pillowcase for Hair and Skin health is a luxurious, smooth and breathable pillowcase that helps support both hair and skin health whilst you sleep. It's completely hypoallergenic and also feels cool to the touch which makes it incredibly comfortable and comforting to sleep on. Completely chemical-free, this pillowcase is made in a standard size so should fit the pillows that mom already has.
Pros
Available in a range of colors
600 thread count
Hypoallergenic
Supports hair and skin health
Fits standard-sized pillows
Cons
Only 1 per pack- may need to buy another to match
5.
Garmin Vivomove 3S Hybrid Smartwatch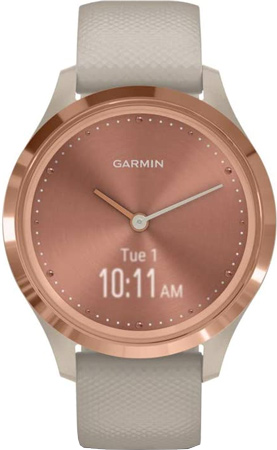 Why we like it: Really treat a new mom with a gift just for her; this hybrid smartwatch has a sophisticated analoge look but advanced smart features.
Take the opportunity to really treat a new mom to a gift just for her, perhaps as a way of marking her transition into motherhood or as a special gift to welcome her baby into the world. The Garmin Vivomove 3S Hybrid Smartwatch has a beautiful analoge look, but with all the smart features she's likely to need.
The hidden touchscreen display reacts to your movements and is only visible when you need it, with notifications for incoming calls, text messages, calendar View and more (with a compatible smartphone) it also connects with a compatible smartphone's GPS for incredible accuracy during outdoor walks or run activities; perfect for long walks with the baby in the stroller. The watchband is easily changeable and can be swapped for any standard 18 mm smartwatch band, so mom can easily change the band to match any outfit or occasion.
Pros
Analoge look
Hidden touchscreen display
Smart notifications
Uses smartphone GPS for tracking
Changeable watch band
6.
SodaStream Spirit Sparkling Water Maker with Reusable Bottle

Why we like it: Keep hydrated with delicious homemade sparkling water.
When you're running around caring for another human it's easy to forget to eat and drink enough but hydration is really important for mom's health, especially if she's nursing. Nursing moms need around about 15.5 cups of water daily for optimum health and milk production, but 15.5 cups of plain water can get really full really quickly. Sparkling water is a great solution and the SodaStream Sparkling Water Maker with Reusable Bottle is a brilliantly practical gift that mom will enjoy.
At just the touch of a button, you can turn tap water into delicious sparkling water in a matter of seconds. The machine is compact with a sleek design to fit seamlessly into any home and it comes with a 4.2-cup BPA-free reusable bottle, helping to reduce plastic waste. The SodaStream comes with a 2-year guarantee so you can confidently buy this as a gift.
Pros
Practical gift for the home
Turn tap water into sparkling water
Compact, sleek design
4.2-cup BPA-free reusable bottle included
2-year guarantee
Cons
Need to replace CO2 cartridges regularly
7.
Victure Video Baby Monitor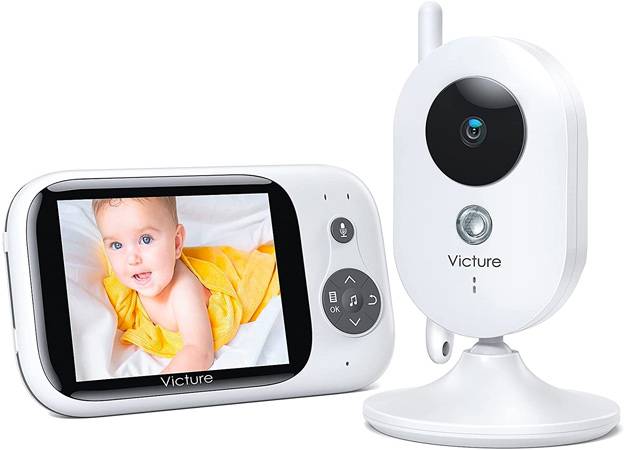 Why we like it: A video monitor with infrared night vision and room temperature monitoring for real peace of mind.
When a baby moves to their own room it can be both a relief and pretty stressful for parents, and many moms, in particular, report laying awake listening out for the baby even when the baby is peacefully asleep. The Victure Video Baby Monitor is ideal for giving a new mom peace of mind. With a 3.2-inch high-quality LCD display and wireless technology, it's really easy to make sure that baby is sleeping safe and sound without needing to sneak into their room to check!
This monitor's connection is secure, stable and private and gives really clear video and audio monitoring in real-time. The infrared night vision makes it so simple to keep check on the baby even when the room is dark and the room temperature monitoring is fantastic for extra peace of mind. The two-way talk function means that you can speak to the baby to calm and comfort them if they do wake and the parent monitor comes with a built-in rechargeable battery, so it can be carried anywhere in the house.
Pros
High-quality LCD display
Wireless technology
Stable, private connection
Video and audio monitoring
Infrared night vision
Cons
Baby receiver needs to be plugged into mains
8.
Ice Roller Cold Therapy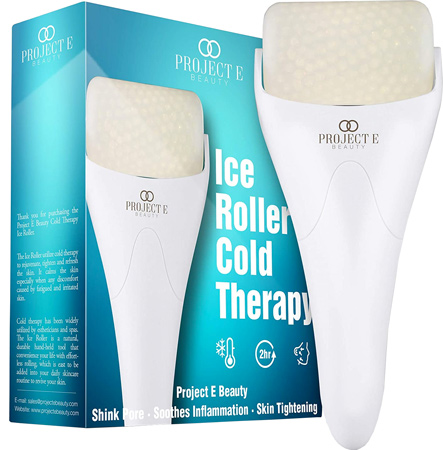 Why we like it: Reduce puffiness under tired eyes with this specially designed cold therapy roller.
The Ice Roller Cold Therapy makes the ideal gift for a new, tired mom! Lack of sleep is a surefire way to have someone feel physically and emotionally exhausted and not quite like themselves. Add to that the lack of time for self-care and it's easy to see how many moms end up feeling burnt out; help combat that with this lovely self-care gift. This specially designed cold therapy covers the entire eye but prevents the sensitive inner eye from receiving too much pressure.
The cold therapy helps to reduce swelling and cools the eye area, helping a tired mom to feel refreshed and more awake. The roller is designed to help calm redness and can be used all over the face to tighten pores and improve the skin's tone and texture. It takes just a few minutes to use so makes the perfect gift for busy moms!
Pros
Self-care gift
Delicate on sensitive inner eye
Reduces swelling
Can be used all over the face
Improves skin tone and texture
Cons
Roller needs to be put in the freezer
9.
Tommee Tippee Perfect Prep Machine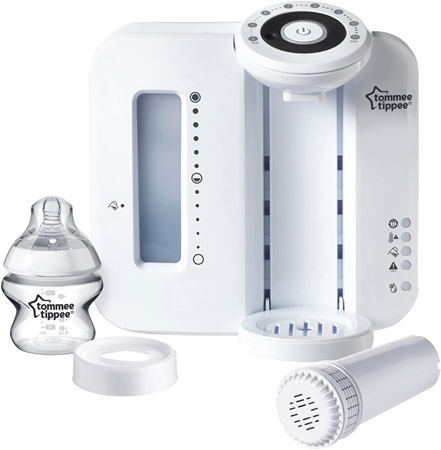 Why we like it: Fast, safe bottle preparation at the touch of a button during the day or night.
If the mom you're buying a gift for is planning to use infant formula milk, then the Tommee Tippee Perfect Prep Day & Night machine may be a good 'big ticket' gift to give. Between night waking and the physical strain of parenting as well as recovery from labor and birth it's normal for new moms to feel pretty exhausted but boiling kettles, measuring formula and safely cooling milk in the middle of the night on little sleep can be a recipe for disaster! It's far too easy to forget what you're up to or be tempted to cut corners.
The Tommee Tippee prep machine reduces this risk, allowing you to make a fresh bottle at the correct temperature in 2 minutes flat. The initial 'hot-shot' of 158°F water kills any bacteria present in the formula after which cooler water is dispensed to deliver a bottle feed at body temperature, safe for the baby to drink right away. This is a great gift saving a new mom time and brain space as well as ensuring that baby stays safe!
Pros
Takes away risks of formula preparation
Hot-shot at 158°F kills bacteria
Bottle prepared at body temperature, ready to drink
Ready in 2 minutes
Cons
Not useful if planning to breastfeed
10.
Shiatsu Back Neck and Shoulder Massager with Heat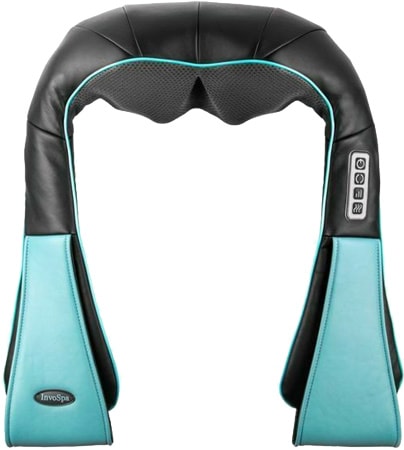 Why we like it: Give the gift of relaxation with this massager, which uses heat to get deep into muscles and release tension.
Between rocking, carrying and holding babies to feed as well as bending over cribs and strollers many moms end up with a significant amount of tension being held in their neck, back and shoulders. It's not always possible to get out for a massage appointment but this Shiatsu Back Neck and Shoulder Massager with Heat makes a great substitute.
This is a brilliant Shiatsu massager for deep tissue pain relief as it has 8 massage rollers and bi-directional movement. The relaxing heat helps to loosen muscles and improve blood circulation to the neck, back or shoulders. With adjustable intensity and 3 speeds, it's easy to personalize the kind of massage you receive and target problem areas. This massager is ideal for taking on the go too, with a wall adapter, car charger and travel bag included in your purchase. There's also a money-back guarantee for peace of mind.
Pros
Great substitute for a massage appointment
8 massage rollers
Heta helps loosen muscle tension
Adjustable speed and intensity
Ideal for travel
11.
Safety 1st Secure Tech Simply Close Metal Gate
Why we like it: This is a great, practical gift to help keep the baby safe around the home.
Everyone says that time goes so quickly when you have a baby, and it really does; It's not long until a baby goes from staying where they are put to rolling, scooting, sliding and crawling their way around, and that's when the fun really begins! Turn your back for a moment and baby is into something so safety becomes an incredibly important consideration.
Since this all comes much more quickly than new parents expect, a baby-proofing gift like the Safety 1st Secure Tech Simply Close Metal Gate could make an ideal practical gift for a new mom. It's suitable for children from 6 to 24 months and fits openings from 29″ to 31.5″ without needing to be drilled in. It can also be extended up to 53.5″ with separate extensions (2.7″, 5.5″, 11″) (sold separately) The clear color indicator makes it clear whether the gate is open or securely closed.
Pros
Ideal for baby-proofing
Practical gift
Suitable from 6 to 24 months
Fits openings between 29″ to 31.5″
Can be extended
Cons
Extensions sold separately
12.
Philips SmartSleep Sleep and Wake-Up Light Alarm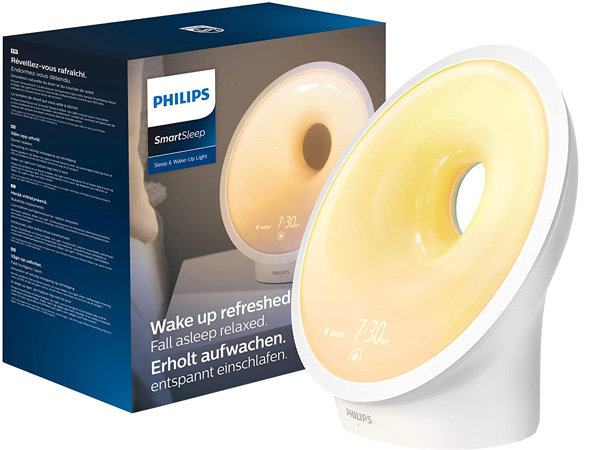 Why we like it: Help establish a healthy sleep and wake routine for both mom and baby.
Light has a profound effect on the human body, helping to establish and maintain healthy sleep rhythms. Many babies are born not knowing the difference between day and night, which makes complete sense when we consider that they've just spent 9 months snuggled up in the darkness of the womb. So, teaching them the difference using light can help to establish good sleep habits and routines. The Philips SmartSleep Sleep and Wake-Up Light Alarm is clinically proven and recommended by physicians and pharmacists for establishing a healthy sleep and wake routine in adults, and it may help a new baby to adjust too.
With a customized sunset and sunrise function, this light helps to stimulate the body to wake up naturally in the morning by mimicking natural sunlight patterns and in the evening the sunset simulation gradually decreases light to help create a wind-down routine. With plenty of smart features including a midnight lamp, FM radio, phone charging dock, power back-up, speaker, auto-dimming display and smart snooze this makes the ideal gift for a new mom.
Pros
Helps establish the difference between day and night
Clinically proven
Customized sunrise and sunset
FM radio
Phone charging dock
Cons
No option for a traditional alarm sound
13.
BabyBjörn Balance Soft Cotton Bouncer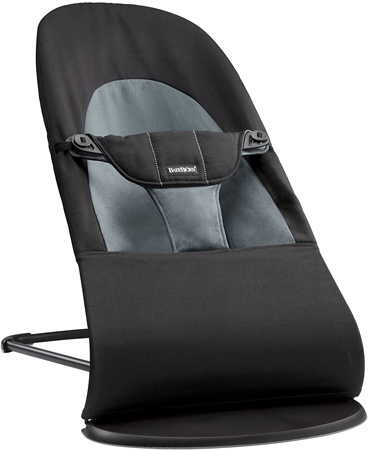 Why we like it: Neutral, modern design bouncer chair for baby, makes an ideal large gift for a new mom.
When babies are little moms need lots of different options for places to put them down and give their arms and back a bit of a rest! A bouncer chair can be a really good option. This BabyBjörn Bouncer Bliss gives plenty of flexibility as it folds flat for storage and is incredibly easy to move around the house, so if mom needs somewhere to put the baby down while she gets dressed it's super simple to move the bouncer into the bedroom.
Available in 3 different materials; cotton, mesh or jersey you can choose which you think is best suited to the home, climate and mom's style. The bouncer has been specially designed to be ergonomic, giving babies the support they need whilst gently rocking using just gravity; no batteries or plugs needed! Being used from newborn up until about 2 years old this is a useful gift that will last well beyond the newborn stage.
Pros
Folds flat for storage
Available in 3 different materials
Neutral modern design
No batteries or plugs needed
Ergonomic design
Cons
More expensive brand of bouncer
14.
Coffee Mug Warmer & Mug Set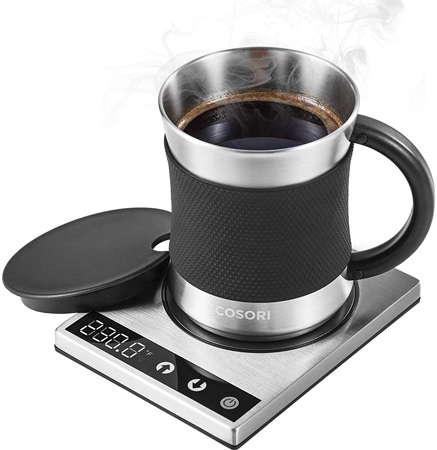 Why we like it: New moms need their coffee, and this gift helps a tired mom to keep her coffee hot until she gets a chance to drink it.
It's kind of a running joke amongst moms that you never get to drink your tea or coffee while it's hot! This is a gift that addresses that issue of the Coffee Mug Warmer & Mug Set is a high-tech stainless-steel coffee warmer with a mug to keep your coffee at just the right temperature; you can switch between Fahrenheit and Celsius and keep coffee between 75°F and 160°F.
Made with food-grade stainless steel, the 16.9 ounces mug is built with a cool-touch handle, a silicone slip-resistant sleeve, and a stylish brushed finish, so it's easy and safe to use. This product is designed to be both durable and long-lasting and the brand Cosori offers lifetime customer support and 100% satisfaction so you can buy this as a gift with complete confidence.
Pros
Keeps tea or coffee warm
Switch between Fahrenheit and Celsius
Food grade stainless steel
Safety features
Lifetime customer support
Cons
Needs to be kept out of reach of children
15.
Niimo Pillow for Nursing Breastfeeding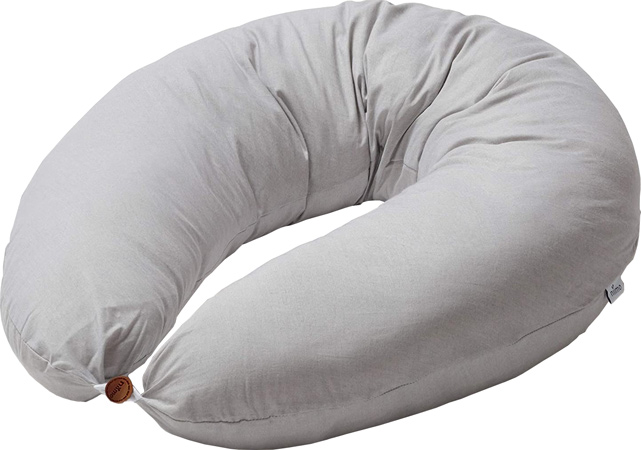 Why we like it: A comfortable pillow for supporting a baby in a good position for breastfeeding.
Positioning of the baby is incredibly important for getting a good latch when breastfeeding, and a good latch is key to comfortable and effective feeding. The Niimo Pillow for Nursing Breastfeeding is designed to help support a baby in a good, comfortable position so mom can be hands-free if she needs to be. In the early days, mom's arms and shoulders can quickly get tired from holding the baby in a good position to feed so this supportive pillow makes a practical gift to encourage a new mom to persevere with breastfeeding.
The pillowcase is made with 100% high-quality soft cotton and has a practically hidden zip so it can be completely removed and machine washed which is ideal for cleaning up spilled milk or spit-up. The 100% silicone polyester fiber filling is both supportive and soft, and this cushion can also be used to support moms to sleep on their side, which is important during pregnancy so it's a gift that could be purchased before the baby's arrival.
Pros
Helps support a good latch for breastfeeding
Prevents tired arms and shoulders
100% cotton
Removable and machine washable cover
Multipurpose; can be used for sleeping too
Cons
Only comes with 1 cover; have to wait for it to dry after washing
16.
UMI Mat for Pilates and Yoga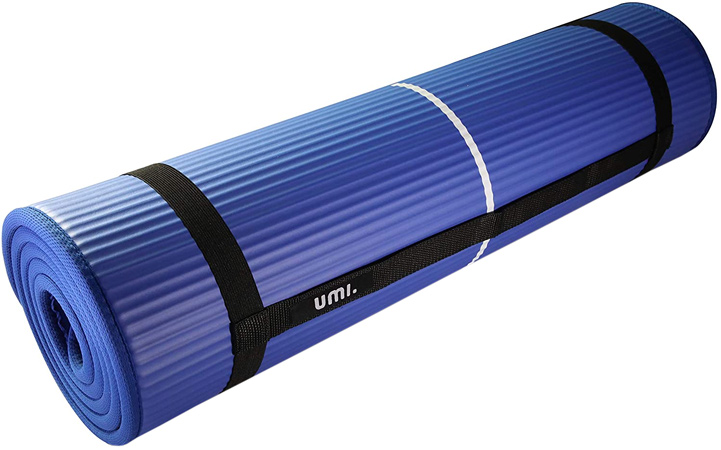 Why we like it: Support postnatal recovery and time just for mom with this thick, durable exercise mat.
After the strains of pregnancy, labor and birth new moms' bodies are often in need of some TLC but, in those early postpartum days, relaxation can be hard to come by and in fact, the body is still being tested between breastfeeding, rocking baby to sleep and carrying baby around it's easy to get tight, sore muscles. Yoga and Pilates are great gentle postpartum exercises that help to rebuild the core and stretch out aching muscles.
Whether mom is able to get to a class or just manages to grab 20 minutes for a quick routine at home the UMI Mat for Pilates and Yoga is a great tool for the job. It's longer and thicker than normal mats with a finished edge to ensure durability and longevity. With a printed line to ensure proper body alignment, this mat is ideal for supporting postnatal recovery.
Pros
Ideal for Yoga and Pilates
Longer than standard mats
Thicker than standard mats
Finished edge for durability
Carry strap included
Cons
Only 3 different color options
17.
Galt Toys Farm Playnest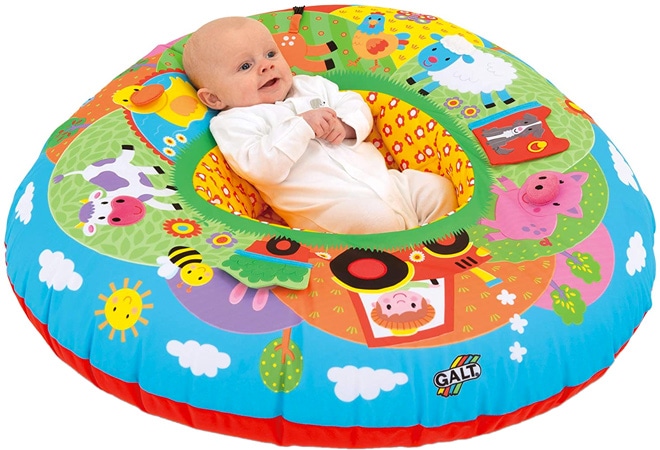 Why we like it: A nice baby gift, helping them to sit up to see the world, but also for mom giving her another place to put the baby down!
Newborns don't stay little for long, and many of them begin to get quickly frustrated with lying down and want parents to hold them up to see the world. For moms, this can get exhausting quickly. The Galt Toys Farm Playnest is a nice way to sit little babies up a little before they are able to maintain a fully upright play position. With bright, cheerful colors it provides a great visual stimulus for babies.
The Playnest then comes into its own as the baby gets bigger as their toys can be placed within reach in the nest to keep everything safe and contained. Mom can create a safe zone for the baby to play undisturbed whilst she has something to eat or drink, or grabs a few minutes rest! With 8 sensory activities included around the ring, there's plenty for a baby to explore as they grow.
Pros
Helps baby sit up
Bright, cheerful colors
Provides visual stimulus
Safe area for baby to play
8 sensory activities on ring
18.
Baby Shusher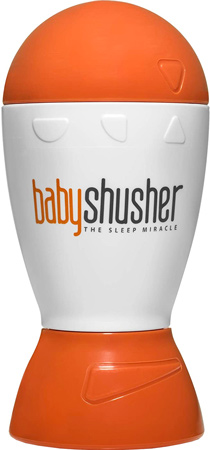 Why we like it: A really handy, practical gift for a new mom to help shush her baby to sleep.
Shushing is part of many parents' day as babies love falling asleep to the calming, repetitive noise, so why not buy a new mom this sleep aid that can help out with the shushing. The Baby Shusher does the shushing for her, using a real human voice! It can play for 15 or 30 minutes and has an adjustable volume control so she can personalize the shush her baby gets.
Safe to use from birth, the Baby Shusher is portable and easy to use and comes with the batteries it needs so it's ready to go right out of the packet. The removable wrist strap is handy for looping over the mom's wrist whilst they rock the baby, or attaching the device to the pram or car seat for sleeping on the go. This gift could be a real lifesaver for a new mom!
Pros
Helps babies sleep
Real human voice
Can play for 15 or 30 minutes
Adjustable volume
Comes with batteries it needs
Cons
Batteries are non-rechargeable
19.
Dyson Supersonic Hair Dryer Gift Edition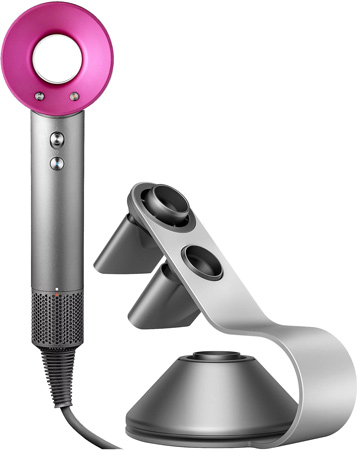 Why we like it: Speed up self-care with this high-end hairdryer from well-known brand, Dyson.
Dyson is a huge household name when it comes to vacuum cleaners, but they've channeled that high-powered tech into making beauty products too and the Dyson Supersonic Hair Dryer Gift Edition is an impressive example of just that. With a powerful digital motor built into the handle, delivering 1600 w at 3 speeds and magnetic attachments this hairdryer makes quick work of even thick hair.
Since there can be very little time for new moms to indulge in self-care, this makes the perfect gift for getting the job done and feeling good in limited timeframes. The intelligent heat control helps to maintain shinier and healthier hair. This gift edition of the dryer comes with a smoothing nozzle, styling concentrator, diffuser, non-slip mat and storage hanger, so it allows busy moms to create a range of different styles in just a matter of minutes.
Pros
Well-known brand
Powerful digital motor
1600w, 3-speeds
Magnetic attachments
Heat control maintains shinier, healthier hair
20.
BabyDan Deluxe PlayPen Including Playmat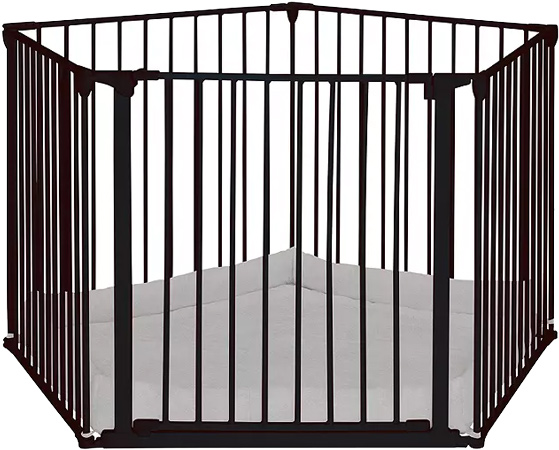 Why we like it: Create a safe, secure place for a baby to play with this multifunctional playpen.
We often don't realize how dangerous our homes are until we have a mobile baby who's into absolutely everything, then all of a sudden we notice the low cupboards, the sharp edges and all the bits and pieces that can make their way into babies' mouths! New moms need somewhere safe to put their baby down and know that they are contained.
The BabyDan Deluxe Playpen Including Playmat is ideal for creating that safe, secure space for a baby to play once they get more mobile, or for keeping dogs away from small babies. This multi-purpose playpen, which can be changed into a room divider, is easy to set up and includes a gate section so it's easy to walk into rather than straining mom's back, bending over and setting the baby down. This set includes a machine washable playmat to create a really safe area for the baby to play.
Pros
Creates a safe secure space
Can be a playpen or room divider
Gate section included
Easy to set up
Machine washable playmat included
Cons
Wall attachments for use as room divider sold separately
21.
Korbell Hands-Free Diaper Disposal Bin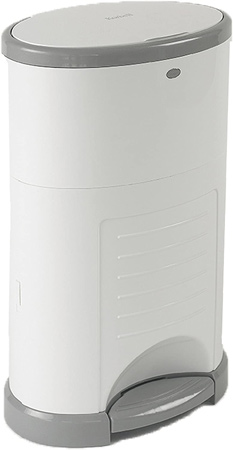 Why we like it: With a sleek, modern design this diaper disposal bin is also incredibly functional with a huge capacity.
Whilst a diaper disposal bin is more of a gift for the baby than for a new mom, mom will get plenty of use out of a diaper bin and high-quality products make any mom's life easier. The Korbell Hands-Free Diaper Disposal Bin has a sleek and modern design in order to blend into the home.
Its double seal design traps odors which is great as this bin can hold up to 495 diapers! The hygienic, hands-free operation makes it really simple to complete a diaper change and it's built to last with a lock designed to keep out toddlers. The liner refills are easily cut using the built-in cutter, making this bin the ideal way to keep a nursery room clean and tidy.
Pros
Sleek modern design
Double seal to trap odors
Holds up to 495 diapers
Hygienic, hands-free operation
Built-in cutter for liner refills
22.
Skip Hop Forma Changing Backpack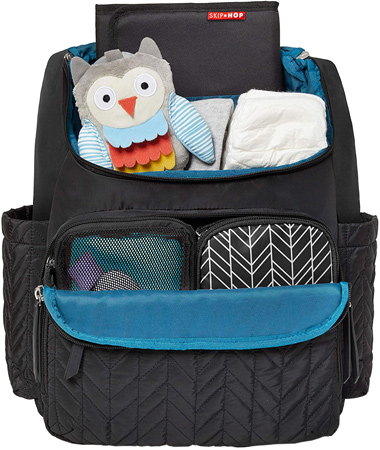 Why we like it: With space to tote everything around, this lightweight changing bag is incredibly convenient.
There's so much stuff that comes with having a baby, and toting it all around in a changing bag can be tricky. Between diapers, wipes, spare outfits, toys blankets and bottles there can be a lot to organize! The Skip Hop Forma Backpack Changing Bag Backpack is a lightweight, quilted backpack with special packing cubes for keeping baby's essentials organized and easy to find.
One of the storage cubes is insulated which is ideal for keeping bottles warm, or drinks and lunch items cold, though there are specialized bottle pockets too! The changing pad pocket includes a machine washable and cushioned changing pad but can also be used as a laptop or tablet holder. The backpack style of this changing bag makes it easy to grab and go, and it can also be attached to the stroller.
Pros
Lightweight backpack
Includes storage cubes
Insulated pockets
Includes machine-washable changing pad
Changing pad pocket can also hold tablet/laptop
Cons
No option to use across the body
23.
Philips Avent 2-in-1 Electric Steam Sterilizer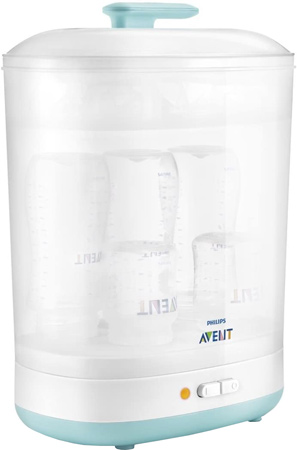 Why we like it: Perfect for giving peace of mind, this steam sterilizer kills 99.9% of harmful germs.
A steam sterilizer can be used for a range of different products including bottles, dummies, teething rings, toys or crockery. The Philips Avent 2-in-1 Electric Steam Sterilizer uses natural steam sterilization to kill 99.9 Percent of harmful germs without using chemicals, in just 10 minutes. After the year we've collectively had, keeping everything clean and germ-free is likely to be on a new mom's mind.
The spacious design of this sterilizer can hold up to 5 Avent bottles and teats and dummies can be placed in the basket that is included with this sterilizer. The sterilizer itself is easy to clean, too sparing any worry about harboring germs. This sterilizer might make a good gift for a new mom who's planning to use bottles or dummies for her baby.
Pros
Natural steam sterilisation
Kills 99.9% of harmful germs
Sterilises in just 10 minutes
Spacious design
Easy to clean
Cons
May not be used much if breastfeeding
24.
Jade Roller for Skin Care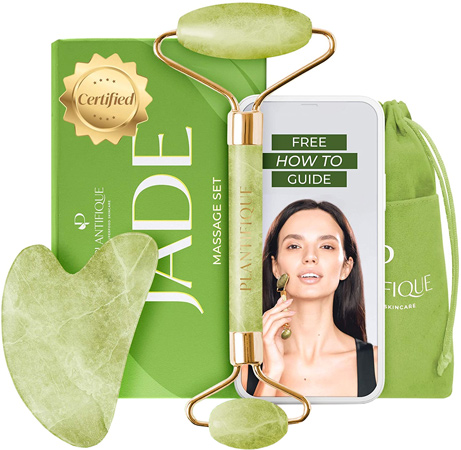 Why we like it: Give the gift of relaxation and skin care with a premium quality, authentic jade stone roller.
The Jade Roller for Skin Care makes a lovely gift for a new mom as it's a great tool for self-care and relaxation, both of which can tend to be in short supply following the birth of a baby! Made with premium quality authentic jade stone. This skincare roller is designed to improve the appearance of skin by reducing lines and wrinkles, refining pores, eliminating toxins, and improving the elasticity of the skin.
This roller is perfect for reducing puffiness under the eyes, making a new mom feel more relaxed and refreshed after a difficult night with the baby. After using this tool daily, dark circles are visibly reduced. This skin roller comes with a beautiful presentation box, which makes it a perfect choice to gift a new mom.
Pros
Self-care tool
Promotes relaxation
Improves the appearance of skin
Comes in a presentation box
Cons
Should not be used over make-up
25.
Airtight Cold Brew Iced Coffee Maker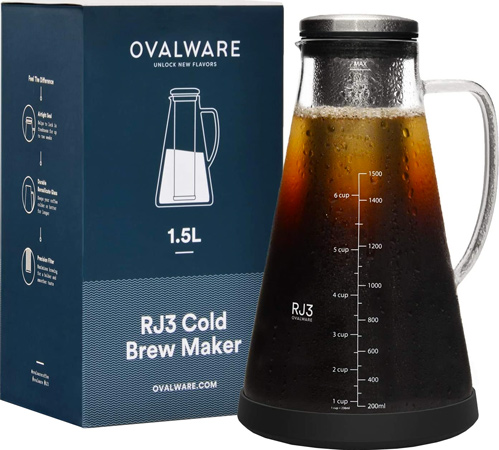 Why we like it: Satisfaction guaranteed, this coffee maker gives you healthier, richer, smoother coffee.
Another well-known joke in circles of moms is that moms run on coffee, and there might well be some truth in that so why not make sure that the new mom you're buying a gift for has easy access to healthy, smooth and rich coffee? The Airtight Cold Brew Iced Coffee Maker uses cold brewing to extract coffee concentrate which can be made into a huge variety of beverages to suit mom's taste.
Cold brewing is up to 70% less acidic than hot brewing resulting in a smoother and richer taste. With an airtight seal and a container engineered to fit fridge shelves, freshness can be locked into the coffee extract for up to 2 weeks. There's a 90-day satisfaction guarantee on this product so you can buy it risk-free.
Pros
Dishwasher safe
Cold brewing technology
70% less acidic coffee
Coffee extract keeps fresh for up to 2 weeks
90-day satisfaction guarantee
Cons
Coffee extract will need heating if you want a hot drink
26.
Angelcare Soft Touch Baby Bath Support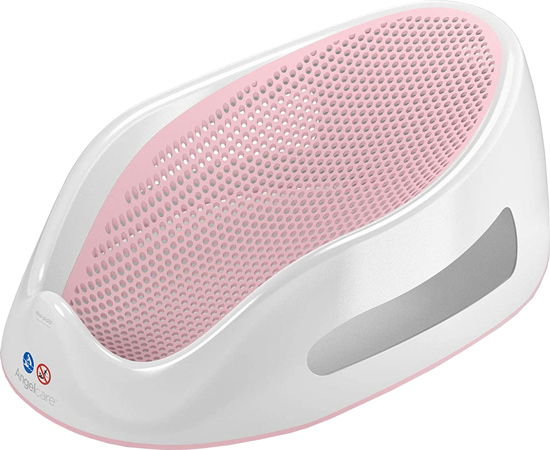 Why we like it: Ergonomically designed bath support providing optimal support, and helping new moms to safely bathe their baby.
Bathing a baby can be a beautiful experience, watching them splash and giggle. However, it can also be a real juggling act! Trying to safely hold a baby, lean over the bath, open products, wash the baby and stop them from slipping can be really hard work. You can't give a new mom an extra hand, but you can free one up by giving her the Angelcare Soft Touch Baby Bath Support.
This bath support is an ergonomically designed bath support providing optimal support to the baby, so mom can simply place a hand over them to keep guard rather than need to hold them in her arm. The bath support is made of soft TPE plastic which warms to the temperature of bathwater so it's incredibly comfortable for the baby to rest in as they are washed. With an anti-slip base, and water level indicator on the base it's easy to keep the baby safe making this a great, practical baby care gift for a new mom.
Pros
Ergonomic design
Helps with bathing baby
Soft TPE plastic
Anti-slip base and water level indicator
Practical gift
Cons
Outgrown when baby can sit or weighs 20 lbs
27.
Nintendo Switch (Welcome To Animal Crossing Edition)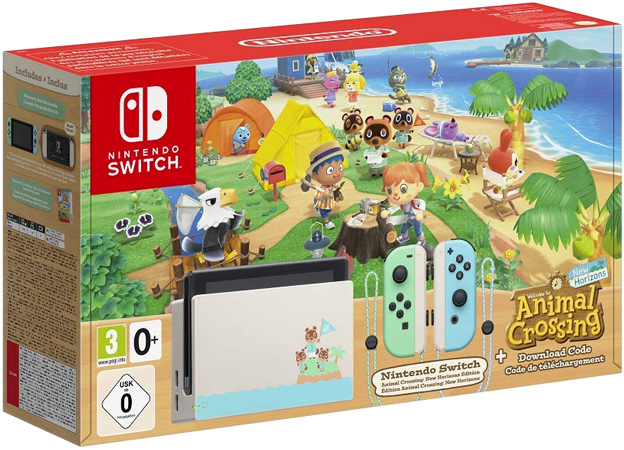 Why we like it: Help mom discover a new way to relax and unwind without needing access to a TV.
We often think of video games as being the domain of teenage boys but gaming is really catching on amongst adults too. As a new mom is likely to need a few more relaxation tactics it could be a great time to introduce to a new hobby like gaming and the Nintendo Switch (Welcome To Animal Crossing Edition) is the ideal bundle for getting started.
The Nintendo Switch is a games console with 3 different ways to play; you can play like a traditional games console through a TV, using the controllers to play alone or with friends, you can also take the console on the go and prop it up to use on a tabletop with the built-in screen and detachable controllers, or you can use the console as a handheld device, like a phone. This is great for a bit of sneaky gaming during a night feed or while the baby naps on you! With a download code for animal crossing, this is the ideal gift for a new mom who likes or might like gaming.
Pros
Gaming promotes relaxation
3 different ways to play
Comes with download code for Animal Crossing
Can be used as a handheld device
28.
Munchkin Dandy Dots Bath Kneeler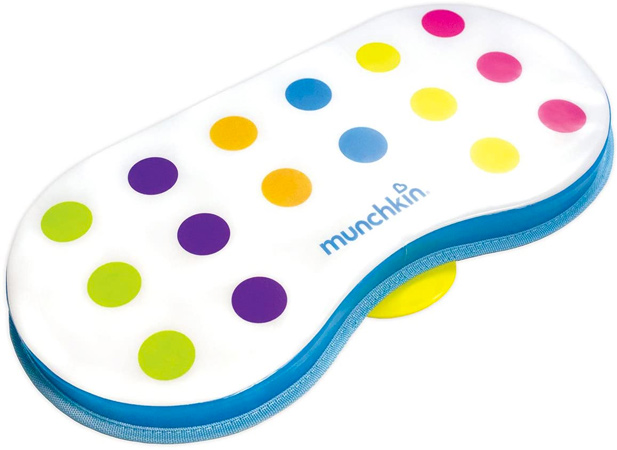 Why we like it: Another gift to help with bathtime this bath kneeler provides knee and leg support to mom.
After the physical exertion of pregnancy, labor and birth, many moms find that they develop aches and pains more quickly than they did before, and if mom is breastfeeding too her body still has high levels of relaxin, the hormone that helps keep muscles loose and stretchy, unfortunately, this means that it's much easier to pull muscles or sustain injuries. Bending and stretching over a bath is a real challenge to new moms but this gift can help to make bathtimes more comfortable for mom.
The Munchkin Dandy Dots Bath Kneeler is a comfortable and supportive pad for parents to kneel on whilst bathing a baby, toddler or young child helping to keep some of the strain off of the knees and legs. The textured and waterproof base prevents slipping and the kneeler is also water-resistant and easy to clean. The cleverly designed easy-grip handle makes it really simple to maneuver and can also be used to hang it from a towel rail to dry.
Pros
Makes bathtimes more comfortable for mom
Takes strain off the knees and tegs
Designed to prevent slipping
Easy to clean
Grip handle can be used to hang kneeler up
Cons
Only available in one design
29.
Anker PowerLine+ II Lightning Cable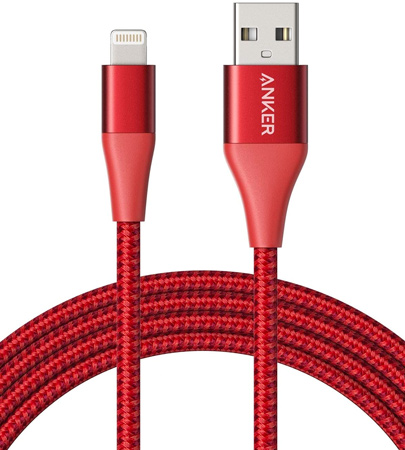 Why we like it: Power up devices at lightning speed with this long, strong charging cable.
Most moms find that between scrolling during night-feeds, ordering baby supplies, communicating with friends and family, taking photos and googling what on earth they're meant to be doing, they're using their phones more than ever before. So, a great, practical gift for a new mom would be a super fast and reliable charging cable to keep her phone powered up.
The Anker PowerLine+ II Lightning Cable has been certified for compatibility with Apple Lightning devices and is one of the toughest cables ever created; it's even been put to the test in a laboratory environment and was shown to withstand 30000 bends and has a tensile strength capable of withstanding 175 lbs. With a specialized carrying pouch that allows you to easily and neatly adjust the length of your cable, this cable could make a nice accessory for a hospital bag too so it could even be gifted in advance of the baby's birth.
Pros
Available in a range of colors
Lasts 30 times longer
Incredibly strong
Certified as compatible with apple lightning devices
Length adjusting carrier pouch
Cons
Need to ensure devices are compatible
30.
Tommee Tippee Closer to Nature Bath and Room Thermometer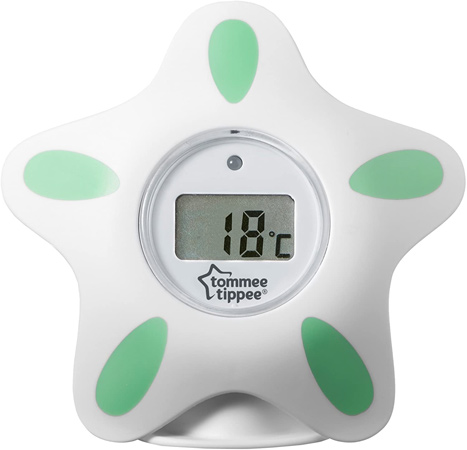 Why we like it: Gift a new mom peace of mind with this bath and room thermometer from a trusted brand.
Learning how to feel whether a bath is the right temperature for a baby is definitely an acquired skill; the optimal temperature for a baby's bath is at body temperature, between 36.5˚C and 38˚C and a few babies in most moms can confidently judge this, but the first time around it can be terrifying trying to get it just right. The Tommee Tippee Closer to Nature Bath and Room Thermometer takes the guesswork out of this with its accurate temperature readout on an easy-to-read LCD screen and a warning light when the bath is too hot.
For babies, the optimal room temperature is approximately 18˚C and rooms that are too warm can pose a safety risk so it's important to get this right. This thermometer is also suitable for use in a baby's bedroom and is designed in Tommee Tippee's iconic start-shaped logo so it fits right in with a variety of décor. This product is a great gift to help give a new mom real peace of mind.
Pros
Can be used in bedroom or bath
Floats in water
Easy-to-read LCD screen
Warning light when temperature is too high
Star-shaped fits in with a variety of decor
Final words
With so many different options for gifting a new mom available it can be easy to get overwhelmed and panic-buy without really thinking your purchase through. Here we have selected a variety of different gifts to suit different new moms and appeal to different tastes.
As you consider what to buy for the new mom that you have in mind we hope that some of these ideas will inspire you, and that at least one will be exactly what you are looking for, whether you want something to treat mom and make her feel more like herself, something to mark the occasion appropriately or a product to help make life easier and build her confidence. We're sure she'll love whatever you choose!