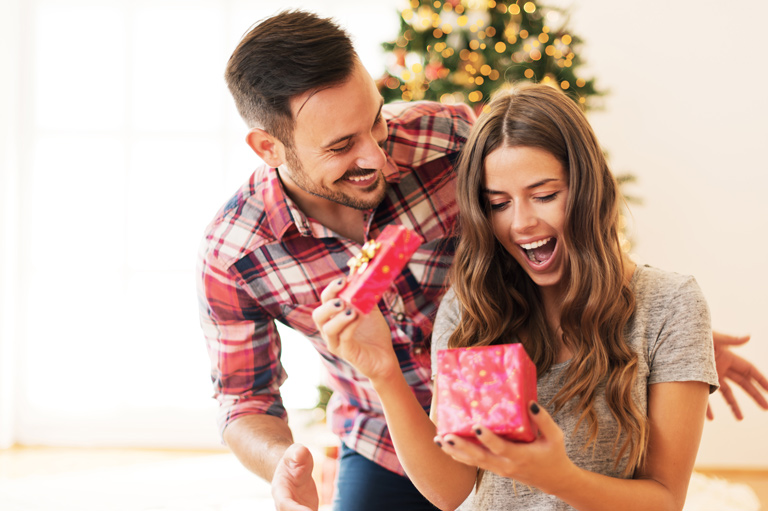 Finding your girlfriend the perfect gift that makes her feel like the most special woman in the world takes time, research, thought and creativity… Or maybe it just takes reading this list! Your life is about to get a whole lot easier.
In the time it takes you to read this list of 29 romantic gift ideas to impress your girlfriend, you'll go from the one she loves to the one she won't let get away. These gifts take romance to the next level so get ready for romance overload. We did all the digging, you reap all the rewards. Good luck, Casanova.
1.
Natural Candle Set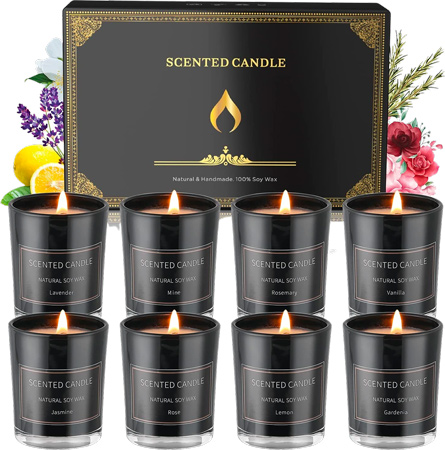 If you're looking for a romantic gift for your girlfriend, nothing says romance like scented candles. This gift set of eight aromatherapy candles is perfect to set the mood. The set includes lavender, vanilla, rosemary, gardenia, mint, jasmine, and lemon scents. They're made of 100% natural soy wax with lead-free cotton wicks so they're not only clean-burning but they're long-lasting. Each two-ounce candle burns for fifteen hours of romantic ambiance.
2.
Heart LED Candles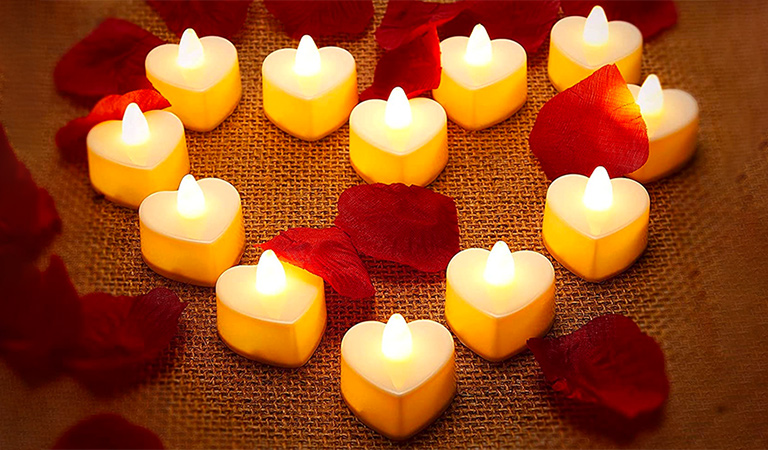 For an alternative to open flame candles, these heart-shaped LED candles can set a romantic scene that will be sure to sweep her off her feet. The set comes with twelve battery-operated candles that would be perfect for staging around a bath or on the nightstands. To really take it over the top, the set also comes with a bonus of 200 faux rose petals to scatter around. This gift will make her feel like she just stepped into her favorite romantic movie. Romance overload, but in the best of ways.
3.
Love Candle Holders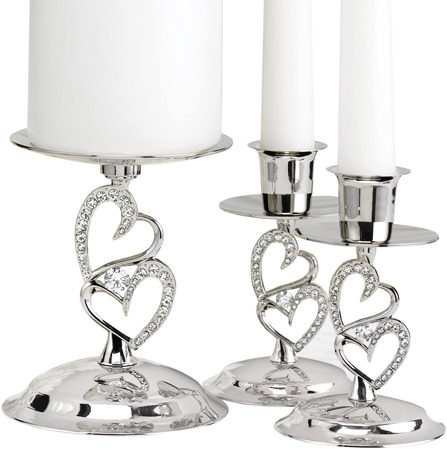 This modern but romantic set of nickel-plated candlestick holders by Hortense B. Hewitt has romance written all over them. Designed with sparkling rhinestone hearts, these beautiful candle holders hold two tapered candles and one pillar candle. They would be perfect for a romantic dinner or for a dining table centerpiece. A gift like this will show her you have romance on the mind.
4.
Love Figurine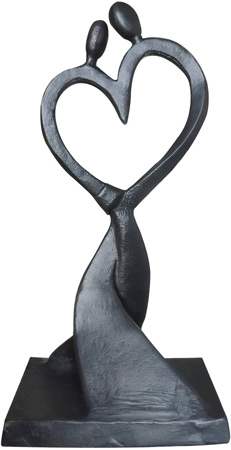 If your girlfriend likes modern home decor, this love figurine statue will not only hold a special meaning to her but also looks like a very expensive piece of art for her bookshelf or tabletop. The piece is made of solid iron which means it's going to last a lifetime. It will always be there to remind her of how much you love her.
5.
Weighted Hug Pillow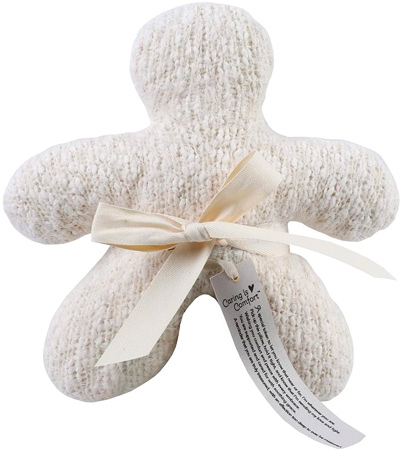 At some point we all loved our favorite teddy bear. This hug pillow is a more grown-up and sentimental version that serves as a reminder of the one we love. This hug pillow is handcrafted in 100% cotton for super soft cuddles and the weighted material is made to simulate the feeling of a real hug. The pillow comes with an included poem but you could attach your own for an extra special gift. Whether you're on a business trip or just away from the house, your girlfriend will have this hug pillow to comfort her until you get home.
6.
Sweet Pillow Case Set

These adorable satin pillowcases are a cute way to tell your girlfriend you want to whisper sweet nothings in her ear when you go to bed. The set of matching pillowcases fit any standard size pillows and are made of a poly-cotton blend so they're ultra soft and machine washable. Add a bit of whimsy and romance to her room with this thoughtful gift.
7.
Luxurious Satin Sheets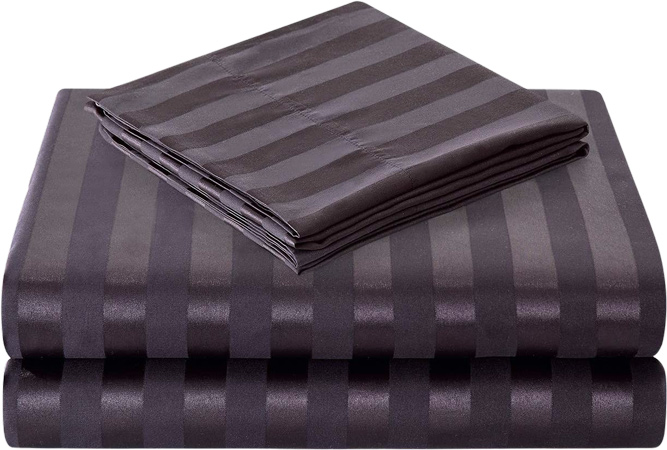 Really pump up the romance of her bed with these luxurious satin sheets. The four-piece set is made of 400 thread count satin so they're extremely soft on the skin. Not only do the sheets give a sense of elegance and romance to her room, they're also cooling and can help keep her skin and hair healthier than traditional sheets. Best of all, they are machine washable so they won't be high maintenance like silk sheets. It will be hard not to feel the romance when she slides into bed.
8.
Vintage Inspired Teddy Bear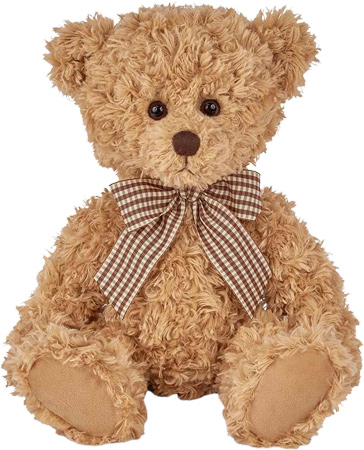 Giving a stuffed animal is a sweet way to tell your girlfriend you love her. Though most stuffed animals made for adults are made poorly and have cheesy writing or love hearts on them. Give her a classic teddy that she'll actually want to keep on her bed with this Bearington Theodore plush bear with soft shaggy fur. Its vintage design makes it the perfect decor accessory to leave on display. It says you have class and good taste… not that you won it out of a claw machine.
9.
Classy Bolo Bracelet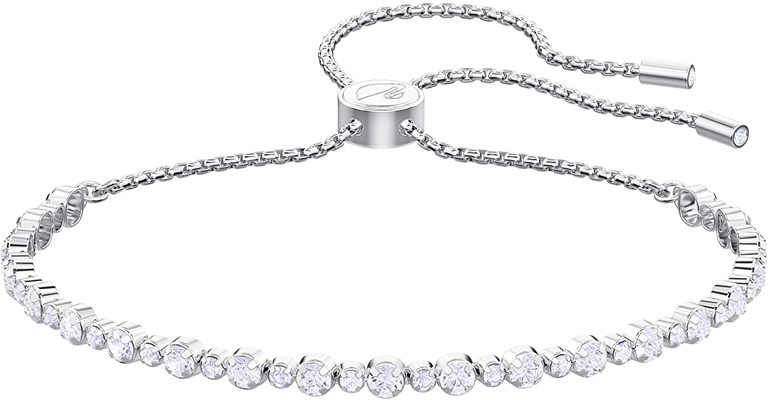 Every woman loves to get jewelry and this bracelet will leave her speechless. If your girlfriend likes classy jewelry that she can wear all day long, this subtle bolo bracelet with Swarovski crystals will be the star of her jewelry box. The single row of crystals gives it just the right amount of sparkle without making it look ostentatious. It's understated elegance she can wear out for a romantic dinner but still wear at the office.
10.
Infinity Ankle Bracelet

If bracelets aren't your girlfriend's thing but she still likes a bit of bling, this ankle bracelet by Billie Bijoux is a sweet gift she will be over the moon to receive. The anklet is made of 925 sterling silver with a rose gold color overlay so it's long-lasting and very on-trend. The infinity pendant design symbolizes eternity and everlasting love. It also has heart-shaped chain links and cubic zirconia detailing. This piece of jewelry has romance written all over it.
11.
Heart Jewelry Box
Give your girlfriend something really special to keep her jewelry in with this crystal, enameled jewelry box. Shaped like a heart, as a symbol of your love, it's adorned with so much bling it's almost like a piece of jewelry itself. It can be used to store rings, earrings, bracelets, or just used as a trinket box to leave out on her nightstand. It's a beautiful piece of decor that will show her how much you love her.
12.
Kama Sutra Massage Oil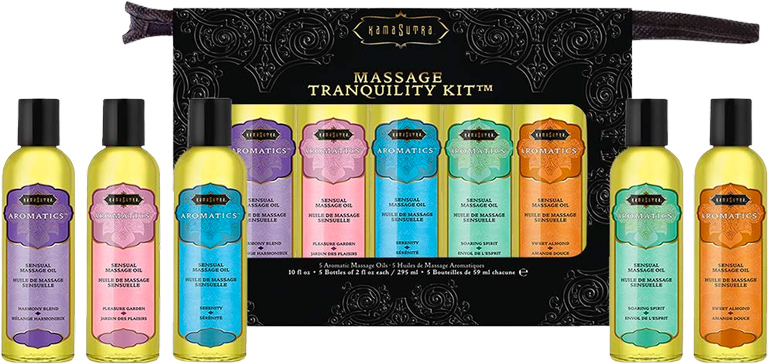 No romantic night is complete without a massage and this massage oil will leave her feeling relaxed and smelling amazing. This Kama Sutra Massage Tranquility set comes with five different massage scents, including, Soaring Spirits, Pleasure Garden, Serenity, Healing Blend and Sweet Almond. The oils also come in a convenient carrying case to store them away for the next romantic night.
13.
Nourishing Bath Bombs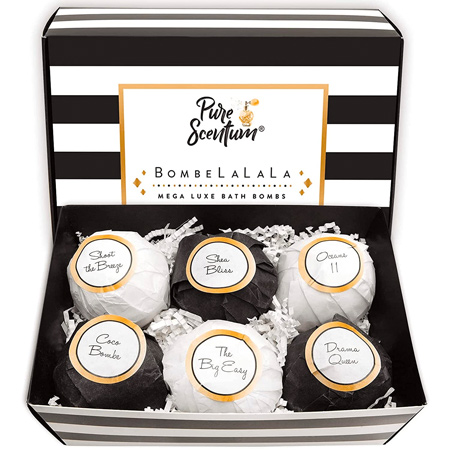 Make your girlfriend's next bath something special with these luxurious bath bombs by Bombelalala. Made of all-natural, organic ingredients like Epsom salt and essential oils, they not only help her relax but they'll also leave her skin feeling soothed and hydrated. The gift set comes with six full-sized bath bombs that are individually wrapped and beautifully presented in a gift box. All you have to do is run the bath, drop the bomb, let it fizz and you've just scored yourself some major romance points.
14.
Luxury Bath Basket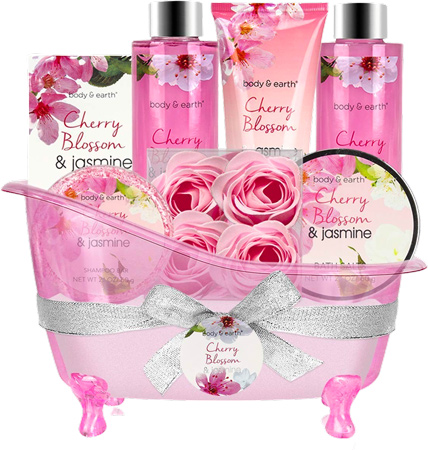 For a full spa day experience all from the convince of home, this complete spa bath gift basket will show her how much you want to pamper her. This eight-piece set comes with bubble bath, shower gel, body and hand lotion, and bath salts, all deliciously-scented with cherry blossom and jasmine essential oils. The skin-nourishing formulas are infused with vitamin E and sunflower seed oil to leave her skin feeling soft and smooth.
15.
Real Gold Rose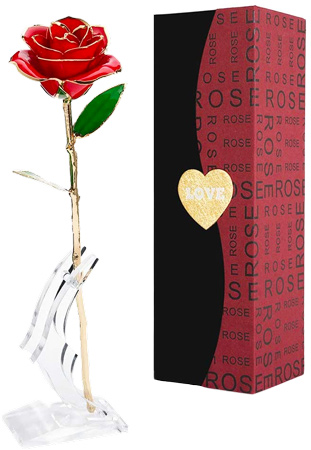 Flowers are romantic but they don't last forever. This one will though! This genuine red rose has been preserved and accented in 24kt gold. A red rose symbolizes love and one that will last forever tells her you will love her just as long. The rose is beautifully displayed on the included transparent acrylic stand. It even already comes in a gift box that makes gifting this to your girlfriend effortless and guaranteed to be a token of your love that will leave her impressed.
16.
DIY Explosion Box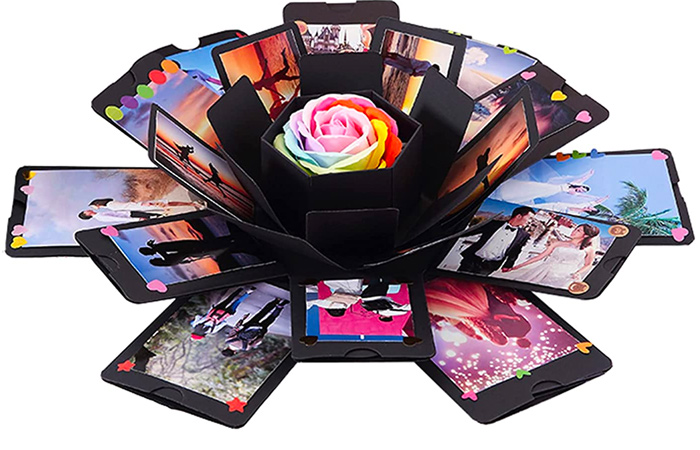 Get crafty and really impress your girlfriend with this DIY photo explosion box. It's one thing to give a romantic gift but to make one yourself shows she's worth every bit of time you dedicate to her. This unique gift looks like a regular box until she opens it and it folds out to reveal all the photos, messages and sweet decor you've hidden inside. There are five layers that open to reveal a secret box in the middle that you can either use to hide a final message or a little gift like jewelry or a meaningful trinket. If you want to show her how romantic you can be, this is the gift to do it with.
17.
Classic Picture Frame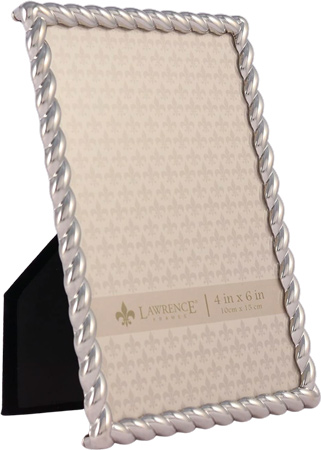 For a traditional gift that still oozes romance, give your girlfriend this timeless picture frame with your favorite picture of the two of you in it. The 4×6 metal frame is made with a silver rope design and a genuine glass front. It's a high-quality frame that will blend seamlessly with any decor. It will especially look great next to her bed so she can remember how lucky she is every time she wakes up in the morning.
18.
Leather Couples Journal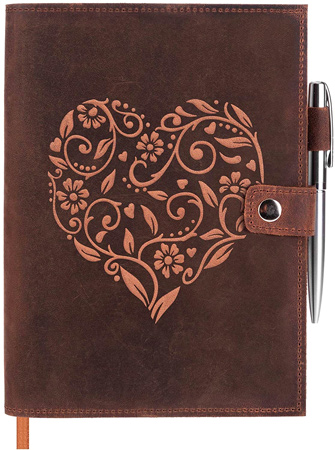 Give your girlfriend this leather journal so you will have somewhere to document all your stories and future goals together. Couples journaling has been proven to help couples feel closer so giving her a gift like this shows her how much you value your future together. The A5 journal is handmade with 100% full-grain leather and is embossed with an ornate heart design. It also comes with a luxury pen that fits into the attached pen holder. It's the pen you'll use to design your future together. Very romantic.
19.
Romantic Picnic Basket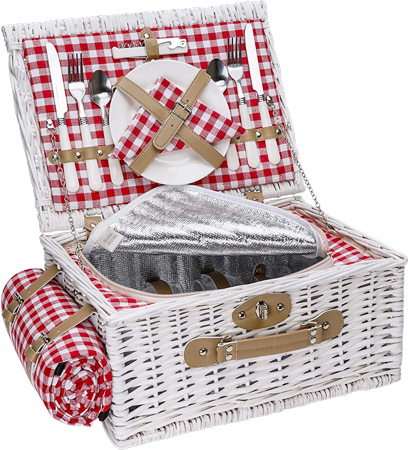 Is there anything more romantic than a picnic for two? Give your girlfriend this vintage-inspired picnic basket designed for intimate outdoor dining. The white wicker basket comes lined in a traditional red and white checkered material and contains all the gear for a romantic meal. It even includes the picnic blanket that rolls up and attaches to the outside of the basket so there's more room inside for that special meal you prepared. This is a gift you'll be able to use for years to come.
20.
Romantic Getaway Bag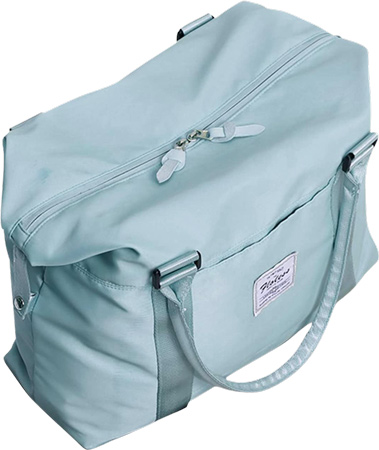 Want to give your girlfriend the ultimate romantic gesture? Whisk her away on a surprise weekend getaway, just the two of you. Give her this beautiful travel bag and tell her you're both going out of town for the weekend. This bag comes in seven fashionable colors and holds enough clothes and accessories for your romantic escape. When not being used for travel it can also double up as a gym bag or shopping bag.
21.
Bling Champagne Flutes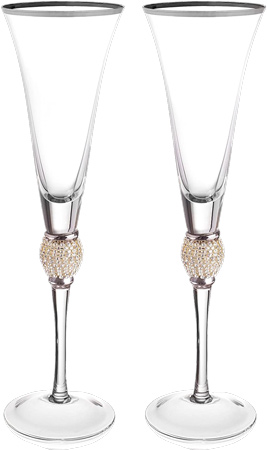 Toast to the best (and last!) girlfriend you've ever had with these luxurious champagne flutes. The set of two long stem glasses each holds seven ounces of bubbly. The top of each stem is crystal-studded, adding that extra touch of elegance. These premium flutes will be your go-to stemware to celebrate all of life's milestones together.
22.
Memory Keepsake Box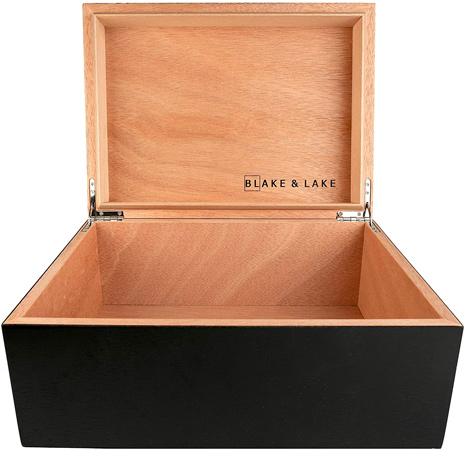 If your girlfriend is sentimental she'll love this keepsake box by Blake and Lake to hold all of the trinkets that remind her of your time together. This premium cedar wood storage box has a hinged lid and comes in either a natural wood color or a matte black so it will perfectly match any decor. The box is large enough to hold romantic letters, favorite pictures and miscellaneous keepsakes picked up throughout your years together.
23.
Heart-Shaped Casserole Dish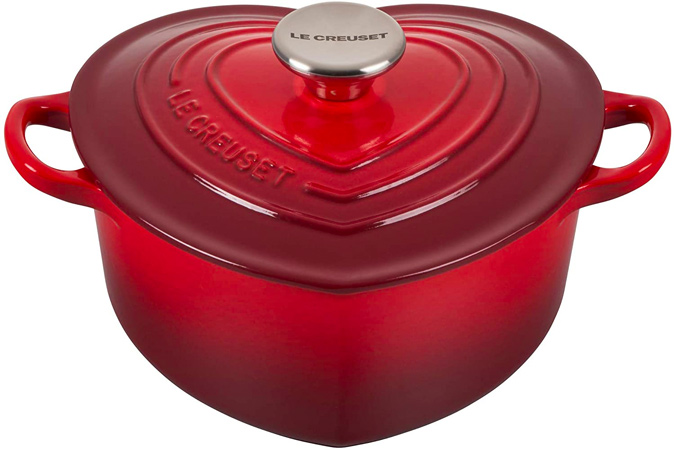 Take your romantic meal to a whole new level with this heart-shaped, cast-iron casserole dish by Le Creuset. The casserole dish evenly heats food to lock in flavors and the smooth ceramic interior eliminates sticking or burning. Also, due to the ceramic coating, it doesn't have to be seasoned like traditional cast iron cookware. It's low maintenance and made to last. Serve her up your best recipe in this and she'll be lost for words over how romantic you are.
24.
Chocolate Fondue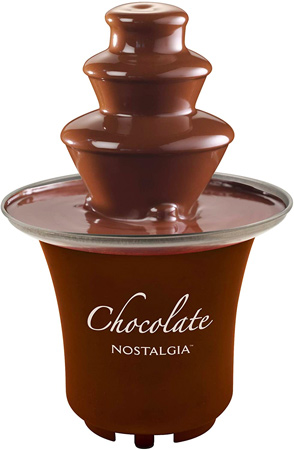 How about some dessert after that romantic meal? Does it get any more romantic than chocolate-covered strawberries? This chocolate fondue fountain holds a half pound of pure chocolate, which makes smothering anything in chocolate easy and fun. The three tiers continuously pump smooth melted chocolate down into the bottom reservoir where it's recirculated back to the top for a constant delicious flow of chocolaty goodness. Your girlfriend will be impressed with this sweet gift.
25.
Heart-Shaped Plates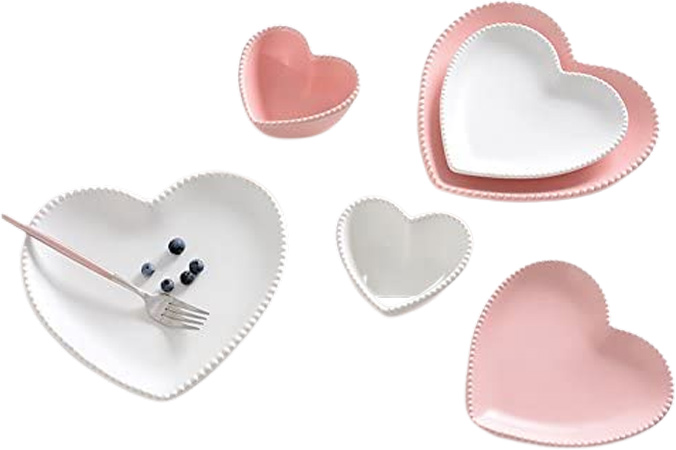 Serve up your special dessert on heart-shaped plates that she will love to have in her serve ware collection. Not only can they be used when you're making her favorite romantic meals, she can also use them for themed parties for her friends. The dessert plates are made of high quality, durable porcelain and are dishwasher safe. Romance is in the details and with this gift, you've nailed it.
26.
Sweet Pop Up Card
Give your girlfriend a beautiful card she'll keep forever. This unique card opens to reveal a 3D cherry blossom tree, a symbol of perfect love. Under the tree is a couple in love sitting on a swing made for two. There's room inside for a special message or perhaps a romantic poem if you're up for the challenge. Not only is it a beautiful keepsake card on its own though, it's also a more creative way to give a gift card to her favorite spa or restaurant. This is one card that won't end up tossed and will see its way to her keepsake box.
27.
Ornate Flower Vase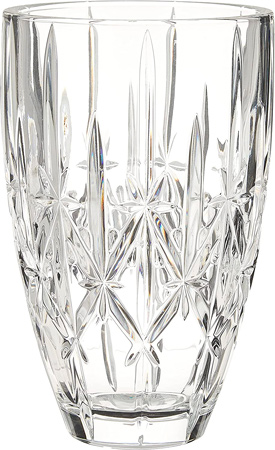 If you're going with a classic romantic gift like fresh cut flowers (always a winner) step it up by giving them to her in a beautiful vase she can keep forever. This classic vase by Waterford is made of high-quality lead-free glass that has been flame polished for optimal clarity. At nine inches tall it's the perfect height for a bouquet centerpiece on her table or counter.
28.
Bed Tray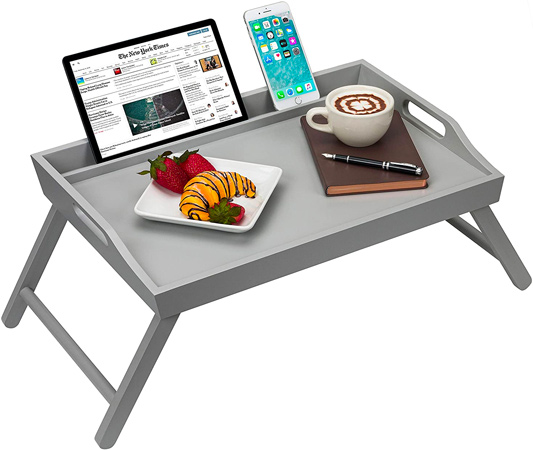 For a romantic breakfast in bed, gift your girlfriend this stylish wood bed tray. It not only comes in handy for gourmet meals in the sheets, she can also use it as a media station. It has enough space to hold a 17-inch laptop or has an integrated slot to hold up her iPad. It comes in four versatile colors, including a trendy grey. It will easily match her decor and adds a sense of five-star luxury to her room.
29.
Designer Perfume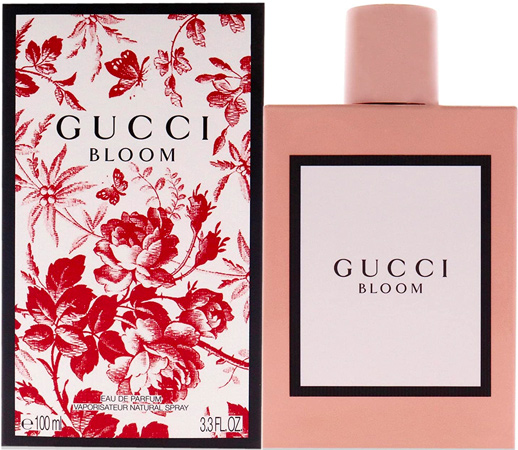 Giving perfume is always an intimate gift. Giving your girlfriend a perfume she loves shows her you really know her. If she likes floral scents, you won't go wrong with Bloom by Gucci. This high-end Eau de perfume spray smells like a blooming spring garden with notes of orange, jasmine, honeysuckle, and sandalwood. It's a sophisticated scent for the sophisticated woman you have in your life.