Amongst all the excitement about a new baby, dads are often forgotten, whilst mums get baby showers, pregnancy massages, antenatal classes and baby groups, similar initiation rituals are sadly lacking when it comes to dads. This is a shame because dads are now more involved in raising kids than ever before, and in fact, some families are made up of only dads, we think that the transition into parenthood is a big shift that deserves some kind of recognition and celebration.
Here we've collected some of the best gifts for new dads available in 2023 to give you an idea of something that you could give a dad amidst all the gifts for mom and baby. Some are practical gifts to help with baby care whilst others are more focused on dad, making him feel special and appreciated.
1.
Safety 1st Securtech Auto Close Metal Gate
Why we like it: Perfect for baby-proofing the house this safety gate features an automatic closure.
Many dads love to take on the role of practical protector and handyman, and baby-proofing the house falls firmly within that realm of responsibility so the Safety 1st Securtech Auto Close Metal Gate makes a wonderful practical gift for a dad who's keen to help in this way. After all, it doesn't take long for a baby to go from a cute, placid newborn who stays where they're put to an explorer who wants to be everywhere they're not supposed to be!
The Auto Close gate keeps babies and toddlers safe with its smart automatic closing mechanism; it shuts and locks itself, so even if adults forget to close it behind themselves, the baby stays safe. Simply squeezing the buttons on the handle to open makes this gate incredibly easy to use and it's quick and easy to install too.
Pros
Ideal for baby proofing
Automatic closure
Visual indicator shows when gate is safely closed
Easy to use
Quick install
Cons
Older children may struggle to use the opening mechanism
2.
BabyBjörn Baby Carrier One Air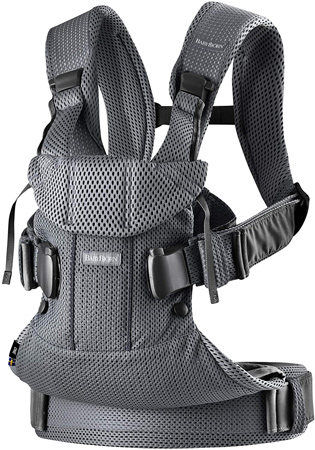 Why we like it: Babywearing is a great way for dads to bond with their babies and this is a fantastic and ergonomic option.
Babywearing, which is wearing your baby close to your body in a sling or carrier is practiced the world over by indigenous peoples who understand the value of keeping babies close. Babywearing promotes bonding, prevents flathead syndrome and lowers the risk of SIDS. With ergonomic carriers becoming more widely available in "westernized" countries too, this is a great way for dads to bond with babies.
The BabyBjörn Baby Carrier One Air is an ergonomic carrier with wide leg position which ensures that babies hips are not placed under any additional strain for optimal development. This carrier is also ergonomic for the parent with a sturdy waist belt and padded shoulder straps to distribute weight evenly and make carrying comfortable. As well as comfortable, this carrier is designed to be cool as it's made with soft and airy 3D mesh so even on sticky summer days, dad and baby will stay cool and comfortable.
Pros
4-way front and back carrying
Perfect from new-born to 3 years with a built-in infant position
Sturdy waist belt and padded shoulder straps
Ideal way to bond with baby
Ergonomic position for baby; promotes healthy hip development
Cons
May need to buy rain cover/ teething bib separately
3.
Amazfit GTR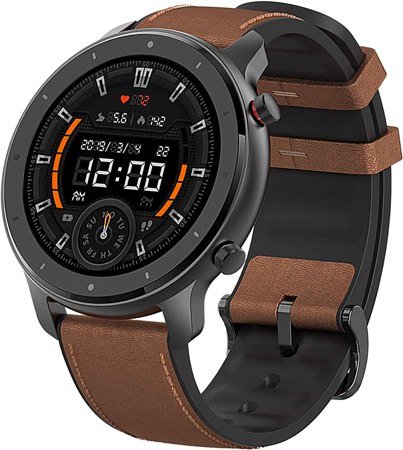 Why we like it: A nice way to treat a new dad, the Amazfit GTR sports watch has a range of handy features.
Buying a new dad a gift that's just for him is a lovely way to remind him that you're thinking of him, and appreciate him in and of himself, not just as a dad. The Amazfit GTR sports watch is classic and stylish with a premium metal watch body and robust feel, making it a timeless piece that will last dad for years to come. With an ultra-long battery life of up to 24 days, frequent charging isn't a worry, handy for those hazy newborn days!
This watch is certified to withstand water pressure at a depth of 160 feet so it can be worn whilst showering, swimming and diving, and with a high-resolution display covered by gorilla glass and anti-fingerprint coating, it's simple to check the time wherever you might be.
Pros
Nice gift item
Classic, stylish watch
Ultra-long battery life
Withstands water pressure up to 50 ft
High-resolution display
4.
Krups Nespresso Essenza Mini Coffee Machine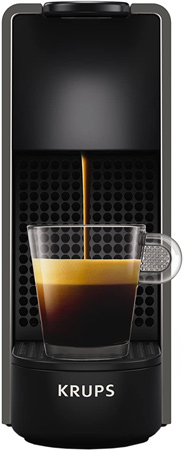 Why we like it: Give a new parent the gift of caffeine with this ultra-compact machine!
Parenting doesn't have a reputation for a great sleep schedule, and it's often said that parents need all the coffee! So why not help them to get it with the Krups Nespresso Essenza Mini Coffee Machine? Whether the dad you're buying a gift for is a bit of a coffee connoisseur or just needs something to keep him going, this machine can offer that.
With an Ultra-compact design, it's really easy to place and move around in the kitchen, or the house and the controls are super-simple too with two programmable options for espresso or lungo, an automatic flow-stop, 19-bar high-performance pump and fast heat-up in only 25 seconds, making a cup of coffee just got a whole lot easier!
Pros
Ultra-compact design
Can be programmed for espresso or lungo
Automatic flow-stop
19 bar high-performance pump
25-second heat up
Cons
Requires Nespresso brand pods
5.
Vanmass Car Phone Holder 3 in 1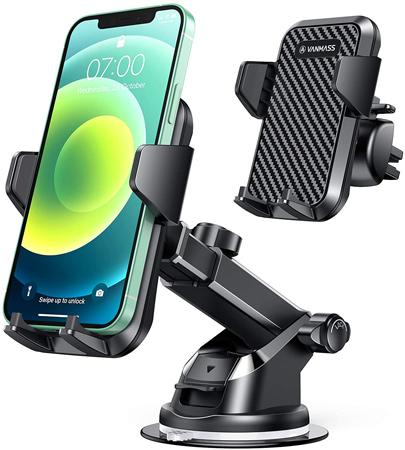 Why we like it: An incredibly practical gift to keep a phone safe but in view whilst driving.
A phone holder for the car might not seem like an obvious gift choice but this is a great practical present that can be given to a new dad. The Vanmass Car Phone Holder 3 in 1 can be applied to the dashboard, air vent or windscreen using a super-strong suction cup and clamp a mobile phone between 4 and 7 inches safely in place without pressing all the side buttons!
Offering true all-round protection this phone holder guard against damage to the phone or interfering noise, like rattling, whilst the phone is in use. The flexible neck and adjustable telescopic arm mean that you can adjust the viewing angle to keep it out of the way whilst driving, or to get a clearer view if using the phone as a satnav.
Pros
Practical, useful gift
Can be applied to dashboard, airv ent or windscreen
Clamps a mobile phone between 4 and 7 inches
All-round protection
Flexible neck and telescopic arm let you adjust the view
Cons
Some cars have built-in connectivity for phones, so may not be needed
6.
Philips Series 9000 Wet and Dry Men's Electric Shaver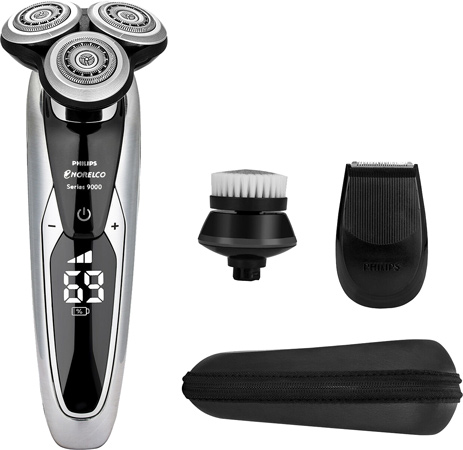 Why we like it: A brilliant option for a personal care gift, this versatile shaver gives an unbeatably close shave.
Help a new dad feel a little more like himself by giving a personal care gift; between sleepless nights, diaper changing and baby spit-up, it can be hard to care for yourself as a parent but something simple like a new shaver can help you to feel a little more cared for and put together.
The Philips Series 9000 Wet and Dry Men's Electric Shaver gives unbeatable closeness, cutting up to 30% closer with an 8-directional ContourDetect head, even on 3-day stubble (which is handy with a young baby who doesn't know day from night!) There are 3 unique comfort settings as well as the option to use the shaver wet to increase glide and therefore comfort. Charge for just an hour and you can get 17 shaves out of the battery, or if you're in a real rush a 5-minute charge will give one full shave.
Pros
Personal care gift
Unbeatable closeness
8 directional ContourDetect head
Works on 3-day stubble
Quick charge
7.
Tommee Tippee Closer to Nature Digital Video and Movement Baby Monitor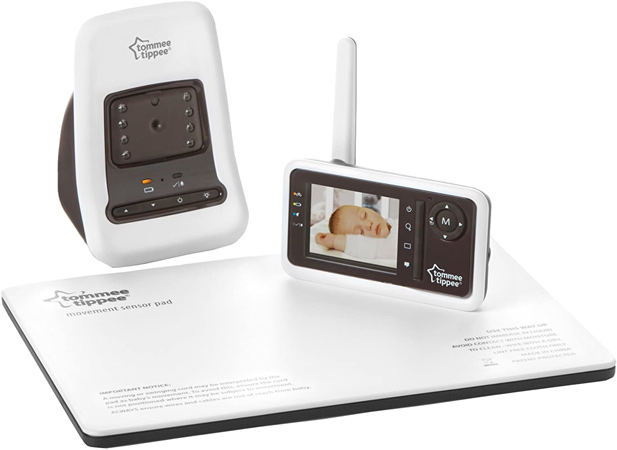 Why we like it: Interference-free audio, video and movement baby monitoring offering real peace of mind.
It might be stereotypical, but many dads love a gadget so buying a specialized baby gadget is a great way to help dad feel even more involved in looking after the new baby. As far as gadgets go, the Tommee Tippee Closer to Nature Digital Video and Movement Baby Monitor is likely to feel sufficiently technologically advanced to please even the most techie of dads.
With digital enhanced cordless technology (DECT) this monitor is able to offer interference-free monitoring which gives real peace of mind, as does the movement sensor pad which ensures that the baby is still breathing. The LCD screen is really easy to read and displays an accurate room temperature for the baby's safety. With a long-distance range of up to 1000 feet this monitor is suitable for houses of all shapes and sizes, and the two-way talkback is a really useful feature allowing parents to try and reassure the baby without entering the room.
Pros
Audio, video and sensor monitored
LCD screen displays room temperature
Flexible and portable
Two-way talkback
Room temperature displayed
8.
Fjällräven Övik Wallet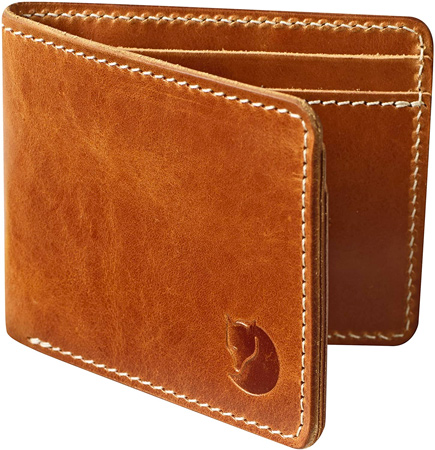 Why we like it: A wallet from a popular, on-trend brand, makes a great gift for a new dad.
A great gift for a new dad, the Fjallraven Ovik Wallet comes from a popular and on-trend brand meaning that most men will be happy to receive this as a gift. It's a fantastic way to treat a dad to a little something for himself amongst all the gifts for the new baby.
Made in Sweden from premium-quality vegetable-tanned leather, this wallet is completely vegetarian and made in natural, neutral tones. The simple, clean design makes this wallet a timeless piece that could last a dad for years to come and the compartments for bank-notes and credit cards make this a practical gift as well as a personal one.
Pros
Popular brand
Premium quality materials
100% vegetarian
Natural, neutral tones
Compartments for bank-notes and credit cards
Cons
Only available in one color
9.
Stokke Tripp Trapp Adjustable Wooden Chair
Why we like it: Iconic highchair from a well-known baby brand, designed to last a lifetime.
The Stokke Tripp Trapp is now an iconic highchair with its clever adjustable and adaptable design. This isn't just a high chair for the baby years, it's designed to last for life and is safe for up to 240 pounds which helps reduce waste.
The Tripp Trapp is made with safe, eco-friendly materials with sustainability in mind so it's perfect for environmentally conscious parents. Using different attachments, and height and depth adjustable seat and foot-plates parents can find the right position for their child to sit comfortably and ergonomically at any age, the Tripp Trapp is also designed to allow babies and children to sit right up to the table and be involved in family mealtimes from the get-go.
Pros
Designed to last for life
Safe, eco-friendly materials
Sustainable and reduces waste
Height and depth adjustable
Involves babies in family mealtimes
Cons
Newborn insert, seat cushion, tray, placemat & strap sold separately
10.
Harrison's Finest Glass Whisky Decanter Set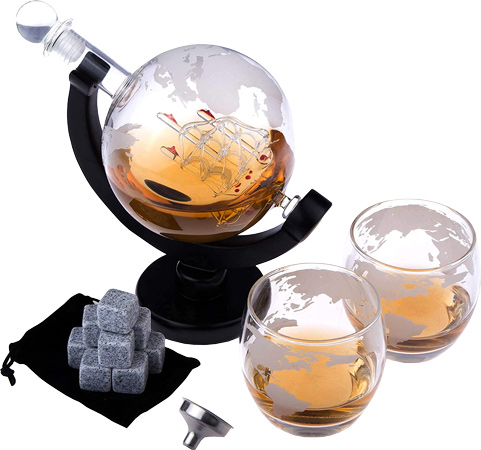 Why we like it: A unique and memorable gift, ideal for marking the birth of a new baby.
Harrison's Finest Glass Whisky Decanter Set includes a beautiful, hand-blown whiskey decanter made to look like a globe with a ship inside and matching drinking glasses with a globe design. There's also a polished wooden stand, stainless steel funnel and 9 high-quality whiskey stones. This set's unique design means that it can be used as a decorative piece as well as for serving drinks.
The globe decanter uses an airtight seal to preserve the taste and freshness of wines or spirits, so this is an ideal gift for a drinks enthusiast and its special, stand-out design makes it a lovely way to mark the birth of a new baby too.
Pros
Hand blown
Unique, beautiful design
Includes decanter, glasses, stand, whisky stones and funnel
Lovely decorative piece
Ideal for marking the birth of a child
Cons
Made of glass, will need to be stored away from children
11.
Philips Air Fryer
Why we like it: The world's number one brand air fryer, ideal for whipping up quick, healthy meals even with a new baby.
In the early days, if you can feed yourselves and feed your baby, you're doing well! The Philips Air Fryer is a great tool for making the 'feed yourselves' part of that much, much easier. Using Philips rapid air technology it's incredibly simple to fry, grill, roast and even bake, making healthy, tasty and nutritious food with up to 90% less fat.
This air fryer offers total flexibility with adjustable time and temperature and is easy to clean too as many of the parts are dishwasher safe, saving you time and hassle. Finding new recipes is a breeze too; simply download the Philips NutriU app and you can browse through hundreds of the best Airfryer recipes. With a 2-year warranty, this is a gift that you can really buy with confidence and help a new dad to nourish himself and his family!
Pros
Fry, grill, roast or bake
Up to 90% less fat
Adjustable time and temperature
Easy to clean; dishwasher safe parts
NutriU app gives 100s of recipe ideas
12.
Hugo Boss Bottled Infinite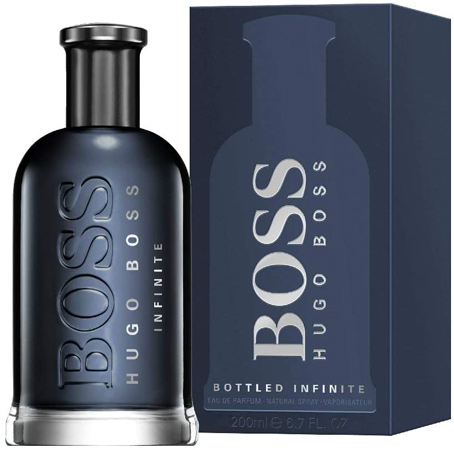 Why we like it: A personal care gift to help a new dad feel special and appreciated.
Whilst scent can be incredibly personal it also makes a lovely gift because it feels quite luxurious and is obviously only for dad. Whilst other gifts could be seen as being for the baby, or to benefit the whole family, the Hugo Boss Bottles Infinite is just for dad!
This kind of indulgent personal care gift can help a new dad to feel a bit more put together, and like himself in a season of rapid change. Hugo Boss describes the scent as being designed for the man of today who "navigates various roles in his life" which is ideal for a man just taking on a new role as dad!
Pros
Luxurious personal care gift
Energizing scent
Citrus and woody notes
Just for dad
13.
Ring Floodlight Cam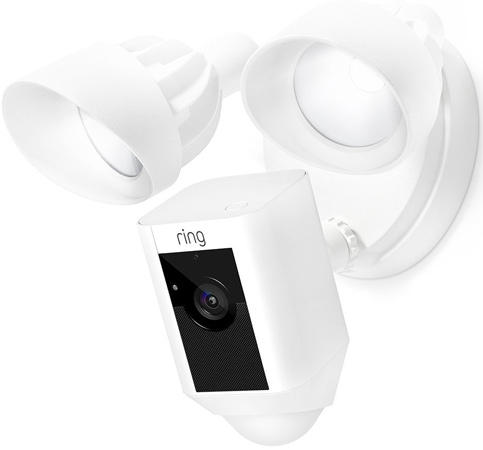 Why we like it: Great home security system that links with smart devices too.
The Ring Floodlight Cam is a great piece of home security technology that links up with select Alexa devices too. Using infrared night vision and 1080p HD cameras you can monitor your home. As soon as movement is detected you automatically receive an alert, and you can then decide to see, hear or even speak to visitors from your phone, tablet or PC.
Since this camera is designed as a piece of home security equipment it also includes an Ultra-bright floodlight and a siren that can be activated remotely to scare off intruders, and if the camera is stolen Ring promises to replace it for free. This home security kit makes an ideal gift for a new dad who understandably may become more security conscious as a result of having a new baby around, so this is a great way to get real peace of mind.
Pros
Connects with Alexa devices
Infrared night vision
Automatic alerts to phone, tablet or PC
Ultrabright floodlight and siren
Replaced for free if stolen.
Cons
Needs wiring into mains electricity
14.
PhoneSoap 3 UV Cell Phone Sanitizer and Cell Phone Charger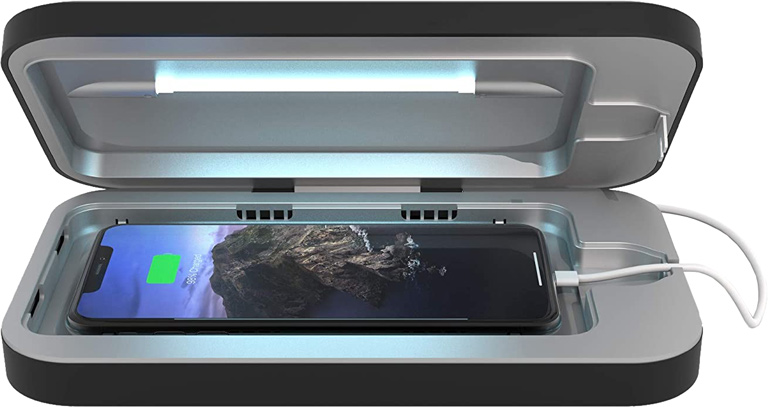 Why we like it: Kill 99.99% of bacteria safely to help keep the whole family healthy.
The PhoneSoap 3 UV Cell Phone Sanitizer and Cell Phone Charger was featured on Shark Tank and the Discovery Channel and is proven to kill 99.99% of bacteria using just UV light. Since mobile phones are handled so frequently and held to the face, they tend to carry an alarming amount of bacteria and if the last year has taught us anything it's the importance of good hygiene and keeping things clean.
This cell phone sanitizer fits and sanitizes any phone, including larger ones and it also has two charging ports on the back and can charge 2 devices at once. It's not just devices that you can sanitize using this device though it's also suitable for smartwatches, headphones, keys and even dummies. This gift is a fantastic way for a new dad to keep his family healthy.
Pros
Featured on Shark Tank and Discovery channel
Proven to kill 99.99% of bacteria
Uses UV light; no chemicals
Fits any phone
Charges at the same time
15.
Jabra Elite 65t Earbuds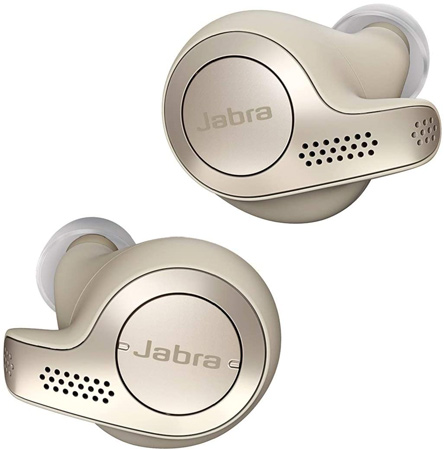 Why we like it: Ideal for listening to entertainment during the night feeds, the earbuds come with a range of different sized covers for maximum comfort.
Wireless earbuds make a great gift for new parents who can use them to listen to podcasts, music or audiobooks whilst awake in the night with the baby. With no wires to tangle, or be grabbed at, you can make sure that you stay awake whilst taking care of the baby and keeping the house quiet for them.
With up to 15 hours of battery time, the Jabra Elite 65t Earbuds are ideal for multiple wake-ups if needed! And they're a really robust pair of earbuds so should last for years to come as they have an IP55 weather-resistant rating against both water and dust. Using voice command and touch, it's easy to control these earbuds and they can connect to your choice of virtual assistant too. These earbuds come with a 2-year warranty, making it easy to buy them with confidence.
Pros
3 different sized covers for maximum comfort
Completely wireless
15 hours battery time
Weather resistant
2-year warranty
Cons
Compatible devices required
16.
Tommee Tippee Perfect Prep Day & Night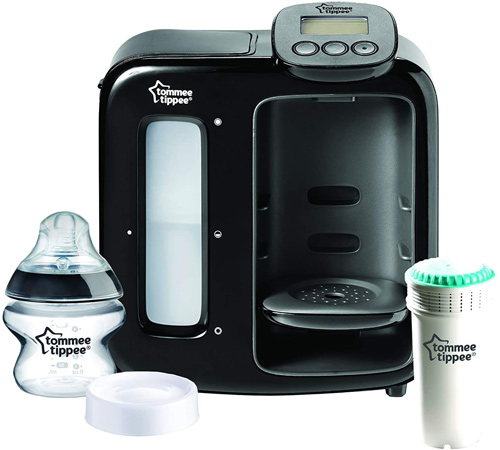 Why we like it: Fast, safe bottle preparation at the touch of a button during the day or night.
If the family you're buying a gift for are planning to use infant formula milk, then the Tommee Tippee Perfect Prep Day & Night machine may be a good 'big ticket' gift to give dad. Keeping a little baby safe and healthy is obviously a huge priority for a new dad, and safe formula preparation is key to this. Since infant formula is not a sterile product it's important to make it up freshly with hot water to kill any bacteria that may be present.
However, boiling kettles, measuring formula and safely cooling milk in the middle of the night on little sleep can be a recipe for disaster! It's far too easy to forget what you're up to or be tempted to cut corners. The Tommee Tippee prep machine reduces this risk, allowing you to make a fresh bottle at the correct temperature in 2 minutes flat. The initial 'hot-shot' of 158°F water kills any bacteria present in the formula after which cooler water is dispensed to deliver a bottle feed at body temperature, safe for the baby to drink right away. The night mode makes bottle prep almost silent so you can get on with feeding the baby while the rest of the house gets on with sleeping.
Pros
Takes away risks of formula preparation
Hot-shot at 158°F kills bacteria
Bottle prepared at body temperature, ready to drink
Ready in 2 minutes
Nighttime silent mode
Cons
Not useful if planning to breastfeed
17.
Philips Hue White and Color Ambiance Starter Kit

Why we like it: Smart lighting for the home which can be used as a nightlight for babies, this starter kit includes all you need to get set up.
It's no secret that lots of babies have their days and nights mixed up! Lighting is an important part of helping to set the circadian rhythm and help babies (and adults!) to differentiate between day and night. Exposure to natural daylight in the afternoon, for example, by going out of the house for a short walk, can help to regulate the circadian rhythm, but exposure to white-blue light in the evenings tells the body to wake up rather than wind down.
The Philips Hue White and Color Ambiance starter kit is the ideal way to get started with setting up a smart lighting system for your home that supports the regulation of circadian rhythms and promotes sleep. Everything you need is included in this starter kit. Simply connect your Bridge to your router, screw in your Philips hue lights and take advantage of smart home lighting via the 'Philips Hue' app. With 16 million colors to choose from it's easy to create ambiance, try soft red lighting in the evening to get everyone ready for a restful night's sleep.
Pros
Connects with Alexa, Google assistant and Apple homekit
Sync lights with movies or music
16 million colors to choose from
Includes 3 bulbs and bridge
Set schedules, routines and timers
18.
Leather Duffel Bag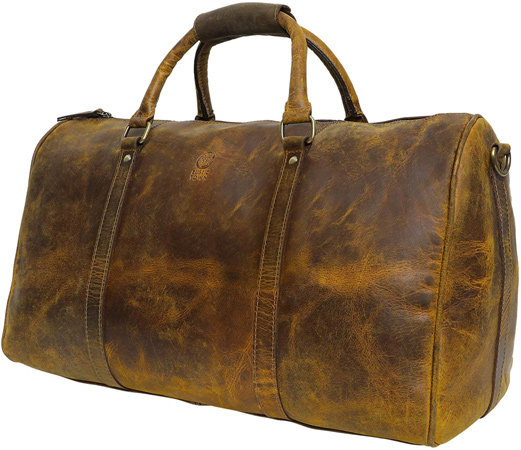 Why we like it: Ideal as dad's hospital bag or for family trips away this duffel bag is high-quality and promotes ethical consumption.
It's not just mom that needs a bag to bring to the hospital when the baby is born, with different hospital rules and regulations this year, many dads have needed to stay over in the hospital too. So, this Leather Duffel Bag makes the ideal, practical gift for a new dad-to-be to bring a toothbrush, change of clothes and some snacks along to the hospital.
Made with quality, genuine leather this bag is made from buffalo hide to stand up to plenty of travels and adventures, perfect for business trips or nights away with the family. It's handcrafted by Indian artisans and the company is connected with many organizations dedicated to proving employment and keeping traditional skills alive in India, so this is an ethical purchase too.
Pros
Ideal as a hospital bag or for trips away
Quality genuine leather
Robust buffalo hide
Handcrafted
Ethical purchase
Cons
Not suitable for vegetarians
19.
Korbell Standard 4.2 Gallon Hands-Free Diaper Disposal Bin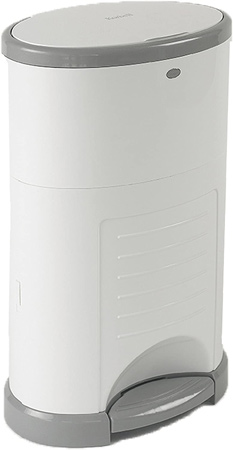 Why we like it: With a sleek, modern design this diaper disposal bin is also incredibly functional with a huge capacity.
Whilst a diaper disposal bin is more of a gift for the baby than for a dad, many parents strike a deal that if mom feeds the baby, dad changes the diapers, so it may well be that it's dad who gets the most use out of this gift! The Korbell Standard 4.2 Gallon Hands-Free Diaper Disposal Bin has a sleek and modern design in order to blend into the home.
Its double seal design traps odors which is great as this bin can hold up to 495 diapers! The hygienic, hands-free operation makes it really simple to complete a diaper change and it's built to last with a lock designed to keep out toddlers. The liner refills are easily cut using the built-in cutter, making this bin the ideal way to keep a nursery room clean and tidy.
Pros
Sleek modern design
Double seal to trap odors
Holds up to 495 diapers
Hygienic, hands-free operation
Built-in cutter for liner refills
20.
Instax Square SQ6
Why we like it: Ideal for capturing precious memories with a stylish, modern design and a range of creative features.
Everyone says "oh they grow up too quickly" but it's true. Whilst the newborn days can seem endless while you're there they do whizz by and before you know it baby is a toddler! So, making sure that you capture some of the memories of the newborn days is incredibly important and the Instax Square SQ6 makes it easy.
Available in a range of colors, the sleek, modern design means that dad will be proud to take this camera out and about anywhere and is more likely to remember to use it regularly. Offering an instant print-out, the Instax Square SQ6 eliminates the likelihood of having photos trapped on the computer, so parents are more likely to display these photos or create an album with them. There are 5 different shooting modes, including a selfie mode, and an inbuilt flash. There's even a timer so everyone can be in the shot and creative options like a double exposure to experiment with too if that's your style.
Pros
Available in a range of colors
Sleek, modern design
Instant print-out
5 different shooting mode
Inbuilt flash, automatic exposure
21.
Cecotec Compact Relax Massage Chair with Heat Function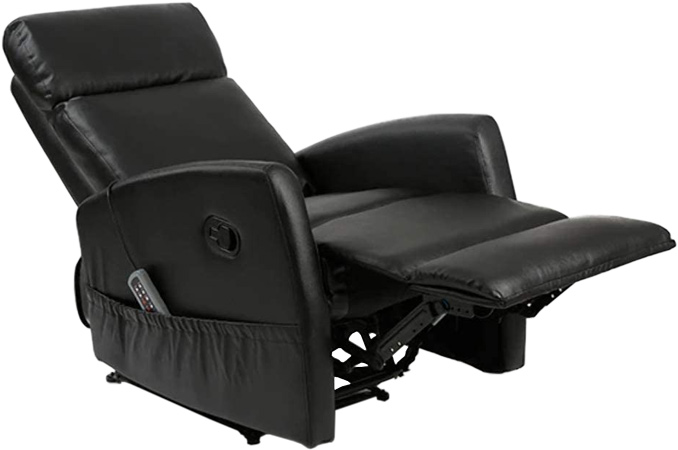 Why we like it: Give the gift of massage and relaxation with this comfortable and indulgent armchair.
Many dads have a chair in the lounge that's designated as theirs, and as a result, many of us have memories of our own dads sitting in "Dad's chair" so, if the dad you're looking to buy a gift for doesn't have a chair of his own yet, or might be looking for an upgrade this could be a really special gift. The Cecotec Compact Relax Massage Chair with Heat function does exactly what it says; offers relaxation, massage and heat.
Lifting, carrying and rocking a new baby can be hard work and many parents develop sore and stiff muscles in the shoulders and back as a result of caring for their little one. This chair uses 8 vibration motors, a heat function and 5 different massage styles to melt away any stress, tension or soreness. The compact, minimalist design makes the chair easy to place in any room, and there's even a special pocket included for dad's newspapers, books and, of course, the TV remote!
Pros
8 vibration motors
5 different massage styles
Heat function
Soothes sore muscles
Compact, minimalist design
Cons
Must be plugged in to mains
22.
Tommee Tippee Baby Food Steam Blender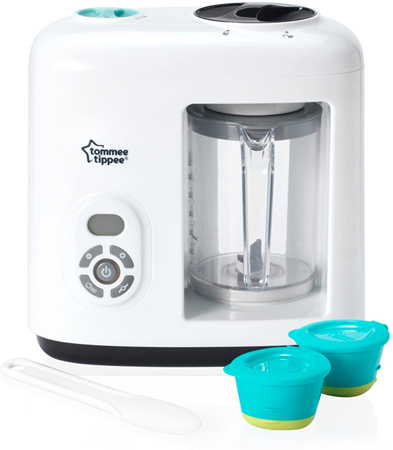 Why we like it: Preserve nutrients and save money by making your own baby food with this steamer and blender combo.
6 months rolls around fast and before you know it, it's time for a baby to start solids. Many dads relish this stage as they can help a bit more with feeding and it's great fun seeing baby's face as they try different food for the first time. If parents decide to use pureed food for weaning then buying specialized baby food from the supermarket can add up really fast, and whilst there are now plenty of nutritious options available to buy readymade, some parents like the reassurance of knowing exactly what's in their baby's meal and how it was made.
The Tommee Tippee Baby Food Steam Blender allows parents to overcome this by making their own baby food in a range of textures. Since the machine steams first and then blends nothing is lost or wasted meaning that the food retains more nutrients. There are only a few different parts making clean-up as quick and easy as cooking, with an automatic timer you can just set and leave this machine basically doing it all for you!
Pros
Cheaper than buying readymade baby food
Parents will know the exact ingredients of their baby's food
More nutritious as cooking water is retained
Range of texture options
Fewer parts for quicker cleanup
Cons
Parents may decide not to use puree
23.
Crock-Pot Lift and Serve Digital Slow Cooker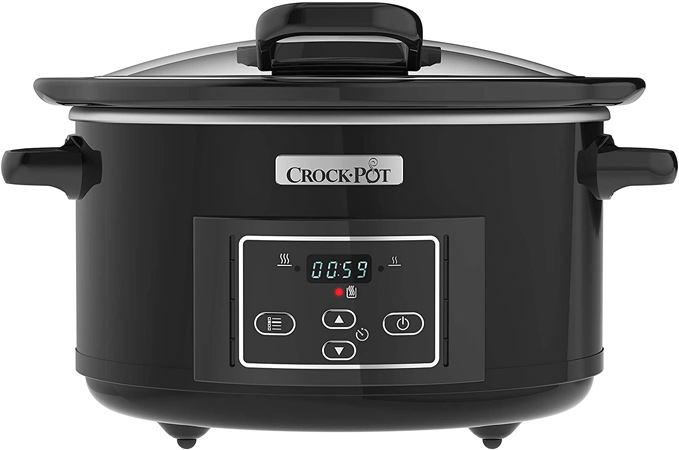 Why we like it: The ultimate in convenience this slow cooker can be programmed to cook for up to 20 hours and keeps food warm until it's served.
We've touched on food and its importance several times in this list, but new parents who are pressed for time often struggle to get a decent, nutritious meal on the table so anything that makes that easier is a great buy. A slow cooker is ideal because it allows parents to create a range of dishes simply by throwing ingredients in and switching it on in the morning, so that come dinner time a hot, tasty meal is cooked and waiting for them.
The Crock-Pot Lift and Serve Digital Slow Cooker allows you to set a cooking time from 30 minutes to 20 hours and the auto keep-warm function means your dish is ready when you are. The 1.2 gallon ceramic bowl is removable so you can take it out to serve at the table, and it's oven-safe too for extra flexibility. To make life super easy for new parents both the bowl and the lid can be cleaned in the dishwasher, so there's no need to spend time scrubbing dishes whilst juggling a new baby.
Pros
Perfect for simple cooking
30 minutes to 20 hours cook time
Stay warm function
1.2 gallon ceramic bowl
Dishwasher safe parts
Cons
Need to find suitable recipes
24.
Thule RideAlong Child Bike Seat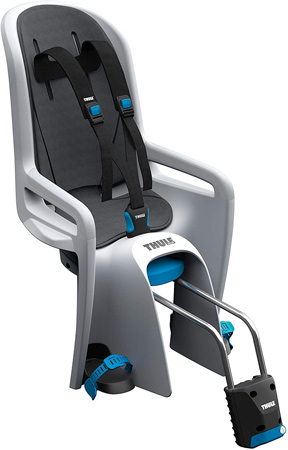 Why we like it: Perfect for active parents this bike seat gives children a smooth comfortable ride with a built-in suspension system.
If the dad you're looking to buy a gift for is into sports, biking or the outdoors then the Thule RideAlong Child Bike Seat is perfect! With a specialized child seat, it's easy for dad to take the little one out for a nice bike ride so they can spend time together, or to use the bike as a mode of transport to get to and from the shops.
This bike seat is designed to be mounted and dismounted from bikes in a matter of seconds with the universal quick-release bracket, which fits most bike frames. With safety as a number one consideration, this seat offers integrated protection wings to keep little hands safe when the bike is leaned against a wall, an adjustable 3-point harness., a DualBeam suspension system to minimize bumps in the road and a built-in reflector and safety light attachment point for added visibility.
Pros
Removable and washable padding
Five recline options
Fits most bike frames
Built-in suspension system
Designed with safety in mind
Cons
Not suitable until the baby is older
25.
Instax Link Smartphone Printer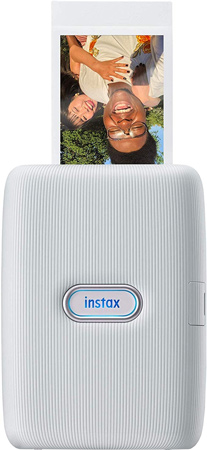 Why we like it: Get photos printed instantly instead of losing them in the cloud to preserve precious memories of a new baby.
Smartphones are great when you have a new baby, you find yourself taking almost endless photos of their angelic face, cute outfits and exciting milestones, but then many of those photos just remain digital clutter and nothing gets done with them. Instead, try a portable printer that lets you create instant prints directly from your smartphone, Facebook or Instagram account or selected Fujifilm digital cameras.
In just 12 seconds you can have a clear, high-quality print out of one of your favorite photos and use it for scrapbooking or display. The Instax Link Smartphone Printer also allows you to get creative with your pictures, creating collages, and adding text, doodles or stickers. This would make a fun and useful gift for a new dad who loves techie products.
Pros
Print direct from smartphone or selected FujiFilm cameras
Print from Facebook or Instagram
12-second print-out
Can add text, doodles or stickers
Can create collages
26.
Royal Rascals Car Seat Protectors for Child Seats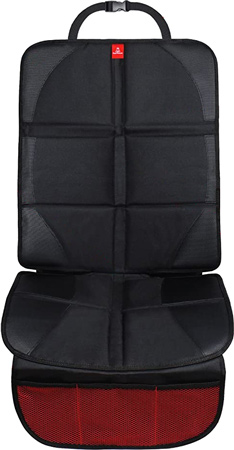 Why we like it: Keep mucky feet off your car seats to minimize cleaning and maintain the car's value.
Rear-facing car seats offer the best protection for babies, toddlers and young children and with an increasing amount of extended rear-facing car seats available on the market, it's easier than ever to keep your precious little one safer for longer. Some parents worry about where 2, 3 or 4-year-olds (or 5/6/7-year-olds for that matter!) will put their legs, but most children are happy to simply tuck their knees up, cross their legs or rest them on the seatback. That's where this product comes in!
From the UK's leading travel accessory brand, the Royal Rascals Car Seat Protectors for Child Seats are safe to use with a car seat fitted, so long as it does not alter the fit of the seat and can be used with Isofix car seats too. Using a simple buckle closure, it can be attached to a headrest to cover the seat and the seatback of most cars. The water and stain-proof material keeps muddy feet and any spills off of the car's upholstery helping to retain the car's value, the company offers a money-back guarantee if the product doesn't suit your needs too, so you can buy this useful gift with confidence.
Pros
UK's leading travel accessory brand
Safe to use with car seats
Attaches to headrest
Water and stain proof material
Money-back guarantee
27.
Tile Pro Bluetooth Item Finder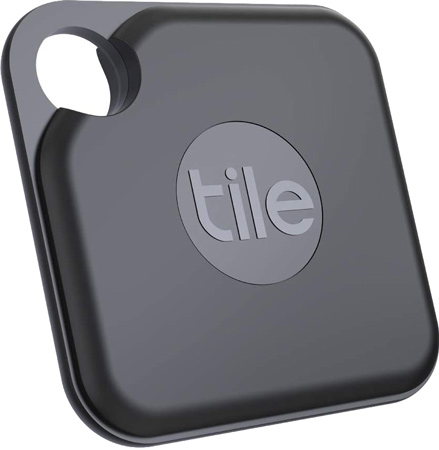 Why we like it: With the Tile Pro you never need to lose your stuff again! Using the app you can make it ring so that you can track down your item or see its last known location.
Parenting comes with a lot of accessories and some days just trying to get out the door seems like mission impossible! Between diapers, bottles, spare outfits, blankets, car seats and strollers it seems like there's no time or space for your own belongings! Many parents find themselves more absent-minded than usual (this is normal! Their brains are filled with all the baby-related tasks!) so the Tile Pro Bluetooth Item Finder makes a great useful gift for a new dad.
Using this high-performance finder, you can use an app to find your keys, bag, wallet and more. Simply attach the Tile to your item and link it with the app. You can then use your app to get the tile to sound a ring when you are within 400 feet of it, and simply follow the noise until you find your item! If you are more than 400 feet away and think you might have left your item elsewhere you can view the Tile's last known location and use the app to get others to help find it.
Pros
Find your keys, bag, wallet, etc
Bluetooth technology
Sounds a ringing noise to help find item
View GPS location if out of Bluetooth range
Tile Network of users help to find lost items
Cons
Compatible device required for the app
28.
Finedine 40-Piece Airtight Food Containers With Lids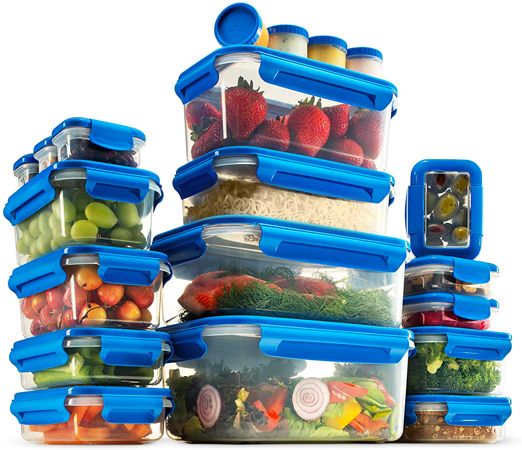 Why we like it: Perfect for leftovers, meal prep and batch cooking this huge 40-piece set is ideal for new parents.
The Finedine 40-piece Airtight Food Containers With Lids set is ideal for new parents, with 20 containers and lids in an assortment of different shapes and sizes this set includes everything they will need for batch cooking, meal prep and storing leftovers. In the early days, having quick, healthy and nutritious food easily to hand is vital for new parents!
The 4 snap airtight locking lids paired with silicone gaskets keep food fresh, extend shelf-life, and are 100% leak-proof to prevent any extra mess and cleaning. The safe, durable and FDA-approved polypropylene is microwave-safe, dishwasher-safe and freezer-safe making these containers incredibly easy and practical to use.
Pros
20 containers with lids
Variety of shapes and sizes
100% leak proof
Keeps food fresh
Dishwasher, microwave and freezer safe
Cons
Made of plastic; less eco-friendly
29.
JetKids by Stokke BedBox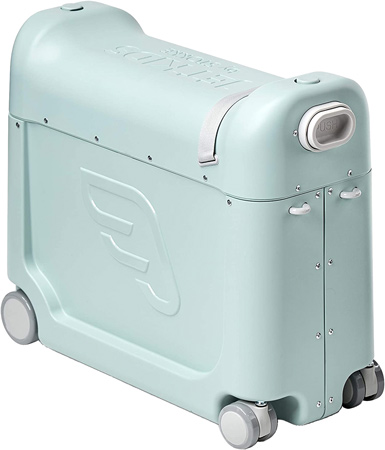 Why we like it: Kids fly first class with the JetKids Bed Box which transforms a regular airline seat into a bed.
We might not be traveling much right now, but hopefully it won't be too much longer until jet-setting families can resume their travels. The JetKids by Stokke BedBox is the ideal gift for a new dad who loves holidays and traveling. It is a functional ride-on case making navigating the airport a breeze, even with a little one in tow.
Once onboard the plane, five simple steps make the case transform a regular airline seat into a bed for children. This allows children to rest comfortably and hopefully sleep during both long and short-haul flights. The hard-shell case is robust enough to stand up to a lifetime of travel and a sticker sheet is provided so that a child can decorate their own box!
Pros
Perfect for travel fans
Ride on case
5 steps makes regular seat into a bed
Helps child sleep on flight
Stickers included
Cons
Not accepted by all airlines
30.
Zelite Infinity Chef Knife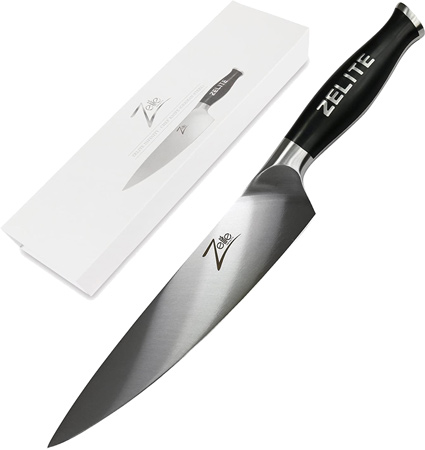 Why we like it: Made with high-quality stainless steel this knife is razor-sharp, satisfying to use and visually beautiful.
If the new dad you're looking to buy a gift for is a bit of a foodie, into his cooking or is likely to be taking on a lot more of the cooking duties following the new arrival, then why not encourage him with his very own Chef's knife? Good quality tools certainly make the job a lot easier and more enjoyable and the Zelite Infinity Chef Knife is a premier chef's knife.
This multi-purpose, french-style knife is ideal for Chopping, slicing, dicing and mincing all fruits, vegetables, meats, and fish. Made with high-quality stainless steel this knife is designed to stay sharp and last for years to come with very low maintenance. The ergonomic handle makes the knife safe, easy and comfortable to hold and it even comes in premium packaging so it's just perfect for gifting.
Pros
Premier chef's knife
Multi-purpose knife
High-quality stainless steel
Ergonomic handle
Money-back guarantee
Final words
So, there we have 30 of the best gifts for new dads in 2023; some are gifts just for dad himself whilst others will be more beneficial to the baby or useful for the whole family. When you're considering what to buy for a new dad, think about his interests and personality as well as what he will need once the baby arrives.
We hope that this list has helped to give you a few ideas of a suitable gift to mark the transition into fatherhood, make a new dad feel appreciated and get family life off to a good start by making some elements of it a little easier!