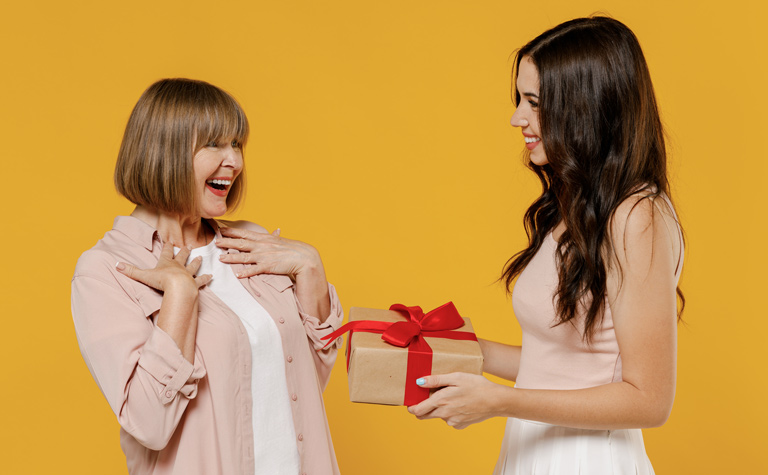 Finding the perfect gift for your mother-in-law can be challenging, and you can be left wondering where on earth to start your search. Fortunately, we have a range of items and gifts ideas that are guaranteed to delight and help you to show that you truly appreciate her. Choose from charming personalized keepsakes that can be kept and displayed, or fragrant toiletries to preen and pamper. No matter what you select there will be a gift that is perfectly suited to your mother-by-marriage.
1.
Family Tree Picture Stand
Make a heartfelt and sentimental gift for your mother-in-law that she can display and admire. This modern bronze tree can be adjusted to display special photos perfectly. It includes six wallet size photo frames that can be used to hold different pictures of family members, with each frame suspended by a soft green velour ribbon. Can be used as an ornament or as a centerpiece for family celebrations and will make a perfect gift from a son or daughter to their mother-in-law.
2.
Luxury Wicker Basket Gift Set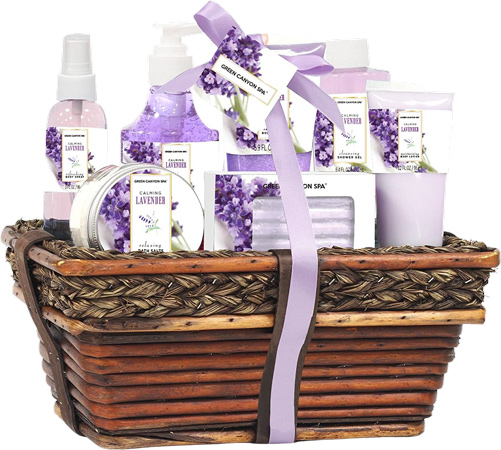 Give your mother-in-law the ultimate pampering gift with this luxury bath and body spa gift set from Green Canyon. Packed with lavender-scented toiletry items including aromatherapy oil, body scrub, and bath salts. This delightful gift set includes everything needed for an at-home spa experience. Help to calm the mind, ease anxiety, and promote overall well-being with this beautifully presented and handcrafted wicker basket. The perfect gift for any birthday or mother's day occasion.
3.
Ladies Hooded Cape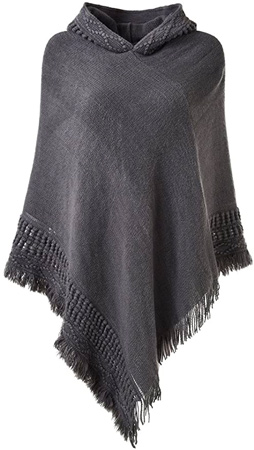 This super stylish modern fringed poncho from Ferand will be a chic and elegant gift for your mother-in-law. The cape is made from 100% acrylic and can be worn over any outfit to provide warmth on colder days. Created by professional designers using soft, quality fabric, this cape features a hood made from the same soft material to offer protection from the sun or wind. The poncho comes in a range of eye-catching and flattering colors, pick your mother-in-law's favorite and make a gift that she can use over and over again.
4.
Initial Canvas Tote Bag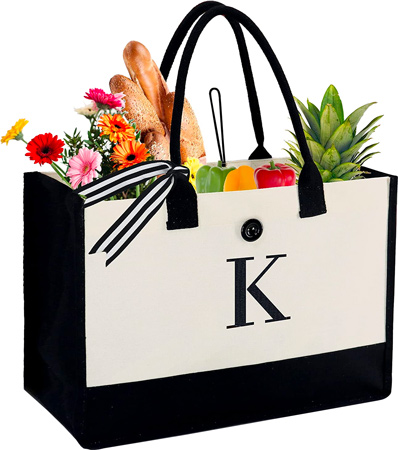 Make days out shopping or trips to the beach a breeze with this durable and sturdy canvas bag canvas tote bag. Features an inner zipper pouch to keep money or personal items safe, and the tote has an outer button closure. Make it a thoughtful and personal gift by adding your mother-in-law's initial in a bold, high-thread density monogram for a simple and elegant touch. The large capacity bag can be used to carry clothes, accessories, or documents and the reinforced handles are strong enough to last for repeated trips out.
5.
Deep Tissue Massager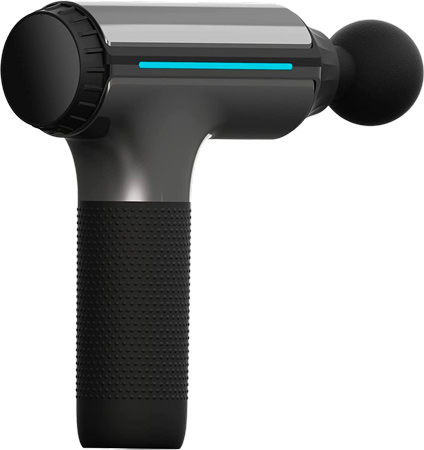 If you know that your mother-in-law suffers from aches and pains then help her soothe sore muscles with this deep tissue massager. This high technology, hand-held massager can be used at the home, office, or while traveling. Easy charging provides up to six hours of use, and with 20 adjustable speeds and six attachments, aching muscles will be a thing of the past. With a comfortable and anti-slip handle the massager can be perfectly positioned to hit key pain points to provide relief and reduce tension.
6.
Women's Performance Athletic Socks
Keep blisters at bay with these performance athletic socks with built-in arch support and heel tab. These brightly designed and hard-wearing socks will make an ideal gift for mothers-in-law who regularly jog or go to yoga. Soft cushioning in high-impact areas reduces stress on the feet, and the comfortable toe seam reduces irritation. The socks are designed using air vent technology for advanced breathability. Choose from 16 or 8 pair packs, and select from a huge range of color options.
7.
Premium Crystal Watch and Bracelet Set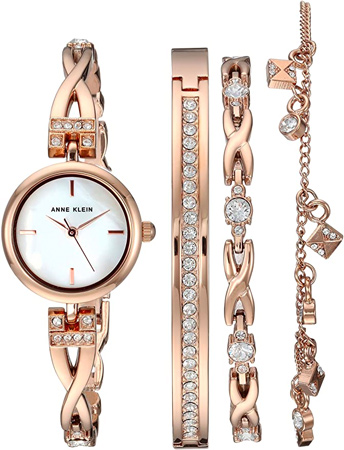 Jewelry always makes a popular gift so why not surprise your mother-in-law with this gorgeous watch and bracelet set from Anne Klein? Features crystal accented bracelets with rose-tone watch hands and markers. The watch and three matching bracelets are designed to complement each other and can be worn together or individually as a beautiful accent piece for any outfit. With a mineral lens and quartz movement, the stunning designer watch will precisely tell the time and is water-resistant to 30 meters, so no need to worry about accidental splashes. The entire set comes boxed in a lovely cream presentation case.
8.
Cozy Clog Slippers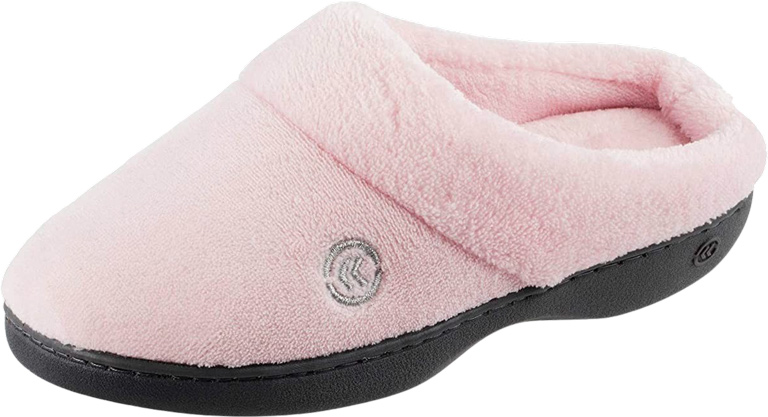 Made from soft plush micro terry material, these indoor/outdoor slippers will provide maximum warmth and comfort. Constructed with a durable sole and arch support, these slip-on mule-style slippers will provide relief to aching or tired feet. A cushioned memory foam insole absorbs impact to direct pressure away from the sole. Perfect for women of all ages, these versatile slippers are machine washable and the plush terry material will fluff up like new every time. Choose from a range of colors and make the ideal gift for when your mother-in-law wants to curl up on the couch with a book and keep her feet warm and toasty.
9.
Plant Terrarium with Wooden Stand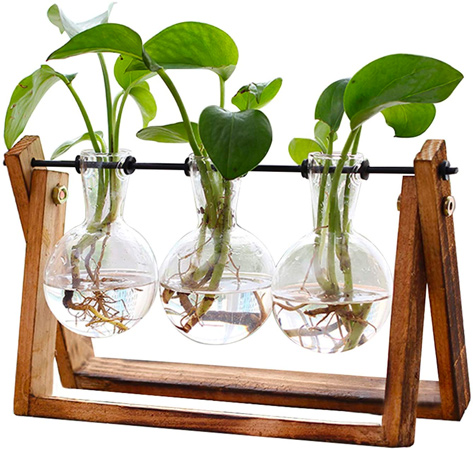 This fantastic terrarium will make an excellent gift for a mother-in-law that enjoys gardening. Three suspended glass bulbs can be used to hold small plants or for growing hydroponics. With the perfect blend of vintage and modern the wooden frame and glass bulbs make a naturally appealing combination. The high boron silicon heat-resistant glass will not be easily broken and the bulbs can be filled with pebbles, soil, or colored liquid to add interest. Fantastic for floral arrangements and home decoration.
10.
Hummingbird Wind Chime

Give mum-in-law an eye-catching present that can be hung in the garden or from the front porch. This colorful and magical wind chime uses solar power to generate sound and movement, and the hanging hummingbirds will glow in a range of changing colors. The six tiny birds are rain-proof and moisture-proof and the entire item is lightweight enough to be hung anywhere. The windchime will look fabulous in the garden but can be used indoors to create a peaceful ambiance in the home. Comes with a user manual and a convenient hanging hook.
11.
Energizing Spa Gift Basket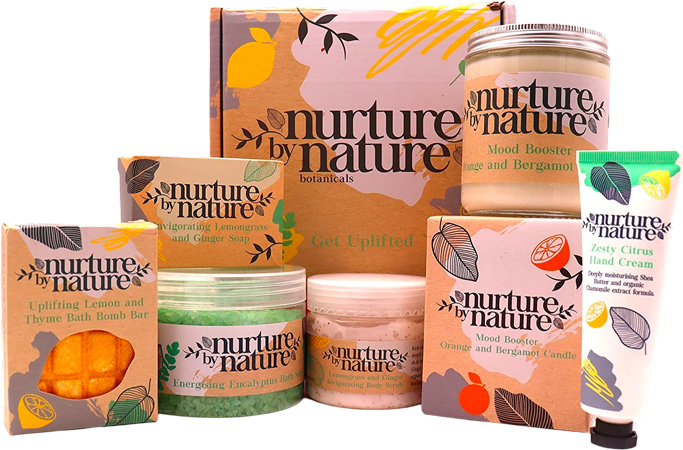 Help your mother-in-law feel invigorated and energized with this gift basket from Nurture by Nature filled to the brim with essential oils and botanicals. Includes scented bath bombs, aromatherapy soap, and fragrant candles. Products are made from uplifting scents like zesty citrus, eucalyptus, and ginger to give a mood-boosting home-spa pampering session. From hand lotion to body scrubs, all included items have been developed with active natural and organic ingredients, and this delightful basket will make your mother-in-law feel extra special.
12.
Forever Rose in Glass Dome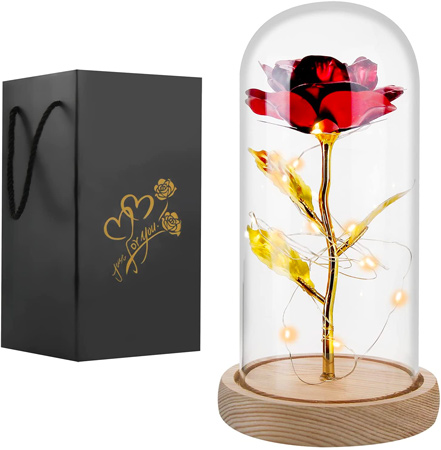 This stunning ornate rose will make a fantastic keepsake gift for any mother-in-law. The delicate rose is strung with twinkling LED lights and features a golden-colored stem and leaves. Mounted on a solid wooden base the entire rose is protected by a clear glass dome and will make a charming present for Mother's Day, a birthday, or Christmas. The ensemble comes packaged in a premium quality gift box and includes a gift card that can be personalized with your own special message.
13.
Microfiber and Sherpa Wearable Blanket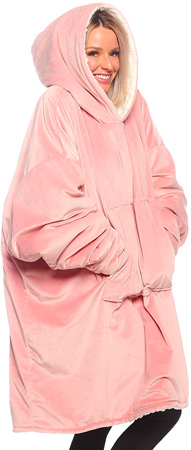 Never be cold again with this super warm and toasty wearable blanket! Make from luxury material with an extremely soft finish this comfortable and giant-sized blanket will keep the cold out and the heat in. Constructed using double-layer microfiber and lined with sherpa, wearing this garment is like being hugged by a cloud! Fun and functional, and available in a huge range of colors, the Comfy Original is big enough to keep you warm and cozy when playing games, watching TV, or attending an outdoor event. Makes a useful and practical gift with an element of fun.
14.
Bamboo Cheese Board Set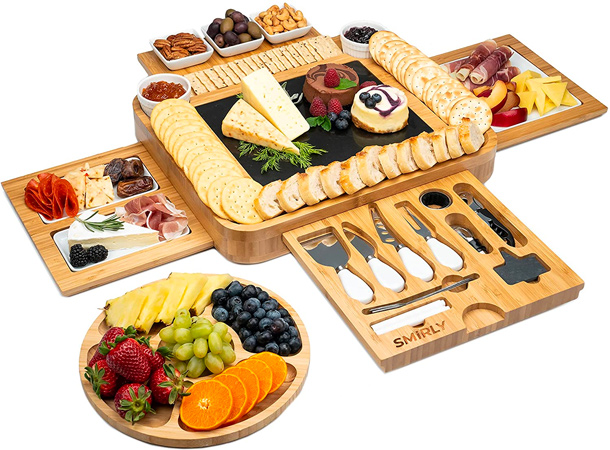 Impress party guests with this cheese board and charcuterie set. Complete with slide-out trays that contain cheese knives and accessories, this will make a super present for anyone who likes to entertain. If your mother-in-law likes to serve food and enjoys company this bamboo board will be the ideal kitchen accessory. Can be used to present and display cheese and crackers, meats, or snacks and dips. Great for parties and family gatherings, this board is earth-friendly and renewable. It is also easy to clean and durable; it won't bend warp or crack and doesn't stain or absorb odors.
15.
Desk Coffee Warmer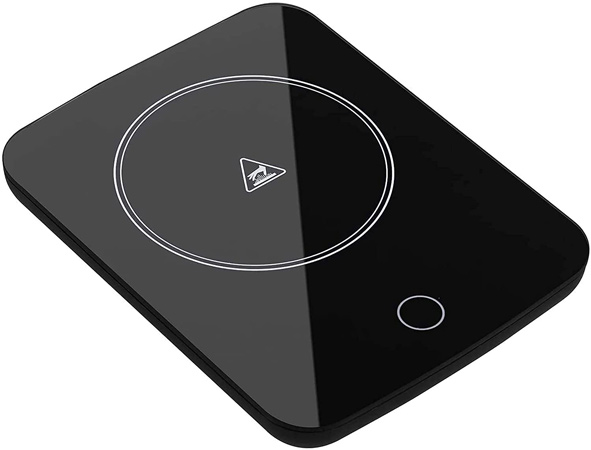 For the mother-in-law who has everything this handy and versatile desk coffee warmer will make a unique gift idea. The flat and discreet plate can hold any kind of coffee cup and will keep beverages warm all day. It will stop coffee cooling down, but can also heat up liquids including tea, water, and milk. Plugs into a normal household outlet and can be used at home or the office to keep drinks fresh and hot. No more leaving your coffee until it goes cold. Keep drinks at optimum temperature and remain caffeinated all day long.
16.
Set of Four Copper Mugs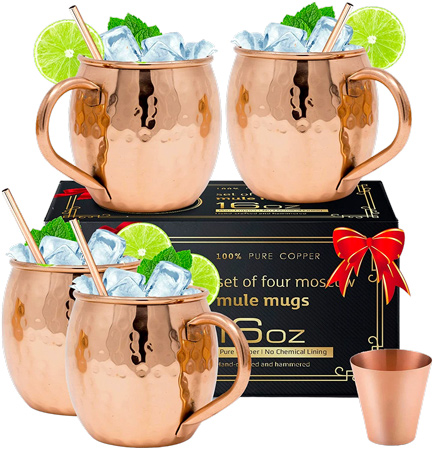 Make the perfect Moscow Mule with this drinks set. These shining hammered copper mugs are the exact shape needed to make the popular cocktail and the set comes with copper straws and a mini copper shot glass. If your mother-in-law enjoys a cocktail this set can make a fantastic gift for a housewarming or birthday. The copper mugs are made from food-grade copper and are 100% safe, each one holds up to 16 fluid ounces. The entire set of mugs and accessories comes in a delightful presentation box.
17.
Indoor Tabletop Fountain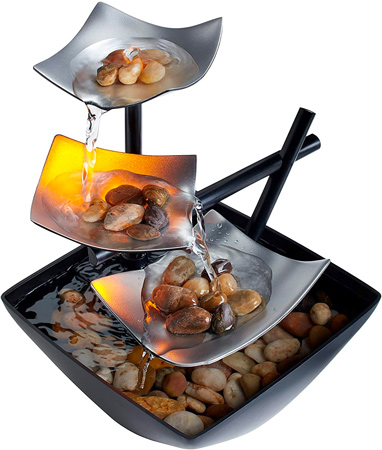 Promote peace and relaxation with this three-tier indoor water fountain. Add a zen feel to any room as the sparkling water gently cascades over river rocks and contrasting silver levels. This Asian-inspired water fountain will bring a calm and gentle feeling as it replicates the sounds of a peaceful spring. Soft lighting completes the effect and this fountain can be used as an ornament or to facilitate yoga or meditation. The delicate sounds and low-level lighting make this ideal as a sleep aid and night light.
18.
Maison d'Hermine Fine Bone China Mug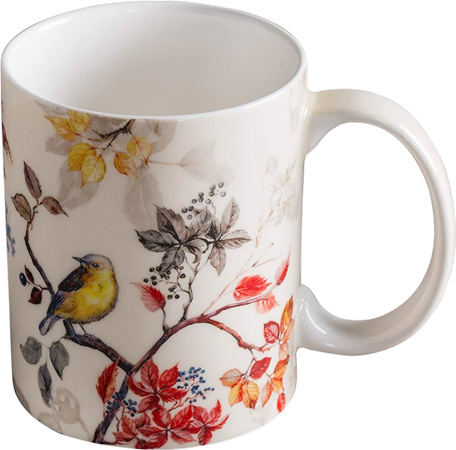 Make coffee time even more enjoyable with this fine bone china mug. Ideal for any hot beverage like tea, coffee, or cocoa, and decorated with an exquisite watercolor bird design. The stunning artwork captures highly detailed colors and textures and this item will make an elegant mother-in-law gift. The fine bone china mug is strong enough to be cleaned in the dishwasher and features a solid easy-grip handle. As part of the Maison d'Hermine range, there are matching items and table linens that can be purchased to complement the mug and make a complete gift set.
19.
Chakra Crystals and Healing Stones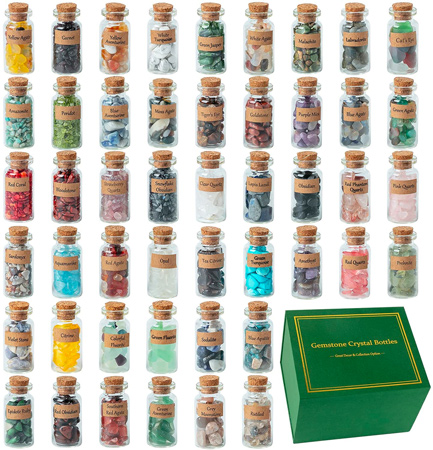 If your mother-in-law is in to alternative or complementary therapies then she will love this Chakra Crystal Healing Set. Includes crystals and stones that are neatly contained in 48 separate bottles for easy storage. Great for meditation, alternative healing, and chakra balancing, the stones include agate, red obsidian, opal, and many others. The colorful stones may also be used for decoration or jewelry making, or simply kept as a collection. Each small bottle is hand-filled and labeled and the set comes in a sturdy storage box for safe-keeping.
20.
Countertop Pizza Maker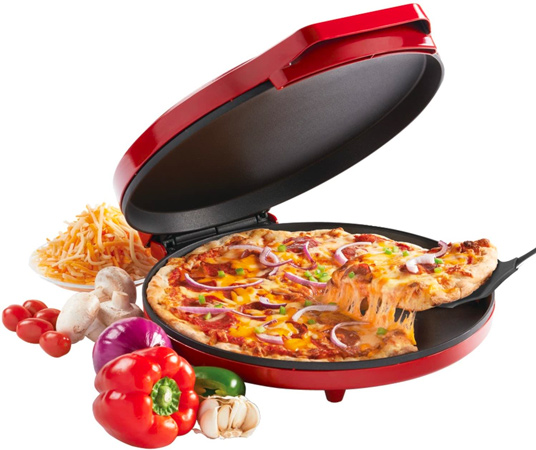 Time for a pizza party! Make delicious homemade pizza with this versatile electric countertop appliance. Create 12-inch pizzas in just a few minutes with any number of toppings from pepperoni to barbecue chicken and more. It will be great for family get-togethers or parties, and it's not just limited to pizza either! This versatile food maker can be used to cook pancakes, quesadillas, quiche, or nachos. The possibilities are endless. Easy to clean and non-stick, the pizza maker is completely dishwasher safe.
21.
Electric Wine Opener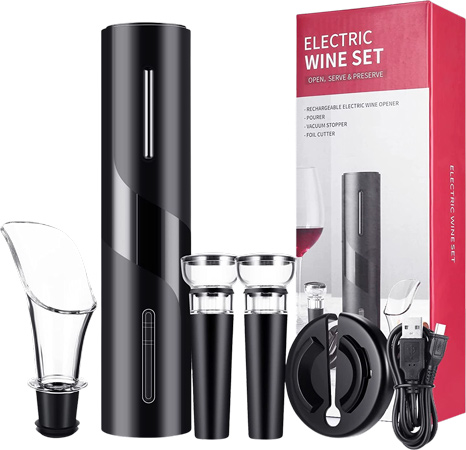 Share a bottle of wine with your mother-in-law and open the bottle with ease using this electric wine opening set. The rechargeable corkscrew makes bottle opening effortless, and a foil cutter and drinks pourer completes the set. Ideal for large gatherings or garden parties the electric wine opener can uncork 40 – 50 bottles continuously. Includes a pouring funnel for spill-free distribution and the wine opening set is portable enough to take anywhere. Use it while camping, traveling, or when attending music festivals for convenient uncorking and pouring.
22.
Robot Vacuum Cleaner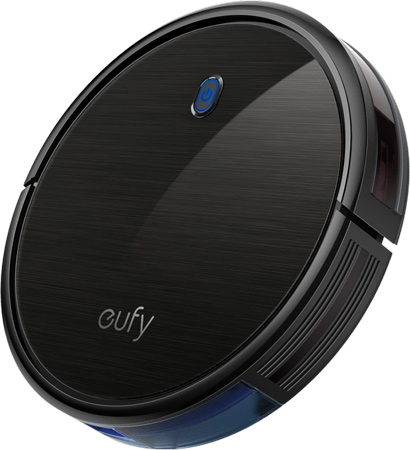 Give your mother-in-law a welcome break from the cleaning by having it done for her. Take all the stress out of vacuuming with this handy remote control robot vacuum cleaner. This robot vacuum has been re-engineered to be as slim and unobtrusive as possible and will clean everything from hard floors to deep pile carpet. The quiet operation and powerful suction will easily keep floors clean and tidy, and the automatically recharging vacuum can operate for up to 100 minutes on a single charge. It will do all the work while you put your feet up!
23.
Flameless LED Candles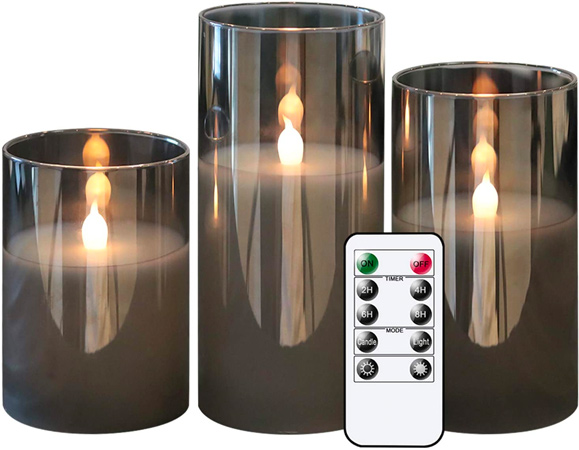 Candles always make a fantastic home gift so give your mother-in-law a set that will last forever. These real wax flameless candles are battery-operated and flameless with remote control and time. Choose from different durations and modes to create a steady or flickering flame effect. The pillar candles are housed in a stylish grey glass container and will look fabulous with any type of home decor. With no open flame, the candles are completely safe to leave unattended or use around children. Each unit is rigorously tested and will look completely realistic.
24.
Wall Mounted Wine Rack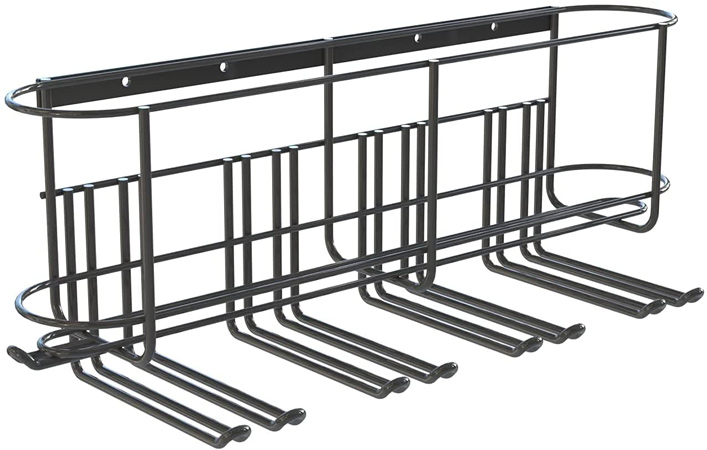 Keep bottles of sparkling white or fruity red stored safely with this wall-mounted wine rack. This modern piece of home decor will look fantastic in the kitchen or dining room and the floating effect of the shelf makes a fun and practical way to store bottles. With a timeless design and easy-to-mount installation, this wine rack will make an ideal mother-in-law gift. Up to six individual bottles can be stored on the shelf and glass holders are included below for convenient wine glass storage.
25.
Diamond Accent Knot Pendant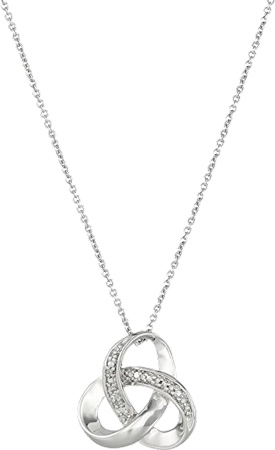 Make her day with this gorgeous Diamond Accent Knot Pendant. The delicately intertwined knot is highlighted with dazzling diamonds to make a stunning piece that can be worn with any dress or outfit. Includes an 18-inch matching chain and is elegant enough for formal occasions, but simple enough for everyday wear this stunning pendant will make a great addition to any jewelry collection. Comes in a premium presentation box to make a special and heartfelt gift that any mother-in-law will be thrilled to receive from her daughter or son-in-law.