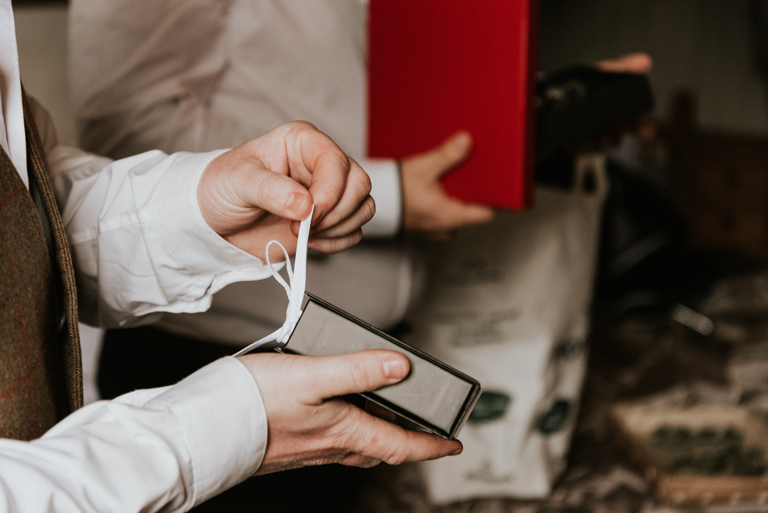 You're getting married! It's going to be the most important day of your life so far and without hesitation, you chose the most loyal, dependable and greatest guys you know to stand by your side on the big day. While choosing your groomsmen might have been a no-brainer, choosing the perfect gift to commemorate the day may not be coming so easily.
That's why we've put together this list of 18 fantastic gifts for your amazing groomsmen so you can surprise your favorite guys with something they'll actually love. Don't get them a gift card or something that will end up shoved at the back of a closet, looking at you, matching groomsmen tracksuits. Instead, get them something they'll value forever and use on a regular basis. Give them any one of these gifts to show them you know that when it comes to friends, you've won the jackpot.
1.
Leather Cable Organizer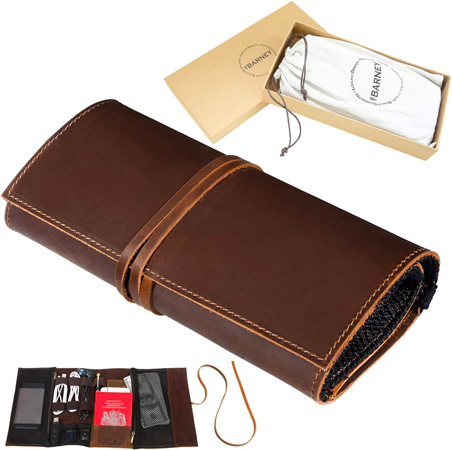 If you're looking for a thoughtful and practical gift for your groomsmen, this leather cable organizer is a perfect choice. Crafted from high-quality leather, this organizer is not only durable but also stylish, making it a must-have accessory for any tech-savvy friend. Fea
turing multiple compartments of various sizes, this organizer can accommodate all your groomsmen's gadgets, including cables, chargers, earphones, power banks, and more. It also has a dedicated passport holder and card slots, making it a convenient travel accessory, perfect if you're having a destination wedding. The premium gift box and branded dust bag make this gift look as luxurious as it feels.
2.
Luxury Shaving Kit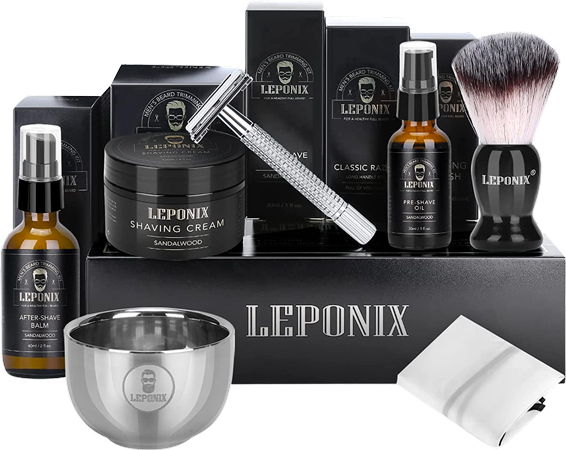 Make sure all your groomsmen are looking their best on your wedding day, and every day after, with this classy gift. Whether your favorite men have beards they want to keep in optimal shape or need to touch up a five-clock shadow, this kit has everything they'll need.
It includes a high-quality stainless steel razor that features a butterfly opening for easy blade changes, 10 replacement blades, a shaving brush, a shaving bowl, sandalwood shaving cream and shaving oils to make sure your buddies get the closest shave possible. The set even comes with a vegan leather carrying pouch to store it away or toss it in a travel bag for your next boy's trip together.
3.
Classy Oxford Shoes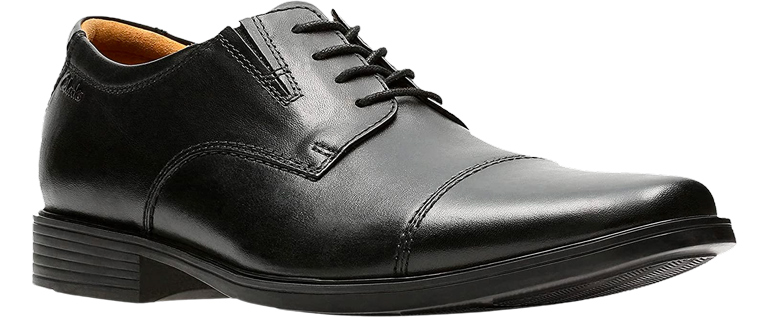 These sophisticated dress shoes will take your groomsmen's style up a notch on your special day, while also being a practical gift that they can wear again for work or dressy occasions. They're made from high-quality leather and feature a thermoplastic elastomer sole that will provide long-wearing comfort that will last from your vows to the dance floor.
The classic square cap toe makes these shoes a timeless option that will look equally great with a tuxedo as they will with a pair of business casual slacks. This gift is going to have your groomsmen feeling like a million bucks, no matter what their personal style is.
4.
Leather House Slippers

Give your groomsmen something comfortable to slip into after a night of partying at your reception with this great gift. These slippers by Ugg are made of genuine leather and lined with soft wool, providing the ultimate cozy relief for tired feet. They also feature a durable rubber outsole, making them suitable for outdoor use around the garden or for running out to the mailbox.
The classic loafer design means they'll never go out of style and the durable construction makes this gift one that will get daily use out of for years to come. Their happy feet will thank you.
5.
Leather Dress Belt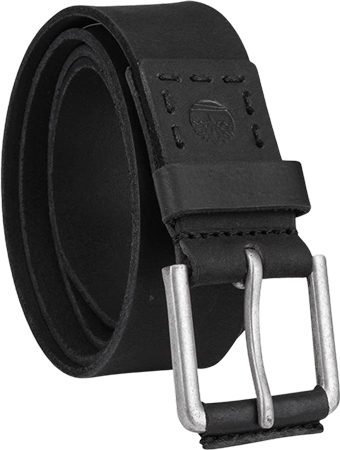 Here's a gift that your wedding party is going to appreciate all year long. This sleek and fashionable belt is made from genuine leather that will break in and look better with time. The versatile design makes it suitable to wear on your special day or dressed down with a pair of designer jeans.
It comes in an assortment of timeless shades, including a hard-to-find navy option. From your big day to their big business meeting, this gift is the perfect accessory to keep your friend looking stylish.
6.
Leather Cashmere Gloves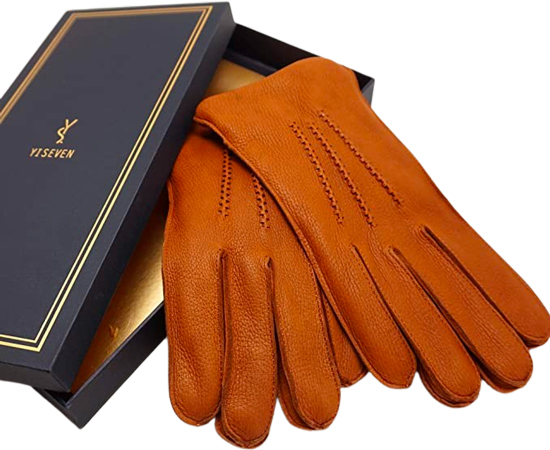 This luxury gift idea is the type of splurge your groomsmen probably wouldn't make themselves but they'll be happy you did. These chic leather gloves are the ultimate statement in classic and sophisticated style. Whether you're having a winter wedding or just live somewhere cold, these gloves are going to be a staple in their winter wardrobe.
They're made from deerskin leather, said to be one of the softest leathers on the market, and lined with 100% genuine cashmere. They're available in multiple classic colors, like camel, cognac, brown and black. This gift will impress your groomsmen and show them just how thankful you are to have them in your life.
7.
Cashmere Dress Scarf
If your groomsmen appreciate luxury in all their fashion accessories, this scarf is going to be a welcomed addition to their closet. Cashmere anything is always a gift-worthy idea but this scarf really takes it to the next level. It's made of the highest-grade cashmere and features a thick, two-ply design.
It will not only keep your friends warm in cooler months but can also be used as a stylish accent to casual outfits all year round. Cashmere is a highly breathable material and is known to help regulate body temperature so this suave scarf is going to keep all of your groomsmen on trend, no matter what month it is.
8.
Leather Weekend Bag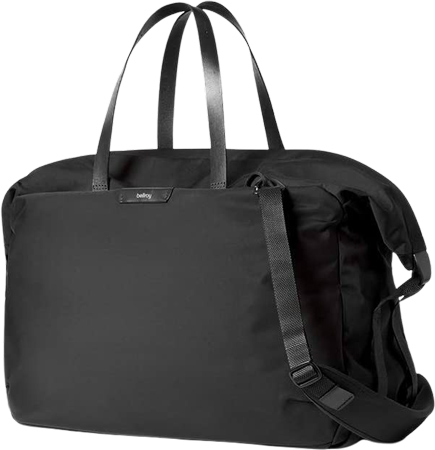 If you're having a destination wedding or your groomsmen just like to travel, this weekend bag is going to be a gift they'll be delighted to receive from you. This isn't your average weekend bag. The sleek, minimalist design and attention to detail make it a standout accessory.
Made with premium leather and rugged, water-resistant fabric, this 45-liter bag is perfect for carrying everything they need for a weekend away or for a stylish gym bag that will have heads turning. Your groomsmen will appreciate the quality craftsmanship and functionality of this top-notch bag.
9.
Designer Wallet Set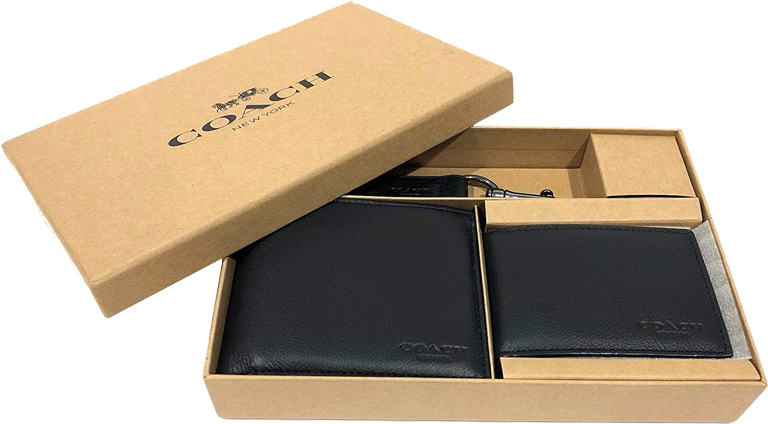 This groomsmen gift is exactly the type of gift you're looking for if you want to give them something super luxurious without breaking the bank. This wallet set by Coach comes with not just one, but two genuine leather wallets and a matching fob keychain. The wallets are perfect for switching between days when they want to be minimal or days when they need to carry all their extra membership cards or business cards.
The classy design features smooth black leather with a single embossed Coach logo in the corner. The set comes in a branded gift box so it's ready to wrap and gift to your best buds on your special day.
10.
Classic Minimalist Watch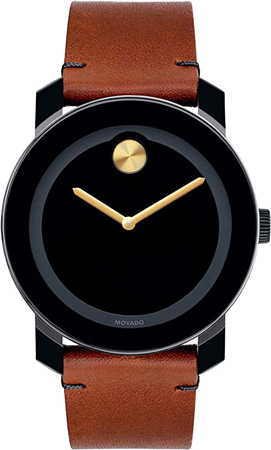 Looking for a gift that will truly impress your groomsmen at your wedding? This timepiece by Movado is the epitome of elegance, with a sleek stainless steel case, comfortable leather strap, and a minimalist black dial with the signature Movado dot.
Powered by Swiss quartz movement, it's incredibly accurate and reliable, with a battery life that lasts for years. It's also water-resistant up to 30 meters, making it suitable for any occasion, from formal parties to outdoor adventures. This is a keepsake gift that will always remind your groomsmen that you appreciate they stood by you, not just on your wedding day, but through all the years you've been friends.
11.
Watch Organizer Display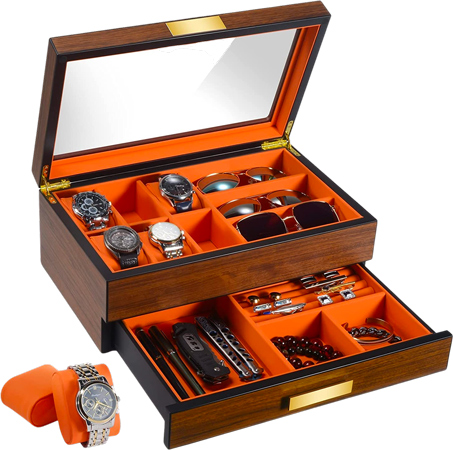 This will be a gift your groomsmen will proudly display on their dressers for the rest of their lives. Made of wood, vegan leather and scratch-resistant glass, this beautiful jewelry box is made to last. The box features a pull-out drawer as well as a hinged display top that can show off all their sunglasses and favorite watches.
The inside is lined in a velvet-like material to keep expensive jewelry and precious keepsakes free from scratches and damage. If your wedding party is made up of men that appreciate luxury, they're going to love this gift.
12.
Slim Liquor Flask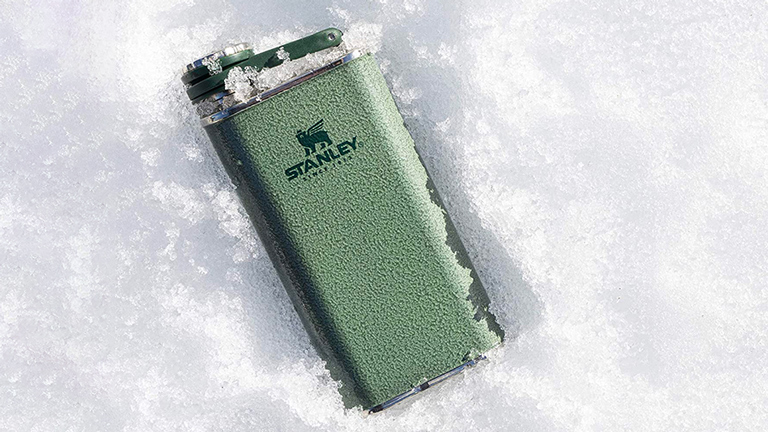 This hip flask is a classic groomsmen gift idea that never disappoints. Unlike traditional stainless steel flasks that are flimsy and can rust, this liquor flask is designed with the rugged outdoorsy man in mind. The slim design means it can easily slip into the side pocket of a backpack or even the inside pocket of a tuxedo without causing bulk.
The hinged cap prevents leaks while the thick steel construction will keep up to eight ounces of liquid courage at a constant temperature until it's time for the wedding party speeches. Fill this gift with a high-end liquor of your choice and have one final toast with all of your groomsmen as you bid (a happy) farewell to your single days.
13.
Wine Gift Box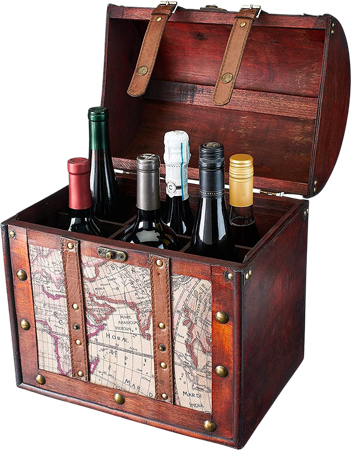 Show your appreciation to all of your groomsmen with a personalized gift box of their favorite wines. Wines are not only a classy gift idea but also one that will always get used. Though instead of gifting them in a bag, or some other uninspired way, this reusable wine storage box will up the ante on your gift-giving skills.
The box is made of wood and accented with faux leather and brass hardware details. The outside features a vintage-inspired map design that would look amazing sitting on a bar area or office shelf. Inside are wood dividers that safely store six bottles of wine that your groomsmen can enjoy whenever they have a special occasion worthy of popping a cork.
14.
Whiskey Decanter Set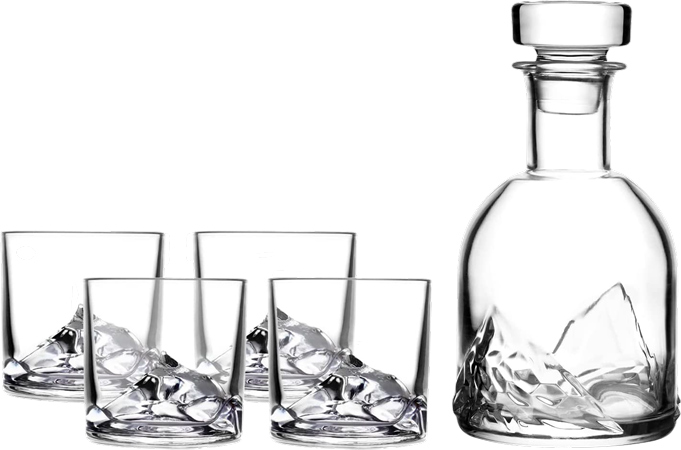 Next time your groomsmen enjoy their nightly glass of whiskey, they'll be doing it in style with this amazing gift. This whiskey decanter set is absolutely stunning. While the outside is very modern and minimalist, the inside of the decanter and four matching glasses feature a rocky mountain range made out of glass.
The set is made from high-quality crystalline glass that is not only durable but also dishwasher safe. If you're looking for something unique and useful to give your wedding party, this is a gift you're going to feel really good about.
15.
Wooden Keepsake Box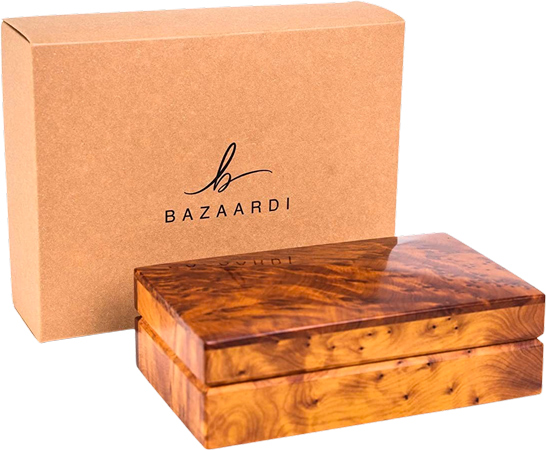 Make your groomsmen feel special on your big day with this stunning burl wood box from Bazaardi. This multipurpose keepsake box is a thoughtful and practical gift for your groomsmen, perfect for storing their cherished possessions, jewelry, or even small bar accessories.
It would also make a very classy desk accessory for holding pens or stationery items. Make this gift extra special by including a small sentimental trinket that serves as a personal reminder of why you chose them to be part of your trusted posse on your wedding day.
16.
Refillable Leather Journal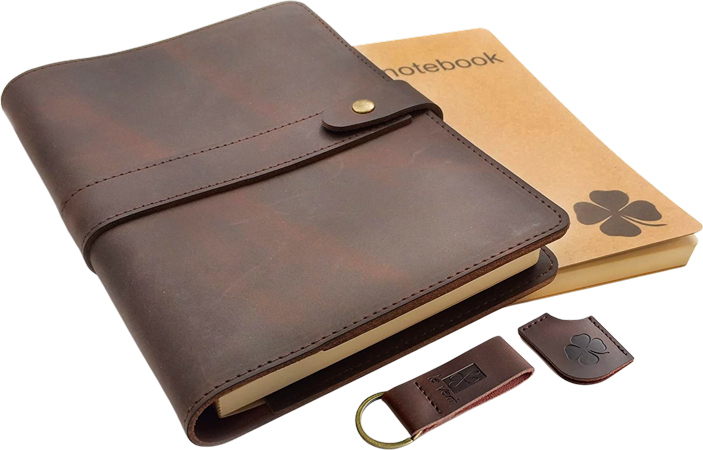 Here's a great gift idea that can serve a multitude of purposes for your groomsmen. This executive leather journal would be a perfect travel journal or daily task notebook to keep important thoughts in one place.
The soft leather cover gives it a vintage vibe while the refillable pages make it a gift that will last for years of creativity and pensive thoughts. Inscribe it with a personal thank you note that expresses how much they mean to you.
17.
Premium Steel Multitool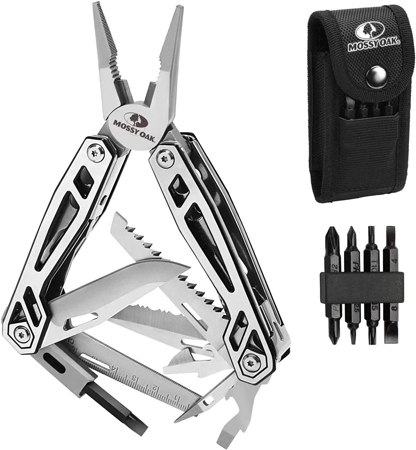 If you're looking for something useful to give your groomsmen, this multitool is a wonderful gift idea. Made of durable stainless steel with an impressively compact design, it's the ideal pocket tool to always have on hand. Equipped with a variety of useful functions including a saw, wire cutter, bottle opener, and both flathead and Phillips screwdrivers, this multitool has everything needed for small fixes and quick projects.
The self-locking feature and leather sheath ensure safe storage, making it a great addition to any toolbox, camping gear, or even everyday carry. Your groomsmen will be prepared for anything with this high-quality gift.
18.
Classic Picture Frame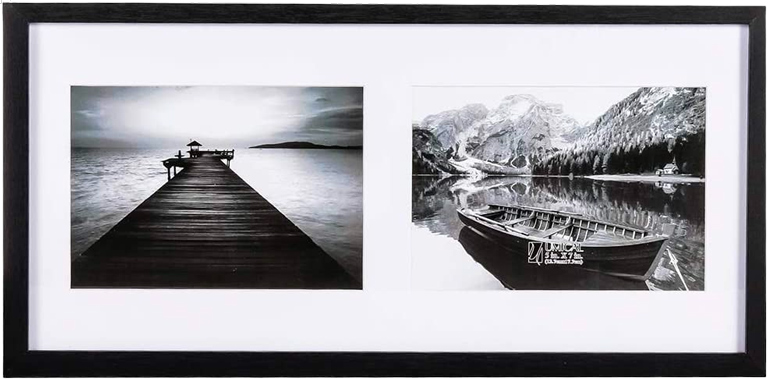 Nothing will remind your wedding party of the fantastic time you all had at your wedding more than a beautifully framed picture. This picture frame is an excellent way to preserve a special memory that they can always look back on. The frame features two side-by-side 5×7 windows that are set behind unbreakable plexiglass.
The bold black frame makes it a modern piece of decor that would seamlessly blend with any interior design style. Include a picture of the whole groomsmen group on one side and a picture of you with your individual friend on the other. A perfect reminder of your perfect day.
Need more inspiration?