It can be difficult to choose a baby shower gift with so many different products available and vying for attention! Whether you're a parent yourself or don't have your own kids yet, buying a gift for a baby shower can feel pretty overwhelming with so many options to consider.
It can be tricky to weigh up whether to buy a gift that will be useful for the baby, or something that will benefit the parents and then whether to buy something practical, sentimental or fun. Different families will have different feelings about gifts so it's important to check in with them as to what they're expecting, whether they have a registry and try to understand their priorities. For example, some moms may not want gifts for themselves and are relying on the shower for baby essentials, whilst others may be a bit fed up that everything seems to be about the baby and relish a gift for themselves. We've covered a whole range of different products in this list so there are options for babies and parents which will suit a range of different personality types too.
1.
PewinGo Footprint & Handprint Kit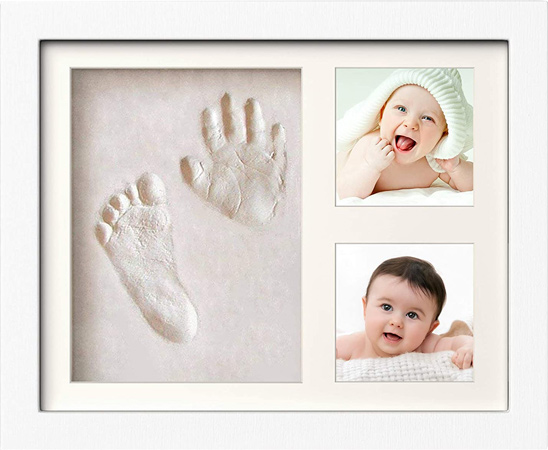 Why we like it: One for sentimental families, this kit lets you create your own keepsake.
If the family you're buying a baby shower gift for has already sorted out all of the practicalities, or are very sentimental and love the idea of trinkets and keepsakes, then the PewinGo Footprint & Handprint Kit would make the ideal gift.
Using clay, you can capture your baby's tiny fingers and tiny toes forever so that you can always remember just how cute and sweet they were! Babies grow fast and it can be difficult to remember just how small they once were, but this gift will help parents keep that memory fresh with smooth setting clay guaranteed to stand the test of time. The kit comes complete with a solid wood photo frame which can be either hung on the wall or stood up, so you can easily display your homemade keepsake.
Pros
Sentimental gift
DIY keepsake
Capture memories
Complete with frame
Frame can be hung or stood up
2.
Blooming Bath Lotus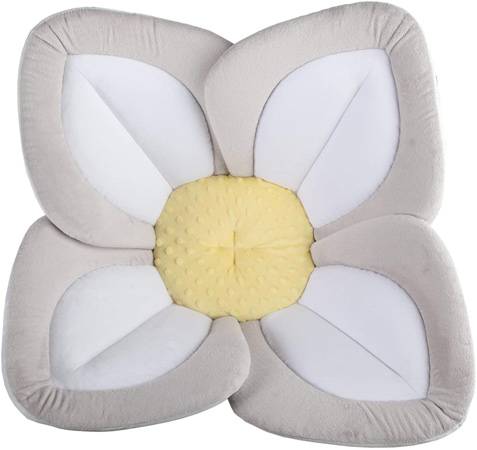 Why we like it: A soft, comfortable and versatile way to bathe the baby.
Making bath-time as simple and stress-free as possible is a gift for both parents and baby because taking care of a baby can be hard enough without any extra obstacles! The Blooming Bath Lotus is a tool that can help promote a happy, relaxed bath-time encouraging relaxation and bonding.
The blooming bath lotus allows parents to give their baby a soft, comfortable bath in most sinks meaning that there's no need to stoop, bend or kneel down, and is a lovely, cute-looking alternative to traditional plastic tubs. It's suitable for babies from birth to 6 months so you may be able to skip the baby tub altogether and go straight from the lotus to the usual tub.
Pros
Available in a range of colors
Soft and comfortable for baby
Alternative to plastic tub
Versatile
Suitable for up to 6 months
Cons
Takes a while to dry out after use
3.
Braun No Touch + Touch Thermometer

Why we like it: Practical gift for peace of mind.
Amongst buying a cot, a car seat, a stroller and clothes, lots of little practical items are often overlooked or forgotten and many times a good thermometer is one of them. Unfortunately, this is an item you usually don't know you need until you don't have it. When you're worried that your little one has a temperature, you need fast, accurate answers and the Braun Touch + No Touch Thermometer promises exactly that.
Using quality technology this thermometer will give an accurate read-out of a child's temperature in just 2 seconds and has an age precision mode that makes it easy to see whether your child has a temperature with a simple color-coded display. No-touch mode is ideal for not waking a sleeping child, and you can activate the backlit display and use silent mode so there's no chance of waking a sleeping baby.
Pros
Practical gift
2-second read-out
Colour-coded age-precision technology
No-touch mode
Can also be used to measure food and drink temperatures
4.
Kindsgut Wooden Rattles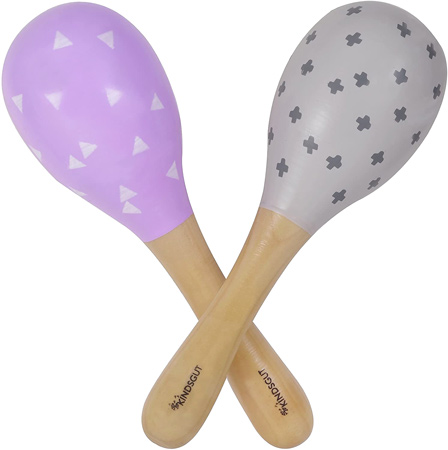 Why we like it: Encourage baby's development with these cute rattles.
This sweet set of two wooden baby rattles makes the ideal gift for a baby. In preparing for babies most parents focus on making sure they have all the big, practical items that they need and forget all about toys. Then once the baby has arrived, they develop really quickly, and suddenly need some more entertainment options.
Rattles are a traditional toy for babies and, in keeping with this, the Kindsgut Wooden Rattles are made with eco-friendly materials and a timeless design. These are excellent for promoting a baby's development by encouraging them to listen to and track sounds, reach out and grab hold of toys and eventually learn to shake the rattles and join in with the music.
Pros
Set of 2
Different colors and designs to choose from
Promote baby's development
Encourages musical development
Made with eco-friendly materials
Cons
Baby can only use independently once they can grasp objects
5.
Unisex Newborn Non-Slip Boots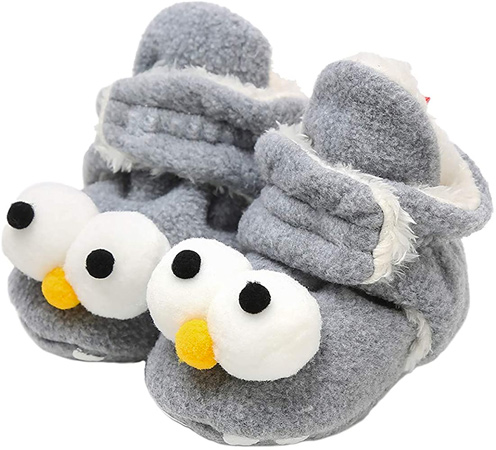 Why we like it: A cute and practical gift to keep little toes warm and cozy.
These Unisex Newborn Non-Slip Boots are the ideal gift for a new baby. Available in a huge range of design options, they make a thoughtful and practical gift. Made with soft, comfortable and lightweight materials they are lovely for even tiny babies to wear but have plenty of space to grow!
With grippers on the bottom, these boots can be used when babies begin walking too so they have a longer lifespan than other baby boots. For added practicality, the boots can be easily washed in the machine and have hook and loop closures to keep them on babies' feet. The soft material is also breathable to help with temperature regulation.
Pros
Unisex
Available in a range of design options
Space to grow
Grippers on the bottom for walking babies
Machine washable
Cons
Not suitable for outdoor walking
6.
Megainvo Baby Nail File Trimmer
Why we like it: Practical gift for a newborn baby.
Newborn babies can have the sharpest nails! But most parents hesitate at the idea of taking a pair of sharp nail clippers near to their brand new baby's skin. The Megainvo Baby Nail File Trimmer provides a safe and effective solution. With its one-button design, this spinning nail file gently files down babies' sharp nails without causing damage to their skin, cuticles or nail beds.
Since some babies aren't a big fan of getting their nails filed this tool has been designed so that parents can use it stealthily whilst babies and kids are asleep; with an LED front light to illuminate the baby's fingers and toes as you work, this tool is super-quiet and has an ergonomic design to make it easy for parents to hold too. With 6 different grinding heads, 4 cushion pads for baby (0-12 months), and 6 filing tools for toddlers and adults for filing nails and polishing the nail surfaces, this tool is very versatile and a good present for a baby shower.
Pros
Safe, effective way to file nails
One button design
Does not damage skin, cuticles or nail beds
LED front light
Less noise
7.
BabyBjörn Baby Carrier Mini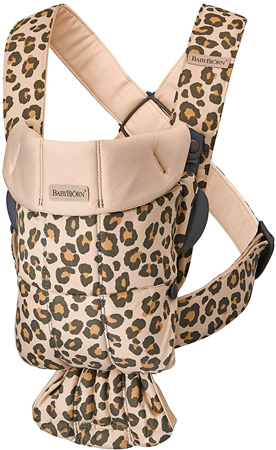 Why we like it: Baby carrier with 2 front-carrying options.
Baby Björn is a popular and well-known baby brand and with decades of experience and research behind them, they have designed and developed this ergonomic baby carrier. The Baby Björn Baby Carrier Mini can be used from birth (as long as the baby is healthy, full-term and over 7 lbs) until 25 lbs, which is around about a year old. Designed to hold babies' legs in a wider "froggy-legged" position to optimize healthy hip development, the carrier is comfortable for parents too.
The soft fabrics and adjustable head support help to keep baby comfortable as well as close to their parent, as most babies enjoy being close to their mom or dad this carrier makes an ideal gift allowing parents to go for a walk, catch up with some household chores or even eat a meal while holding the baby hands-free. With an easy-to-use and fashionable design this is sure to be a favorite product for new parents.
Pros
Well-known brand
Ergonomic position for baby
Can be used from 7-25 lbs
Allows parents to hold baby
Fashionable print
Cons
Not suitable for back carrying
8.
La Mer Body Cream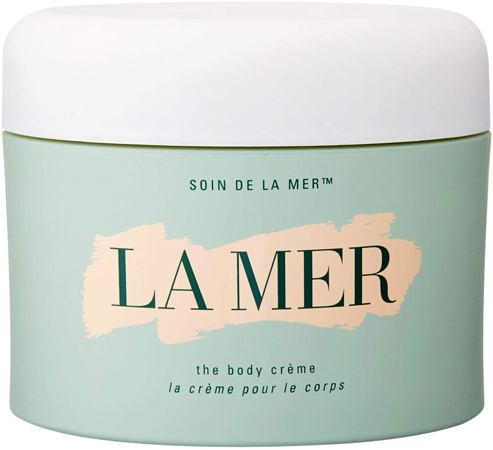 Why we like it: Luxurious skin cream to encourage cell renewal.
Crème de la Mer is synonymous with luxury, and luxury is exactly what some moms-to-be need. With so much time, energy and money being directed towards the coming baby, it's easy for a mother to feel a little neglected and like she is becoming nothing more than a vessel for bringing a baby into the world so buying a luxurious, pampering gift for mom might be just the ticket.
Not only is this cream incredibly luxurious but it is also specially formulated to encourage cell renewal which may help to prevent and treat stretch marks and keep skin healthy as it expands to accommodate a growing baby. Definitely a bit of a splurge gift, but lovely to receive!
Pros
Sustainably sourced ingredients
Encourages cell renewal
May help prevent and treat stretch marks
Luxurious
Ideal gift for mom
9.
Hatch Baby Rest Sound Machine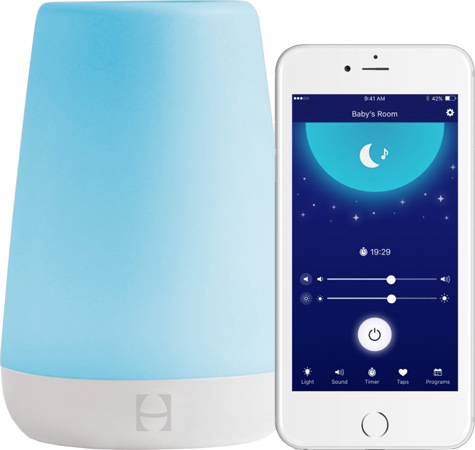 Why we like it: Combining a nightlight, sound machine and time-to-rise alert, this is ideal for forming good sleep habits.
The Hatch Baby Rest Sound Machine is designed to help babies and toddlers form good sleep habits so that everyone in the house can get a good night's sleep. This sound machine features a nightlight with customizable color, and brightness which can be controlled from your phone or programmed to turn on and off automatically.
The sound is customizable and adjustable at the touch of a button on your phone too and the machine grows with your child, featuring a time-to-rise alert which shows children when it's okay to get up out of bed and when they need to rest and wait a little longer; no 5 am starts! This is a great practical gift that most new parents don't even know they need!
Pros
Helps form good sleep habits
Customizable nightlight
App-controlled
Variety of sounds
Longevity
Cons
Requires compatible device for the app
10.
Baby Wardrobe Dividers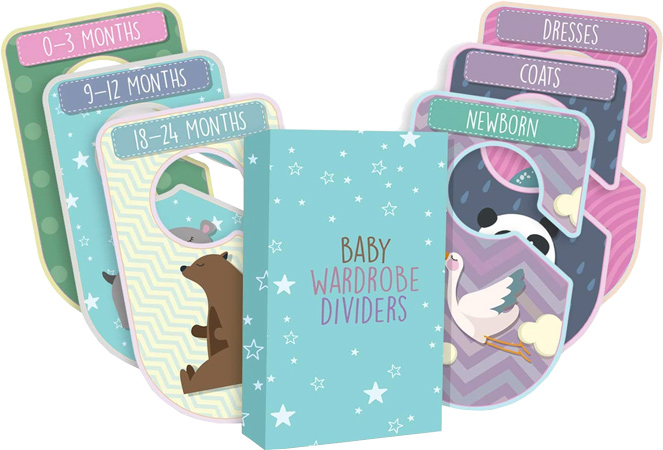 Why we like it: Practical, organizational gift.
Sometimes it's the little things that make life so much easier in the early days and Baby Wardrobe Dividers are definitely one of those little things. These bright and easily visible dividers are made from premium quality, strong, sturdy cardboard and hang in the wardrobe to help organize baby's clothes.
With tiny babies, newborn, first size, up to 1 month, and 0-3 month sizes available it's hard to know what is suitable to wear and what has already been outgrown. Not to mention that at baby showers parents are likely to receive outfits in bigger sizes as well, so having clearly divided sections in which to organize baby's clothes will really help to keep things manageable.
Pros
20 dividers included
Unisex design
Practical gift
Bright and easily visible
Strong, sturdy cardboard.
Cons
Only one color/design option available
11.
Lifewit Nappy Changing Backpack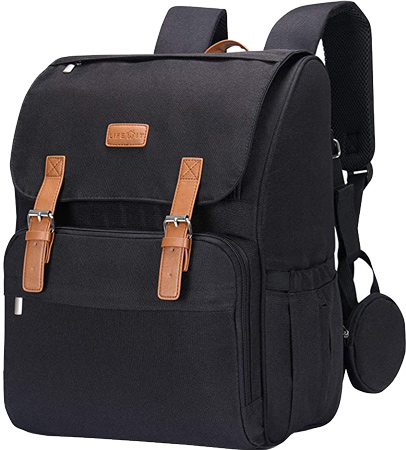 Why we like it: Functional and practical baby changing bag.
Whilst many new parents may buy a changing bag that matches and attaches to their pram, having a second functional and practical bag can be useful for a whole range of different circumstances; whether the baby is going out for the day with grandparents, going to nursery or you are traveling as a family, the Lifewit Nappy Changing Backpack is a great flexible option.
With a storage capacity of 5.5 gallons there's plenty of space for all the baby essentials, and specialized pockets for dummies, bottles and baby wipes make taking the baby out and about as easy and organized as it can be. The bag has an ergonomic and gender-neutral design so it's suitable for both parents to use and the reduced pressure on the shoulders and back is good news for tired parents!
Pros
Changing pad included
5.5 gallons storage capacity
Specialized pockets
Ergonomic design
Gender-neutral
Cons
Parents likely to have a changing bag
12.
Green Sprouts Silicone Learning Placemat
Why we like it: Great practical gift for when the baby is a little older.
Babies start to eat solid food around about 6 months old and when they do it can sure get messy! The Green Sprouts Silicone Learning Placemat makes the ideal forward-thinking gift as 6 months come around pretty quickly, and it's great for parents to have the supplies they need on hand and ready to go rather than having to invest in a whole range of stuff.
This silicone placemat is flexible, hygienic and durable and designed to keep furniture clean and germ-free. It's ideal for using as an alternative to a plate, which is likely to be launched across the room, especially if using the baby-led weaning method. The curved lip on the mat helps to keep food contained on the mat and it's easy to clean because it's completely dishwasher safe.
Pros
Flexible and durable
Designed to keep furniture clean
Ideal for baby-led weaning
Easy to clean; dishwasher safe.
Cons
Won't be used until about 6 months
13.
Aden by Aden + Anais Muslin Swaddle Blanket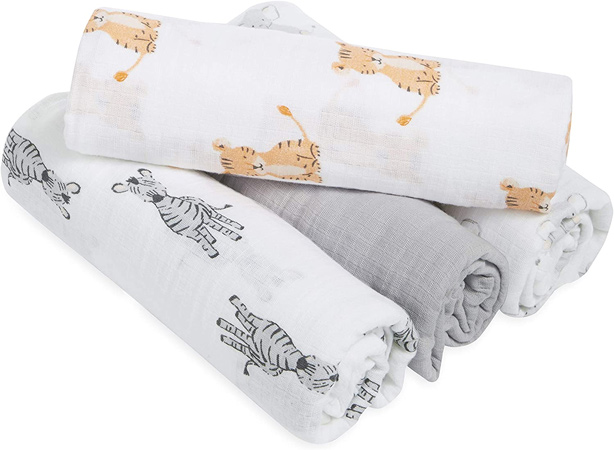 Why we like it: large, soft and snuggly muslin cloths.
Aden and Anais is a brand synonymous with quality and their muslin cloths are a time-tested favorite with parents. Made from 100% cotton these cloths get softer wash after wash and feel super soft against the baby's delicate skin, which is ideal as these larger-sized muslins can be used as swaddle blankets too.
Available in a range of different prints and designs, the breathable open weave fabric helps to keep the baby comfortable but is easy to wash and dry, being completely machine washable. These clothes are a real parenting classic, and you really can never have too many so they make the ideal baby shower gift.
Pros
Well-known, high-quality brand
100% cotton
Super soft
Available in a range of prints and designs
Machine washable
Cons
More expensive than other brands
14.
Disney Winnie The Pooh Soft Toy
Why we like it: A popular character toy that can become the baby's best friend for years.
Official Disney Merchandise, the Disney Winnie The Pooh Soft Toy is an accurate representation of the popular Disney character Winnie the Pooh which is popular with many parents. This toy is perfect for cuddling up with as a comfort toy, once the baby is a year old, or could be used for imaginative play when the baby is a little older.
Since Winnie the pooh is also a popular nursery theme, it might be that this soft toy makes a nice decorative piece for a baby's room, but with its soft, high-quality materials it will at least make a lovely gift at a baby shower.
Pros
Popular character
Official Disney merchandise
Soft, high-quality materials
Can be used for cuddling, imaginative play or decoration
15.
My Brest Friend Nursing Pillow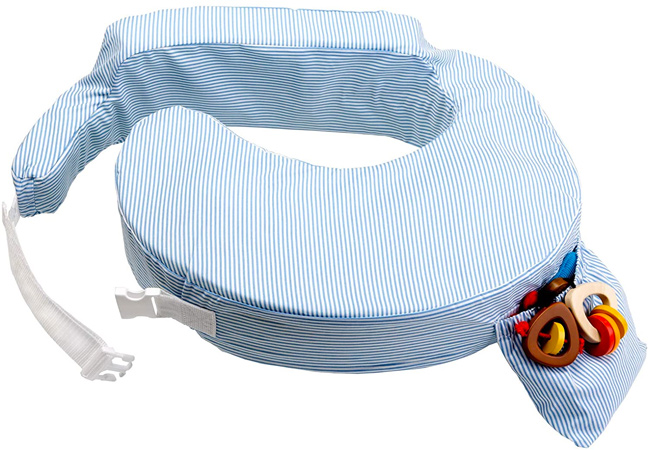 Why we like it: Practical gift to get nursing off to a good start.
For something so natural, breastfeeding can be a steep learning curve but ensuring that a mom has all the tools and support that she needs can set her up for success. The My Brest Friend Nursing Pillow is highly rated by moms and can help get the baby in a good position to latch on to the breast well.
Since newborn nursing sessions can take quite a while, this pillow is designed to help mom maintain good posture, preventing a sore back and neck. The adjustable strap helps to ensure that the baby is held snug and close to mom, but it can be adjusted and silently removed one-handed to avoid waking the baby. The perfect, practical gift for a mom planning to breastfeed.
Pros
Highly rated by moms
Gets baby into a good position to latch on
Helps mom maintain good posture
Adjustable strap
Silent release clip
Cons
Some moms find that using a nursing pillow adversely affects baby's latch and position
16.
Earth Mama Organic Nipple Butter
Why we like it: Lanolin-free, organic and baby safe.
Buying someone nipple butter might seem a little intimate, unless of course you're a parent! In which case you know the importance of having a good, high-quality nipple cream to hand. The Earth Mama Organic Nipple Butter ticks all the boxes and is luxurious enough to give as a baby shower gift too.
Lanolin-free this cream is a good alternative to the most well-known options, which could be a life-saver as many women are allergic to lanolin but don't realize until they come to use one of the popular nipple balms. Instead, this cream uses natural, organic calendula which soothes dry cracked skin and can help prevent infection. With zero toxins this cream is completely baby safe so you don't have to wash it off before feeding, it can be applied before, after or in between feedings.
Pros
Luxurious
Lanolin-free
Natural and organic
Soothes cracked skin, prevents infection
Baby-safe can use while nursing
17.
Munchkin Fresh Food Feeder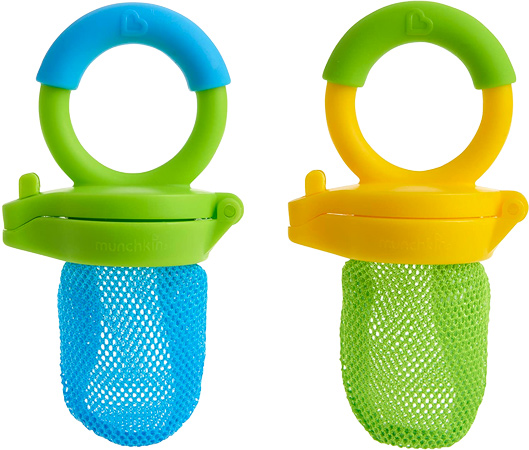 Why we like it: Ideal gift for starting solids.
You might think that there's no point buying bowls and accessories for starting solids before the baby is born, but actually, these kinds of products make a great baby shower gift. Amongst all the teeny-tiny newborn outfits, this is a gift that can be set aside, ready to go when baby hits 6 months and is ready to start solids, so it's a practical gift that will really be appreciated when the time comes.
The Munchkin fresh food feeder is the ideal way to introduce tastes of food whilst reducing the risks of choking; simply snap food into the mesh bag and the baby can only bite off what can fit through the holes. This is a great way to reap some of the developmental benefits of baby-led weaning, without having to subscribe to the whole philosophy. Baby can still control bringing food to their mouth, biting and sucking, developing their motor skills and independence
Pros
Practical, useful gift
Introduces tastes of food
Reduces risk of choking
Develops babies' motor skills and independence
Cons
Not suitable for baby led weaning
18.
Tommee Tippee Baby Sleep Bag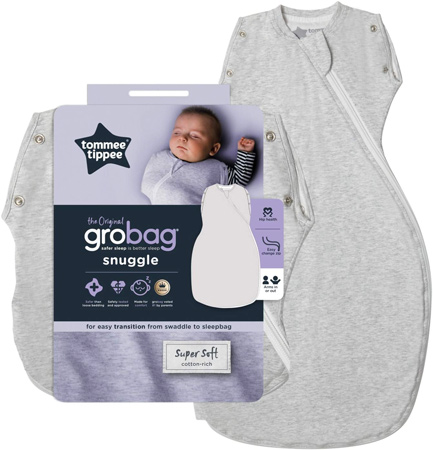 Why we like it: Help baby to sleep better with a soft, snuggly sleeping bag.
Tommee Tippee says that 85% of babies sleep better in their sleep bags and what parents don't want their baby to sleep better? Baby sleep bags can help little babies to regulate their temperature while sleeping because they can't kick them off and wake up cold like they can with blankets. This has a safety benefit too because it means that babies can't accidentally end up covering their face with a blanket and risking suffocation, Tommee Tippee's bags have all been safety tested and approved and adhere to British and European Safety Standards. They've also been accredited as hip-healthy by the International Hip Dysplasia Institute.
Made with a super-soft cotton-rich fabric, and available in a range of colors, the Tommee Tippee sleep sacks are perfect for ensuring that baby gets a comfortable night's sleep, and to make those middle-of-the-night nappy changes as easy as possible you can unzip from the bottom of the bag for minimum disturbance.
Pros
85% of babies sleep better
Helps babies regulate temperature
Safety tested and approved
Accredited as hip-healthy
Can unzip from bottom of bag
Cons
Slightly more expensive than other brands
19.
Ubbi Money Saving Nappy Disposal Bin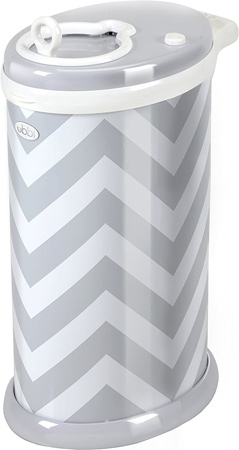 Why we like it: No need for specialized bags or refills, simply does its job.
The Ubbi Nappy Disposal Bin has won nine awards, pleasing both parents and parenting experts alike. Unlike other nappy bins on the market, no special bag refills or inserts are required which will save parents plenty of money! Ubbi says that "simplicity works best" and this certainly seems to be true with this nappy bin which is ready to use right out of the box.
Many nappy bins are made of plastic which isn't great for the environment but is also a porous substance meaning that over time it starts to break down and absorb the odors of the nappy bin; gross! The Ubbi bin is made with coated steel and rubber seals to keep odors at bay. It can be used with any standard-sized bin bag, so you can simply use what you already have to hand. It includes a child-proof lock to keep children safe and is available in several different colors.
Pros
Award-winning
No special bags required
Made from steel
Child-proof lock
Available in different colors
Cons
Heavier than other nappy bins; could be dangerous if falls over
20.
Alaska Bear Natural Silk Sleep Mask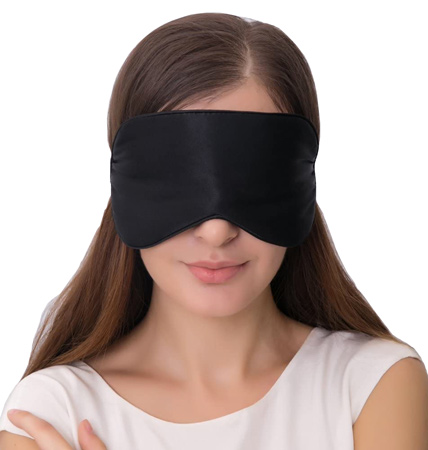 Why we like it: Lovely gift for a pregnant mom.
Rest is really important in the last few months of pregnancy as birth approaches, but between heartburn, a big baby bump and fluctuating hormones, it can be hard to come by. The Alaska Bear Natural Silk Sleep Mask is a natural sleep aid and eye relaxer and is perfect for helping moms get some much-needed shut-eye. It's made from 100% skin-friendly mulberry silk, so it is cool and comfortable to wear.
This mask may also come in useful during labor to shut the world out, and if mom stays in hospital after the baby is born the lights can be bright and it can be difficult to fall asleep so this mask would be a good accessory for a hospital bag. The silk that the mask is made from is naturally hypoallergenic so is suitable for moms with sensitive eyes, sensitive skin or allergies. Fully adjustable, the headband of the mask is comfortable to wear too so it won't disrupt sleep.
Pros
Natural sleep aid
Made from 100% skin-friendly silk
Cool and comfortable to wear
Hypoallergenic
Fully adjustable
Cons
Buckle can tangle in long hair
21.
Baby Banana Teething Toothbrush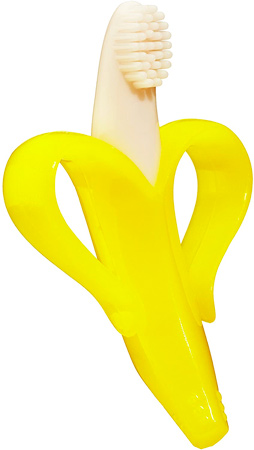 Why we like it: Practical gift for when teething strikes.
Babies' teeth need to be brushed regularly as soon as they erupt, but when will the baby's teeth come through? Well, it could be any time really! Some babies are born with teeth whilst others don't get any until they're at least a year old, but giving the Baby Banana Teething toothbrush means that parents are ready whenever it happens, or whenever teething strikes.
Fussing, crying, rosy red cheeks and chewing on hands are all signs that a little one has sore gums and teeth waiting to pop through, and this BPA, latex and phthalate-free brush invented by a dental hygienist and mother of four provides a safe, soothing solution. The thick bristles help to massage sore teething gums and aim in the eruption of teeth and the handles are really easy for little hands to hold.
Pros
Award-winning, best-selling
BPA, latex and phthalate-free
Invented by a dental hygienist
Massages sore teething gums
Handles ideal for little hands
Cons
May not be used for a while
22.
Boerni Large Nursing Cover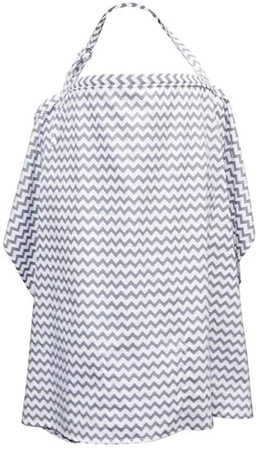 Why we like it: Ideal for newborns or distractable older babies.
When you're just getting the hang of breastfeeding it can be intimidating to nurse in public, and it can require a whole range of different products, equipment and manoevres. Some moms find they get a bit flustered trying to latch baby on if they feel that everyone is looking (they're not, but sometimes it feels that way) so a nursing cover could be a useful product to help inspire mom's confidence in the early days. The Boerni Large Nursing Cover makes a nice gift at a baby shower as it's likely something that mom hasn't bought for herself, but may find she wants or needs later on.
After the newborn days, most moms find they can nurse fairly discreetly without a cover, but they can come in useful as babies get older and more inquisitive. It can be difficult to nurse a distractible and nosy older baby with too much stimulation around so this 100% cotton, breathable cover can help to keep them focused on the task at hand. The neutral design is suitable for using most places and with boy or girl babies and the storage bag helps to keep it organized and safe.
Pros
Ideal for newborns or inquisitive older babies
100% cotton, breathable
39 inches long, 28 inches wide.
Neutral design.
Comes with a storage bag.
Cons
May make mom feel she has to use a cover to nurse
23.
Babymoov Cozydream Original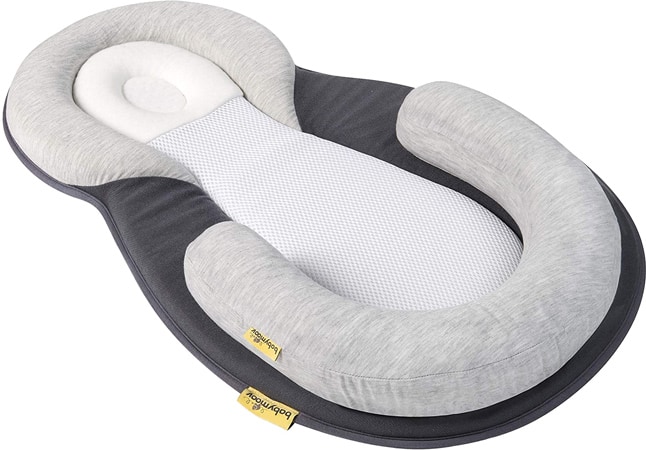 Why we like it: Prevent flathead syndrome with this ergonomic place for the baby to rest.
Newborns spend much of the day sleeping and therefore laying on their back, this can lead to flathead syndrome where the back of the head becomes flat as a result of being laid down too frequently. Whilst this is not usually dangerous it's best to prevent it if you can and the Babymoov Cozydream Original has been designed to offer ergonomic support around the baby's head to help prevent this very issue.
Ideal for supervised daytime sleep or rest, the Cozydream can be adapted to suit newborns of different sizes and helps to recreate the snugness of the womb to reassure the baby. Raising the legs helps to facilitate digestion which is really important in the early days when everything is new. Machine washable at 85 degrees, this is an extremely practical and well-designed space for the baby to rest.
Pros
Helps prevent flat head syndrome
Ergonomic support
Size is adaptable
Assists with digestion
Machine washable at 85°F
Cons
Cannot be used for overnight sleeping
24.
No Scratch Mittens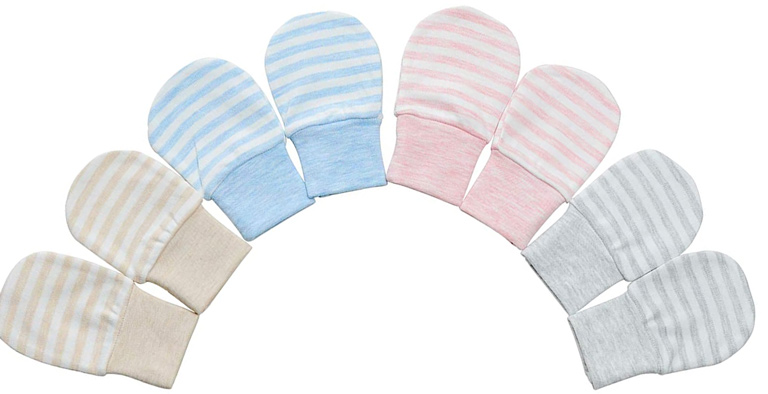 Why we like it: Small practical gift for baby.
If you need a small gift for a baby shower then picking something practical like these No Scratch Mittens is a safe choice. Available in a range of different colors and designs and made from a super soft material these mittens are designed to stop little babies from scratching themselves, particularly whilst asleep.
With extra-long wrists, they are designed to stay firmly put on babies' hands and each pack contains 4 pairs of mitts so there is plenty to wash and rotate if they do get chewed by the baby. As the mittens are made with cotton, they can be machine washed and dried really easily making these a lovely, practical gift and a safe bet as a gift at a baby shower.
Pros
Practical item
Stops babies from scratching themselves
Available in a range of designs
Extra-long wrists to keep mitts on
Machine washable
Cons
Baby cannot self-soothe by sucking fingers or thumb whilst wearing mitts
25.
Comotomo Natural Feel Baby Bottles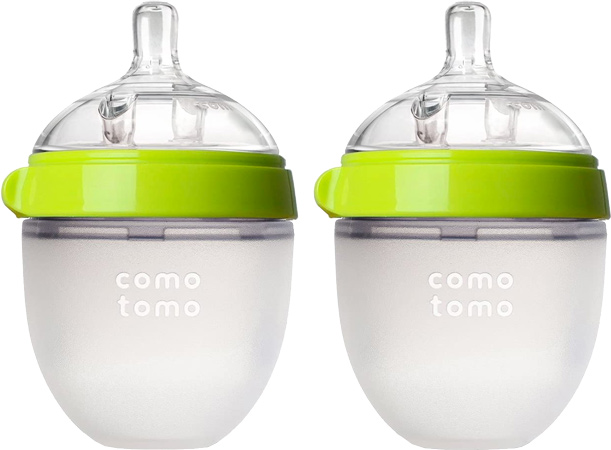 Why we like it: Great bottles for moms looking to combine breast and bottle feeding.
The Comotomo Natural Feel Baby Bottles are designed to make switching between breast and bottle a breeze by closely mimicking breastfeeding and eliminating nipple confusion. This is ideal for moms who need to return to work whilst the baby is still fairly young, or who want to share the feeding for some other reason.
The Ultra-wide neck makes these bottles incredibly easy to clean, you can simply wash them by hand without even needing a specialized bottle brush and they are completely safe to be used in microwaves, boiling water, dishwashers and sterilizers. These bottles are made with 100% medical grade silicone, free from toxic chemicals, so they're completely safe for babies and the dual anti-colic vents are designed to prevent colic.
Pros
Ideal for combining breast and bottle feeding
Eliminates nipple confusion.
Ultra-wide neck
Easy to clean
Anti-colic vents
Cons
Parents may not be planning on using a bottle
26.
The First Years Stack Up Cups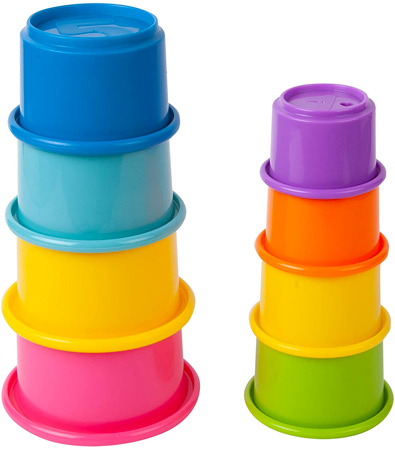 Why we like it: Perfect first toy for baby.
In the first few weeks, babies need very little, just the care, comfort and closeness of their parents but soon enough they become more alert and begin reaching out and grabbing. Before you know it, babies are ready to be entertained a little more and need a few toys to keep them busy. The First Years Stack Up Cups are the perfect first toy for babies and will last for years to come.
Open-ended toys that can be used in a variety of ways are ideal for babies, toddlers and young children and really promote holistic development through play. These stack-up cups can be stacked, nested or used in imaginative play. For older children, each cup is numbered promoting numeral recognition and for easy cleaning, they're dishwasher safe.
Pros
Perfect first toy
Lasts for years
Open-ended toy
Each cup is numbered
Dishwasher safe
Cons
Plastic toy; less eco-friendly
27.
NatureBond Silicone Baby Bibs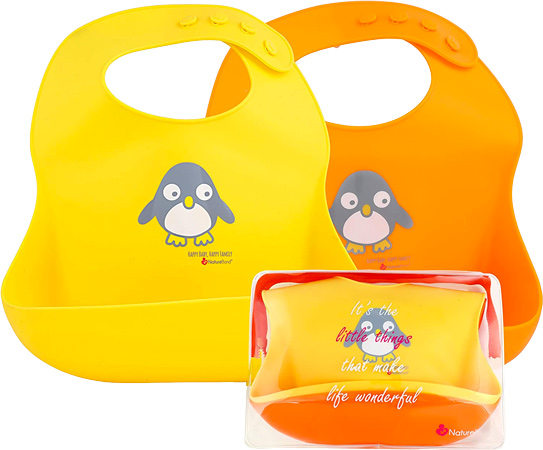 Why we like it: A hassle-free practical gift that will come in handy quickly.
When most people are preparing for their baby's arrival they tend to focus on buying things for when the baby is very small, but those months whizz by quickly and soon enough it's time to start on solid food and there are a whole host of extra products they need. Buying these NatureBond Silicone Baby Bibs as gifts is a great way to help parents get ahead of the game.
The bibs come in a waterproof pouch so they can be easily stored in changing bags and taken on the go. They're easy and hassle-free to clean, and can simply be thrown in the dishwasher as they're made with food-grade silicone and are completely BPA and PVC-free. The tightening buttons make the bib easily adjustable to help keep messy eaters as clean as possible and the bibs have even been cleverly designed in colors shown to increase appetite!
Pros
Practical gift
Comes in waterproof pouch
Easy to clean
Dishwasher safe
Designed in colors to increase appetite
Cons
Won't be used for first few months
28.
Graco Compact Travel Cot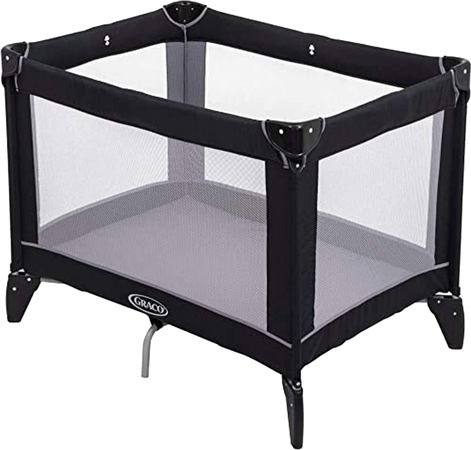 Why we like it: Perfect for busy, on-the-go, jet-setting parents.
If the parents you are buying a gift for love to travel and explore and intend to keep this up with their baby in tow then the Graco Compact Travel cot is a great gift that will get plenty of use. When traveling, it's incredibly handy to have a travel cot as a space for the baby to sleep but also as a safe place to put the baby down.
This compact travel cot is designed to fold down quickly and easily with the signature Graco push-button fold so it's small and easy to store. A carry bag is included for convenient transport and storage.
Pros
Ideal for traveling
Comfortable place for baby to sleep
Safe space for baby
Folds quickly and easily
Carry bag included
Cons
Parents may have already purchased a travel cot or be planning to co-sleep
29.
Shopping Cart Cover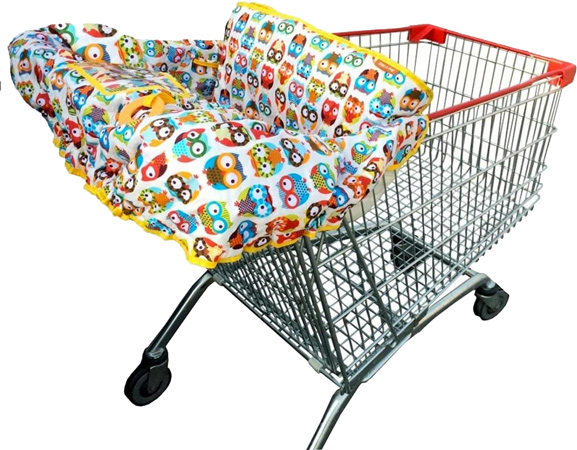 Why we like it: Keep baby safe and comfortable whilst running errands.
If Covid-19 has done anything, it's made most of us much more aware of just how easily germs are transmitted and especially whilst shopping. With new rigorous hygiene measures in most grocery stores, it's hard to imagine a return to something more like normal, especially with a brand-new baby.
This Shopping Cart Cover is the ideal way to get peace of mind about germs on trolleys and surfaces whilst shopping and running errands; simply slip the cover into the baby seat and over the bars to protect the baby. This product is the largest shopping cart cover on the market and has been shown to fit all stores' shopping carts. As well as preventing babies from mouthing communal surfaces, this is also a comfortable seat with a belt to keep the baby safe and secure. Made from premium and organic materials, this can be machine washed to keep it clean and hygienic and makes the ideal gift for a 2023 baby shower.
Pros
Helps prevent baby picking up germs whilst shopping
Largest cover on the market
Fits all shopping carts
Premium organic materials
Machine washable
Cons
Not suitable until baby can sit unaided
30.
Baby Shusher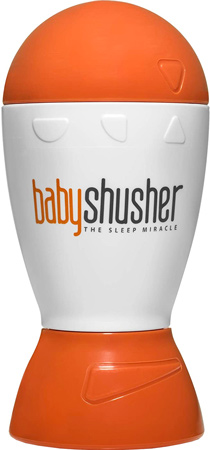 Why we like it: Shush your baby to sleep.
Shushing is part of many parents' days as babies love falling asleep to the calming, repetitive noise, so why not buy a sleep aid that can help out with this. The Baby Shusher does the shushing for you, using a real human voice! It can play for 15 or 30 minutes and has an adjustable volume control so you can personalize the shush your baby gets.
Safe to use from birth, the Baby Shusher is portable and easy to use and comes with the batteries it needs so it's ready to go right out of the packet. The removable wrist strap is handy for looping over the parents' wrist whilst they rock the baby, or attaching the device to the pram or car seat for sleeping on the go.
Pros
Helps babies sleep
Real human voice
Can play for 15 or 30 minutes
Adjustable volume
Comes with batteries it needs
Cons
Batteries are non-rechargable
Final words
Baby showers can be great fun and a lovely way to celebrate friends or family becoming parents, or to welcome a new baby into the world, but all parents are different and whilst some will enjoy receiving the cutesy baby clothes others will find that kind of gift excessive and impractical. That's why we've included lots of practical gifts in our list of unique gift ideas for baby showers.
We've also made sure to include some gifts that are more aimed at parents to ensure that not everything becomes 100% about the baby as it's important to celebrate them too as this is a big transition and momentous occasion for everyone involved, not just the baby. There are gifts to suit every kind of family included in this list so you can choose something that fits the family you're looking to buy a gift for.