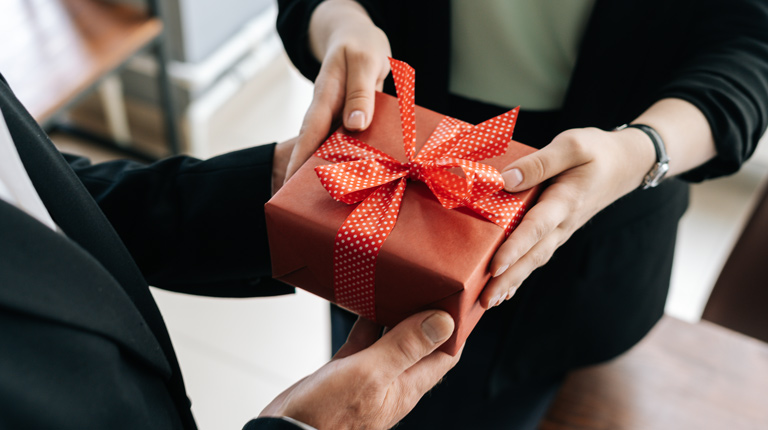 Do you have a female colleague who is about to retire soon, or perhaps know a family member who is ending their full-time career? Ladies who are leaving their long-term job will need a great gift to mark the big occasion. Whether you are a relative or a workmate, finding the right gift can be the perfect way to wish someone a happy and healthy retirement as well as express good wishes for their future. Send positive thoughts to someone with one of these charming retirement gifts.
1.
Purple Flower Glass Angel Figurine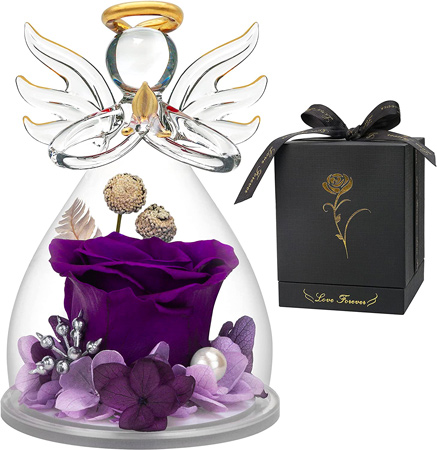 Give them their own angel to watch over them as they begin their retirement. This charming gift features a purple rose and delicate hydrangea petals encased safely inside a glass angel ornament. The angel is made from clear glass complete with wings, a halo, and other details picked out in a gold outline. The entire ornament sits on a solid base and can be displayed on any desk or shelf as a lovely memento.
2.
Women's Diamond Dial Watch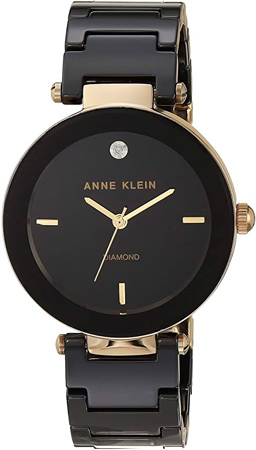 Make her retirement really special with this elegant black watch from Anne Klein. The watch is carefully highlighted with contrasting gold details and is finished with an adjustable ceramic bracelet. A real diamond sits at the 12-noon position on the glossy black dial, and the numbers and hands are also picked out in gold to make a stunning timepiece. This stylish watch will make a memorable retirement gift and is water-resistant up to 30 meters and will match any outfit.
3.
Pashmina Wrap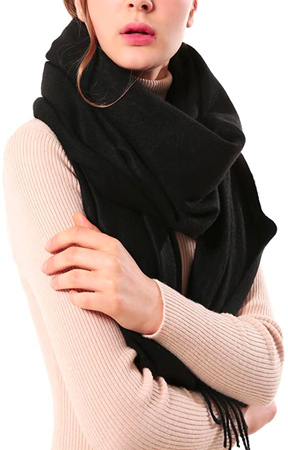 No woman's wardrobe is truly complete without a chic and versatile Pashmina wrap. This lightweight and thick wool wrap can be used in any number of ways as a scarf or a shawl and is available in a range of stunning colors. Perfect for wearing over any outfit and will provide warmth and protection from cold weather conditions. Made from very soft material that won't itch or irritate the skin, this wrap is comfortable and fun to wear in all weathers and suitable for all occasions.
4.
Diamante Jewelry Box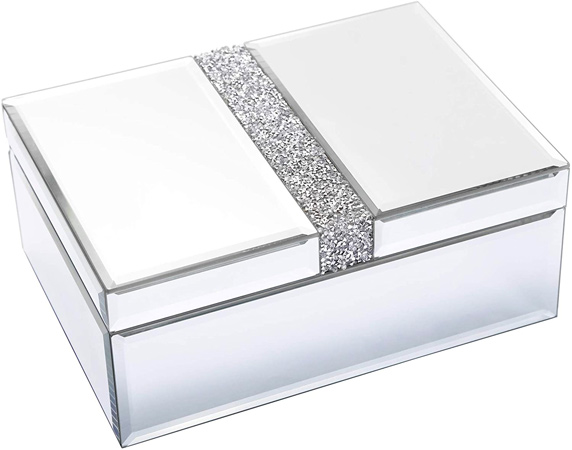 This stunning jewelry box will provide the perfect place to keep her valuables. Finished in gleaming reflective glass and decorated with a thick diamante band, this box will look fantastic on her nightstand or dresser. The high-quality wood is engineered to be long-lasting and durable, and the inside of the box contains a removable tray for easy access. Soft black velvet lines the interior and makes a soft cushion for items inside. Not only does it look gorgeous but it will protect jewelry items from scratches and damage.
5.
Glass Teapot Set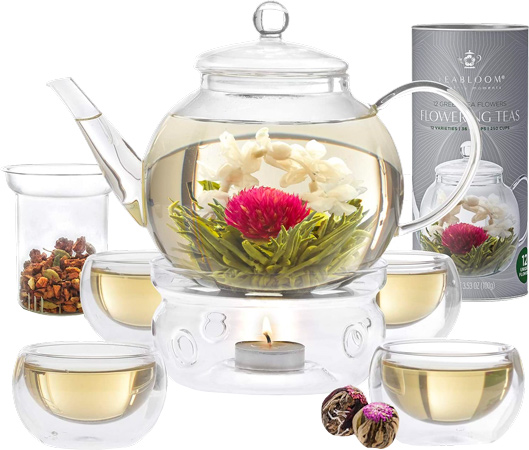 For a retirement gift with a difference try this clear glass teapot and matching cup set. The see-through teapot is perfect for brewing herbal tea or preparing infusions. It comes with all the essential tea-party items including an infuser, twelve tea flowers, a warmer, and a candle. Versatile enough to make any kind of loose leaf tea and is made from durable, heat-resistant glass. Pour hot water over the included flowers and watch them open and bloom into a drinkable tea, then simply sip and enjoy.
6.
Gold and Silver Hoop Earrings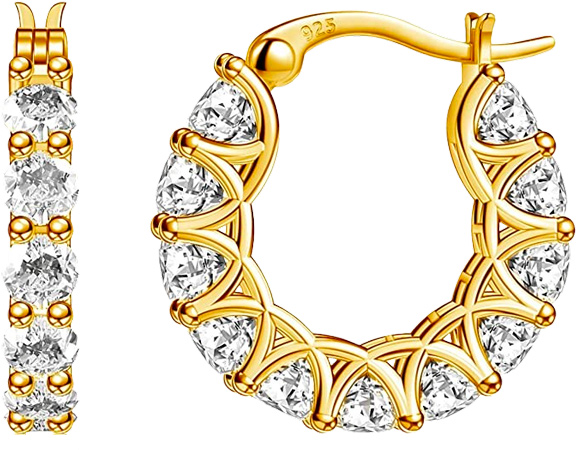 Give her a gift she can wear and enjoy every day. Make a real statement with these boldly designed gold and silver earrings. Finished with dazzling cubic zirconia stones, these earrings with go with any dress or outfit. Give them as a retirement gift for a sentimental present that can be kept and worn on any occasion. The earrings are coated with a special polish to preserve luster and shine and prevent tarnishing, so they stay looking brand new each time they are worn.
7.
Scented Soy Candles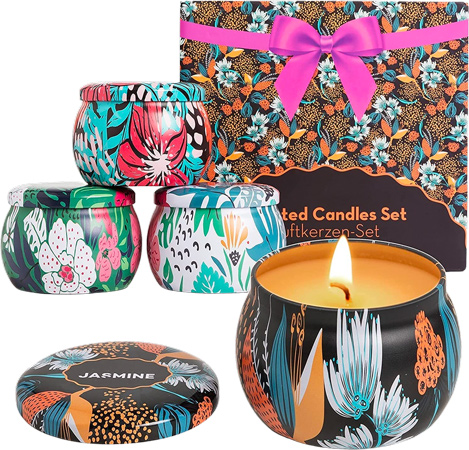 Now she's retired she will have plenty of time to relax so help her set the mood with these fragrantly scented candles. Made from natural soy wax and infused with essential oils these candles will emit delicate and pleasing scents of jasmine, lavender, vanilla, and rose. The set contains four candles all contained in individual and reusable decorative tins. Great to use for relaxation, meditation, or yoga.
8.
Crystal Cross Etched Heart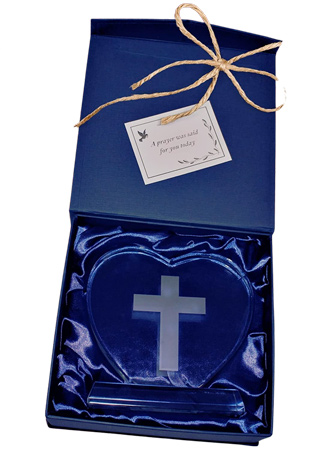 Make a delightful keepsake with this thoughtful gift. If your lady friend believes in a higher power then this crystal heart with an etched cross will make a delightful keepsake gift. The contemporary design features a thick glass heart on a solid base and will make a sentimental and lasting gift for any retirement. Designed to be simple and elegant this ornament will match any home decor and comes in a delightful presentation box lined with blue satin material.
9.
Rose Gold Jewelry Set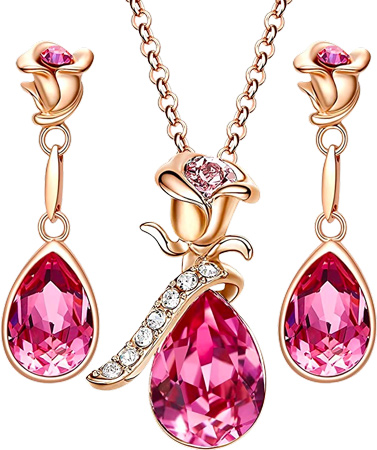 Give her a stunning gift for her retirement with this matching rose gold necklace and earrings set. Simple and elegant and finished with glittering pear-shaped crystals, this set is suitable for everyday wear. Each item is topped with a delicately carved rose shape and the necklace pendant features a clear crystal studded sash. The entire set comes in an elegant presentation box and includes a cleaning cloth to keep everything bright, sparkling, and ready to wear.
10.
Luxury Bathrobe and Slippers
This sumptuous soft flannel bathrobe is perfect to use at home or for spas and swimming pools. Made from super absorbent material and features two large pockets for carrying personal items. The matching slippers are durable and lightweight with non-slip rubber soles and come with a handy zip-up carry bag. Included in the set are bath bombs, body lotion, body wash, and a bath puff to create your own spa experience.
11.
Chocolate Covered Sandwich Cookies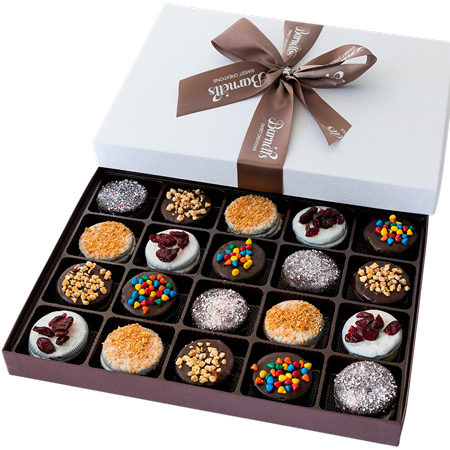 If you need a retirement gift for a female colleague then these sandwich cookies will be ideal to enjoy and share. 20 gourmet cookies are finished in decadent flavors including, cranberry nut crunch, crushed peppermint, and coconut crunch. All cookies are handmade and dipped in premium dark chocolate to create delicious and indulgent flavors, and will go great with coffee. Carefully packed and gift boxed with a luxury satin ribbon.
12.
Sunshine Music Box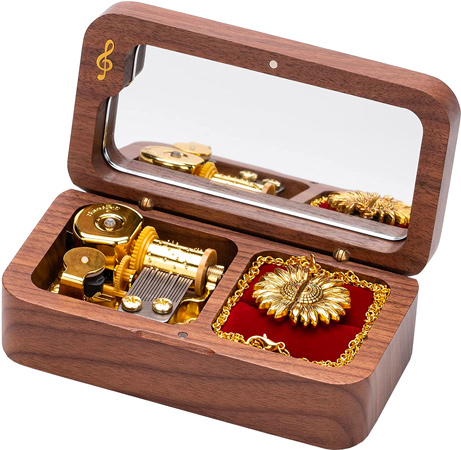 For a memorable retirement gift that is completely different this Sunshine Music Box will be perfect. Crafted from walnut wood in the style of a traditional music box and comes with an extra surprise. The box contains a stunning sunflower locket pendant to symbolize health and happiness, which can be worn as a reminder of the day. Inside the box is the completely visible music mechanism. Wind it up and listen as the box plays 'You Are My Sunshine'.
13.
Cast Iron Dutch Oven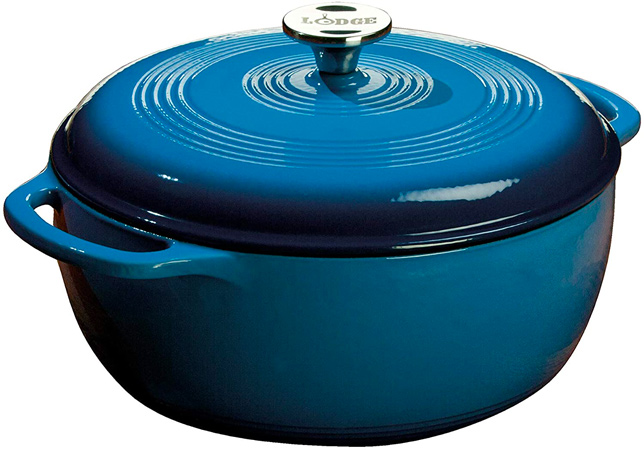 Try out all those family recipes! Now that your friend or relative has retired she will have more time to cook. Help her make the perfect casserole and other recipes with this high-quality cast iron Dutch Oven. Chip-resistant with an enamel finish this durable and hard-wearing cooking pot will last for years. Loop side handles provide a safe secure grip, and the 6-quart pan traps in heat, moisture, and nutrients to release maximum flavor and make mouthwatering meals.
14.
Gin Making Kit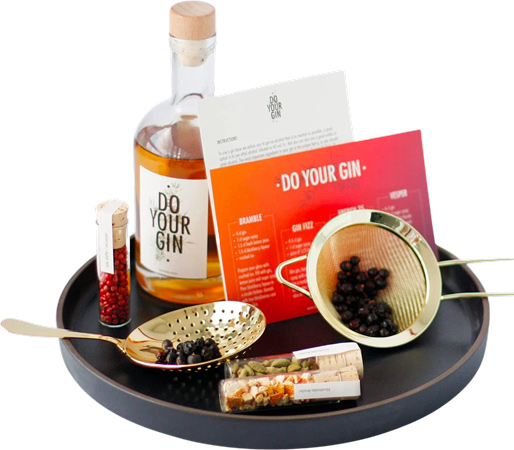 Give her a gift that's also a hobby with this crafty Gin Making kit. Complete with all the ingredients and essentials needed to make a flavorful small-batch gin in just two days. Use the included infusions and add items like juniper berries, lavender and cardamom to create original and unique flavors. This creative, zero waste product is made using all 100% organic, recyclable, and biodegradable materials for an eco-friendly gift.
15.
Toiletry Bag with Hanging Hook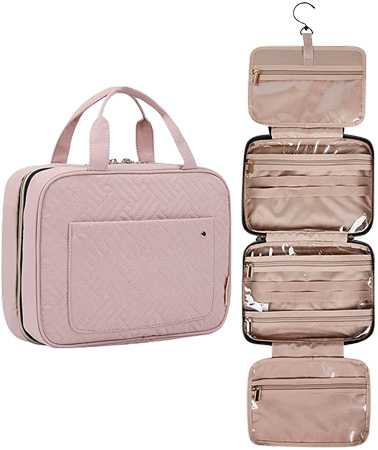 Now she's not working she'll have plenty of time to travel. For jet-setting ladies that hop from country to country, this toiletry bag will provide the perfect storage space for toiletries and other items. Hook it up and watch it unfold, and fold it back up when not needed. Zip pockets, elasticated pockets, and inner compartments are all suitable for holding various items safely. As it is super convenient and easy to carry it's the perfect match for any type of trip.
16.
Shiatsu Neck Massage Pillow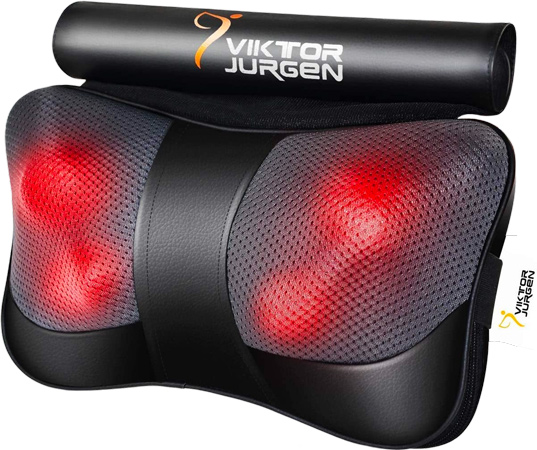 Massage away the aches and pains from all those years sitting at a desk with this heated neck massaging pillow. Powerful rotating massage nodes knead tired muscles and release tension. With handy positioning straps, this massage pillow can be fitted to a chair and used anywhere to soothe tense muscles. Adjustable settings and heat levels help to target the massage to needed areas. Use for neck, back, or shoulders and massage away muscle pain.
17.
Crystal Infused Water Bottle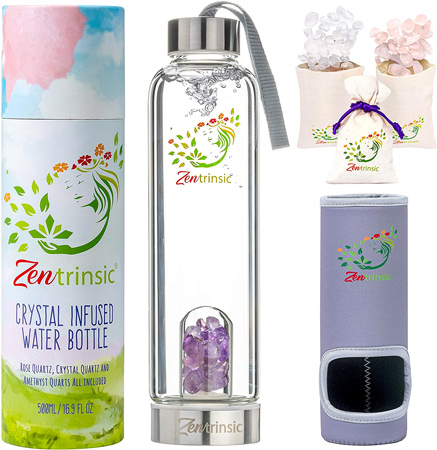 Find your Zen and keep healthy and hydrated while on the go. This crystal-infused water bottle uses the healing power of gemstones to promote health and wellbeing. Comes with three interchangeable crystals for different effects including rose quartz, amethyst, and clear quartz, or use your own stones. This water bottle makes an ideal gift for those interested in Reiki or crystal healing and can be refilled and used again and again.
18.
Home Spa Gift Basket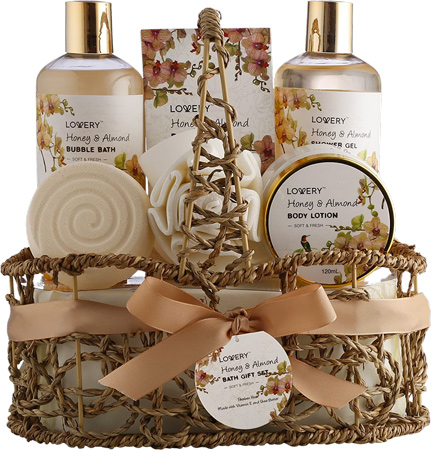 Create a relaxing and therapeutic home spa experience with this Honey and Almond scented Gift Basket. Includes tons of favorites like bath salts, bath bombs, shower gel, and hand lotion all beautifully presented in a handwoven basket. All products are paraben-free and are not tested on animals. Each item contains shea butter and vitamin E to moisturize and soothe the skin, and protect from dryness and cracking.
19.
Hummingbird Feeder with Perch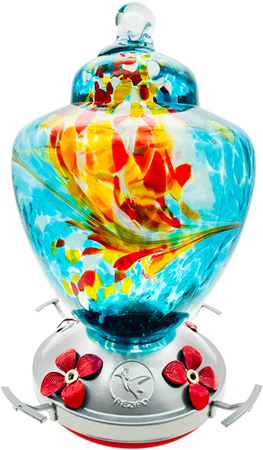 Here is a retirement gift with a difference! Create a peaceful hummingbird sanctuary in the front yard or porch with this hand-blown glass hummingbird feeder. Painted in bright colors and includes red feeders for hummingbirds to easily see. Easy to fill with a wide mouth reservoir this attractive glass and brushed copper bird feeder will keep feathered friends visiting to feed every day and add color and interest to wherever it is hung.
20.
Stainless Steel Garden Tools Set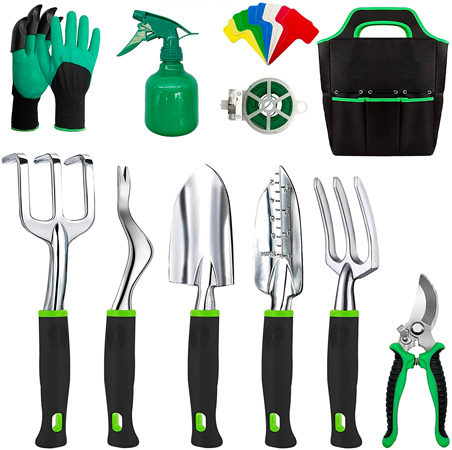 If your retiring relative enjoys spending time in the yard planting and weeding, this Garden Tools Set will contain everything they need. Made from tough and durable stainless steel the set includes trowels, pruners, and rakes for tending to plants. It also comes with a sprayer, gloves, and transplanter and the whole kit fits neatly inside the carrying bag. Keep plants and shrubs neatly trimmed and keep all garden tools conveniently at hand.
21.
Women's Crystal-Accented Quartz Watch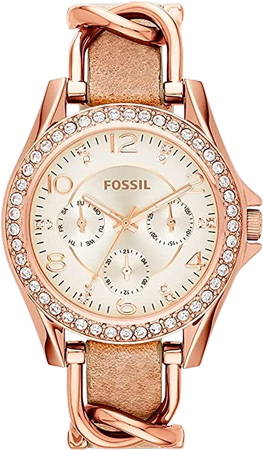 To make a unique and commemorative gift this stunning and elegantly designed watch will make an ideal gift for any retirement. The rose-tone case and leather band are decorated with buckle closures, and both the watch case and dial are decorated with sparkling crystal accents. Three chronograph dials are featured on the watch face and the crystal mineral lens is hard-wearing and scratch-resistant. It will make a perfect retirement gift that she can wear every day.
22.
Long Kimono Robe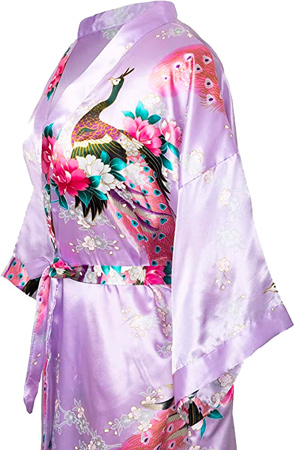 Experience indulgent elegance with this Japanese Style Kimono Robe. Comes in a range of stunning colors and features Asian-inspired designs including cherry blossoms and peacocks. This silk-satin robe can be worn out of the shower or just around the house for a luxurious feel. One size will fit most women and the garment comes with an adjustable tie-belt and large loose sleeves for comfort.
23.
Personalized Pet Photo Necklace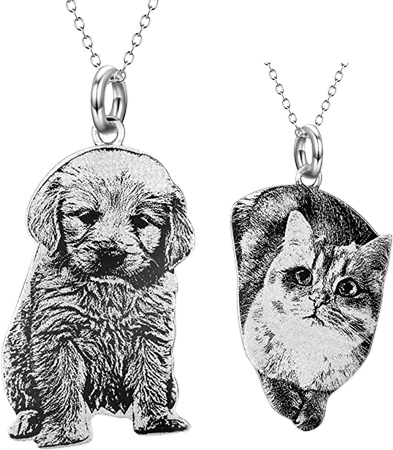 Women who are pet lovers will have more time to spend with their four-legged friends once retired. Help her display the love of her pet with this original Pet Photo Necklace. Made from sterling silver the pendant can be customized with a photo of their pet and will make a special gift. The pendant comes with an 18-inch chain and the necklace is packaged in a lovely gift box complete with a polishing cloth.
24.
Music Bedside Lamp with Charger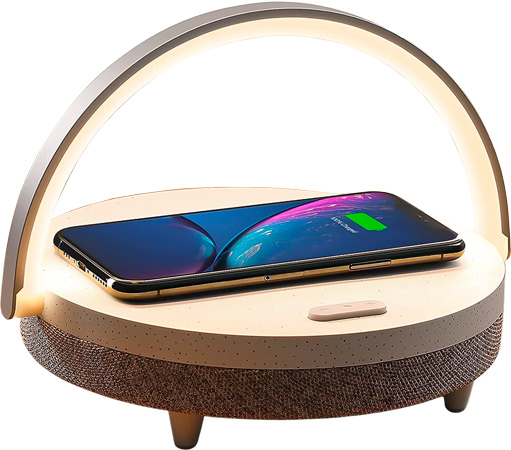 Sleep better with this multi-function night light, phone charger, and Bluetooth speaker. This dimmable night light has three adjustable levels, with a swiveling bar that helps you to place your phone in just the right position, and the lamp base will charge your cell phone. Connect your phone wirelessly to the speaker and play your favorite music, or dim the light to the required level and get a great night's sleep.
25.
Vintage Metal Feather Bookmark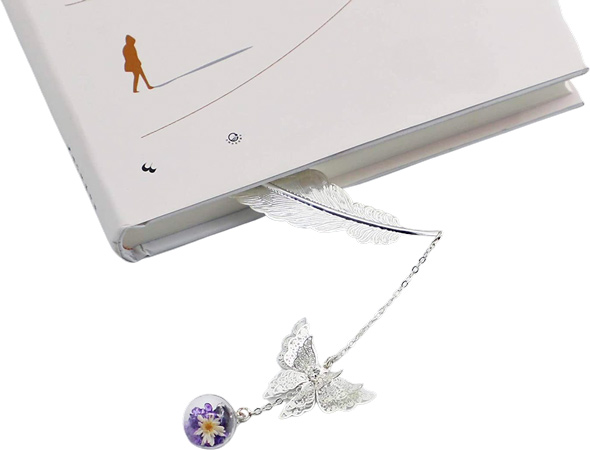 Make a fantastic keepsake gift for readers with this Vintage Bookmark. The metal bookmark is styled in a detailed feather shape and features a 3D butterfly decoration. Attached to the chain is a glass bead that contains a delicate eternal dried flower. Each bookmark is uniquely hand-crafted, lead-free, water-resistant, and eco-friendly. Each one comes carefully packaged in a gift box, and will make a delightful gift for bibliophiles that can be used every time they pick up a book.
26.
Cold Brew Iced Coffee Maker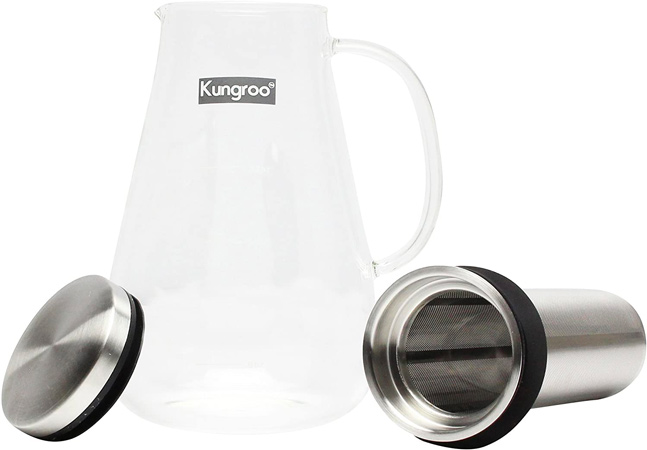 Coffee drinkers will love making flavored iced coffee at home with this Cold Brew Pitcher. Capable of making tea and coffee, both hot and cold, this coffee maker is a useful gift to keep in the home. The airtight glass keeps beverages fresh and ready to drink and the large 32-ounce size means enough drinks to share with friends and family. Dishwasher safe and BPA free with a removable stainless steel filter.
27.
Candle Holder Tray

Create a lovely nature-inspired gift with this candle holder that incorporates natural elements like wood, leaves, and rocks. Comes with three differently colored votive candle holders and will make a lovely centerpiece or home decor item. Can be used with tea lights, votive candles, or even LED lighted candles to create a soft glowing effect. Alternatively, the frosted cups and tray can be used as a mini-flower or plant holder.
28.
Aromatherapy Shower Steamers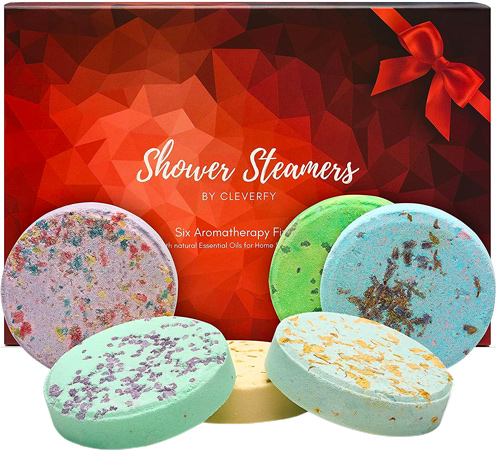 As a fun and fragrant alternative to bath bombs why not try these Shower Steamers? Simply place one in the corner of the shower and enjoy fragrance combinations like pomegranate and rose, or menthol and eucalyptus. There are six exciting scents in total and the steamers can be used whenever you want to enjoy the aromatherapy smells. Take a deep breath and melt away while enjoying the relaxing ambiance that's created by these original shower accessories. Great for soothing away stress and tension.
29.
Large Wooden Chopping Board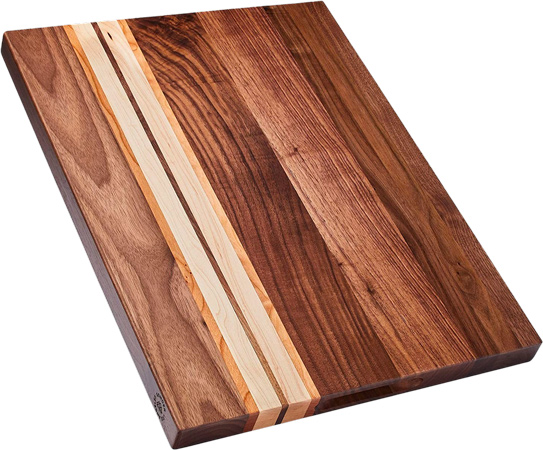 This all-natural chopping board with its blend of walnut, cherry, and maple wood will look simply amazing on any kitchen counter. The large board can be used to chop, slice, and dice meat, fruit, vegetables or anything else needed for cooking. Flip it over and add bread or crackers to the carved well and turn it into a serving tray or charcuterie board. Built-in handles make the board easy to lift and move and lift. Strong durable wood makes the board completely knife-friendly and regular cleaning and oiling with help to preserve the natural beauty of the wood grain so your board stays looking like new.