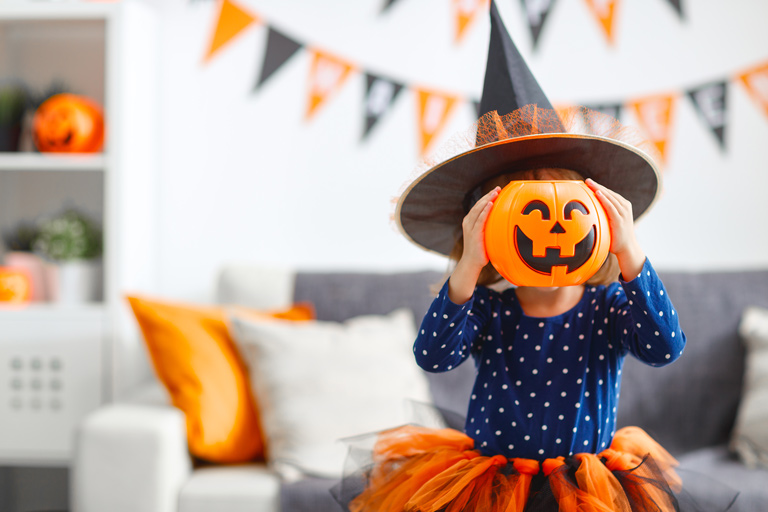 Make a fun and freaky Halloween for your kids with cool and scary make up gifts or unusual party decorations. Help them make the house look dark and creepy or find them a spooky costume to wear and frighten the neighbors when trick or treating. Halloween gifts can spark the imagination or uncover new areas of creativity. Choose a Halloween gift that your kids will love and share a fun and festive holiday season together.
1.
Special Effects Kit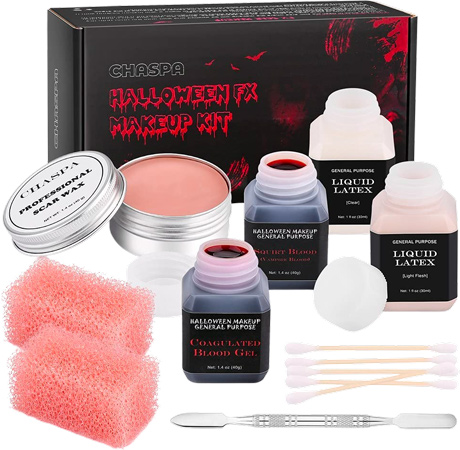 Cuts, scars, and injuries can be realistically replicated using this latex special effects kit. Containing all the make-up and accessories needed to create convincing looking wounds, your kids will love playing with this kit. Find new creative talents and demonstrate your kid's makeup talents with this versatile kit. Use it to add gory details to Halloween costumes and create frightening effects like burns and bullet holes.
2.
Halloween T-shirts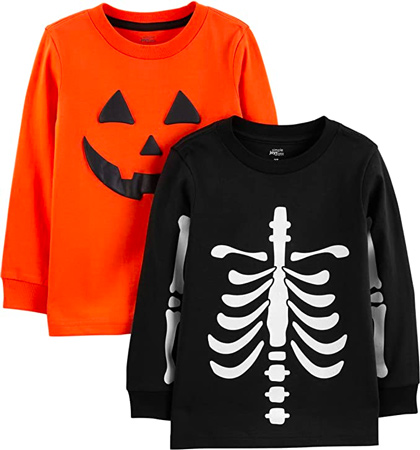 These long sleeve shirts are great for toddlers and are a great seasonal addition to any kid's wardrobe. Made in the traditional Halloween colors of black and orange, one shirt is designed to resemble a pumpkin and the other is printed with graphics to look like a skeletal rib cage. Made from premium quality materials the shirts will keep your young ones warm in the winter season or when out at Halloween events. Keep them warm while they look the part.
3.
Halloween Music Box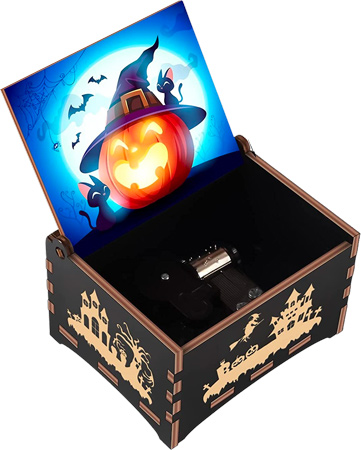 Add a traditional Halloween touch with this old-fashioned music box. Turn the handle and listen as it plays a tinkling tune. The longer you wind the longer it plays. Close the lid to stop the mechanism and pause the music, then open it when you are ready for it to play again. This will make a gift that will entertain and delight the kids and the inside lid of the box is decorated with a colorful pumpkin scene for a seasonal touch.
4.
Skull Drinking Glass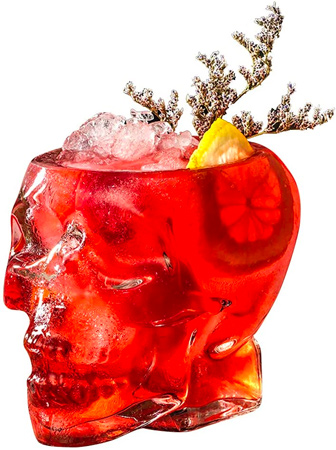 If you are having a Halloween party then your kid and their friends will love drinking their juice or water from these delightfully spooky skull glasses. Made from solid durable crystal glass they will add an atmospheric touch to seasonal parties. Small enough to be held by tiny hands, these interesting glasses will resist cracks and chips. Use them to serve up slushes, floats, or fruity juice drinks and watch your kids delight.
5.
Skelton Hand Jewelry Holder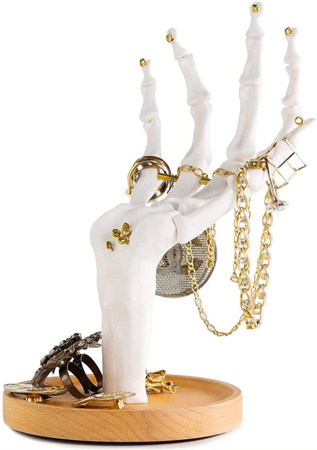 Keep jewelry stored safely on this bony, skeletal hand. The realistic human design features movable steel joints and natural solid beech wood base that serves as a tray for overspill. It makes a great jewelry stand, with fingers acting as ring holders and plenty of places to hang a necklace, bracelet or watch. It makes a unique alternative to your typical jewelry box, and allows treasured trinkets to be displayed whilst looking stylish and cool.
6.
Witch and Ghost Figurine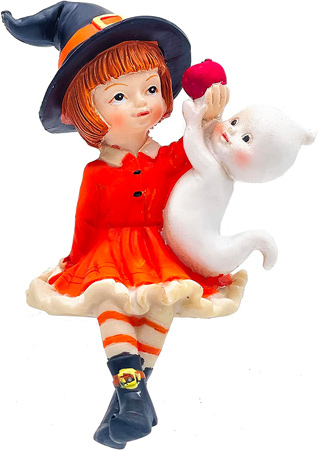 Make your bookshelf or dresser look the part for Halloween and add some witchy fun with this adorable figurine. It will look adorable in any child's room and the brightly painted colors are attractive and appealing. Made from premium quality resin this little statue is durable, lightweight, and easy to clean. The young witch and her ghostly friend will add a lovely, not-so-scary touch for Halloween and can be used year after year.
7.
Halloween Candy Bags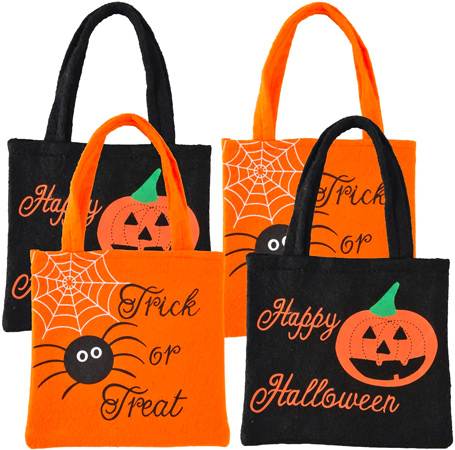 Collect candy or trick or treat gifts in these woven Halloween tote bags. Great for carrying around while moving door to door and easy to carry with the double stitched shoulder strap. Give them to the kids to collect their sweets and gifts and add even more fun to the Halloween night. Or pack them with candy and leave them on the porch for when your own trick-or-treaters come to the door.
8.
Dancing Skeleton Socks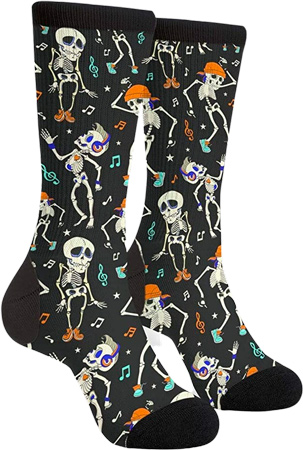 Keep feet warm in true spooky style with these dancing skeleton socks. Made from top quality materials these socks will keep feet warm in all weathers. They are fun and hard wearing with reinforced heel and toe, and your kids will love wearing them for all Halloween occasions. Perfect for older kids, these socks can be given as a gift and worn under shoes, boots, or sneakers.
9.
Witches Cauldron Mug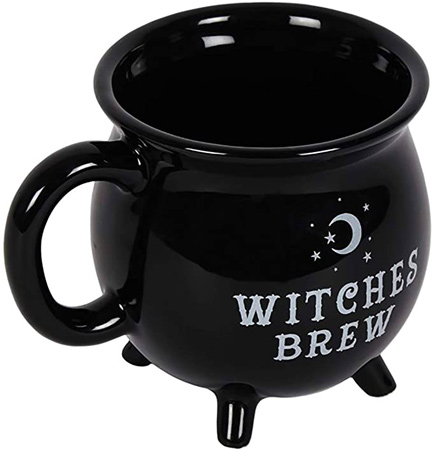 Serve up witches' brew in your own mini cauldron with these fun and interesting mugs. Made from stoneware they are finished in a deep gloss black color. The shiny glaze is finished with a white moon logo and these mugs will make a fantastically creepy addition to any children's Halloween party. Set them on the table and fill them with sweets as part of the Halloween décor, or use them to serve up soup or hot drinks.
10.
Kid's Ghost Costume
No Halloween celebration is complete without a friendly resident ghost. This costume will help your child look the part of an old fashioned, traditional ghost. The large white sheet has a fun ghost face and the scalloped edging and material patches make the costume appear older than it really is. Use it for trick or treating, or wear it out to Halloween evens to bring a spooky atmosphere.
11.
Halloween Themed Notepad
Keep notes, sketches, and drawings together with this skull notebook. Large enough to easily write and draw in, your child will love using it to keep records or projects together. Use it to make lists, leave note, or even make Halloween plans. Carry it in a bag or backpack and use it at any time when creativity strikes. It will make a fun extra gift for the Halloween season which can be used at home or school.
12.
Baby Doctor Costume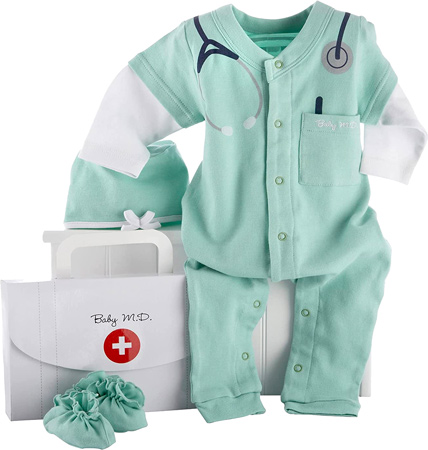 If you are going out for Halloween and want the youngest member of the family to participate then this costume will be ideal. The tiny outfit is designed to look like a working doctor or an MD and it will look adorable on an infant or toddler. Made from super soft material so it won't irritate delicate skin, the outfit comes complete with a cap, embroidered pen pocket, and a stethoscope graphic.
13.
Coffin Shaped Shelf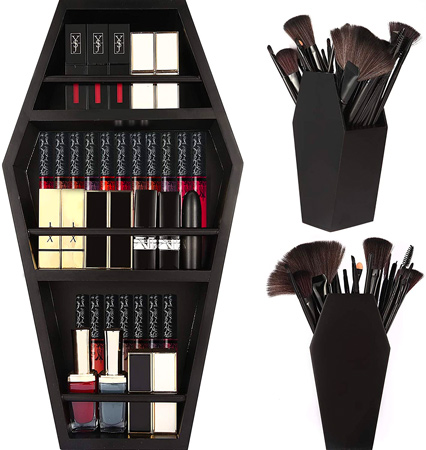 Decorate your daughter's room for Halloween with this creepy, gothic style, Halloween shelf. Designed in the shape of a coffin, the black shelf can be attached to a wall or use as a free-standing piece. Use it to store perfume or makeup and keep essential items in view on the sturdy shelves. Comes with a matching coffin make up brush holder to store eyebrow pencils, lip liner, and other accessories. It will add a creepy and macabre look to any kid's room for Halloween.
14.
Glow in the Dark Bracelets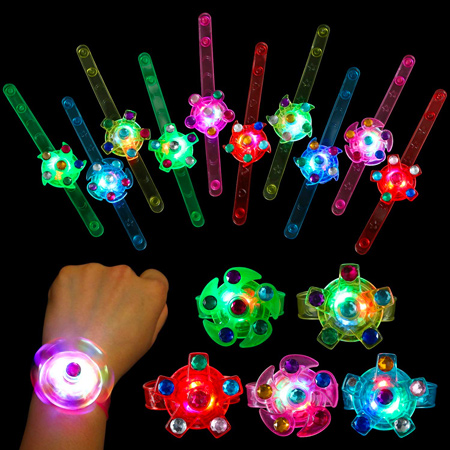 Add some fun and color to your kids Halloween costume with this glow in the dark bracelet. The combination of bracelet, light, and spinner make an attractive combination that kids will love. Put the lights on your favorite color and set it to flash and glow as the spinner adds movement and excitement. Great for wearing while trick or treating and they will make a great Halloween gift for your children and their friends.
15.
Creepy Coloring Book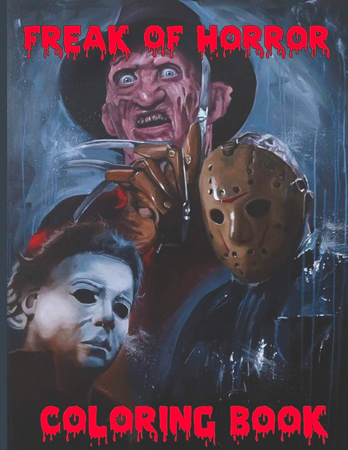 Keep kids entertained through the Halloween holidays with this super scary coloring book. Depicts ghouls and monsters from famous horror movies and can be colored in using ink, felt pens or colored pencils. It will be great for kids that like to be creating but may be a bit scary for very young children. Keep this one for the older kids or teenagers!
16.
Wooden Wizard's Wand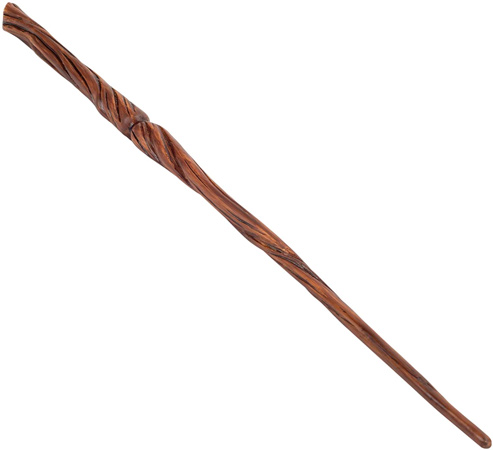 This beautifully designed wand is made to look like turned wood with natural wood grain design and exquisite details. It will make a great gift for aspiring witches or wizards. The design comes from an original hand carving and the solid weight makes the wand sit comfortably in the hand. A steel core prevents bending or warping and it will be a great accessory for any witch or warlock's Halloween costume.
17.
Halloween Wall Prints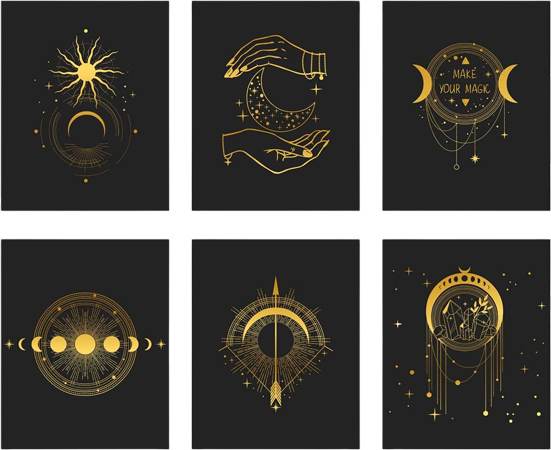 Set the Halloween theme in the kids' room with these mysterious black and gold wall prints. Each one features a different design with images like moon and stars or a dreamcatcher. Made from fine quality ink and paper they will look great hanging on a wall for the Halloween season, and can be easily removed and stored when not needed. Help your child or teen add a touch of the mystical.
18.
Spooky Pillow Covers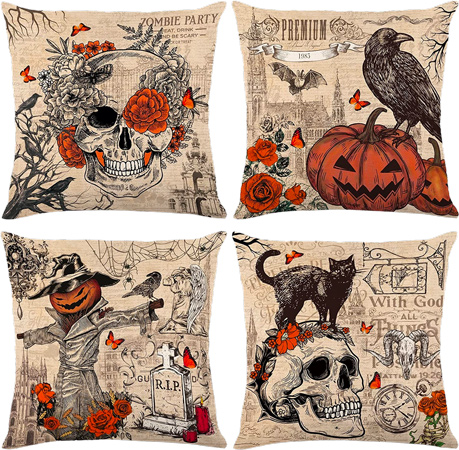 Add an extra spooky touch to home décor or use these pillows on your kids' bed during Halloween to add a creepy and festive touch. Use them as scatter cushions when your children's friends come round for a Halloween party and make the place look cool and stylish with these vintage cushions. Perfect to use when laying on the floor or use them ad extra pillows for sleepovers.
19.
Ghostly Night Light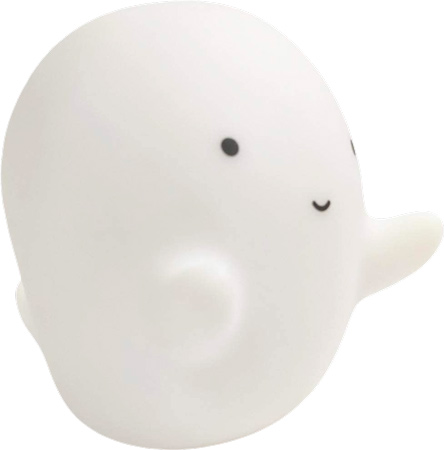 Keep the ghosts and goblins away with this adorable little night light. Styled as a cute little happy ghost, he will light up and emit a soft glow that helps to promote relaxation and sleep. The soft vinyl feels pleasing to the touch and will not be damaged by drops or falls. The lamp stays cool to the touch making to perfectly safe for any young child's room and it will add a nice Halloween effect to the room without being scary.
20.
Pumpkin Baseball Hat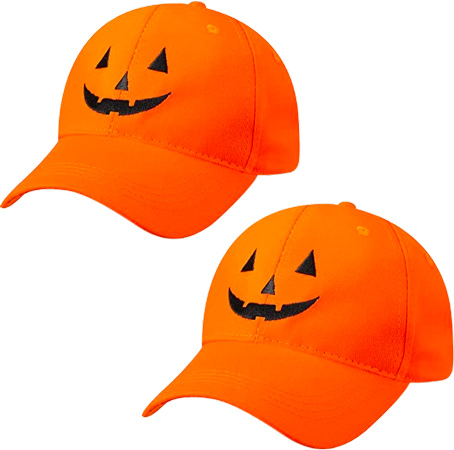 Give a fun Halloween themed gift with these bright orange baseball hats. Designed to be completely unisex and fully adjustable they can be worn by adults, kids, boy, and girls. The happy smiling Jack 'o Lantern design on the front of the hats adds a festive touch and these hats are great for wearing around the Halloween and Thanksgiving holidays. Use them when going to outdoor events, or when hiking or camping.
21.
Zombie Pen Holder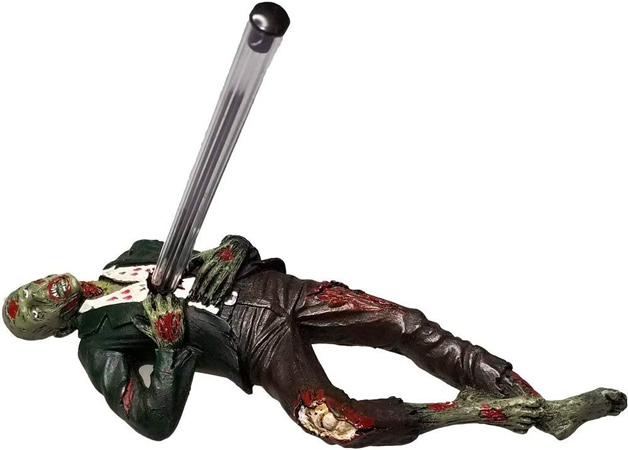 For a half-creepy, half-funny gift try this unique zombie pen holder. It can be used on a desk or worktable and the pen looks like a stake coming out of the undead figure. Made from quality cast resin the zombie includes details of blood and gore over its decaying body. This gruesome gift is a must have for any zombie fans and it will great when used as part of Halloween décor.
22.
Halloween Cat Tumbler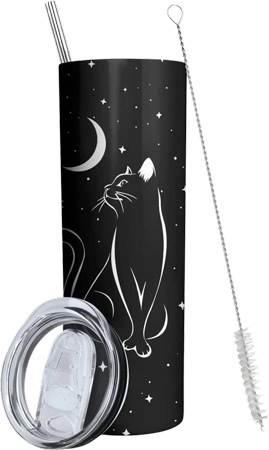 This fun tumbler is decorated with a Halloween cat design and is perfect for carrying around hot and cold drinks. Make a delicious hot chocolate or cocoa and sip it through the included straw. The light will seal the tumbler tight and prevent any drips or spills, and the double vacuum walls will keep drinks hot for hours. It can also be used for cold drinks like water or juice and can be easily carried in a bag or rucksack.
23.
Spider Prank Box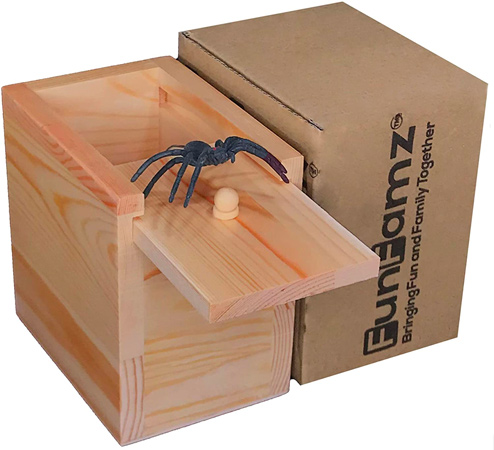 Arachnophobes will need to give this gift a wide berth! Press the lid of the wooden pine box and watch with amusement as the fake spider jumps out. This makes a fantastic prank gift and kids will love scaring their friends and relatives with it. It will work on anyone young or old and is a fun gift to place on a table for Halloween. When anybody asks 'What's in the box?' Invite them to take a look.
24.
Voodoo Doll Kit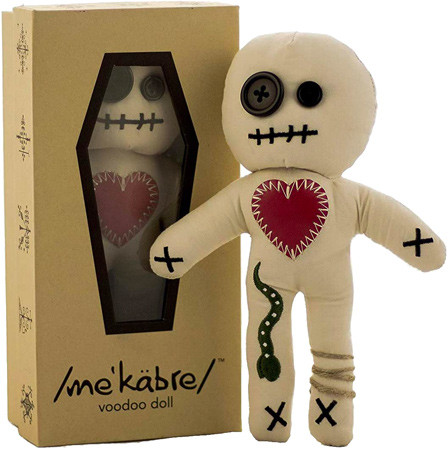 Kids will love this fun and collectible voodoo doll as a Halloween gift. Made from one hundred percent cotton muslin he is soft to the touch and durable. Featuring voodoo doll details like a sewn-on heart, button eyes, and stiches, he comes complete with six straight pins. The cute little doll comes shipped in a coffin style box and he stands and just seven inches tall. Keep him on his own or collect the rest of the set.
25.
Halloween Photo Frame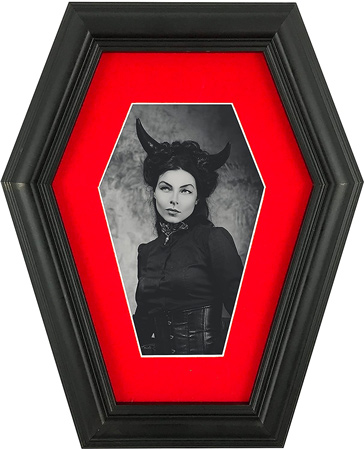 This creepy coffin style photo frame will add a touch of fear to any kid's room. If your child enjoys decorating for Halloween then this frame will be an ideal piece to have. Hang it on a wall or display it on a nightstand and add any photo of your choice. Pair it with other seasonal items to make a spooky display or use it alone as Halloween décor.
26.
Jack Skellington Keyring

Keep keys safe with this Night Before Christmas keyring, The piece features the movie character Jack Skellington and his little figure is painted with stunning attention to detail. Keep him on a belt loop or clip him to a bag to carry keys securely and safely. He will make a great party favor or an extra Halloween gift for your kid's friends.
27.
Halloween Neck Scarf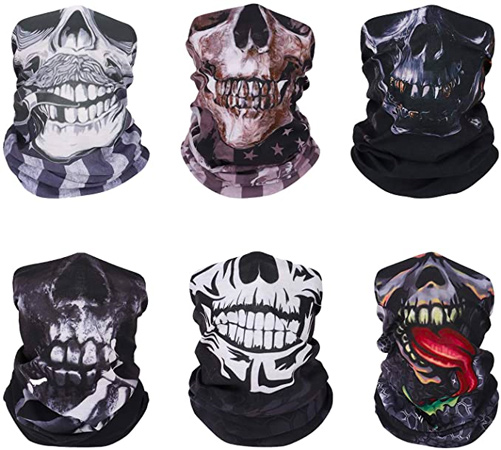 Keep face and next warm and protected from cold winds with this versatile neck gaiter. Designed with a gruesome print that looks like it's part of the wearers face, it is a scarf with a difference. Made from breathable material but guaranteed to keep heat in it is ideal to wear while trick or treating. This visually effective scarf will make passers-by look twice at the eerie face design.
28.
Scary Cycling Gloves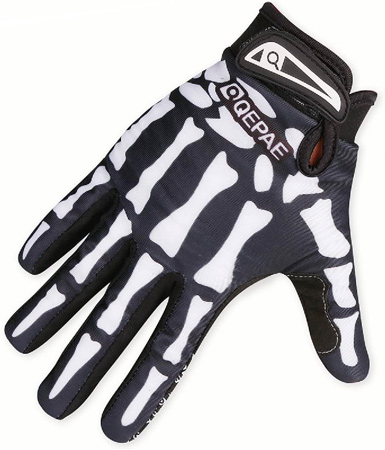 Give kids the effect of having creepy skeletal hands while riding their bike with these black and white gloves. The gloves are painted with bony fingers that look just like a skeleton and they can be worn as part of a Halloween costume. Made from stretchy Lycra fabric the gloves will fit the hands and finger snugly and prevent cold air from getting in. They are padded, non-slip, and wear resistant for repeated use.
29.
Halloween Phone Case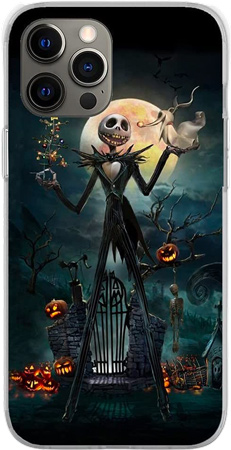 Give a nod to Halloween using your mobile device with this creepy phone case. Designed to fit and protect your mobile phone it will keep it safe from knocks or drops. Made from high quality TPU material the case is flexible and soft to the touch. Precise cutouts allow easy access to phone switches and buttons, and the case is completely shockproof.
30.
Cat Ice Cube Tray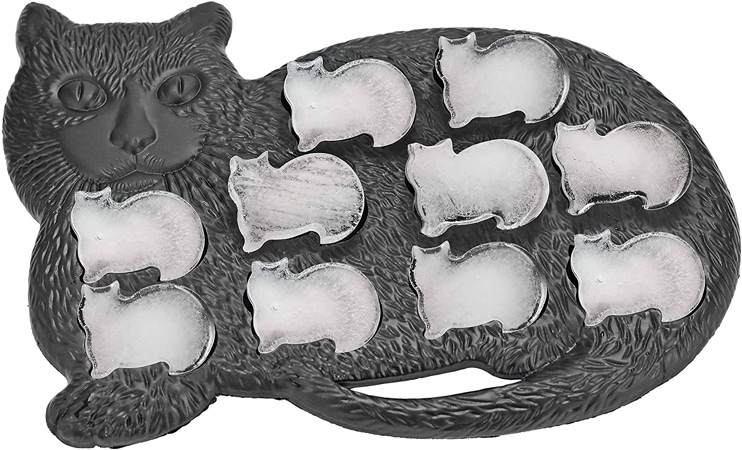 Even witches get thirsty so delight your kids and their friends with these specially made cat ice cubes. Each cube looks just like a witch's cat and they will make a super addition for kids to pop into their party drinks. Add a bit of food coloring to make black, green, and orange cubes for a real Halloween effect and as they melt, just refill the tray and pop it back into the freezer to make more.
31.
Stretchy Spider Webs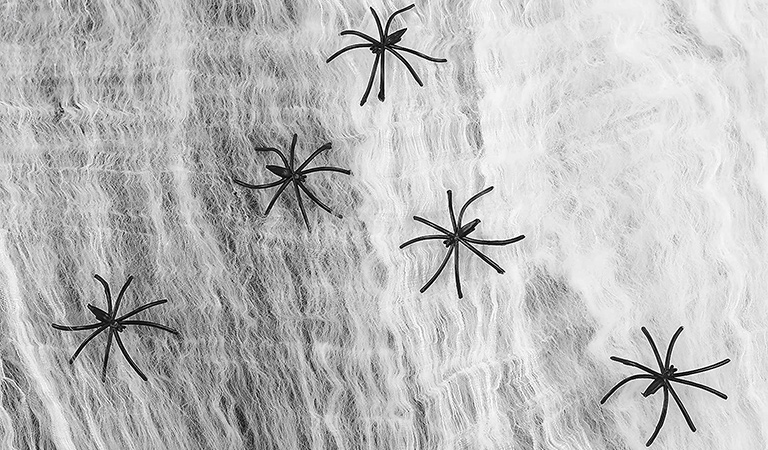 Decorate the house or the front porch with the kids with this stretchy and realistic looking spider web. Pull it over benches or bushes and create a haunted house effect over the rooms and gardens of your home. The web will stretch over a thousand square feet so it offers a large coverage area with lots of options for use. Drape it down curtains or spread it over furniture for an old and eerie look, and watch out for the spiders!
32.
Fairytale Witch Costume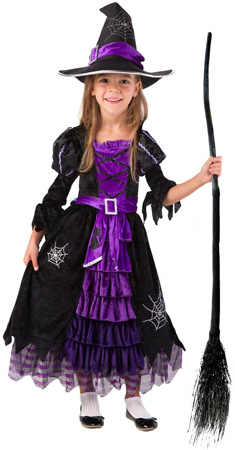 This fabulous costume will be a super Halloween outfit for any little girl who wants to play dress up. Design as a part fairytale princess part witch, it is a costume with a twist. The long flowing dress comes with a matching pointy hat and the costume is make from shiny black and stunning royal purple material. She will be the cutest witch the world has ever seen.