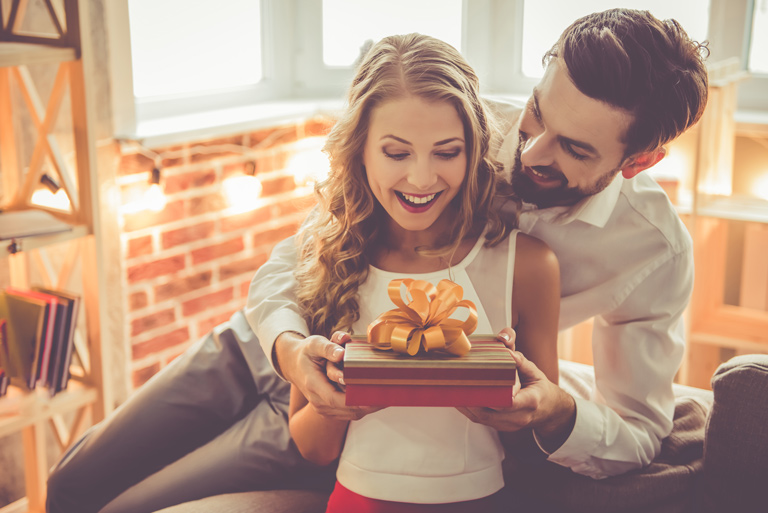 You need to find a gift for your better half that expresses all of the love and admiration you have for her. A gift that says you are the most important person in my life and you deserve this special gift I knew would be perfect for you. No pressure, right? Not anymore.
This list of 28 lovely gifts for your amazing wife will make sure that what you give her is on par with the thoughtfulness she deserves. Whether she's into cooking, fitness, home decor or sparkly things that come in small boxes, there's something on this list that is going to put a huge smile on her face.
1.
Marble Serving Tray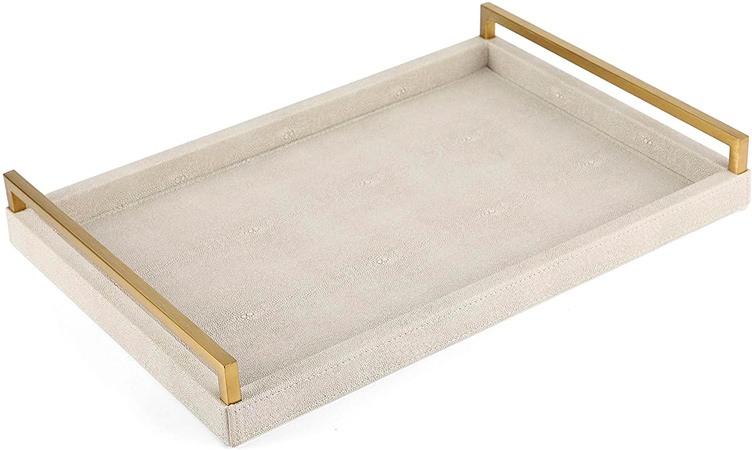 This beautiful decorative tray would make a great gift if your wife is into classy home decor. The ivory faux leather surface with gold metal handles makes this a piece of decor that will easily blend with any style. She can use it on a coffee table to organize small items into a vignette, use it to display candles or use it to serve refreshments at her next party. This is a gift that will help your wife elevate the style of any room.
2.
Wooden Spoon Set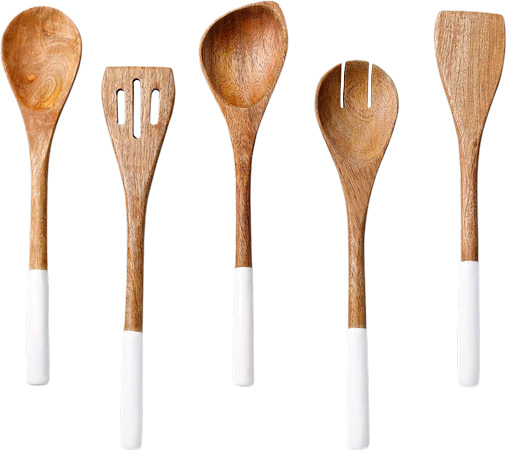 If your wife loves to cook, this set of handmade wooden utensils will look great in her kitchen. The set comes with five different pieces, including a spatula, fork, slotted turner, spoon and a corner spoon. They're made of eco-friendly mango wood that is naturally water-resistant and durable for long-lasting use in the kitchen. The unique white handles give these spoons a modern twist. They would look great displayed in a utensil jar on the kitchen counter.
3.
Stemless Wine Glasses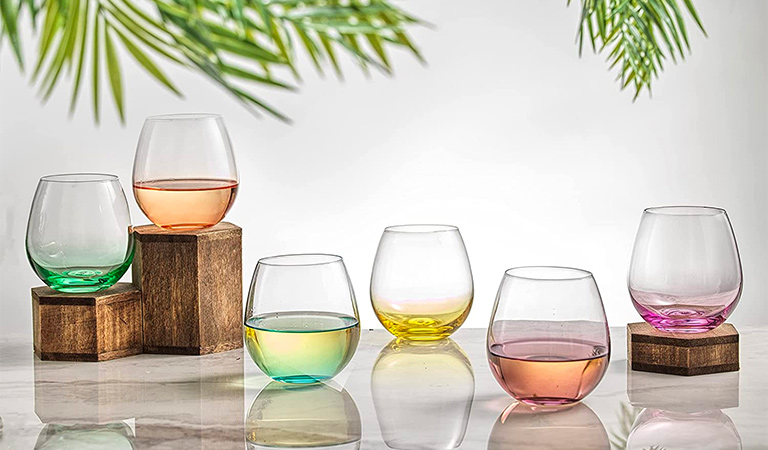 These colorful stemless wine glasses will make a splash next time your wife has her girls over for wine night. The set comes with six glasses, each a different jewel-toned color. Each glass holds a generous 15 ounces so they're not just great for red and white wine, they're also large enough for cocktails, or even just as water glasses to add a pop of color to the dinner scape.
4.
Oil and Vinegar Dispensers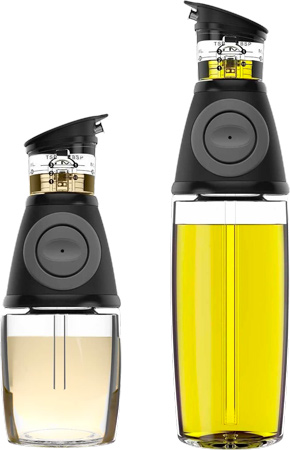 These really cool oil and vinegar dispensers not only look good enough to have out on the dinner table or counter, they also feature a built-in measuring cup in the lid. Just pump the lid to measure the exact desired amount and it collects in the cap. They're great for making recipes that call for specific measurements or for counting calories. No more guesswork or having to dirty measuring spoons.
5.
Enamel Flower Teapot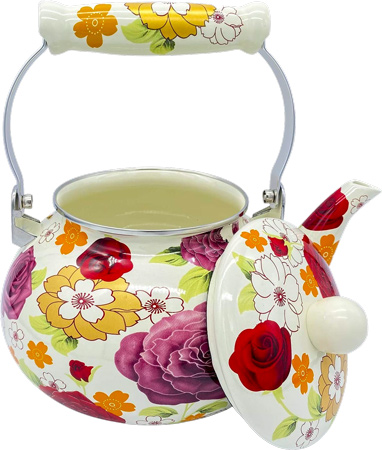 Add a bit of whimsey to your wife's stovetop with this adorable, vintage-inspired porcelain-enameled teapot. This unique teapot with its colorful flower design will definitely stand out. It's made of chemical-free porcelain that won't cause any chemical leaching when she's making her favorite cup of tea. It's suitable for most stovetops, including induction. If your wife enjoys drinking tea and loves to show off her fun personality, this teapot is the perfect gift for her.
6.
Wooden Cookbook Holder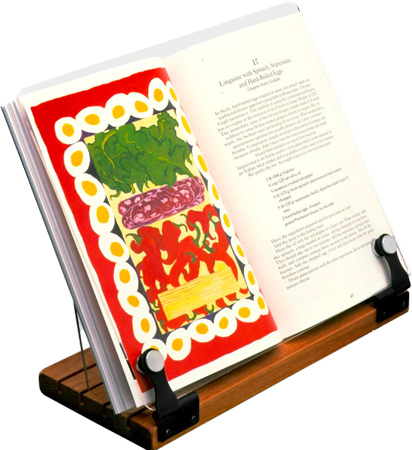 Help your wife go hands-free while trying out her new recipes with this cookbook holder. The heavy base of this holder is made out of solid cherry wood that adjusts to the optimal viewing angle via the integrated stand on the back. The acrylic screen in the front protects heirloom cookbooks from spills and splashes while still providing obstruction-free reading. It can be displayed on her counter with her favorite book as a piece of homey decor or it can be folded flat and stored away to save counter space. If your wife loves cooking she'll love this gift.
7.
Wine Bottle Insulator

Make sure your wife can enjoy a perfectly chilled glass of wine wherever she is with this clever wine chiller. This portable insulator is made of thick double-walled stainless steel that will keep a full-sized bottle of wine or champagne chilled to the perfect temperature for hours. The insulator stays on the bottle so it's not only compact and hassle-free, it also prevents condensation from dripping all over the table. It's great for using at home but also makes the perfect companion to bring along to her next pool party, BBQ or wine party.
8.
Porcelain Serving Bowl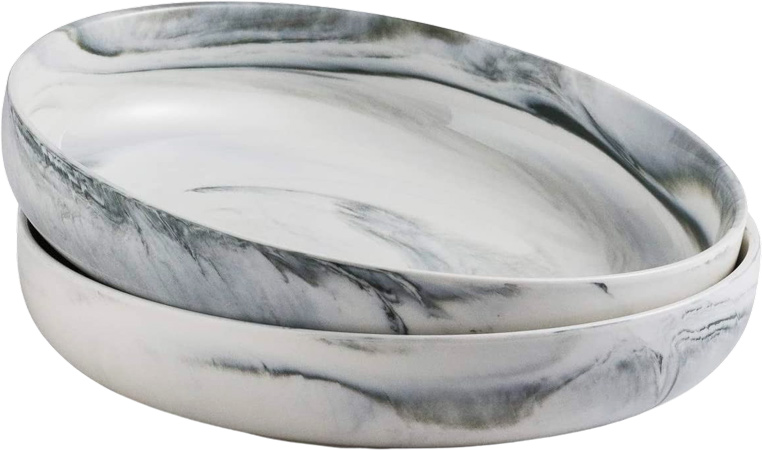 If your wife likes to have dinner parties or just appreciates serving up her beautiful dinners in equally beautiful server-ware, these porcelain serving bowls will get a lot of use around the dinner table. The ten-inch size makes them the perfect bowls for serving up side dishes or as snack bowls for parties. The bowls come in a set of two and are available in four different pastel marbled colors. These on-trend bowls are just what she needs to put the finishing touches on her dinner presentation.
9.
Wall Mounted Planter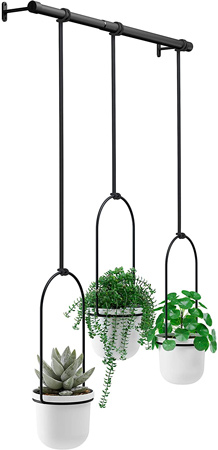 This stunning wall-mounted plant pot is a gift you can't pass up if your wife loves having a lot of greenery around the house. Being a plant person, she's probably running out of places to display her ever-expanding indoor jungle. With this eye-catching planter she can start taking her green hobby vertical. The planter comes in two variations, a set of three pots or five. The stark difference between the white ceramic pots and the black metal bars gives this planter a modern look that will breathe life into any room she hangs it in.
10.
Modern Vase Set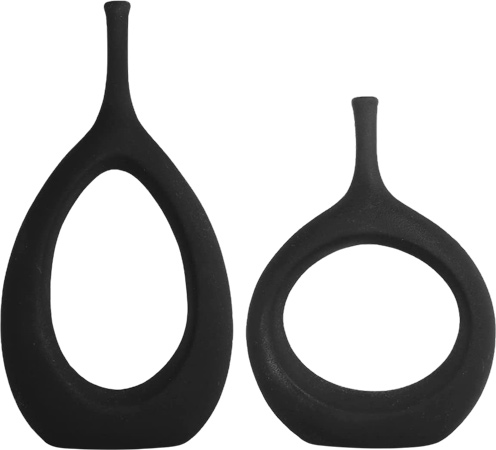 Add a bold statement to your wife's decor by gifting her these modern ceramic vases. The set of two vases comes in either black or white and includes two different sizes. The organic oval shape has a handmade look to it which softens the modern design. The vases are watertight so they are great for displaying a few live stems or they can be left empty for a beautiful statement on a bookshelf. If your wife loves home decor that makes an impact, these vases are up to the task.
11.
Candle Stick Set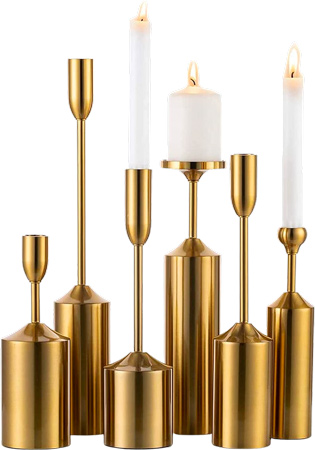 This elegant set of candlesticks is a great gift idea if your wife enjoys having candles around the house. The set consists of six candlesticks of varying heights and are made of solid, rustproof iron that has been finished in brushed gold. These candlesticks would create a show-stopping centerpiece on her dining room table, look great on a shelf or for a creative and design-forward option she could cluster them in a faux fireplace for a soft candle-lit glow to set the mood.
12.
Floating Picture Frame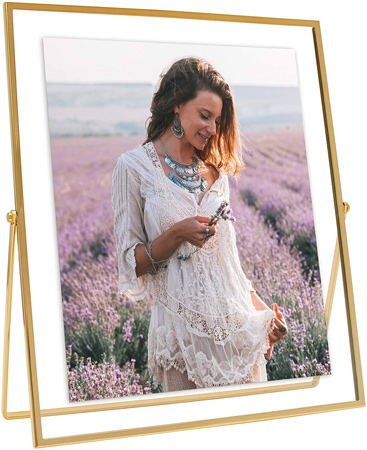 If your wife wants to display her favorite picture of the two of you in a minimalist way, this floating frame is a gift she'll be proud to look at every day. This 8×10 frame is made of electroplate glass for crystal clear viewing and a thin, understated gold frame. The frame sits on an easel so there's no need to hang it. She can just add her favorite snapshot and place it on a tabletop so she can relive her happy memory every time she sees it.
13.
Decorative Marble Bowl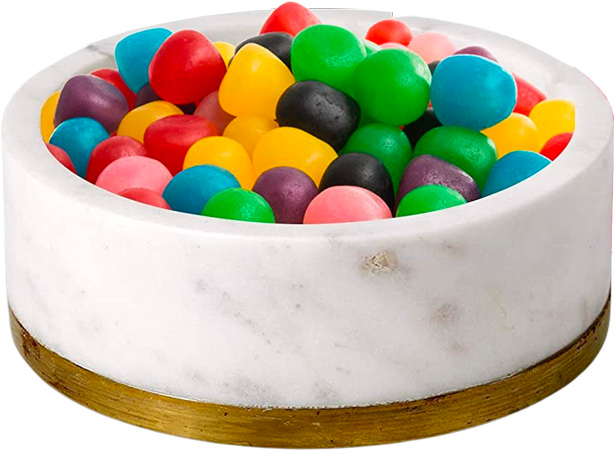 This attractive, handmade marble bowl is a great gift to give your wife so she always has a catchall for the little items she wants to keep organized. It's made of solid hand-carved marble and accented with a contrasting brass trim on the bottom. It's great for keeping by the front door to catch loose change or keys or can even be used as a modern candy dish.
14.
Lifelike Faux Plant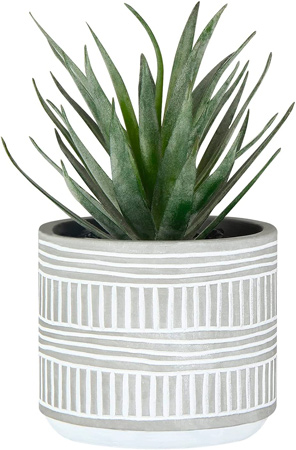 If your wife likes greenery but wants an alternative to high-maintenance live plants, this faux plant is the solution. The ultra-lifelike succulent comes in a concrete pot that is decorated with a modern grey and white pattern that will easily blend with her decor. It's suitable for both indoor and outdoor use but is particularly useful for high spots that don't allow easy access for watering or for areas that don't get adequate sunlight. With this gift she'll always have a beautiful, thriving plant to brighten up her space.
15.
Essential Oil Diffuser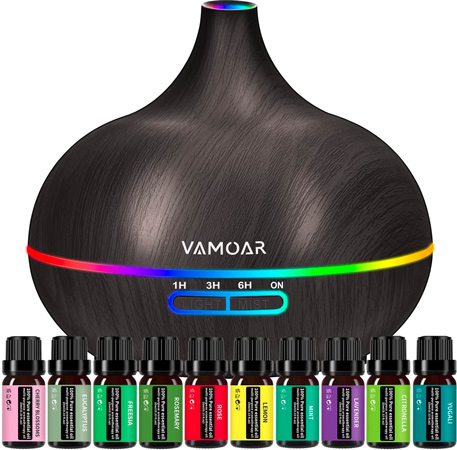 Make sure your wife is always surrounded by scents that inspire, relax and destress her with this electric diffuser set. The set comes with a diffuser that also acts as a humidifier plus ten different aromatherapy scents, including sakura, eucalyptus, rosemary, citronella, yugali, rose, mint, lavender, lemon and freesia. The diffuser features four different timer settings and two levels of misting, light and strong. Every time your wife walks into the room she'll feel like she's in a spa.
16.
Unique Cotton Wallet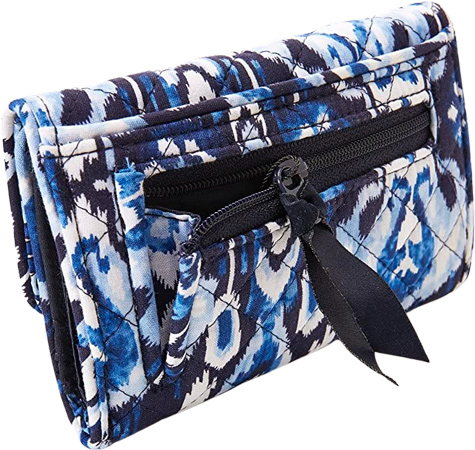 Help your wife keep your essentials organized with this wallet by Vera Bradley. The unique padded cotton construction of this wallet is a refreshing alternative to traditional wallets. This wallet will definitely stand out and is perfect if your wife wants something that is different from the norm. The wallet is spacious enough to carry ten cards, her ID and cash. The RFID protection will also keep all of her information safe while she's out and about.
17.
Chic Wrap Shawl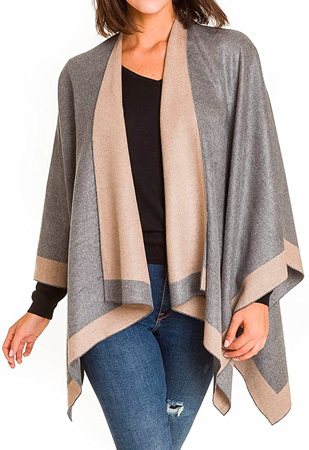 If your wife is into timeless fashion, this shawl is the perfect accessory to add to her wardrobe. The shawl is made of pure viscose, making it soft to wear, durable and machine washable. It comes in many different color options, all of which are reversible so it's double the outfit options in one gift. It's the perfect shawl for chilly nights, spring days or for wearing during travel. Whether your wife is wearing jeans or a dress, this shawl will look amazing on her.
18.
Professional Manicure Kit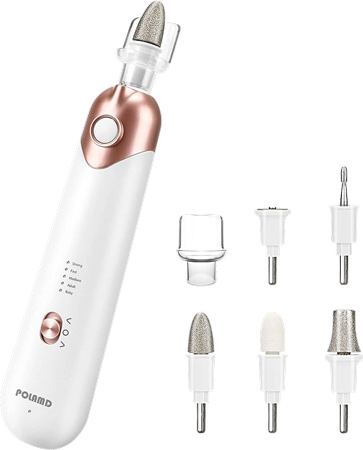 This gift will make sure your wife's nails always look as good as they do after she has been to the salon. This professional-grade electric file comes with everything she needs to give herself a high-end manicure or pedicure from home. The cordless file runs off a rechargeable battery that charges via USB and provides a full two hours of pampering before needing to be recharged. The set includes five different attachments and features five different speed settings. With this gift, your wife can treat herself to a little TLC whenever she wants without having to make a salon appointment.
19.
Steam Facial Cleanser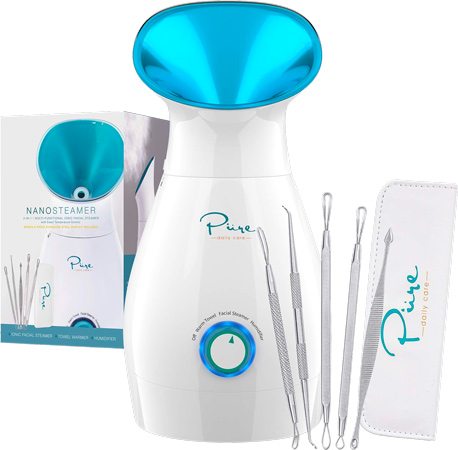 For a deep cleaning facial from home, this steamer is a gift your wife will want to have. This steamer helps open pours by emitting ionic steam that is proven to be more effective than traditional steamers. The set includes the steamer, which also doubles as a towel warmer and room humidifier, plus five different surgical grade stainless steel skin tools to help treat blackheads, whiteheads, acne and blemishes. Not only does this gift help your wife deep cleanse her skin, the steam also helps her expensive face serums absorb deeper into the pores. Help her keep looking as young as she feels with this great gift.
20.
Instant Facial Toner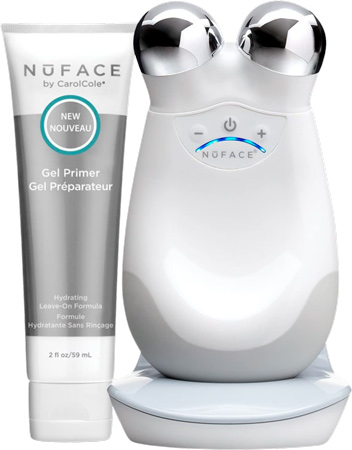 This electric facial toner by Nuface is a gift that your wife doesn't even know she needs in her life… yet. This handheld device is like a workout for the muscles in her face. The microcurrents stimulate deep into the muscles to create instantly visible results. It tones, contours and lessens the appearance of fine lines and wrinkles. This little device is like a mini facelift whenever she wants it. She's going to love you for thinking of this gift.
21.
Bath Salt Set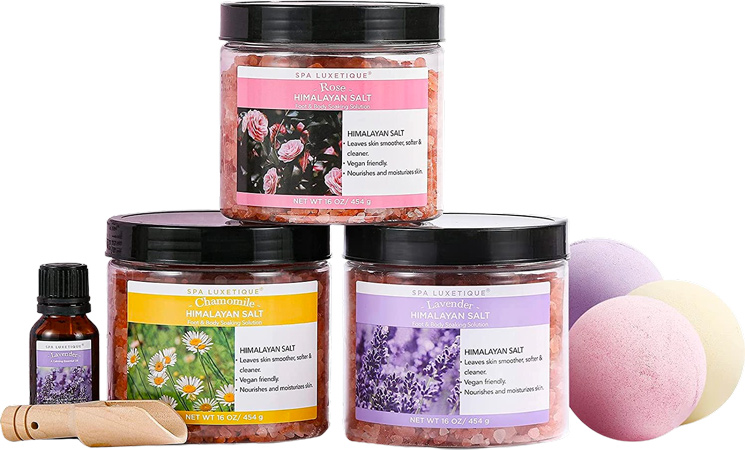 Give your wife the gift of escapism with this eight-piece bath set. With this set she can relax in a luxurious bath and be whisked away from the stresses of the day. The set includes three naturally scented Himalayan bath salts, three bath bombs and lavender essential oil drops. The bath salts contain a variety of natural minerals and trace elements that are proven to relax both the body and mind while the bath bombs create a rich, lathery bubble bath experience. A bath like this will leave her feeling refreshed and rejuvenated. Just what she needs.
22.
Wine Glass Holder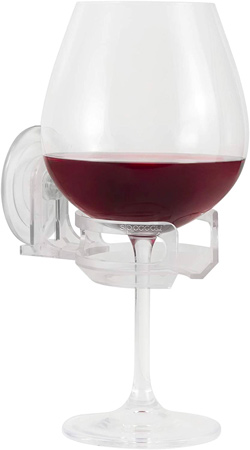 What's more relaxing than a bath? Bath with wine! This clever wine holder will not only prevent her wine from spilling in the bath but will also keep it within reach. The extra strong suction cup can support up to seven pounds so there's no risk of it sliding off the side of the bath. She'll appreciate this gift when she's sipping away her day, neck-deep in luxurious bubbles.
23.
Cinch Top Gym Bag
For the wife that likes to stay fit, this stylish, minimalist gym backpack is the perfect way for her to take her gym gear with her on the go. The cinch top opening makes getting to her gear quick and easy while the front zipper pocket will keep her phone and keys handy. The bag comes in seven different beautiful color options, all water-resistant and machine washable for easy care. It's a bag as beautiful as it is functional.
24.
Folding Yoga Bag

If your wife is into yoga, this minimalist mat carrier is a gift she'll appreciate and use every time she finds her Zen. This yoga bag offers an adjustable fit to accommodate any size yoga mat and also features a zippered side pocket to carry essentials like keys and wallet. When your wife doesn't want to carry an entire gym bag to the yoga studio, this is the solution she's been looking for.
25.
Layered Crystal Bracelet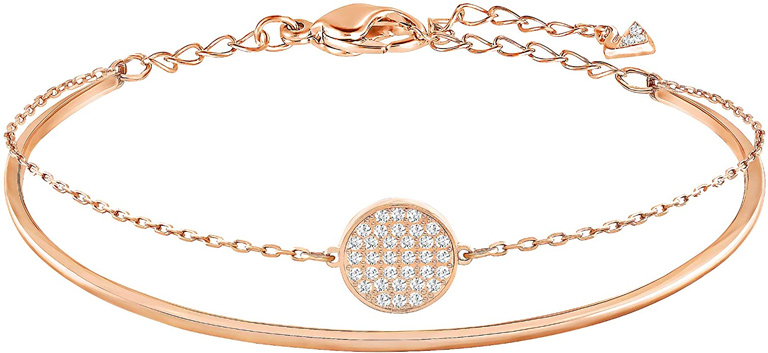 What wife doesn't love jewelry? This dainty layered crystal bracelet won't disappoint. The bracelet consists of a rose gold bangle and a chain link bracelet with a crystal pendant that are attached as one bracelet via the lobster clasp in the back. It's a versatile piece that she can wear for any occasion.
26.
Luxury Crystal Watch
If your wife likes to wear watches, this classy watch with a subtle pop of color will be the perfect addition to any outfit, day or night. The pave crystals on the links and bezel give this watch a sophisticated look while the teal and purple face gives it an unexpected and fun twist. It's a gift she'll admire and appreciate whenever she checks the time.
27.
Crystal Solitaire Necklace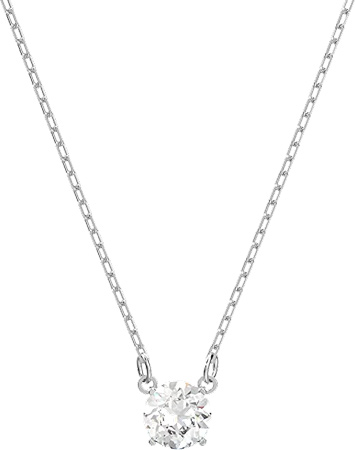 Jewelry doesn't get any more timeless than a classic solitaire necklace. This gift will be a piece of jewelry that will leave your wife lost for words as she opens the box to reveal the large, sparkling Swarovski round solitaire. It's a necklace that exudes class and elegance. This is definitely a piece of jewelry that will live happily in her jewelry box for the rest of her life.
28.
Minimal Jewelry Box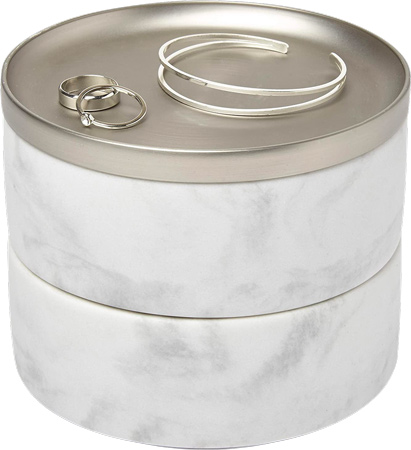 Give your wife this modern jewelry box by Umbra to keep all of her favorite treasures safe and organized. It's a minimal alternative to bulky and visually obtrusive jewelry boxes. This discreet little box pulls apart to reveal two individual bowls that can be used separately or stacked as one. If your wife loves minimalism, this unique jewelry box is a gift she won't want to do without.