With such an array of gifts and gadgets on the market shopping for a newborn baby can quickly become overwhelming! If you're looking to buy a gift for a newborn baby, or their parents, here's our top piece of advice; skip the cutesy outfits. These cute little newborn outfits definitely look like a great gift but in reality, they get worn for just a few weeks and are often fussy and difficult to put on. Plus of course, babies come in a huge range of sizes so "newborn" may swamp some babies whilst being far too snug on others.
Instead focus on buying more practical items that parents can use for a number of months to help as they take care of the baby, some toys which will suit the baby once they get a little bigger or some nice keepsakes that can be treasured. In this list we've brought together 30 of the best gift ideas for newborns in 2023 to give you some great ideas;
1.
Baby Einstein Take Along Tunes Musical Toy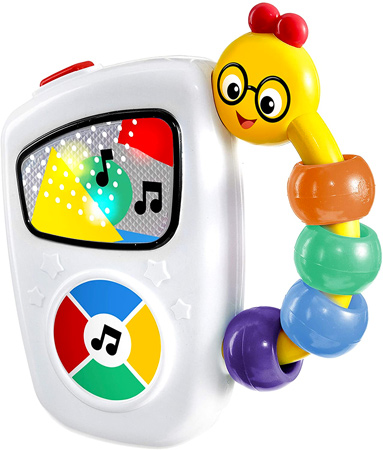 Why we like it: Portable musical toy which helps with auditory development.
Introduce a baby to classical music early with the Baby Einstein Take Along Tunes Musical toy which includes seven baby-friendly versions of melodies by Mozart, Vivaldi, Chopin and Rossini. This music helps to calm babies and promotes auditory development and some studies have even shown that exposure to classical music in early life boosts children's IQ.
With a large easy-to-press button, as babies grow they quickly get the hang of pressing the button to change the music and love to watch the colorful lights that accompany the sound. Although a newborn won't use this toy independently to start off with, they can enjoy the music and as they grow will begin to use it in different ways, making it an ideal gift to grow with a child.
Pros
Seven melodies
Includes music by Mozart Vivaldi Chopin and Rossini
Calms babies
Promotes auditory development
Good longevity
2.
Converse Baby Booties Socks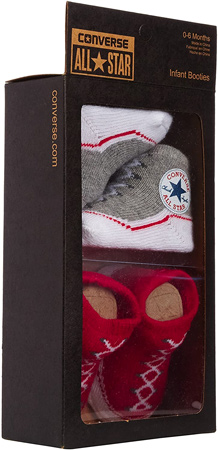 Why we like it: Great for keeping little feet warm!
Keep babies' tiny little feet warm with these Converse Baby Booties Socks that are designed perfectly for newborns and make a stylish and practical gift for a newborn. Suitable for babies up to six months old, they are made with 100% cotton so are soft and comfortable for babies to wear.
These cute little baby booties are designed to stay on babies' feet, so they shouldn't get lost and babies' feet should stay snug and warm! These socks look just like real Converse with their imitation laces, toe cap and Converse branding. They're easy to take care of too as they can be washed in a domestic washing machine meaning it's easy to keep them fresh and clean.
Pros
Keeps babies feet warm
Suitable up to six months old
100% cotton
Look like real converse
Machine washable
Cons
May not fit very small or premature baby's initially
3.
Tommee Tippee Closer to Nature Healthcare Kit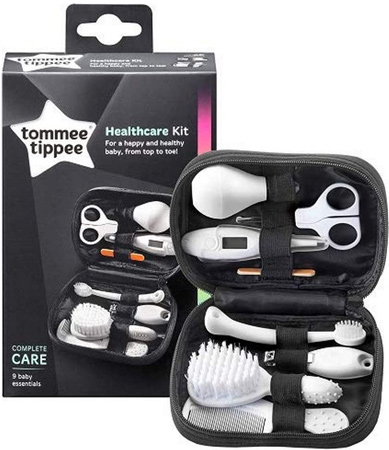 Why we like it: A great, practical gift with all the essentials for looking after a baby.
Organized in a handy material pouch, the Tommee Tippee Closer to Nature Healthcare Kit, makes the ideal, practical gift for a newborn baby. Unlike clothes which are outgrown quickly, this kit will see a baby through the first few years of their life and be used regularly, so it's a gift that parents will really appreciate.
This healthcare kit has everything parents need to help groom and care for their baby from birth, including a Nasal Aspirator, brush, comb and digital oral thermometer to check the baby's temperature and includes an automated warning sound which sounds if temperature readings reach fever levels.
Pros
Comes in material pouch
Ideal, practical gift
Includes 9 healthcare items
Automated warning sound on thermometer
Will last throughout early years of life
Cons
Sometimes difficult to use oral thermometers with babies
4.
Pearhead Baby Handprint and Footprint Photo Frame Kit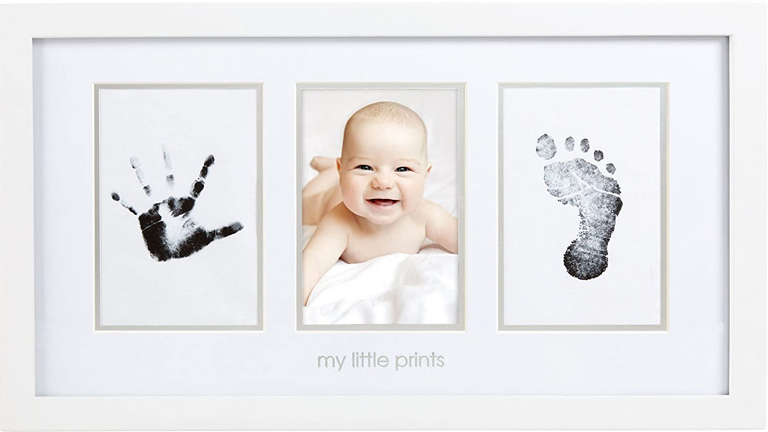 Why we like it: Create your own unique keepsake.
The Pearhead Baby Handprint and Footprint Photo Frame Kit is a lovely, thoughtful gift for a family with a newborn baby as it is highly personalized and something that they are not likely to have bought for themselves when preparing for their baby's arrival.
This kit allows the parent to use a "clean-touch" ink pad to take their baby's hand and footprint with no mess or risk and create a framed keepsake from this. The solid wood frame is neutral enough that it should match any nursery décor and the set comes with a hanging set included so it's easy to install on the wall.
Pros
Thoughtful gift
Unique keepsake
Clean touch ink is safe for baby
Neutral, solid wood frame
Hanging kit included
Cons
Larger item, need space to hang
5.
Chicco Boppy Tummy Time Pillow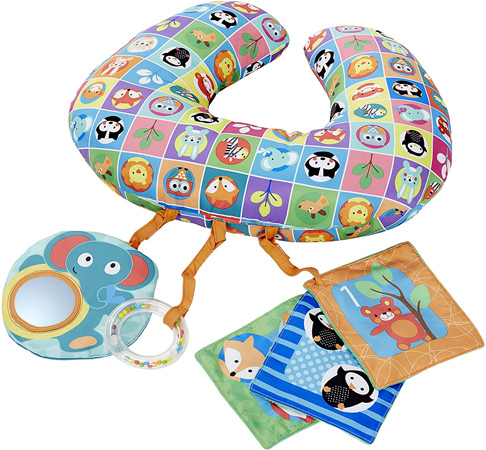 Why we like it: Fun, safe tummy time!
The Chicco Boppy Tummy Time Pillow is part of the Chicco brand's Move N' Grow range and is a soft cushion perfectly shaped to promote fun and safe tummy time play. Tummy time is really important for babies' development as it helps to prevent flathead syndrome, strengthen neck and core muscles and also help to shape the brain and develop neural connections.
This pillow includes 3 detachable toys to stimulate learning and development and maintain a baby's interest whilst they have tummy time. The ergonomic shape is suitable from just 2 months old which is ideal as tummy time is important from birth and the pillow should last right up until 9 months. As a bonus, the whole thing is machine washable, just in case of any spit-up!
Pros
Popular Chicco brand
Designed for tummy time
3 detachable toys
Suitable from 2-9 months
Machine washable
Cons
Only available in one color option
6.
Electrolux Digital Kettle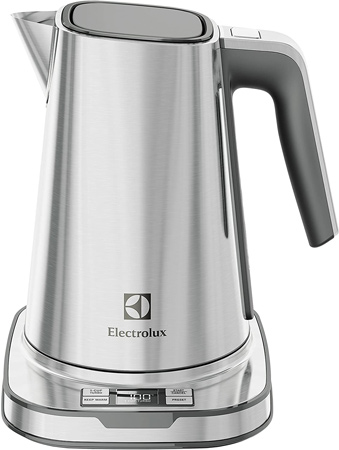 Why we like it: Perfect for making a quick tea, coffee or baby milk!
So, a kettle might not seem like the most obvious gift for a baby but the Electrolux Digital Kettle will definitely make a parent's life easier. This kettle features a digital temperature control, real-time temperature indicator and a variable temperature control so you can set the temperature of the water you need. If you need to make baby formula there are several settings over 70c that will be perfect for that, or if you need a quick, drinkable cup of tea or coffee then you can use the one cup turbo function which makes one cup of heated water in less than 60 seconds.
With a 57 oz capacity, this kettle has enough for several cups, ideal for the barrage of visitors coming to see the newborn! And the high-contrast LCD display makes for easy reading when parents are bleary-eyed first thing in the morning or woken by the baby in the middle of the night. With so many presents for the baby, this makes a nice change as a gift for busy parents.
Pros
Digital temperature control
Several settings over 70 C for baby formula
One Cup Turbo function heats water in less than 60 seconds
57 oz capacity
High contrast LCD display
Cons
More expensive than standard kettle
7.
Portable Diaper Changing Mat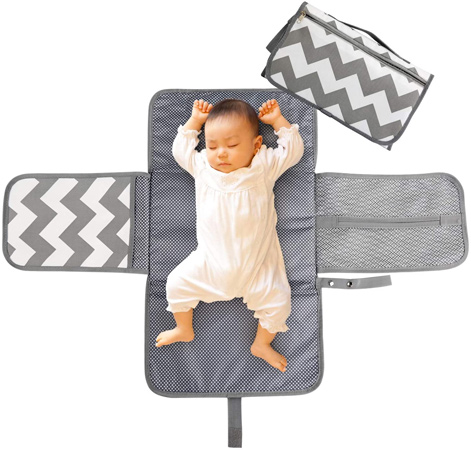 Why we like it: Practical and portable diaper changing mat.
The newborn days are filled with more diaper changes than anyone could care to count with most newborn babies going through at least 10 diapers a day, so this Portable Diaper Changing Mat makes an ideal practical gift that parents and baby will get plenty of use from.
The mat is completely padded to keep the baby comfortable whilst being changed and provides the ideal changing surface wherever you are so if the baby's parents like to be out and about then it's simple to change the baby's diaper in the park, on the beach or anywhere that doesn't have a specialized changing unit. The material wipes clean easily and the 3 pockets are perfect for storing nappies, wipes, bags and creams to make it easy to simply grab this changing mat and go. With a 180 day money-back service there's really nothing to lose.
Pros
Practical gift
Padded mat
Wipe-clean material
3 pockets
180-day money-back service
Cons
Many changing bags come with a portable mat
8.
Ewan the Dream Sheep
Why we like it: Best-selling baby sleep soother shaped like a cute sheep.
Over 950,000 Ewans have now been sold globally, and this is a great endorsement for the product which is popular with both babies and parents alike. Sleep in the newborn days can be hard to come by as most babies struggle to adjust to life outside of the womb. Ewan the Dream Sheep helps to recreate some of the noises that a baby may have heard in the womb; it features real womb, heartbeat and shushing recordings to help lull newborns to sleep.
In addition to these realistic sounds, Ewan has a choice of 5 musical sounds including Rainfall, Harp Lullaby Melody, Vacuum Cleaner, Womb and Shush so there are plenty of options. There's also a smartCRY Sensor that listens for 4 hours and automatically activates when the baby stirs to help resettle them. The soft pink night light glow also mimics the womb environment to help comfort and soothe a newborn baby.
Pros
Best-selling product
Womb sounds
Music
SmartCRY sensor
Soft pink night light
9.
Nosefrida Nasal Aspirator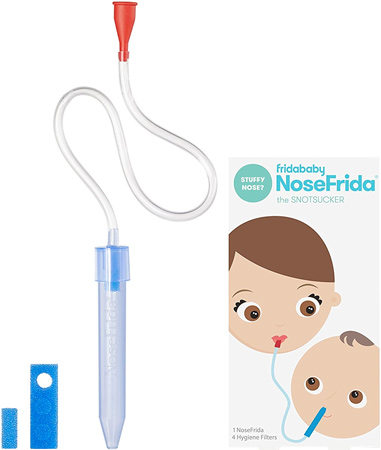 Why we like it: Beat baby congestion quickly.
There is hardly anything more miserable than when your newborn baby picks up a cold and can't blow their nose. When a little baby is suffering from nasal congestion they struggle to breathe, sleep and feed and it can become a bit of a cycle; making everyone unhappy! The Nosefrida Nasal Aspirator has the answer to that; The Nosefrida is a nasal aspirator with a filter that is used by an adult to draw mucus from a child's nose, you might have heard it referred to as a 'snot-sucker'!
Fortunately, it's not as gross as it first sounds; There's no risk of coming into contact with mucus or of bacterial contamination as the filter has been specially designed to prevent this. The whole device was developed by ENT specialists so you can be sure that it's safe as well as effective! Made from specially designed filters prevents the adult from coming into contact with the mucus and so there is no risk of bacterial contamination. Made from non-allergenic and latex-free polypropylene, the Nosefrida is incredibly popular with parents and often hailed as a 'must-have' for a newborn baby.
Pros
Helps unblock the baby's nose
Filter to prevent contamination
Developed by ENT specialists
Non-allergenic, latex-free
Cons
Requires replacement filters
10.
BabyBjörn Bouncer Bliss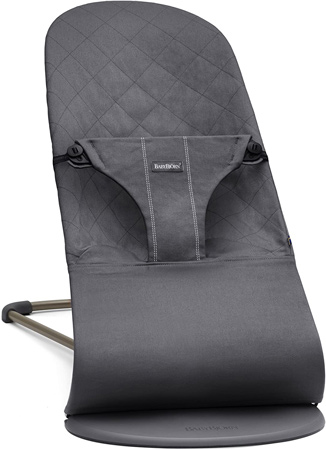 Why we like it: Neutral, modern design bouncer chair.
When babies are little parents need lots of different options for places to put them down and a bouncer chair can be a really good option. This Babybjörn Bouncer Bliss is ideal for giving parents flexibility as it folds flat for storage and is incredibly easy to move around the house, so if you need somewhere to put the baby down whilst you grab a quick shower it's super simple to move the bouncer into the bathroom!
Available in 3 different materials; cotton, mesh or jersey you can choose which you think is best suited to the home, climate and parents' style. The bouncer has been specially designed to be ergonomic, giving babies the support they need whilst gently rocking using just gravity; no batteries or plus needed! Being used from newborn up until about 2 years old this is a useful gift that will last well beyond the newborn stage.
Pros
Folds flat for storage
Available in 3 different materials
Neutral modern design
No batteries or plugs needed
Ergonomic design
Cons
More expensive brand of bouncer
11.
Fisher-Price Kick and Play Piano Gym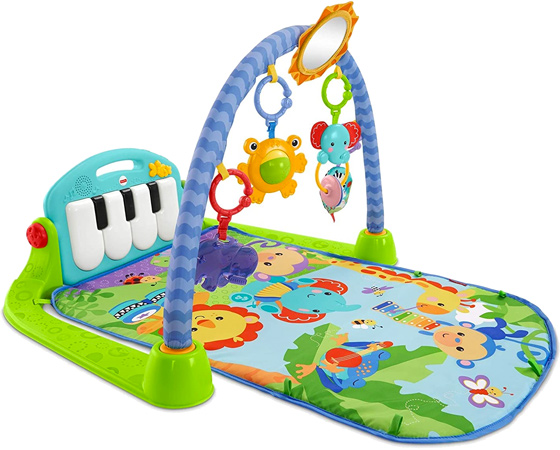 Why we like it: Kick and learn with 4 different ways to play.
The Fisher-Price Kick and Play Piano Gym is a fun take on a traditional baby gym from the ever-popular Fisher-Price brand. It's designed to be used in 4 different ways; Lay and play, Tummy time, Sit and play and Take-along, encouraging different types of play and movement. With music, lights and sounds there's no shortage of entertainment for babies and it can be used from the newborn stage onwards.
Featuring a portable piano, there are also 5 activity toys; a hippo teether, elephant clackers, a rollerball frog, a crinkly tiger and a large mirror, to help develop babies' senses and skills. There are 2 different modes; short play and long play, as well as a volume so you can set the play gym up for a short quiet play if that's what your baby needs.
Pros
4 different ways to play
Music, lights and sounds
Suitable from newborn
5 activity toys included
2 different modes
Cons
Only one color/design option
12.
Lekebaby Baby Newborn Swaddle Wrap Blanket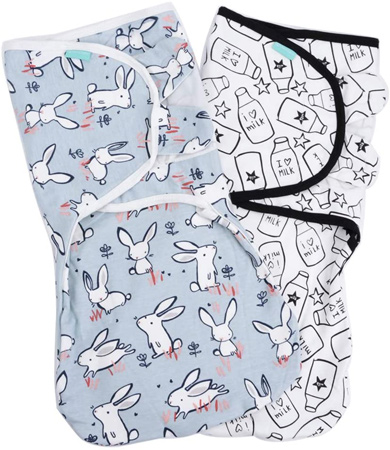 Why we like it: Prevent startle reflex with these safe swaddles.
Many babies love to be swaddled to sleep as it creates a womb-like feeling and prevents the Moro reflex from startling the baby whilst they snooze. However, learning to swaddle a newborn can be tricky and a steep learning curve. Even seasoned parents can get into a muddle when the baby is fussy and there's lots of loose material, the Lekebaby Baby Newborn Swaddle Wrap Blanket eliminates the struggle. Using strong Velcro and a leg pocket it's super easy to wrap your baby up ready for sleep.
Specially designed to allow plenty of space for hips and legs, the swaddle is tight only around the arms and body, meaning that the swaddle blanket is ergonomically designed and "hip-healthy". The 100% cotton fabric is ideal for quick washing and drying and has modern, neutral patterns so should fit in with most interiors. You can also buy with confidence as Lekebaby offers both a 30-day satisfaction money-back guarantee and a 180-day warranty for quality-related issues.
Pros
Prevents Moro reflex
Eliminates the struggle of swaddling
Hip-healthy
100% cotton
Satisfaction guarantee, 180-day warranty
13.
Prince Lionheart Warmies® Wipes Warmer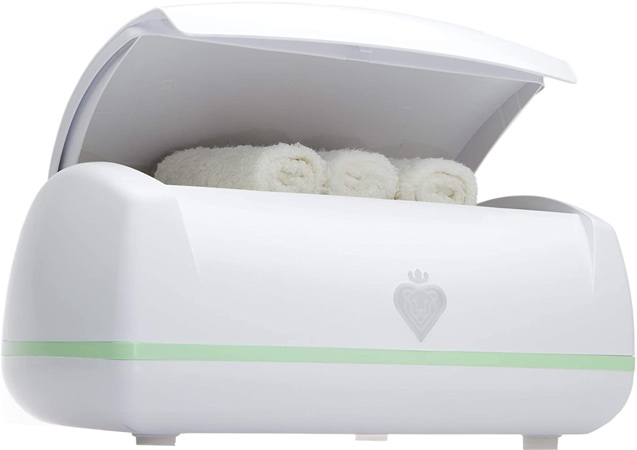 Why we like it: Keep the baby comfortable with warm wet wipes.
There's nothing worse than trying to change your baby's diaper in the middle of the night and waking them with cold wipes; the Prince Lionheart Warmies Wipes Warmer is loved by parents for overcoming this issue. The three-part heating system ensures that wipes are warmed all the way through whilst also being approved for preventing mold-growth inside the wipes warmer.
This wipes warmer is used with reusable wipes and 4 are included in the set; reusable wipes are a much more eco-friendly option and cost less than disposable wipes in the long-run too. Not only are warm wipes more comfortable for babies, but they also clean more effectively too as the warmth helps to open pores allowing for a more thorough clean which in turn may help to prevent diaper rash. The warm night-light is ideal for night-time diaper changes, and this wipes warmer makes a lovely gift that goes above and beyond the bare necessities.
Pros
Ideal for nighttime diaper changes
Designed to prevent mold-growth
4 wipes included
More comfortable for baby
May help to prevent diaper rash
Cons
Not suitable for disposable wipes
14.
Baby Shusher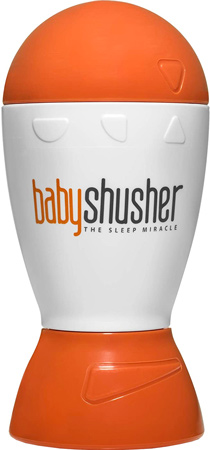 Why we like it: Shush your baby to sleep.
Shushing is part of many parents' days as babies love falling asleep to the calming, repetitive noise, so why not buy a sleep aid that can help out with this. The Baby Shusher does the shushing for you, using a real human voice! It can play for 15 or 30 minutes and has adjustable volume control so you can personalize the shush your baby gets.
Safe to use from birth, the Baby Shusher is portable and easy to use and comes with the batteries it needs so it's ready to go right out of the packet. The removable wrist strap is handy for looping over the parent's wrist whilst they rock the baby, or attaching the device to the pram or car-seat for sleeping on the go.
Pros
Helps babies sleep
Real human voice
Can play for 15 or 30 minutes
Adjustable volume
Comes with batteries it needs
Cons
Batteries are non-rechargeable
15.
Nuby Icy Bite Keys Teether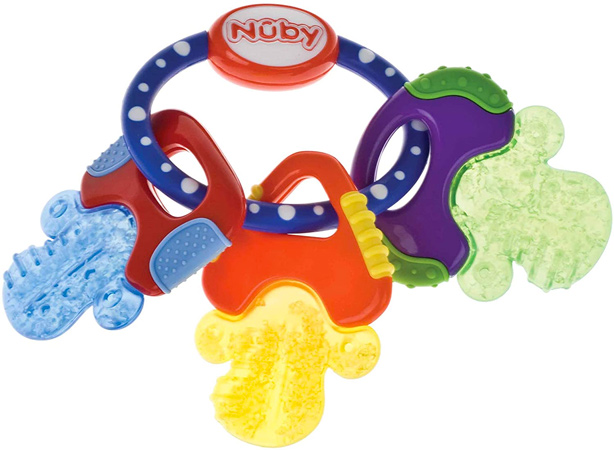 Why we like it: Soothe teething babies with cool keys.
When babies start to get their teeth, parents usually know about it! During teething babies can become fussy, difficult to settle and their sleep can be broken too. Common signs of teething beginning are lots of dribbling, rosy, red cheeks, chomping and chewing on hands or toys and general grizzling. Most parents look around desperately for ways to make their baby more comfortable through the teething stage and the Nuby Icy Bite Keys Teether is a go-to solution.
Specifically designed for teething babies this toy is filled with specialized pureICE teething gel which stays cool longer than water and is designed to be placed in the fridge before being given to the baby. The coolness feels good on sore gums and the keys have different surface textures that help to massage the gum and aid teeth in erupting.
Pros
Soothes teething babies
pureICE gel stays cool longer than water
Designed to be refrigerated
Different surface textures
Cons
Cannot be sterilized; wash with soap and water
16.
Puj Compact Infant Bathtime Basin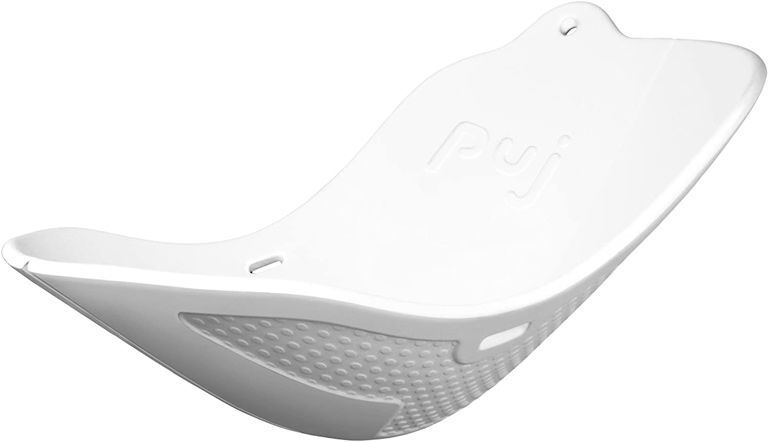 Why we like it: Perfect for traveling, an easy way to bathe a little baby.
If the family you're buying a gift for are real jet setters or travel frequently to visit friends and family, then the Puj Compact Infant Bathtime Basin is a great, practical gift for them. Trying to bathe a small baby when away from home can be difficult as you don't have all the equipment you need to get it done easily and safely, this bathtime basin is small enough to fit in a suitcase and helps solve some of those dilemmas.
The basin is designed to fit into a range of pedestal and countertop sinks so you can bathe a baby easily in whatever bathroom you have access to, without the need for a bathtub. It's incredibly simple to use, just put it directly in the sink, no folding, no construction, no buttons! Its ergonomic design cradles babies safely so you can simply support them with one hand and wash them with the other. With mold and mildew-resistant, non-absorbent material the bathtime basin is designed to dry really quickly so it can be easily packed away at the end of your trip.
Pros
Ideal for travel
Fits in a suitcase
Simple to use
Ergonomic design cradles baby
Mould and mildew resistant, non-absorbent material
Cons
Not suitable once the baby is bigger
17.
Ubbi Diaper Disposal Bin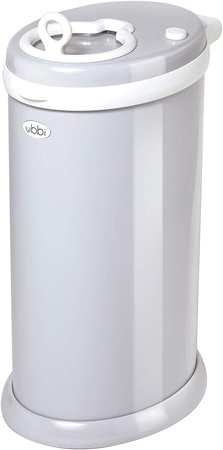 Why we like it: An award-winning diaper pail suitable for all nurseries.
The Ubbi Diaper Disposal Bin has won nine awards, pleasing both parents and parenting experts alike. Unlike other diaper bins on the market, no special bag refills or inserts are required which will save parents plenty of money! Ubbi says that "simplicity works best" and this certainly seems to be true with this diaper bin which is ready to use right out of the box.
Many diaper bins are made of plastic which isn't great for the environment but is also a porous substance meaning that over time it starts to break down and absorb the odors of the diaper bin; gross! The Ubbi bin is made with coated steel and rubber seals to keep odors at bay. It can be used with any standard-sized bin bag, so you can simply use what you already have to hand. It includes a child-proof lock to keep children safe and is available in several different colors.
Pros
Award-winning
No special bags required
Made from steel
Child-proof lock
Available in different colors
Cons
Heavier than other diaper bins; could be dangerous if falls over
18.
Babymoov Cosydream Original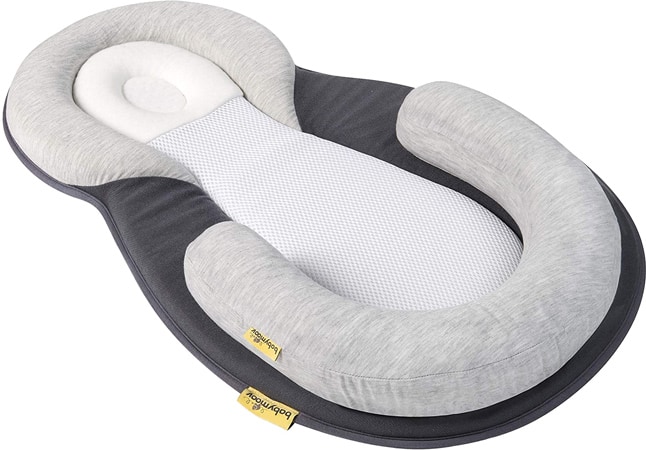 Why we like it: Prevent flathead syndrome with this ergonomic place for the baby to rest.
Newborns spend much of the day sleeping and therefore laying on their back, this can lead to flathead syndrome where the back of the head becomes flat as a result of being laid down too frequently. Whilst this is not usually dangerous it's best to prevent it if you can and the Babymoov Cosydream Original has been designed to offer ergonomic support around the baby's head to help prevent this very issue.
Ideal for supervised daytime sleep or rest, the Cosydream can be adapted to suit newborns of different sizes and helps to recreate the snugness of the womb to reassure the baby. Raising the legs helps to facilitate digestion which is really important in the early days when everything is new. Machine washable at 30 degrees, this is an extremely practical and well-designed space for the baby to rest.
Pros
Helps prevent flat head syndrome
Ergonomic support
Size is adaptable
Assists with digestion
Machine washable at 30c
Cons
Cannot be used for overnight sleeping
19.
Fisher-Price Rattle 'n Rock Maracas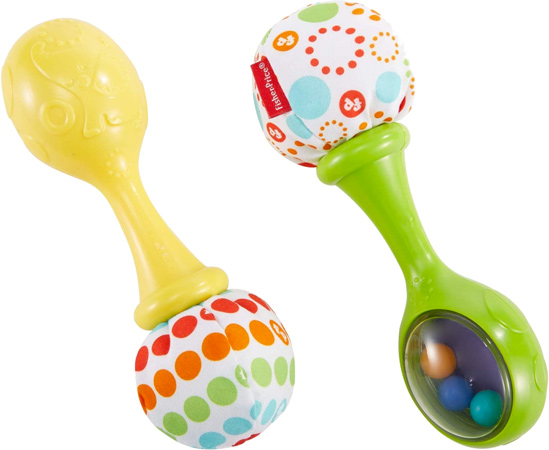 Why we like it: Perfect for little hands these maracas help develop a whole host of skills.
Rattles are a tried and true favorite for babies and these Fisher-Price Rattle 'n Rock Maracas are a fun, colorful twist on this traditional toy. Coming from the well-respected and always popular children's brand, Fisher-Price they feature soft pom poms which make it easier for babies to grip. As babies learn to reach out and hold on to items, they start learning about cause and effect and soon enough a small baby will realize that if they hold these maracas and move, they hear a rattling sound that provokes them to do it again and again, solidifying that understanding and developing their motor skills.
The colorful rattle beads inside these maracas also provide great visual stimulation for babies too as their eyes and vision begin to develop from blurry newborn sight into the ability to track and trace. Small enough to slip into the changing bag, these maracas are ideal for taking out and about as a way to entertain babies when you're visiting friends or family.
Pros
Traditional toy
Popular Fisher-Price brand
Develops motor skills
Provides visual stimulation
Ideal for taking on the go
Cons
Plastic toy; not as eco-friendly
20.
Tidy Tot Bamboo Washcloth Mitts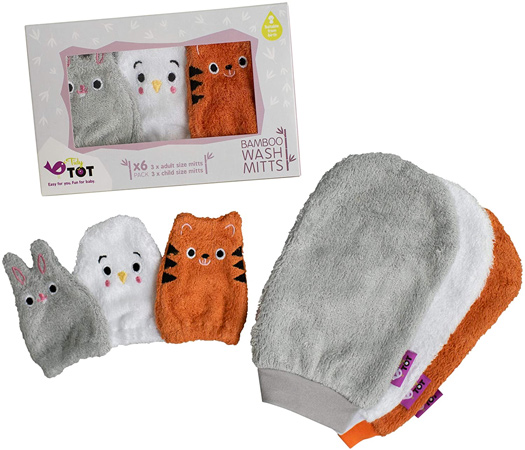 Why we like it: Eco-friendly bamboo washcloths in fun designs for parent and baby.
The Tidy Tot Bamboo Washcloth Mitts set comes with 3 adult and 3 baby mitts made with eco-friendly bamboo. These make a lovely alternative to using wipes to clean a baby up after mealtimes and can simply be washed and used again, meaning that they are much kinder to the planet.
Alternatively, they can be used for bathtime fun and can be used as cute little puppets to tell stories and act out scenarios. As bamboo is naturally antibacterial they are kind to sensitive skin and help keep bacterial aware from cracked, dry skin if the baby has a teething rash or eczema. These wash mitts are suitable from newborn but can be used right through toddlerhood making them an ideal eco-friendly, long-lasting gift for a newborn.
Pros
Eco-friendly alternative to wipes
Double up as puppets
Naturally antibacterial
Kind to delicate skin
Can be used from newborn to childhood
Cons
Only available in one set of designs
21.
BabyBjörn Baby Bibs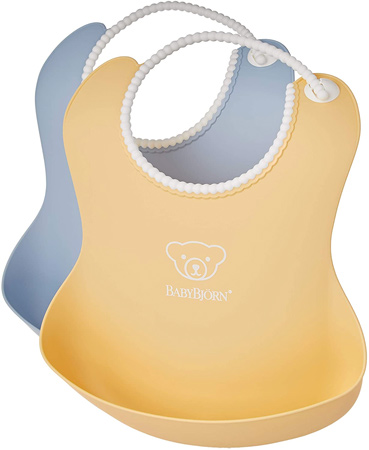 Why we like it: Useful bibs from a well-known Scandinavian baby brand.
When most people are preparing for their baby's arrival they tend to focus on buying things for when the baby is very small, but those months whizz by quickly and soon enough it's time to start on solid food and there are a whole host of extra products they need. Buying these BabyBjörn Baby Bibs as gifts is a great way to help parents get ahead of the game.
Made using BPA-free plastic in Sweden these waterproof baby bibs are ideal for the early days of weaning where children tend to make a mess! The deep spill pocket is designed to catch any food that doesn't quite make it into the mouth (or is spat or dribbled back out!) and makes clean-up a breeze; simply empty any solid food into the bin and then rinse the bib or place it in the dishwasher.
Pros
Practical gift
BPA-free plastic
Waterproof
Deep spill pocket
Dishwasher safe
Cons
Not useful until weaning, at approx. 6 months
22.
Baby Wrap Sling Premium Carrier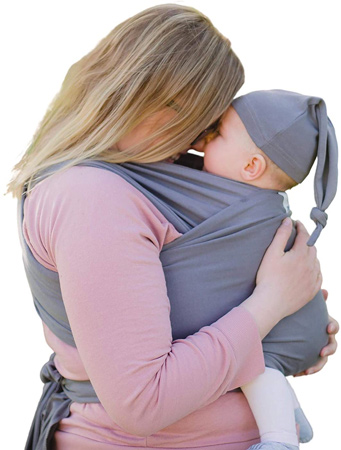 Why we like it: Keep baby close enough to kiss!
Sling safety requires that babies are kept close enough to kiss when in a carrier and that is no problem at all with this Baby Wrap Sling Premium Carrier by Joy&Joe limited. With its award-winning design, the sling is ideal for carrying a baby safely and you can be sure that your little one is as safe as possible as these slings have been both UK and EU safety tested to meet stringent safety standards for soft baby carriers.
The ergonomic design of the carrier helps to distribute weight across the carrying parent's shoulders and back to prevent stiffness or injury and the baby is placed in the wrap in a frog-legged position which is healthy for their hips. Since most newborn babies want to be held all the time, this is a gift that will be a real game-changer for parents. There's even a cute matching hat for babies to wear outdoors and a matching storage bag.
Pros
Machine washable
Suitable from birth to 35 lbs
Made in the UK
Meets UK and EU safety standards
Matching hat and storage bag
Cons
Parents needs to learn to tie the wrap sling
23.
Contrast Cards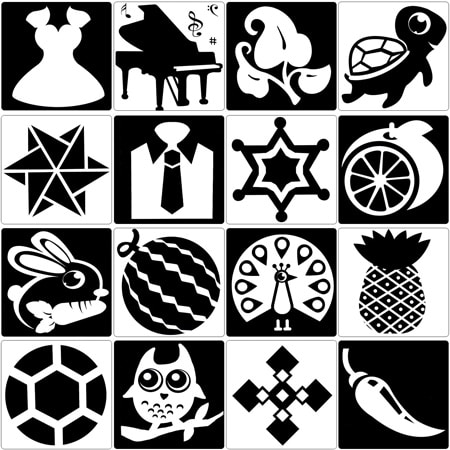 Why we like it: Perfect toy for babies to use from birth.
This set of Contrast Cards are a toy that babies can use from birth. Many toys are designed for slightly older babies who can control their movement to press buttons, shake or hold objects but there's no need to be able to do any of that to use these cards.
Research shows that high-contrast patterns can be seen more easily than anything else during the first few months of life and that these patterns hold the attention and interest of a baby. These flashcards use high-contrast images to give babies visual stimulation from the earliest days. They are made with thick, quality cards so feel like a high-quality gift.
Pros
Can be used from birth
Can be seen easily by baby
Visual stimulation
Thick, high-quality card
Cons
Not suitable when baby starts grabbing and mouthing objects
24.
Philips Avent Microwave Steam Sterilizer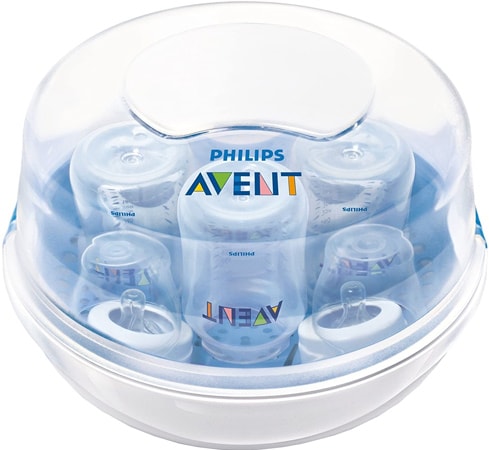 Why we like it: Practical gift for sterilizing cups, bottles, dummies or toys.
A practical, useful gift the Philips Avent Microwave Steam Sterilizer helps protect babies from harmful bacteria. It can be used to sterilize bottles, dummies, pump parts, cups, spoons, even toys using just the power of steam. No nasty chemicals are needed and it simply fits in the microwave to kill up to 99.9% of germs in 2 minutes flat!
Once the sterilization cycle has been run the contents of the sterilizer remain sterile for up to 24 hours if it is kept closed which can help save parents some precious time. The lightweight and compact design makes it easy to take the sterilizer away when traveling and because it has been designed to fit most microwaves on the market it should be no problem to use while away.
Pros
Can be used to sterilize a range of items
Kills 99.9% of bacteria
Practical, useful item
Ideal for traveling
Cons
Need a microwave in order to use
25.
Galt Toys Farm Playnest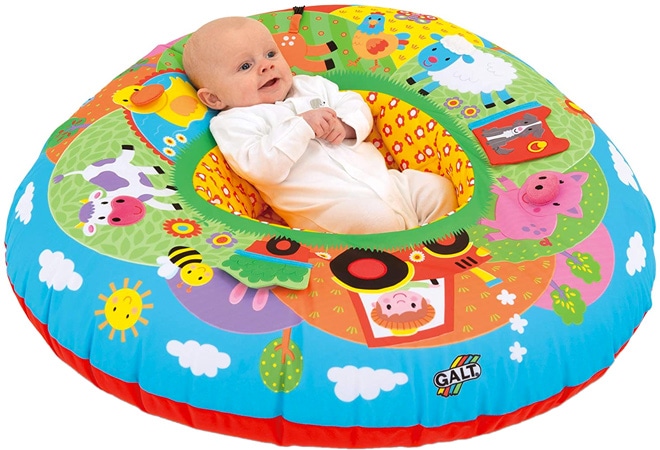 Why we like it: Helps little babies sit up to see the world.
Newborns don't stay little for long, and many of them begin to get quickly frustrated with laying down and want parents to hold them up to see the world. The Galt Toys Farm Playnest is a nice way to sit little babies up a little before they are able to maintain a fully upright play position. With bright, cheerful colors it provides a great visual stimulus for babies.
The playnest then comes into its own as the baby gets bigger as their toys can be placed within reach in the nest to keep everything safe and contained. This might be particularly ideal if you have older children or toddlers who are always interfering with the baby, you can create a safe zone for the baby to play undisturbed. With 8 sensory activities included around the ring, there's plenty for a baby to explore as they grow.
Pros
Helps baby sit up
Bright, cheerful colors
Provides visual stimulus
Safe area for baby to play
8 sensory activities on ring
26.
Microfleece Baby Sleep Sacks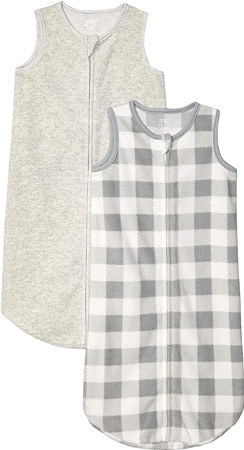 Why we like it: Practical gift for a newborn baby to keep them snug and warm as they sleep.
Sleep sacks are the ideal solution for little babies who like to be snug, warm and slightly cocooned. They have the added benefit of being safer than blankets or quilts as they attach around the baby's shoulders so can be accidentally pulled up over the head which risks suffocation.
These Microfleece Baby Sleep Sacks come in a practical 2-pack so that one can be used whilst the other is in the wash. Machine washable and quick-drying, they are a practical bedtime item that will get plenty of use. 100% polyester microfleece is soft and comfortable for babies, and feels lovely and cuddly for parents too!
Pros
Safer than blankets
2-pack
Machine washable
Quick-drying
Soft, cuddly fabric
27.
Summer Infant Pop 'N Play Playpen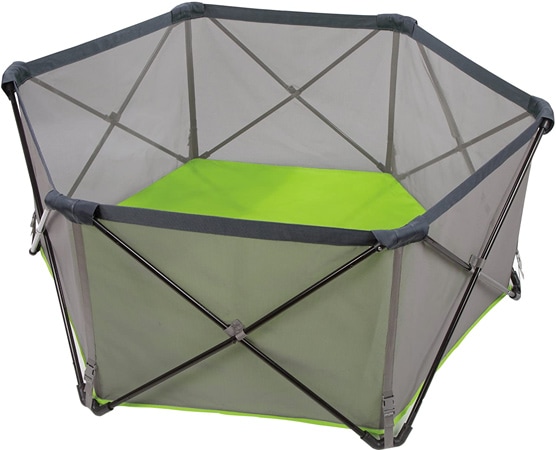 Why we like it: Portable playpen to keep baby safe.
Sweet little newborns are great! You put them down and they just stay there, but that stage doesn't last for very long at all and before you know it they're rolling, squirming, shuffling or crawling and it can be hard to make sure they are kept safe while you are busy. The Summer Infant Pop 'N Play Playpen is ideal for use at home or on the move. With its compact fold and travel bag, it is incredibly portable and features a weather-resistant canvas floor so it can be used inside or out.
There's no tricky construction work to do, it is fully assembled and simply unfolds with a lightweight metal frame. With mesh sides for easy visibility, it is easy to keep an eye on what baby is up to whilst you get on with your work around the house, or enjoy a picnic in the park or day at the beach. This would make a great versatile gift for busy parents.
Pros
Ideal for keeping baby safe
Can be used at home or away
Travel bag included
Weatherproof floor
Easy visibility
Cons
Not suitable for use with older toddlers
28.
Mary Meyer Taggies Sherbet Lamb Soft Toy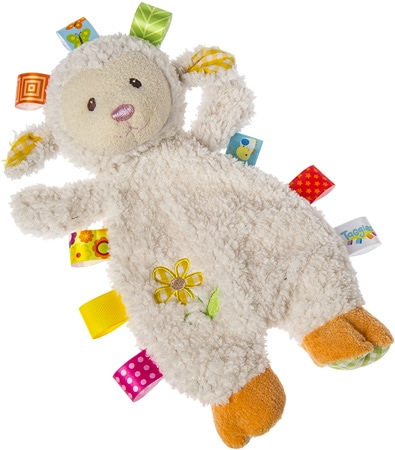 Why we like it: A comfort toy with plenty of sensory features.
The Mary Meyer Taggies Sherbet Lamb Soft Toy is a lovely soft comfort toy for babies, which may very well become their favorite and last them through the toddler years and into childhood. With ultra-soft fabrics and embroidered eyes as well as a bean-filled body this lamb is just perfect for little ones to hold on to and snuggle up.
As part of the Taggies collection, the lamb has different colored and textured tags attached for babies to explore. Sensory stimulation is incredibly important in the early years as it helps to shape the architecture of a baby's brain priming them for future learning. This would make a nice gift for a baby as it is likely to last many years.
Pros
Ultra-soft fabrics
Ideal for babies, toddlers and young children
Perfectly sized for small hands
Sensory stimulus
Cons
Not suitable for use until around 7 months old
29.
Inglesina Fast Table Chair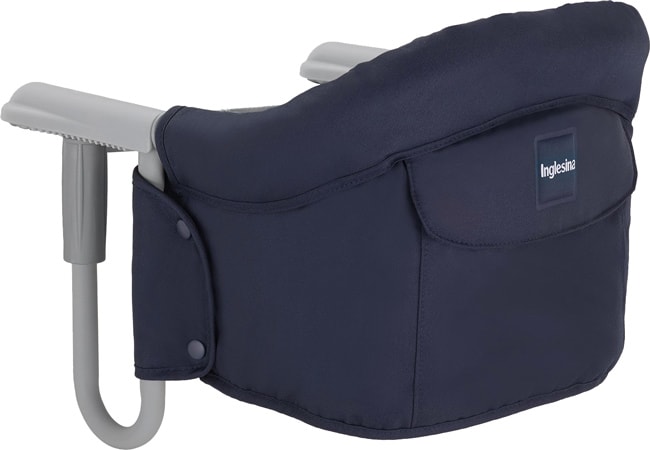 Why we like it: Ideal for at home or when out, involve your baby in mealtimes.
Eating together is a really important part of many families and cultures and with the Inglesina Fast Table Chair even babies can join in by sitting right at the table. Using a specially designed hooking system this chair can be fastened to tables with up to 3.3 inch thickness so it's ideal for taking out to restaurants to ensure that you always have somewhere for the baby to sit.
With a handy carry bag included this chair is easily transported and could be taken on holiday in a suitcase. The high backrest and extra padded seat ensure that a baby can sit comfortably whilst enjoying being part of the socializing during a meal. The lining made of soft fabric can be fully removed and hand-washed to help keep it nice and clean, so this is a really practically designed and useful gift for a family with a newborn.
Pros
Allows baby to sit right at the table
Hooks to most tables
Ideal for restaurants
Handy carry bag
Washable lining
Cons
Not suitable until baby can sit unsupported
30.
Sophie la Girafe Baby Teething Toy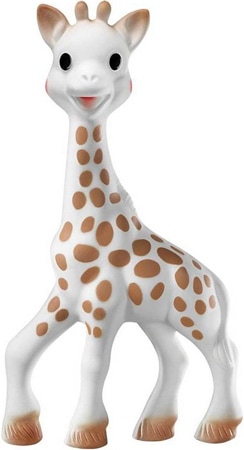 Why we like it: Classic teething toy made with natural rubber.
The Sophie la Girafe Baby Teething Toy is a classic teething toy made with natural rubber. Thousands of Sophies have been sold and are loved by babies around the world. Made with 100% natural rubber and decorated with food-grade paint Sophie is completely safe for babies to chew on which is exactly what they need to do when they are teething.
Sophie la giraffe has lots of different-sized parts and different textured surfaces for babies to chew on to soothe sore gums and help teeth to erupt. Lightweight and easy for small children to hold, Sophie is easy to play with and provides great sensory stimulus with a high contrast design, a squeaky sound when squeezed and the light scent of natural rubber. Sophie comes in attractive packaging, perfect for presenting as a gift for a newborn.
Pros
100% natural rubber
Food grade paint
Designed to help with teething
Lightweight and easy to hold
Sensory input
Cons
Squeaky sound means Sophie shouldn't be taken to bed
Final words
So, there we have some of the best gift ideas for newborns in 2023. With a range of cute, practical, useful and fun gifts there's sure to be something to suit the family you're buying a gift for. As you browse through these ideas think about what the family you are buying for are like and what kind of lifestyle they lead so that you can select a gift that fits in with that and feels like you have thought of it just for them.
In addition to buying a gift from this list, families with newborns may need practical help so consider giving them the gift of your time to run the vacuum round, take an older sibling to the park or make them some hot, nutritious meals. The early days are so important but are over in the blink of an eye! We hope that this list has helped you as you select a gift for a family welcoming a newborn baby in 2023.