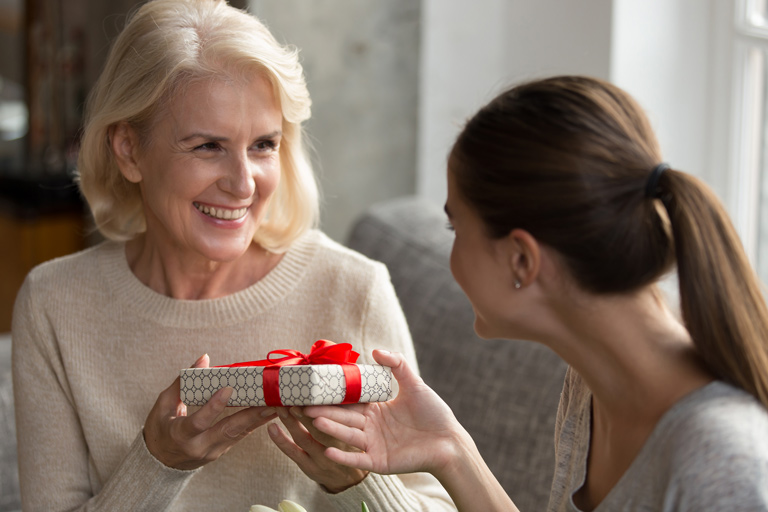 Make your mom or grandmother's day with a gift that will be a heartfelt keepsake, a nostalgic reminder, or a fun and original present. There are many gift items that you can choose for an older lady, and presents that are associated with hobbies or interests are always popular.
If you have an aunt or an older sister who likes to sew, knit, or paint then a gift that will help her with that hobby will be a lovely idea. Or if you have a best friend that has a beloved pet, then a cat lover or dog mom gift might be the perfect present. Whatever you choose, your gift will be a reminder of how much you care for her.
1.
Spa Gift Basket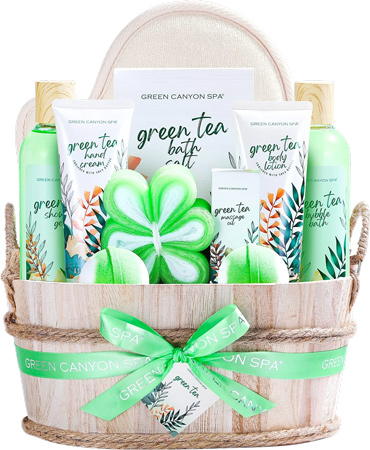 Enjoy luxuriating with green tea scented bath oil, hand cream, shower gel and other toiletries included in this beautiful gift basket. Recreate the spa experience at home with the rich soothing fragrances and high-quality ingredients that will make bath time a treat. The natural oils and mineral infusions can be used for all skin types and all products are paraben and cruelty-free. This stunning basket comes professionally wrapped and contains everything needed to provide a relaxing beauty treatment. Give it as a Mother's Day or birthday gift to make your relative feel really special.
2.
Women's Leather Strap Watch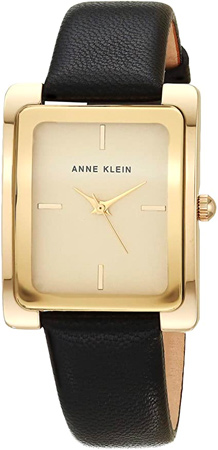 This elegant designer watch from Anne Klein will make a fantastic gift for an older lady who still enjoys a touch of style. Fashioned in a rectangular classic design, the burnished champagne gold dial and surrounding case blend together perfectly for a continuous unbroken look. A contrasting strap adds interest to the pieces and the mottled black leather compliments the gold details perfectly. Stunning yet understated, this fabulous timepiece will be suitable for all occasions, formal or informal, and can be worn as a sentimental birthday reminder.
3.
Poncho Shawl Wrap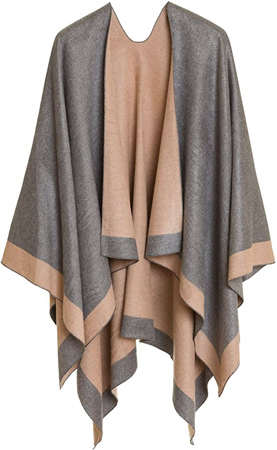 Many older ladies still retain an innate sense of style and this versatile poncho wrap will help her show off her taste to the full. Modern and versatile and made from premium materials this stylish cape can be worn in place of a coat or as a shawl. Great for days and evenings out it will add a touch of class and panache to any outfit. It's easy to slip on and off and brings a fun and fashionable look to clothing. The large shawl can be wrapped in a variety of combinations and can also be used as a blanket, or a scarf depending on the mood.
4.
Fuzzy Slipper Socks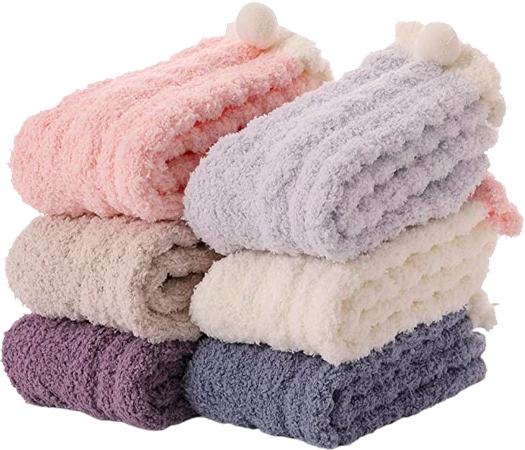 Feet just won't stay any warmer than when they are covered with these soft and cozy slipper socks. Keep drafts out and the heat in and stop toes getting frozen with this comfortable, no-itch footwear. The high-quality microfiber feels soft and luxurious against the skin and these slipper socks are perfect for wearing around the house on cold winter days. Elastic hems keep the socks in place and prevents any slipping or sagging. They will make a super present for any older lady on their birthday or for Mother's Day.
5.
Neck and Shoulder Massager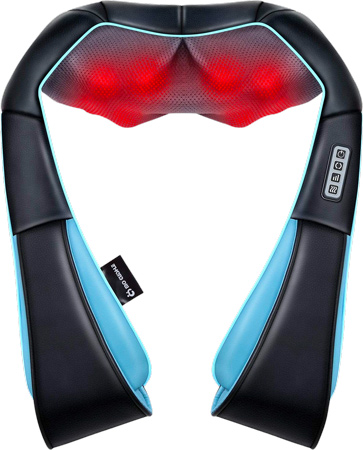 Gently rub away aches and pains, and relive tired muscles with this handy neck and shoulder massage. This lightweight appliance fits comfortable around the neck and has a selection of different kneading and massaging modes. The infrared heater soothes away any muscle tension and aches, pains, or body cramps will be a thing of the past. It can also be used for muscles in the back, shoulders, legs, thighs, and arm areas as needed to remove soreness and stiffness. With adjustable speed and direction controls the massager is easy to use and operate, and it can help to provide much-needed relief from arthritis or rheumatic pain.
6.
Ladies Full Zip Jacket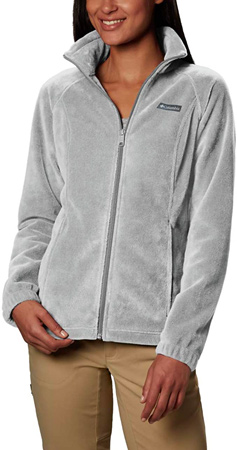 Ladies who like to sport a casual look will enjoy wearing this stylish and warm fleece jacket from Columbia. With its collared neck and full length zipper this jacket is designed to provide maximum warmth on chilly or windy days. Use it as an outer layer, or wear it under a waterproof coat for extra warmth. Great for grandmoms or elderly relatives that like to be out in the open air and who enjoy walking or hiking. The active design and comfort fit make this jacket the perfect garment for physical activities.
7.
Memory Foam Slippers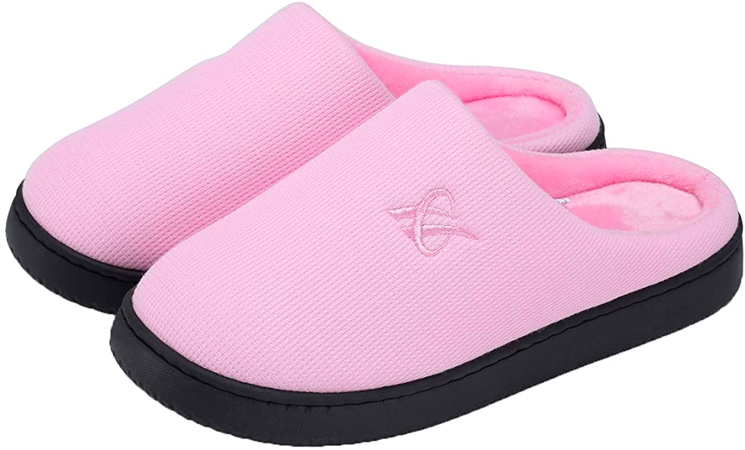 If you are stuck for a gift idea for an elderly relative or older friend, then a comfy pair of slippers is usually a safe bet. These memory foam slippers and flexible, comfortable and warm and will be ideal to wear when in the house. The memory foam provides extra soft cushioning for the feet and the durable rubber sole means no slipping, skidding, or marking of floors. Extra breathability and high-quality wicking properties keep the slippers staying dry and odor-free for repeated wear. Choose from a huge range of colors.
8.
Designer Carry-on Luggage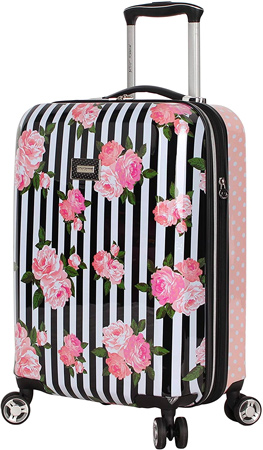 Help your friend or relative travel in style with this eye-catching suitcase from Betsey Johnson. Covered with a stylish rose and stripe pattern this case will be sure to grab attention when rolling in onto a train or through an airport lounge. Lightweight and expandable with plenty of storage space for belongings, this case is fully ergonomic and easy to move. The hard outer shell will keep items safe and protected and everything is held inside the organizational pockets with elastic straps and mesh enclosures. Just grab the handle and wheel it along.
9.
Rustic Jewelry Box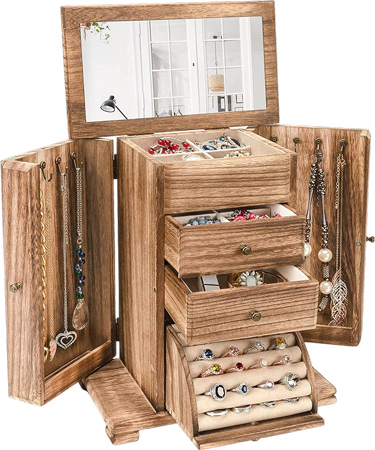 This lovely jewelry box features a natural rustic design and is fashioned using real wood for a bohemian and eclectic effect. Lined with soft linen to prevent damage or scratches to delicate jewelry items, the case includes handy storage compartments that are designed for rings, necklaces, and other accessories. Side doors and drawers offer organizational space for chains, earrings, and any other items. This dazzling jewelry box will make a wonderful gift for any woman who needs a safe place to keep her jewelry and valuables stored.
10.
Gold Rose and Angel Stand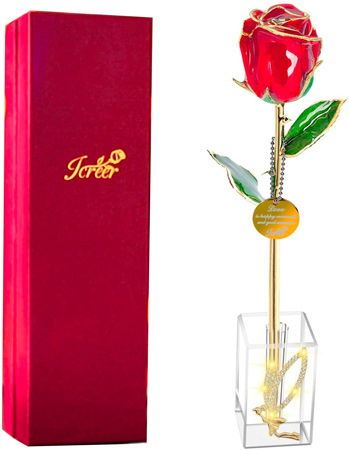 Make a gift for Mother's Day or a milestone birthday with a present that will serve as a sentimental keepsake for many years to come. This stunning gold-plated rose can be displayed anywhere as a heartfelt reminder for mom or gran, and its rich colors will make it a joy to look at. The deep red rose bud is coated with a durable finish to ensure it retains its color and brilliance, and the elegant gold stand ends with a crystal studded angel. Show your appreciation in a special way with this gorgeous gold-dipped rose, and make a delightful gift for your favorite female relative.
11.
Wine Bottle Stoppers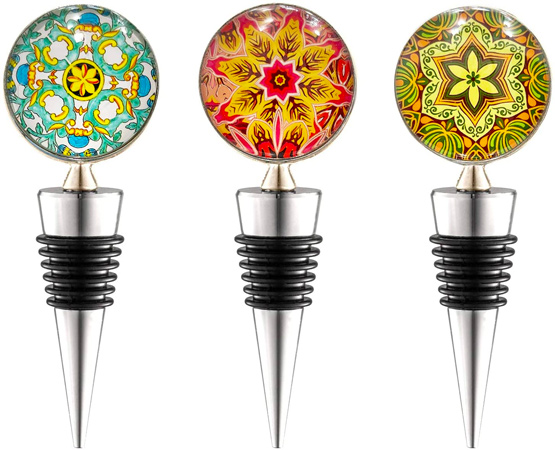 This fun and colorful gift will come in handy for elderly women who enjoys the occasional glass of wine. Use this bright and artistic wine stopper to keep the bottle sealed and ensure the contents remain fresh until needed. Finished with a stylish flower design this topper can be easily inserted and removed, and the stainless-steel shaft is simple to wipe clean. It will make a thoughtful gift for wine lovers and connoisseurs who wish to keep their drinks preserved. The wine stopper comes in a presentation box to make a lovely gift.
12.
Multifunction Handheld Blender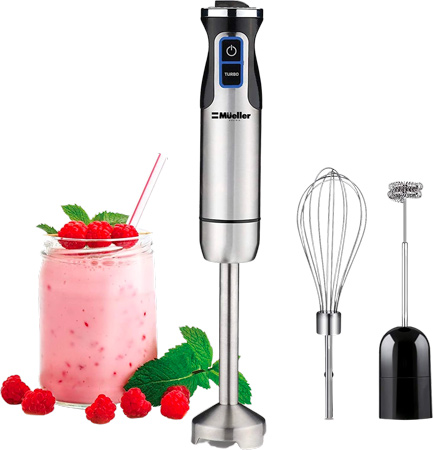 Does your friend or sister like to cook? Help her to quickly blend food items or make juice to go with this versatile and easy-to-use handheld blender. It comes with a food chopper and whisk attachment so that food preparation can be done in an instant. Lightweight and simple to maneuver, this blender will come in handy for all kinds of kitchen work and food recipes. Make crushed ice, smoothies, sauces, and soups and blend hard foods easily with the stainless-steel blades. The attachments can be removed easily for washing and cleaning.
13.
Rapid Egg Cooker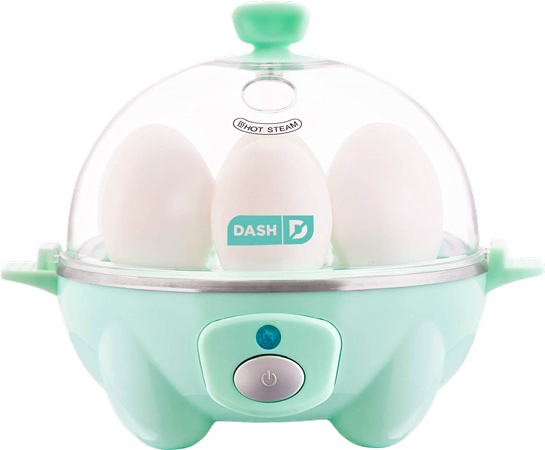 Get the recommended daily amount of protein with this fast and easy egg cooker. This compact kitchen accessory can hold and cook eggs as needed and its lightweight design means that it won't take up too much space on the kitchen counter. Make eggs any way you please. Hard boiled eggs, soft boiled eggs, poached, or scrambled can all be prepared in just a few minutes. Fast and easy to operate this will make a fantastic kitchen accessory for those who want speed and efficiency, or who like to prepare meals on the go.
14.
Cat Eye Sunglasses

Ladies who are young at heart will love wearing these classy cat-eye sunglasses with their iconic style. These fashionable glasses will bring a touch of old school glamor and mystery and are perfect for using while driving or sitting at the pool on vacation. The protective UV coating reduces glare and protects the eyes from harmful sun rays. Comfortable to wear, these tinted glasses will adapt to light changing conditions and enhance color and visibility. They will be the perfect addition to any summer outfit.
15.
Microfiber Towel Wrap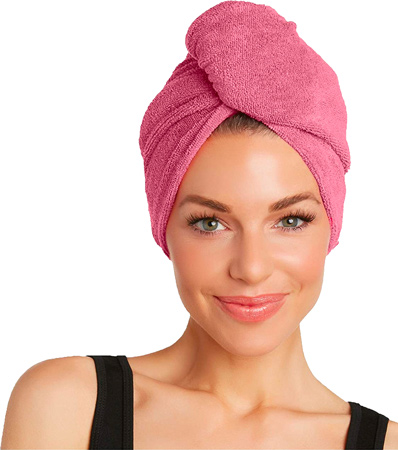 The Turbie Twist towel wrap is a handy bathroom accessory designed from super absorbent material that will dry hair fast. This super lightweight hair towel can be used to keep wet hair in place and will provide gentle drying. Keep hair frizz-free and reduce damage or split-ends with this soft microfiber towel. A strong elastic loop will keep the turban securely in place and it can be used for long or short hair. Use it to dry wet hair, or to keep long hair tied up and out of the way when applying make-up or facial treatments. One size will fit all and the turban can be used out of the shower, on vacation, or at the spa.
16.
Stainless Steel Canisters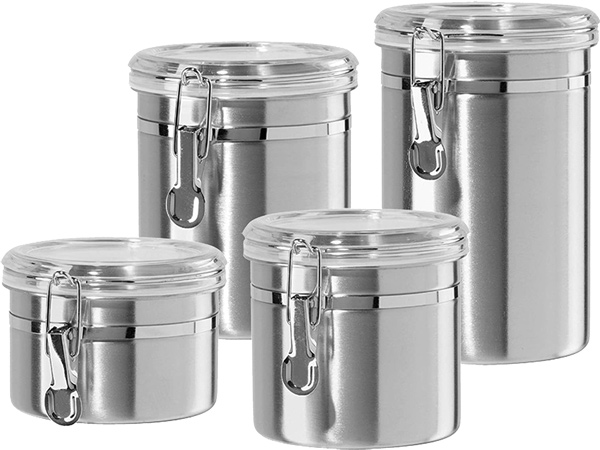 Keep tea, coffee, flour, or sugar stored safely with these air-tight kitchen canisters. Made from durable stainless steel these containers will keep items fresh and dry until they are ready for use. Store spices and other cooking essentials and easily see what's inside with the see-through lid. The shiny steel is super durable and will not rust or tarnish, and can easily be wiped clean with a damp cloth. Use in the pantry for food storage or keep them within easy reach on the kitchen counter to retrieve items for use when cooking or baking.
17.
Glitter Hip Flask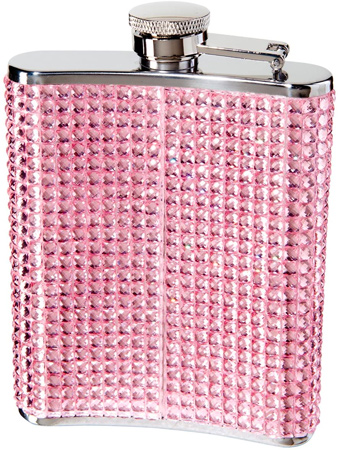 Glamorous grannies and funky friends who enjoy an occasional grown-up drink will love this sparkling and trendy hip flask. Covered in glittering pink rhinestones this eye-catching flask is perfect for adding to a picnic hamper or taking along on days out. Use the included funnel to fill the flask without spilling, and take a favorite beverage on trips and events. It will make a fun gift for moms, sisters, or aunties that still like to have a good time, and it will add a touch or fun and glitz.
18.
Waterproof Picnic Blanket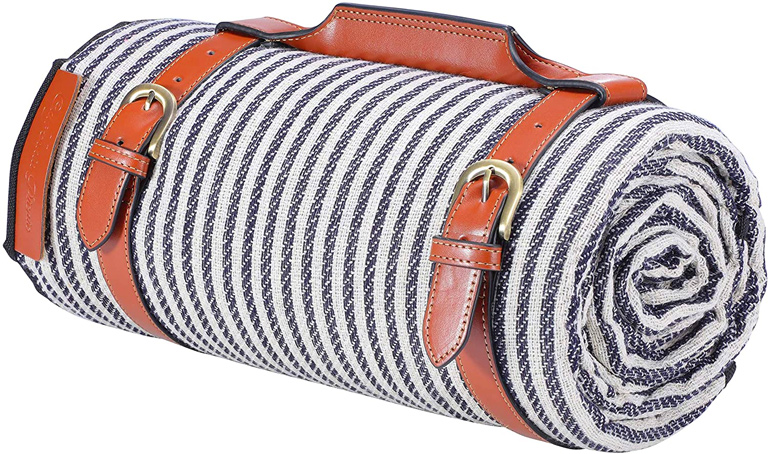 Stay warm and dry at outdoor events with this super compact waterproof blanket. Roll it up and fasten the durable carrying straps for easy transportation, then simply unroll and use as needed. Great for outdoor events, or summer picnics, this stripey blanket is completely water-resistant and large enough for several adults to sit or lay on. It's also amazing to use at the beach or to keep moisture out on camping trips. Made from eco-friendly and non-toxic materials for safety and comfort.
19.
Sacred Tea Tumbler
Take your tea with a touch of Zen using this scared tea tumbler. This set includes a solid glass tumbler that is perfect for holding tea or chai, and it comes with an infuser and strainer for preparing loose leaf and herbal tea. The tumbler can be used to hold hot or cold drinks and the double walled container will keep drinks at the optimum temperature for hours. Lightweight and easy to carry use the two insulated bags to take the tumbler wherever you go, and sip your favorite beverage wherever you are.
20.
Chloe Eau De Toilette Spray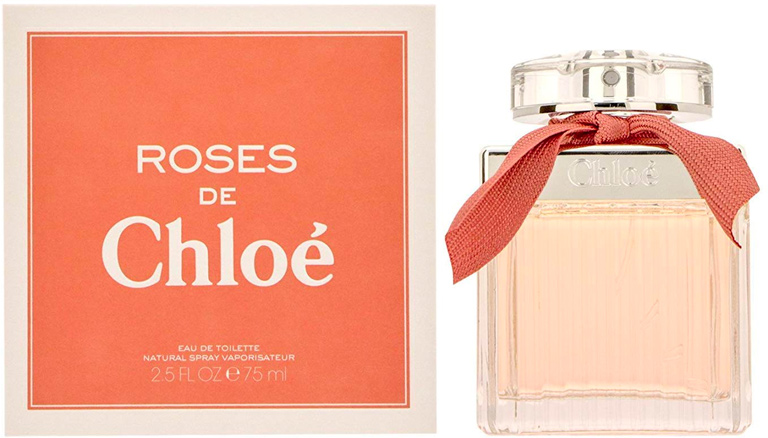 Treat mom or auntie to this luxury perfume spray by Chloe for women. Made in France using only high-quality scents this perfume will be a fabulous gift for any special birthday. Spritz it on lightly for every day way or dab a little on pulse points for nights out and enjoy the light and delicate fragrance. Light and elegant, this elegant perfume can be used for any occasion and will be a lovely present to give to any special lady or relative for a birthday, Christmas, or any other day.
21.
Metallic Zebra Dish

This fun dish can be used to hold items, or to add interest to any coffee or side table. Use this original and trendy gold zebra dish to store earrings, rings, and other valuables. The modern design will look super on any dresser or nightstand and the eye-catching gold detail makes the dish really stand out. Use it in the living room as a decorative piece, or put it on a window sill to hold plants and candles. With so many versatile uses this stylish dish will make a delightful gift that your friend or relative will love using.
22.
Hanging Photo Display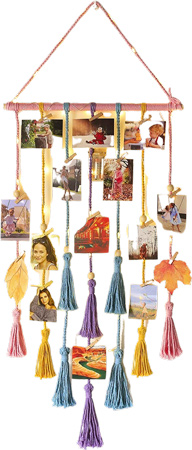 If you want a gift an elderly woman something that is personal and sentimental then why not make a stunning photo collage or display a series of family photos with this macrame photo holder? Included LED fairy lights which switch on and off automatically and illuminate the photographs can be set to different colors to match the decor. The macramé has been painstaking handcrafted and woven into a hanging display that's suspended from a wood dowel, and this sentimental gift will look amazing when hung on any wall. Set the lighting to match the mood and enjoy this touching keepsake.
23.
Kimono Robe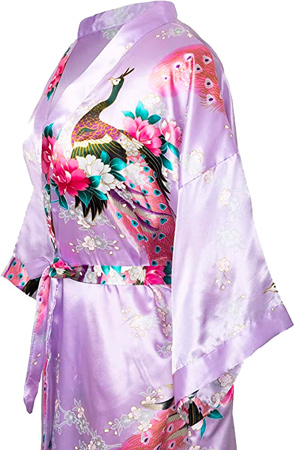 Give mom or gran a bit of charm and switch the traditional terry toweling bathrobe for this elegantly styled satin kimono. Designed in the Japanese style using Asian inspired patterns, this silky-smooth kimono is great for wearing around the house, and will make her feel cool and luxurious. Featuring gorgeous vibrant colors and ornate designs this striking garment will make a super birthday present for stylish older ladies. The kimono fastens and adjust with a tie belt and has loose flowing sleeves for comfort.
24.
Stainless Steel Measuring Spoons
If your favorite relative loves to cook or bake then these measuring spoons will help them to follow recipes and measure out perfect quantities every time. Craft fluffy pastries or bake the perfect cake every time with these durable and versatile spoons. Made from solid stainless steel they can be used again and again for measuring flour, sugar, or spices. They will not bend or rust, and the set comes with a handy levelling tool. Easy to clean and dishwasher safe, these spoons will make a long-lasting kitchen accessory that will be handy for any recipe or food preparation needs.
25.
Crotchet Hooks Kit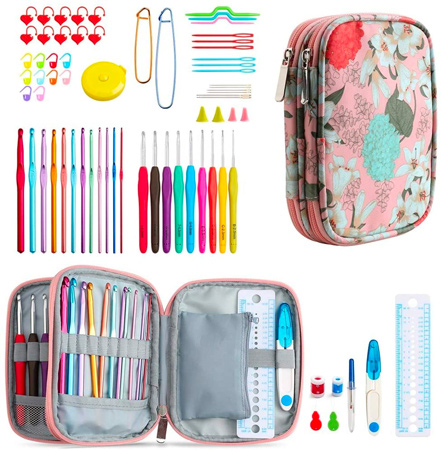 Give her everything she needs to indulge her favorite hobby with this fully stocked crotchet kit. Contains hooks, stitch makers, and yarn needles that can be used to create clothing and other items. Make hats, scarves, or socks with this fun and absorbing hobby. All crochet tools are designed with an easy to hold, ergonomic grip and will not slip or cause strain. Everything comes packaged neatly into a storage case to keep everything organized and at hand, and this will be the perfect gift for any crochet hobbyist. Take it on a train, or when going on vacation and crochet whenever the mood strikes.