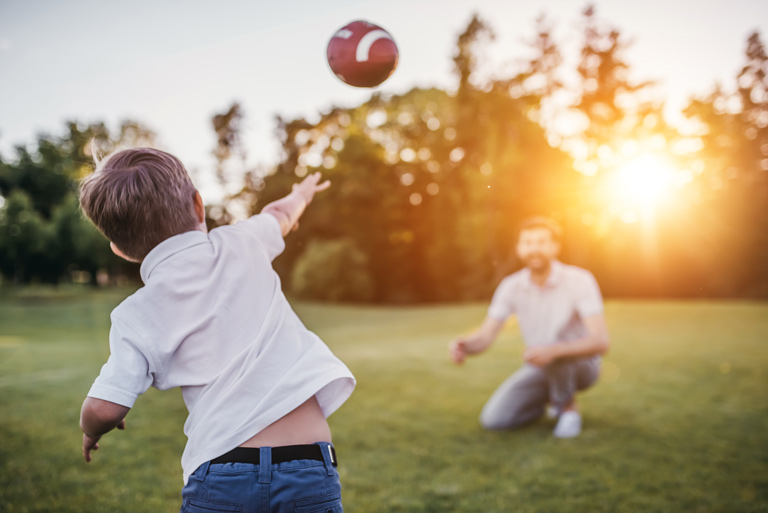 Do you have a son or a nephew who is a staunch football fan? If so, one of these gifts will make an ideal present for a birthday or Christmas. Choose from a wide selection of football themed gift and find your sporting relative a present that suits his passion. From clothing to toys, we have football gifts for boys of all ages from infants to teenagers.
Find him something to wear, or to decorate his room that shows off his love of the game. If he follows a favorite team then get him something from the official NFL range so he can show his support. Or buy something he can use to improve and perfect his own game.
1.
3D Football Night Light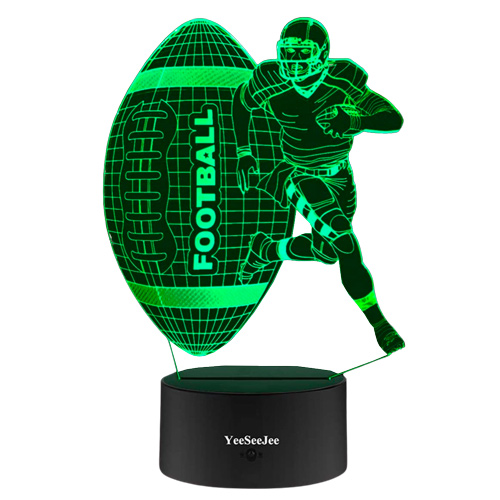 This football themed lamp makes an awesome nightlight and its eye-catching colors really make it stand out. It will look fantastic on a desk or nightstand and comes with a handy remote control. Select from 7 different colors and brightness modes to customize the lamp, and choose from interesting color changing modes and watch it cycle through the spectrum. The high-quality LED light will cause no damage or blurring of vision and this light will be perfectly safe to use in a kid's room. It will make a great Christmas or birthday gift that he can use and enjoy all year round.
2.
Official Wilson Football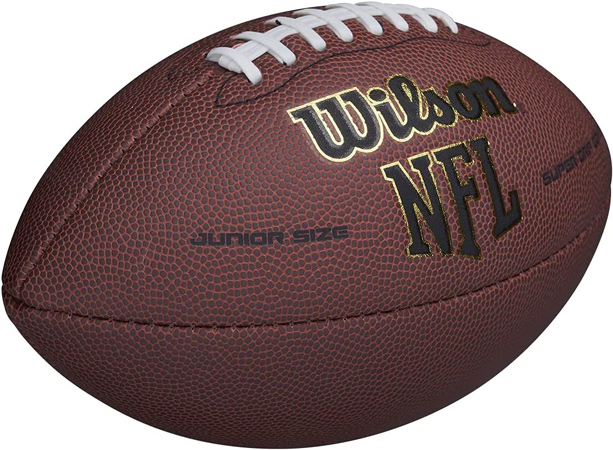 For football fans who follow the game closely, why not give them their very own Wilson official super grip football? This is a replica of the official ball used by the NFL and is finished with a semi tacky cover for easy grip and handling. Practice short passes, long throws, and Hail Mary's. Imagine your younger brother or nephews delight when he gets his very own American football. The football comes in different sizes to suit ages and fit hand sizes from young children to teenage players and it will be a fantastic way to show his game fandom.
3.
Inflatable Football Target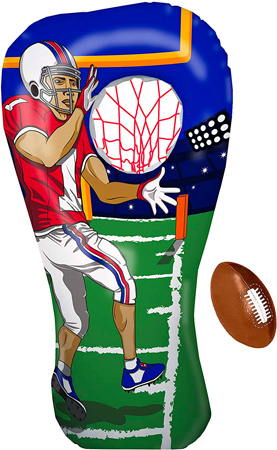 Practice throws, kicks, and passes with this fun inflatable party game. Enjoy playing it with friends or family members and have fun trying to hit the target. The inflatable game is safe to be played in the house or outside and when it's not in use, it can be easily deflated and packed away. Comes with an inflatable throwing football and is a safe and easy way to improve passing and throwing accuracy. Use it at parties and get together for a fun knockout competition or highest score wins game. Recreate favorite games and have fun and frolics with this entertaining toy.
4.
Talking Football Toy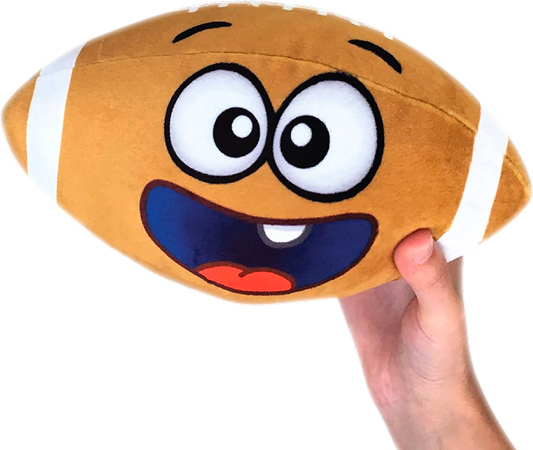 Toddlers and younger children will love this electronic talking football. It is programmed with over forty different sounds and reaction and can detect things like the biggest throw or softest catch. Watch then having fun as they throw the ball around and hear the programmed responses. This plush toy is soft to the touch and won't cause damage when being kicked or thrown around inside the house. For budding line backers or quarterbacks in training it is a fun and interactive way to learn how to play football.
5.
Football Drinks Tumbler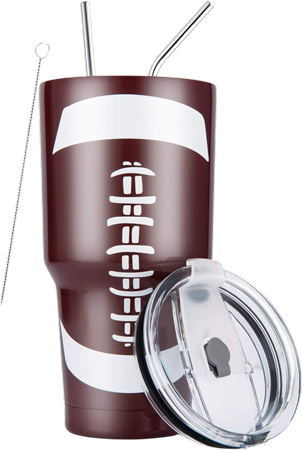 Keep hot drinks at temperature and cold drinks nicely chilled with this footballed styled tumbler. The double warm vacuum insulation makes sure that liquids stay at the optimum temperature. It is ideal to take along on days out, or to include as part of a school packed lunch. Use it for juice, squash, water or milk to keep fresh and hydrated. The tightly sealed top will ensure that there are no spills or leaks so the tumbler can be safely carried in a bag or backpack. Great for taking along to the game or on long trips to stay cool and hydrated.
6.
Helmet Building Blocks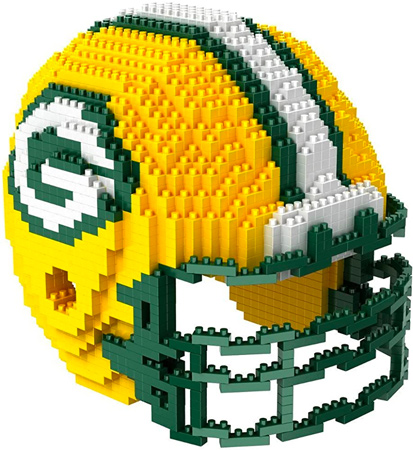 This detailed and challenging building blocks model will be a creative and entertaining gift for boys that like football. Assemble the small pieces in the correct order to make a complete model of a Green Bay Packers football helmet. Over thirteen hundred blocks are included and once the helmet is completed it can be displayed on a desk or bookcase as an ornament. Alternatively, it can be deconstructed to enjoy again at another time. Either way, this versatile toy is bound to give your football fan a fun and interesting challenge as they puzzle over how to complete the helmet.
7.
Football Training Net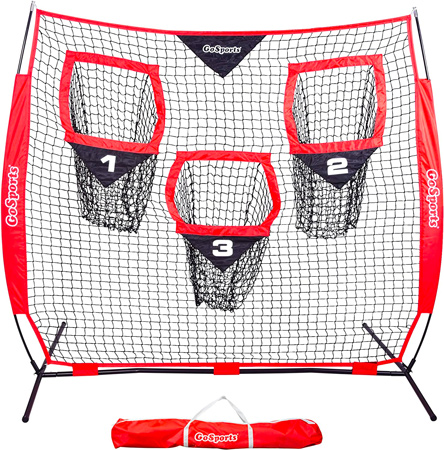 Those who take their football game seriously will be able to get a lot of use out of this versatile training net. It is designed with pockets and nets at different heights to practice things like long passes, short passes, and kicks. Great for accuracy improvement, this net will make a helpful training aid for a son or a nephew that wants to get better at football. Easy to assemble and disassemble, the net can be folded flat and easily stored when not in use. Use it for training sessions or just for a fun and friendly football challenge.
8.
Under Armor Duffel Bag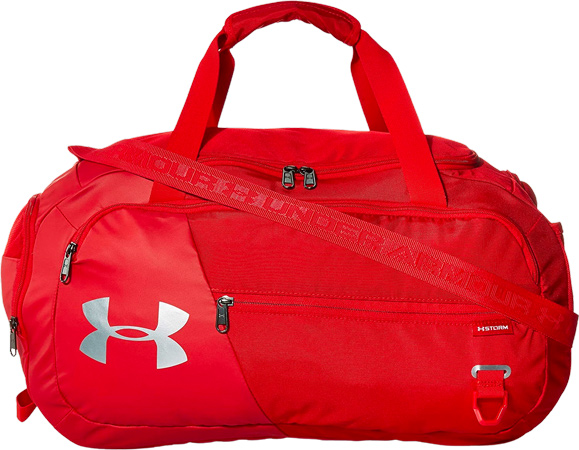 Carry all of your football kit, clothing, and boots in this versatile duffel bag from Under Armor. Made from durable and water-resistant material this bag is ideal for transporting all of your necessary items to the sports field. Handy side pockets are ideal for holding needed items for quick retrieval, and the abrasion resistant base is tough and hardwearing. It will make a great birthday present or stocking stuffer for football fans and will be an easy way to carry their football kit and training gear. Includes two easy to grab handles and a shoulder carry strap.
9.
Black Eye Stickers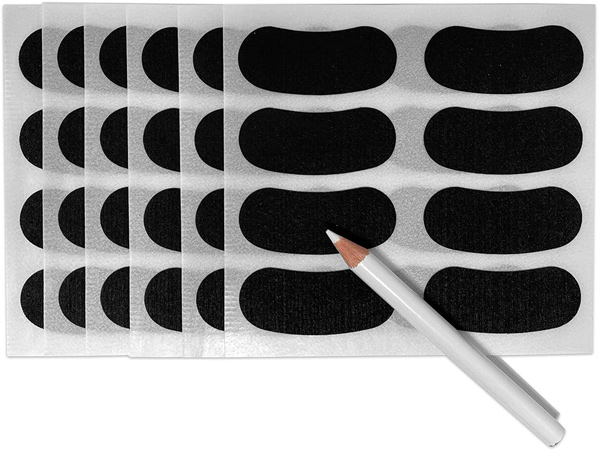 Your little brother or nephew will have fun applying these black under eye stickers. Easy to peel off and attach they can be placed just below the eyes to reduce glare from the sun. Look just like a real American footballer with these cool adhesive patches stuck across the cheekbones. Non-toxic materials mean that they will not harm or irritate the skin, and when they game is over, they can be easily peeled off and disposed of. The pack even includes a white pencil so you can customize the stickers with your own message or initials.
10.
Football Kicking Tee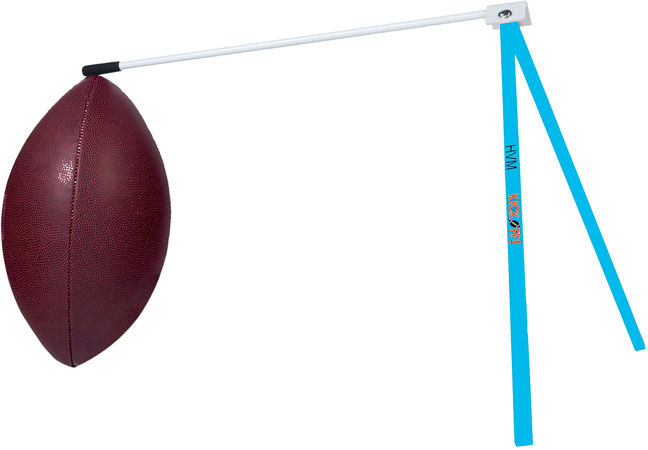 Want to make the NFL, or be a well-known running back? Then practice the perfect kick-offs, goals, and conversions with this handy football tee. This useful training aid holds the football steady and can be adjusted to various different angles to practice long and short kicks. It will be great gift for a young lad who is just getting started with the game, and the kicking tee will help him to make accurate kicks every time. Use it as a fun and versatile training accessory to help him up his game.
11.
Glass Football Mugs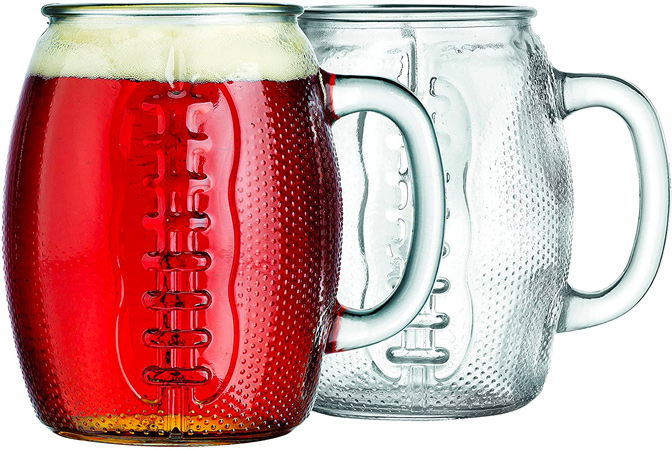 Enjoy breakfast juice or dinnertime soft drinks from these thick chunky glasses. Styled to look just like a leather football complete with laces, these textured glass mugs are easy to hold in the hand. Use them for casual drinks or buy a few and use them at a fun football themed party when your son has friends over. Great for gatherings and social occasion for serving fresh and fruity drinks or iced slushes and look fun and stylish.
12.
Performance Wrist Bands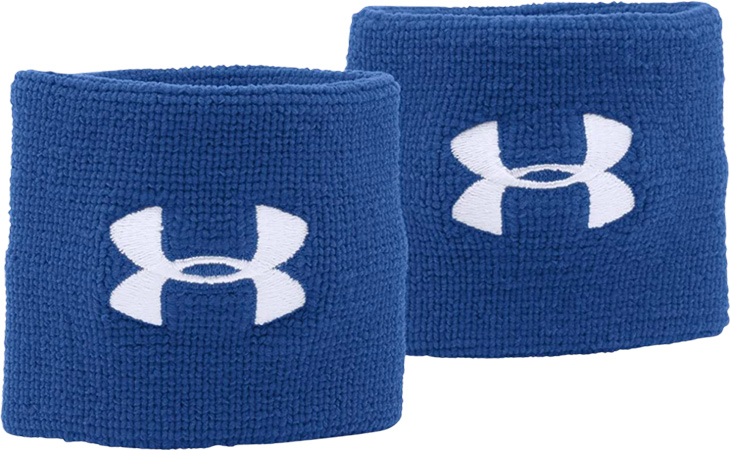 Keep during the game with these handy terry towel wristbands from Under Armor. Comes in a pair to fit comfortably around each wrist and helps to wipe away sweat and moisture from the forehead. Made from blue material with a striking white logo these performance wrist bands are fashionable and eye-catching. A must for any budding sportsman who needs to remain cool on the field.
13.
Baby Football Bibs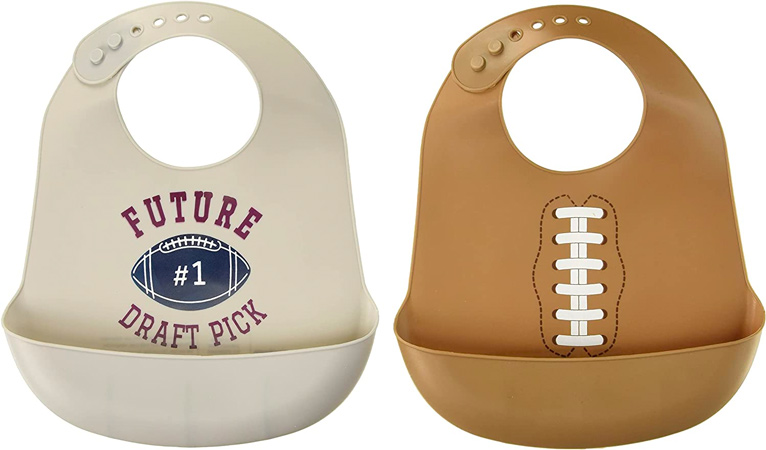 It is never too soon to get kids interested in football so these bibs will be ideal for feeding time. With a curved tray to catch drips and spills each one is printed with a colorful transfer. Made from a hundred percent silicone with a snap fastening these bits are easy to put on and remove. The smooth material makes them easy to wash or wipe clean and the bibs are fully waterproof. Use them alternatively and make mealtimes fun.
14.
Boys Training T-shirt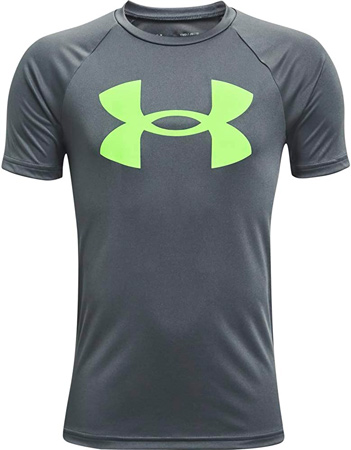 Make a striking figure on the training field with this professional training t-shirt. Decorated with a large bright logo the shirt can be worn during matches or for training workouts and runs. The moisture wicking material keeps humidity low and directs sweat away from the skin, keeping the wearer clean and dry. Choose from a fantastic range of colors and make it part of the football kit. The shirt is machine washable and will come up soft and fresh every time it is cleaned.
15.
Scented Sneaker Balls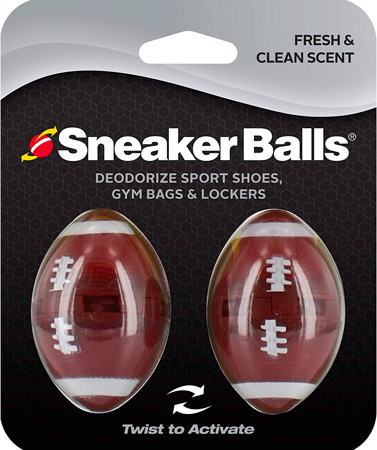 Heavy activity and exercise can lead to feet smelling less than fresh, so these sneaker balls make a great gift to keep things smelling pleasant. Just toss them inside sneakers or football boots to neutralize odors and keep things smelling clean. Small and compact, these scented balls can be used in lockers or gym bags to deodorize and absorb bacteria. Just give them a twist and place them wherever you want them to release their fresh fragrance.
16.
NFL Desk Pad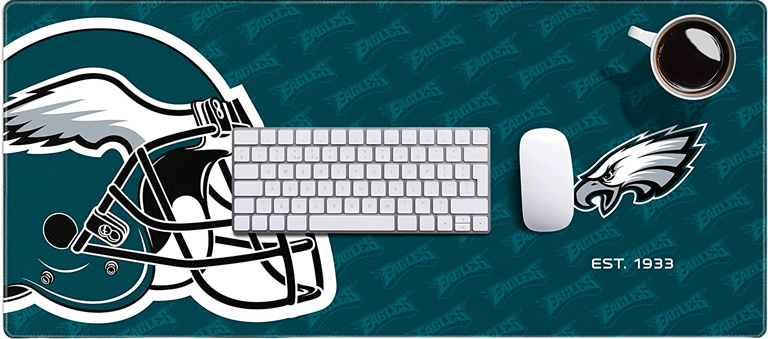 If your son of little brother has a desk in his room then this large pad will help him to keep everything clean and organized. Place it under a computer or a laptop or use it to write on when doing homework. Made using high quality materials the pad displays team colors and logos. It will not stain or fade in the sunlight, and the rubber backing keeps the desk protected from scratches or accidental spills. Help him show off his team affiliation with this brightly colored desk pad.
17.
American Football Towel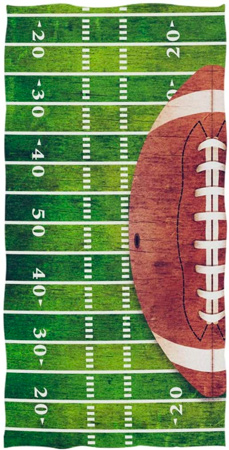 Use this towel after a bath or a shower to dry off quickly. Printed with the image of a football field and football, it is a great Christmas or birthday gift for any boy. Use it after a game or take it along on field trips to use when needed. The premium toweling will not fray or pill from use and the item is fully machine washable. Made from pure cotton and non-toxic dyes the towel is completely safe for the skin and is extra quick drying.
18.
Plush Football Hat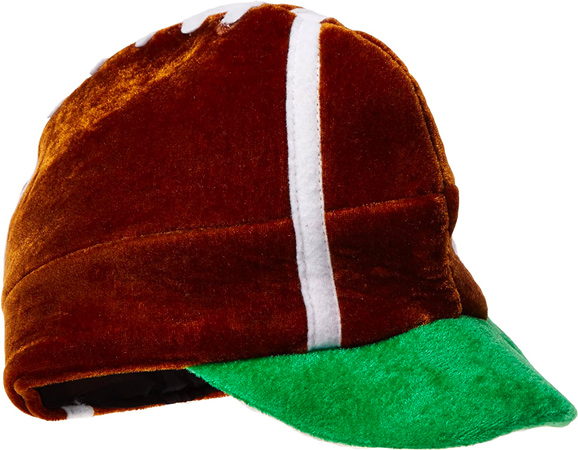 Watch your son giggle with delight as he wears this fun, plush football hat. Guaranteed to be a hit at kids parties the hat is designed to look like a football sitting on the grass. It is a great novelty item to wear at fun birthday parties or festive occasions and is a lighthearted gift for any football fan. Having a football themed party? Then buy a few of these hats for kids and adults to wear alike as a fun and entertaining party favor.
19.
Fleece Throw Blanket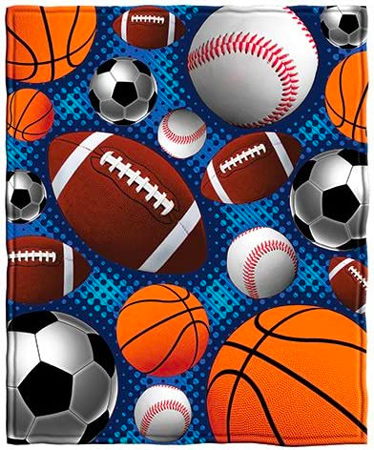 This super vibrant blanket is the ideal gift for any sports fan. Covered with a strong and vibrant print it features, baseballs, basket balls, and footballs in a symmetrical pattern. Keep it in the car so the kids can use it to stay warm on long trips, or use it in the bedroom as a spare blanket. Fold it up and pop it on the end of the couch to grab and snuggle under it when watching TV. Tuck hands and feet under it and remain toasty warm.
20.
Football Themed Notebook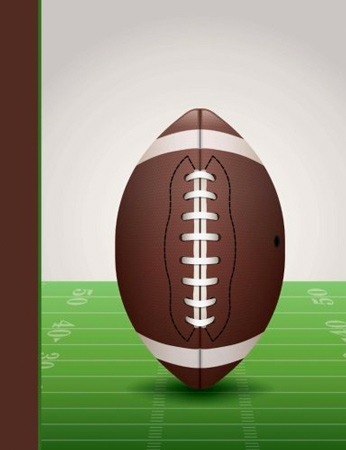 Write notes, do homework, or keep the latest game scores in this useful notebook. The lined paper is great for journaling or writing essays and the book can be used for drawing or sketching. Write down game plays or plot winning tactics in this flexible paperback notebook. Lightweight and easy to carry, the book can easily be slipped into a school bag or backpack until ready to use. It also looks cool and trendy with a stylistic football graphic printed on the front cover.
21.
Football Christmas Ornament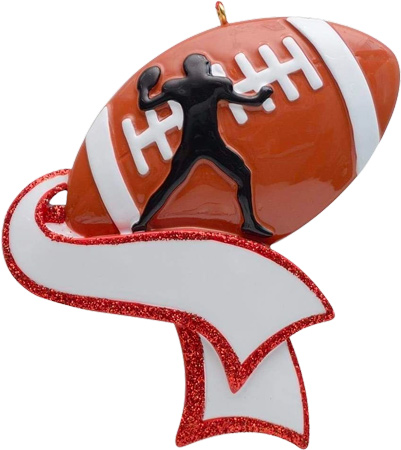 Sons, nephews, and little brothers will love hanging their very own special football ornament on the tree at Christmas. Made from colorful resin and finished with a polished glaze, this attractive ornament is attractive an eye-catching. It includes a white banner where the ornament can be easily personalized with a name or a date using a standard market pen. Hang it from the tree using the attached red ribbon and show friends and relatives what the preferred household sport is.
22.
Boy's Football Pajamas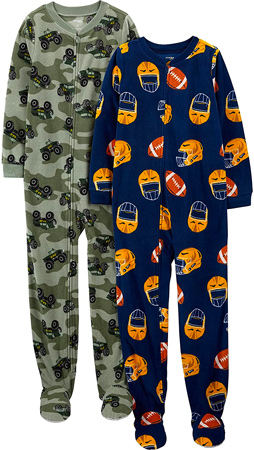 Young kids will like wearing these toasty all-in-one pajamas. Stay warm at bedtime with this fleecy and cozy nightwear. The loose-fitting garment covers the full body all the way down to the feet with included booties and makes sure toes keep out of the cold. Long sleeved and comfortable to wear the brightly patterned pajamas are printed with a colorful design using nontoxic materials. No chemicals have been used in production meaning they are safe for delicate skin and the pajamas are flame resistant.
23.
Football Snack Dispenser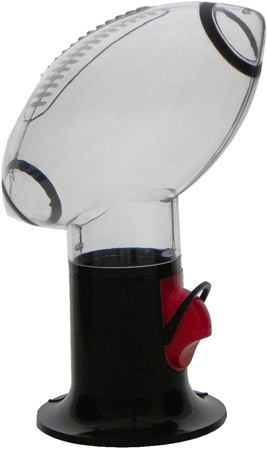 Keep treats and snacks on hand in a fun and original way using this football snack dispenser. Fill it with candy or savory snacks and push down on the lever to receive a treat. Use it for food like trail mix, nuts, or M&Ms and make snack time fun and exciting. Take it to the football games and put it on a table for after game nibbles, or use it at kids' birthday parties. Keep it on the kitchen counter as a fun and interesting snack display that the other kids will be sure to envy.
24.
Laptop Carry Case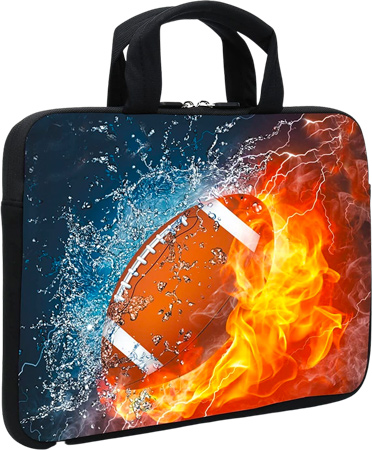 Make sure their laptop stays safe and protected while showing off their love of football with this super stylish laptop carry case. Made from soft and flexible neoprene the case is lightweight, comfortable, and breathable. The double zipper keeps everything safely fastened and can be easily slid open to access and remove the laptop. Machine washable and fast drying, this padded and waterproof case will make sure that sensitive electronics stay completely scratch free and protected.
25.
Football Desk Tidy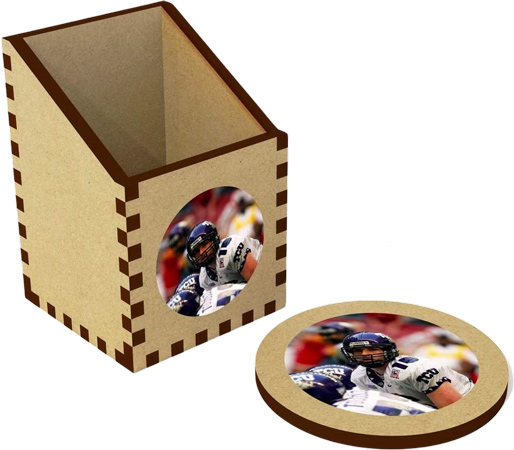 Pens, pencils, cables, and paperclips can be easily stored in this handy desk tidy. The small footprint means that the pen holder will not be obtrusive or take up too much desk space. It is a great birthday gift for a young boy who likes football and features a print of a football player on the front. Comes with a matching coaster to hold mugs and glasses and protect desks or countertops from splashed and spills. Keep everything close at hand and in reach with this convenient desk tidy.
26.
Football Wall Art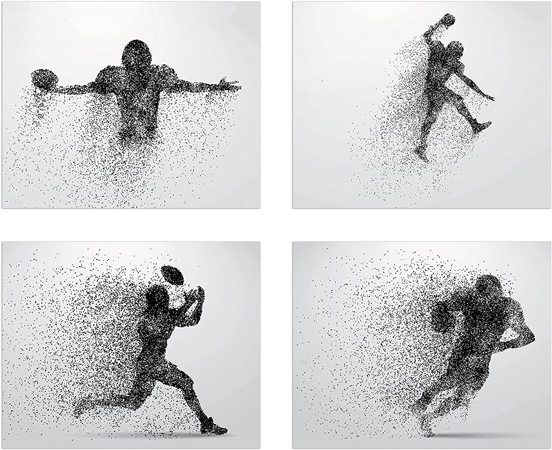 Decorate your football fans room with these modern and stylish prints. They will make a great gift for a young or teenage boy who enjoys watching or playing the sport and the prints will look amazing on anyway. Hang them in a line or make a uniform square. These versatile prints can be hung in any number of different combinations. The monochrome colors mean that they will match perfectly with any style of décor and will show off his love of football in an impactful and dramatic way.