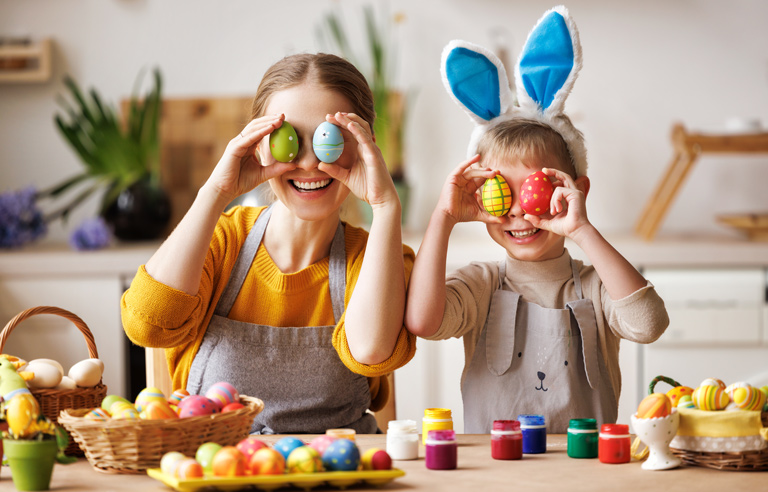 Springtime is a chance to get out into the fresh air, enjoy the garden, and soak up the sunshine. As seasons change and winter departs, this time of year also brings Easter with it. The holiday is usually filled with seasonal decorations and symbols of flowers, eggs, and rabbits which makes it a great time to throw a party for the kids and have their friends over.
There are lots of fun and brightly colored Easter toys that can be used to keep them entertained. The holiday is a good time to educate kids about nature and help them to learn about things like animals, plants and flowers. Choose from this amazing selection of colorful Easter gifts to surprise and delight your young ones.
1.
Cute Bunny Night Light
Make sure little ones sleep soundly with this adorable bunny rabbit night light. As he sits on the bedside table, he emits a soft calming glow and will watch over your kids as they snooze peacefully. Made from BPA-free soft silicone he feels squishy to the touch and will not break from being dropped or knocked over. He can be operated by touch and with just a tap, the light can be turned on and off, dimmed, or different colors and lighting modes can be selected.
2.
Musical Easter Eggs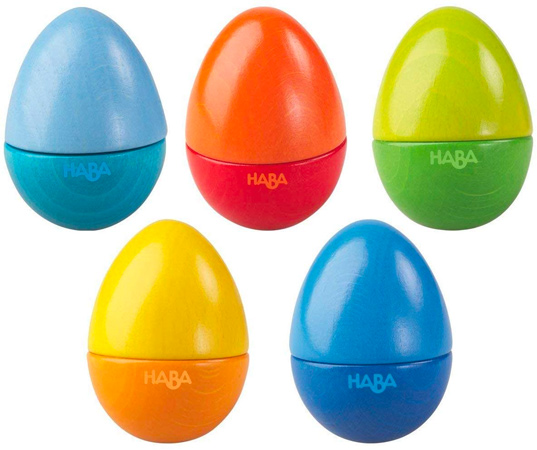 Make Easter a fun time for younger children with these rainbow-colored wooden eggs. Pick each one up and give it a shake to hear different sounds. Each one makes its own unique noise and kids will love listening to the jingles, chirps, and rattles. The eggs are molded to fit easily into small hands and can be tossed, thrown, banged, and knocked together without being damaged, they are a great toy for educational play and promote sensory and auditory discovery and learning.
3.
Easter Egg Coloring Book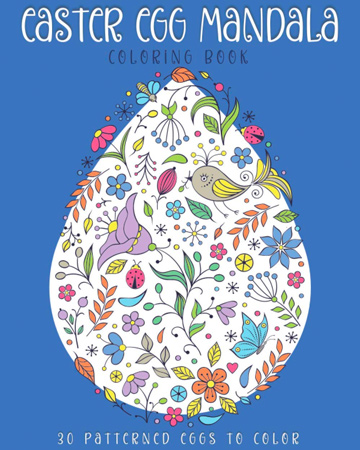 Help your kids to discover their artistic side with this intricate and detailed Mandala Egg Coloring Book. Packed with different egg pictures that can be shaded and colored in hundreds of stunning combinations, it will be bound to give them hours of delight. This book is a great gift for young kids, older kids, and teens. Choose paints, markers, or pencils and make interesting and varied patterns. Enjoy the challenge of painting simple to detailed designs. Patterns can be chosen that are easy or complex, and this book is suitable for kids (and adults!) of all ages. With its egg theme it will make an ideal present for Easter time.
4.
Easter Coloring Cups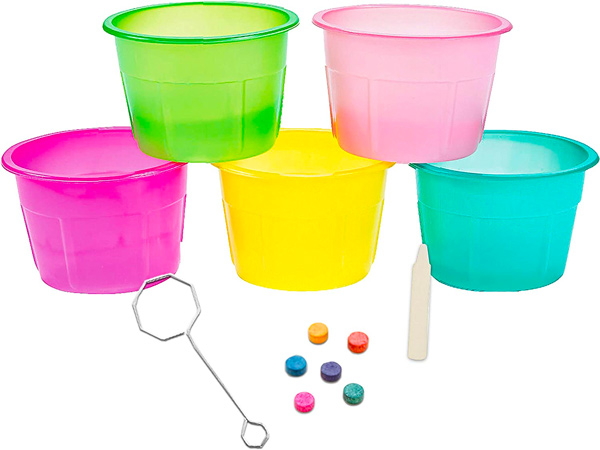 These handy Easter egg coloring cups can be used to help tiny hands hold and paint Easter eggs with ease. Dip and decorate Easter eggs with less mess as you immerse eggs into the colored water. Watch the eggs change shades as if by magic, and choose any of the included color dyes to paint your eggs whatever color you please. The cups will prevent spills and splashes, keeping carpets and furniture protected while your kids have tons of fun making their seasonal Easter eggs.
5.
Easter Chick T-shirt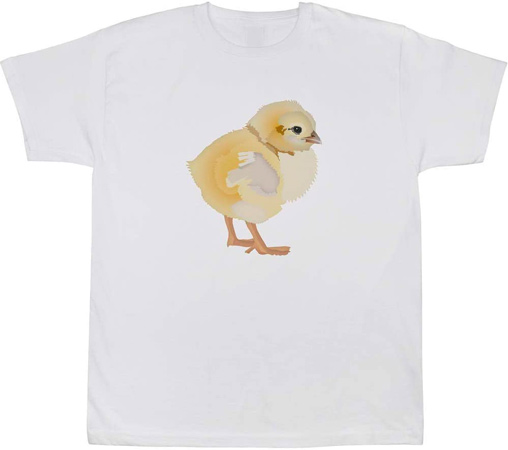 Get your little chicken their own Easter shirt with this fun and casual printed top. Made from 100% cotton this white t-shirt can be worn with jeans or shorts and is suitable for both boys and girls of any age. Ideal for Easter celebrations and parties, the shirt is decorated on the front with a printed yellow Easter chick. It will look adorable when worn by the children for the holiday season. The short is completely machine washable and comes in sizes to fit most kids. Get matching one for Easter for all your tribe to wear.
6.
Rabbit Sketch Pad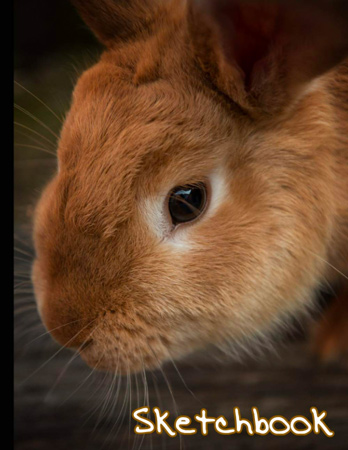 Watch your kids enjoying drawing, scribbling and doodling in this cute little sketch book. It comes with a close-up photo of a real bunny rabbit on the front cover and a cartoon rabbit on the back. It will make a super Easter present for kids who like to draw or color. The book contains over one hundred crisp, white, clean, pages and is ideal for drawing in pencil, or using wax crayons. Paint Easter characters or sketch pretty flowers with ease, and make colorful Easter scenes.
7.
Funny Bunny Mug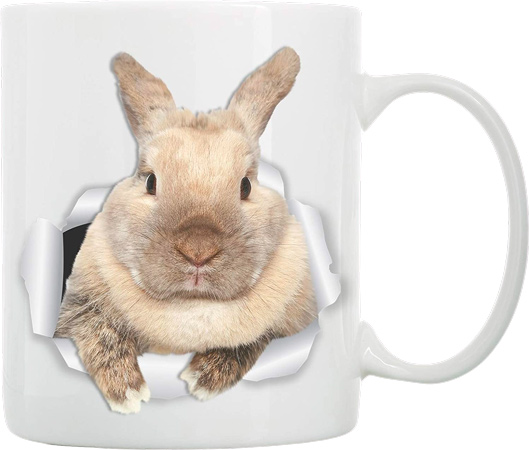 If you are throwing an Easter party then get all of the kids something to sip their drinks from with this bunny mug. The ceramic mug can hold hot or cold drinks or be used as a party favor and filled with sweets and marshmallow treats. Use it to serve milk, juice, or hot chocolate and give your kids their very own special Easter mug. Made from quality materials the printed design will not fade and the mug is safe to use in the microwave or dishwasher.
8.
Rabbit Ring Holder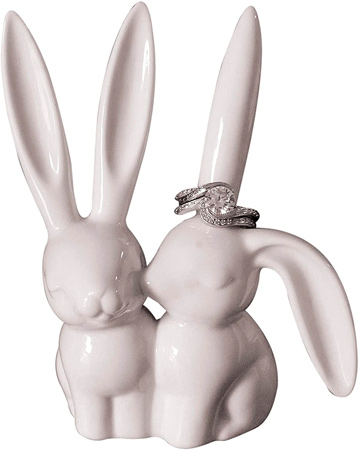 If you have young daughters or nieces and need an Easter-themed gift, then this cute ring and jewelry holder will be great. Made from glossy ceramic it will sit neatly on a dressing table or night stand and hold rings, bracelets and necklaces. The large, pointy ears can be filled up with different rings and jewelry items and the rabbit ring holder will look great a bookcase or a bedroom desk. It's a cool and fancy place to store jewelry and will make a great Easter present for teenage girls that like their bling.
9.
Pop-it Fidget Toy
This colorful fidget toy makes a great interactive gift for little fingers. Use it to give to kids or to hand out as party favors when their little friends come over for Easter. The rainbow-colored toy is great for sensory play and keeping children calm, and they will enjoy feeling and popping the raised bubble shapes. Hold on to it while watching TV, or make a game of seeing who can pop all of their bubbles first. Made from soft flexible silicone the toy is easy to hold and feels comfortable in the hand.
10.
Colorful Analog Watch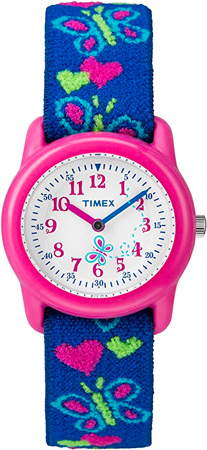 If your child is learning how to tell the time, then this bright colorful watch will make it a fun and easy experience for them. The large watch dial is easy to read and finished in eye-catching pink, and the matching watch strap is easy to fasten and adjust. Decorated with hearts and butterflies all the way around, this watch will make an ideal springtime gift for the Easter season, and kids are bound to love wearing it. To avoid mishaps the watch is designed to be waterproof and the numbers on the dial are luminous for night time reading.
11.
Pink Plastic Skateboard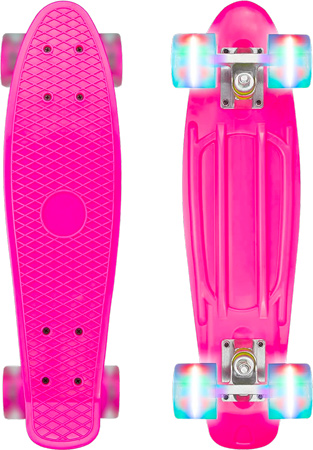 Enjoy practicing stunts, turns, and jumps with this brightly colored and eye-catching pink skateboard. Stand on it, sit on it, and learn how to do tricks. Take turns riding it with friends and enjoy watching the LED wheels light up as the skateboard moves. The plastic board is durable and sturdy and strong enough to hold older kids and teenagers. Perfect for zipping to the store or cruising down the street, and the soft wheels and shock absorption helps to reduce the effect of bumps and jolts from riding over uneven surfaces.
12.
Sequined Easter Backpack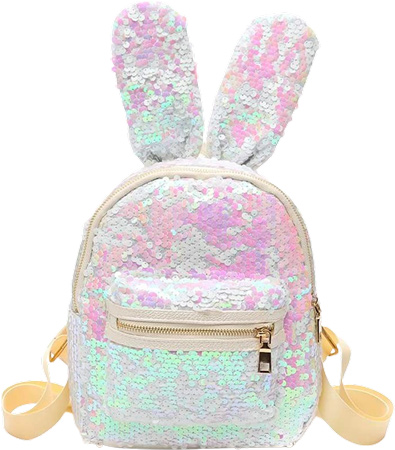 Young and trendy kids will be the envy of all their friends with this sparkling sequined backpack. Covered with hundreds of shiny sequins which give the effect of the bags surface moving and rippling in the light. This dazzling bag is small enough for young kids, but large enough for bigger kids to use. The zip up compartment can be used to hold a purse, cell phone, makeup, keys, and anything else needed. Give it as an Easter gift that your kids can take on day trips or use for school.
13.
Easter Themed Socks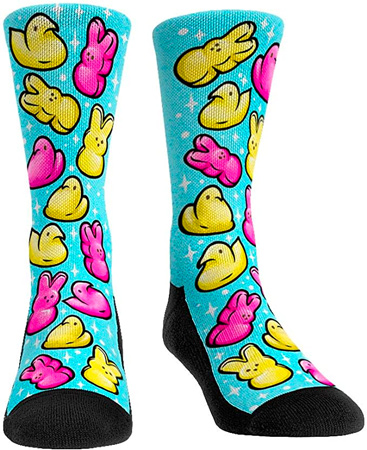 Get some vividly colored Easter socks that your children will love to wear. These novelty socks are patterned in bright candy colors that are perfect for spring and will be a fun and attractive addition to any outfit. Made from warm and durable material they will keep feet warm and the reinforced sole makes them comfortable to wear with shoes or sneakers. Pull them on and add a splash of color to any outfit, or wear around the house when walking around.
14.
Bunny Plush Toy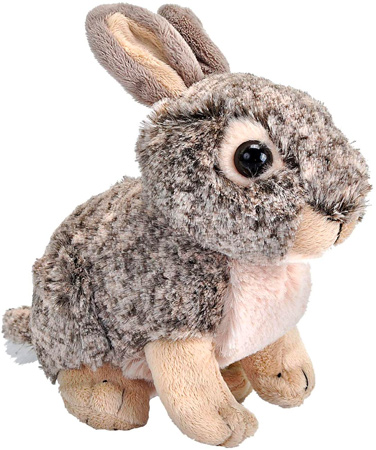 Easter decorations and accessories feature images of flowers, chicks and rabbits. Bunnies are associated with the Easter festival so get your child the soft, fluffy version with this soft toy. Made from silky furry material he feels great to the touch and he is super to cuddle. Kids will love carrying him around, or having him tucked up with them at night when they go to bed. He is so lovely that you might have a hard time getting your kids to hand him over for cleaning, fortunately this cuddly little rabbit can be easily wiped down with a sponge or a cloth.
15.
Kids Flower Press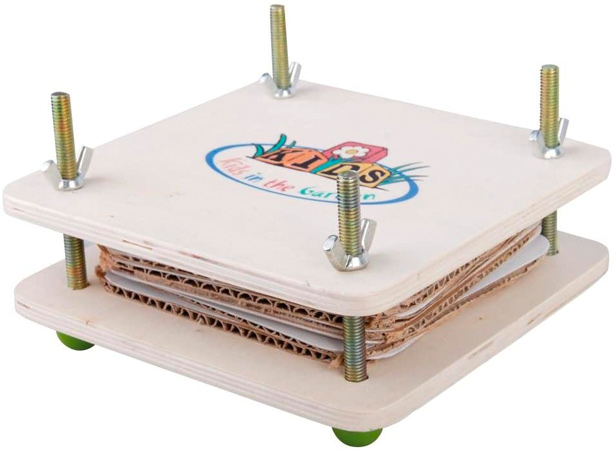 Kids love to learn about the natural world, so help them learn about different varieties of flowers and plants and inspire their curiosity. Use this flower press to preserve the petals and leaves of flowers that kids have collected and show them how to make a fun art project. The wooden plates can be opened to place flowers into the press and then screwed down tightly. Kids will love picking and preserving their favorite flowers in this traditional and unique way,
16.
Lady Bird House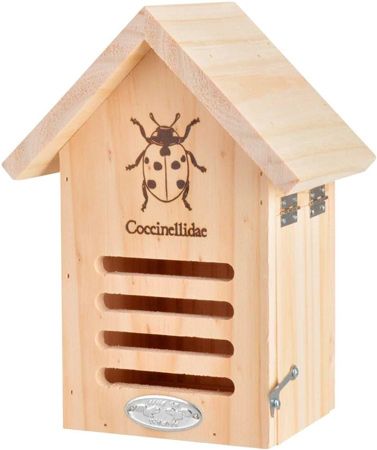 Show your kids how they can encourage and help nature with this delightful lady bird house. It makes a superb home for the cute little red bugs and can be placed in the garden to attract them. Enjoy watching the attractive lady bugs making their home in the little wooden house and make it a project to share with your kids. Lady birds can also help to maintain the garden by keeping other insects and invaders away, to keep plants, flowers, and vegetables protected.
17.
Slushy Treat Maker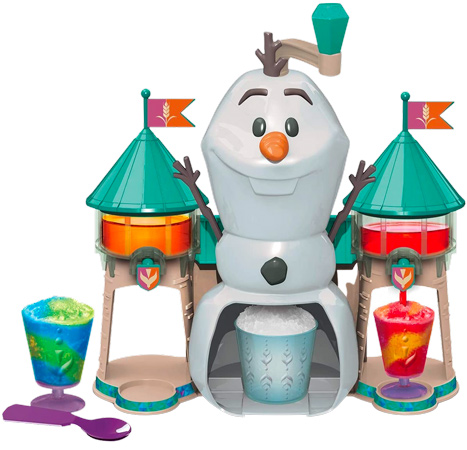 Make your own refreshing slushy treats or flavored party beverages with this Frozen drink's maker. Designed to look like Olaf from the popular Disney movie, he can hold a cup and with a turn of a handle, shaved ice is made. Add your favorite syrups and flavorings to create enjoyable springtime drinks, Great for using at Easter parties when the kids have friends over, snow cones and slushies can be made for everyone to enjoy.
18.
Face Paint Crayons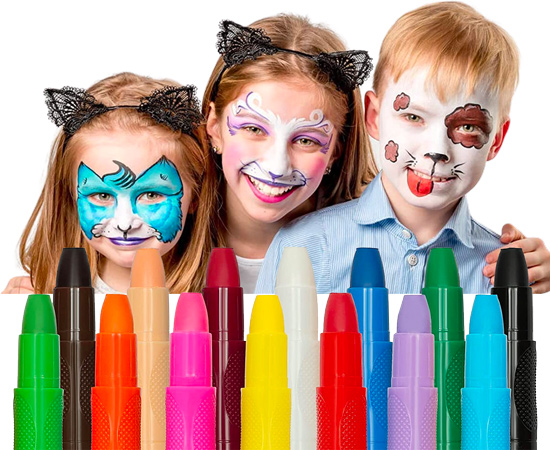 These face crayons are a great way to help your kids dress up as their favorite Easter character. Whether they want to be a bright yellow chick, or a twitchy-nosed bunny rabbit. These face crayons can be used to draw any kind of styles and designs on the skin. Use bright reds, light blues, and yellows to create patterns and shapes, then simply wash off as needed. The crayons are completely non-toxic and will not harm or irritate delicate skin.
19.
Nail Polish Kit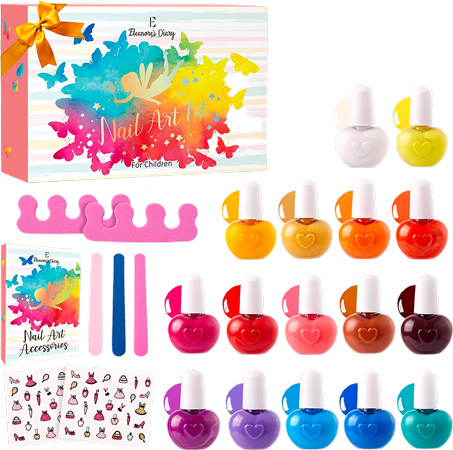 Create your own elegant salon with this versatile nail painting kit. Filled with all the colors and nail tools needed to design your own nail creations, young girls will love using this set. Spend hours of fun with your youngster while they treat you to a day at the salon and decorate hands and toenails. The set is 100% eco-friendly and patterns and designs are limited only by the imagination.
20.
Waterproof Bluetooth Speaker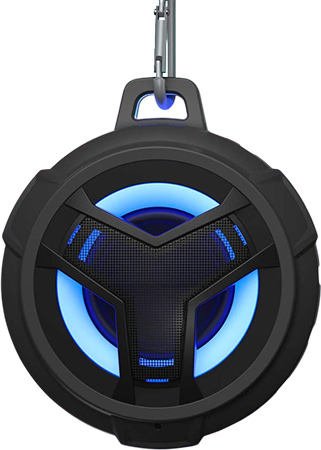 If your kids are old enough to have their own mobile devices then you will know that they love to play and listen to their own music. This Bluetooth speaker will make a popular Easter gift and kids can use it at home, outdoors, or even in the shower. Just hang it up and pair it with a phone or a tablet and start streaming all of your favorite songs. Rugged and completely waterproof the speaker will not be damaged by moisture and is tough enough to withstand bumps and knocks.
21.
Wooden Blues Harmonica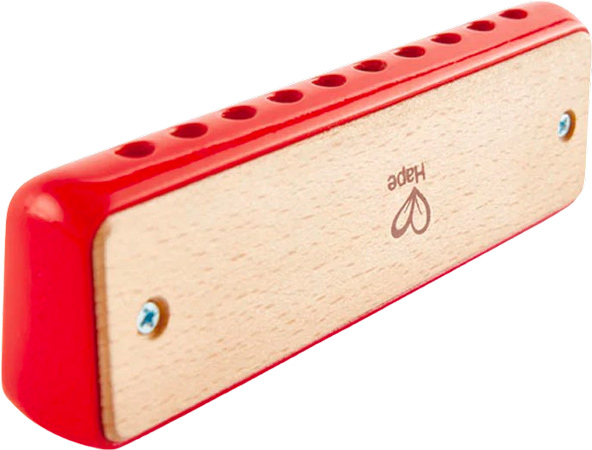 For young children kids who are becoming interested in music and are fascinated by the different sounds that instruments make, this harmonica will make a super Easter gift. Made with wider gaps and numbered notes to make it easier for little musicians to learn and play it will make a fun and creative toy. The harmonica will not break or damage easily even if dropped. Styled with rounded edges to fit comfortably in the hand, little fingers will be able to pick it up and play it easily.
22.
Wind Chime Kit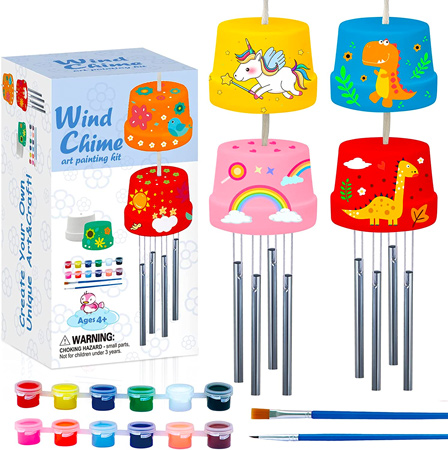 Make a garden decorating project with your kids with this lovely windchime kit. Create your own set of windchimes and with the colorful paints included in the kit you will be able to make a springtime, Easter themed accessory with ease. Assemble the charms and then use the included paints and brush to draw shapes and color the windchime any way you like. Suspend it from a tree or hand it on the front porch when complete and enjoy hearing the chimes delicately ring each time the breeze blows.
23.
Felt Hand Puppets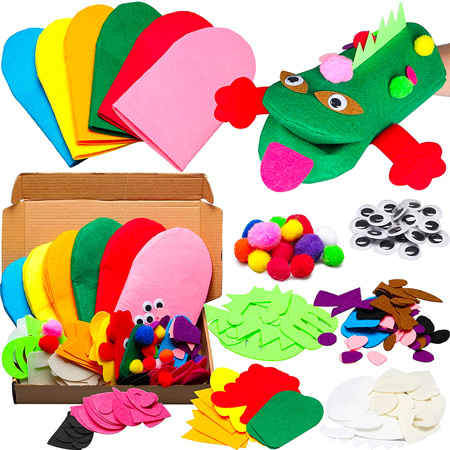 Bring some exciting old school entertainment with these fun and versatile glow puppets. Made from soft felt each puppet glove can be decorated with nose, horns, ear, feet, and googly eyes. This DIY Puppet Set is suitable for games and storytelling, teaching kids how to pretend and interact. Hand out the puppets at your Easter party and spark their imagination by encouraging them to create their own puppet show. Watch them enjoy playing pretend with their puppet toy as they interact and imagine with their friends.
24.
Kids Baking Set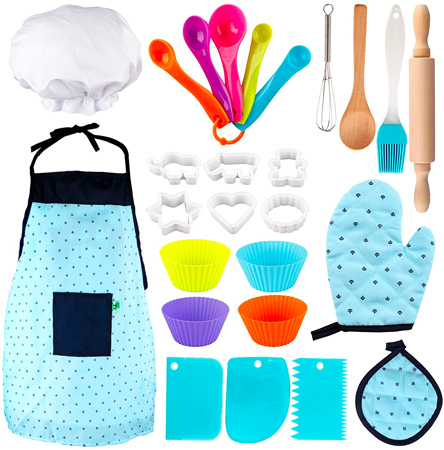 Mini chefs and would-be cake makers will be right at home with this complete baking set. It contains everything needed for young culinary artists to perfect their craft. Put on the apron and chef's hat to protect clothes, then use the tools and implements like whisks, rolling pins, and measuring spoons to bake. Create tarts, parties, and cupcakes easily and make shapes and patterns with the cake spatulas and cookie cutters.
25.
Wooden Toy Toolbox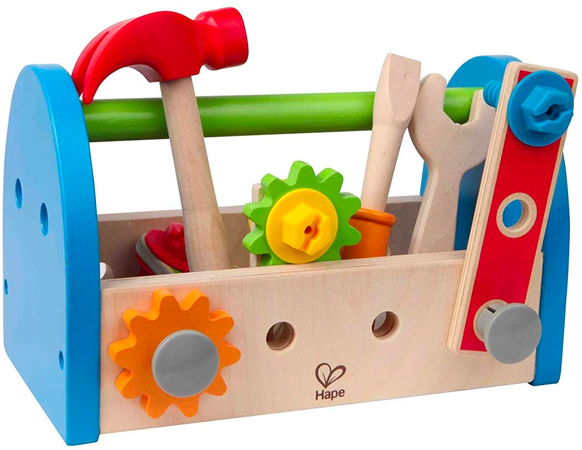 If your child is a handyman in training then he will appreciate getting his own personal tool kit. This tool box is full of oversized tools that are finished in smooth wood and colorful paint. Easy for small hands to grip and hold the tool kit contains a hammer, spanner, and a screwdriver. Watch as your child figures out which tools to use on the mechanical screws and cogs attached to the outside of the box. Encourages problem solving and helps with hand-eye coordination.
26.
Kid's Watering Can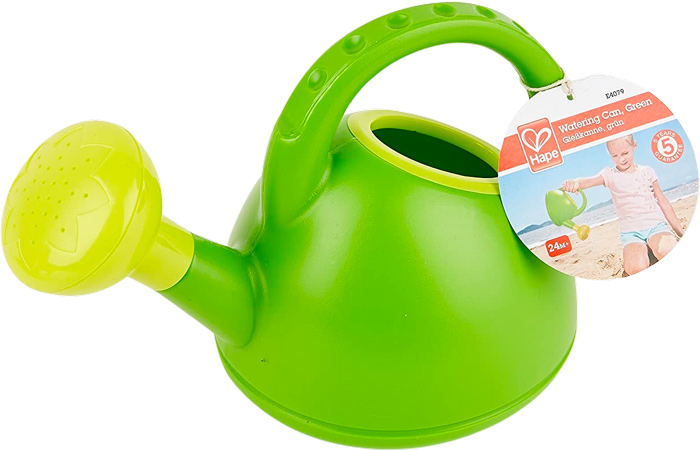 Keep all of the new spring flowers fresh with this cute little watering can. The chunky bright green water carrier can be easily picked up by young kids as they follow mom or dad around the garden. Fill it up and show them how to water the plants, and have fun watching your child tend to the shrubs and bushes. The durable plastic will not leak and the watering can toy can be used repeatedly. Take it away for days at the coast and use it as a beach toy, then pop it back in the shed when you return home, ready to use again.