Minecraft is described as a multiplatform sandbox adventure game, which simply means that in the game players explore the world and customize it to create nearly anything they can imagine. The game is relatively simple to pick up and play which explains why it has increased in popularity amongst younger children. However, the game can still be complicated when it comes to building more complex items and structures, and its open-ended nature has proven incredibly popular amongst older children and teens too.
Although Minecraft is a standalone game, its popularity has led to a variety of licensed (and unlicensed) toys, products and downloadable content, becoming available to cash in on the success of the original game. If you're looking to buy a gift for a child or teen who's really into Minecraft it can be difficult to understand all of the different options and whilst digital products and downloads are readily available sometimes it's nicer to give a physical gift. With this in mind, we've put together this guide to some of the best physical Minecraft toys and presents, suitable for all different types of children and budgets.
1.
Ravensburger Minecraft Builders & Biomes Strategy Board Game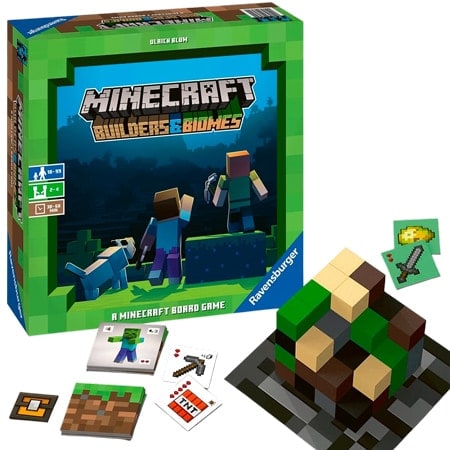 Why we like it: An exciting strategy board game for 2-4 players.
A board game based on the Minecraft computer game is a great way to capture the interest of Minecraft fans and have them engage in a physical, real-world activity. Developed in collaboration with Minecraft's developers, Mojang, the Ravensburger Minecraft: Builders & Biomes Strategy Board Game is designed to bring 2-4 players together for a 30-60 minute in-person experience.
The game comes with 64 wooden blocks, 64 building and monster cards, 35 weapon tokens, 4 player boards, 4 experience counters, 4 character skins, 4 game piece bases, 12 overview cards, a block base, a support structure and easy to understand instructions so you can get started right away! With a new adventure every time this game is both exciting and easy to learn.
Pros
2-4 Players
Developed in collaboration with Minecraft developers
30-60 minute game
Easy to understand instructions
New adventure every time
2.
Lego Minecraft The First Adventure Nether Playset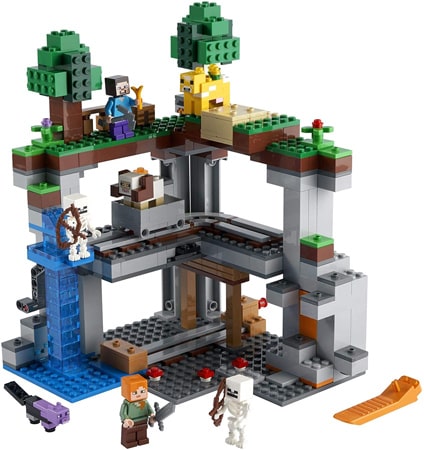 Why we like it: Combine all the fun of Lego with kids' favorite computer game.
Lego is a fantastic toy for children of different ages, and with kits available to suit teens and even adults, there is a whole range of different options available. The Lego Minecraft The First Adventure Nether Playset is based on the popular Minecraft computer game but offers all the benefits of Lego. Children can develop their construction skills, fine motor skills and spatial awareness as well as the ability to follow instructions carefully, all whilst making a 3-level structure based on their favorite computer game.
This set includes Steve and Alex characters, plus 2 skeletons, a dyed cat, horned sheep, and a monobloom – a beautiful cow covered in yellow flowers. It also features treats such as a waterfall elevator, collapsible rail tracks, sliding earth blocks and explosions. This set makes the ideal gift for Minecraft players aged 8 and up.
Pros
Develops construction skills
3-level structure
Includes Steve and Alex characters
Plenty of accessories included
Ideal for Minecraft Players ages 8 and up
Cons
Not suitable for younger children
3.
Minecraft Backpack Set 4 Pieces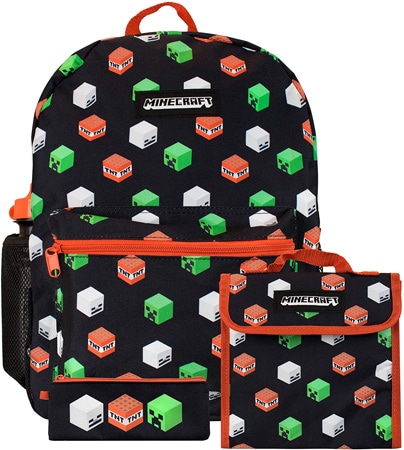 Why we like it: Great practical gift for a Minecraft fan.
All too often children are drowning in toys which is why it can be a good idea to buy them a gift that has plenty of practical use too. The Minecraft Backpack Four Piece Set included a backpack, a lunch bag, a water bottle and a pencil case so it's ideal for children who are at, or just about to start, school.
Made from 100% Polyester, the bag includes a zippered main compartment, front pocket, and an awesome all-over print of the Creeper character from the Minecraft game. These items are all officially licensed Minecraft merchandise, so quality is guaranteed.
Pros
Practical gift
Includes backpack, a lunch bag, a water bottle and pencil case
100% polyester
Creeper design
Officially licensed Minecraft merchandise
Cons
Large backpack may be unsuitable for younger children
4.
Minecraft Dungeons 20 Die-Cast Figure Pack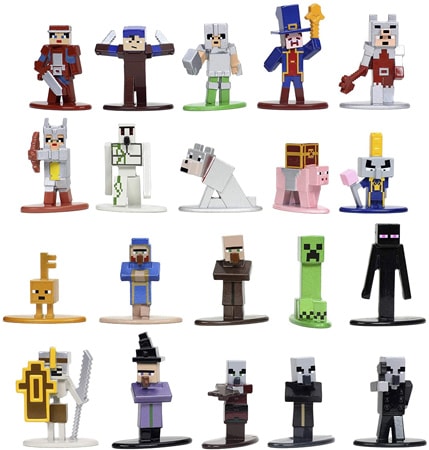 Why we like it: 20 figures based on characters from the Minecraft computer game, ideal for imaginative role-play.
Minecraft fans will love these die-cast metal figures. Each figure is just under 2 inches tall and is based on characters from the world of Minecraft in an all-new dungeons theme. There are 100s of these figures to collect and this pack of 20 is the ideal way to get started.
As well as being ideal for collecting, these figures also make brilliant room décor and can be used for imaginative role-play. Playing imaginatively with small figures has plenty of developmental benefits well into the teen years, as it allows children to safely experiment with and act out a range of different social situations and explore the potential emotions and consequences involved, building social skills and emotional intelligence.
Pros
Die-cast metal figures
100s to collect
20 figure pack
Good as room décor
Can be used for imaginative play
Cons
Small figures may be a choking hazard to younger siblings
5.
Minecraft Steve Plush Toy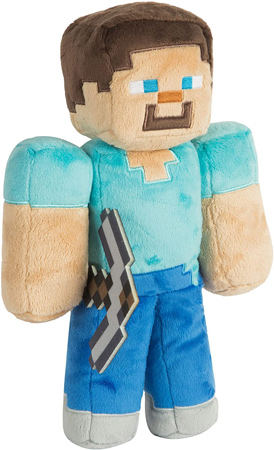 Why we like it: Part of the new plush collection, Steve from Minecraft, is sure to be a hit with fans of the game.
You may think that older kids are too mature for snuggly, cuddly toys but "plushies" or "plush" characters are gaining a huge fan following in a range of different entertainment franchises and Minecraft is no exception. The new plush collection has 12 Different large characters; Steve, Alex, Skeleton, Zombie, Enderman, Ocelot, Pig, Mushroom, Wolf, Sheep, Zombie Pigman, Creeper.
This Minecraft Steve Plush Toy is part of the new collection and may well become a collector's item some day! Until then, he makes a great display item, bedroom décor, or even a friend for snuggling whilst watching movies or drifting off to sleep.
Pros
Popular plush toy
High-quality materials
Part of a collection
May become a collector's item
Ideal as display, décor or for snuggling!
6.
Paladone Minecraft Alarm Clock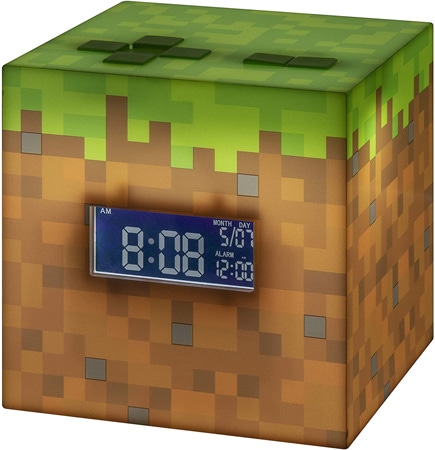 Why we like it: Digital alarm clock based on the popular Minecraft game.
Crafted to resemble a Grass Block from the popular Minecraft video game, this officially licensed alarm clock wakes kids up by playing the official Minecraft Sunrise music. It displays the month, day, and time along with alarm settings and lights up too.
This cool clock makes a great gift for any Minecraft fan or gamer and is ideal for adding to their bedroom décor. Being officially licensed merchandise, quality is guaranteed and selecting a more practical item like an alarm clock, whilst honoring the Minecraft interest, will delight the recipient whilst preventing them from being inundated with toys.
Pros
Resembles a grass block from popular game
Officially licensed merchandise
Lights up
Displays month, day and time
Ideal as part of bedroom decor
Cons
USB to mains adapter not included
7.
Minecraft Diamond Pickaxe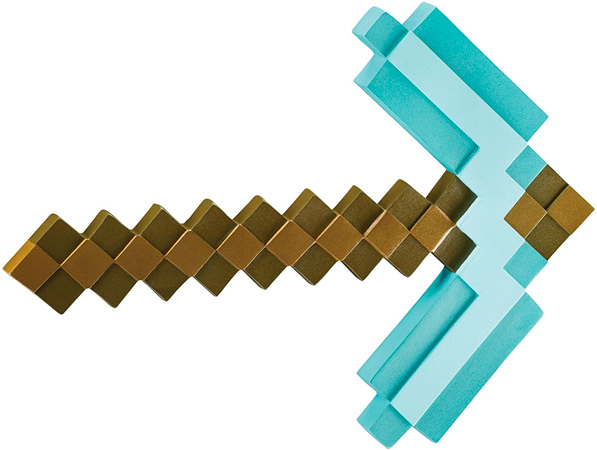 Why we like it: Based on the popular Diamond Pickaxe from the computer game.
The diamond pickaxe is a popular tool in the Minecraft game, because it is the most durable of all of the pickaxes which means that it will last the longest before being destroyed and it can be used for mining a whole host of different materials.
This kids costume accessory is made of durable plastic and is ideal for Halloween, Christmas, Comic-con or video-game costume events. It has been made to be child Safe and meets both UK and EU Safety Standards and is CE Safety Test Approved.
Pros
Ideal as part of a costume
Can be used as bedroom décor
Can be used for imaginative role-play
Made with durable materials
Meets UK and EU Safety Standards and CE Safety Test Approved
Cons
Plastic toy; less eco-friendly option
8.
Minecraft Villager Action Figure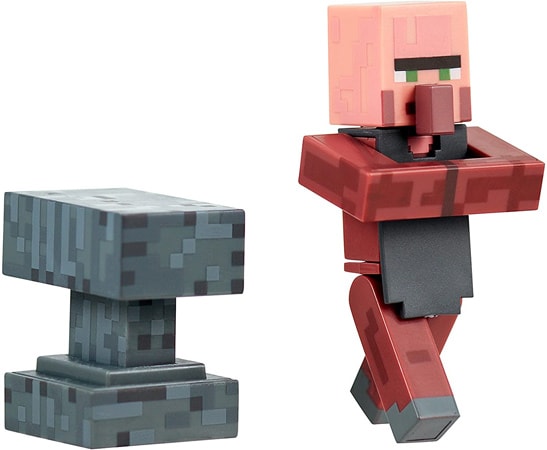 Why we like it: Recreate scenes from the popular video game, Minecraft, using this action figure.
Action figures are great toys for allowing children to recreate scenes from popular games and movies and this action figure is based on a villager character from the Minecraft computer game. Villagers wander around their village happily and take on a variety of roles according to the needs of their village. They have no inbuilt attack skills and run from creatures like Zombies so there are plenty of different imaginative scenarios that can be played out using a villager action figure.
Highly detailed and fully articulated with accessories included, it's easy to pose the villager to suit the scenario that you're playing out or the villager could be used as part of bedroom décor or kept safe as a collector's item if this better suits the person you're buying a gift for.
Pros
Perfect for imaginative play
Can be used as bedroom décor
May be kept as a collector's item
Based on the Minecraft computer game
Fully articulated
Cons
Not one of the more popular characters
9.
Lego Minecraft The Creeper Mine Building Set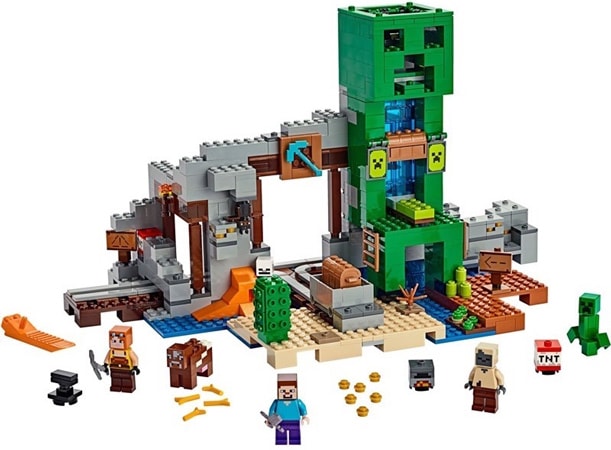 Why we like it: With plenty of accessories this Lego set is ideal for Minecraft fans.
Featuring a mine with working rail track, minecart and 3 explosion functions, a shelter with a large Creeper statue, 2 Creeper banners, ladders and bed the Lego Minecraft The Creeper Mine Building Set is a complex build ideal for children to develop their fine motor and construction skills as well as following in-depth instructions.
The set has plenty of interactive, working features such as a treasure drop function, blasting bedrock out of the way of the track and a functional Creeper statue. The set includes 3 mini-figures: Steve, a new-for-August-2019 Minecraft Blacksmith and a Husk, plus Creeper, cow and bat figures.
Pros
Complex build
Helps to develop fine motor skills
Children learn to follow in-depth instructions
Interactive, working features
Includes 3 mini-figures
Cons
Younger children may need help with instructions and construction
10.
Minecraft Reversible Single Duvet Cover Set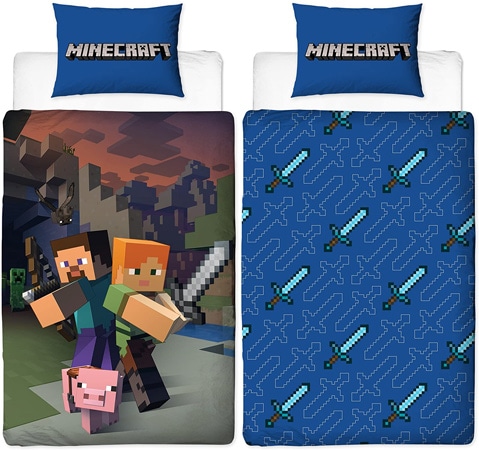 Why we like it: Great practical item, with 2 design choices in 1!
This officially licensed duvet cover is made in soft poly-cotton and designed in the classic Minecraft cube style. Premium quality materials make this duvet set both comfortable and easy to care for; it's easy to wash at 40c, quick-drying and durable, can be tumble dried on a low heat and requires minimal ironing.
Minecraft Fans can extend the Minecraft world into their bedroom with this set, and can simply flip the duvet over for a whole new look. There are plenty of coordinating bedding options and accessories available too so it's easy to deck the whole bedroom out with Minecraft merchandise.
Pros
Reversible design
Officially licensed product
Includes duvet cover and matching pillowcase
Machine washable and tumble dryer safe
Perfect for any bedroom
Cons
Soft poly-cotton (50% cotton & 50% polyester)
11.
Minecraft Grass Block Storage Tote Storage Cube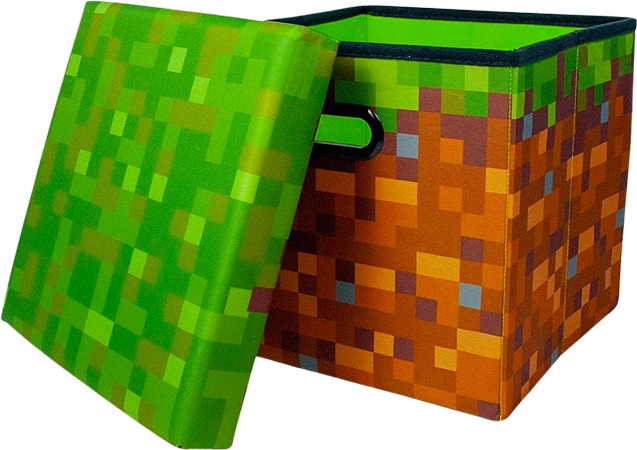 Why we like it: This practical gift is the ideal place to store all of your Minecraft toy collection.
Along with a whole bunch of Minecraft toys comes the need for a whole bunch of storage, that's where the Minecraft Grass Block Storage Tote Storage Cube comes in! Based on a grass block from the popular computer game it's ideal for any Minecraft fan's bedroom, playroom or gaming setup.
Perfect for fans of all ages, this 15-inch cube looks great on display and adds to the overall décor of a space as well as holding a surprising amount of Stuff. With handles that make it easy to carry and relocate, it's easy to move this storage tote from one area to another making it a great catch-all too. Conveniently, this bin also stores flat when not in use.
Pros
Practical gift
Ideal for storage
Easy to carry
Stores flat
Adds to decor
12.
Paladone Minecraft Pig Bank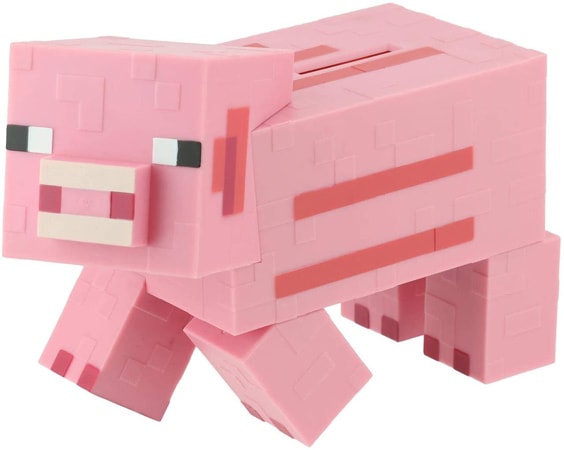 Why we like it: Keep your cash safe in this piggy bank based on the popular Minecraft game.
This officially licensed Minecraft product makes an ideal practical gift and addition to any Minecraft fan's collection. Based on the famous Minecraft Pig character this fun collectible piggy bank is a safe place for kids to store their cash.
As well as being a great practical item, the Minecraft Pig is iconic and this piggy bank will look great on display and it's eco-friendly too! This item is made with BDP, an organic additive that makes it home compostable, naturally decomposable in landfills, and recyclable, so it's good for the environment as well as your home décor!
Pros
Officially licensed Minecraft product
Ideal practical gift
Looks great on display
Eco-friendly
13.
Paladone Minecraft Light BDP with Creeper Sounds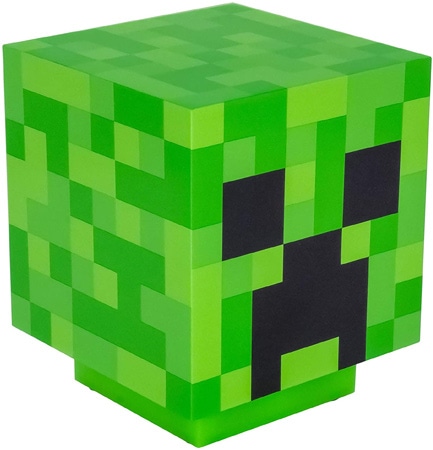 Why we like it: Great collectible and practical gift ideal for completing a Minecraft bedroom theme.
If you're looking to buy a Minecraft fan a fun but practical gift then the Paladone Minecraft Light BDP with Creeper sounds might be just what you're looking for. This unique creeper Minecraft light is 11 cm tall and designed with details from the computer game.
It's powered by 2x AAA batteries so it can be easily moved around the house and as officially licensed merchandise, quality is guaranteed. Upon activation, this creeper light makes the official sounds from the Minecraft game which is sure to delight real fans. As well as all of this, the Creeper light is eco-friendly too! When it eventually comes to the end of its life the plastic will break down thanks to a revolutionary organic ingredient and not just sit in a landfill, making it a great choice for those trying to be more ecologically responsible.
Pros
Practical gift
Design based on the computer game
Battery-powered so portable
Makes sounds from the game
Eco-friendly
14.
Minecraft Comic Maker Alex Action Figure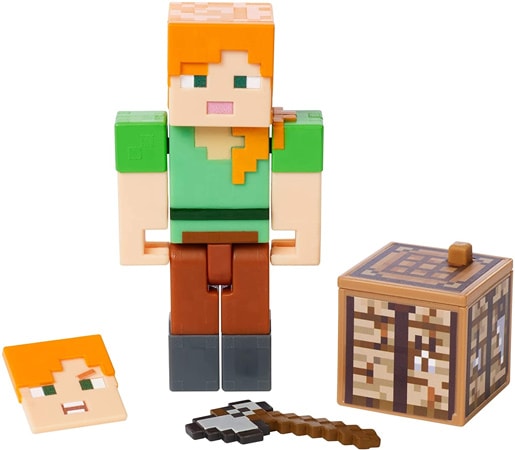 Why we like it: Create your own Minecraft adventures with an action figure based on the game.
The Minecraft Comic Maker Alex Action Figure is a really clever toy and makes a great gift for imaginative and creative kids. Minecraft fans can create their own comic books using this action figure by downloading the free Comic Maker for Minecraft app. The Alex figure comes with swappable faces, so you can change his expressions to match your storyline.
Alex also comes with a biome block that can be used as a stand and has a scannable code to unlock exclusive app content, like sounds and video content. The figure itself has five points of articulation so it's easy to move and pose making it ideal for imaginative role play. Other figures are sold separately so children can build up a collection.
Pros
Swappable faces
Based on popular Minecraft character
Compatible app
5 points of articulation
Ideal for imaginative role play
Cons
Other figures only sold separately
15.
Lego Minecraft The End Battle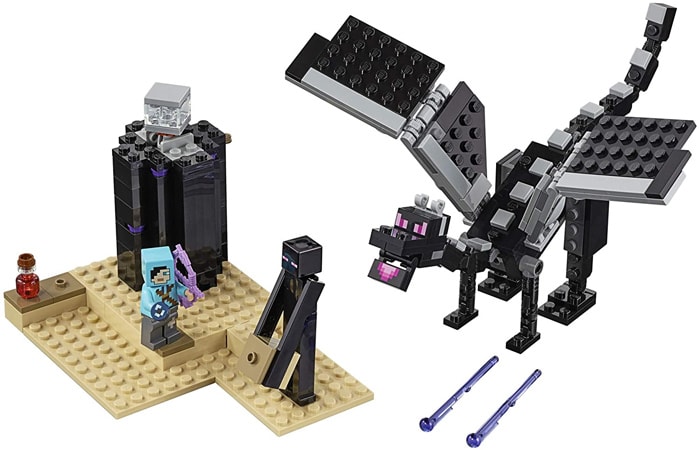 Why we like it: Featuring a buildable ender dragon with moving parts this Lego set is perfect for Minecraft fans.
Another Minecraft-themed Lego set, the Lego Minecraft The End Battle set is a sufficiently challenging build for children aged 7 and up. It features a buildable ender dragon toy with highly posable limbs and an enderman figure.
With the ability to shoot fireball missiles from the ender dragon, this set is sure to delight children who love the Minecraft game. Included in this set are weapons like an enchanted bow and accessories like an ender pearl and a potion. The set also includes a code for redeeming a dragon slayer skin in the Minecraft Bedrock Edition online game!
Pros
Challenging build
Moveable dragon
Dragon can shoot missiles
Accessories included
Includes code for in-game skin
Cons
Younger children may need help with construction
Final words
A study from 2018 showed that most kids will spend an average of four hours a day looking at screens. If that's to be believed, then it's pretty important that what they are consuming whilst on screens is something that will benefit them. Video games make up a fairly large proportion of this screen time, and Minecraft has become one of the most popular games for children to play. Luckily in terms of non-violent, educational games, Minecraft is one of the best. Not only can it teach kids the fundamentals of programming skills, but it also helps them to hone skills like teamwork, problem-solving, and project management. The open-ended nature of the Minecraft game also helps to foster imagination and creativity. With this in mind, encouraging a child's interest in Minecraft through the gifts you buy them, is probably a good idea.
However, with such a diverse range of different products on the market, it's easy to become overwhelmed which was why we put together this list of the 15 best Minecraft toys to buy in 2022. Many of these items can be used together, in imaginative play scenarios or as different elements to pull together a Minecraft bedroom décor theme. We hope that this list has been useful in helping you to select a gift for the Minecraft fan in your life!