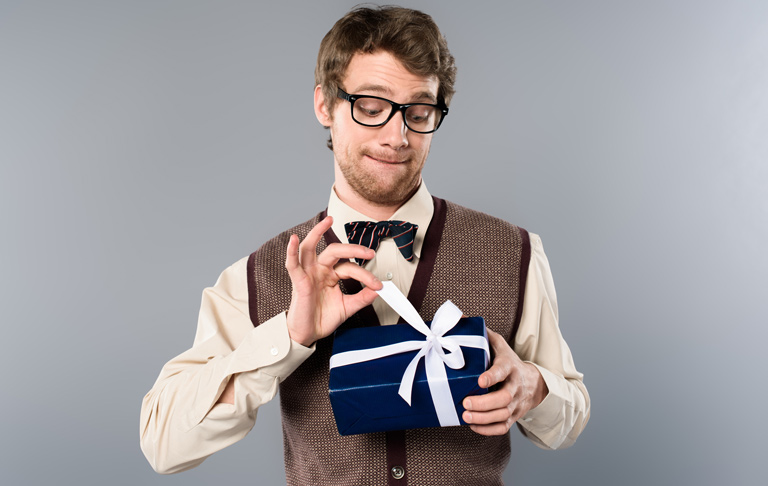 Buying gifts can be easy when it comes to men. You can get them anything, and they will appreciate it. However, the problem arises when they end up getting the same presents again and again. Most likely you too have given your man all those ties and perfumes.
So, do you want to gift him something different? If so, you have come to the right place! We have prepared a list of unusual gifts for men that are unique enough to truly amaze them!
1.
Retro Handheld Arcade Game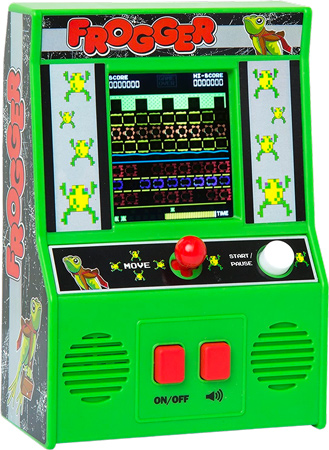 Nothing is better than the things that remind you of your childhood. Surprise your guy with a handheld retro arcade game and cheer him up. No one is ever too old to play arcade games. This miniature arcade game will bring fond memories back, and his inner boy will rejoice. The soundtrack and graphics are exactly like the real thing making this experience authentic and nostalgic. Get him this exciting mini arcade game and bring back old memories.
2.
At Home Slushie Maker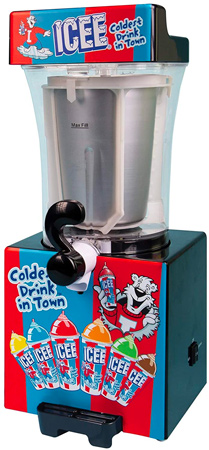 Childhood was all about playing games, running freely, no worries and slushies! What is more exciting than an at-home slushie maker? The Icee Slushie maker! It is a counter-top sized appliance that makes the yummiest slushies. Gift him this slushie maker and enjoy cold slushies with him. This blast from the past is a fun and exciting experience to gift the man in your life. They only have to prechill the inner canister and the syrup-water mixture and follow the guide. He can buy the syrup of choice separately and make yummy slushies at home with this present of yours. Happy slurping!
3.
The Clearly Impossible Puzzle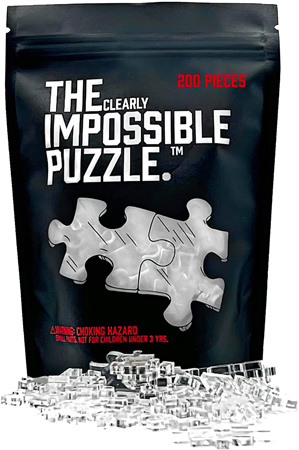 If the man in your life loves challenges, quests and complexities, gift him the Clearly Impossible Puzzle. This puzzle contains 200 pieces made from crystal clear acrylic. The puzzle pieces do not have any paper backing, making it impossible to tell the front and backside. There are numerous false edge and corner pieces that add a twist to the game. The crystal-clear pieces create a challenging assembly for even an extreme puzzler. Get him this unique and arduous puzzle as a present and watch how solving it becomes a tradition on game nights.
4.
Minecraft TNT Alarm Clock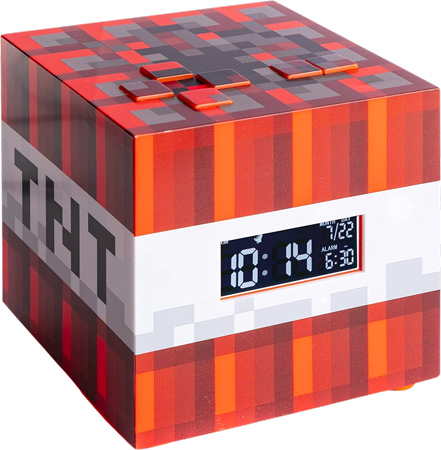 Time is a worthy asset in our lives. Do you have a friend who is a pro gamer and stays up late at night? With this clock, your friend will never miss another important appointment or run late for work. It will wake them up with the actual TNT sounds from the fantastic Minecraft game. Even with foggy morning eyes, the reverse bias LED white on black showcase is easily readable. This alarm clock has an emotional light feature to make the ultimate ambiance in the bedroom or any other area they decide to position it. It is crafted with specifics true to the popularly pixelated video game. This is the ideal gift for any Minecraft fan or enthusiast, and it comes in a special box.
5.
Radiate Portable Campfire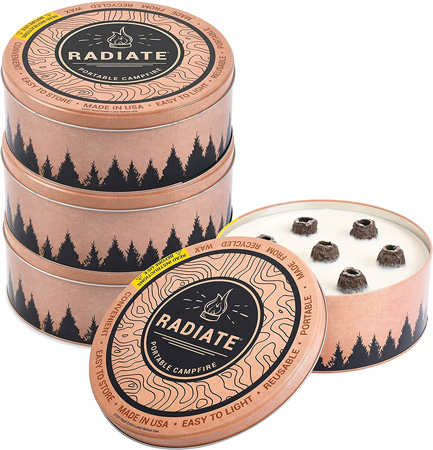 Setting up a campfire is a tough task especially if the area is damp. If you know a man who love campfires, get him the Radiate Portable Campfire. This compact box makes a portable fire pit for camping, hiking, picnics etc. Radiate is made from recycled soy wax and recycled paper briquettes. These campfires are reusable, are easy to light and produce minimal soot without embers. Get him this marvelous portable campfire and free him of collecting firewood during camping.
6.
Bread Slippers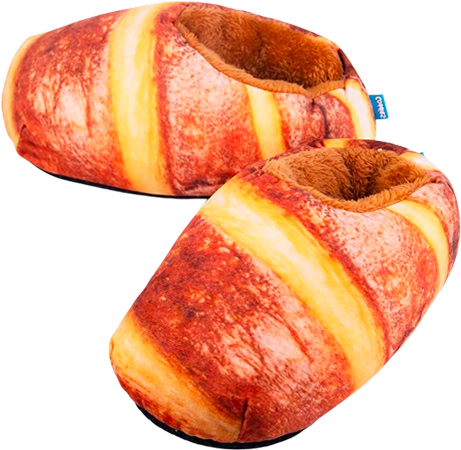 If your male friend is a sucker for creativity and fashion these bread loafers can satisfy their needs. Coddies Loafers are baked with a cotton inner surface, velvet exterior, and foam base for maximum padding. These will keep their feet toasty warm! These loafers have non-slip soles that make them more durable and prevent them from slipping around. They are long-lasting, non-toxic, simple to clean, and gluten-free! Coddies Bread slippers will make an excellent birthday or gift exchange suggestion that is sure to elicit laughter and will not let them down.
7.
Anti-Slip Gel Pad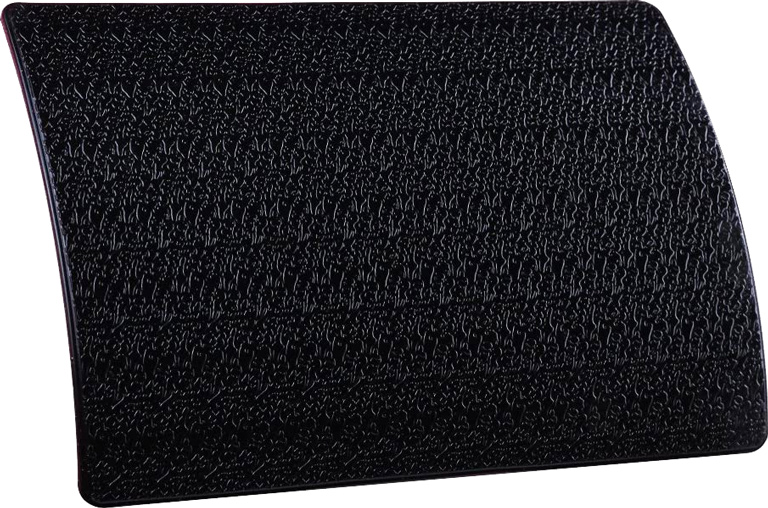 Do you ever look at a man and think how clumsy one can be? Well, we have a good gift in store for him. It is excellent for keeping your sunglasses, phones, and other essentials. This extra-large sticky pad is perfect for use in the car, boat, golf cart, office, and kitchen. Temperature resilient, non-magnetic, and requires no epoxy or glue to install. The sticky pad adheres easily to any sleek and dry surface. It secures objects to their dashboard, so they don't have to worry about them slipping or falling while traveling.
8.
Levitating Air Bonsai Pot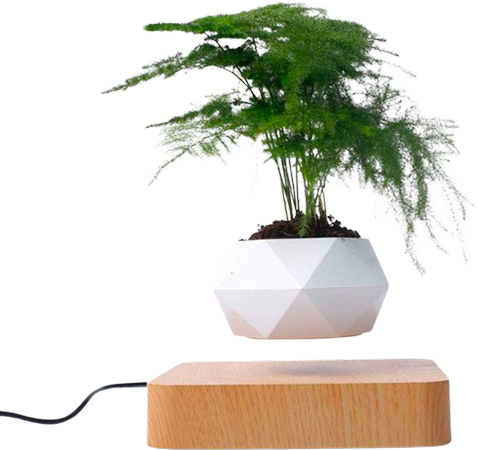 There is always one friend who can talk for hours about plants. Make their day by giving them this unique bonsai pot. It is a magnetic enchanting floating bonsai pot that floats in the air and rotates 360 degrees when the power supply is turned on. The base's patented setup of magnets, coils, detectors, and electronics keeps it hovering in mid-air. The flowerpot has a creative and unique design that makes it look like a floating planet, making it a very sleek and adorable gift for your male friend or spouse. We are sure he'll appreciate the magical gift that combines creativity and class.
9.
Non-Contact Keychain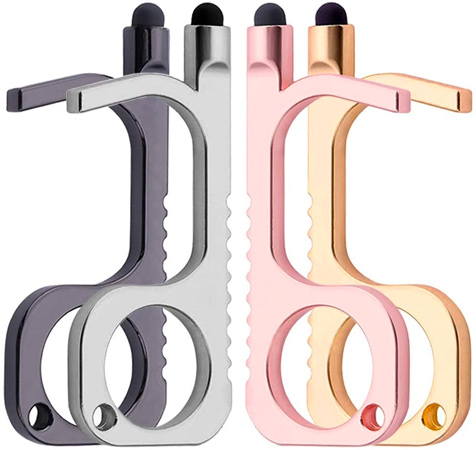 Every germaphobes' dream is to live in a spotless, germ-free world. While you may not be able to give them this, you can surely make their everyday life easy by gifting them this non-contact keychain. With this, they will be able to open doors and use their smartphones or touchpads without actually touching them!
10.
Pennywise Red Balloon Lamp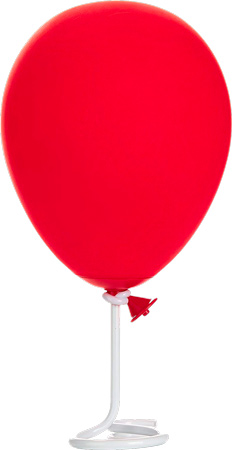 We all know one macho man who claims to be strong but completely backs off when it comes to Halloween or horror movie nights. If your beloved man is one of them, then test their strength by gifting them this eerie Pennywise Red balloon lamp that will make them feel like they are being watched by an evil clown every time they see it. So give this away and spook them to bits for the rest of their life!
11.
Wooden Phone Docking Station and Organizer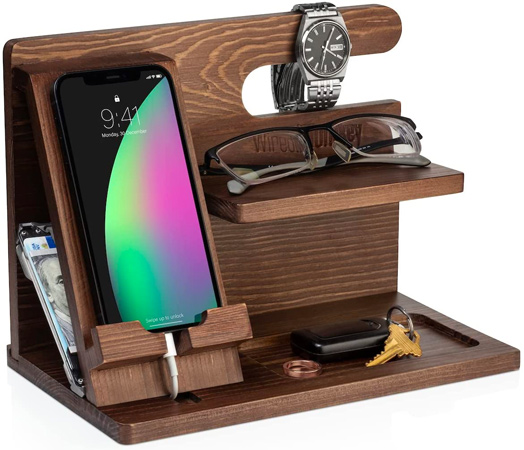 Men do not always have the best organizational skills and end up losing half of their things because they forget where they put them. End your man's torment and get a wooden phone docking station and organizer. Manufactured from durable and sturdy wood, this docking station will prevent messy nightstands and keep everything neat and managed. All thanks to this fantastic docking station, your man will never lose keys, his wallet, glasses or his phone again.
12.
Guitar Lunchbox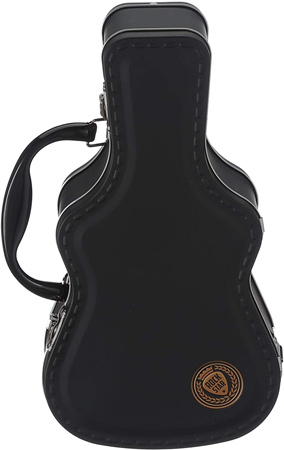 Make your special man's lunchbox more melodious (and tasty) with this unique guitar lunchbox. This makes a perfect gift for that music lover man in your life! It sports a sleek black look and is made from tin metal. Although it is for kids, that special man will adore it as much as any rockstar kid!
13.
Astronaut Food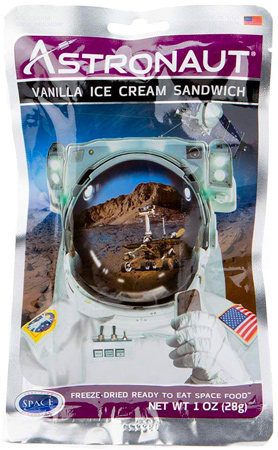 If your friend is fascinated with the thought of the outer world and wanted to become an astronaut but sadly could not leave this planet? Well, we have thought out the perfect gift for him. These delightfully nutritious treats were created for the Apollo missions and were frozen to -40°F, vacuum dried, and secured in special foil containers. Space Food, created by the same company that provides NASA with food for Space Shuttle operations, is just out of this world when it comes to creativity. This astronaut food softens in the mouth and is prepared to eat right away. The flavors of the food are also perfectly preserved. This is an excellent opportunity to make your friend feel as if they are present in the space.
14.
Remote Control Shark Toy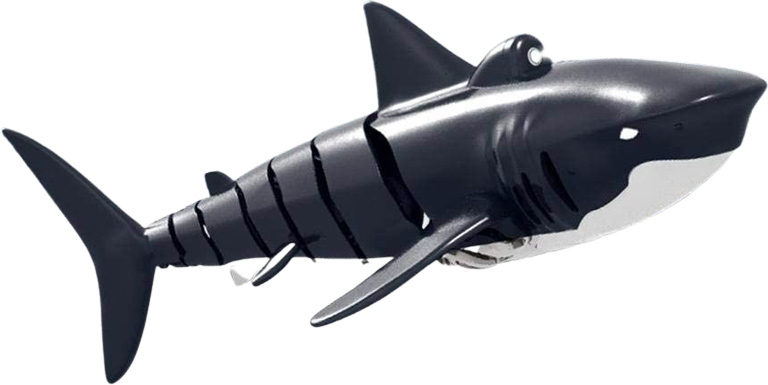 People say you should keep the child in you alive. Well, they are not wrong. Your male friend or boyfriend is going to love this strange gift. With a wireless range of 130 feet, the unrestricted 2.4GHz remotely controlled system enables your beloved males to have the time of their life during pool days. But beware of the pranks that may follow after you give them this shark toy!
15.
Marvel Sound Effects Machine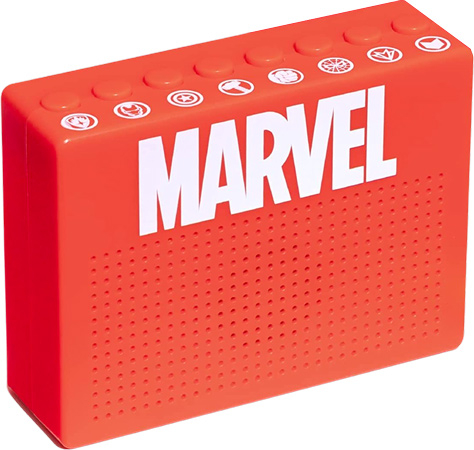 Your friend is still suffering from withdrawal symptoms after seeing The Avengers: Endgame? Well, we're all in the same place. Marvel continues to attract prominence in its comics and movies, thanks to an unrivaled line of characters that includes Iron Man, Captain Marvel, Hulk and Spider-Man among several others. This bright red collector item features eight signature Marvel soundbites, allowing them to relive their Avenger movie days. It seems to be a well thought out gift for your friends and family who are big fans of the characters and movie, and you can make their day better with this gift.
16.
Batman Multi-Tool Bottle Opener Keychain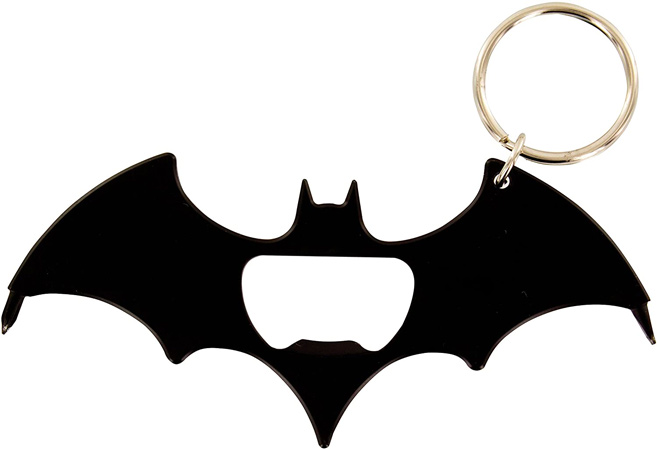 Allow the Batman Multi-Tool to assist your friends in unwinding after a fruitful day of trying to save the world. The keychain contains all of the tools needed to complete minor but vexing and time-consuming tasks. With an all-black steel frame crafted in the fashion of the famous Batman "Bat" symbol, this is the ideal all-in-one tool for showing off your fandom in a realistic manner. It comes with a bottle opener, keyring chain, flathead, and crosshead screwdrivers. This sleek and sophisticated design is sure to catch the eye of your male friends and family.
17.
Breakfast Sandwich Maker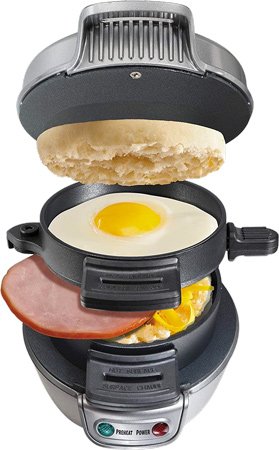 A hearty breakfast is key to a healthy life. Gift your man who is too lazy to cook breakfast this instant breakfast sandwich maker. It quickly cooks their breakfast, evening meals, and even dinner sandwiches. They can completely customize their sandwich with their selection of bread, cheese, eggs, meats, and other ingredients. You can give it to your father, brother, or any male friend who means a lot to you. This gift will undoubtedly make them and their tummies happy!
18.
Toilet Timer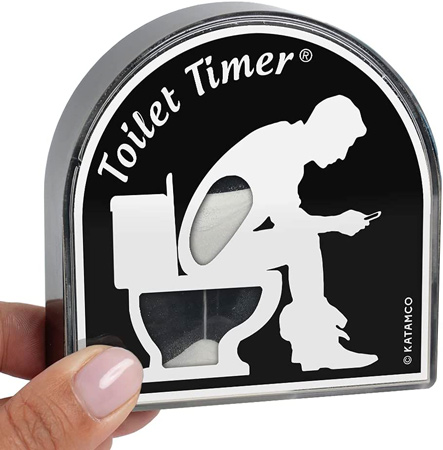 If your beloved man takes too long on the toilet and has the entire family queuing up outside the bathroom, then it's time to give him this toilet timer! It will help him know when exactly "Five minutes" end and send a clear message to clear up the bathroom fast- saving him the banging doors and profanities!
19.
Camera Lens Mug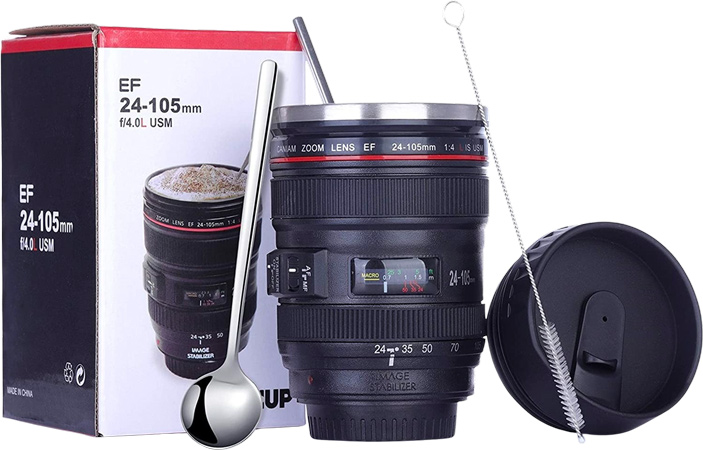 We all have that one man in our life who loves clicking the most aesthetic pictures as much as their morning coffee. So give them the best of both worlds by giving them this camera lens mug. The cap of this lens mug is perfectly matched by an eco-friendly stainless-steel straw, so they can sip from it without stripping away the lid. It's an excellent substitute for plastic straws and can be used to drink both hot and cold beverages.
20.
Storm-Cloud Weather Forecaster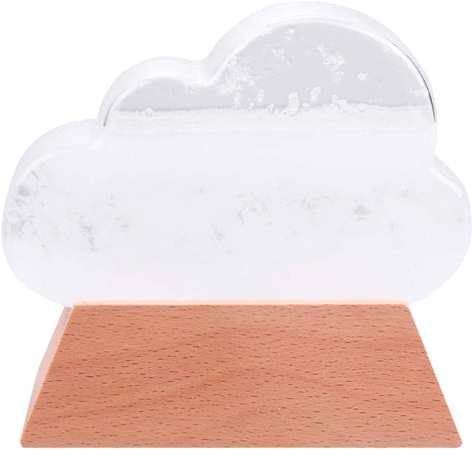 Does your friend or significant other love to keep the weather under check and plan their schedule accordingly? If yes, then we have the perfect gift for them! This storm-cloud-shaped weather predictor is both aesthetically pleasing and useful. A perfectly unusual desk decor that doubles as a useful item too. It will look great in their sitting room, mantelpiece, worktable, or on racks.
21.
Baby Yoda Best Ever Coffee Mug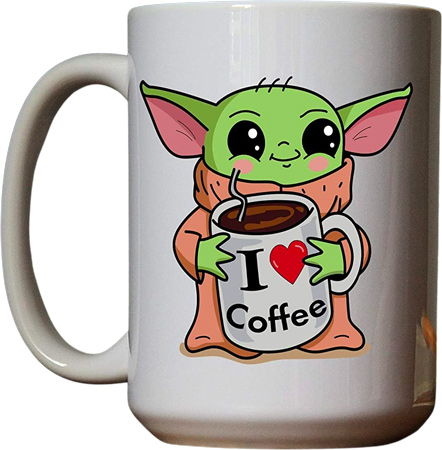 If your friends and family are a fan of Star Wars on Disney Plus, this coffee mug is a perfect gift for them. It will be an instant hit for Baby Yoda fans and caffeine enthusiasts. It could be used as a workstation paperweight, wall art, and much more! This coffee mug can contain 15 ounces of their favorite hot or cold beverage. The handle is made of high-quality ceramic and is shielded to ensure safe drinking. A thoughtful gift for your friend or significant other.
22.
Golf Ball Finder Sports Glasses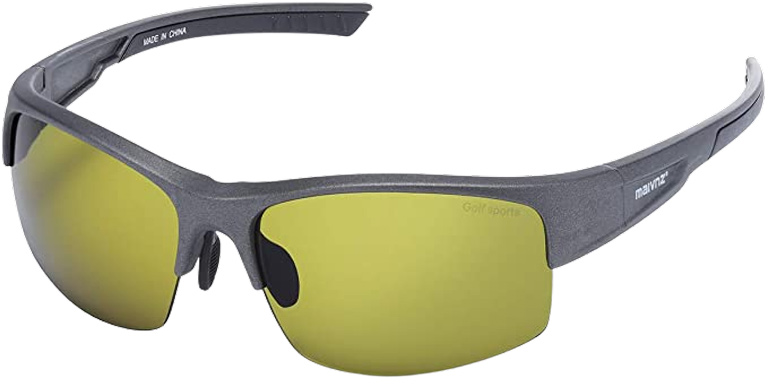 You can provide your male friend or significant other with the perfect golf experience with these sports glasses. They are lightweight, easy to use and are ideal for outdoor sports and activities such as golfing, driving, traveling, and hiking, as well as high-end fashion accessories and casual wear over the year. A perfect gift that will give your beloved human being high-definition vision, glare reduction, fatigue reduction, true color, higher intensity resistance, and comfort!
23.
Toilet Bowl Light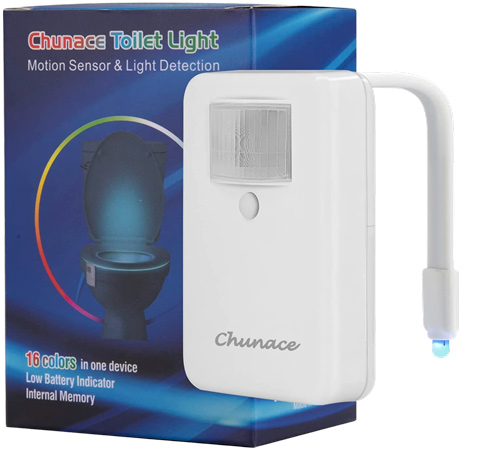 We all have that one man in our life who spends a little too long on toilets. And if the man you want to gift is one, well then this great unusual gift will surely have him in fits of a laugh and will make his time on the toilet memorable! This toilet bowl light will bring the party right to his toilet and disclaimer, may make him spend more time on the toilet!
24.
Tiny Hands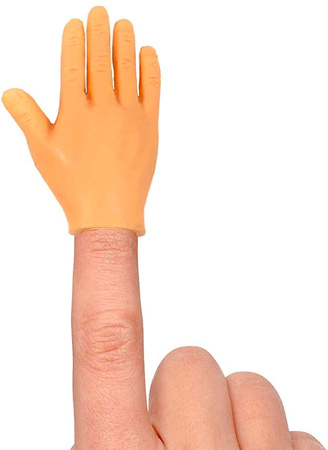 Nothing is more unusual and creepy than tiny hands, but then again everything is a bit more fun with them as well! Give your special man a good laugh by giving them these tiny hands. They won't ever get bored of waving, slapping, and high fiving you with these teeny tiny hands.