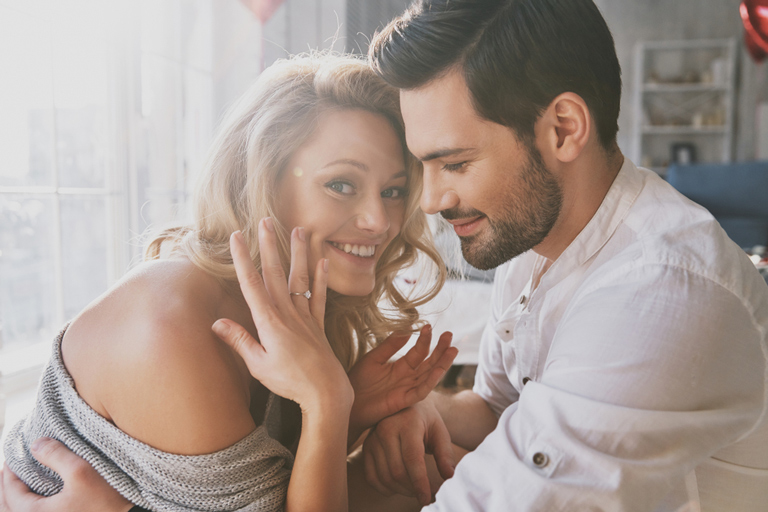 So the happy couple just got in engaged! You're so excited for them until you realize you can't show up empty-handed to the engagement party. What do you get for a couple that expresses how happy you are for the journey they just decided to embark on together?
This list of 28 engagement gifts for the happy couple will take the guesswork out of something you can get them that will enrich their lives, decorate their home together, and may even bring them closer together. That's a tall order for a gift, but choose one of these suggestions and you'll be well on your way to being the gift-giving genius we know you are. Congrats to the happy couple!
1.
Wine Gift Box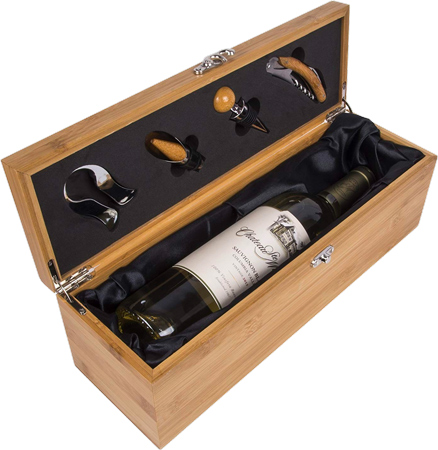 Whether you're going to an engagement party or just sending your heartfelt congratulations, wine is always an appropriate way to do it. Make it a little more luxurious though with this elegant wine gift box that comes with a matching tool set. The box is made out of solid bamboo and comes with a hinged lid that opens to reveal a satin-lined cavity that holds a standard-sized bottle of wine. Inside the lid are cutouts that hold the matching bamboo accented wine accessories in place. If you want to give a bottle of wine in a way that is going to make an impression, this gift is the way to do it.
2.
Crystal Champagne Glasses
Give the lucky couple a set of champagne glasses that they'll use on every special occasion for years to come with this classy gift. This set of two glasses by Waterford is made of high-quality, heavy crystal. The long minimalist stems are contrasted by the intricate carvings of the glasses. The diamond-cut crystal opens up into a heart-shaped design. They are truly the perfect glasses to toast to their love.
3.
Crystal Wine Decanter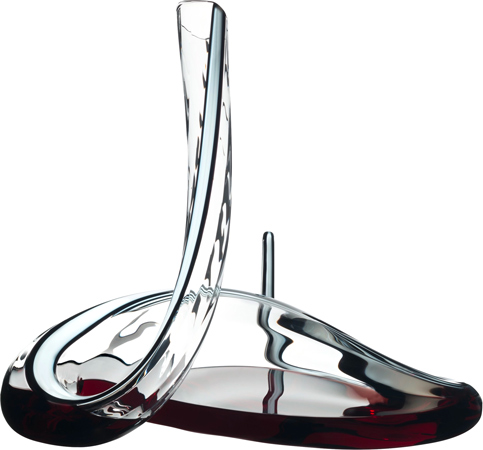 This high-end wine decanter is definitely a gift that is going to stay with them for a lifetime. The striking design not only makes it a functional decanter worthy enough of the most expensive wines, it's also a piece of beautiful table art that is going to take centerstage on the tablescape. It's made of pure crystal and boasts thin, delicate walls that add to the elegance of the curved lines. Unlike other decanters that have a single chamber, this decanter has two separate chambers that will provide a thoroughly aerated wine.
4.
Crystal Ice Bucket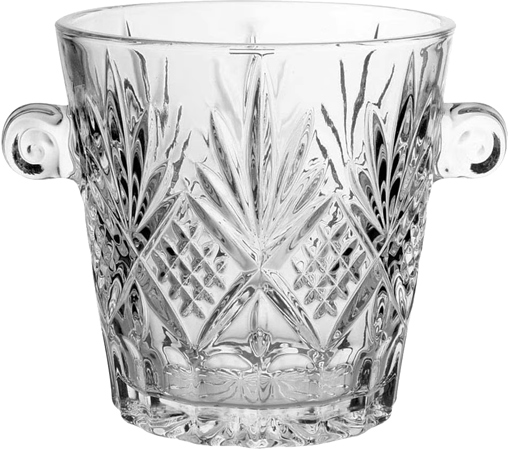 If the newly engaged couple likes to entertain, this crystal ice bucket is sure to elevate the scene at any party. The bucket is made out of lead-free crystal and is cut with a classic diamond design. This would be great sitting on the counter at their next party, maybe even their engagement party. Or it can be left out on display on a bar cart to add some old-world charm to a room with a modern design. Either way, this luxury gift is as functional as it is beautiful.
5.
Mounted Bar Frame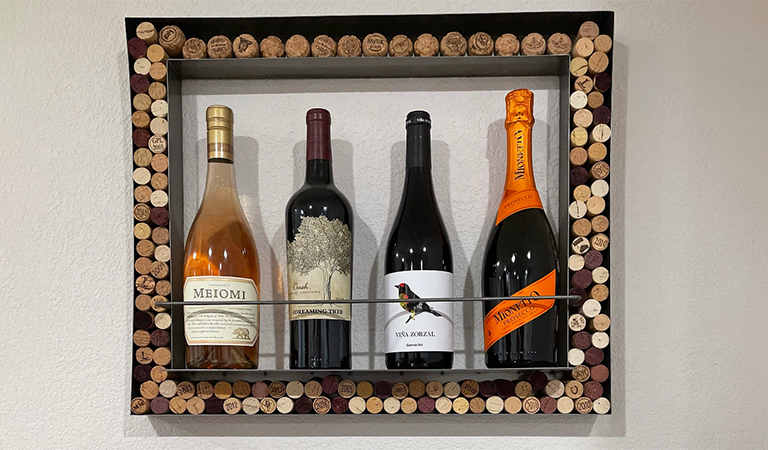 This is a really cool gift idea if your friend likes to collect wine corks from special occasions. Instead of just putting them in a bowl on the counter, this modern piece of art not only turns their corks into a decor piece, it also doubles up as a floating bar. The center shelf has enough space to store a couple of wine bottles or liquor bottles as well as a few wine glasses. It could either be a functional bar or a way to display a bottle of wine from their wedding that they'll drink on their twentieth wedding anniversary.
6.
Cocktail Making Machine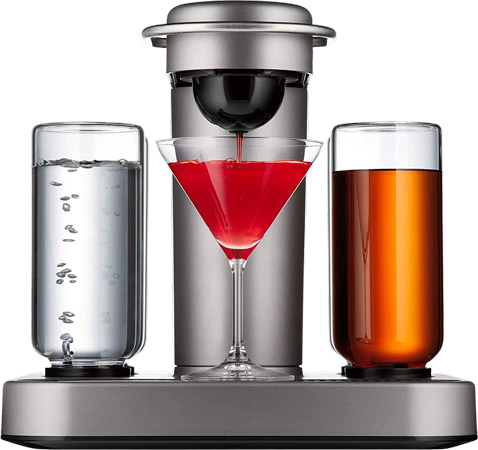 Here's a gift any engaged couple is going to be over the moon to receive from you. This cocktail maker creates perfectly mixed cocktails with the push of a button. While everyone else is getting them toasters and irons for their new home together, you can get them something that is going to provide years of fun parties, great memories and delicious drinks they can sip on the couch together. The machine works by inserting the pre-made capsules, choosing the strength and pressing the mix button. No more tired arms from cocktail shakers. Bartending just went high-tech.
7.
Chocolate Fondue Set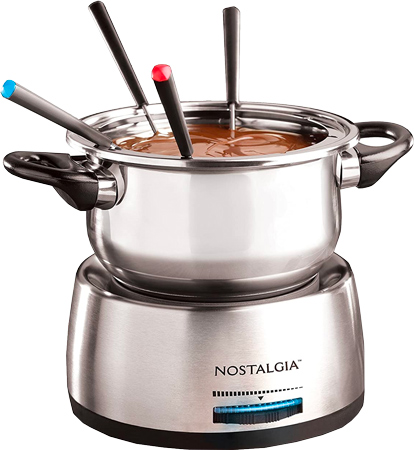 What's more romantic than a night at home indulging in champagne and chocolate-covered strawberries? With this gift, they can have all the dipped treats they want, whenever they want them. This compact chocolate warming machine melts chocolate within minutes without ever burning it. The set includes the warmer and all the accessories needed to make gourmet quality treats. It's not only the perfect companion for romantic nights at home but it will be a real crowd pleaser at their anniversary parties.
8.
Wood Charcuterie Board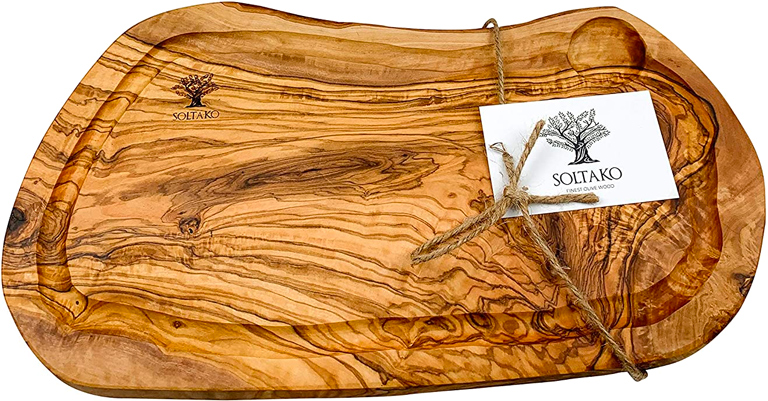 This practical gift will serve so many functions throughout the happy couple's lives together. Every couple needs a high-end charcuterie board on hand for parties or couple's game nights. This attractive board is made of a single piece of solid olive wood and features a modern, live edge design. The border of the board has a recessed perimeter that would be perfect for small snacks like nuts or olives. This is the kind of charcuterie board that will be passed down through generations.
9.
Crystal Cake Stand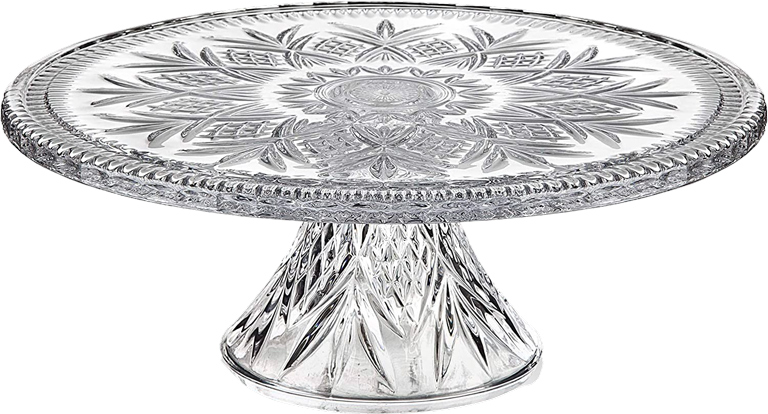 This crystal cakes stand would make a beautiful gift for any couple that just got engaged. Not only can it be used throughout the year for birthday cakes or holiday pies, but it's also stunning enough that they may even want to use it on their wedding day. The classic design with intricately cut lead-free crystal makes it a real eye-catcher without being so over the top that it will distract from the delicious confectionaries it displays. It is understated class.
10.
Fun Engagement Game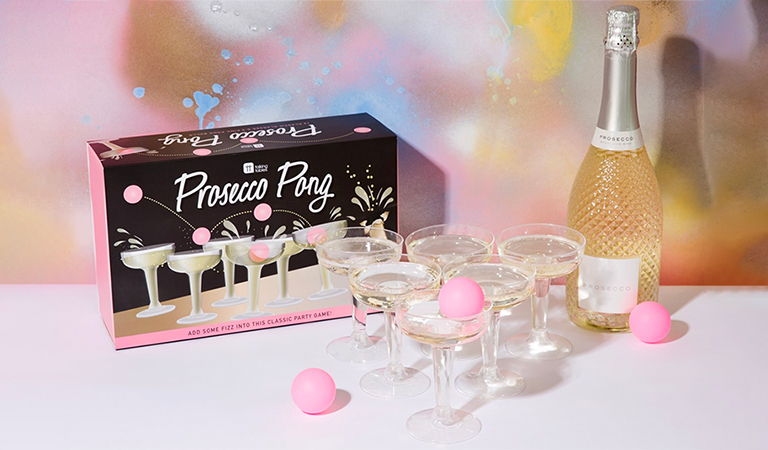 Here's a gift that is going to get the engagement party started. We all know beer pong, but Prosecco pong? Sure, why not! This fun game includes twelve drinking glasses and three plastic ping pong balls. Show up to the party with this and a bottle of bubbly and let the fun times begin. Who knew drinking games could be so classy?
11.
Crystal Picture Frame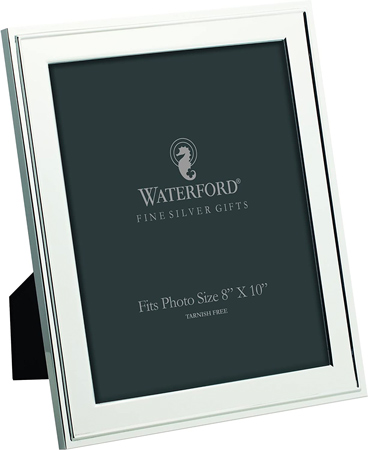 Give your friend a timeless way to display their favorite engagement photo with this thoughtful gift. This luxury picture frame is made by Waterford, a popular brand for engagement and wedding gifts. Its solid metal construction gives this frame a hefty weight that makes the quality shine through. The polished silver finish will make this frame a seamless fit for any type of decor. It holds an 8×10 picture so it is the ideal size for a bookshelf, entryway table or mantelpiece. With this engagement gift, they'll be able to display a constant reminder of one of the happiest days of their lives.
12.
Luxury Scented Candle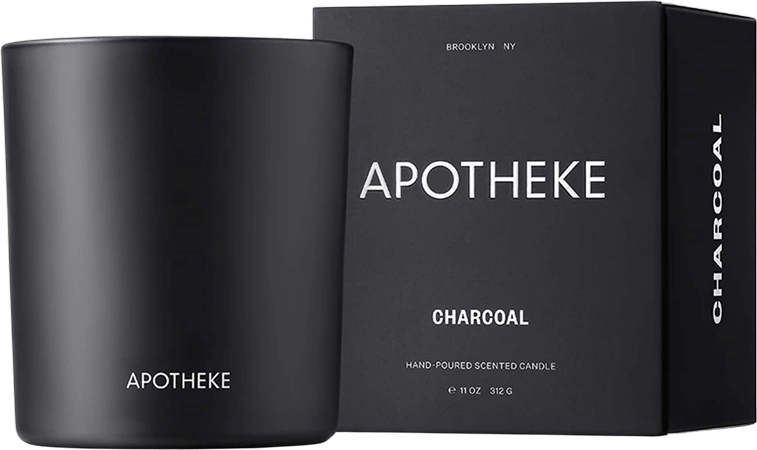 Make the happy couple's home smell like heaven with this luxury scented candle by Apotheke. This eleven-ounce candle is made of eco-friendly soy wax and contains three times the amount of fragrance oil as other candles on the market. That means this candle will fill even the largest of rooms with the delicious smell of cedar wood, sandalwood and amber. It's also long-lasting and will burn for up to seventy hours. It's great for burning on romantic nights cozied up on the couch.
13.
Metal Wall Art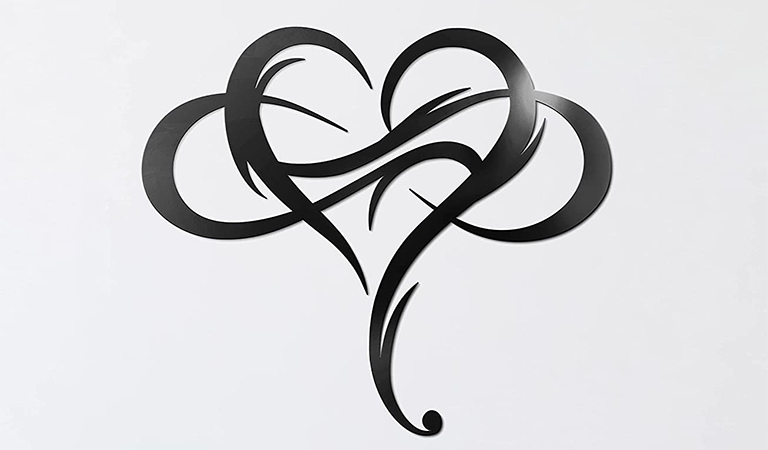 If the couple you are shopping for loves home decor that expresses the amount of love they have in their house, this piece of modern wall art is going to be a gift they will love. This black metal wall hanging features a heart design with an intertwined infinity symbol, which represents their eternal love for one another. It can be easily hung with the included mounting accessories and would look just as good in a bathroom as it would hanging over their bed.
14.
Carved Love Sculpture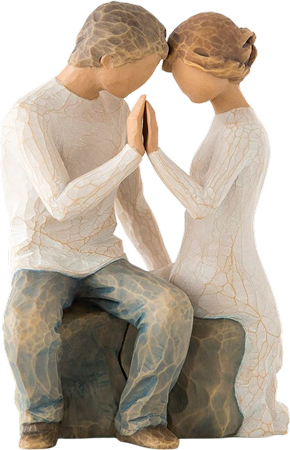 This adorable carved figurine has love written all over it and would be a sweet reminder of the love they share as they start their new life together as an engaged couple. It's not just a cute piece of decor though, it's actually a collector's piece that has been hand carved and painted based on the original carving by artist Susan Lordi. The piece is part of an entire line that depicts loving moments of building a life with someone and starting a family. Your friend could add to the collection as their life together evolves.
15.
Elegant Crystal Vase
This solid crystal vase is a modern take on a traditional engagement gift. While the design of the crystal is still intricate, it features a more contemporary basket weave design instead of the elaborate cut crystal. Through all of life's celebrations and special occasions, this will be the vase your friend uses to display their favorite flowers.
16.
Stylish Coaster Set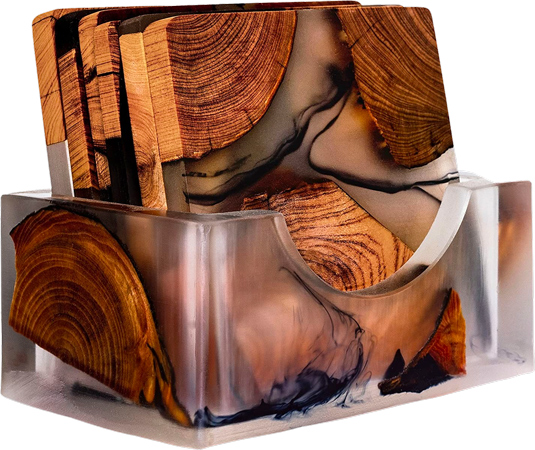 These stylish coasters would make a great gift for the newly engaged couple that appreciates bold decor statements around the house. They come in a set of either four or six and come with the option to add the matching coaster holder. The design merges modern epoxy with rustic slices of real cedar wood. They are unique and will make a statement while protecting expensive furniture. If only they came with an instruction book on how to get guests to actually use them.
17.
Fleece Throw Blanket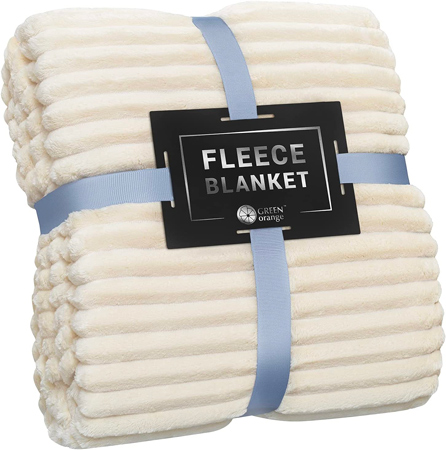 This fleece throw blanket will add a functional pop of flair to any bed or chair it adorns. It's a great gift for any engaged couple that wants to shut out the world and cuddle up with a good movie or book. Available in a ton of different colors, it will be easy to choose one that fits with your friend's home decor. It also comes in three different sizes, the largest of which would be ideal to use as a stylish bedspread.
18.
Luxurious Satin Sheets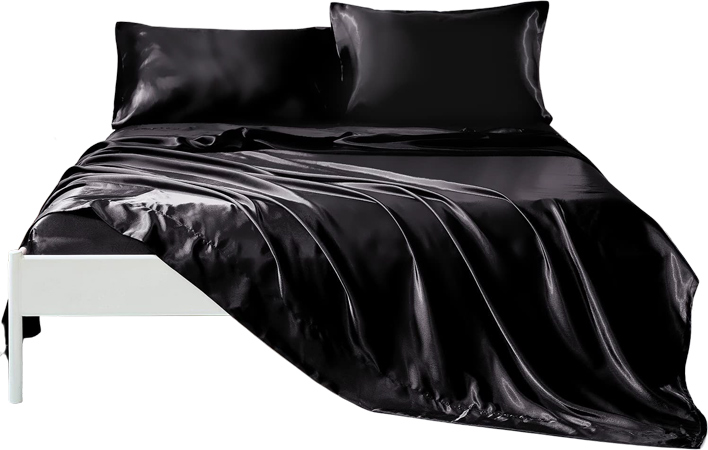 Help your friend and their new fiancé feel like they are sleeping in a five-star hotel every night with these glamorous silky sheets. The sheet set comes in twenty-two different gorgeous colors to choose from and every possible size bed from single to California King. The set includes a flat sheet, a deep pocket fitted sheet and two matching pillow cases. What better way to wake up as a newly engaged couple than in these romantic sheets?
19.
Themed Trinket Tray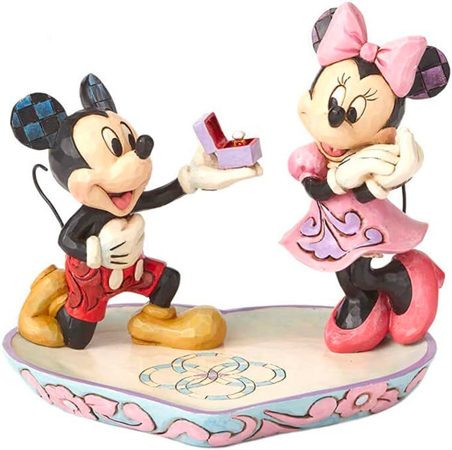 If the engaged couple you're shopping for loves Disney, a gift doesn't get any more perfect than this one. This sweet little trinket tray is made of hand-carved and hand-painted resin to look like Mickey Mouse proposing to Mini Mouse. It comes ready to gift in a Disney-branded gift box. This gift would look great on a dresser and provides a convenient place to store small jewelry pieces, loose change or whatever other trinkets they would like to keep organized. Every time they use this gift they'll remember that magical moment when their life changed forever.
20.
Crystal Ring Holder
Now that the engaged couple is wearing some new bling on their hand, give them this gift so they have somewhere safe to store their rings when they take them off. This classically designed ring holder is a timeless piece of decor that is made of high-quality, wedge-cut crystal. Unlike a trinket tray that doesn't hold rings safely in place, this design makes it impossible for a ring to slide off. This gift is perfect for leaving by the sink in either the kitchen or bathroom for when they wash their hands. No more worries about losing a ring down the drain.
21.
Matching Watch Set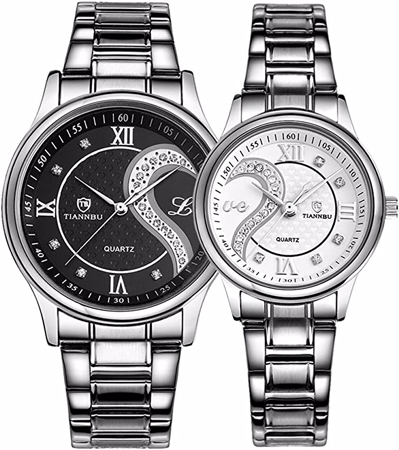 This matching set of watches is made for a couple in love. Your engaged friends will love this classy gift and will be able to wear it every day to remind them their better half is always thinking of them. The set comes with a larger watch face for a man and a smaller one for a woman. The faces are in contrasting black and white and each one features half of a heart made out of a row of shimmering crystals. The watches placed next to each other complete the heart, just like your engaged couple.
22.
Picnic Backpack Set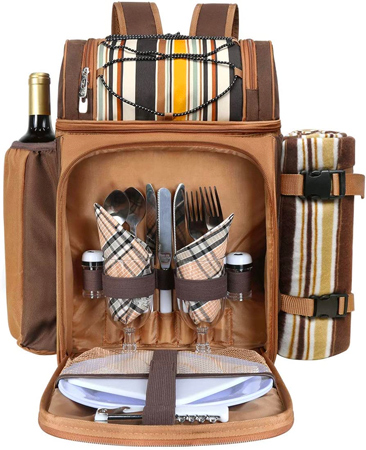 Give the engaged couple a gift that will keep the romance alive for years to come with this picnic backpack made for two. This attractive backpack holds everything needed for a special meal out in nature. It includes two plates, cutlery, condiment holders and matching napkins. It even holds a full-sized bottle of wine and a picnic blanket large enough for two. The spacious top compartment is insulated to keep food fresh all day long. This gift will always give them a reason to get outside and spend some quality time with just the two of them.
23.
Matching Suitcase Set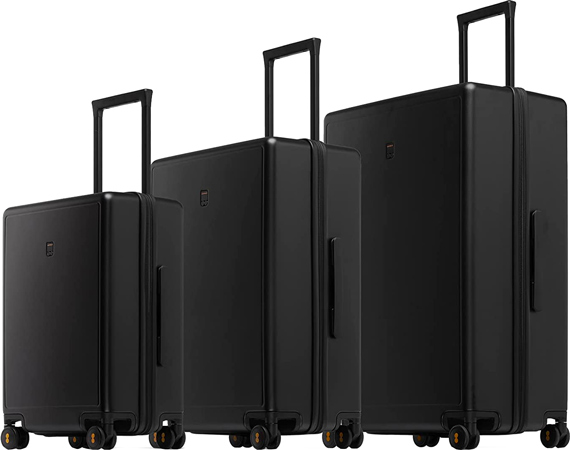 This gift is going to come in handy when the lucky couple jets off for their honeymoon after their wedding. This modern and trendy set of suitcases comes with three matching pieces, including a carry-on that is approved for cabin storage on most flights. The hard case construction will protect everything inside so they can bring home souvenirs from their honeymoon to remind them of their time together in paradise.
24.
Keepsake Hand Cast Kit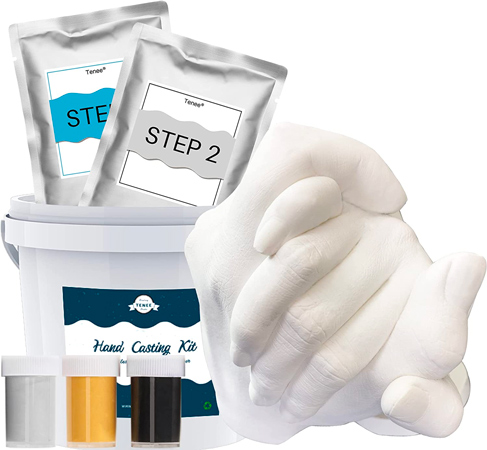 This gift idea will capture a moment in time in a way a photograph can never do. With this hand casting kit the engaged couple can take a mold of their intertwined hands and use it as a piece of personalized art. It will even pick up the finest of details like the wrinkles in their knuckles and the stones in an engagement ring. Unlike other casting kits, this one includes three different paint colors, black, gold and silver, to finish off the art piece in a way that matches their decor. This is a special gift they will lovingly keep in their home forever.
25.
Deluxe Art Set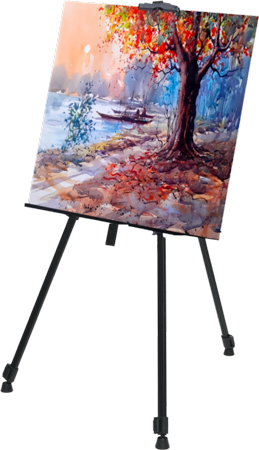 Here's a creative engagement gift idea that will not only give them the gift of art that perfectly represents them as a couple, it will also give them lifelong memories of the time they created it together. This deluxe art kit includes everything they would need to create a professional quality masterpiece they'll be able to hang in their home. Whether they want to express themselves creatively through watercolor, oil or acrylic, this kit will have them feeling like Picasso.
26.
Premium Leather Journal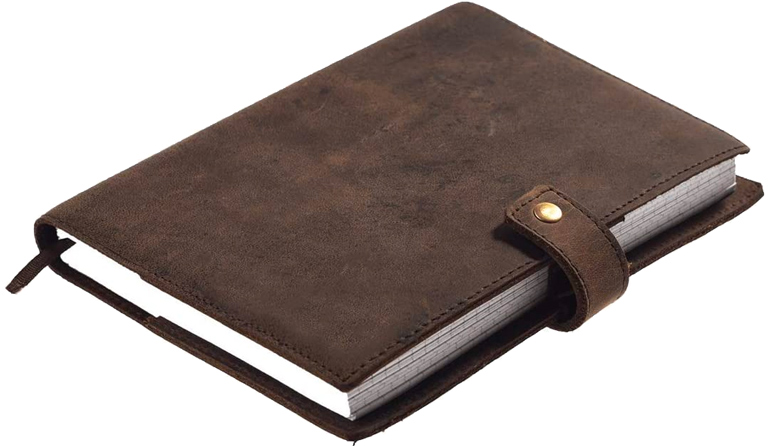 This timeless leather journal is the perfect way for any engaged couple to document their journey together so they can always look back on the special moments they've shared and relive details that a picture doesn't capture. Or they could use it as a common place to write each other love notes that they can keep forever. It's made of genuine leather that will look better with every year of use and is refillable so they'll never have to worry about running out of space to depict their love for one another.
27.
Self-Adhesive Picture Album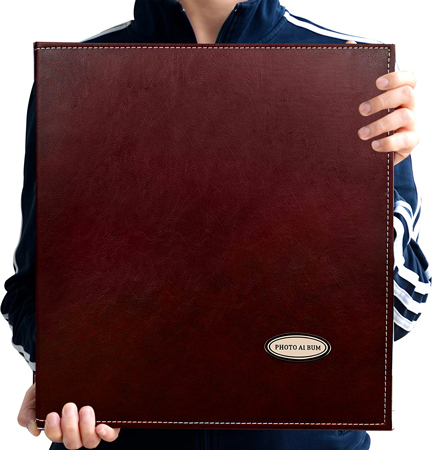 If you're looking for a gift that will undoubtedly be something they will use, this self-adhesive photo album is what you're looking for. As a newly engaged couple, they are starting a new journey together. They will need a place to store all of the pictures that remind them of how lucky they are to have found each other. The large size and attractive handmade leather cover also make this a beautiful coffee table book to share with their guests.
28.
Glass Card Box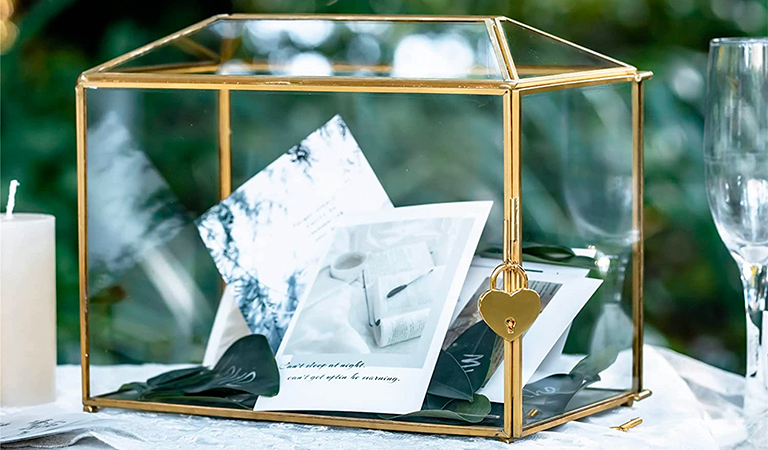 This gift idea is one that can be repurposed in so many ways throughout their engagement and through their married life. They may even decide to use it on their wedding day. This glass card box with a removable lock can be used to collect sentimental mementos that remind them of special occasions or plane tickets from romantic getaways. The classy and universal design also makes it the ideal way to collect wedding cards at their wedding. How cool it would be to give them a gift that makes an appearance during the most important day of their lives together?