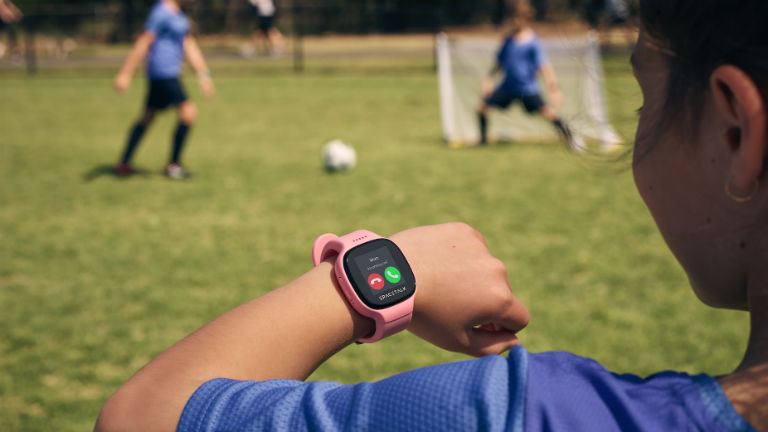 For some kids getting a watch is a rite of passage and certainly learning to tell the time is a significant milestone in a child's development, but when is it right to buy a child's first watch? It used to be that many parents were worried about the safety of watches with glass faces, but now many watches are specifically designed to be robust enough to stand up to the rough and tumble of a kid's lifestyle. Then there was the idea of usefulness; is it useful for a kid to have a watch before they can tell the time independently? Thinking on this has changed somewhat and most people now consider having a watch a good encouragement to learn telling the time, and of course, digital watches are also an option.
Increasingly, smartwatches and fitness trackers are being marketed at children and teenagers too so there's a whole array of different options. There's no "right" time to buy a child a watch, whatever works for you is fine, but here are a few things to consider when making your choice;
Materials used
The materials used to make a watch are important when you're buying for a child or a teenager. Often teenagers and kids are not as careful as adults, and nor should we expect them to be! Instead, look for watches made with materials that will stand up to the active lifestyles of children and teens. Plastic watch faces are ideal for younger children, while a scratch-resistant glass may be better for teens. The strap of the watch will also need to be comfortable and flexible, so nice link metal straps are a good option for teenagers but younger children might prefer fabric or silicone.
Water-resistant
Accidents happen, but water can be a surefire way to break a watch so look out for watches offering some degree of protection against water. Water-resistance measures let you know roughly how much water a watch can withstand before becoming compromised. Watches that say they are resistant to 50 m should be fine in the shower for example, and watches resistant up to 100 m can be worn whilst swimming.
Strap size
Teenagers come in a range of different shapes and sizes and kids are constantly growing too so when you're shopping for a watch the strap is going to be important for ensuring a good fit right now and ensuring longevity too. Adjustable straps with holes, or the ability to remove links from a bracelet style strap, are key features to look out for when buying a watch for a child or teen.
Digital, analog, or smart?
Choosing whether to buy a digital, analog or smartwatch can be tricky as all have their benefits! This will mostly come down to individual choice and preference. A digital watch has the benefit of being easy to read and promoting numeral recognition for younger children. analog watches are classic and classy and help to improve spatial awareness and teach time-telling. Smartwatches can often display either analog or digital time as well as offering a whole host of other features like games, step trackers and fitness functions.
Recipient
The best watch for a child or teenager will also depend on their personality, style and age. What's right for a style-conscious teen won't be right for a tech-obsessed 5-year-old, so do try to take account of the child or teen you are buying for as you select the best watch.
Here we've listed some of the best watches for kids in 2022 by age group;
Best Watches for Younger Kids [up to 7 years old]
For most younger kids owning a watch is all about fun! Children up to about 7 years old love to emulate the adults in their lives and wearing a watch certainly feels very "grown-up" to them. As children begin to learn numeral recognition a watch is a great way to bolster this skill and learning to tell the time happens quite naturally given the opportunity to practice regularly! Safety will be a priority for this age group so look out for robust materials. It's also worth remembering that this generation of children are tech natives so are able to deal with technology with ease.
1.
Little Tikes Tobi Robot Smartwatch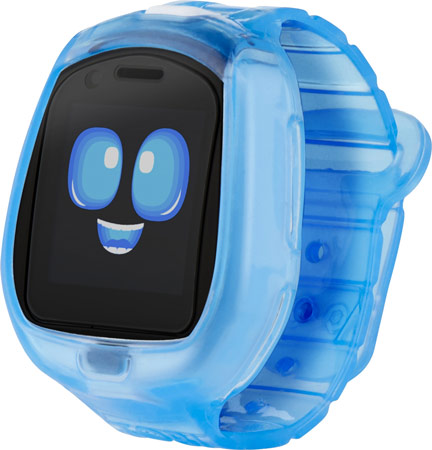 Why we like it: The perfect first smartwatch with a cute personality.
The Little Tikes Tobi Robot Smartwatch Is more than a smartwatch it has its own playful personality with moving robot arms and legs and over 100 expressions this smartwatch is perfect for this generation of digital natives! With a clock, calendar, stopwatch, timer, alarm clock, and more, this is a fully functioning smartwatch to encourage numeral recognition and time-telling.
In addition to this, the Tobi Robot Smartwatch has lots of games including encouraging active play with its search and seek game and dance activities, it also includes a motion sensor and a built-in pedometer. There are even two built-in cameras that can take photos, film, video or be used for selfies and the Tobi Robot Smartwatch can store 3,000 photos or 30 minutes of video. A comfortable, silicone watchband is included, or this smartwatch can be attached to clothing using a clip. Children can choose from over 50 watch faces with both analog and digital clock faces available making this ideal for younger children who enjoy customizing their belongings.
Pros
Fully functioning smartwatch
Includes games
Encourages active play
2 built in cameras
Can use wristband or clip
Cons
Requires charging regularly
2.
Timex Kids Analog Watch
Why we like it: Classic analog watch designed for younger children.
With its easy-to-read dial and minutes marked for learning, this watch is designed with younger kids in mind the Timex Kids Analog Watch has a classic and clear watch face with fun rotating graphics used as the second hand.
The strap is fabric and stretchy so it's comfortable to wear and easy to adjust meaning that the watch should have no problem growing with the child. Certified water-resistant up to 50 meters it shouldn't matter if a child splashes the watch whilst washing their hands or playing or even jumps in the shower with the watch still on! To help with learning to tell the time there is a free Timex time machine app so this is a classic analog watch that has been updated to meet the needs of modern kids.
Pros
Easy to read
Classic analog watch
Stretchy fabric strap
Water-resistant up to 50 meters
Free app for learning to tell the time
Cons
Compatible device needed for app
3.
VTech Kidizoom SmartWatch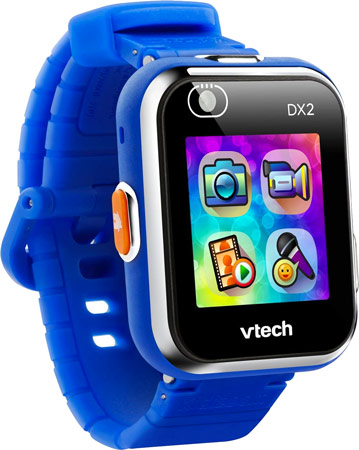 Why we like it: A kid's smartwatch packed full of features.
Vtech is a brand well-known for creating great technology toys for kids to help them develop the skills that they will need for the future. The Vtech Kidizoom SmartWatch is a great smartwatch, specially designed for kids. It's incredibly interactive with a range of games, augmented reality, and 2 cameras included. Using the watch's motion sensor kids can engage in active play challenges, like running around to move up to different levels in a game! Or just track their daily steps and build healthy habits.
The watch is designed with kids in mind and is splash-proof and durable with a flexible, adjustable silicone strap that will fit a range of sizes. It has 55 digital and analog watch faces to choose from so kids can learn both numeral recognition and time-telling and there are built-in games to support these skills too!
Pros
Well-known brand
Augmented reality games
2 built-in cameras
USB cable to connect with computer
Splash proof
---
Best Watches for Older Kids [8 to 12 years old]
As children get older they begin to become more conscious of their style, and many develop an interest in fashion. They also want to express their personality more and will want different things from a watch than younger kids. When buying a watch for an older child look for something with a more neutral design so that it will last a many years.
1.
Lacoste Classic Quartz Watch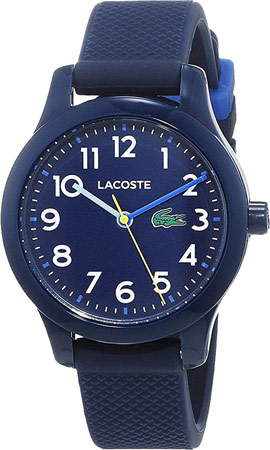 Why we like it: A classic sporty watch from a popular brand.
Lacoste seems to be a bit of an evergreen brand, enjoying enduring popularity and the Lacoste Classic Quartz Watch is a great example of why this is; This watch has a sporty and classic design ideal for all sorts of occasions, styles and personalities and never really going out of fashion. This is ideal for an older child who wants a more grown-up looking watch that will look good and last them for a number of years.
A rubber strap and buckle mean that the sizing of the watch is adjustable to grow with a child well into their teenage years and is also very comfortable and practical to wear. It's water-resistant up to 5 bars of pressure which means it's splash resistant, can be worn in the shower and for swimming too, which makes it ideal for this age group who often lead busy and active lifestyles but are somewhat liable to forget to remove their watch! To make it even easier to give as a gift, the watch comes in an original gift box and has a warranty of 2 years.
Pros
Popular brand
Classic design
Adjustable strap
Water-resistant up to 5 bars
Two-year warranty
2.
Garmin Vivofit Jr. 2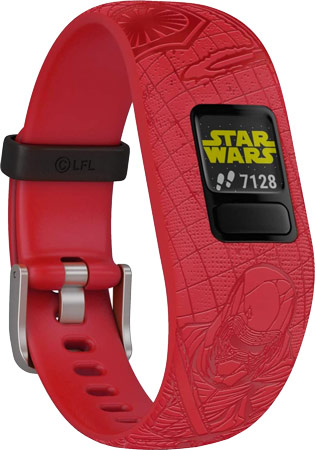 Why we like it: Fitness tracker with a cool Star Wars design.
Fitness trackers are increasingly popular with older children and although many parents hesitate about introducing another device, possibly extending screen time, a fitness tracker is definitely a positive use of technology. Not only will a fitness tracker teach a child to carry out functions like syncing, but will also encourage physical activity and taking responsibility for staying healthy.
The Garmin Vivofit Jr. 2 is specifically designed for kids so has a range of child-friendly features like adventures and games and a battery that's designed to last for a year! Based around the popular Star Wars brand this fitness tracker is ideal for fans, motivating them with games featuring well-known characters. Even better, parents can set up chore management programs and rewards systems to help keep children on track!
Pros
Can be worn whilst swimming/ in the bath
Battery designed to last a year
Based on Star Wars
Encourages physical health and activity
Chore management and rewards systems
Cons
Parent needs a compatible device for the chore management system
3.
Sekonda Child Quartz Watch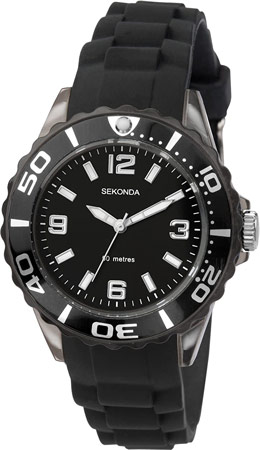 Why we like it: Designed for children without looking childish.
As children get older they may begin to want a watch that looks more like those they see adults wearing. The Sekonda Child Quartz Watch gets this balance just right, with plenty of style but also plenty of robust and durable features, like the Protective Mineral Glass Window Lens designed to withstand a range of different impacts!
The silicone strap with a buckle clasp is sized to fit children through a range of ages and sizes, so this watch should be a piece that lasts them many years. With its classic design it can be worn for a range of different occasions. With water-resistance up to 50 meters this watch can be worn in the shower without any issues. The reliable and accurate Japanese movement allows for precise timekeeping and the quality components ensure each watch is built to last.
Pros
Reasonable price point
Protective mineral glass window lens
Buckle clasp fits range of sizes
Water-resistant to 50 m
Japanese movement
Cons
Shouldn't be worn for swimming
---
Best Watches for Teenagers
By the time they hit the teenage years most kids have their own style, taste, like and dislike, and these can change frequently or be pretty set-in-stone depending upon the personality of the teen. Technology is extremely popular, and this generation of teens are tech-natives meaning that they instinctively understand how tech works, can pick up new skills easily and value cutting edge technology, so watches with high tech specs are sure to be popular. Aesthetics are also important at these ages, so look out for clean lines and modern classics that will stay stylish for years to come.
1.
Apple Watch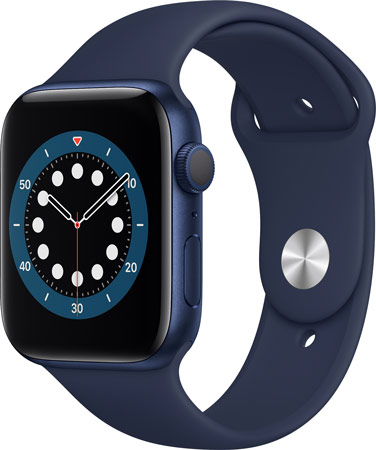 Why we like it: The original smartwatch, perfect for encouraging physical activity.
Probably the world's most coveted smartwatch, you can rely on Apple to develop a product with the most cutting-edge technology and the Apple Watch is packed with features that teens will love. Part of Apple's tech empire, this watch pairs with an i-phone and lets you run your world from your wrist! Using the watch you can make and receive calls, send and receive emails or text messages, and run a whole host of apps.
Many of the apps are based around fitness goals and sync with phone apps and the internet to produce customized targets or even exercise plans based on information gathered using the electrical and optical heartrate sensors, built-in pedometer and user-inputted data. This particular model is even swim-proof!
Pros
Large display
Syncs with phone
Make and receive calls
Encourages health and fitness
Swim-proof
Cons
Requires i-phone 5 or later
2.
Garmin Forerunner 45S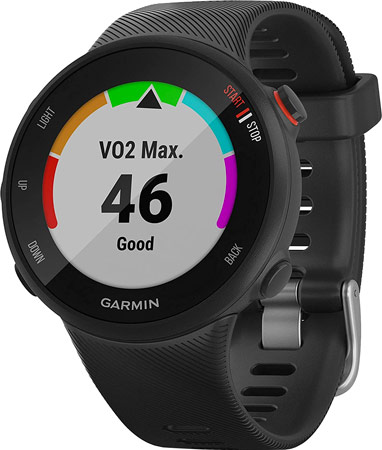 Why we like it: Meet your fitness goals with this specially designed running watch.
The Garmin Forerunner 45S says that it helps you run better and get fitter; it's a compact and lightweight watch specially designed for those who love to run. The Garmin features extensive running functions recording speed, lap times and tracking routes. Ideal for planning training you can download personal training plans and the in-built running coach will help you to meet these.
As well as running, you can download apps for other sports such as cycling, treadmill, cross trainer or yoga, and this sports watch acts as a smartwatch too; allowing for text/call notifications and playing and controlling music from a paired smartphone. A great safety feature is the long battery life (7 days in smartwatch mode or 14 hours for GPS mode) and real-time GPS data being sent to emergency contacts through a paired smartphone.
Pros
Compact and lightweight
Running features; tracking routes, lap times
Can download training plans
Apps for other sports
GPS location sent to emergency contacts
3.
Fitbit Inspire HR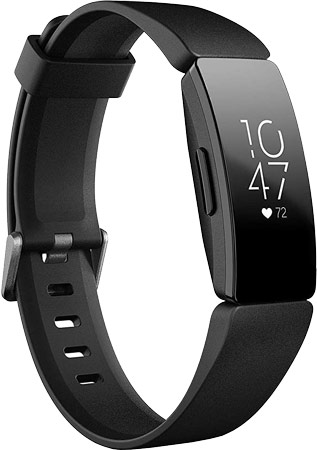 Why we like it: Sleek, simple and swim proof.
Sleek, simple and swim-proof, the Fitbit Inspire HR is the ideal fitness tracker. Its simple design makes it suitable for a range of occasions and the slimline screen is less likely to take a knock and get broken. With automatic exercise recognition, this fitness tracker can sync with a smartphone or computer to provide updated fitness information to the Fitbit app. It also tracks calories burned and analyses sleep for a more holistic picture of health.
The Fitbit Inspire HR also tracks your heart rate and can be used whilst swimming as it is water-resistant, making it a great all-rounder. Even better for style-conscious teens, it's super easy to swap out the band for different colors or materials so you can customize the look or just switch it up when you want a different look! At an incredibly reasonable price point, this fitness tracker is ideal for teens as well as adults.
Pros
Sleek, simple design
Swimproof
Heart rate monitor
Syncs to app
Easy to swap bands
Cons
Comaptible device required for app
Final words
Buying a watch for a kid depends on a whole host of different factors, from their age to their interests and their style as well as your budget and priorities. A first watch, first fitness tracker, or first "grown-up" looking watch often all feel like milestones to a child signifying that they are growing up and becoming more mature, and for this reason, watches do tend to make great special gifts.
The watches that we've listed here have a range of different functions, but all represent good options for the different age groups discussed. Some of these watches start by teaching children numeral recognition and time-telling, but this is also a way of encouraging independence, as children get older that need for independence increases; and chore-management systems start to encourage responsibility in addition to independence. By the time they hit the teenage years children are often fiercely independent and want to take control of their own lives, so smartwatches are a great tool for their arsenal here. We hope that you have found our suggestions helpful as you consider the best watches for kids.