14 Cool Star Wars Toys for Space Loving Kids
Posted on by Molly Barlett
Star Wars is one of the most popular and successful franchises in history with sequels, prequels, series and video games spanning decades. Episode IV: A New Hope was first released in 1977 and the appeal of Star Wars still shows no signs of slowing down. The adventures of Luke, Leia, Han Solo, Obi-Wan, Yoda, and friends in a galaxy far, far away seem to hold a timeless and universal appeal and captivate small children, older kids, teens and adults alike. Some of the content is heavier and only appropriate for more mature audiences so parents often need to exercise a little caution in what their children view but most children are able to pick up enough of the storyline to enjoy the good versus evil trope.
All this popularity has, of course, spawned a whole plethora of products, toys and memorabilia. If you're looking to buy a Star Wars-themed gift for a fan then the good news is that none of this is in short supply! However, it can get incredibly overwhelming incredibly quickly once you start browsing the huge range of products on the market. That's why we've brought together this list of the 14 best Star Wars toys of 2022, to help you find something for the fan you're buying a gift for.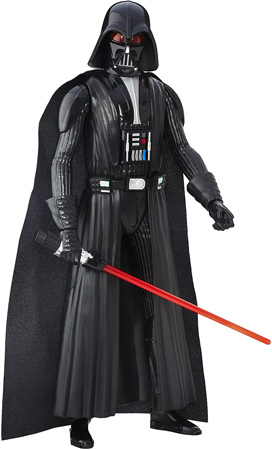 Why we like it: It's easy to recreate battles from Star Wars Rebels with authentic battle sounds and light-up features.
The Star Wars Rebels Darth Vader Electronic figure is perfect for children who love playing imaginatively and recreating battle scenes from the Star Wars movies and TV series. Simply squeeze his legs to activate the Lightsaber and act out epic scenes and battles of good versus evil in a galaxy far, far away. The authentic battle sounds and light-up features add further to the realism of play.
Kids can also download the Hasbro Star Wars Studio FX app to make videos with their toys, further inspiring their creativity and helping them to develop skills with technology. These videos can be downloaded and saved to either a phone or computer.
Pros
Light-up features
Authentic battle sounds
Ideal for imaginative play
Downloadable app increases technological skills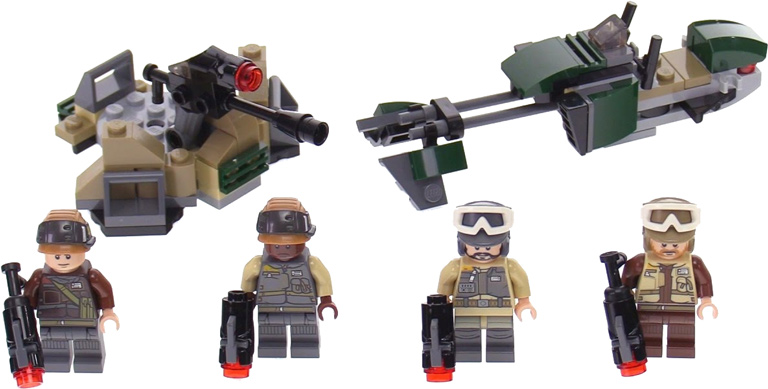 Why we like it: Improve construction skills with this challenging Star Wars-themed build.
Lego is a real tried and true gift, often providing hours of entertainment and promoting a whole range of different skills. Children learn to be organized and methodical in following instructions, improve their construction and fine motor skills as they build and often then use their creations for imaginative play too. The Star Wars Rebel Trooper Battle Pack is ideal for encouraging kids to persevere with more challenging builds to get to a result.
This fun Lego Star Wars toy features a speeder bike with space for a mini-figure, plus a multidirectional cannon with stud shooter and extra ammo which will delight most children. The set includes four Rebel Trooper mini-figures so as soon as it's built you're ready for action!
Pros
Improves fine motor skills
120 pieces
Encourages perseverance
4 mini-figures included
Features a stud shooter
Cons
Specialized pieces: careful storage required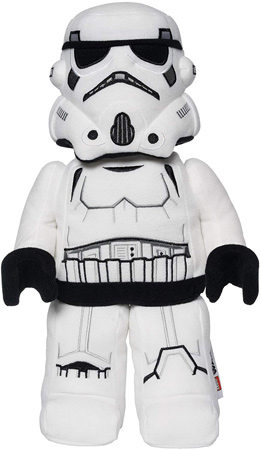 Why we like it: Popular plush toy with a Star Wars theme.
It used to be that stuffed toys were for little kids, but "plushies" or "plushies" are becoming a popular trend with older children and teens too. The Manhattan Toy Lego Star Wars Stormtrooper Plush has a fixed fabric helmet and armor just like the stormtroopers from the Star Wars movies and LEGO animated productions.
Designed to be able to stand up when not being played with, the Lego Star Wars Stormtrooper Plush is constructed with durable materials to withstand years of love. Coming from a well-known brand, Manhattan toy, you can rest assured that rigorous safety tests have been carried out. Whether the toy is used as a soft toy to snuggle, a display item, or a piece of bedroom décor it's sure to delight fans of Lego Star Wars.
Pros
Popular plush toy
Based on Lego Star Wars
Durable materials
Well-known brand
Rigorous safety testing
Cons
Needs to be washed on a cold cycle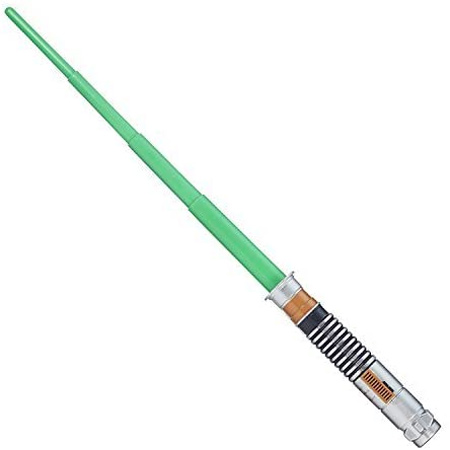 Why we like it: Create adventures and scenes from Star Wars entertainment with this extendable lightsaber.
What does every Star Wars fan want? A lightsaber, of course! The Star Wars Return of the Jedi Luke Skywalker Extendable Lightsaber does exactly what it says in the title! It's an extendable lightsaber toy based on Luke Skywalkers from the film Return of the Jedi, making it perfect for recreating scenes from the movie.
Whether it's used for dressing up, imaginative role-play or display, providing the finishing touch for a Star Wars-themed bedroom, this is a gift that is sure to be well received by a Star Wars fan of any age, and the ability to fold it away when not in use means that storage is much less of an issue too.
Pros
Based on Return of the Jedi movie
Can be used for dressing up
Ideal for imaginative play
Can be used as décor
Folds away when not in use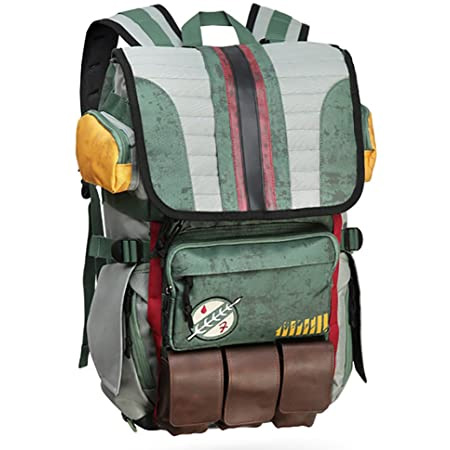 Why we like it: Great practical gift for a Star Wars fan.
Toys are great fun and all, but children often end up inundated with so many of them, teens have often outgrown them and it can be nice to buy something a little different. If you're looking to buy a practical gift for a Star Wars fan, the Star Wars Rebels Alliance Icon Boba Fett Laptop Backpack could be ideal.
Made from 90% polyester and 10% PU this laptop backpack is built to be protective, robust and durable. Alongside the main compartment, there are 5 sealed side pockets for computer, notebook, iPhone, iPad, pen, keys, wallet, books, water bottle and so on. The shoulder straps are padded and the length can be adjusted so the bag is really comfortable to wear and the Star Wars theme is more subtle but will delight real fans.
Pros
Practical gift
Protective, robust, durable materials
5 sealed side pockets
Padded shoulder straps
Adjustable shoulder straps
Cons
Laptop pocket is not a universal fit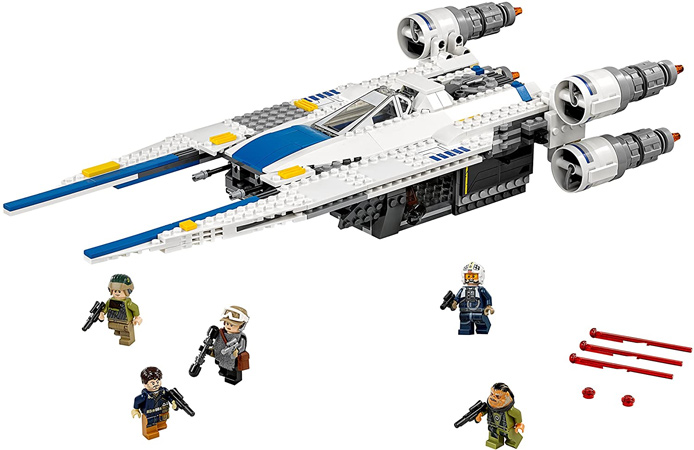 Why we like it: Designed for 8-14 years olds this Lego set allows kids to create a 44 cm model.
With 659 pieces the Lego Star Wars Rebel U-Wing fighter is designed to be a challenging build for older kids between the ages of about 8 and 14. This set allows Star Wars fans to build the amazing Rebel U-Wing Fighter, featuring four big engines and wings that sweep back to make a bigger model, with the finished product measuring in at over 10cm high, 44 cm long and 20 cm wide with wings closed, and over 38cm long and 64cm wide with wings open.
This set includes 5 mini-figures; U-Wing pilot, Bistan, Jyn Erso, Cassian Andor and a Rebel Trooper so it's easy to imaginatively recreate scenes and adventures with the finished product. Like all Lego kits, this product is compatible with all other lego construction sets for extended creative building.
Pros
659 pieces
Designed for 8 to 14 year-olds
Large finished product
Includes 5 mini-figures
Compatible with other Lego sets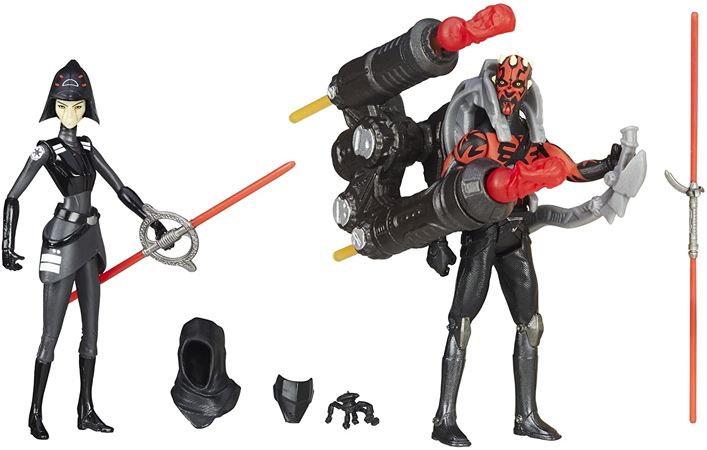 Why we like it: Crafted to look like the real characters from Star Wars Rebels, it's easy to recreate battles with these action figures.
Featuring 2 figures, 4 accessories and 2 projectiles, this exciting Star Wars Rebels Seventh Sister Inquisitor vs. Darth Maul battle pack is perfect for Star Wars fans who love acting out battle scenes. Designed for compatibility with other Hasbro figures and vehicles it's easy to start or add to a collection of Star Wars toys.
If the Star Wars fan you're buying a gift for is a little beyond toys, then these figures could still be the ideal gift as they can be kept as collector's items or used as display figures too. Action figures, if kept in mint or near mint condition, are often worth more than you pay for them in years to come so these action figures may even represent an investment.
Pros
2 figures
Includes accessories
Compatible with other Hasbro figures
Ideal for imaginative play
Can be used for display or as collector's items
Cons
Plastic toys; less eco-friendly option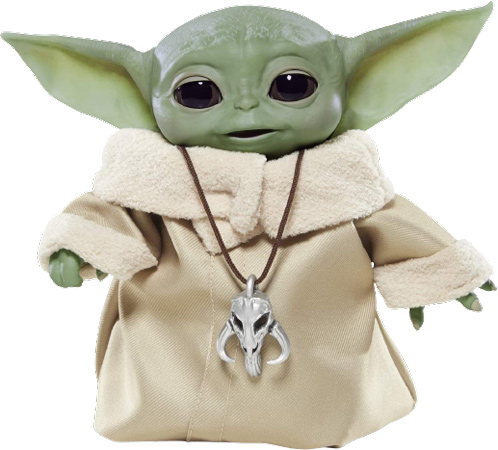 Why we like it: A cute baby Yoda with sounds inspired by the Disney plus series.
Styled after the Disney+ series, The Child Animatronic Edition is inspired by the fan-favorite character from Star Wars: The Mandalorian and at just 19cm he's a cute, little toy that children will love. Popularly referred to as 'Baby Yoda' The Child is a firm fan-favorite and it's easy to see why!
This animated toy features motorized movements, including a head that moves up and down, ears that move back and forth, and eyes that open and close and children can simply touch the top of The Child's head to activate sound effects, based on the Disney Plus series. With over 25 sound and motion combinations, this is a toy that will really appeal to younger Star Wars fans.
Pros
Styles after the Disney + series
Fan-favorite character
Motorized movements
25 sound and motion combinations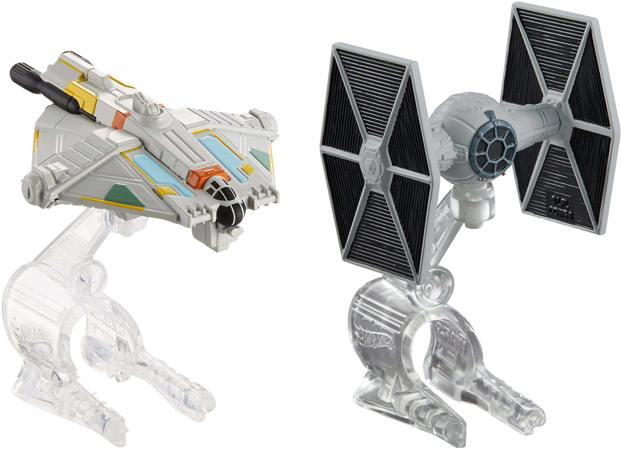 Why we like it: Iconic Star Wars vehicles from popular Hot Wheels brand.
These iconic Star Wars vehicles are brought to life by the popular Hot Wheels brand with their high-quality die-casting. This set includes a flight navigator which lets kids "fly" their starships and also doubles as a display stand for showing off collections.
The Hot Wheels Star Wars Starships Rebels set makes a great gift for fans of all ages as the vehicles can be used for re-creating some of the most epic battles from Star Wars: Rebels, used with other Hot Wheels Star Wars play sets or simply used as collectors or display items.
Pros
Popular Hot Wheels brand
Includes a flight navigator display stand
Ideal for imaginative play
Compatible with other Hot Wheels Star Wars sets
Can be used as collectors and display items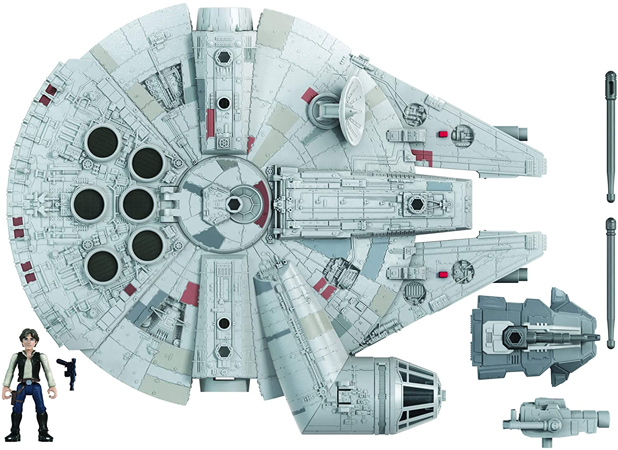 Why we like it: Imagine exciting missions, high-stakes chases, and daring escapes with this action figure and vehicle set.
The Star Wars Mission Fleet Han Solo Millenium Falcon makes a great gift for kids with big imaginations. Boys and girls ages 4 and up will love imagining all kinds of exciting scenarios with this Han Solo Millenium Falcon figure and vehicle, featuring a repositionable projectile launcher!
The Han Solo figure features multiple points of articulation so he's easy to pose and move around. This set also comes with a detachable mini tank which the Han Solo figure can stand on and the set is designed to be compatible with other Star Wars Mission Fleet figures and vehicles.
Pros
Ideal for imaginative play
Repositionable projectile launcher
Multiple points of articulation
Detachable mini tank
Compatible with other Star Wars Mission Fleet figures and vehicles
Cons
Other figures and vehicles sold separately
Why we like it: Perfect for parties, holidays or just imaginative dressing up.
This Official Disney Star Wars product is produced by Rubies and is ideal for wearing as a Halloween costume, to parties or for imaginative dressing up. Dressing up is a great addition to imaginative role-play and is popular with many young children. It gives them a safe way to explore different personas and identities and can also help to promote independence and self-help skills as it gives children plenty of opportunities to practice getting dressed!
The Rubie's Official Star Wars Rebels Stormtrooper Costume includes a printed jumpsuit with padding and a half head mask with elastic strap and is available in child's Sizes Small (3-4 years), Medium (5-6 years) Large (7-8 years) and XL (9-10 years) As a Rubie's Official Licensed product this costume has been tested to all required European and UK standards.
Pros
Ideal for holidays, parties and dressing up
Includes jumpsuit and mask
Available in 4 different sizes
Tested to all European and UK standards
Cons
Need to select the correct size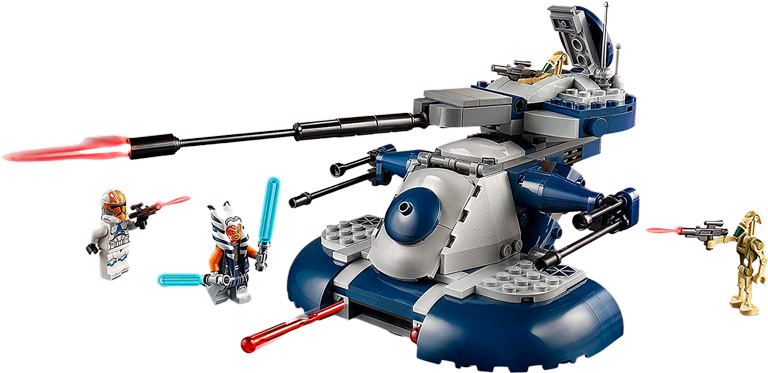 Why we like it: This Assault tank is ideal for re-enacting battles from Star Wars: The Clone Wars.
It is easy for kids to re-enact exciting 501st Legion versus Battle Droid battles from Star Wars: The Clone Wars with this awesome Armoured Assault Tank (AAT). The set comes with precise, easy-to-follow instructions to help improve children's skills in both construction and following instructions. Children can build this vehicle with interactive features like spring-loaded shooters, a rotating turret, an elevating cannon and opening hatches.
The set includes Ahsoka Tano and Ahsoka's Clone Trooper mini-figures, an AAT Driver Battle Droid and Battle Droid LEGO figures, all including weapons. Designed for kids aged 7 and up, the Lego Star Wars Armored Assault Tank set is compatible with all other Lego sets so it's easy to extend and expand play.
Pros
Easy to follow instructions
Interactive features
Includes mini-figures
Compatible with all other Lego sets
Cons
Specialized pieces; need careful storage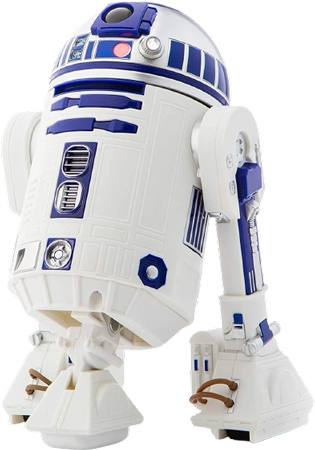 Why we like it: Based on the popular Star Wars robot, this will extend an interest in robotics and technology.
Based on the popular Star Wars robot character of R2-D2 this product encourages an interest in technology and robotics. The Sphero Star Wars App-Enabled Droid can be controlled with an app that is both iOS and Android compatible and can carry out a range of different actions. One of the most unique features of this robot toy is that it can both watch and react to Star Wars movies which is a great party trick.
With integrated speakers and LEDs the sounds come right from R2-D2, and the droid can also interact with other Sphero Star Wars App-Enabled Droids. You can also explore holographic environments like the Millennium Falcon and Obi-Wan's House and immerse yourself in the Star Wars galaxy.
Pros
iOS & Android compatible
Durable plastic shell
LED Lights
USB charging (over 1 hour of play on a full charge)
Holographic environments
Cons
Requires compatible device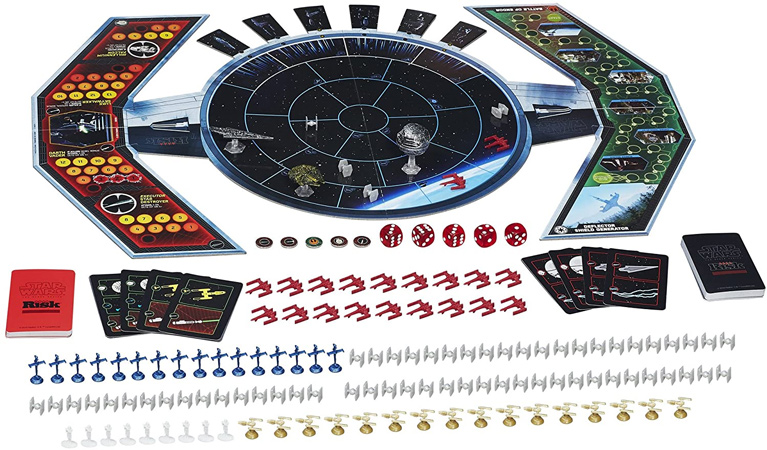 Why we like it: A Star Wars version of the classic strategy board game 'Risk'.
Recreate the final moments of Star Wars: Return of the Jedi with this exciting Star Wars version of the classic strategy board game Risk game! Just like the classic game, this Star Wars edition helps children to develop strategic, critical thinking skills. You can play as the Empire or the Rebel Alliance: If you play as the Empire, your mission is to destroy the Rebel fleet but if you play as the Rebel Alliance, you instead aim to destroy the Death Star! The battle between Luke Skywalker and Darth Vader has the power to change the game making this an exciting game of risk and strategy.
Designed for players ages 10 and up. It can be played with 2 or 4 players and playtime is 30 to 60 minutes.
Pros
Star Wars version of the classic strategy board game
Develops strategy and critical thinking skill
Can play the Empire or Rebel Alliance
Designed for players ages 10 and up
2-4 players
Final words
Now that Star Wars is considered one of the most popular entertainment franchises of all time, with a whole range of different merchandise available, some of this merchandise is considered to be a cult collector's item. This list shows just some of the toys and items available with a range of different activities, practical items, games and playsets.
The great thing about the Star Wars items listed here is that there's a wide range of different options available so you can choose something to suit the person that you're buying for. Whilst younger children may enjoy simple playsets, or character toys, older children may prefer activities or items that allow them to play in a more open-ended or imaginative way. Parents will likely be grateful for some of the more practical items being bought for children and teens too, as often they are inundated and overrun with toys. We hope that this list has highlighted some of the best Star Wars toys and gifts available for 2022.