If you feel like SpongeBob has been around since you were a kid, it's because it has! The show premiered in 1999 and has been constantly well-liked since then, these days it's popular with kids, teens and adults alike. The show follows a yellow sponge who lives in Bikini Bottom on the floor of the Pacific Ocean. SpongeBob works at the Krusty Krab restaurant as a cook and spends time with his best friends Patrick and Squidward who both feature prominently in the show. Following the adventures of these friends the show is full of off-the-wall, zany humor and offers plenty of positive messages about loyalty, kindness and friendship too.
SpongeBob SquarePants is generally intended for slightly older kids as there is some mockery and fantasy violence involved in the episodes, but the relationships between SpongeBob and his friends can be both sweet and heartwarming making the show a firm favorite with many. With its ongoing popularity there's plenty of SpongeBob SquarePants toys and merchandise available so we've brought together a list of the 11 best SpongeBob toys of 2022 to help you find what you're looking for.
1.
Alpha Group SpongeBob SquarePants Figure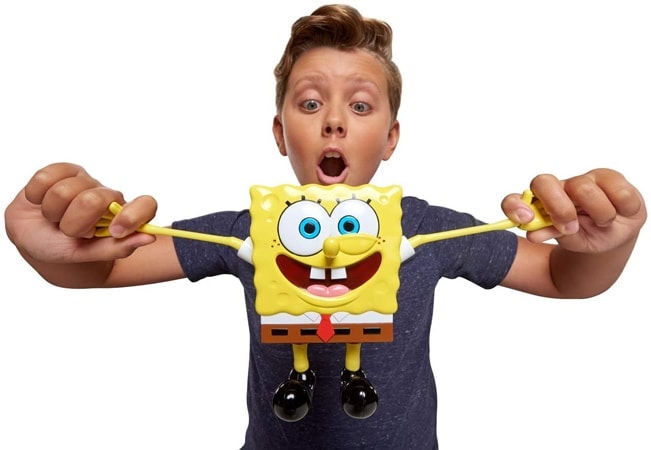 Why we like it: Stretchy SpongeBob figure with silly sounds and phrases.
SpongeBob is well known for being fun, silly and a little bit crazy and the Alpha Group SpongeBob SquarePants Figure encapsulates the cartoon character's personality perfectly. Kids can play with SpongeBob in a crazy new way with its stretchable design; you can pull SpongeBob's arms and legs making this toy ideal for children who need plenty of sensory input.
SpongeBob SquarePants will say silly, fun phrases when stretched including; "I'm a sponge, not a rubber band!" "spongecercize," and "these pants sure are reliable!" which will amuse and delight fans of the cartoon sponge. It's easy to play with friends too and children will love seeing just how far two people can stretch SpongeBob!
Pros
Stretchable
30 silly sounds and phrases
Great for sensory play
Play with friends
2.
Fisher-Price Imaginext SpongeBob Figure 6 Pack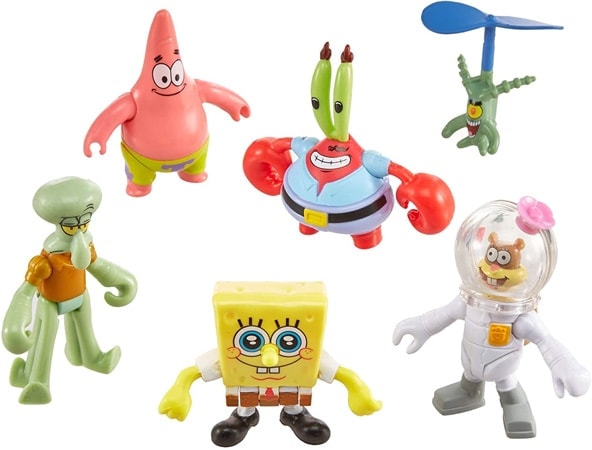 Why we like it: Perfect for storytelling and imaginative play.
Playing imaginatively with small figures has been a childhood pastime throughout human history, and with good reason! It's a natural way for children to play because it helps them to make sense of their social experiences, sort and order their experiences and experiment with different social scenarios in a safe way. There are lots of developmental benefits to this kind of play too as it helps to improve speech and language skills, and the ability to order a story and when playing with others it helps to improve social skills like cooperation and negotiation too.
This figure pack with 6 characters from SpongeBob SquarePants, includes SpongeBob, Patrick, Sandy, Mr. Krabs, Squidward, and Plankton so children will have all the characters they need to engage in imaginative role-play and storytelling based on the TV show. The figures' arms and legs move too for more realistic play opportunities.
Pros
6 Figures included
Moveable arms and legs
Based on the popular TV show
Encourages storytelling and imaginative play
Cons
Small figures not suitable for younger children
3.
Lego SpongeBob The Flying Dutchman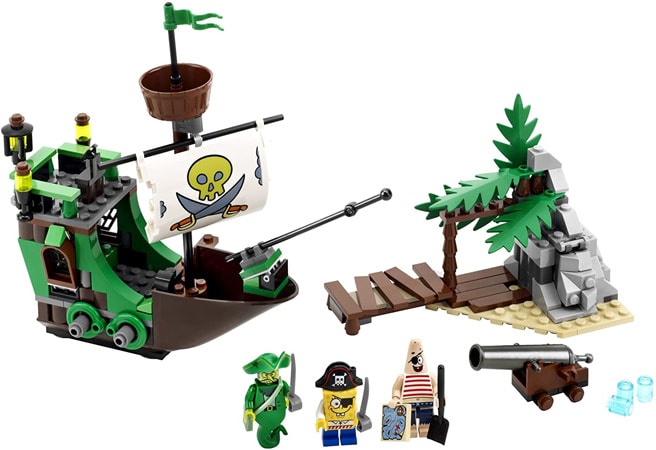 Why we like it: Build the Flying Dutchman pirate ship.
Lego is an iconic toy for children and adults alike and the range of sets now offered is almost limitless. The Lego SpongeBob The Flying Dutchman kit has everything that you need to create a pirate ship and small island. Kids will hone their fine motor and construction skills making the ship and will also improve their ability to follow instructions and organize their activities, all through play.
The set also includes 3 mini-figures: Pirate SpongeBob, Pirate Patrick and The Flying Dutchman so children can enjoy acting out imaginative scenarios with characters from the show once they have built the pirate ship. With a plank, sail, crow's nest, boardwalk, hidden treasure chest and cannon there's plenty for the characters to do and explore and the set includes accessories like a treasure map, 2 cutlasses, a shovel, and a bag of souls too.
Pros
Includes 3 mini-figures
Accessories included
Ideal for imaginative play
Based on the TV show
Compatible with other Lego sets
Cons
Plastic toy; less eco-friendly option
4.
SpongeBob SquarePants Remote Control Krabby Patty Vehicle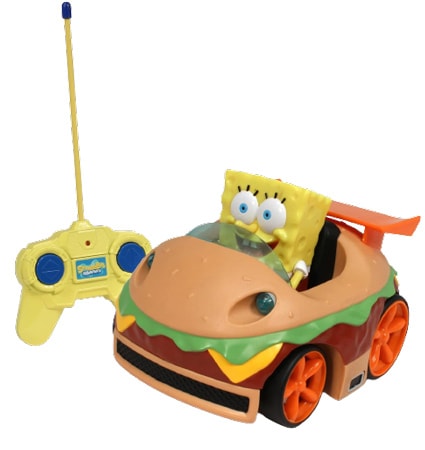 Why we like it: Radio-controlled vehicle with working headlights and detailed SpongeBob figure.
Radio-controlled vehicles are a very popular toy as they allow children to experiment with cause and effect, spatial awareness and using technology. The SpongeBob SquarePants Remote Control Krabby Patty Vehicle is a really nice remote-controlled vehicle that's perfect for avid fans of the show.
Based on a burger sold at SpongeBob's workplace, this vehicle moves forwards and backward and features working headlights. This officially licensed product has rubber tires and adjustable front-wheel alignment for enhanced control on hard surfaces so it's perfect for kids to use around the house for imaginative SpongeBob adventures.
Pros
Radio-controlled
Working lights
Rubber tires
Moves forward and backward
Officially licensed product
5.
Play-Doh Builder SpongeBob SquarePants Pineapple House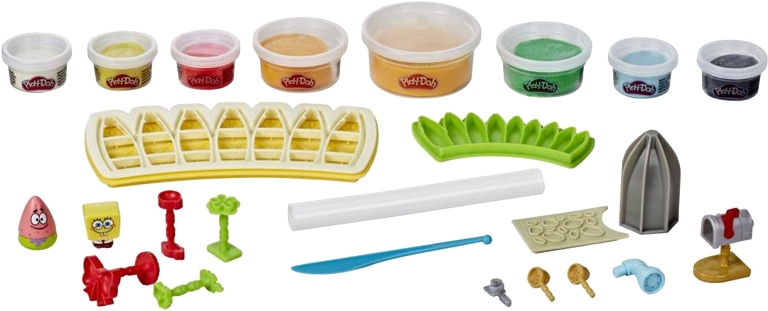 Why we like it: Build your own SpongeBob SquarePants Pineapple House with this Play-Doh kit.
Who lives in a pineapple under the sea!? This SpongeBob play-doh set comes with everything kids need to build and customize SpongeBob's famous house. This easy-to-use crafting kit is a great way for children to develop the strength in their fingers, hands and wrists ready for writing. Alongside developing fine motor skills they will learn to follow instructions and gain satisfaction in completing a project.
The kit comes with simple tools, 8 tubs of reusable Play-Doh, and Patrick and SpongeBob toy figures. Children can build the base of the house using the included molds, then customize with details like windows and doors, a chimney or mailbox or even jellyfish and holiday decorations! Of course, kids can model freehand too, encouraging imaginative play and creativity.
Pros
8 tubs of Play-Doh included
Everything needed to recreate Spongebob's House
Easy to use tools
Instructions included
Encourages creativity
6.
Fisher-Price Imaginext SpongeBob Camp Coral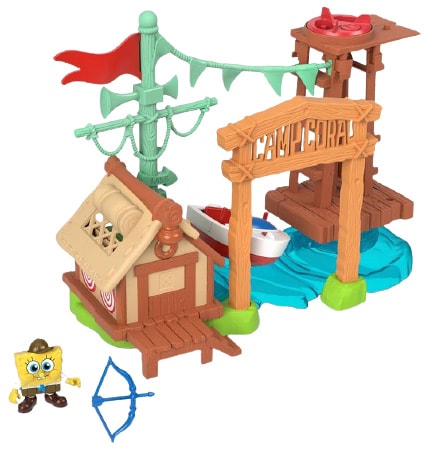 Why we like it: Ideal for younger kids, this playset based on the movie features fun moving parts.
From popular toy brand, Fisher-Price, this Imaginext SpongeBob Camp Coral is a fantastic playset for younger children who are fans of SpongeBob. It's based on 'The SpongeBob Movie: Sponge on the Run' and features a cute little camper SpongeBob figure!
The SpongeBob figure can "roast" marshmallows, dive into the lake, and practice with his bow and arrow, and if you turn on the Power Pad the SpongeBob figure can go spinning around the lake in the boat. Ideal for preschool children aged 3 to 8, this playset has plenty of moving parts and folds for easy storage and transport.
Pros
Ideal for 3 to 8 year-olds
Folds for storage
Based on SpongeBob The Movie
Moving parts
Ideal for imaginative play
Cons
Made of plastic; less eco-friendly option
7.
Hot Wheels Monster Trucks SpongeBob SquarePants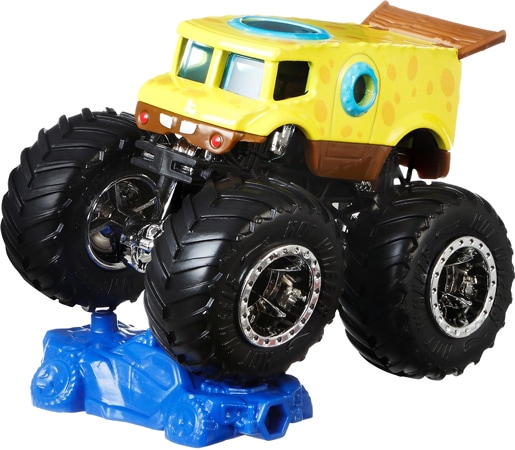 Why we like it: Monster truck featuring SpongeBob characters from popular brand Hot Wheels.
From the popular Hot Wheels brand, this SpongeBob-themed Monster Truck is sure to be a hit with children who love playing with toy cars and vehicles. Many young children have a collection of Hot Wheels vehicles, particularly the die-cast cars, and this SpongeBob Monster truck is built in scale with the other Hot Wheels vehicles so it's ideal to add to an already growing collection.
Featuring SpongeBob character design, and with different characters available to collect, this Monster Truck makes the ideal gift for a child looking to add to or start a SpongeBob vehicle collection. Playing with cars helps children to improve their spatial awareness, coordination, and gross motor skills which all help in the long-term development of handwriting skills.
Pros
From popular Hot Wheels brand
Featuring SpongeBob characters
Different characters to collect
Ideal for imaginative play
Cons
More expensive than comparable items
8.
Franco Kids Bath and Beach Soft Cotton Terry Hooded Towel Wrap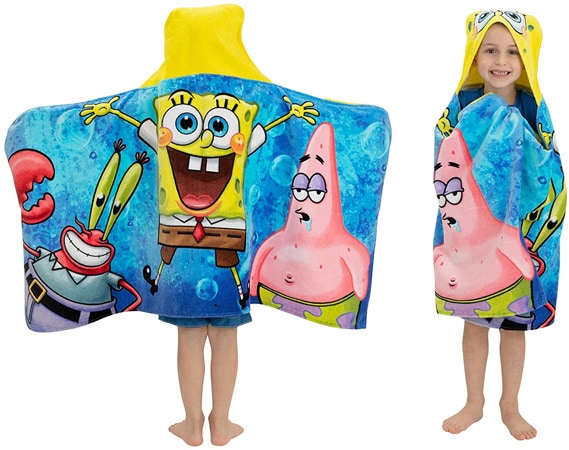 Why we like it: Practical, useful gift with a fun SpongeBob design.
The Franco Kids Bath and Beach Soft Cotton Terry Hooded Towel Wrap is made of 100% Cotton so it's perfect for children's more delicate skin. The soft, cozy towel makes an ideal practical gift for swimming lessons, beach trips or simply bathtime at home. With a handy wearable design, it's really easy to pop on and get dry quickly, thanks to the highly absorbent material, making it a convenient choice.
The fun design featuring SpongeBob SquarePants, Patrick Star and Mr. Krabs from the popular Nickelodeon series, makes this an ideal gift for kids who like the SpongeBob TV show and it's really easy to care for too; it can be washed in the machine and tumble dried alongside regular laundry.
Pros
100% cotton
High-quality materials
Wearable
Perfect for 3 to 7 year-olds
Can be washed and tumble dryer
Cons
Sized item so can be outgrown
9.
PlayMonster Burping SpongeBob SquarePants Game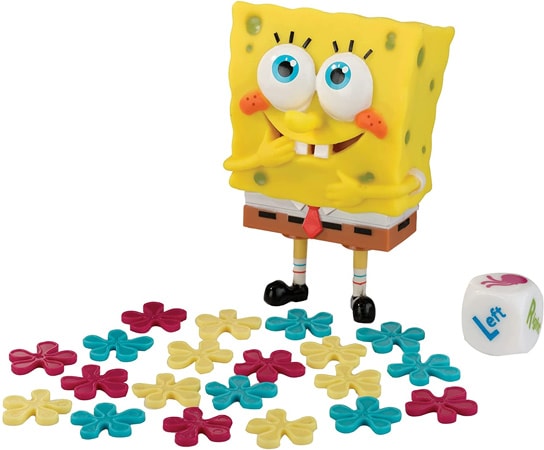 Why we like it: Kids will love this fast-paced game with burping SpongeBob.
Kids often delight in anything gross, and so does SpongeBob! The PlayMonster Burping SpongeBob SquarePants is a fun, fast-paced game featuring plenty of burping. Simply press SpongeBob's chin to start the tropical music playing, and then roll the die to see which way to pass him. Players must pass SpongeBob fast because he could burp at any moment and the player holding him when he burps has to take a token!
The player with the fewest tokens at the end wins, as the idea is that you pass SpongeBob as quickly as possible so you don't get stuck holding him when he burps. The game is designed for 2 or more players, ages 6 and up and helps to encourage mathematical understanding of the tokens, and build social skills like winning and losing gracefully.
Pros
2 or more players
Fast-paced game
Interactive SpongeBob toy
Encourages mathematical understanding
10.
Hot Wheels SpongeBob SquarePants Character Car
Why we like it: Fun SpongeBob car from popular Hot Wheels brand.
From popular vehicle brand Hot Wheels, the Hot Wheels SpongeBob SquarePants Character Car makes the perfect addition to a child's Hot Wheels collection. It's part of the latest Hot Wheels collection and is a great collector's item with iconic images from the Nickelodeon Series.
This Hot Wheels vehicle measures approximately 2 inches long and is built to scale with other Hot Wheels brand cars. It's ideal for imaginative play too and fans of the TV show will love driving cars around, zooming around corners and up and down hills. This helps to improve spatial awareness and gross motor control as well as increasing creativity and imagination.
Pros
Part of the latest Hot Wheels collection
Featuring SpongeBob characters
Ideal for imaginative play
Great collector's item
11.
Pillow Pets SpongeBob SquarePants Stuffed Animal Toy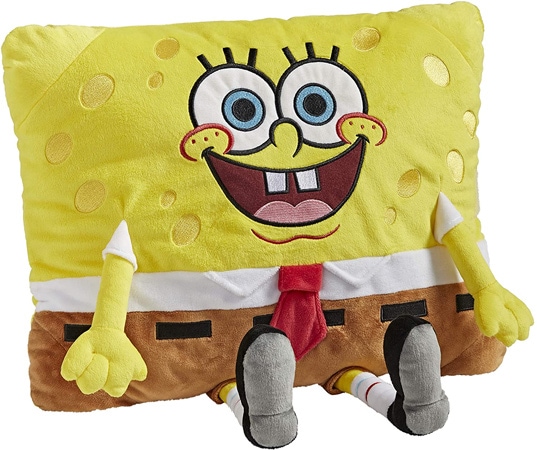 Why we like it: A cute snuggly SpongeBob SquarePants that doubles up as a pillow.
Pillow Pets are a brilliant 2-in-1 product, a high-quality plush snuggly toy that converts into a 16-inch pillow, the Pillow Pets SpongeBob SquarePants Stuffed Animal Toy is ideal for travel, reading, watching TV and naptime. It also makes a great décor item for a SpongeBob-themed bedroom!
As an official Pillow Pets & licensed Nickelodeon item, the SpongeBob Pillow Pet is BPA & Phthalates free and can be machine washed inside a pillowcase on a cold, gentle cycle to keep it fresh and clean. This makes a really good practical gift for a SpongeBob fan if you'd prefer to buy something that isn't simply a toy.
Pros
Can be used as a toy and a pillow
Super-soft plush materials
Can be machine washed
Ideal as bedroom décor or for travel
Official Pillow pets and licensed Nickelodeon item
Cons
Needs to be washed on a cold cycle
Final words
Now that SpongeBob SquarePants has been running for 22 years and is one of the most successful cartoon TV shows there are a whole range of different merchandise available some of which are now considered to be cult collector's items. This list shows just some of the toys and items available with a range of different activities, practical items, vehicles, playsets and learning opportunities.
The great thing about the SpongeBob SquarePants items listed here is that there is such a wide range of different options available so you can choose something to suit the person that you're buying for. Whilst younger children may enjoy simple playsets, older children may prefer activities or items that allow them to play in a more open-ended or imaginative way. Parents will likely be grateful for some of the more practical items being brought as well, as often children are inundated with toys. We hope that this list has highlighted some of the best SpongeBob SquarePants toys and gifts available for 2022.