Robots are an exciting toy that children have been interested in throughout the years, but as technology has moved on robots are now becoming part of our everyday lives; think self-checkout at the supermarket, robot vacuums in the home, or even the robots used in production lines producing things like car parts. As we move into the future it's likely that robots are going to do more and more; self-driving cars are already being explored and as this industry booms more workers will be needed, so building the skills needed to work in this sector is a smart move.
Children are innately attracted to robots perhaps because they seem to cross a boundary between animate and inanimate, they are not human and yet they are strangely recognizable and sometimes even seem friendly. As such many children dream of having a robot friend, or at least a robot servant to do their chores and homework for them! But playing with robots has many more developmental benefits than simply getting jobs done or having fun. Playing with robots can help to increase children's skills with using technology, build coding or programming skills and increase understanding of cause and effect. Here we've listed some of the best robot toys for 2022 by age group and highlighted what to look out for when buying for each age group too.
Best Robot Toys for 3 to 5 Years Old Kids
You might think that preschoolers are too young for an interest in robotics but think again! Children in this age group are often enchanted by and enthusiastic about playing with robot toys and this is the ideal age to begin laying down foundations for later learning as the brain is still so pliable at this stage of development. Safety will be of more of a concern with this age group who might not quite understand how to play safely yet, so durable robots designed for younger kids will be best. You may or may not want to introduce electronics at this stage so that is another issue to consider, children in preschool learn well with both non-electrical and electrical toys. Introducing basic ideas of cause and effect, for example by using remote controls, helps children to understand that actions have consequences and that they can control toys like robots. Here are some of the best robot toys for this age group;
1.

Learning Resources Design & Drill Robot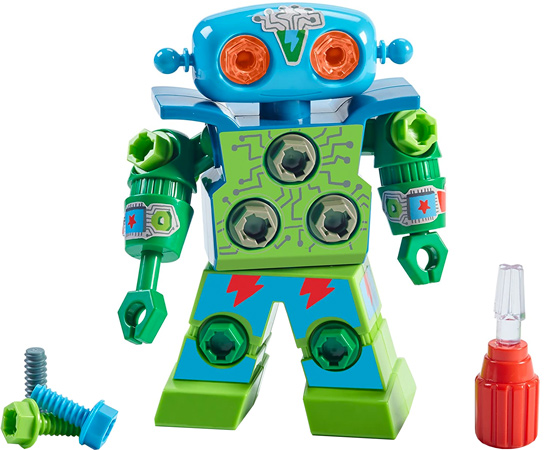 Why we like it: A colorful and fun introduction to engineering skills.
The Learning Resources Design and Drill Robot is great for encouraging both creativity and construction skills for younger children. This colorful set allows children to build their own toy robot by using the screwdriver and connecting the pieces with the included plastic bolts. The robot's arms, head and body can be moved and positioned, and decorative stickers allow the robot to be customized by the child.
This set will really capture children's imaginations and interests and give them a simple introduction to construction and engineering skills. Using the screws, bolts and screwdriver will also help to hone fine motor skills, building up muscles in the fingers, hands, wrists ready for handwriting.
Pros
Movable parts
Children can build the robot
Colorful sets
Introduction to construction and engineering skills
Improves fine motor skills
Cons
Small parts- choking hazard
2.

Fisher-Price Imaginext Transforming Batbot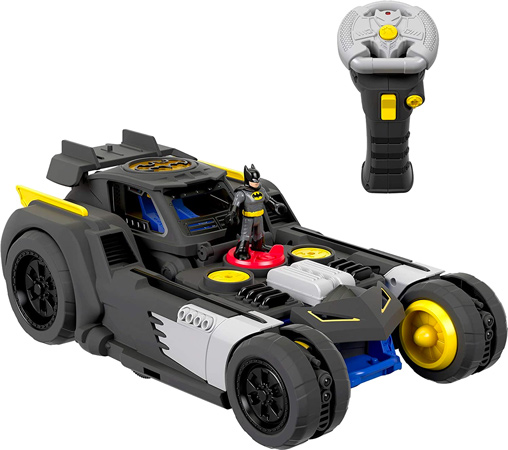 Why we like it: Transforming Batman robot toy from a popular children's brand.
Is it a Batbot, or is it a tank? It's actually both! The Fisher-Price Imaginext Transforming Batbot has 2 ways to play and will delight younger children. It comes with a remote control to make the BatBot go forward, go backward or transform. This robot toy also features lights, sounds and speech with over 100 sounds and phrases.
This toy is perfect for younger Batman fans and has a blaster with four disks to launch at villains and a grabbing claw. Both arms rotate a full 90 degrees allowing children to use the toy to act out a full range of motions. This toy is ideal for encouraging imaginative play based on Batman as the phrases included provoke storytelling and imaginative scenarios.
Pros
2 toys in 1
Remote controlled
Moves forwards, backward and transforms
Lights sounds and speech
Encourages imaginative play
3.

Top Race Remote Control Dog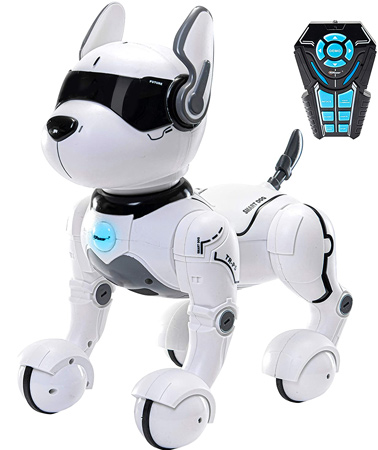 Why we like it: Cute remote control dog with voice recognition technology.
Many children are desperate to have pets but for many reasons, this isn't always possible, and whilst it's not quite as soft to stroke, the Top Race Remote Control Dog does respond to voice commands just like a real pet! Commands like "sit" "spin" "come here" or "dance" are responded to with animal-like movement.
The remote control can be operated from up to 50 feet away and the dog can be taught new tricks like yoga moves or push-up exercises. These movements can be programmed and stored making this a good toy to introduce technology skills. Made with food-grade plastic the dog is completely safe for children and can run for up to 70 minutes on a single charge.
Pros
Responds to voice commands
Can sit, stand, spin, move and dance
Remote control
Programmable
Made with food-grade plastic
Cons
Needs charging
Remote needs batteries
4.

Disney Pixar Hello Wall-E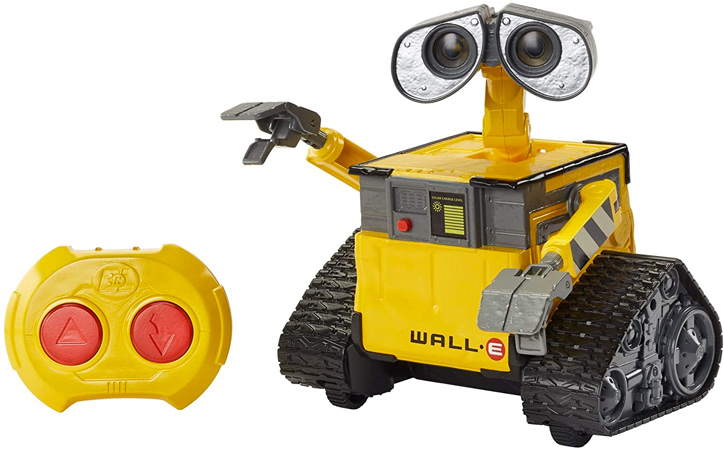 Why we like it: The ideal first remote-controlled toy with simple controls based on a popular Disney Pixar character.
Based on the popular movie character the Disney Pixar Hello Wall-E robot is the perfect first remote-controlled robot toy for younger kids with a simple, easy to operate design. The remote control has 2 big buttons making it easy to control for smaller hands; the robot can move forward and backward, and features lights and sounds which are operated at the push of a button on Wall-E's front.
Made to be true to the design in the movie, fans of the Disney Pixar film will instantly recognize the adorable Wall-E robot and be excited to play with him. This gives children a great starting point for their play as they act out scenes from the movie and propel the character they know into a range of new and different scenarios too.
Pros
Perfect first remote-controlled toy
Made for younger kids
Lights and Sounds
Based on popular Disney Pixar character
Ideal for imaginative play
5.

Boxer Interactive A.I. Robot Toy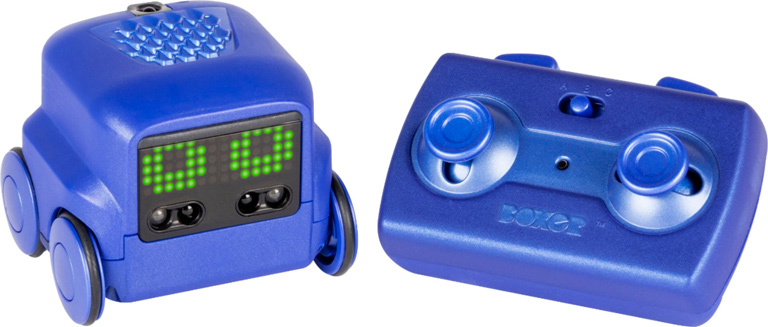 Why we like it: A cute little robot with a big personality!
The Boxer Interactive A.I. Robot Toy is a cute little robot, available in several colors, and is ideal for younger children. This quirky little bot can play 10 games, learn tricks and express a full range of emotions. 10 activity cards are included which can be used to get Boxer to play games like Bot Bowling, Paddle Bot or Go Kart. The downloadable Boxer app will allow you to unlock even more games so there are plenty of different options of ways to play.
Boxer is also equipped with sensors so you can use your movement to control him which is great fun for younger kids who love to be physical and hands-on with their toys. He also has adorable LED expressions and cute sounds. Boxer has an internal rechargeable battery so he's always ready to jump in and play!
Pros
Available in several colors
10 games
Downloadable app
Motion sensors
Rechargeable batteries
Cons
Compatible device needed for
Best Robot Toys for 6 to 9 Years Old Kids
As children get older, their abilities with technology grow, especially in this generation. The children that are growing up today are described as 'tech natives' meaning that technology has always been a significant part of their everyday lives and they can work it with ease. Give a 6-year-old a smartphone and chances are they know exactly what to do with it, or introduce them to a new computer game and see how intuitively they pick up how it works. When picking a robot toy for 6- to 9-year-olds, look for fun, interactive robots with the ability to learn how to program or code. Whilst coding and programming might seem "foreign" to many adults children tend to pick it up with ease, and since it is such an in-demand skill the earlier they can do this, the better. Here are some of the best robot toys for 6-to-9-year olds;
1.

Sphero BOLT: App-Enabled Robotic Ball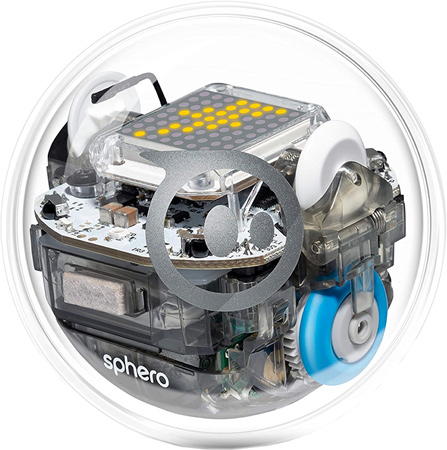 Why we like it: An app-enabled robot providing an introduction to coding.
The Sphero BOLT: App-enabled Robotic Ball does exactly what it says, it can be connected to an app that helps children learn how to code and program by using scratch blocks, drawing or Javascript all while having plenty of fun!
The LED Matrix can be used to display data or animation so there's plenty of opportunity for creativity and the Sphero Bolt is also packed with programmable sensors including infrared, compass, light sensor, gyroscope, accelerometer and motor encoders so the programming options are almost endless. This robot is actually pretty advanced and can certainly challenge children to level up their skills but at the same time, it's incredibly fun with hands-on activities, games and the options to share your skills with the community via the app.
Pros
Connects to an app
Teaches children to code and program
Programmable sensors
Hands-on activities
Children can share their achievements via the app
Cons
Compatible device required for the app
2.

Wonder Workshop Dash Robot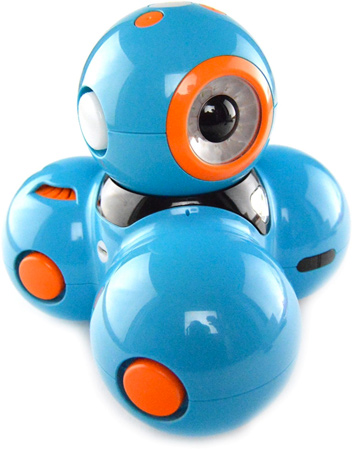 Why we like it: Have fun and learn to code with this cute robot named Dash.
Say hello to Dash! Dash is a robot designed to make learning to code incredibly fun; he can sing, dance, respond to voice and is equipped with hundreds of challenges, puzzles and projects. This robot has not 1, but 5, compatible apps so there's never a dull moment, and its inbuilt sensors mean that this robot is pretty smart!
Wonder Workshop aims to make kids confident with digital technology and the Dash robot is ideal for sparking interest in coding as well as imagination. It comes fully assembled and ready to play and the apps teach children how to code independently without the need for an instruction manual or parental supervision, making playing with Dash a fantastic independent project.
Pros
Makes learning to code fun
Hundreds of challenges, puzzles and projects
5 compatible apps
Fully assembled and ready to play
Independent play
Cons
Compatible device required for apps
3.

Gilobaby Smart Robot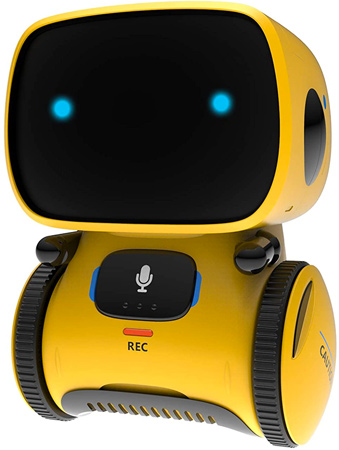 Why we like it: This dancing, singing robot will provide hours of fun and entertainment!
The Gilobaby Smart Robot is built for fun; he can dance with you, sing, record your voice and follow commands. Simply press the button, record up to 8 seconds of sound and then play it back! This novelty will really appeal to children who love experimenting with different phrases and sounds and using their imaginations as they play.
In voice control mode you can tell the robot to go forward, go backward, turn left and turn right and it will follow your commands, children will enjoy setting up obstacle courses and challenges and guiding the robot through using their voice which will help develop their spatial awareness. Made with safe, non-toxic plastic the Gilobaby Smart Robot is durable enough to stand up to children's play.
Pros
Voice recording feature
Encourages imaginative play
Can be controlled with voice
Safe, non-toxic plastic
Durable
Cons
Requires batteries (not included)
4.

Sphero – Star Wars Droid App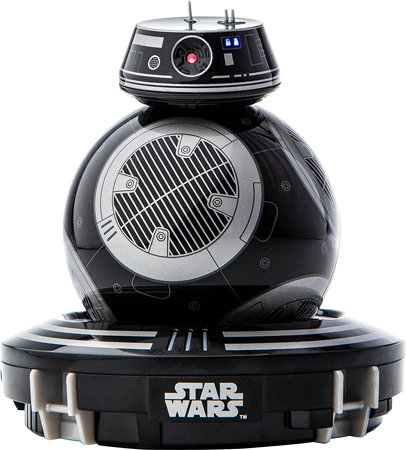 Why we like it: Perfect for Star Wars fans, this robot can interact with other similar toys and the Star Wars films.
Star Wars is an incredibly popular interest for slightly older children and this robot toy is perfect for building on that interest the Sphero- Star Wars Droid App uses Bluetooth technology with up to a 100-feet range to connect to a device running the App. The downloadable Star Wars Droid App allows the user to control the robot's movements from their smartphone.
You don't need to worry about the inevitable bumps and scrapes the robot will take as the ultra-durable shell has been designed with play in mind! This robot is fairly unique on the market in that it can watch the Star Wars films and interact with them, as well as being programmed to interact with other robots from the same range; ideal if siblings or friends also have one! Recharging is really easy with the inductive charging base included, so batteries are not a problem.
Pros
Based on Star Wars characters
100-feet Bluetooth range
Downloadable app
Interacts with Star Wars films and other robots
Inductive charging base included
Cons
Best used alongside other robots in the range
5.

Learning Resources Botley 2.0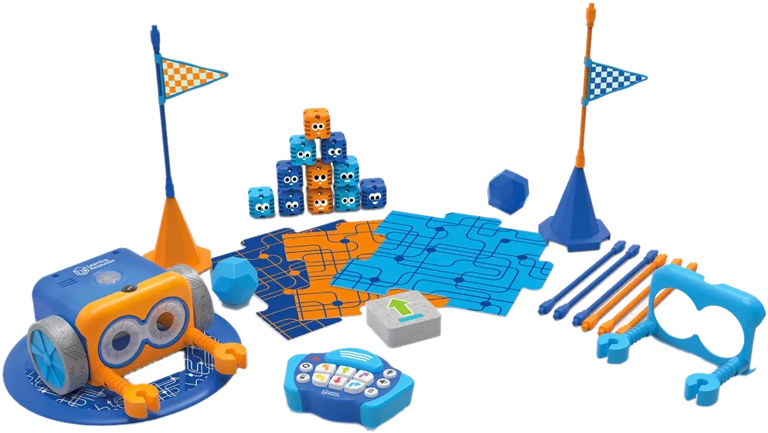 Why we like it: Build skills for the future with screen-free coding.
Designed to build skills for the future the Learning Resources Botley 2.0 teaches kids as young as 5 how to code with no screen or extra device necessary. Coding for children has never been easier or more convenient, and children in this digital native generation will quickly learn the skills that they will need as technology develops.
Botley can be programmed a sequence of up to 150 steps and has 16 fun interactions that transform Botley into a train, police car, ghost, and other fun options! This upgraded Botley allows kids to code for music, lights and movement and the included coding cards, tiles and obstacle set will excite kids and inspire them to code.
Pros
Designed to teach kids coding
Screen-free coding
Can program up to 150 steps
Music, lights and movement
Includes coding cards, tiles and an obstacle set
Best Robot Toys for 10 to 15 Years Old Kids
By this age, many kids are avid technology fans so robot toys for 10- to 15-year-olds should incorporate plenty of technology and lots of options for ways to play. Coding and programming are still good elements to look out for, as is any kind of hands-on construction which allows children to appreciate the engineering that goes into robotics too. Most children this age will be able to and will want to play independently so look for toys that come with instructions to allow them to get on with their projects without adult help or interference. Here are some of the best robot toys for 10- to 15-year-old kids;
1.

Anki Cozmo Robot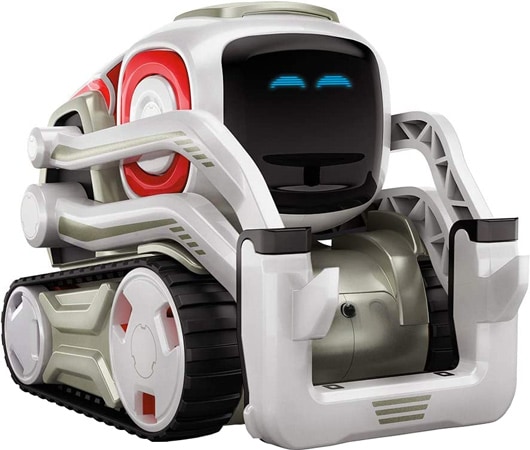 Why we like it: An intelligent and sociable robot friend who gets smarter as the days go by!
The Anki Cozmo Robot is as smart as he is charming! And every day he gets more intelligent. The more Cozmo explores the environment the more he learns and as he gets more intelligent you can unlock new games and upgrades to enhance your play experience. Want to see the world as Cozmo does? Simply turn on explorer mode.
There's also the chance to learn to code using a simple visual coding language, dragging and dropping coding 'blocks' using the Cozmo app. The cubes included with Cozmo are for playing games and you can play a whole range of different games with Cozmo including games enhancing reaction times and memory. Cozmo has been rigorously tested for durability so he should stand up to typical play and usage without any problems.
Pros
Intelligence grows as robot learns
Unlock new games and upgrades
Learn to code
Free Cozmo app
Strong and durable materials
Cons
Compatible device required for app
USB power adapter not included
2.

SilverLit Program A-Bot X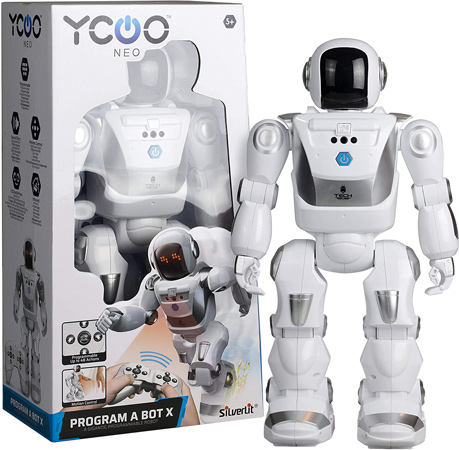 Why we like it: This giant robot is 16 inches tall and can be programmed with up to 48 commands.
At 40 inches tall the SilverLit Program A-Bot X looks like the robot friend a child might imagine. It can walk like a human, glide around and even dance and features LED light-up facial expressions and cool robotic sound effects to add to the fun!
The Program A Bot X can be controlled in 3 different ways; with the remote control, using voice commands or using hand gestures. The robot is programmable with up to 48 unique commands and is simple to use so kids can play straight away.
Pros
16 inches tall
Range of different movements
LED facial expressions
3 ways to control
Programmable
3.

Lego Mindstorms Robot Inventor Robotics Kit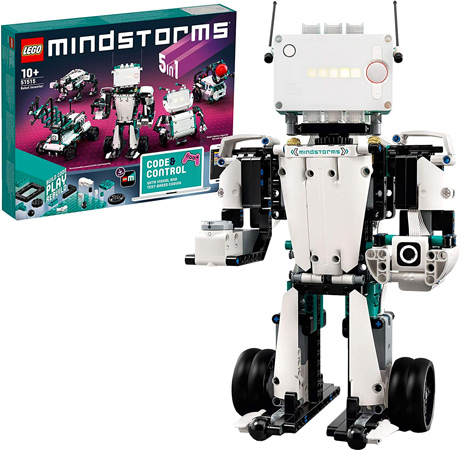 Why we like it: Encourage an interest in robotics and develop coding skills with this set by Lego.
Lego is a toy that most boys enjoy throughout their childhood, but there's no need for that to end as they get older because Lego now have several ranges aimed at teenagers and adults. The Lego Mindstorms Robot Inventor Robotics kit is part of these ranges and is designed to provide sufficient challenge to older users.
This kit also helps to encourage interests in robotics, engineering and technology and develops coding skills. There are 5 different models included which can all be programmed via the Mindstorms Robot Inventor app. The 5 different models are all great fun and designed to spark interest and curiosity, with firing darts, high fives, cranes and more!
Pros
Encourages an interest in robotics
Develops coding skills
Dedicated, free app
Includes motors and sensors
Compatible with all Lego sets
Cons
Expensive set
Requires compatible device for app use
4.

Vatos Robot Building Toys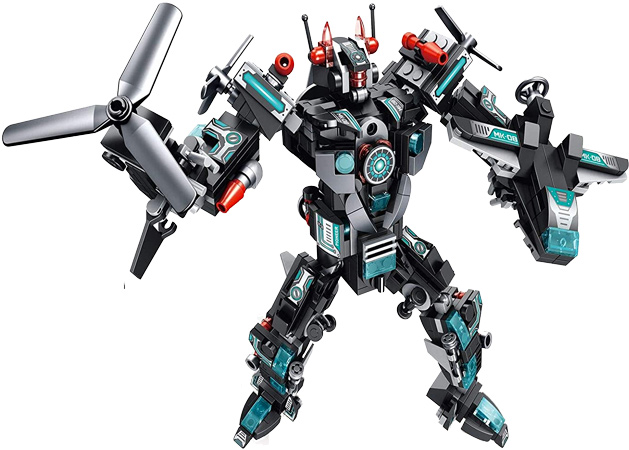 Why we like it: 25-in-1!! This construction building toy improves children's engineering skills.
This building set will keep children busy for hours with 577 pieces it's an incredibly challenging build helping to improve children's ability to follow instructions, use fine motor skills and persevere through challenges. Children can create 24 small fighter planes, or connect all of these together in a clever, intricate design to create a huge transformer.
Made with non-toxic plastic and certified Lead/BPA/Phthalate Free the set is sterilized extensively before sale and is easy to clean. The materials are durable and designed for play and the company, VATOS, offers a 100% zero risk money-back guarantee so you can buy confidently.
Pros
577 pieces
Challenging build
25-in-1 set
Non-toxic plastic
100% zero risk money-back guarantee
5.

Lego Boost Creative Toolbox Robotics Kit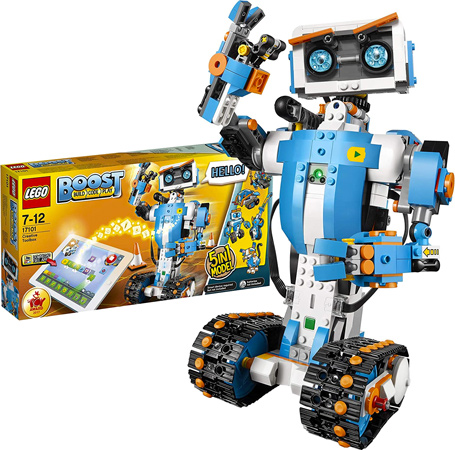 Why we like it: Build, code and play; the ideal gift for tech fans.
Combine traditional Lego building with technology and build, code and play with 5 multi-functional robots. With 847 pieces this is a challenging set to master but children will be motivated by the results where they can use an app and easy-to-use on-screen coding blocks to control their creations.
This set includes a playmat, a LEGO BOOST wall poster, a LEGO Move Hub, Interactive Motor and a Color and Distance Sensor. The move hub uses Bluetooth connectivity 2 encoded motors, an activation button, an internal tilt sensor and a light. This is a fantastic way for Lego fans to develop an interest in robotics.
Pros
5 multi-functional robots
Combines traditional lego building with coding and robotics
847 pieces
Easy to use app
Includes playmat, poster, Lego move hub, motor and sensors
Cons
Expensive set
Lots of small pieces; requires careful storage
Final words
Here we've pulled together some of the best robot toys for kids in 2022 and categorized them by age group to make it easy for you to find the best robot toy for the child you're looking to buy a gift for. Robot toys often provide hours of fun and enjoyment, but they are also a fantastic learning resource to help children's development and advance their skills for life and for jobs. Most of our children will end up working in job roles, and even industries, that haven't been invented yet so it's important to give them a breadth of in-demand skills that they can adapt to suit the job roles they end up taking. Many jobs are due to change due to the ever-increasing use of robotics and automation so being at ease with these technologies will stand children in good stead. We hope that this list of the best robot toys helps you as you consider which type or robot toy to buy for the child you are buying for and that they are delighted with the one you select!