Remote control toys might seem like just a bit of childhood fun but they are actually a great developmental toy too! Playing with remote-controlled toys, children begin to gain an understanding of and interest in technology. At its most basic, children learn about cause and effect as they learn that pressing buttons makes the toy do different things and then begin to differentiate which button does what and become more skilled in their controls.
Remote-controlled toys also help to develop hand-eye coordination and spatial awareness, as they learn to maneuver the toys around different obstacles using a combination of different buttons, wheels or joysticks. With plenty of different types of toys and vehicles available, for a range of age groups and ability levels, there really is a remote-controlled toy for everyone! We've brought together some of the best in this list.
1.
Best High Speed RC Car: Vatos High Speed Off-Road RC Car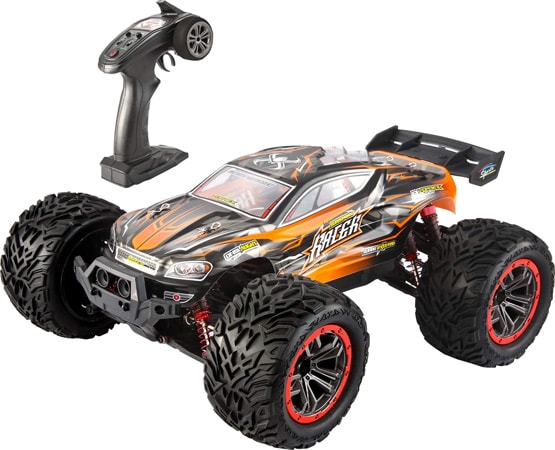 Why we like it: An all-terrain, all-action, remote-controlled car with a high speed motor.
The Vatos Remote Control Car High Speed Off-Road RC Car does exactly what it says! It is capable of reaching high speeds of up to 28 mph, whilst driving off-road. This all-terrain car can drive across sand, grass, mud and gravel thanks to its premium rubber anti-slip tires, so a child can have fun playing with it wherever they go. Darkness is no problem either, with bright LED headlights to light the way this is a toy that can be enjoyed day or night.
With all that off-roading potential a remote control car really needs to be tough, durable and up to the job and this Vatos Remote Control Car has a host of useful features to help it withstand play. The independent suspension system protects each wheel from the high-impacts they are likely to face, ensuring a smooth drive on all kinds of terrain, and the 2 motors give this car plenty of power for 10-12 minutes of playtime. Perfect for outdoor play, and off-road experimentation!
Pros
All-terrain capability
High speed motor
LED lights
2 independent motors
10-12 minutes of playtime
2.
Best Premium RC Car: Lego Technic Control+ App-Controlled Top Gear Rally Car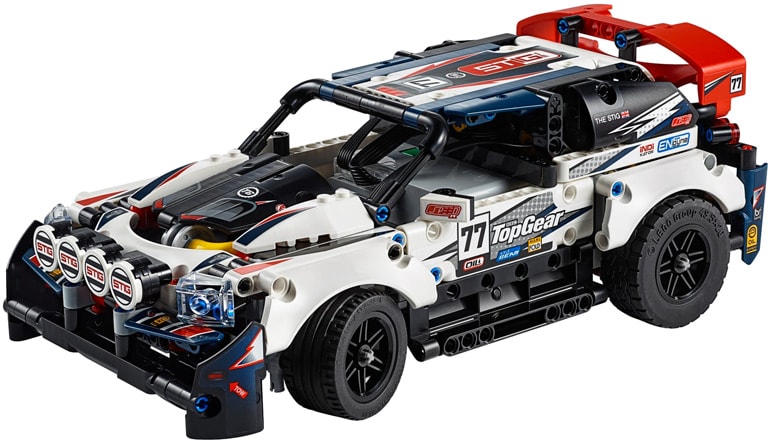 Why we like it: Encouraging an interest in technology this offering from the popular Lego Technic range can be controlled via an app.
The Lego Technic range is specially designed to encourage an interest in technology and engineering and to build skills in this area. Ideal for older children and teenagers this kit allows them to follow instructions to build the rally car and then set up and use the app.
Based on the popular Top Gear TV show, this car is operated using the LEGO Technic CONTROL+ App on a smart device with 3 screens which allow drivers to move forward, reverse, steer, accelerate, brake, play sound effects and get real-time feedback. Powered by a smart hub, with 1 extra-large motor and 1 large motor, the app allows super-precise movement making this remote-controlled toy ideal for older children with an interest in technology.
Pros
Popular Lego range
Based on Top Gear TV program
Improves construction skills
Can be controlled with an app
463 pieces
Cons
Requires compatible device for the app
3.
Best Budget RC Car: Yiman Remote Control High Speed Car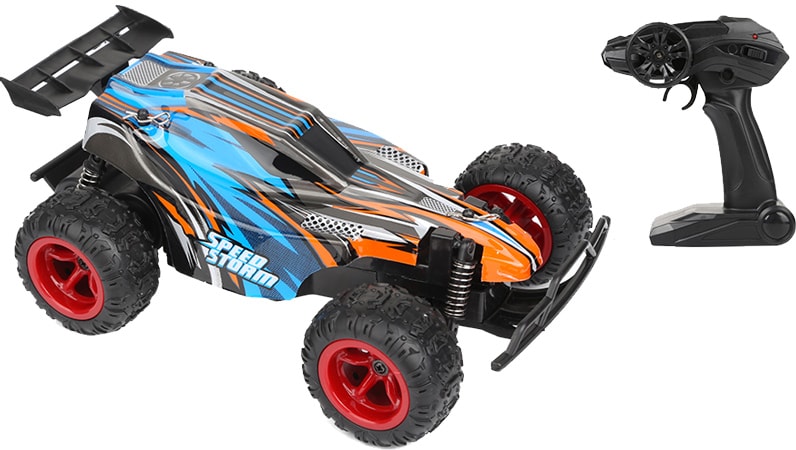 Why we like it: With speed and built-in suspension this car is built for off-road racing.
With up to 50 minutes of playtime, this remote-control car will outlast most others on the market and its batteries are completely rechargeable too. As well as this longer playtime the Yiman RC Cars 2.4 Ghz Remote Control High Speed Car performs at much higher speeds than many other remote-controlled toys on the market reaching speeds of up to 12 mph.
With a strong motor and 2-wheel drive, this car can scale a range of surfaces with no problems at all and is built for off-road outdoor use too with a spring suspension system, shockproof rubber tires and a PVC body to keep the motor and electronics safe. This car is suitable for indoor or outdoor use, and ideal for kids looking for longer playtime and higher speeds.
Pros
50-minute playtime
Speeds up to 12 mph
Suspension spring system
Shockproof
Suitable for indoor or outdoor use
Cons
Batteries needed for remote control
4.
Best RC Car for Pre-Schoolers: Toy Story RC Buggy with Buzz Lightyear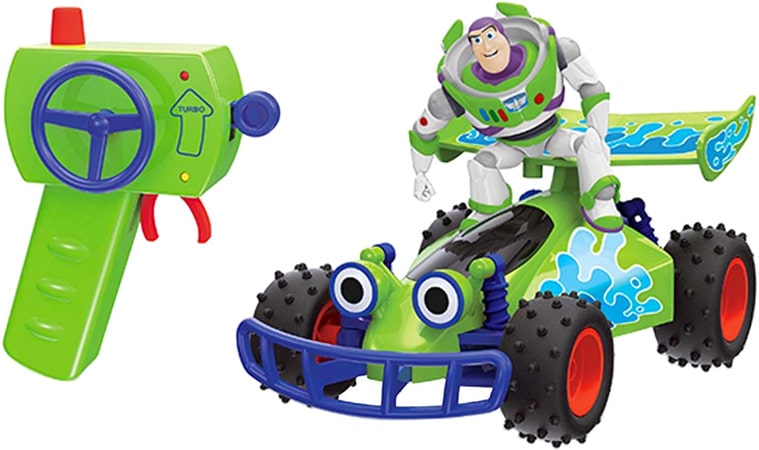 Why we like it: To infinity and beyond! Buzz Lightyear is strapped to this RC Buggy and ready to rescue his friends.
Based on the popular Toy Story 4 movies from Disney Pixar, this is a great remote-controlled toy for younger children. As well as the popular characters encouraging them to act out scenes from the movie and play imaginatively, this remote-controlled buggy has turbo speed and multi-directional movement.
Using the remote control it's easy for younger children to make the buggy move forward, backward, left and right in both directions, increasing their understanding of technology as well as their spatial awareness. Perfect for younger kids who are big fans of Toy Story 4!
Pros
Based on popular Toy Story movies
Officially licensed product
2 channeled radio control
Multi-directional movement
5.
Best RC Car for Stunts: Air Hogs Remote Control Stunt Vehicle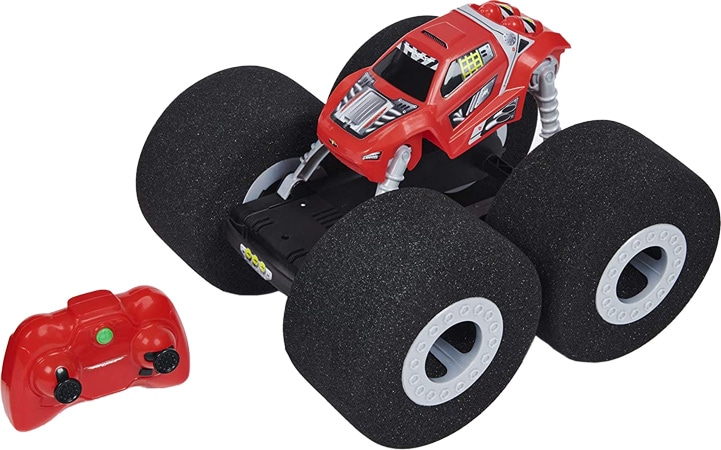 Why we like it: A vehicle that can flip, spin, rebound and drive over anything and everything whilst causing zero damage!
The Air Hogs Remote Control Stunt Vehicle with soft wheels is perfect for kids and perfect for parents! It can perform an exciting range of tricks; it can do flips, 360 degree spins, wheelies, rebound off walls, race downstairs, drive over objects and race around indoors, all whilst keeping damage to a minimum thanks to its soft foam wheels.
Designed to perform these daring stunts, this vehicle has been made with durability in mind and its lightweight shell is perfect for maximum protection as well as performance. High speeds can be achieved whilst the inner workings of the car are well protected from the inevitable bumps, crashes and impacts. Perfect for kids aged 5 and up.
Pros
Great for beginners
USB rechargeable
Foam wheels protect furnishings
Dual joystick controller
Performs stunts and tricks
6.
Best Police RC Car: Top Race Remote Control Police Car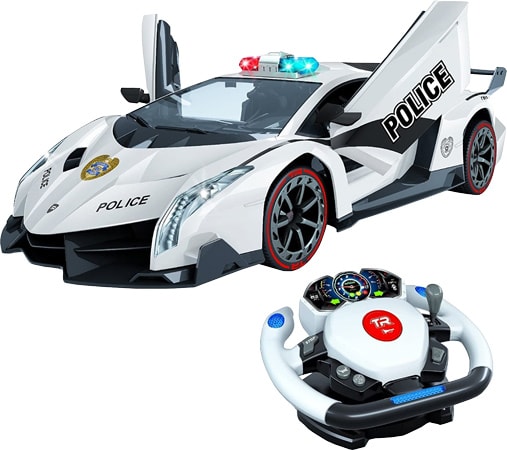 Why we like it: 4D remote control driving for a really hands-on active experience.
4D remote control driving is a new generation of remote-control toys; it allows the user to control a toy's movements by moving the controller in their hands. To turn the car right you simply turn the remote control right! It's fun, instinctive and really hands-on, and also allows kids to try out up-to-date technologies.
With police sirens, lights and sound effects, this remote-controlled car is ideal for encouraging imaginative play. The car also features powered steering, powered doors and is a 1:12 scale model based on real police vehicles. Perfect for kids who love new technologies, or are interested in emergency services.
Pros
4D remote control driving
Real car sound effects
Police lights
Encourages imaginative play
1:12 scale replica
Cons
Small parts pose a choking hazard to younger children
Batteries not included
7.
Best Mini RC Car: Nintendo Mario Kart 8 Mario Mini Anti-Gravity RC Racer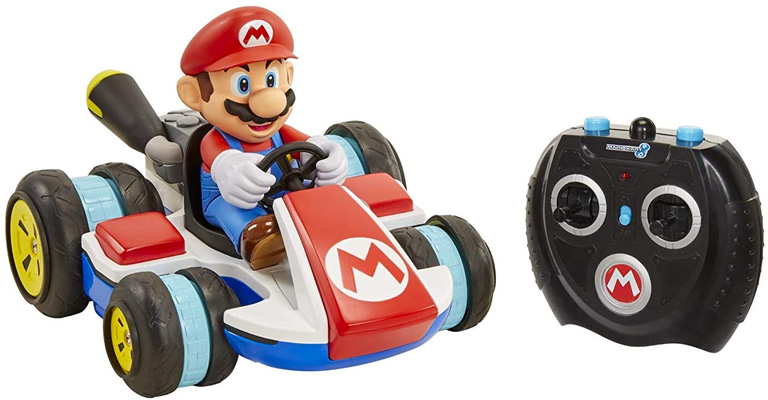 Why we like it: Based on the popular Mario Kart video games this racer can perform tricks at the touch of a button.
Based on characters from the popular Mario Kart video games the Nintendo Mario Kart 8 Mario Mini Anti-Gravity RC Racer 2.4 Ghz can be played in either standard mode or anti-gravity mode. Standard mode allows the user to drive the car around normally on a range of surfaces, whilst anti-gravity mode works best on hard surfaces and allows for drifts and spins.
360-degree spins are easy and can be controlled at just the touch of a button. The controls are easy to use so perfect for younger Mario Kart fans to have a go with and the toy is extremely robust, standing up to all the expected bumps and crashes.
Pros
Based on popular Mario kart game and characters
Standard or anti-gravity mode
Performs stunts
Works well on hard floor and carpet
Easy to control
Cons
Needs lots of space for optimum performance
8.
Best 360° RC Car: Sgile 4WD Remote Control 360° Double Side Flips RC Stunt Car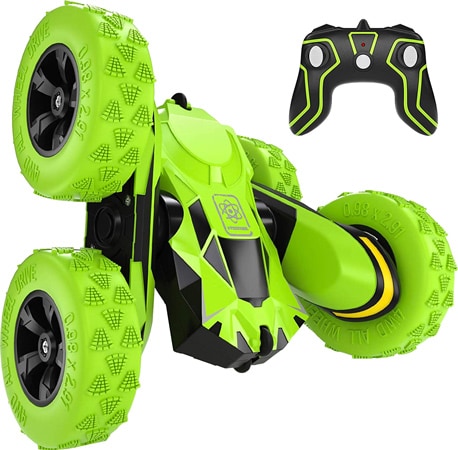 Why we like it: Lightweight 360° flip stunt car for exciting tricks.
Who doesn't want a car that can perform tricks and stunts? This exciting remote-controlled car offers the potential for all kinds of cool tricks, stunts and skillful driving. With the ability to flip 360 degrees, the Sgile 4WD Remote Control 360° Double Side Flips RC Stunt Car features two powerful motors so that play doesn't need to be frequently interrupted.
The small size of this car, just 6.2 x 5.9 x 2.8 inch, means that it's really easy to store and transport and is a great toy for taking to a friend's or relative's house, or even out to the park. Ideal for children aged between 6 and 12 years the car can also be paired with others for racing and competing.
Pros
Low price point
Lightweight construction
360 flip rotation
Can be paired
Durable
Cons
Battery compartment can be difficult to operate
9.
Best Wall-Climbing RC Car: Air Hogs Zero Gravity Laser-Guided Real Wall-Climbing Race Car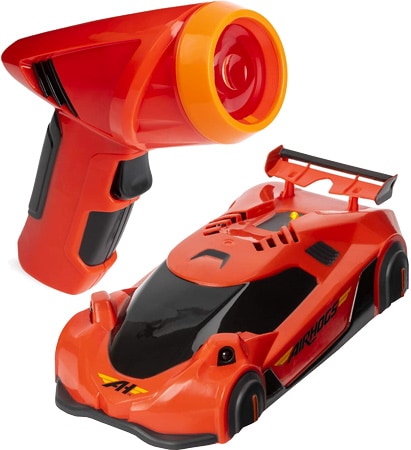 Why we like it: Don't be limited by gravity! Drive up the walls, across the ceiling or speed across the floor.
The Air Hogs Zero Gravity Laser-Guided Real Wall-Climbing Race Car is a remote-controlled car with a real wow factor! Just as the name suggests this racing style car can climb up the walls with its patented Wall Climber Technology. This car has the power to defy gravity and can even drive across the ceiling, which is sure to delight any user.
The laser gun controller is used to guide the car; the user simply points the laser beam at a wall, ceiling or surface and the car will chase the light. The car is able to make swift maneuvers thanks to its lightweight design, executing sharp turns and even spins with ease. This remote-controlled car is perfect for kids age 8 and up to use indoors.
Pros
Wall climber technology
LED laser light
Multidirectional control
USB rechargeable
Suitable for a range of surfaces
10.
Best RC Motorbike: Top Race 4 Channel RC Remote Control Motorbike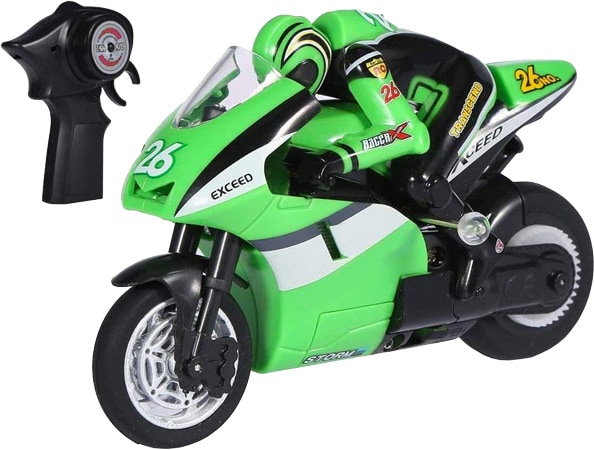 Why we like it: In a sea of remote-controlled cars this remote-controlled motorbike stands out, making a unique gift.
There is an abundance of remote-controlled cars on the market, so if you're looking for something a little different this remote-controlled motorbike might be perfect. With a specialized built-in gyroscope, the remote-controlled motorbike is able to balance and ride on 2 wheels just like a real motorbike!
The Top Race 3 Channel RC Remote Control Motorbike is made with high-quality metals and plastics and thick, anti-skid tires, designed to minimize the impact of any bumps or crashes, to keep the fun going for longer. The front and back LED lights are an exciting feature that children will love. This remote-controlled motorbike is suitable for children aged 5 and up and is an ideal gift for those looking for something other than a remote-controlled car.
Pros
Gyroscope technology
LED lights
1:10 scale model
Real-looking replica
Age 5+
11.
Best Luxury RC Car: CMJ RC Cars™ Lamborghini Aventador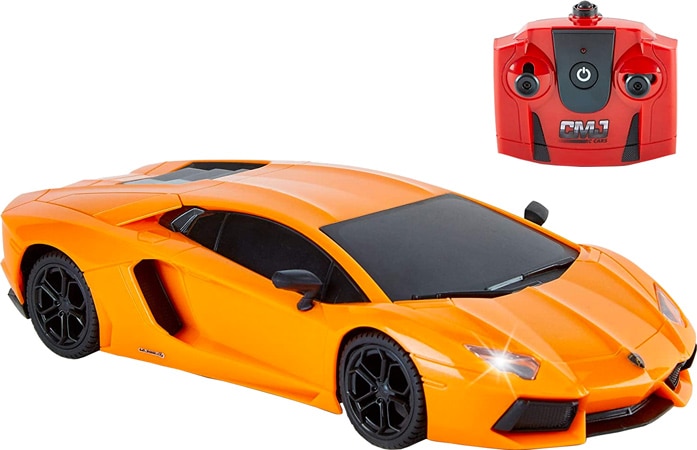 Why we like it: Perfect for racing this remote-controlled Lamborghini is perfect for kids aged 6 and up.
Based on a real Lamborghini racing car design this 1:24 scale model is perfect for running your own car races. What's more, it can be paired with up to 10 other remote-control cars for expanded play without interference thanks to its 2.4 Ghz frequency. The CMJ RC Cars Lamborghini Aventador is a comprehensive replica model, with detailed features, true to the actual vehicle so it's perfect for car enthusiasts too!
With a range of functions including working LED lights, forward, reverse, stop, left and right, this remote-controlled car is ready to play straight out of the box. The controller is super-simple to use, making it ideal for use by children who are learning to operate remote control vehicles and has a range of up to 80 feet, so it's great for using outdoors or in large spaces.
Pros
Licensed product
Scale replica
Very low price point
Light-up details
Can be raced with others with no interference
Cons
Quite basic maneuvers, no stunts
12.
Best Off-Road RC Car: SZJJX RC Cars Off-Road Rock Vehicle Crawler Truck
Why we like it: An all-terrain, off-road vehicle with a cool, tough design.
The SZJJX RC Cars Off-Road Rock Vehicle Crawler Truck is as tough as it looks! With front and rear 4-wheel drive this truck can easily scale uneven surfaces and drive off-road on grass, sand, rocky roads, gravel, mud, and the list goes on. The truck is powered by a double magnet motor for plenty of power and speed.
There's no need to worry though, this truck is built to last with its built-in suspension spring system the truck body is flexible enough to stand up to the impact of most collisions or falls, whilst protecting the inner workings of the vehicle. The rubber tires offer stable control on all types of ground and a strong grip to stop falls from happening in the first place. This is the perfect remote-controlled toy for someone who wants to play outdoors on a range of different surfaces.
Pros
All-terrain capabilities
Suspension spring system
Speeds up to 9 mph
Brakes built-in
200 feet range
13.
Best RC Tractor: Top Race 12 Channel RC Remote Control Crane Tractor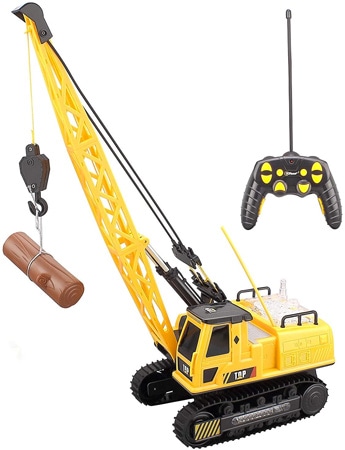 Why we like it: Fully working remote-controlled crane toy with lights and sounds.
The Top Race 12 Channel RC Remote Control Crane Tractor is a sophisticated remote-controlled toy, based on real construction crane vehicles with plenty of working parts and features. Its 12-channel radio remote control allows for realistic motions moving forward, backward, left, right, 720-degree rotation and up and down motion by the crane's hook.
The lights are a prominent feature of this vehicle with even the wheels having incorporated LED lights that flash on and off when the vehicle is used. The realistic sounds make the toy ideal for construction themed imaginative role play. Perfect for use indoor or out, this is a great option for kids who love construction vehicles.
Pros
Realistic motions
Light up effects
Sound effects
Suitable for indoor or outdoor use
Age 3+
14.
Best Transforming RC Car: SainSmart Jr. Transform Car Robot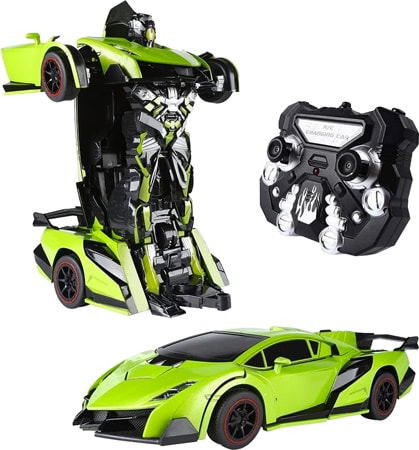 Why we like it: Cars and robots are both popular interests so why not combine the two with this exciting transformer.
Lots of kids love robots, and lots of kids love cars; the SainSmart Jr Transform Car Robot combines both with a cool transforming function. Simply hit the button on the remote control and watch the car automatically transform into a robot and back again.
With 4 smooth wheels, the vehicle is able to perform 360-degree spins whether it's operating as a car or a robot. The realistic engine sounds are triggered when moving forward, speeding up, reversing or turning and LED headlights add a further exciting feature to the transformer. With a full charge, the toy can be played with for up to 30 minutes and comes with a 45-day money-back guarantee and a 2-month warranty for peace of mind.
Pros
Transforms from car to robot
360 turning capability
LED lights
Sound effects
45-day money-back guarantee
15.
Best RC Truck: Top Race Remote Control Construction Dump Truck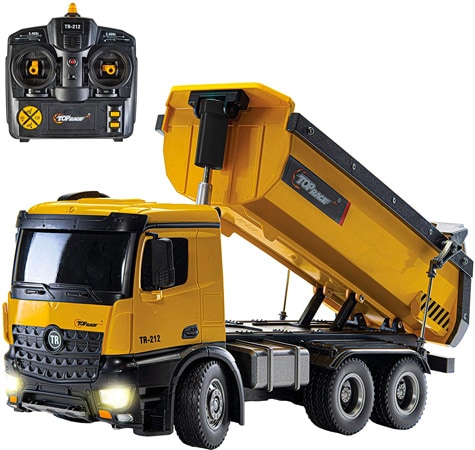 Why we like it: A high-quality metal dump truck with working parts.
So many children are interested in construction and construction vehicles and the Top Race Remote Control Construction Dump Truck is perfect for encouraging this interest. Made with high-quality metal and heavy-duty plastic this is a unique product that would make a lovely gift.
As well as looking the part, the dump truck has real working parts and can carry a load of up to 6 pounds in its flatbed. It has working lights and sounds and a single charge gives up to 50 minutes of play-time. With rubber tires the dump truck is perfectly equipped for working on mud, gravel or road without getting stuck or slipping. This remote-controlled toy is ideal for both kids with an interest in construction vehicles and older hobbyists.
Pros
Lights and sounds
Fully metal machine
Can carry up to 6 lbs
Up to 50-minute playtime
All parts of truck can be controlled
Cons
Heavy vehicle, approx. 10 lbs
Final words
Remote-controlled toys are a whole lot of fun and hold their appeal through the ages, they are a great way for families to spend time playing together and along the way, children will learn about mathematics and physics without realizing that they are doing so! Learning to use remote-controlled toys helps to develop a wide range of skills so they make a great choice as a gift for children and teenagers.
With so many different remote-controlled toys on the market, shopping for one can seem a bit overwhelming. This list features 15 of the best remote-controlled toys available and looks at their attributes to help you make the right decision on what to buy, we hope that it gives you an insight into some of the products available and is a useful resource for you.