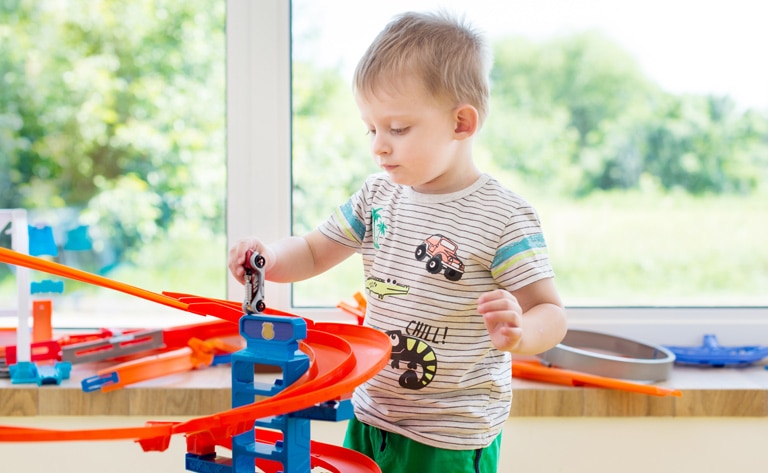 Race tracks are a fantastic and timeless toy for children, and their appeal spans many age groups. In fact, it's not unusual to find grown-ups wanting to have a go too! The appeal of race track toys seems to endure through many generations and many grandparents have a set of tracks in the attic which they will get out when grandchildren come to visit because, despite the growing popularity of technological gadgets, race track toys seem to remain popular.
As well as being a great deal of fun race track toys offer many developmental benefits for children including concepts of gravity, friction, speed, and direction. With many sets offering expansion packs and add-on extras there's plenty of construction and design work too. As technology has improved and moved forwards so have race track sets and they now offer an even bigger range of features such as cool shapes, lights, sounds, battery power and even apps! We've done all the research to bring together a list of the top 15 best race tracks in 2022 to help you decide what to buy, but before you get started there are a few things you need to think about…
What to look for when buying Race Car Tracks for Kids
There is a range of features that you need to consider when buying race car tracks for kids, as what suits one child might not suit another. Here are some of the things to look out for when buying race car tracks;
Material
With more and more of us trying to minimize our impact on the planet it's worth taking a look at the toys that you buy, and considering whether there might be more eco-friendly options. Many car tracks are made from plastic as this material is particularly suited to this kind of toy; being robust and durable yet offering less friction for racing cars. However, not all plastic is created equal, recycled plastic has less of an impact on the environment, as does plastic which can be recycled after use. If you're unable to find what you're looking for in a super environmentally friendly plastic then consider buying a high-quality item that can be sold or passed on after it is used. Wood is an even more sustainable material and is ideal for toddler toys, so check out some of the wooden options available for younger children.
Age range
Different race car tracks are suitable for different age groups and some will last longer than others. For younger children look for cars that are easier to hold and maneuver and sets with no small parts. Older children will enjoy the challenge of more intricate sets requiring construction and can deal with more complicated technology like remote controls or apps.
Electric
Some sets may use electricity for the tracks themselves or the cars, this is something to think carefully about when buying. Some sets may plug into the mains electricity whilst others rely on batteries, mains electricity has the benefit of not needing to be replaced whilst batteries are slightly safer and more portable.
Compatibility
Modular sets can be added to one another easily, the Hot Wheels range is a great example of this where all of the sets can be connected to each other so children can build up a collection. Some of the magic tracks style race tracks can be connected across different brands too so this is something worth looking into.
With all of that in mind, here are some of the best race car tracks for kids in 2022.
1.

Best Premium Race Track: Anki Overdrive Starter Kit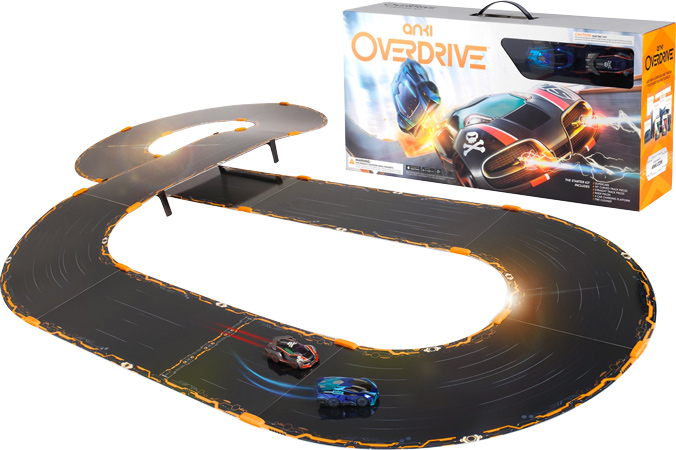 Why we like it: Embrace the future with these app-controlled cars that can race and battle in a variety of game modes.
The Anki Overdrive Starter Kit is a futuristic, technologically advanced race car track for kids. Bringing remote-controlled race cars right up to date this set uses an app for players to command their vehicles in a range of different scenarios. You can play against friends or family members or battle against artificial intelligence. In-game upgrades allow the players to improve their speed, defenses and weapons.
The set-up is very quick and easy, after you've built one of the battlefields, you simply download the Anki overdrive app on your iOS or Android device, and you're away! This starter kit includes 2 robotic Supercars, 6 curved track pieces, 4 straight track pieces, 2 riser pieces, a four-car charging system and all the instructions needed to create 8 different battlefields. This is also compatible with other Anki Overdrive sets.
Pros
Uses an app
Improves technological skills
Variety of battle and race modes
Charging system
Variety of cars and track pieces included
Cons
Compatible device required for app
2.

Best Budget Race Track: Hot Wheels Sky Crash Tower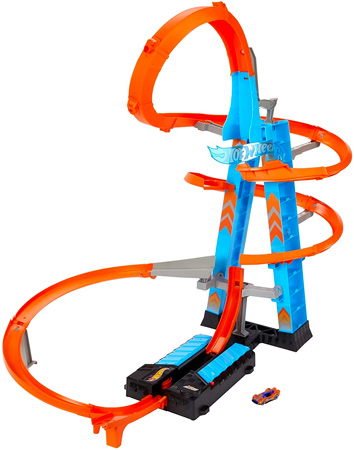 Why we like it: A tall towering set for multiple car racing and outrageous jumps and tricks.
At 83cm tall this towering set is sure to delight kids! It's part of the popular Hot Wheels range which means that it is compatible with plenty of other Hot Wheels sets so can be added to an already established collection or can start one-off. The Hot Wheels Sky Crash Tower allows children to race multiple cars and have them carry out exciting jumps and tricks.
The track set is designed for mid-air crashing stunts and racing action, with a motorized booster to build speed ready to launch cars into the air. When the fun is done the set folds neatly away and has space to store over 20 die-cast vehicles, making it really practical for playrooms too.
Pros
Multiple cars can be raced at once
Compatible with the rest of the Hot Wheels range
Folds for easy storage
Motorized booster
Can store over 20 die-cast cars
3.

Best Super Mario Race Track: Hot Wheels Mario Kart Circuit Track Set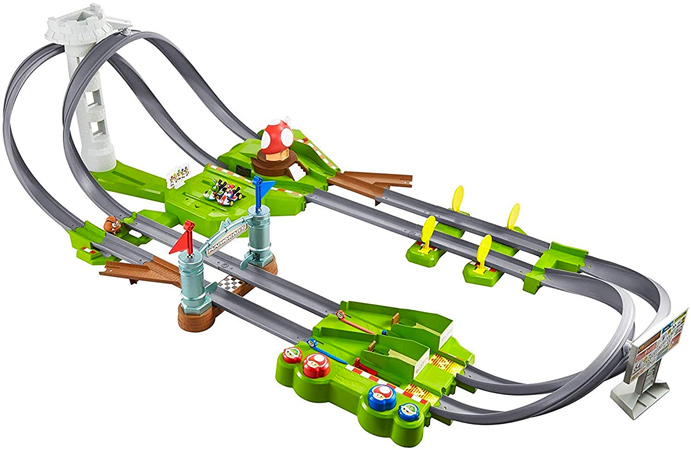 Why we like it: Combining the popular Hot Wheels range with cool Mario Kart Characters, this set is perfect for video game fans.
​Mario Kart is a really popular game with kids who love bright colors, cute characters and fun games. Combining the Mario Kart characters with a Hot Wheels Set is a stroke of genius; offering kids a high-quality race car track with all their favorite video game characters. The Hot Wheels Mario Kart Circuit track set includes a Yoshi die-cast kart and a Mario die-cast kart.
§​Just like in the video game you can load karts into the launchers and turn on the booster to race action around the track and through a loop! The track can be reconfigured and there are specialized add-on sets that can be purchased too. It's perfect for both racing and stunts and includes obstacles like those featured in the video games.
Pros
Based on popular Mario Kart game
Compatible with other Hot Wheels sets
Loops, launchers and booster included
Obstacles included
Includes 2 die-cast Karts
Cons
Additional sets sold separately
4.

Best Wooden Race Track: Top Bright Wooden Car Ramp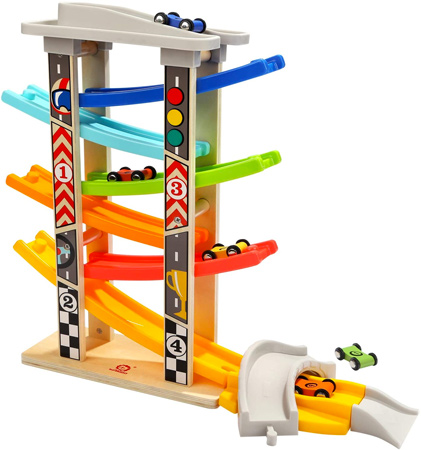 Why we like it: Beautiful wooden toy suitable for toddlers to help develop cognitive skills and understanding.
Toddler toys are perfect for helping little ones to explore the world around them and build up a range of different skills and understanding. The Top Bright Wooden Car Ramp is a beautiful wooden toy that is more sustainable and natural than plastic alternatives, but it also helps children to develop a whole host of different skills.
Children can develop cognitive skills, learning about cause and effect as they release cars at the top of the ramp and allow them to race down. This also helps to begin developing scientific ideas about gravity, speed and friction. This toy has also been designed with safety in mind, with smooth edges, non-toxic paints and high-quality plastic used on the plastic parts.
Pros
6 mini cars included
Wooden toy; more eco friendly
Develops understanding of cause and effect
Promotes hand-eye coordination
Extra bridge and car park pieces included
Cons
Not compatible with other race car track sets
5.

Best Race Track for Toddlers: Magic Tracks Starter Set

Why we like it: Flexible rail type tracks that simply click together and are compatible with other sets.
The Magic Starter Set is an innovative flexible race car track for kids, with glow in the dark pieces that can be bent, twisted and rolled up. The tracks slot easily together and can be added to with other compatible sets making it easy to extend and expand play.
The set comes with 1 Car, 20 rails, and more than 20 stickers. The set can be used both indoors and outdoors, and if placed carefully cars can even drive down the stairs! This is a great open-ended toy and the light-up flashing cars add plenty of excitement for children as well as making it possible to play in the dark, with the glowing tracks.
Pros
Flexible rail type tracks
Can create loops and curves
Sticker decals included
Glow in the dark
LED light-up cars
6.

Best Modular Race Track: Hot Wheels Smart Track Kit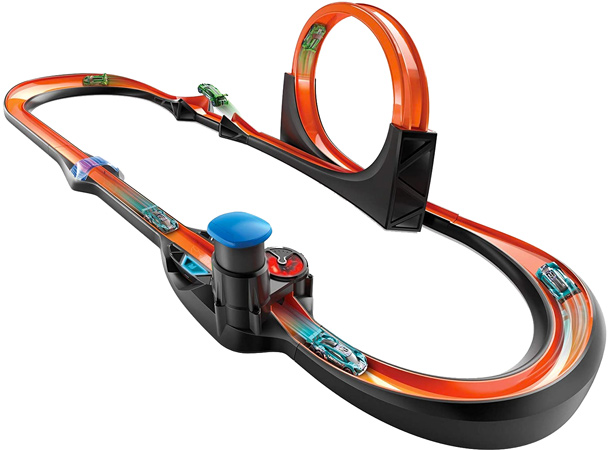 Why we like it: A physical track with digital challenges; get stuck into technology with this smart track kit.
This is a race car track upgraded for 2022! This racing track records each cars' progress every step of the way, uploading tonnes of data to the app. The 'smart' track introduces children to race technology allowing them to measure and record speeds, laps and stunts.
The physical track includes two exclusive hot wheels id car toys and sixteen track pieces, connectors, curves, straights, ramps, finish line, booster and crazy loop whilst the digital app gamifies physical racing through digital challenges and mini-games. With over 50 challenges, reconfigurable track pieces and the ability to record racing stats in the app and earn rewards for upgrades the Hot Wheels Smart Track Kit is perfect for kids that love technology.
Pros
Two Hot Wheels ID cars
Encourages use of technology
Over 50 challenges
App available for tracking
16 track pieces included curves, loops and connectors
Cons
Compatible device needed for the app
7.

Best Brio Race Track: Brio World Car Racing Kit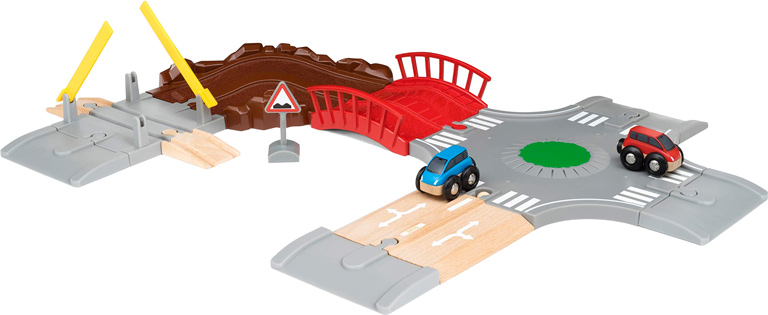 Why we like it: From popular brand Brio, this car racing kit includes plenty of fun accessories.
The Brio world range offers children the opportunity to create their very own world with cars, trains, houses and businesses all available in separate sets. The Brio World Car Racing Kit is a 14-piece kit with everything a child needs to create their own exciting car racetrack. It includes 2 cars, a sign, a bridge, a junction crossing and plenty of ramps, and is perfect for integrating with Brio World train sets.
Crafted using FSC sourced European beech wood and high-quality plastics the BRIO World car racing kit is a high quality, eco-friendly alternative to the plastic varieties on the market. The set has been tested in-house by Brio to meet standards higher than the legal requirements and is suitable for age 3 and up. This kit is perfect for adding to a growing Brio world collection, or for starting one!
Pros
Compatible with the rest of the Brio World range
High safety standards
FSC sourced wood; eco-friendly toy
Open-ended; encourages imagination
Includes 2 cars
8.

Best Disney Race Track: Disney Pixar Cars 3 Thunder Hollow Criss-Cross Track Set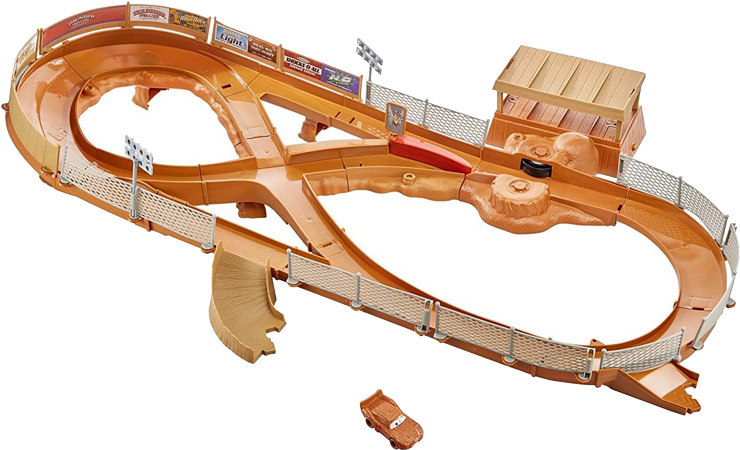 Why we like it: Based on the Disney Pixar Cars 3 characters this set is perfect for acting out movie scenes.
The Disney Pixar Cars series is going from strength to strength and the Cars 3 movie is a heart-warming exploration of the roots of racing and a thrilling adventure with a focus on teamwork and courage. Just like the exciting, bold animated films, the Disney Pixar Cars 3 Thunder Hollow Criss-Cross Track Set is designed to replicate the personality, style and energy of the film.
This set allows children to create an exciting track, as well as expanding play by connecting to other sets in the Disney Pixar Cars 3 range. This particular set includes a Lightning McQueen car, derby accessories and a motorized booster that keeps vehicles racing around the track. The set is perfect for developing imaginative play skills as it allows children to play out movie scenes and expand on what they already know about the cars' characters to create their own narratives.
Pros
Based on popular cars 3 movie
Includes Lightning McQueen car
Motorized booster keeps vehicles moving
Develops imaginative play
Expansion sets available
9.

Best Paw Patrol Race Track: Carrera Chase Marshall Racetrack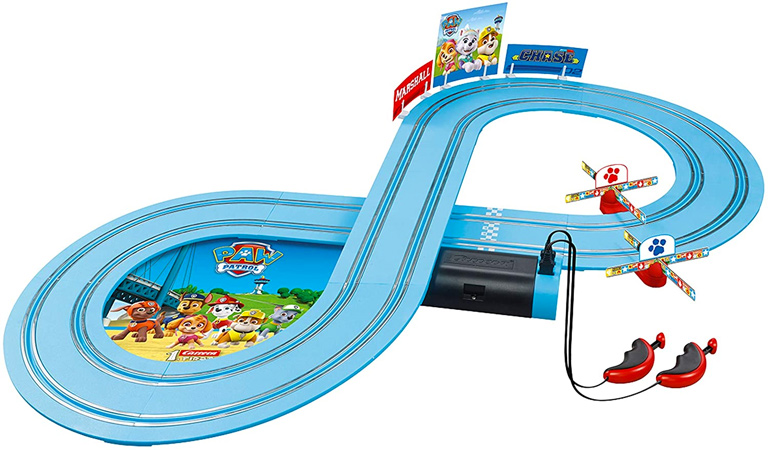 Why we like it: With popular Paw Patrol characters this simple track is perfect as a first set for younger children.
Paw patrol is incredibly popular with younger children and this racing track features both Chase and Marshall from Paw Patrol and allows 2 drivers to play simultaneously on the 7.9 feeet racing circuit. Racing tracks are a good toy for younger children to practice following instructions, and putting things together carefully.
The Carrera Chase Marshall Racetrack is ideal for toddlers aged 3 years plus. It has blue rails and licensed Paw Patrol decorative elements to add to its appeal. The racetrack is battery-powered, meaning that it can be used anywhere in the house or even taken along to a friend's or relative's house. The cars are controlled using a handheld trigger which has been specially designed to be easy for younger children to hold.
Pros
Based on popular Paw Patrol characters
2 drivers can play simultaneously
7.9 feet track
Battery powered; portable
Handheld controllers designed for younger children's hands
Cons
Requires batteries
Not suitable for under 3 years old; small parts
10.

Best Vertical Race Track: Fisher-Price Little People Launch & Loop Raceway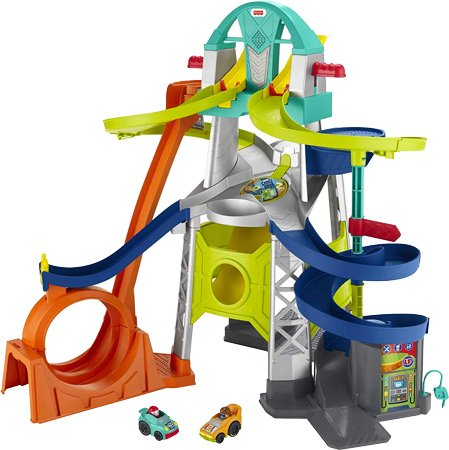 Why we like it: Specially designed for preschoolers this set is fun and educational!
If you're looking for a toddler-friendly vehicle playset then the Fisher-Price Little People Launch and Loop Raceway is pretty much perfect. The Little People range is extremely popular and perfectly designed for toddlers' little hands to grasp easily. This set includes multiple tracks, a Hot Wheels orange loop, a crash zone, cool lights and sounds, and Wheelies vehicles.
​The double car launcher lets children send cars zooming down the track at the same time so they can experiment with speed, weight and cause and effect. As cars race down the track, they can crash, drop through the trap door, continue down the spiral track or onto the jump ramp. With all these possibilities the set is great for encouraging imaginative play as children act out different scenarios and improve their communication and social skills.
Pros
Part of the Fisher-price Little People range
Includes multiple tracks
Lights and sounds
Double car launcher
Encourages imaginative play
11.

Carrera First Nintendo Mario Kart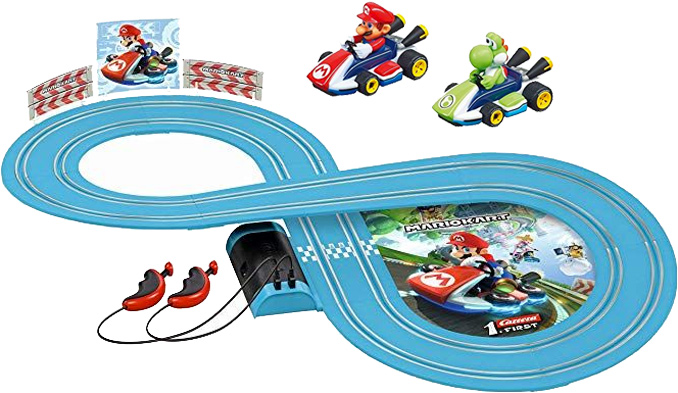 Why we like it: Based on the popular Mario Kart game and compatible with other Carrera tracks this makes a great starter set.
The Carrera First Nintendo Mario Kart set is easy to set up and fit together so is perfect for beginners. The track is 8.2 feet long and based on the popular Mario Kart video games which are really popular with kids of all ages.
Suitable from 3 years up, this set includes 2 vehicles and is designed for 2 players so cars can be raced against each other. This allows children to play alongside a friend or family member and improve their communication skills as well as building important social skills like turn-taking, sharing and winning and losing gracefully! Coming from the Carrera brand this set is compatible with others from the same brand so that play can be expanded and extended as more sets are purchased,
Pros
2 vehicles included
Based on Mario Kart game
8.2 feet long
Builds social skills
Compatible with other Carrera tracks
12.

VTech Turbo Force Racers Car Race Track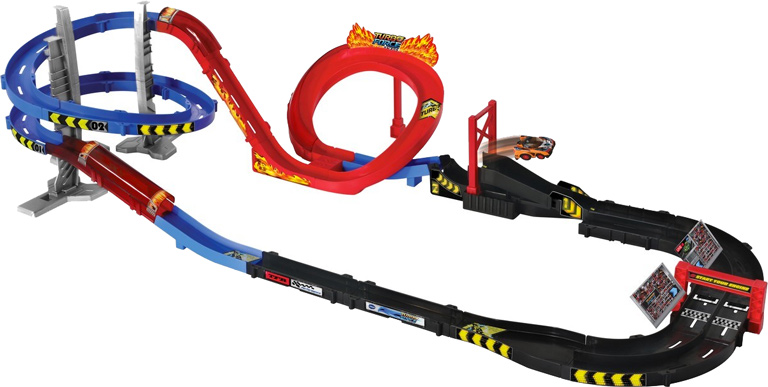 Why we like it: A customizable track to spark imagination which can be played with independently or with friends.
The VTech Turbo Force Racers Car Race Track is an exciting, customizable car track that comes with a racing car and everything you need to build several different tracks. The design is open-ended but there are instructions for four combinations; 2 race tracks, and 2 stunt tracks so you can choose the one that suits the way you want to play.
This set is suitable for playing with independently practicing stunts and driving or additional cars can be added to have fun competitions with friends. The 1.2m long track has plenty of features to add interest like the transparent tunnel, broken bridge, 360 loop and a tower. The unique wristband controllers add a novel element to the track and shaking them charges the vehicle up!
Pros
Customizable track
4 combinations; 2x race track, 2 x stunt track
Racing car included
Can be used independently or with others
Unique wristband controllers
13.

Hot Wheels Figure 8 Raceway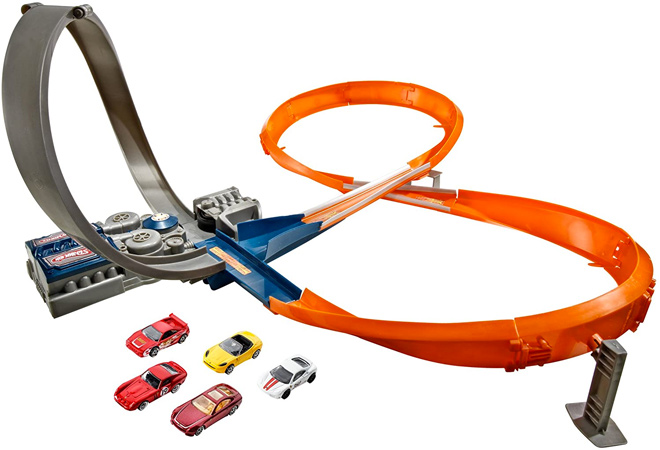 Why we like it: A classic figure of 8 raceway, with a (literal!) twist, for fast-paced racing.
Figure of 8 race track is a classic race track toy for kids because they allow for plenty of speed build up as well as plenty of turns. This offering from the Hot Wheels range takes that classic figure of 8 race track and gives it a literal twist; the Hot Wheels Figure 8 Raceway features deeper loops and fast-banking turns and the set has more than 6 feet of track.
As part of the Hot Wheels range, this is also compatible with all the other Hot Wheels sets meaning that play can be endless expanded creating an absolutely huge range of options for different track configurations. The set is motorized for speed making it an exciting set for children who love racing and technology.
Pros
Deeper loops, fast-banking turns
More than 6 feet of track
Compatible with other Hot Wheels sets
Motorized for speed
Cons
Plastic toy; not as eco-friendly
14.

Hot Wheels TB System Race Crate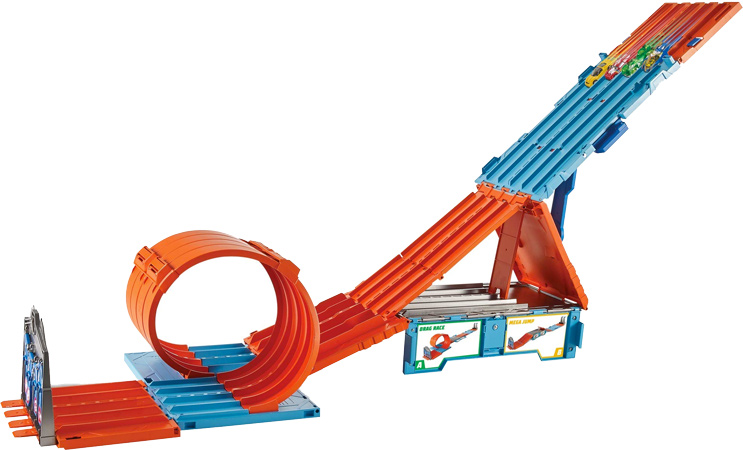 Why we like it: Racing from a height, stunting and 2 cars included, what's not to love?
Perfect for thrill-seekers, the Hot Wheels TB System Race crate comes with 2 Hot Wheels cars included, so you can play straight away, and around 7.9 feet of track for plenty of racing fun. The set includes everything you need, and the instructions to create 3 massive stunts; the Gravity drop, the Mega jump and the drag race.
No batteries are required for the set which relies on gravity for speed, introducing children to this concept, and slam launchers to get vehicles racing. Children can expand their play and stretch their imagination by adding to the set with any other Hot Wheels track builder set and then, when they're done playing all of the parts can be neatly stowed in the crate which folds away for easy transport or storage.
Pros
2 cars included
7.9 feet of track
3 stunts in one set
No batteries required
Compatible with other Hot Wheels sets
Cons
Plastic toy; not as eco-friendly
15.

Mindscope Twister Tracks Neon Glow in the Dark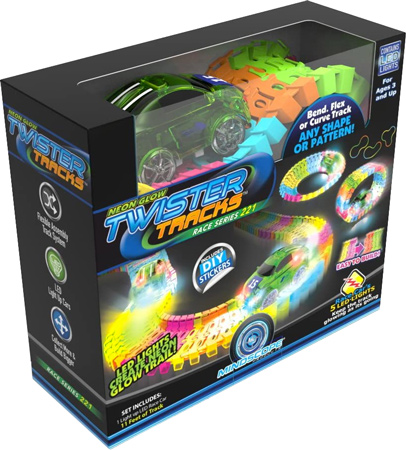 Why we like it: On your marks, get set, glow! Turn out the lights and let these tracks light the way!
The Mindscope Twister Tracks Neon Glow in the Dark set includes 11 feet of neon glow in the dark flexible assembly track in 5 different neon colors as well as a transparent LED light-up race car. Turning out the lights makes for an exciting play experience and allows kids to see the tracks glowing in the dark and the vehicles lighting the way.
With this kind of flexible track, there's no right or wrong way to build and kids can use their imagination freely to develop tracks they love by simply snapping them together in endless combinations. This helps to build creativity as well as planning and construction skills
Pros
11ft of track
Glows in the dark
Light up race car
Open-ended
Compatible with similar sets
Final words
Race car tracks are a great way for kids to develop skills in following instructions to complete a construction project, or designing, building and testing their own creations depending on the kind of set they have. Playing with cars allows kids to learn about gravity, friction, weight, speed and a whole other host of concepts through their play; this way they don't even realize they're learning! They're also a great toy to play with socially whether that's with other children during playdates, with siblings at home or even with parents; this gives children the opportunity to improve social skills by sharing, turn-taking and maybe even competing. Competing gives them the chance to experience the highs and lows of winning and losing and learn to handle this in acceptable ways.
The 15 race car tracks that we have listed here will each hold appeal for different kinds of children, in different age groups, requiring different kinds of play and features. We hope that you have been able to find the perfect set and enjoy many hours of constructing tracks and racing cars!