The animated series Paw Patrol has gone from strength to strength, gaining rapidly in popularity amongst preschoolers and young children. The series is based on a group of rescue pups who help those in trouble; each episode begins with a child or an animal in trouble, but there's always a happy ending thanks to the Paw Patrol's skills and bravery. Chase, Marshall, Rocky, Rubble, Zuma, and Skye are led by their human friend, Ryder and have plenty of exciting adventures.
Paw Patrol is a great way to teach kids about problem solving and citizenship. The TV program shows kids how different types of people can work together to get a job done, playing to their strengths and using their different skills. This strong message makes Paw Patrol a great choice for younger viewers and means that the show has become popular with educators and parents as well as kids. However, this popularity also means that the choice of Paw Patrol toys for kids can be overwhelming, so we've listed some of the best here to help you narrow down your choice;
1.
Paw Patrol Deluxe Tri Scooter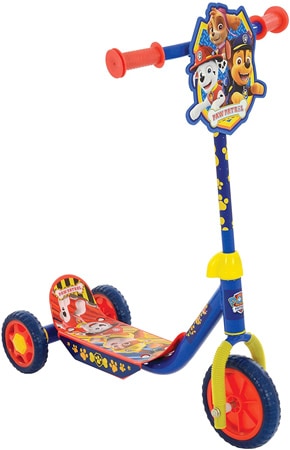 Why we like it: Perfect first scooter for Paw Patrol fans.
An ideal first scooter for any little Paw Patrol fan, the Deluxe Paw Patrol Tri-Scooter has a range of different useful features designed for ease of use, safety and fun. The anti-slip footplate ensures that children have adequate grip for stable scooting, but also features an image of Marshall and Chase to keep things fun!
All the wheels have wide puncture-proof tires with a deep tread ensuring optimal grip and stability for younger riders. For additional safety, the rear axles are covered to prevent injury. Suitable for riders up to 44 lbs and features an adjustable height handlebar the Paw Patrol Deluxe Tri Scooter should last a child a number of years.
Pros
Perfect first scooter
Puncture-proof tires
Designed for safety
Height adjustable handle bar

Suitable up to 20 lbs
Cons
Additional safety equipment required
2.
Paw Patrol Dino Rescue with Exclusive Chase and T-Rex Figures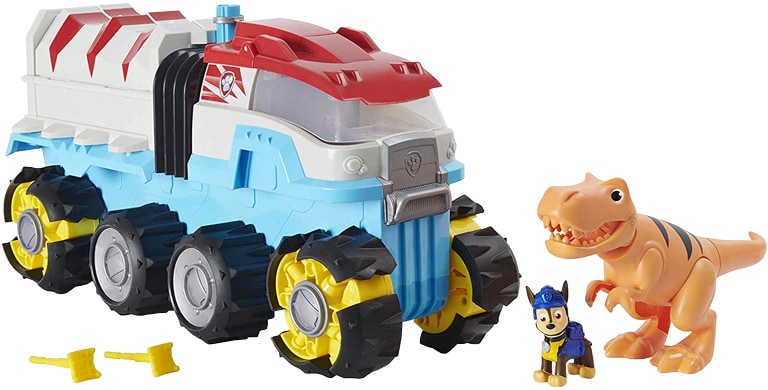 Why we like it: The first-ever motorized team vehicle, get ready for epic missions.
The first-ever motorized team vehicle, the Paw Patrol Dino Rescue patroller toy starts with just the push of a button, and when you spot a dino in trouble, you can simply launch the rescue nets. With oversized all-terrain wheels, the Paw Patrol Dino rescue patroller can conquer any terrain to reach dinos in distress, and with room for all 6 pups there's no shortage of helpers.
This set comes with an exclusive, collectible Chase figure dressed in his Dino Rescue uniform and a large-scale T-rex dinosaur for the Paw Patrol to rescue. The T-Rex has a movable tail and mouth for added realism when playing imaginatively, kids will love the excitement of combining Paw Patrol and dinosaurs and their imaginations will soar as they come up with all kinds of rescue scenarios for the pups.
Pros
Motorized
All-terrain wheels
Chase figure included
Launchable nets
Room for all 6 pups
3.
Paw Patrol Sub Patroller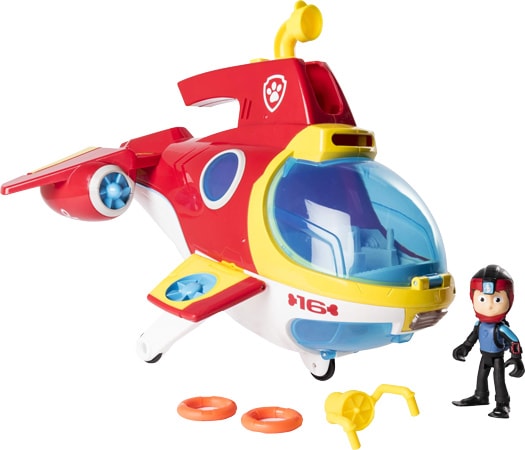 Why we like it: Equipped with flashing lights and sounds the Sub patroller is ready to take Ryder on exciting new missions.
The Paw Patrol Sub Patroller is the perfect toy for children who love to act out sea rescue missions. Whilst theb Sub Patroller cannot be submerged in water it has plenty of exciting features to hold children's interest. With flashing lights and sounds, this vehicle is ready for adventure and helps to build children's understanding of cause-and-effect technology.
Equipped with a ring launcher, children can push down the periscope on the Sub patroller and send orange life rings flying through the air to rescue baby animals! The included Ryder figure can be placed in the driver's seat to control the sub patroller or alternatively turned into a diver by opening a trap door and being immersed into Adventure Bay.
Pros
Flashing lights and sounds
Shoots life rings
Comes with Ryder figure
Sea scooter included
Cons
Cannot be submerged in water
Requires batteries
4.
VTech Paw Patrol Pups to the Rescue Driver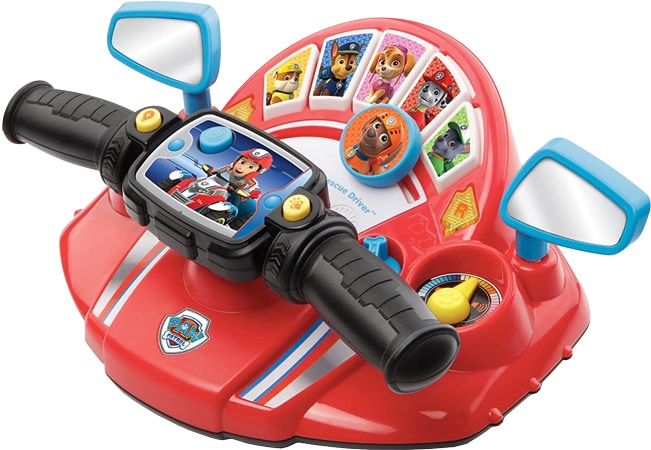 Why we like it: With 3 different modes of play, kids can help the Paw Patrol friends to complete missions.
From popular kids technology brand, Vtech, the Pups to the Rescue Driver toy is ideal for all kinds of exciting adventures and rescue missions! As well as encouraging imaginative role-play this toy helps to develop children's understanding of cause and effect and their use of technology. The rescue driver toy features five character buttons; Rubble, Chase, Skye, Marshall and Rocky so children can choose their favorite character to play.
This toy allows children to pretend to ride Ryder's bike in three different modes – ATV, hovercraft and snowmobile and hear Ryder's voice as they play interactive games and learn character facts, directions, road safety, counting, colors and more. With flashing light-up buttons, a working horn and wing mirrors there's plenty to hold children's interest.
Pros
3 different modes of play
From well-known tech brand V-tech
Interactive games
Helps kids learn character facts, directions, road safety, counting, and colors
Flashing lights
5.
Paw Patrol Kitty Catastrophe Gift Set with 8 Collectible Figures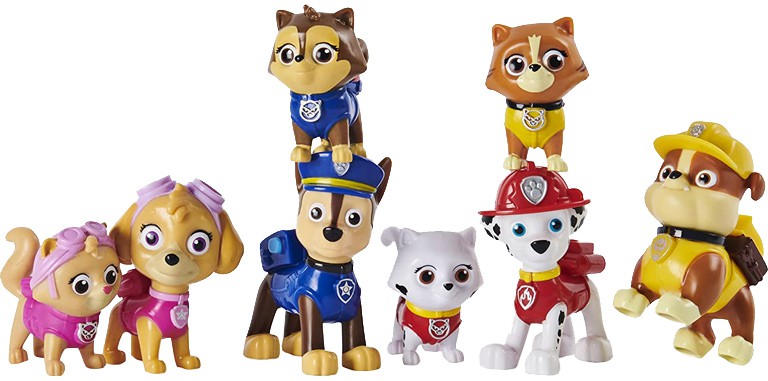 Why we like it: 4 of the Paw Patrol pups and their kitty versions, perfect for imaginative role-play.
What could be cuter than the Paw Patrol pups? The Paw Patrol Pups AND the kitty versions of them! The Kitty Catastrophe Figure Gift Set is the ideal set to add to, or start, a child's Paw Patrol collection; with 8 figures included this set includes Chase, Marshall, Rubble and Skye, and the Kitty versions of each pup, all wearing their classic uniforms.
Children can engage in imaginative role-play and improve their speech and language skills through storytelling as they narrate their play, acting out scenarios from the Paw Patrol show and movie or creating their own exciting rescue missions.
Pros
8 figures included
4 pups, 4 kitties
Perfect for imaginative role-play
Encourages language development
Cons
Not all of the pups are included
6.
Paw Patrol Mighty Pups Super Paws Lookout Tower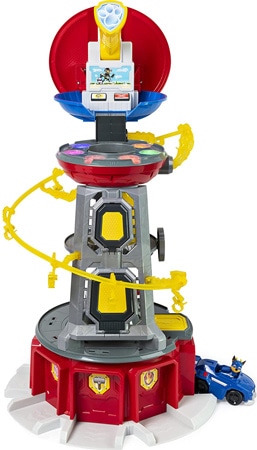 Why we like it: 33 inches tall Lookout Tower with lights and sounds.
The Lookout tower is an iconic part of the Paw Patrol world, and standing at 33 inches tall, the Paw Patrol Mighty Pups Super Paws Lookout Tower makes the ideal playset for kids who love Paw Patrol. The real working telescope is ideal for looking around and scoping out trouble before sending the Paw Patrol pups out to save the day!
With real lights and sounds, children can hear Ryder call out missions and light up the right pup for the job just like he does in the TV show. The pups can be launched into action from the base of the tower, zipline down or take the elevator back to the top so there's plenty of movement and action available with this playset. The Paw Patrol Mighty Pups Lookout Tower comes with a Mighty Chase figure and his Mighty Vehicle and other figures and vehicles can be purchased separately.
Pros
33 inches tall
Built-in vehicle launcher
Light-up features
Comes with Chase and vehicle
Zipline included
Cons
Large item requiring space to store and play
Batteries not included
7.
Paw Patrol Launch'N Haul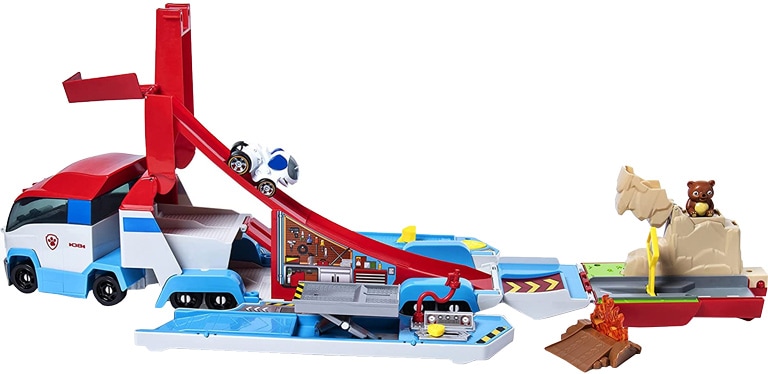 Why we like it: 2-in-1 transforming vehicle with 3 rescue missions to complete.
This 2-in-1 Transforming Vehicle transforms from the Paw Patrol team vehicle into a track set for lots of action-packed fun. The Launch'N Haul vehicle can hold up to seven of the True Metal vehicles so kids can use it as a carry case for their favorite vehicles. The set comes with an exclusive Robodog 1:55 scale metal die-cast vehicle and 3 rescue missions to complete.
The Paw Patrol Launch'N Haul vehicle makes a great gift for Paw Patrol fans aged 3 and up who also like cars and racing. It's ideal for beginning to build a basic understanding of physics too as children can use the vehicle lift to take vehicles to the top of the launcher and experiment with speed and trajectory by sending the vehicles down the launcher.
Pros
2-in-1 transforming vehicle
Three rescue missions to complete
Exclusive Robodog 1:55 scale metal die-cast vehicle
Fits 7 True Metal Vehicles
Working vehicle lift
Cons
Paw Patrol True Metal Vehicles sold separately
8.
Paw Patrol True Metal Off-Road Gift Pack of 6 Collectible Die-Cast Vehicles
Why we like it: The perfect starter set for Paw Patrol fans these die-cast vehicles are ideal for imaginative play.
With realistic details, metal materials, and working wheels, these 1:55 scale Paw Patrol True Metal Off-Road vehicles look just like Paw Patrol's Off-Road vehicles from TV show. This gift pack is the ideal Christmas or birthday present for fans of the show looking to build a collection of Paw Patrol vehicles as it comes with 6 vehicles, one for each of the Paw Patrol Pups. Chase and Marshall's vehicles in this set are exclusive versions too.
Kids can use their imaginations to play with these vehicles and create rescue missions or recreate scenes from TV shows and movies. There's also a collector's poster included so children can keep track of their True Metal collection.
Pros
6 vehicles included
Perfect starter set
Realistic details
Working wheels
Exclusive versions of Chase and Marshall's vehicles
Cons
Not interactive; no lights or sounds
9.
Melissa & Doug Paw Patrol Wooden ABC Block Truck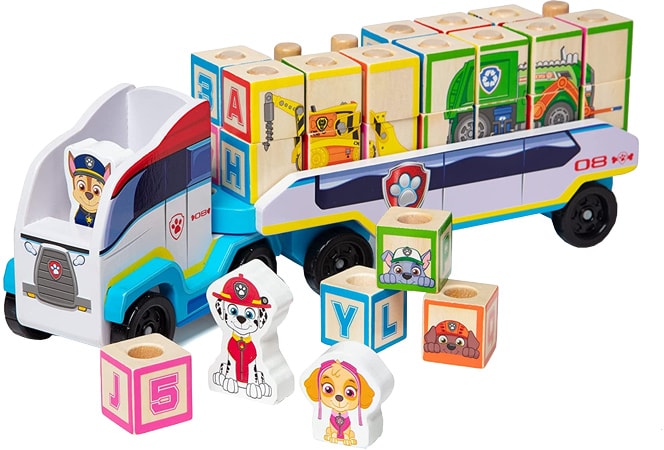 Why we like it: Learning is fun with these Paw Patrol blocks and play figures.
Perfect for younger children this Paw Patrol Wooden ABC Truck comes from popular brand Melissa & Doug who are committed to producing sustainable wooden toys for preschoolers. This jumbo wooden truck and trailer, based on the popular Paw Patrol series, comes with 28 wooden early-learning blocks.
The blocks feature letters, numbers, Paw Patrol characters, and puzzle art with color-coded borders to help develop children's letter and number recognition, and pattern matching skills. The set also comes with 3 wooden play figures for extra imaginative play options. Children can arrange wooden blocks on the attached dowels, honing fine motor skills and coordination, or use the blocks to stack and build making this a great developmental gift for preschoolers.
Pros
Wooden toy; more eco-friendly
28 blocks included
Helps children to learn letters, numbers and shapes
Includes 3 play figures
Great gift for pre-schoolers
Cons
33 pieces to keep together.
10.
Paw Patrol Marshall's Transforming Movie City Fire Truck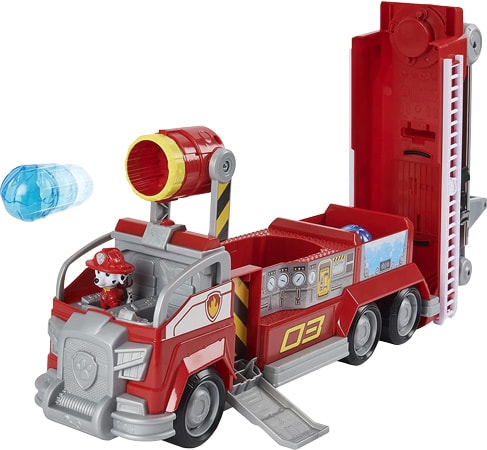 Why we like it: This transforming fire truck is packed with exciting features to enhance imaginative play.
Just like in the movie, this Paw Patrol truck is a transforming fire truck; lift the top at the back, rotate and extend the ladder and press the button to pop up the projectile launcher. The ladder rotates 360 degrees and extends taller than ladders on other Paw Patrol toy cars to help on tricky rescue missions. The ladder also doubles up a slide so that the pups can slide to safety, landing in the included rescue nets.
Paw Patrol Marshall's Transforming Movie City Fire Truck has a huge water cannon launcher that shoots the 2 included projectiles at the touch of a button. With flashing lights and realistic sounds included, this transforming fire truck is ideal for using to play out movie-inspired rescues.
Pros
Transforms
Launches projectiles
Ladder extends 26 inches
Includes Marshall figure
Features lights and sounds
11.
Lexibook Magic Magnetic Paw Patrol Drawing Board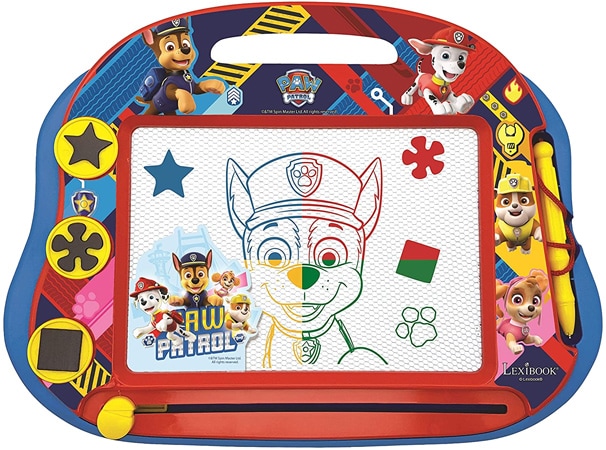 Why we like it: Encourage creativity and imagination with this multicolored drawing board.
The Lexibook Magic Magnetic Paw Patrol Drawing Board is a great magnetic drawing board that will encourage kids to let their creativity and imagination go wild! The fun Paw Patrol design features Chase, Marshall, Rubble and Skye and a convenient handle to make it easy to grip, carry and transport so it's perfect for creativity on-the-go.
Ideal for toddlers and younger children, it's easy to draw pictures in blue, yellow, green and red using the attached pens or stamps and then simply use the sliding eraser to create a blank slate and start all over again! This keeps waste and mess to a minimum, ideal for those looking to make more sustainable choices. As well as being a fun toy, the Lexibook Magic Magnetic Paw Patrol Drawing Board is ideal for practicing writing and honing pre-writing skills like fine motor development, coordination and control over writing implements.
Pros
Multi-colored screen
Magnetic drawing means no waste!
Encourages mark-making
Develops creativity
Convenient and easy to carry
Cons
No way to keep the artwork
12.
Paw Patrol – Mission Air Patroller Toy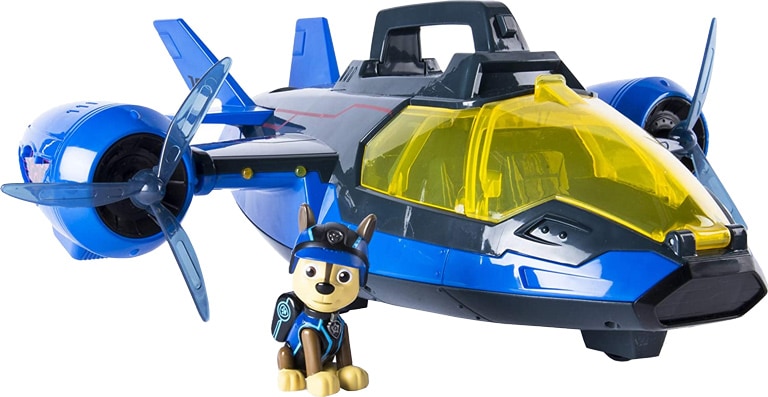 Why we like it: Let pilot Chase fly to the rescue with the Mission Air Patroller.
Pilot Chase flies to the rescue Take with the Mission Air Patroller Toy. This two-in-one helicopter and airplane gives kids 2 ways to play allowing Chase to fly a plane but land a helicopter making rescue missions much more exciting and versatile.
With light and sound effects, the Mission Air Patroller sounds just like a jet and a helicopter helping children to engage in realistic imaginative play. There's plenty of space onboard for all 6 Paw Patrol pups; two of them sit in the cockpit, with space for four more in the rear part of the plane. This set comes with pilot Chase and other characters are available to buy separately.
Pros
Space for 6 pups
Includes Chase figure
Lights and sounds
Can be used as airplane or helicopter
Cons
Requires batteries
Other Pup figures sold separately
13.
Play-Doh Paw Patrol Rescue Marshall Toy Figure and Tool Set with 4 Non-Toxic Colors

Why we like it: Creative play-doh fun with Marshall figure and accessories included.
Get creative with Fire Pup, Marshall, the Play-Doh Paw Patrol Rescue Marshall Toy Figure and Tool Set comes with 4 non-toxic pots of Play-Doh in different colors. Play-Doh is a great toy for helping develop children's strength and control in their fingers, hands which, in turn, can help to improve handwriting skills.
This Marshall-themed set is designed for kids to use to act out different rescue scenarios and create models with dough. The Marshall figure acts as a stamper to create Play-Doh wood beams and his included pup house makes more fun shapes from dough whilst the water cannon creates strings of play-doh to look like water.
Pros
Comes with 4 different colors of Play-doh
Marshall figure included
Improves fine motor skills
Inspires creative play
Non-toxic, meets safety standards
14.
Paw Patrol – Snuggle Up Pup – Chase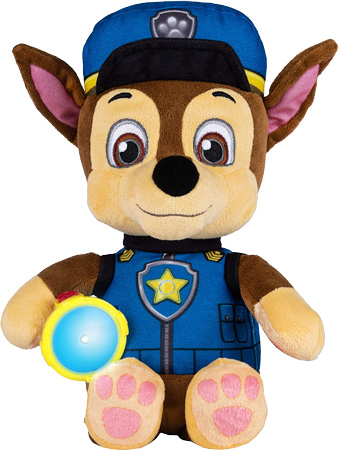 Why we like it: Snuggle up with this sweet, cuddly pup with nightlight and lullabies.
Cuddly toys are the ideal way to soothe children at bedtime and help them to feel less alone at night. The Paw Patrol Snuggle Up Pup Chase is perfect for children over age 3. Made with super-soft snuggly plush material, Chase is a lovely comfort itemand helps children who need some soothing sensory input.
By squeezing Chase's tummy children can activate 8 sounds, phrases and lullabies, helping lull them off to sleep to the sound of a familiar voice. For kids who are scared of the dark Snuggle Up Pup Chase also lights up to provide a soft nightlight so they can fall asleep feeling safe. This makes an ideal bedtime toy for any Paw Patrol fan.
Pros
Cuddly plush toy
Soft, soothing nightlight
Sings lullabies
Knows 8 sounds and phrases
15.
Paw Patrol Adventure Bay Bath Playset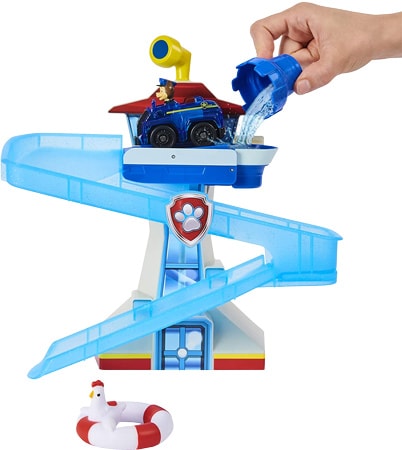 Why we like it: Light-up wall-mounted bath toy set for plenty of splashing fun.
Bath toys are an ideal gift for younger children who often love water play. Unlike water trays and tables which are best suited to the warmer weather of summer months the bath is accessible year-round and so the Paw Patrol Adventure Bay Bath Playset is ideal for stimulating water play. With 2 suction cups, it easily attaches to bathroom tiles and stays in place as kids play.
This exciting bath playset comes with a vehicle that lights up when it touches water, helping children to develop an understanding of cause and effect. The included floating Chikaletta figure can also promote discussions and experiments about items that sink and float, and the Adventure Bay Tower is ideal for imaginative play. When the tower is filled with water it sends Chase's vehicle racing down the track to rescue Chikaletta and is sure to thrill younger fans of the show.
Pros
wall-mounted
Light up chase vehicle
Builds understanding of cause and effect
Chickaletta figure included
16.
Paw Patrol Chase Remote Control Police Cruiser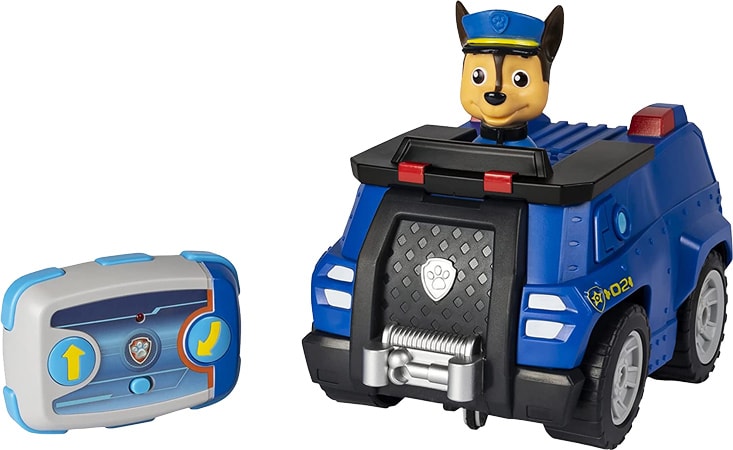 Why we like it: Encourage children's use of technology with this fun remote control car based on Chase's police cruiser.
This Official Paw Patrol remote control vehicle looks just like Chase's police cruiser and is ready for thrilling rescue missions. The controller is shaped just like the Pup Pad that Ryder uses in the TV show and has a simple two-button design making it super easy for beginners to operate; simply use the left button to drive Chase forward, and the right button to reverse or turn.
The Paw Patrol Chase Remote Control Police Cruiser makes a great gift for kids aged 3 and up who will develop their understanding of cause and effect, technology and direction using this toy as well as having the opportunity to play imaginatively and recreate scenes and stories from TV shows.
Pros
Easy 2 button remote
Perfect for younger children
Control the vehicle from 250ft away
Controller looks like a "pup pad"

Develops technology skills
17.
Carrera First Paw Patrol Race Track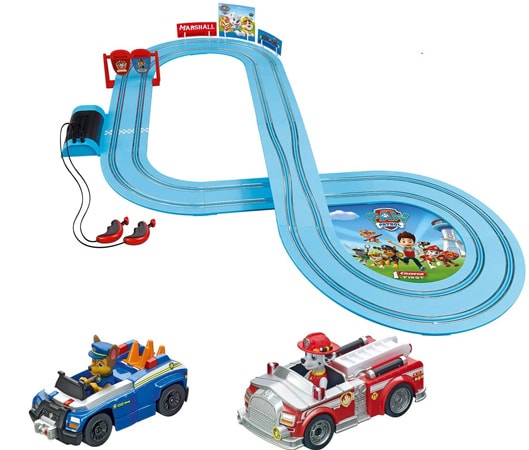 Why we like it: Race with your favorite Paw Patrol characters.
Ideal as a first race track toy, the Carrera First Paw Patrol Race Track is perfectly sized for younger children and designed with safety in mind. The cars are held on the track to prevent frustration and the ergonomic controllers are ideally sized for little hands making it easier to control the cars and promoting the development of fine motor skills.
With a playtime of up to 6 hours and compact size, this set is ideal for taking on playdates or to family events so that others can play too. In fact, the set is designed to be played with as a duel; with 2 vehicles, and 2 hand controls. Let the competition begin!
Pros
Includes 2 vehicles
Compact size
Easily transportable
Up to 6 hours playtime

Ergonomic controllers
18.
Paw Patrol Bowling Set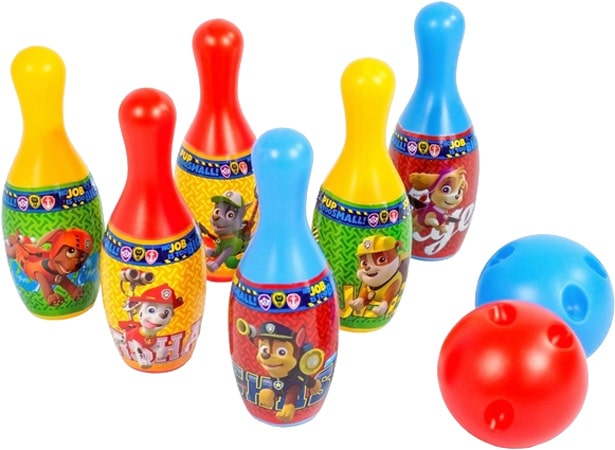 Why we like it: Develop coordination and skill with this fun bowling set.
Bowling games are a great way for children to develop physical skills like balance, coordination and gross motor skills. This set is based on the fun and popular Paw Patrol characters with each pin featuring an image of one of the Paw Patrol pups, which is a wonderful way to spark children's interest in the game.
The set can be used indoors or outdoors on flat surfaces, meaning that there's no reason for the fun to stop on rainy days. Playing the bowling game with friends and family will help children to develop skills like turn-taking, counting, and the ability to win or lose gracefully. Children will love practicing, improving their skill and accuracy in the hopes of knocking all the pins down in a 'strike' and becoming the Paw Patrol bowling champion.
Pros
Encourages physical skills
Develops coordination
Simple set up
Can be played indoors or outdoors

Paw Patrol design
19.
Melissa & Doug Paw Patrol Craft Kit – 3 Decorate Your Own Pup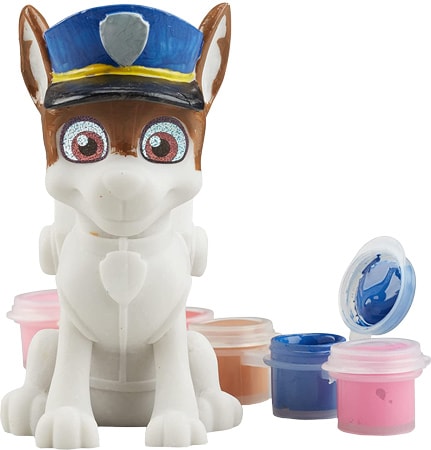 Why we like it: Get crafty and decorate 3 Paw Patrol pups.
This set includes 3 Paw Patrol pup resin figurines (Chase, Marshall, and Skye) for children to decorate with paint and stickers; this all-inclusive craft kit includes 12 pots of colorful paint, 3 paintbrushes, 3 sheets of foil stickers.
The Melissa & Doug Paw Patrol Craft kit is perfect for encouraging children to get creative and improves their fine motor skills and control, building up the small muscles in fingers, hands and wrists which in turn can help improve handwriting. The set is ideal as a rainy day activity, on a playdate or even as part of a party, children will love the results; having their own decorated Paw Patrol pup to keep and admire.
Pros
3 figures
All-inclusive craft kit
Stickers included
Encourages creativity

Improves fine motor skills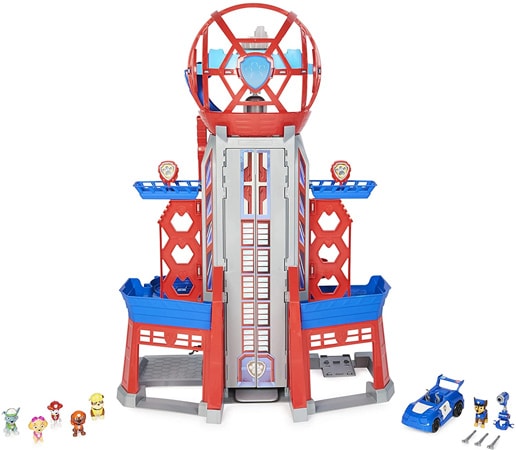 Why we like it: With the tallest Paw Patrol tower on a playset yet this is the perfect gift for fans of the Paw Patrol movie.
The Paw Patrol Movie Ultimate City is a large playset based on the Paw Patrol movie that is sure to delight any Paw Patrol fan. With lights, sounds and moving parts, there's plenty of exciting features to keep kids interested. At 36 inches tall this is the tallest tower yet and the transforming rescue ramp can be pulled down, extended and lit up, just like in the movie.
To go along with all these features, this set includes 6 pup toy figures, so all of the Paw Patrol are ready for action! Chase's launch vehicle is included in the set, and others can be purchased separately, making this the ideal base for starting a collection. The Paw Patrol Movie ultimate city playset is a fantastic way to encourage children to play imaginatively as they recreate scenes from the movie and tv show and create their own adventures.
Pros
36 inches tall
Lights and sounds
Working elevators
All 6 Paw Patrol figures included
Encourages imaginative play
Cons
Larger toy requiring space to store and play
Requires batteries
Final words
Paw Patrol is now one of the hugest children's TV empires with a whole range of series, spin-offs, a movie, toys, clothing and other merchandise. This list shows just some of the toys available with a range of different activities, imaginative play scenarios, vehicles, playsets and learning opportunities.
The great thing about the Paw Patrol toys listed here are that many of them can be used in collaboration with one another, or the sets can be added to with additional items being sold separately. This means that children can begin building up a collection of Paw Patrol toys and friends and relatives can all contribute something towards a larger gift. We hope that this list has highlighted some of the best Paw Patrol toys for kids available this year and given you some ideas for gift giving.