Everyone wants to help their children to be the best they can be, and often that means supporting them through their educational journey. We might think about lessons and books when we think about 'learning' but toys have an important, even vital, role to play in learning for the majority of children. Learning through play is what children are designed to do and as such, research has shown that it is incredibly effective. Through play, children develop a whole range of dispositions and skills that underpin their learning throughout school and life.
The use of educational toys can help to enhance learning through play and allow children to develop skills like problem-solving, social skills, communication, fine and gross motor skills, creativity, imagination and can also build the foundation for more academic subjects like mathematics, literacy, science and technology. We've brought together some of the best learning toys in 2022 and highlighted the ways in which they can help children to learn. So, here are some of the best learning and educational toys by age group;
Best Learning Toys for Toddlers
1.
Battat Wooden Activity Cube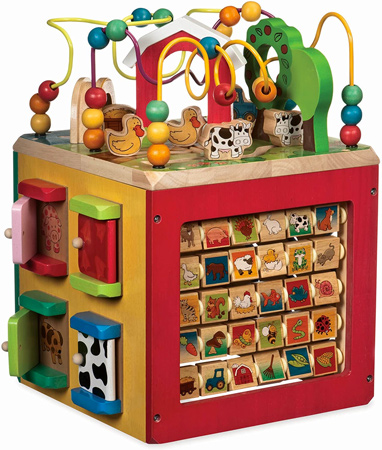 Why we like it: Plenty of moving parts to maintain children's focus and interest.
The Battat Wooden Activity Cube is ideal as a learning toy for toddlers as it supports and develops their natural curiosity. Curiosity is a prime disposition for learning as it is being curious that leads us to explore, try things out and discover new things. This cube encourages younger toddlers to pull to stand and to stand whilst they play developing strength and stability in the core and legs.
With plenty of moving parts to explore, this activity cube also helps to develop focus and attention skills which will lay a foundation for further learning. The moving parts are ideal for manipulation, developing an understanding of cause and effect as well as developing fine motor skills and strength in the fingers, hands and wrists. With a farmyard theme there is plenty of opportunities to develop speech and communication skills too; learning the names of the animals and all the noises they make!
Pros
Encourages standing up to play
Plenty of moving parts
Develops focus and attention skills
Promotes fine motor skills
Farmyard theme
Cons
Larger item; requires space to store and play
2.
Brio Toddler Wobbler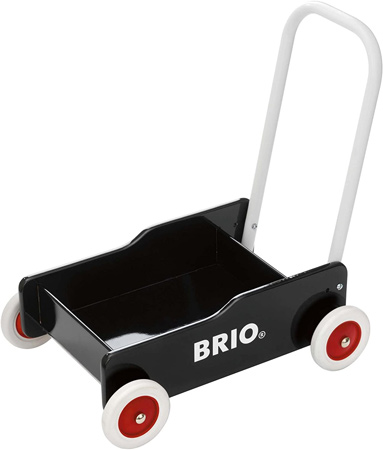 Why we like it: Classic push-along for children learning to walk.
The Toddler Wobbler is a classic push-along baby walker, helping children to learn to walk. It comes from the well-known and respected Brio brand so you can be assured of its high-quality build. Made in wood, this toy is an eco-friendly alternative to many of the plastic baby walkers on the market and should last for years to come.
The walker is adjustable so it can be reconfigured as children get older, taller and steadier and the tray has cleverly been set forward to give children space to place their feet. There's even a brake so that it doesn't move too quickly. Once children can walk confidently, they will still find plenty of use for this item, transporting toys around the house! Moving things from place to place is a popular activity for younger children and is a common 'schema' or way of learning.
Pros
Well-known brand
High-quality
Eco-friendly
Adjustable
Built-in brake
Cons
More expensive than other baby walkers available
3.
Galt Toys Baby Puzzles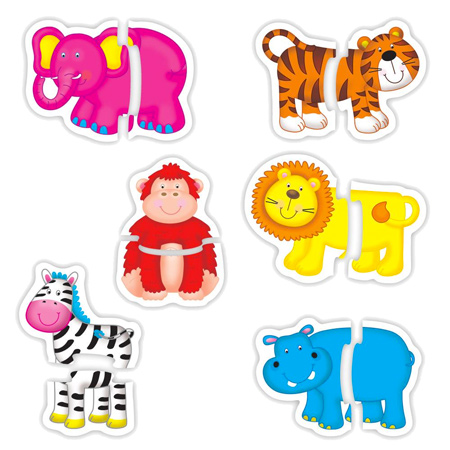 Why we like it: Improves motor skills and logical thinking.
Jigsaw puzzles are a popular interest for many babies, toddlers and young children and these simple jigsaws are ideal for encouraging a whole range of skills. The Galt Toys Baby Puzzles Jungle pack is made up of 6 2-piece puzzles designed to encourage matching skills. As children complete these jigsaws they will hone skills like spatial awareness, pattern matching, gross motor skills, dexterity and early mathematical awareness of shape and space.
Suitable from around about 18 months these jigsaw puzzles will also develop speech, language and communication skills as the simply colored animal designs will encourage children to name the animals and experiment with the different sounds the animals make, which in turn helps them to gain confidence and proficiency with different speech sounds which are the building blocks to words.
Pros
6×2-piece puzzles
Encourages matching skills
Develops early mathematical awareness
Suitable from 18 months
Simple colors
Cons
12 pieces; best stored together to prevent loss
4.
Fisher-Price Smart Stages Puppy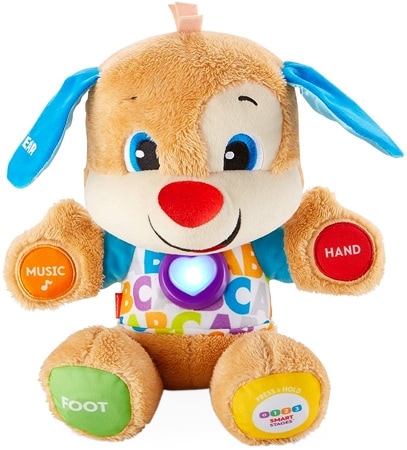 Why we like it: A cute, cuddly puppy toy with different learning stages.
The Fisher-Price Smart Stages Puppy is a cute, cuddly puppy toy with different learning stages that can be activated according to a child's level of development. Like other toys in the Smart Stages range from Fisher-Price the Puppy has 3 different levels of learning that can be selected meaning that it can support a child's development appropriately for many years.
The use of plenty of interactive buttons, located on the puppy's hands, feet, ears and heart means that it's easy to hold a child's attention, develop an understanding of cause and effect and encourage use of technology. The Smart Stages Puppy also teaches words, colors, letters, numbers and parts of the body. With over 75 songs the puppy also develops a child's musicality and is perfect for little ones that love to sing and dance.
Pros
Different learning stages
Supports development appropriately for a many
Interactive buttons
Teaches words, colors, numbers and parts of the body
Over 75 songs
5.
Lego Duplo My First Alphabet Truck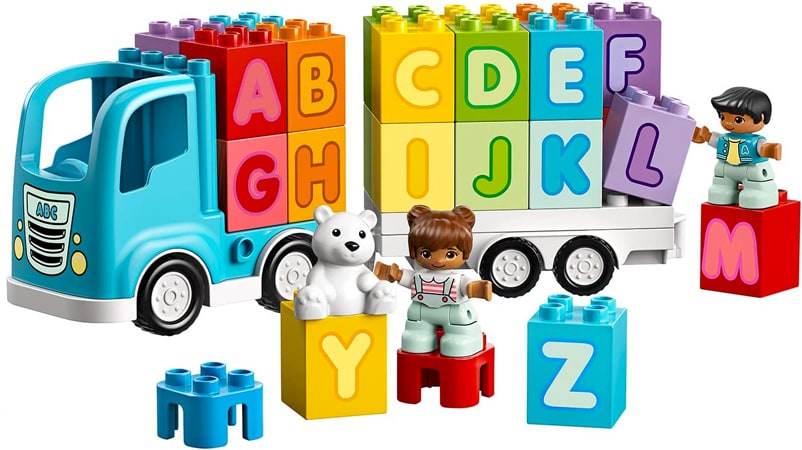 Why we like it: Classic Duplo toy enhancing children's physical skills and development.
Even though toddlers might not be learning the alphabet just yet, early exposure to letter shapes and discussion of their sounds can still be beneficial. The Lego Duplo My First Alphabet Truck combines the ever-popular Lego Duplo, with a vehicle, and since many children are interested in pushing and pulling vehicles, this is bound to be well-received. The pushing and pulling of vehicles and steering them around the floor (or up and down the furniture!) helps to develop spatial awareness and hand-eye coordination which are important pre-writing skills.
Constructing and building towers with Duplo, learning how it presses together and developing the knack of doing so, builds physical strength and skill. The blocks from this set can also be combined with any other Lego Duplo the child has which means that play can be even more open-ended. The set also includes 2 figures; a boy and a girl to inspire imaginative and creative play.
Pros
Early exposure to letters
Develops spatial awareness and hand-eye coordination
Encourages construction skills
Develops physical strength in hands
Can be combined with other Duplo sets
Cons
Plastic; less eco-friendly option
Best Learning Toys for 3- to 6-year-old Kids
1.
Galt Toys Rainbow Lab Science Kit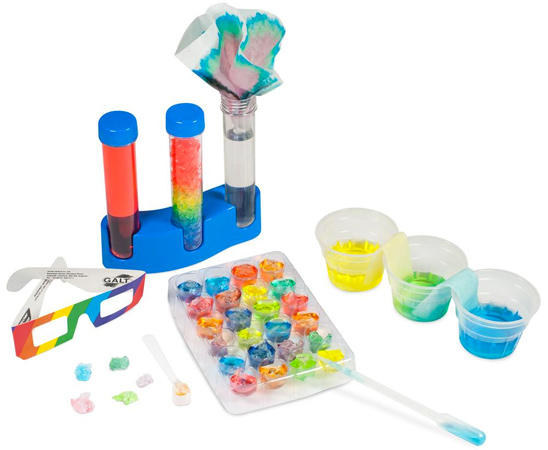 Why we like it: Explore the world of color with this rainbow science kit.
As children get older and develop more independence they often like to carry out experiments. This might take the form of mixing different substances together, dropping things from height or tinkering with household gadgets like the remote control. Whilst this drive to know what happens under different conditions and how things work can be frustrating to parents, it is also a great learning disposition. Exploring the world and seeking to understand it by experimenting and testing ideas is the foundation for scientific inquiry and the Galt Toys Rainbow Lab Science Kit is built to further develop this.
It allows young children to carry out a range of experiments, like color mixing, growing amazing jelly-like crystals and creating a rainbow in a test tube! The kit includes test tubes, goggles, pipettes, colorings and more so that you have everything you need to complete the 12 experiments featured in the 24-page lab book. The Lab book includes space to record predictions and results, encouraging writing skills too.
Pros
Develops scientific thinking and understanding
Includes scientific equipment
12 experiments included
Specially designed lab book
Cons
Adult help and supervision required
2.
Botley the Coding Robot Activity Set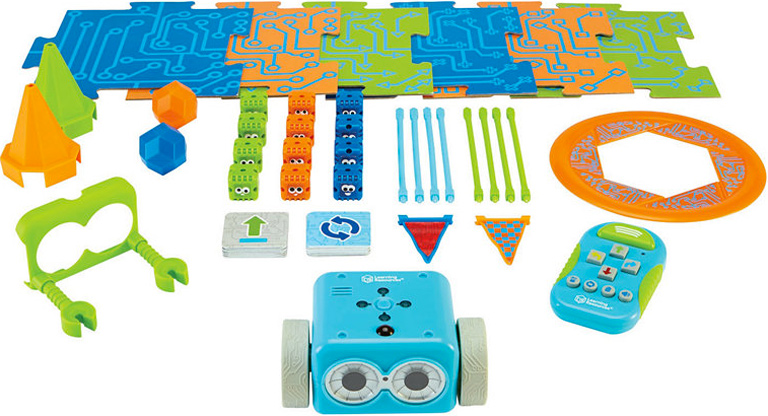 Why we like it: Build skills for the future and get young kids coding.
Coding is a skill that is becoming more and more in demand as technology advances and becomes even more integrated into everyday life. Designed to build coding skills for the future, Botley the Coding Robot Activity Set can teach children as young as 5 the foundations for coding without needing any extra devices or a screen.
Botley can be programmed a sequence of up to 80 steps and has 16 fun interactions that transform Botley into a train, police car, ghost, and other fun options! Kids can code for music, lights and movement and the included coding cards, tiles and obstacle set will excite kids and inspire them to code. Botley features a sensor underneath that allows the robot to follow a black line created with the included cards too!
Pros
Teaches early coding skills
Children as young as 5 can code
No screen or device needed
Can be programmed up to 80 steps
16 fun interactions
3.
Learning Resources City Engineering and Design Building Set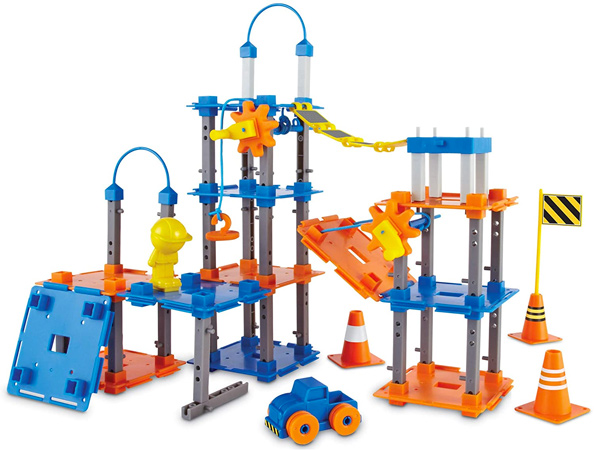 Why we like it: With over 80 pieces, this set will get kids engineering in no time!
The Learning Resources City Engineering and Design Building set is great for providing children with an early introduction to Science, Technology, Engineering and Mathematics education and the engineering and design process. It can be used individually or as part of a group, encouraging collaboration and teamwork.
With over 80 pieces and 10 engineering activity cards that encourage children to create city designs and learn through hands-on play and experimentation. Children develop problem-solving skills as they try out different structures and layouts and the activity guides give reproducible materials like planning sheets, process diagrams and steps which can be used to plan out an approach to each task.
Pros
Early Introduction to Science, technology engineering and mathematics education
Can be used individually or by a group
Over 80 pieces and 10 activity cards
Develops problem-solving skills
Planning sheets, processes and steps diagrams included
Cons
Lots of pieces; requires careful storage
4.
LeapFrog Interactive Childrens Globe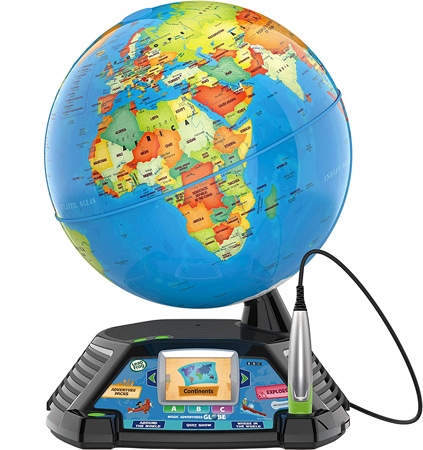 Why we like it: Combine technology and geography with this interactive globe.
LeapFrog is a brand well renowned for producing high-quality kids' technology toys with tons of educational value and fun. The LeapFrog Interactive Children's Globe is no exception; as well as allowing children to develop an understanding of the world, the globe and maps, the interactive element of this toy helps children begin to explore countries, capitals, cultures, habitats and more! This ensures that their learning is much deeper than surface-level facts.
Children can tap anywhere on the globe using the included stylus to hear facts, there are games and over 5 hours of videos included from the BBC too. The 2.7 inch LCD screen means that no extra equipment is required, the interactive globe is a self-contained resource. This is a fun, interactive and hands-on resource for kids to learn about the wider world through play.
Pros
Well-known brand
Encourages use of maps and the globe
Learn about countries, capitals, cultures and more
5+ hours of BBC video
No extra equipment needed
5.
Nene Toys – Wooden Tumble Tower Game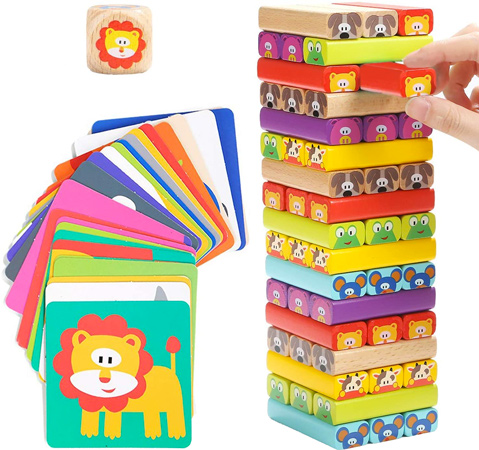 Why we like it: Suitable for most of the family, this game also helps to build cognitive skills.
Playing games together as a family is a great way to keep family ties tight as children get older, so instituting a games night or forming a habit while they are young is a fantastic way to set this up as part of your family culture. The Nene Toys Wooden Tumble Tower Game is 4 games in 1 and is suitable for a wide variety of ages so it's ideal for playing together as a family.
Made with natural wood and non-toxic water-based paint the blocks are safe and more eco-friendly than plastic alternatives. The rounded edges as well demonstrate nice attention to detail, making them more pleasing to handle and safer too. This educational game helps teach children basic physics, improves logical and critical thinking and hones fine motor skills, spatial awareness and hand-eye coordination which are all important elements needed for handwriting. With a money-back guarantee, this is a toy that you can buy with confidence.
Pros
Great for family games night
4 games in 1
Made with natural wood and non-toxic paint
Improves logical and critical thinking
Hones fine motor skills, spatial awareness and hand-eye coordination
Best Learning Toys for 7- to 9-year-old Kids
1.
GraviTrax Starter Set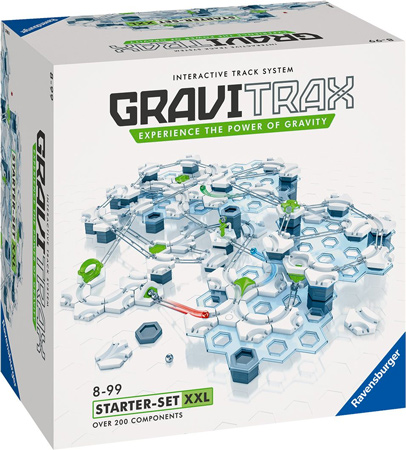 Why we like it: Modern version of a classic marble run toy, ideal for building engineering skills.
Marble runs are great for increasing both creativity and construction skills. The GraviTrax Starter Set Marble Run is a modern version of a classic marble run, incorporating elements that allow children to experiment with gravity, magnetism and kinetics to keep the ball moving. This toy is ideal for encouraging scientific and engineering skills and introducing kids to physics concepts in a hands-on, practical way.
With over 120 pieces, the starter set certainly has enough to keep kids entertained and curious! But there are also expansion packs available to add further different elements to the marble run, so this toy could provide you with a few gifting options for upcoming birthdays and holidays. With clear instructions, kids can start building and experimenting right out of the box.
Pros
Improves construction skills
Modern version of classic toy
Allows children to experiment with gravity, magnetism and kinetics
Hands-on science
Over 120 pieces
Cons
Magnetic pieces may pose a danger to younger siblings
2.
Lego Gear Bots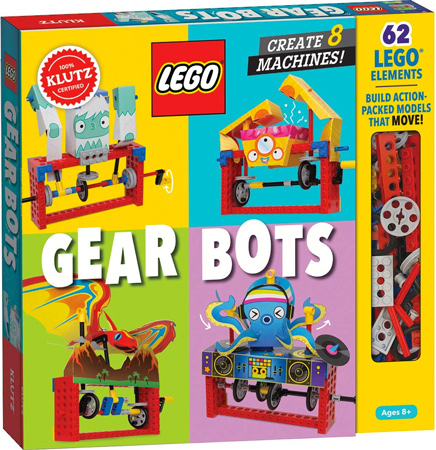 Why we like it: 8-in-1 building fun! Produce kinetic sculptures.
Lego is a toy that can be enjoyed throughout childhood and into adulthood because the brand continually produces new, exciting and age-appropriate developments to keep kids learning as they grow! The Lego Gear Bots is a prime example of an age and developmentally appropriate offering from Lego, allowing children to build 8 different kinetic sculptures from this one kit.
With full instructions to follow, children can build frames with axles and crankshafts making models that spin or turn back and forth and what's more, all of the models are linked to real-life robotics or mechanical engineering concepts and applications.
Pros
Popular lego brand
Age-appropriate
8 models in 1 set
Full instructions
Activities all linked to real life applications
Cons
Small pieces require careful storage
3.
Thinkfun Gravity Maze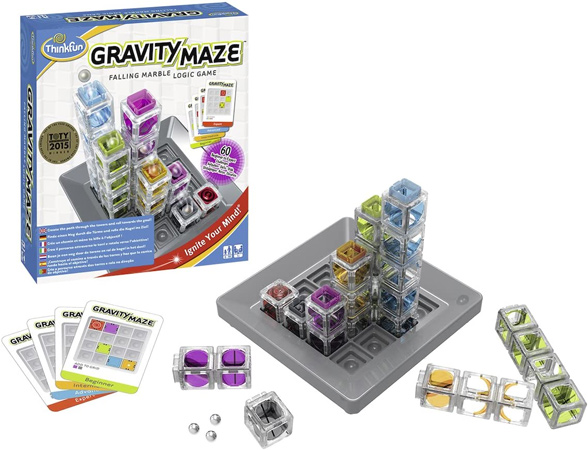 Why we like it: A challenging logic game, combined with a marble run and technology toy.
The ThinkFun Gravity Maze Game is a challenging, logic board game that can be played with family or friends. It is designed to become more challenging as the game progresses so, to begin with, it is extremely accessible but becomes progressively more difficult so that players can build up their skills as they play.
The ThinkFun Gravity Maze Game helps to improve critical thinking skills and develops an understanding of physics as well as encourages problem-solving skills. Playing together with family or friends can also help children to work on their social skills, learning to take turns, remain calm under pressure and express frustration appropriately and with a clear, high-quality instruction manual you can start playing and solving right away.
Pros
Logic board game
Becomes progressively more challenging
Improves critical thinking skills
Develops understanding of physics
Promotes social play and skills
4.
Sphero Mini Soccer: App-Controlled Robot Ball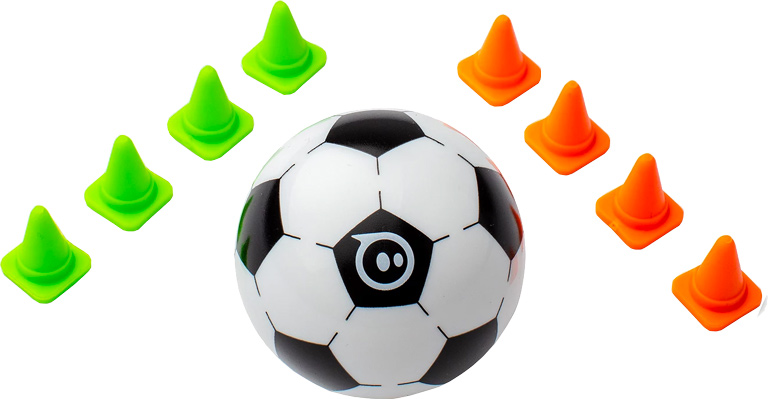 Why we like it: A football-themed introduction to science, technology and engineering.
Football, or soccer, seems to be an evergreen interest for young children and it's a great way of keeping them physically active and healthy, so it's definitely something to encourage, but what about using that interest as a hook into developing skills in science, technology and engineering? These are some of the fastest-growing industries with skills in these areas more in demand in the workforce than ever. The Sphero Mini Soccer: App-Controlled Robot Ball might be just the ticket to get a child interested in these industries.
Connect the mini football robot to the free Sphero play and Sphero Edu apps and kick, tilt, slingshot, joystick and more, playing games and learning to code along the way. Packed with tech, the Sphero Mini Soccer is about the size of a ping-pong ball but incredibly powerful and functional; featuring gyroscope, accelerometer, and a customizable LED light that glows in any color of your choice. The set even includes 8 mini soccer cones to inspire fun and games.
Pros
Builds on interest in football
Develops skills in science, tech and engineering
Connects to 2 free apps
Lots of different ways to play
Includes mini soccer cones
Cons
Requires compatible device to use apps
5.
Galt Toys Horrible Science Explosive Experiments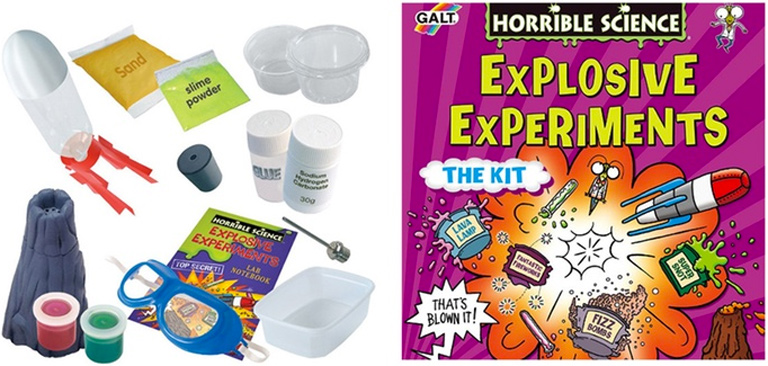 Why we like it: Awesome, exciting, explosive experiments for hands-on science.
Kids love exciting science experiments and the Galt Toys Horrible Science- Explosive Experiments is packed full of excitement; from making and launching a rocket to erupting volcanoes, and from lava lamps to snot! There are 8 experiments included in this kit and a 32 page specially designed lab-notebook for children to write up what they have learned.
Letting kids get excited about learning, and science, in particular, is key to their development as excited children are self-motivated children and self-motivated children make the best learners. Based on the bestselling books written by Nick Arnold and illustrated by Tony De Saulles, this kit aims to encourage scientific learning, thinking and skills while having plenty of fun!
Pros
8 experiments included
Lab notebook included
Gets kids excited about learning
Based on bestselling books
Encourages scientific learning, thinking and skills
Cons
Adult supervision/help required
Contains some chemicals which may be harmful
Best Learning Toys for 10- to 15-year-old Kids
1.
Lego Mindstorms EV3 Robotics Kit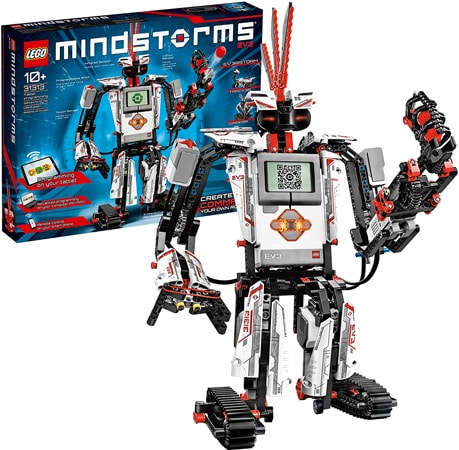 Why we like it: Build and program walking, talking and thinking robot toys!
Lego is a toy that many kids enjoy throughout their childhood, but there's no need for that to end when they hit their tween or teenage years. Lego now has several ranges aimed at teenagers and adults and the Lego Mindstorms EV3 Robotics kit is part of these ranges and is designed to provide sufficient challenge to older users.
This kit encourages interest in robotics, engineering and technology and develops coding skills. The kit includes a motor and sensors and a free app that can be used as the remote control. This kit lets children build and program walking, talking and thinking robot toys! And the instructions for 5 of these are included with the set but as a bonus, you can download building instructions developed by fans and endorsed by Lego.
Pros
Provides sufficient challenge for older users
Encourages interest in robotics, engineering and technology
Develops coding skills
Motor and sensor included
Download bonus instructions
Cons
Compatible device required for app

2.
Sphero RVR: All-Terrain, Fully Programmable Robot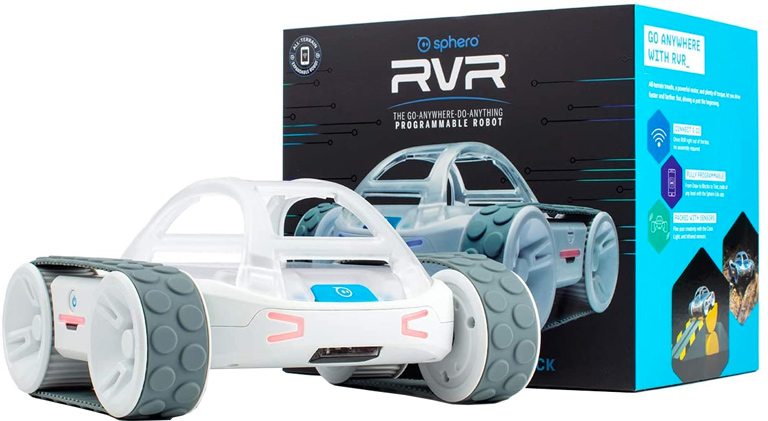 Why we like it: Go anywhere, do anything robot! Designed to off-road.
The Sphero RVR: All-Terrain, Fully Programmable Robot is described as being a "Go-Anywhere, Do-Anything Programmable Robot" and it's true! With its powerful motor, high torque and all-terrain tires as well as its robust and rugged design the RVR is ready to drive almost anywhere!
Using the Sphero Edu app users can code and program RVR with Draw & Drive, Scratch blocks or JavaScript, developing those important technology and computing skills. With plenty of on-board sensors, including a color sensor, light sensor, IR, magnetometer, accelerometer and gyroscope, this is a really clever bit of kit! There's no complicated set-up, RVR is ready to go right out of the box.
Pros
Powerful motor, high torque
All-terrain vehicle
Code and program with draw and drive, scratch blocks or JavaScript
Lots of sensors
Ready to use out of the box
Cons
Compatible device required for app

3.
Vector Robot by Anki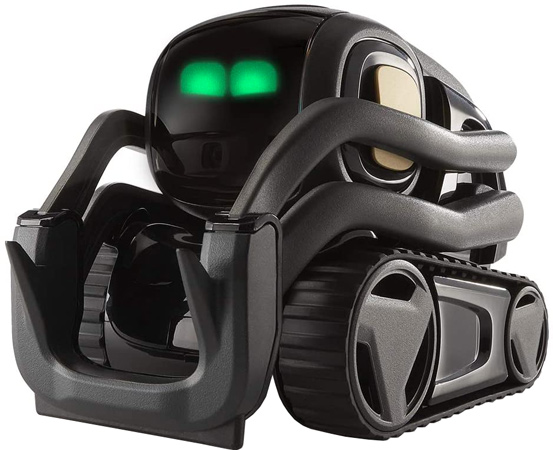 Why we like it:

Finally, the robot sidekick you've been waiting for!
When we think about robots, many of us imagine helpful sidekicks who are both fun and functional. Well, that's Vector! Powered by AI, this is a robot that can independently navigate and self-charge. The Vector Robot by Anki reacts to sound, sight, and touch and has a friendly, playful personality making him seem alive.
Continually updating via the cloud and evolving new skills, Vector has a range of functions including answering questions, taking pictures, setting timers, using 'Alexa' voice commands and navigating around independently, he even avoids edges! Using an HD camera this robot can even identify people, 'seeing' and remembering their faces and with four microphones Vector can hear and sense which direction sound is coming from. With his high-resolution, color display this little robot can convey a huge range of emotions making him feel less like a robot, and more like a friend.
Pros
Encourages growing interest in robotics technology

Reacts to sound, sight and touch
Continually updating
Uses Alexa voice commands
High-resolution color display
4.
Bottle Rocket Water Pressure Kit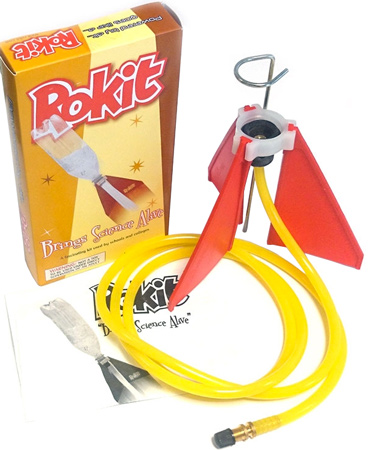 Why we like it: Used by educators, this water rocket is also great fun.
This Bottle Rocket Water Pressure Kit is used by educators around the world to demonstrate the laws of motion. It flies up to 100 feet high and makes learning science incredibly exciting as well as practical and hands-on. Children often learn best from 'having-a-go' at something so this is a resource that is sure to support learning.
Safe and easy to use, with everything you need included to transform a standard fizzy drinks bottle into a rocket, this is a project that many kids will be able to approach independently, taking ownership over their learning and having plenty of fun in the process.
Pros
Used by educators
Flies up to 100 ft high
Practical, hands-on science
Safe and easy to use
Great as an independent project
Cons
Not all equipment included; need a plastic bottle

5.
Sphero BOLT: App-Enabled Robotic Ball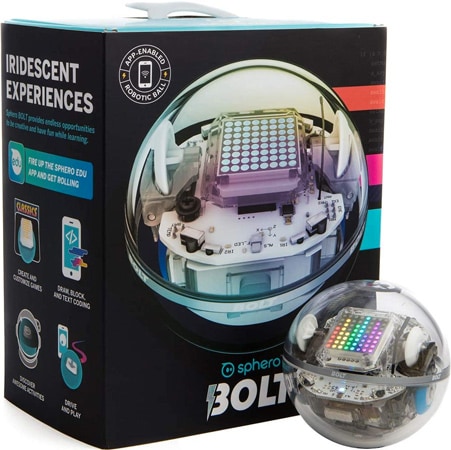 Why we like it: Advanced learning made incredibly accessible by the Sphero Edu app.
The Sphero BOLT: App-enabled Robotic Ball is exactly what it says, a robotic ball that can be connected to an app so that children can learn how to code and program, using scratch blocks, drawing or Javascript. This advanced learning is made incredibly accessible by the Sphero Edu app and you even have the opportunity to share your creations with a community.
Packed with programmable sensors including infrared, compass, light sensor, gyroscope, accelerometer and motor encoders the programming options are almost endless! This robot is Sphero's most advanced app-enabled robotic device to date and can even 'talk' to other BOLTS using infrared communication which means that multiple bots can move together or play games
Pros
Connects to Sphero Edu app
Can share creations with community
Learn how to code and program
Lots of sensors in robot
Robot can communicate with other BOLTS
Cons
Compatible device required for app
Final words
Educational toys are great for using both at home and in the classroom for enhancing children's learning by letting them independently access a whole range of different learning activities. Whilst they are not strictly 'necessary' for learning at home they can be a brilliant resource for busy parents who might not have the time, energy or know-how to set up specialized learning activities. What's more, most educational or learning toys are developed with educators as consultants; so, you can rest assured that experts have given them the seal of approval before going to market.
With that in mind, we've brought together some of the best learning toys, categorized by age so you can pick out something suitable for the child you're buying for. In highlighting how these toys support learning and development we hope to have helped you to identify some of the ways in which children learn through play. By having some of these toys in the house you can help to bolster children's skills and development even during their leisure time!