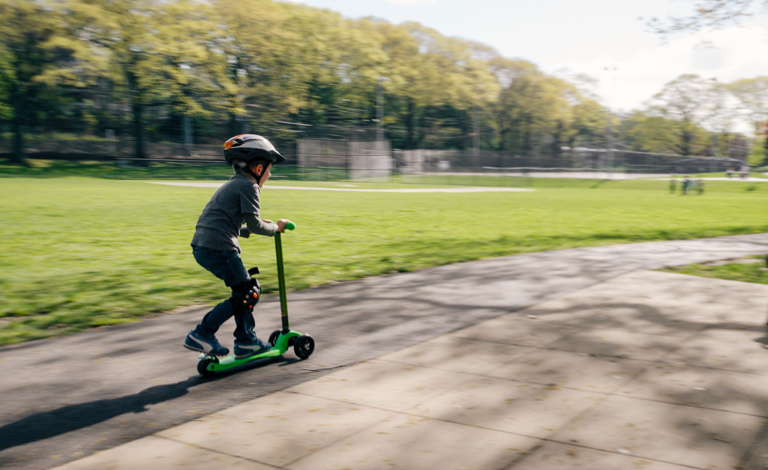 Children and teens need plenty of time outdoors to benefit from sunlight and fresh air. Sunlight helps the human body to produce Vitamin D which we need for strong, healthy bones and spending time outdoors also helps to increase the amount of serotonin, the happy hormone, that the body produces leading to an overall sense of wellbeing. In addition to this hormonal response, scooters are a great way to keep children active and sneak in some all-important exercise. With benefits to cardiovascular health and helping to tone muscles, scooters are an ideal all-round exercise for small children right through to teens. Maintaining balance requires good core strength and spatial awareness, which in turn are important for supporting writing.
As well as being great exercise, scooters are a useful mode of transportation for kids that are too big or old for a stroller but still tend to dawdle. Children are ready to ride a scooter when they are walking with a steady gait, so some of the scooters we've listed are suitable for children just starting out with scooters whilst others are designed for older children or even teens. With a range of different features available, different types of scooters will be suitable for different children depending on their age, skill and what they want to use it for. We've brought together some of the best to help you choose the right scooter;
1.
Best Overall Scooter: Micro Scooter Sprite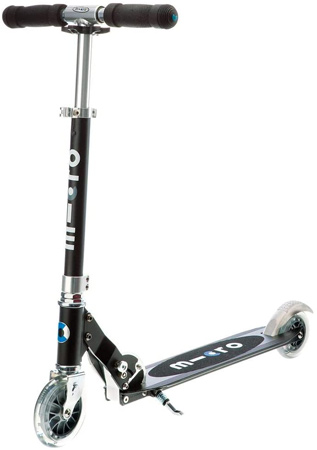 Why we like it: Featherweight, foldable and a whole load of fun, this is a great way to get started on a 2-wheel model.
The Micro Scooter Sprite makes the ideal first 2-Wheel Scooter as it is so light and easy to manage, both whilst riding and whilst transporting. With its one-click folding mechanism, the Sprite is designed to be transported and easy to store.
The handlebars give easy, natural movement, steering in the same way as a bike and are also adjustable so that the scooter will grow alongside a child, making it a longer-lasting option. The sprite features a built-in stand so the scooter can stand upright on its own. All round, it makes a great introduction to two wheels for kids aged 5-12.
Pros
Super light
Age 5-12
Max user weight 220 lbs
Steers like a bike
Foldable
Cons
2-wheel design; requires more balance by user
2.
Best Motorized Kids Scooter: Razor E90 Electric Scooter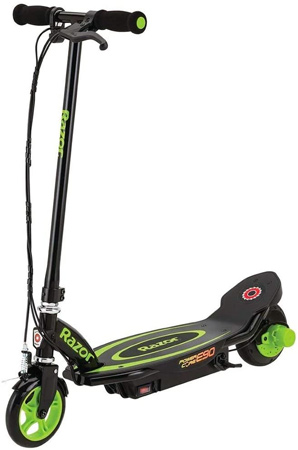 Why we like it: Designed with fun in mind, this electric scooter reaches speeds of up to 10 mph.
Electric scooters are great fun for older kids and teens and this Razor Power Core E90 electric scooter is designed with fun in mind. With a ride time of up to 80 minutes from a single charge, and speeds of up to 10 mph this scooter will certainly give kids an adrenaline rush!
The Razor E90 is made to be maintenance-free with no alignment issues, and no chains or chain tensioners to go wrong! The tires are specially designed to give the smoothest possible ride with the front urethane tire designed to absorb impact whilst the rear tire gives increased traction. The battery is a 12V sealed lead acid rechargeable battery and the package includes the battery charger as standard, so charging is no hassle at all. The E90 is designed for ages 8+ with a maximum rider weight of 120 pounds.
Pros
80 mins ride time
Speed up to 10 mph
Hand-operated brakes
2 different styles of tire for smooth, safe ride
Battery charger included
Cons
Less physical benefit
More expensive item
3.
Best Budget Scooter: Hudora 205 mm Wheel Scooter
Why we like it: Big wheels for a smooth, fast ride.
This scooter is made with high quality, lightweight aluminum to make it easy to handle and faster to ride! The wheels have a roll diameter of 205 mm, to make it even faster and more agile. The Hudora 205 mm Wheel Scooter has plenty of practical features too like a height-adjustable steering rod, rear-wheel friction brake, built-in stand and a quick, easy folding mechanism. There's even an adjustable shoulder strap to make it easy to carry.
Safety is a high-priority with the Hudora 205 mm Wheel Scooter, and the larger-than-average wheels help to ensure that the ride is smooth even at faster speeds. The frame is lightweight but robust enough to carry up to 220 pounds meaning that the scooter is suitable for both older children and teens.
Pros
Available in a range of colors
220 lbs load
Shoulder strap for carrying
Larger wheels make it faster
Height-adjustable handlebars
Cons
Best used on smooth road surfaces
4.
Best Scooter for Toddlers: Smoby Reversible 2-in-1 Scooter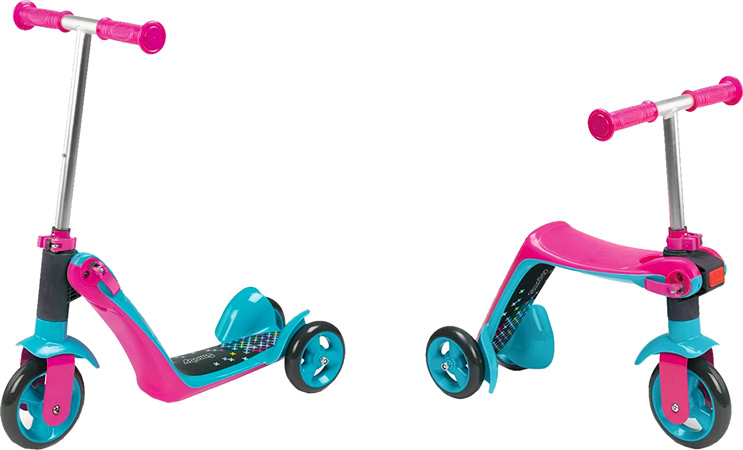 Why we like it: A bike and a scooter all in 1 for 1 to 3 year olds.
Thinking of getting a bike or a scooter but can't decide which to go for? Now you don't have to decide! The cleverly designed Smoby Reversible 2-in-1 Scooter is both a 3-wheel learning bike and a 3 wheel scooter and can be swapped between the 2 with no tools needed.
Designed for children as young as 18 months, safety is a key feature with three wheels and wide handles to help the child as they learn to steer and balance. The handlebar is also adjustable for comfort and the lightweight design means that this scooter is easier to maneuver as well as transport and store.
Pros
18 months to 3 years
Converts from bike to scooter
Lightweight design
Improves balance and coordination
Cons
Used for a short period of time (max 1.5 years)
5.
Best Scooter for Pre-Schoolers: Micro Scooter Mini Deluxe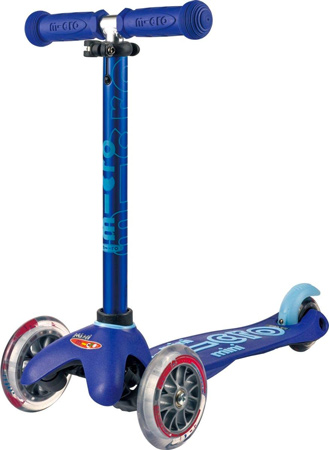 Why we like it: Award-winning scooter for children age 2-5, perfectly designed for growing kids.
Every year the Micro Scooter Mini Deluxe wins more awards, and with good reason! This scooter is perfectly designed to suit the needs of growing children. The scooter is super-lightweight, weighing only 4 pounds, so little riders can easily manage to push it along or even carry it independently.
The new Micro Scooter Mini Deluxe has an adjustable handlebar so that the scooter will grow with the child and last many years, whilst always giving a comfortable ride. The footplate is specially designed for younger riders too with an extra grippy design to enable steady, stable scooting. With lean to steer technology, this is a scooter that helps provide opportunities to develop movements and skills that will serve a child when they move on to the next level of scooter too. This is the perfect starter scooter for little kids weighing up to 80 lbs.
Pros
Ideal for 2 to 5 year olds
Light-weight
3-wheel design
Extra grippy footplate
Tilt to turn steering
6.
Best Scooter for Stunts: Star Scooter Pro Sport Freestyle Stunt Scooter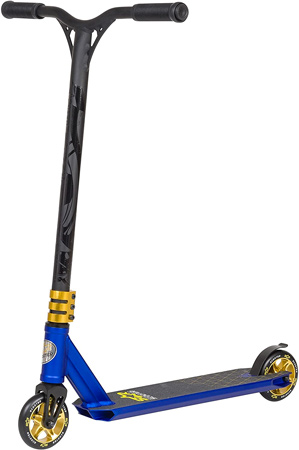 Why we like it: A semi-professional scooter, made for exciting stunts!
The state-of-the-art manufacturing used to produce this scooter makes it perfectly designed for exciting stunts. The Star Scooter Pro Sport Freestyle Stunt Scooter is a semi-professional scooter complying with all EU and US safety standards.
It is made of lightweight aircraft aluminum to make jumps and stunts easier and has precise steering and high stability to make landing stunts a breeze. In addition to all these technical details, the scooter also has an attractive decorative design and fantastic customer service with spares available for all parts so there's no need to replace the whole scooter. This is suitable for children age 8 or over who are at least 50 inches tall.
Pros
Stylish decoration
Lightweight aircraft aluminum
Ideal for stunts
Suitable for 8 years plus
Great customer service; spare parts available
Cons
User should be over 50 inches
7.
Best Scooter for Rough Terrain: Stiga Sports Air Scooter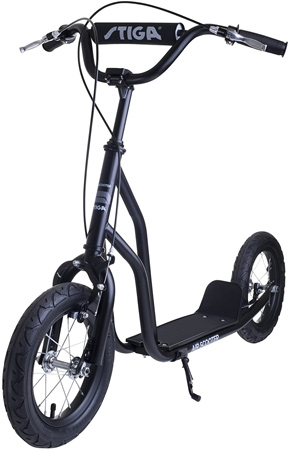 Why we like it: Great on roads, grass or gravel this sporty design is well made and ideal for older children.
With 12-inch air tires, this scooter has a sporty design making it perfect for riding anywhere; streets, grass, gravel, all kinds of surfaces are a potential riding area! The Stiga Sports Air Scooter has an adjustable handlebar height so it can be used for a range of ages and sizes with a maximum load of 165 pounds.
As well as plenty of opportunity for off-roading and stunts the Stiga Sports Air Scooter also has important safety features such as a strong steel frame to take the impact of jumps and hand brakes for both the front and back wheels. Learning to perform jumps and stunts allows children to develop their physical skills and balance.
Pros
12-inch air tires
Hand-operated brakes
Height-adjustable handlebars
Max user weight 165 lbs
Cons
Tyres require pumping and maintenance
8.
Micro Scooter Maxi Led Deluxe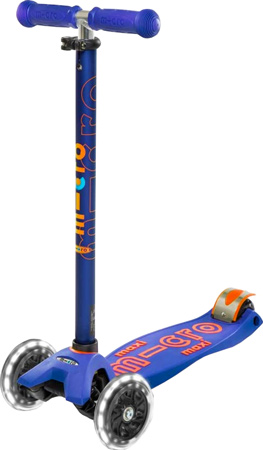 Why we like it: Perfect for children aged 5 to 12 with cool light-up wheels.
Light-up wheels are a huge selling point for the Micro Scooter Maxi Led Deluxe! What's even better is that they never run out and no batteries are needed, instead, the scooter uses clever induction technology to power the lights from scooting movements. The adjustable handlebar grows along with the child and the entire frame has a specialized coating to protect it from scratches, scrapes, bangs and knocks.
This scooter is designed for kids aged between 5 and 12, weighing up to 110 pounds. It is swiss-engineered and designed to last with durable handle grips, and extra grippy footplate and a substantial rear-brake. This is perfect for those looking for a scooter to last a number of years.
Pros
Suitable for ages 5-12
Light up wheels
Tilt to turn
Adjustable handlebars
Robust frame
9.
Ozbozz Unicorn Scooter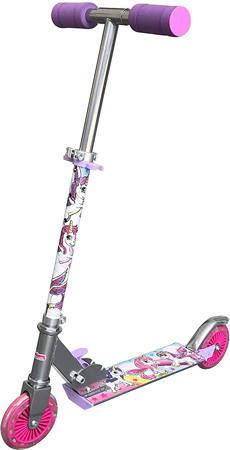 Why we like it: This affordable option is perfect for kids who love unicorns and all things sparkly.
Unicorns are extremely popular with kids right now and kids who love unicorns will love this Ozbozz Unicorn Scooter. This scooter has a lovely unicorn design and 2 light-up wheels which come on automatically when the scooter is ridden and stops when the scooter stops moving.
This scooter has an adjustable height, so it will suit children from a range of ages and can grow along with smaller children. It has a convenient lock and fold mechanism making it easy to fold down and store or transport. At a very affordable price point, this scooter is ideal for younger kids or those just looking to dabble in scooting.
Pros
Unicorn design
Light up wheels
Adjustable height
Foldable
Inexpensive
Cons
Not as robust as other scooters
10.
Razor E300 Electric Scooter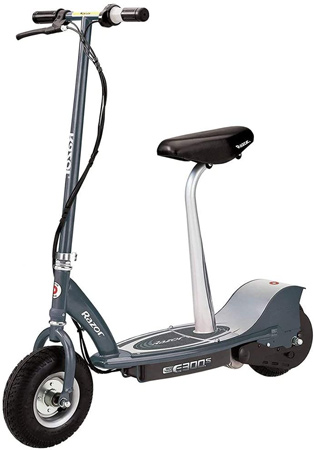 Why we like it: For older teens and adults this electric scooter is one of the fastest on the market.
The Razor E300 Electric Scooter is one of the fastest electric scooters on the market, reaching speeds of up to 15 mph. It can offer up to 40 minutes of ride time from a single charge, and with its huge deck and detachable seat, this scooter is perfect for older teens or even adults, with a maximum user weight of 220 pounds.
The wide front and rear pneumatic tires help to provide both grip and suspension for a super-smooth ride even at higher speeds. The acceleration and brakes are both hand-operated for easy control whilst riding. Whilst using an electric scooter doesn't contribute to cardiovascular fitness it does develop other skills that are useful throughout life such as balance, spatial awareness and an understanding of technology.
Pros
Available in different colors
Speeds up to
Up to 40 minutes continuous use
Age 13+
220 lbs max user weight
11.
Razor 360 Three-wheeled Power Rider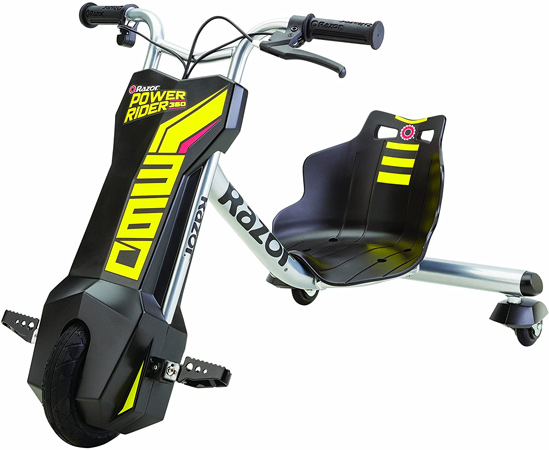 Why we like it: An electric-powered 3-wheeler from popular brand Razor.
Not quite a kick scooter the Razor 360 Three-wheeled Power Rider is an electric-powered 3-wheeled ride-on toy. From a sitting position, children can ride at speeds up to 9 mph by using the push button throttle. This is a toy with plenty of appeal and is suitable from age 8 upwards.
Whilst it won't improve a child's health or get them exercising there are still plenty of skills to master, like spatial awareness and specialized stunts, in fact, this rider is built for them! The front-wheel provides a comfortable ride whilst the rear wheels are on castors to enable spins and drifts. To keep children safe there is a hand-operated brake and tough rubber grips. This rider toy is suitable for users weighing up to 120 pounds.
Pros
30 mins ride time
Age 8+
Up to 9 mph
Battery charger included
Perfect for drift and spin stunts
Cons
Vehicle not to be used on public roads/pavements; vehicle must be used on private property
12.
3StyleScooters® RGS-2 Kids Three Wheel Kick Scooter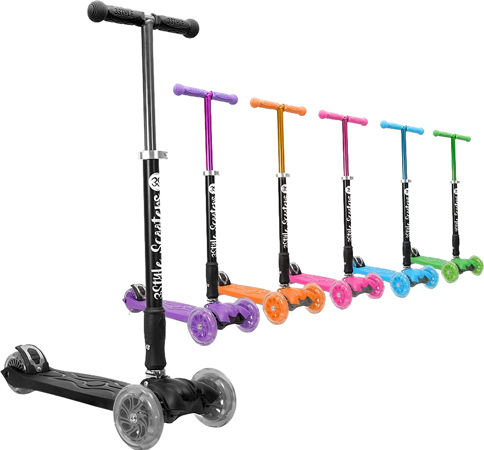 Why we like it: Light-up flashing wheels this lightweight scooter is perfect for 5-8 year old children.
Designed for children aged 5 to 8-years-old the 3StyleScooters RGS-2 Kids Three Wheel Kick Scooter has a variety of exciting features. The wheels are designed to give a smooth, fast ride whilst simultaneously providing excitement for younger kids as they light-up with flashing LED lights in a range of colors.
This scooter uses a patented tilt-to-turn maneuvering system which makes riding and steering much easier for younger children and feels very intuitive to them. It also helps increase their c-ordination and bodily awareness. The scooter is designed to be extremely lightweight and portable and has an easy-fold design to make it convenient to carry and store so it can be taken along on all kinds of adventures.
Pros
Age 5-8
Available in different colors
Light up wheels
Tilt-to-turn
Adjustable height settings
Cons
Only suitable up to approx. 8 years
13.
Apollo XXL Foldable Wheel Scooter 200 mm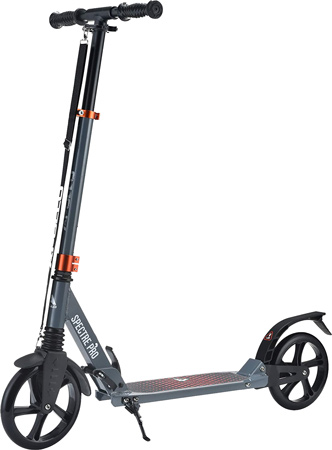 Why we like it: Designed for adults this scooter makes a great ride for teens too.
The Apollo XXL Foldable Wheel Scooter 200m is designed to be perfect for adult commuters to take along on trains, buses, trains and other public transport, so it is foldable and height-adjustable but these features make this ideal for teens too.
The scooter is equipped with front and rear shock absorbers; these springs above the front wheel and below the deck on the rear wheel are like those found on mountain bikes and offer similar suspension so the scooter is extremely smooth to ride. The 8 inch high rebound wheels are designed for riding at top speeds and the practical folding mechanism is super quick and easy to use allowing the scooter to be folded and stored away in a matter of seconds. This scooter is suitable for children from age 7 and adults from 45 inches to 75 inches, with up to 220 pounds load capacity.
Pros
Available in a range of colors
Max user weight 220 lbs
Easy to fold
Shock absorbers
Company supports charity projects
Cons
Not suitable for under 7s
14.
Bikestar Kick Scooter with Brakes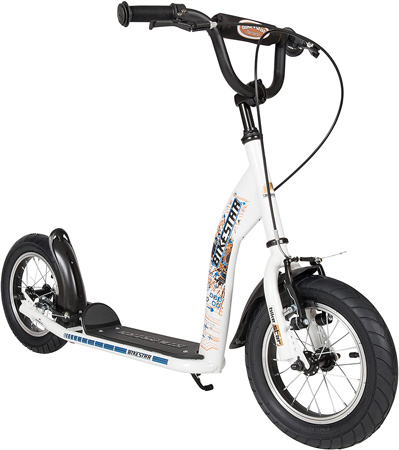 Why we like it: Air-filled tires and sturdy steel tube framework make this scooter perfect for off-roading or stunts.
Designed for children from around 7 years old or 50 inches tall this scooter is designed for off-road riding and daring stunts. The air-filled tires offer a smooth ride on a range of surfaces and great suspension too, making this scooter ideal for both off-road riding and stunts.
Even though this scooter is built for stunts, it has also been designed with safety at the forefront and has a sturdy steel tube frame, with a skid-proof footboard to stop slips whilst riding. The strong rear wheel brake is hand-operated, similar to a bike's brake and makes playing and stunting safe and secure. The paint on the frame is designed to resist impact so there should be no chips, crapes or crack no matter how many stunts are landed!
Pros
Air-filled tires
Good suspension
Built-in side stand
Similar to a bike
Strong hand-operated brake
15.
Razor S Sport Scooter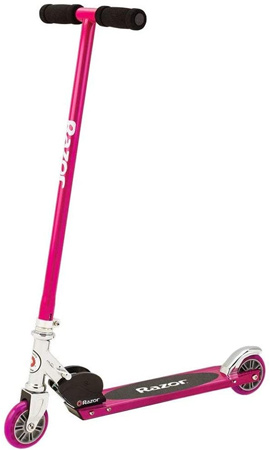 Why we like it: Unisex scooter designed for both street and stunt use.
Designed for both simple street riding, and exciting stunt usage, the Razor S Scooter is made with high-quality materials and is built to last. It can stand up to whatever rigors the user throws at it with a steel T-Tube providing strength and stability to the entire scooter and the Scooter's Aluminium deck is designed to support children and adults up to 220 pounds in weight.
This scooter is extremely easy to store and carry and will fit in car boots, large bags, and in pram storage baskets too so it's perfect for taking on the go, for days out, and even for vacations. This scooter is fun for children to ride, with easy-grip handlebars helping them maintain control over the scooter, and encourages children to get active and enjoy the outdoors.
Pros
220 lbs max user weight
Available in pink or blue
Age 6+
Easy to fold and store
Strong and stable
Cons
Handlebar height not adjustable
Final words
Scooters come in a range of different styles and we have outlined some of the best scooters for children with a range of different features, but if you're looking at buying a scooter it's important to consider scooter safety too. Protecting the head from injury seems obvious when a child is riding a bike, but often people forget to do so when riding scooters, but this is really important! You should make sure that children have a helmet on whenever they're out and about riding a scooter. There are plenty of colorful, fun designs available so you can buy a helmet that suits their style or interest to encourage wearing it. If your child is attempting stunts then arm and knee pads, like those worn for skateboarding, will be useful too.
As well as the right safety gear it's important to make sure that children understand how to ride safely; for younger children, this will mean teaching them the right technique and ensuring they have lots of practice whilst for older children it will mean a discussion about where and how to ride making sure that they are aware of how their brakes work, how to look out for oncoming traffic, how to position themselves on roads or pavements and how to call for help if they need it. With all these precautions taken care of, parents can relax and watch their children enjoy the outdoors and taking part in physical exercise with their new scooter!