A dollhouse is a toy that never gets old, their appeal seems to last through the ages. As well as making a lovely addition to a kid's bedroom or playroom, dollhouses offer a whole host of developmental opportunities. The opportunity for creativity and imaginative role-play is the primary benefit of dollhouses.
Imaginative play with small figures gives children the opportunity to create and experiment with a range of different social situations and scenarios. This gives them a safe place to test out different concepts and responses and make sense of the social world. However, there are now so many different kinds of dollhouses on the market that it can be difficult to select the right one, with such an array of features available. Here are 11 of the best.
1.

Best Premium Dollhouse: KidKraft Majestic Mansion Wooden Dollhouse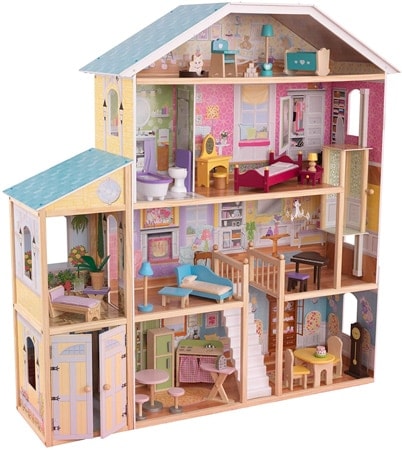 Why we like it: A luxurious mansion with its very own elevator with all the furniture and accessories included.
This luxurious mansion stands at around 53 inches tall and has 4 floors, 8 rooms and its very own elevator to move from floor to floor. With all the accessories and furniture included in the set, it's easy to let children's imaginations and creativity flourish as they design their own rooms and use the set for plenty of small world play.
The KidKraft Majestic Mansion Wooden Dollhouse is made from high-quality wood, making it much easier on the environment than plastic products and it is really built to last. The product is easy to put together and comes with full instructions, perfect as a construction project before getting down to playing.
Pros
Wooden toy; more eco friendly
Built to last
4 floors and 8 rooms
54 inches tall
Comes with furniture
Cons
Large item requires space to play and store
2.

Best Barbie Dollhouse: Barbie Estate Dreamhouse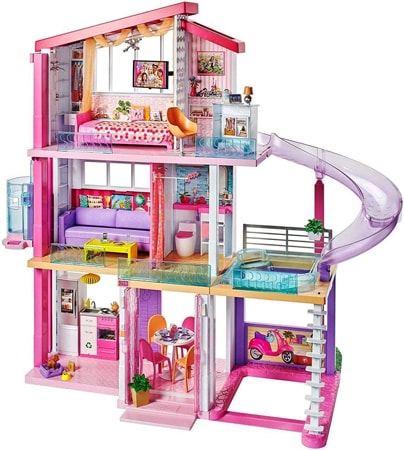 Why we like it: The Barbie dreamhouse has been coveted by little girls throughout the ages and this version has been brought right up to date.
The Barbie Dreamhouse is an absolutely iconic product, coveted by little girls throughout the ages. Every few years the dreamhouse is updated and upgraded and this one has 3 floors, 8 rooms and a real swimming pool! Lights and sounds add further realism and encourage role-play, storytelling and imaginative play.
​This Barbie Dreamhouse also comes with more than 65 pieces of furniture and accessories for plenty of make-believe scenarios and of course, everything is compatible with other Barbie products so you can endlessly expand play with other Barbie dolls, toys or accessories and make the play suit your own narrative.
Pros
3 floors, 8 rooms
Swimming pool
Light and sounds
65 additional accessories
Popular Barbie brand
3.

Best Wooden Dollhouse: Hape All Season House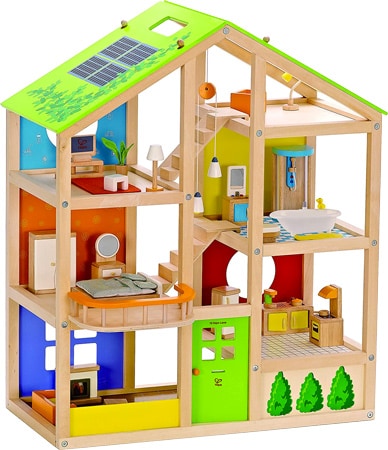 Why we like it: Sustainable, beautiful and versatile house that's easy to assemble and play.
The Hape All Season House is ideal for lasting throughout childhood; it comes from a company with a commitment to sustainability and as such is made with robust and sustainable materials. It is compliant with international quality standards and is built to last. This house also complies with international safety standards so there are no sharp edges or finger traps.
The house is easy to assemble, has 6 rooms, moveable stairs, and reversible seasonal themes with both summer and winter themes. The set includes 4 furniture sets for a master bedroom, family bathroom, living room and kitchen. Perfect for open-ended and imaginative play, this house from Hape is also less "gendered" than many on the market.
Pros
Made with sustainable materials
4 furniture sets
Easy to assemble
6 rooms
Moveable stairs
4.

Best Budget Dollhouse: Sylvanian Families Red Roof Country Home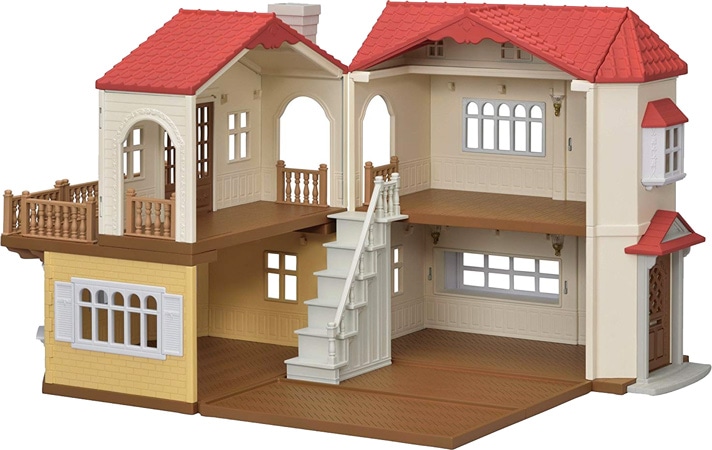 Why we like it: From the popular Sylvanian Families brand this country home is perfect for an array of sweet furry creatures.
Sylvanian Families seem to be an evergreen brand, standing the test of time with its sweet fuzzy little animal families and the Sylvanian Families Red Roof Country Home is the perfect home for a whole host of Sylvanian Families animals.
Suitable for children aged 3 and up this country home opens out wide to make playing really easy. Parts of the house are removable and it is also compatible with the Cosy Cottage which is sold separately to make a large. 3-floor home. Ideal for stimulating imaginative role-play with Sylvanian Families creatures, this is a dollhouse whose appeal will endure through the ages.
Pros
Popular brand
Compatible with other Sylvanian Families sets
Real lights can be turned on and off
2 floors
Can be opened up for play
Cons
Small parts; not suitable for children under 3
Accessories and mini-figures not included
5.

Best Stylish Dollhouse: KidKraft Brooklyn's Loft Wooden Dolls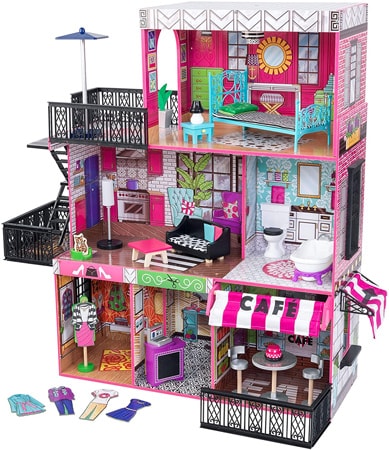 Why we like it: A vibrant, modern dollhouse offering hours of fun.
The KidKraft Brooklyn's Loft Wooden Dolls set is a vibrant, modern dollhouse with 3 floors, 6 rooms and 2 outdoor areas. It comes with a set of 25 accessories so children can design their own home and the house itself also features lights and sounds to add interest and realism to imaginative play.
This play is just over 42 inches tall and is made from high-quality wood, built to last as well as being more eco-friendly than plastic dollhouses. Whilst some construction is needed, full instructions are included and the construction is fairly quick and simple, so you can get straight on with playing. It's perfect for use with 12-inch dolls and the up to date design should make it a firm favorite with kids of all ages.
Pros
3 floors, 6 rooms, 2 outdoor areas
42 inches tall
25 accessories included
Lights and sounds
Built to last
6.

Best Playmobil Dollhouse: Playmobil Large Dollhouse with Doorbell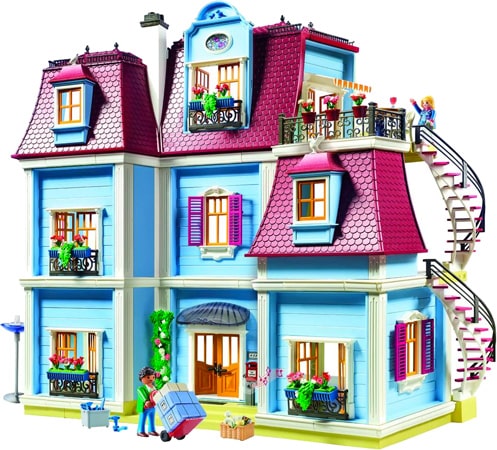 Why we like it: Compatible with other Playmobil sets this large dollhouse is the ideal base for imaginative play.
Playmobil is a popular and timeless brand with tonnes of opportunities for expanding imaginative play. This Playmobil Large Dollhouse with Doorbell makes the ideal base for creative role-play as most children have experience of home and family and can then expand their narratives from there. Playmobil is designed for children aged 4 and up and is specifically made to fit easily into kids' hands and be easy to hold.
This large dollhouse has 2 floors, a rooftop terrace and spiral staircases but can be combined with other Playmobil sets which are sold separately; including a floor extension, family kitchen and comfortable living room. The set comes with 2 figures and loads of accessories as well as the real doorbell which will add some realism to kids' role-play.
Pros
Popular Playmobil brand
Compatible with other Playmobil sets
2 floors
Age-appropriate sized pieces for younger children
Working doorbell
7.

Best Dollhouse for Toddlers: Melissa & Doug Hi-Rise Wooden Dollhouse and Furniture Set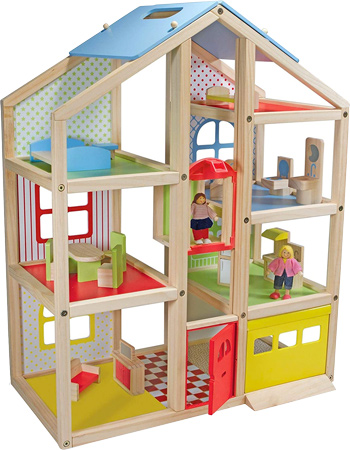 Why we like it: A traditional wooden dollhouse in fresh appealing colors, perfect for open-ended play.
Melissa & Doug is a brand synonymous with high-quality early childhood play equipment. Their toys are beautifully made with high-quality wood to stand up to the rigors of being played with regularly by kids and tend to be open-ended to encourage imagination and creativity in play. The Melissa & Doug Hi-Rise Wooden Dollhouse and Furniture Set is no exception to the brand's reputation. It is made with sturdy and sustainable wood and built to last and has plenty of opportunities for creative play.
This dollhouse has 6 rooms, an elevator and a garage as well as coming with 3 play-figures and 15 pieces of furniture so there are plenty of opportunities for kids to design their own space and play narrative. This house is open-sided, making it ideal for kids age 3 to 6 to play with easy access, but is built to last a lifetime.
Pros
Wooden dollhouse
High-quality construction
Ideal for ages 3-6
3 play figures included
15 pieces of furniture
Cons
Better for younger children
8.

L.O.L. Surprise! O.M.G. House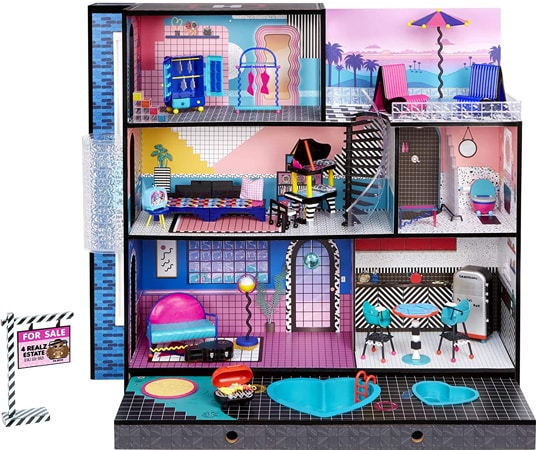 Why we like it: From popular the L.O.L range, the O.M.G house has over 85 surprises and is ideal for use with L.O.L dolls.
The L.O.L range is hugely popular with girls in a wide age range and this offering from the brand is sure to be coveted by many! The L.O.L Surprise! O. M. G. House is perfectly designed for play with L.O.L Dolls and includes over 85 surprises.
This real wooden dollhouse measures 36 inches high and wide and has 3 floors and 6 rooms for children to arrange and play imaginatively with dolls. It includes a bedroom, bathroom, kitchen, living room, patio, and fashion closet. As well as a working elevator, spiral staircase, pool, and hot tub. Some of the furniture transforms to extend play and offer new play possibilities. With working lights and sounds, this is an exciting and detailed dollhouse with so much potential for creative play.
Pros
Popular L.O.L Brand
85 surprises
Wooden dollhouse
Fully furnished
36 inches tall
9.

Barbie Malibu House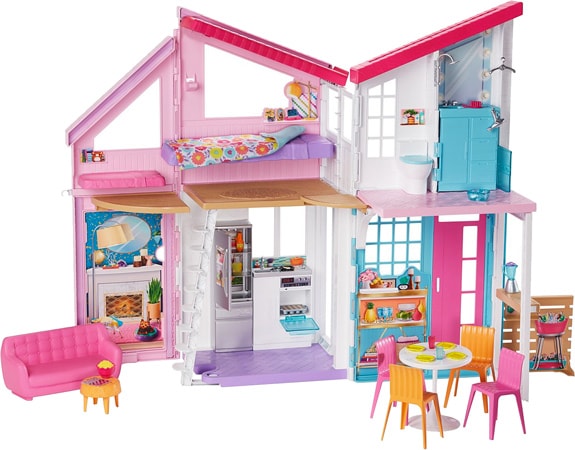 Why we like it: A dollhouse playset compatible with Barbie products to encourage imaginative play and social skills.
Dollhouses promote all sorts of imaginative, creative role play and allow children to develop their speech and language skills as they tell and narrate floors, and give characters speech within their play. The Barbie Malibu House will appeal to a range of ages and can be used with other Barbie products and dolls.
This Barbie house has 2 floors and 6 rooms and opens outwards to create a play space up to 24 inches wide, which makes it easier for children to access the house and play. The furniture is transformable to expand the ways to play; children can flip the wall in the living room to reveal an entertainment room and swing, or pull a bunk bed out of the bedroom ceiling! The set comes with more than 25 accessories to support imaginative play and is ideal for children aged 3 and up.
Pros
Popular Barbie brand
Fold closed for easy storage
25 accessories included
2 floors, 6 rooms
10.

KidKraft Chelsea Cottage Wooden Dollhouse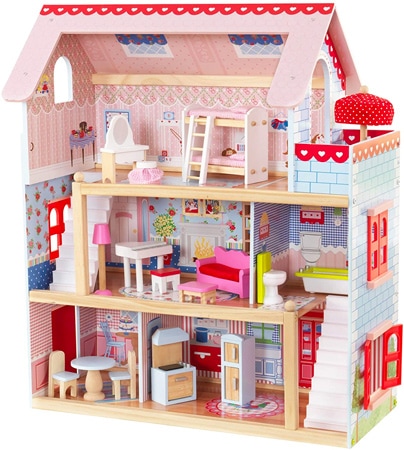 Why we like it: A cozy cottage with functional features to encourage lots of imaginative role play!
The KidKraft Chelsea Cottage Wooden Dollhouse is a cozy, quaint home ideal for children to use as a prop for their imaginative roleplay. It has 3 floors, 5 rooms and is crafted with high-quality wood, making it more sustainable than plastic products and more robust too; this is a Dollhouse that is built to last.
The set comes with a kit of 16 furniture pieces so children can exercise their creativity in designing and laying out rooms. The dollhouse also has functional window shutters, molded staircases, and intricate artwork on every panel. It does need some assembly but this is relatively simple and full instructions are included. Ideal for kids age 3 and up this is a set that will last many years and offer plenty of space for creative play.
Pros
3 floors 5 rooms
Made with high-quality wood
Working window shutters
16 pieces of furniture
Built to last
11.

Peppa Pig Peppa's Family Home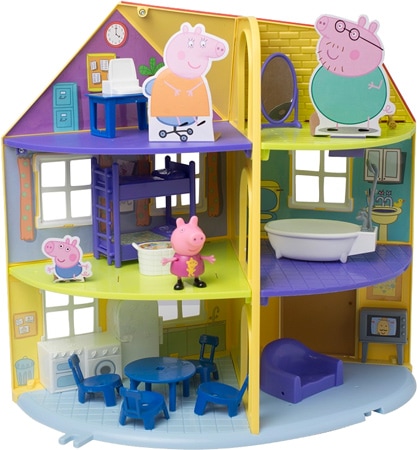 Why we like it: Based on the popular Peppa Pig character and her family this is a lovely set for younger children.
Peppa Pig is hugely popular with younger children and this set would be perfect for little ones to begin to expand their imaginative play by starting out with well-known characters and recreating storylines they have seen in the books or TV programs before beginning to create their own based on what they know about the characters.
This huge Peppa Pig Peppa's Family Home set has a kitchen, living room, bedroom, bathroom, office and attic room for Peppa to play in and plenty of furniture and accessories to enhance play. The set comes with an articulated Peppa figure and other characters can be bought separately.
Pros
Based on popular Peppa Pig characters
Furniture included
Includes articulated Peppa Pig figure
Additional figures available to purchase
Moving parts
Cons
Unlikely to appeal to older children
Final words
These 11 dollhouses represent a selection of the best on the market and are all very different so that you can choose one to suit the child or children you are buying for and their age, interests and needs. All of these dollhouses will help to support the development of imagination and creativity as well as giving children a space to experiment with a range of social situations.
Dollhouses also contribute to the development of speech and language as children begin to use speech to narrate their play or talk as characters! Fine-motor skills can be improved too as children use their hands to hold dolls, set up and move furniture and give dolls movement. Spatial awareness can be improved when children play as they navigate past objects and make judgments about what will fit where. Ideal for a range of ages dollhouses are a toy that won't go out of fashion and will be used frequently so it's important to buy the right one, we hope that the dollhouses listed here will help you as you choose!