Dinosaurs have fascinated adults and children alike for many years. They're a really popular interest for children whose imaginations are captured by the idea of these giant, prehistoric reptiles and many children enjoy learning the names of dinosaurs and absorbing a wealth of knowledge about the creatures' size, eating habits and habitats.
So, if you have a dinosaur fan in your life you might be wondering which are the best dinosaur toys in 2022. We've brought together a selection of the best to help you choose something that will further a child's interest in dinosaurs;
1.
Dinosaur Toy Figure with Playmat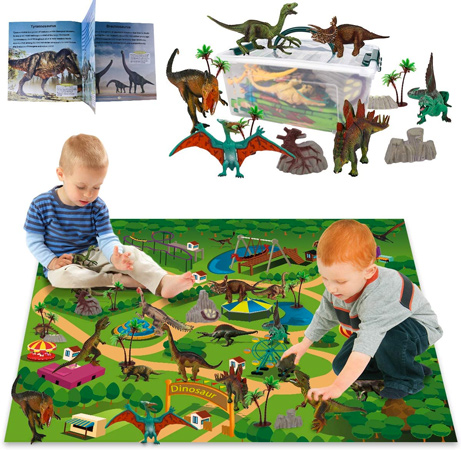 Why we like it: Build your own dinosaur theme park with a huge range of dinosaurs.
With the Dinosaur Toy Figure with Playmat set it's easy to create your own dinosaur theme park, just like Jurassic park! The set includes 12 realistic dinosaur models, trees, rocks, a dinosaur playmat to serve as a base for play, a dinosaur name booklet and a storage box.
Using the included booklet children can learn the names of dinosaurs and begin to look at similarities and differences between types of dinosaurs, and learn about why they were given their names. The playmat is designed to be large enough for 2 or 3 children to play with at the same time, so this set is ideal for social play and interaction and it has been made with non-toxic plastic so you can be confident that it is safe and suitable for children as well as being robust and durable enough for their play.
Pros
12 dinosaurs
Playmat to serve as a base for play
Information booklet included
Comes in a storage box
Non-toxic plastic
Cons
Made with plastic; less eco-friendly option
2.
Lego Jurassic World Dilophosaurus on the Loose Set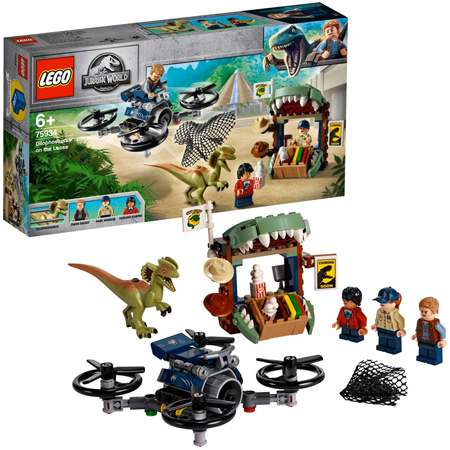 Why we like it: Fun Lego playset with tons of details, ideal for imaginative play based on the Jurassic World movie.
Another collaboration between Lego and Jurassic World, the Lego Jurassic World Dilophosaurus on the Loose Set is sure to delight seasoned Lego or Jurassic World fans and if the child you're buying for likes both then you're certainly on to a winner!
This Lego set includes a market stall shaped like a dinosaur head, Owen Grady's drone, and a dinosaur figure along with accessories like a shovel, broom and net. All the details have been thought of with the drone featuring 4 spinning rotors and a net shooting function. This Lego set also includes 3 mini-figures based on characters in the Jurassic World movie; Owen Grady, Hudson Harper and a park worker, perfect for playing out the scenes seen in the movie.
Pros
Lego and Jurassic World collaboration
Includes lots of accessories
3 mini-figures
Drone has spinning rotors and net shooting function
Compatible with other Lego sets
Cons
Lots of small pieces; careful storage required
3.
Vanplay Take Apart Dinosaur Toy with Electric Drill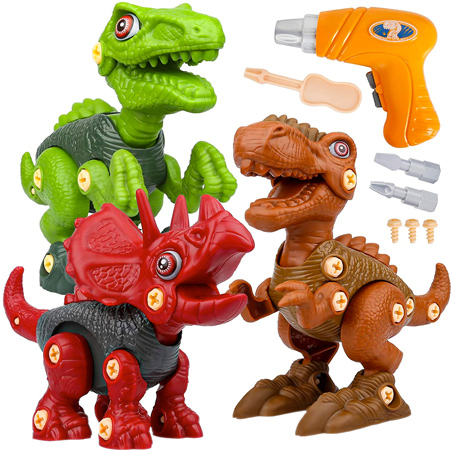 Why we like it: Encourage construction and engineering skills focused around a popular interest.
Construction and engineering skills are in high demand in the workforce, so it might be a good idea to start building these skills early in life! The Vanplay Take Apart Dinosaur Toy with Electric Drill includes 3 different dinosaur toy models that can be taken apart and reconstructed using screws and an included electric drill.
The electric drill is completely safe for children, as it automatically shuts off when it encounters any obstacles or too much tension and can spin both ways helping children to both loosen and tighten the screws included in the dinosaurs. This set is ideal for improving hand-eye coordination and fine motor skills and building up strength in the hands and fingers, needed for handwriting. Made with non-toxic and recyclable plastic, the dinosaur models also help to encourage logic, spatial awareness, and problem-solving skills that kids will need throughout education and life.
Pros
3 models included
Safe electric drill
Improves hand-eye coordination
Non-toxic recyclable plastic
Encourages logic and problem-solving skills
Cons
Requires batteries; not included
Small parts
4.
Jurassic World Destroy 'n Devour Indominus Rex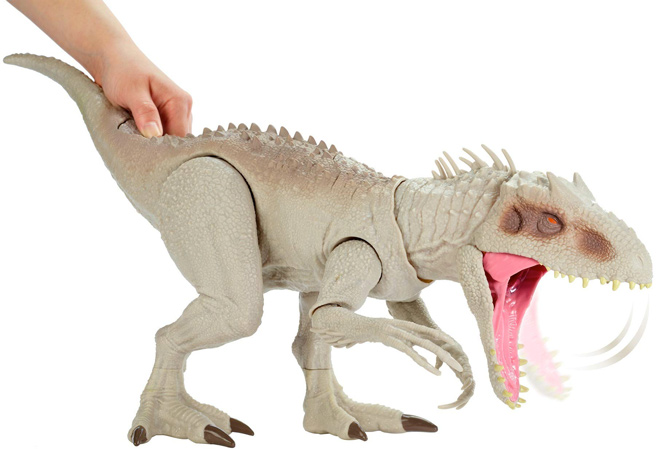 Why we like it: Inspired by the Jurassic World movie this dinosaur is sure to be a popular addition to a collection.
What do you buy for a kid who already has all the usual types of dinosaur in their collection but is still a huge dinosaur fan? How about an Indominous Rex? If you're thinking that you can't quite remember that dinosaur from the science books you'd be right! The Indominous Rex is a dinosaur masterminded and created by science in the Jurassic World film and is as terrifying as it is deadly.
Ideal for Jurassic World fans, or imaginative kids, the Jurassic World Destroy 'n Devour Indominous Rex makes a great gift. Packed with cool features like arm movement, slashing sounds, jaw chomping and roaring, this action figure is perfect for imaginative role play. There's even an LED light in the throat, highlighting a human action figure the dinosaur has eaten! The figure also comes with a Dino Rivals collector card, with details of all the dinosaur's attributes and statistics. There's even a free app to download where you can scan your dinosaur and find out all about it.
Pros
Based on the Jurassic World film
Movement
Lights and sounds
Comes with dino collector card
Free app
Cons
Not an actual historical dinosaur
5.
VTech Baby Feed Me Dino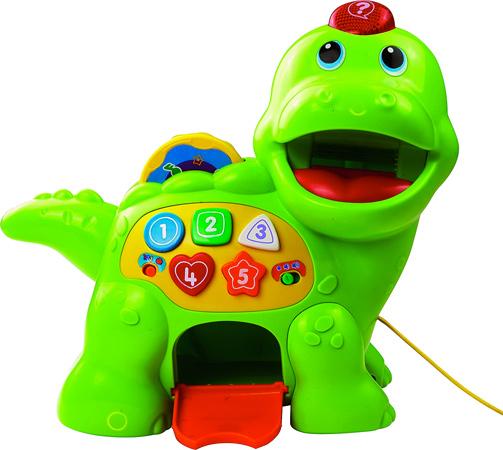 Why we like it: A cute, interactive dino friend with lots of learning benefits.
Vtech is a great brand for introducing kids to technology and promoting learning and the Vtech Baby Feed Me Dino lives up to the brand's reputation for high-quality, kid-friendly technology design. Designed to introduce younger children to numbers, counting, shapes and music this interactive dino friend is as functional as he is cute!
With over 100 sounds and melodies, the Feed Me Dino will delight babies and toddlers who love to dance along to the music and begin to learn about cause and effect by pressing the buttons or by feeding the dinosaur. This toy includes 8 pieces of toy food that can be fed to the dinosaur encouraging younger children to play, explore and experiment, whilst also improving hand-eye coordination and promoting speech and language development.
Pros
Recognized kids technology brand
Introduces numbers, counting and shapes
Over 100 sounds and melodies
Improves hand-eye coordination
Promotes speech and language development
Cons
Batteries required (included)
6.
Playmobil Dinos T-Rex Attack with Raptor and Quad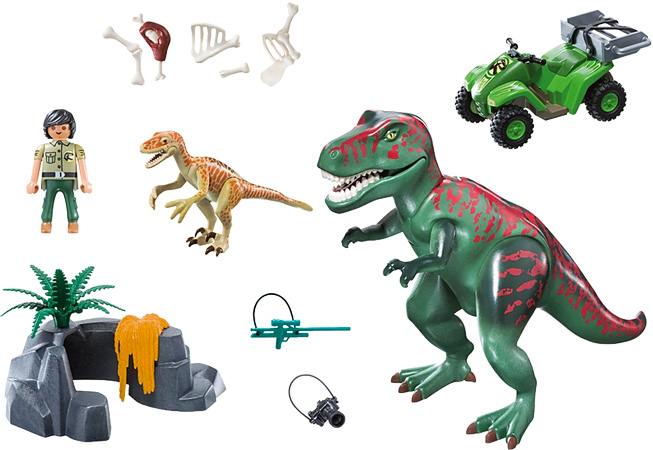 Why we like it: Great dinosaur-themed playset from Playmobil.
Playmobil is an extremely popular play product and with good reason; it promotes both imaginative, creative play and following instructions and construction skills. The Playmobil Dinos T-Rex Attack with Raptor and Quad is a set including 2 dinosaurs; a T-Rex and a raptor, as well as a quad bike.
All Playmobil products are designed to be easy for children to hold and maneuver and this is definitely true for this set. The dinosaur's arms, legs and heads can move, the quad-bike has a pull-back and release motor and the action figure's accessories can be stored either on the figure or on the quad bike.
Pros
Popular Playmobil brand
Designed for children to hold and use
2 dinosaurs and quad bike included
Pull-back motor
Compatible with other Playmobil sets
Cons
Plastic set; less eco-friendly option
7.
Peterkin Soft Touch Baby Dinosaur Playset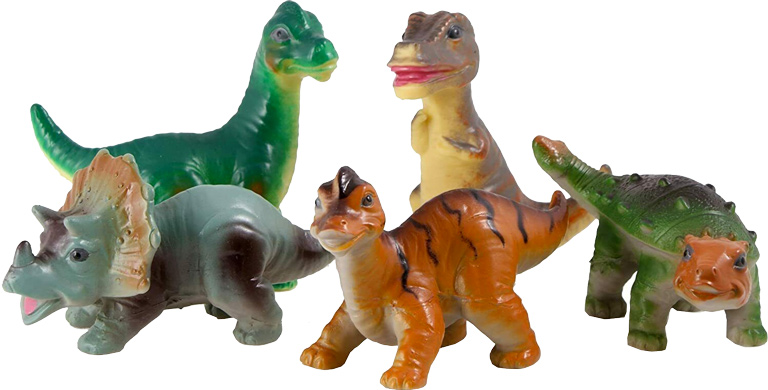 Why we like it: Cute baby dinosaurs ideal for younger children.
Younger children will love the Peterkin Soft Touch Baby Dinosaur Playset; this set of baby dinosaurs is made with soft, pliable material and is perfectly sized for little hands. The set includes 5 different baby dinosaurs; a Brachiosaurus, Triceratops, Tyrannosaurus Rex, Brontosaurus, Stegosaurus and an Ankylosaur.
The dinosaurs are accurately modeled on scientific ideas of what baby dinosaurs would have looked like so they're good for learning as well as play. The dinosaurs are durable enough to be squeezed, or stepped on, or run over with toy cars so are the ideal addition to a toddler's playroom!
Pros
Soft, pliable material
Perfectly sized for toddler hands
5 different baby dinosaurs included
Realistic modelling
Durable and squeezable
8.
Eala 3D Dinosaur LED Night Light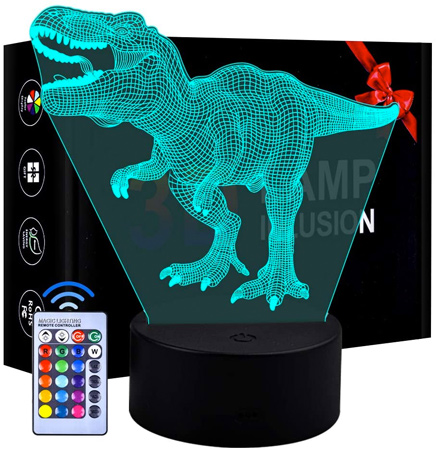 Why we like it: A practical gift for a dinosaur lover this Night-Light is ideal for kids' bedrooms.
If the dinosaur fan you're buying a gift for is already inundated with dinosaur toys, then it may be a good idea to look for something more practical as a gift. The Eala 3D Dinosaur LED Night Light could be a good choice; not only is it dinosaur-themed and incredibly cool-looking, but it is also a useful item for kids to have in the bedroom, so both parents and kids will be happy with this gift!
Combining acrylic and two-dimensional panels this Nightlight works to create an impressive 3D dinosaur image adding to the overall décor of the bedroom whilst also providing a gentle glow of light at night. The color of the light can be changed with buttons on the lamp or remote control so you can match the color to your room or your mood. The lamp can be powered with a USB cable or with batteries.
Pros
Practical gift
Dim light
3D dinosaur image
Matches décor
Color changing
9.
Melissa & Doug Dinosaur Stamp Set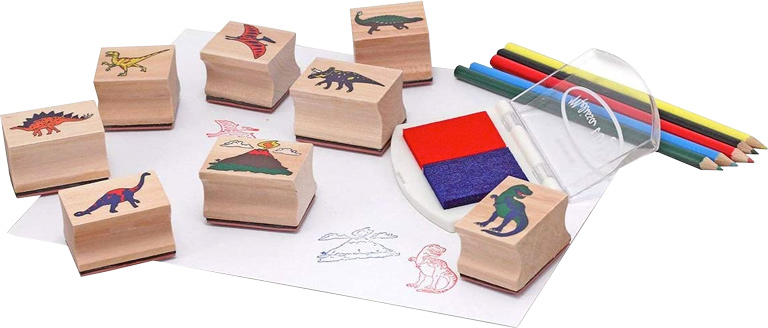 Why we like it: Dinosaur-themed art activity to encourage creativity.
Another option for a child who already has all the dinosaur toys the Melissa & Doug Dinosaur Stamp Set is something a little different whilst still building on children's interest in dinosaurs. Melissa & Doug is a brand well known for its eco-friendly wooden toys and this set is no exception, plastic usage is minimal, with the stamps being primarily crafted in wood with a lovely wooden storage box.
Stamping is a great activity for children to learn about cause and effect as well as helping to develop hand-eye coordination. The set includes 8 dinosaur-themed stamps and an ink pad so children can develop their own creativity as they create cards, pictures and more.
Pros
Eco-friendly wooden toy
Comes with storage box
8 stamps
5 colored pencils included
Develops hand-eye coordination
10.
Lego Creator Mighty Dinosaurs Toy, 3 in 1 Model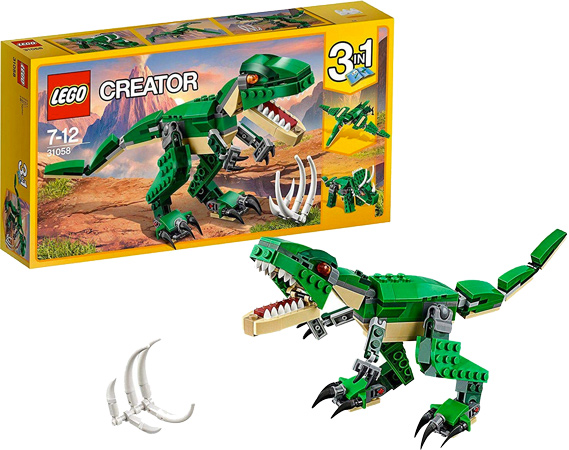 Why we like it: 3 models in one set; will you build the T-rex, the Triceratops or the Pterodactyl?
The Lego Creator Mighty Dinosaurs Toy, 3 in 1 Model set is ideal for keeping kids busy! The set can be used to create 3 different models so once one is completed the child can break it down and start again to make the next.
Lego makes a great gift as not only does it keep children entertained but it also helps to develop a range of skills including; following instructions, construction skills, hand-eye coordination, fine motor skills and perseverance. This set is just tricky enough to provide a challenge whilst still being a fun build and the poseable T-rex provides a hands-on introduction to different kinds of joints used in construction.
Pros
3 models in 1 set
Develops construction skills
Improves hand-eye coordination
Challenging build
Compatible with other Lego sets
Cons
Small pieces; not suitable for younger children
11.
Vimzone Dinosaur Cars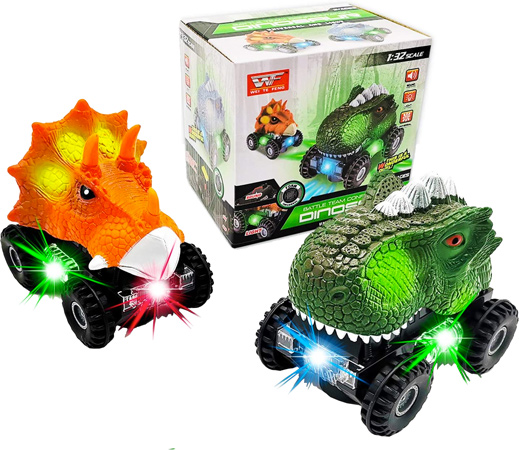 Why we like it: Combine the fun of dinosaurs and cars into two toys, with sounds and lights too!
Dinosaurs and cars are both popular play items for young children, so why not give them both? The Vimzone Dinosaur Cars bring together these two popular interests in two cool toys. The dinosaur cars are designed to look like dinosaurs, with textured details, and yet drive like a car. There are also LED flashing lights and sounds to make the toys extra exciting!
Made with high-quality, durable and BPA-free plastic the Dinosaur Cars is designed to be safe for children whilst standing up to the inevitable knocks and bumps it will endure during play. The batteries and a screwdriver are included in the set so children can start playing right away.
Pros
Combines 2 popular interest
Battery-powered
Lights and sounds
Durable, BPA-free plastic
Batteries and screwdriver included
Cons
Doesn't work well on thick carpet
12.
Lego Jurassic World Baryonyx Face-Off: The Treasure Hunt Dinosaur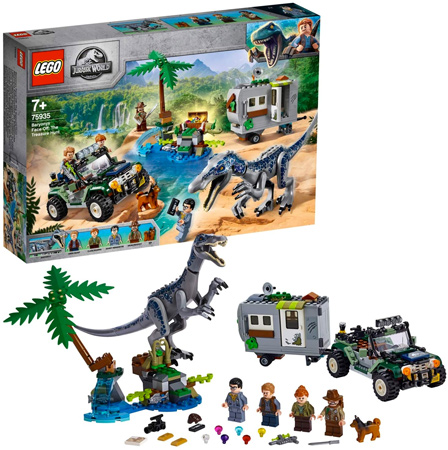 Why we like it: A collaboration between Lego and the Jurassic World brand for building and creative play.
This set is a collaboration between two big brands; Lego and the Jurassic world brand. Lego is a fantastic way to develop a whole host of skills so this set is an ideal way to build on the interest of dinosaurs and Jurassic World in order to promote skills development. The Lego Jurassic World Baryonyx Face-Off: The Treasure Hunt Dinosaur set includes a jungle scene, hidden treasure, a Baryonyx dinosaur, four mini-figures, an offroader and a whole heap of accessories.
Imaginative play is easy with all of the small details included in this set and the mini-figures are based on four characters in the Jurassic World film; Owen Grady, Claire Dearing, Danny Nedermeyer and Sinjin Prescott, which will encourage children to re-enact popular scenes from the movie and give them a jumping-off point for their own narratives too. With 434 pieces this set also provides a challenging construction project.
Pros
2 well-known brands
Based on Jurassic World movie
Mini-figures based on characters from the film
Encourages imaginative play
434 pieces
Cons
Lots of small pieces; careful storage required
13.
Melissa & Doug T-Rex Giant Stuffed Animal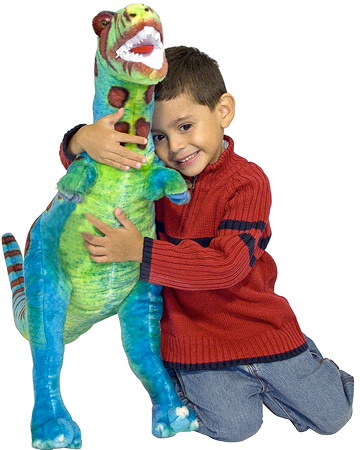 Why we like it: This fun, giant stuffed dinosaur makes a great toy or décor item.
A giant stuffed dinosaur makes a great toy to snuggle or squeeze, or a lovely décor item for a child's bedroom or playroom, so if the child you're buying a gift for has a space in their heart or their home for a giant, lifelike stuffed animal then Melissa & Doug T-Rex Giant Stuffed Animal could be the ideal gift.
This bold and colorful T-Rex stuffed toy stands on 2 legs and features beautiful markings based on what scientists believe dinosaurs may have had. From popular brands, Melissa & Doug, you can buy confidently as the company operates with a 100% happiness guarantee. At 26 inches tall this toy is definitely a statement gift!
Pros
Can be used as a toy or décor
Stands on 2 legs
Realistic markings
100% happiness guarantee
66 inches tall
Cons
Large item requires space
14.
Jurassic World Real Feel Mosasaurus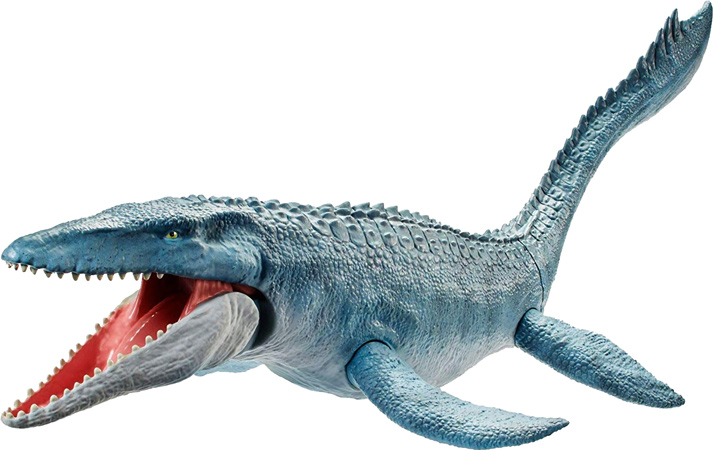 Why we like it: Authentic textured skin means this dinosaur toy feels like the real deal!
Okay, so you can't exactly give a kid a pet dinosaur but the Jurassic World Real Feel Mosasaurus might just be the next best thing. Based on the prehistoric marine reptile, Mosasaurus, this toy is part of the popular Jurassic World film empire. The Mosasaurus has been specially designed and manufactured to feel as real as possible with textured skin, realistic sculpting and natural articulated movement,
Perfect for Jurassic World movie fans, the Mosasaurus is ideal for imaginative role-play. Children can act out scenes from the popular movies or create their own storylines as they play making this the ideal way to boost creativity as well as communication skills as children narrate the plot.
Pros
Based on Jurassic World
Marine creature; adds diversity to dinosaur collection
Textured skin
Articulated movement
Ideal for imaginative role play
Cons
Large figure; storage space required
15.
Dinosaur Race Track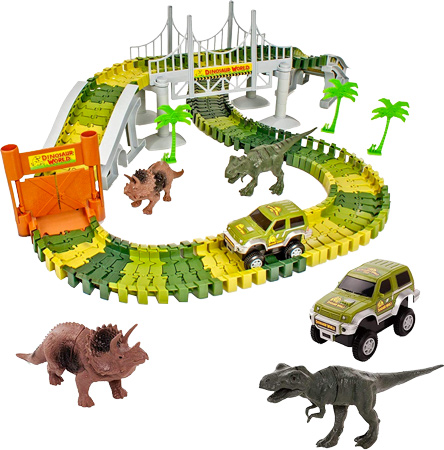 Why we like it: Design your own race track and race to escape from the dinosaurs!
The Dinosaur race track is a fantastic way to combine a few different interests into one toy; racing cars, dinosaurs, construction and technology are all catered for in this set. With 142 track pieces that can be snapped together into an infinite number of different tracks, this is a great toy for promoting construction skills and creativity. The included dinosaur figures encourage imaginative play as the child acts out daring escapes and dinosaur attacks.
The included ranger jeep vehicle is battery operated and follows the tracks, you can design twists, turns, and slopes and the set includes gates and a bridge too. Made with durable, flexible and safe plastic the track pieces are designed to stand up to some rough handling and even glow in the dark. So, switch off the lights and the light-up ranger jeep and glow-in-the-dark track are even more exciting to play with!
Pros
Promotes creativity and construction skills
142 track pieces
Bridge accessories included
Open-ended construction
Glows in the dark
Cons
Batteries required (not included)
Final words
So, there we have some of the best dinosaur toys available in 2022. Since dinosaurs are such a popular interest for children there are plenty of different books, toys and products on the market focused around this theme and the choice can be completely overwhelming. Lots of the toys we have selected cater to multiple interests and encourage the development of plenty of different skills so will be beneficial for children's learning and education as well as really enjoyable for them to play with.
Some parents worry that an interest in dinosaurs leads to violent or aggressive play but it is the exciting, powerful nature of dinosaurs that often appeals to children and imaginative play, even when it seems aggressive is a safe space for children to experiment with different kinds of feelings and emotions. In this regard, dinosaur play can be very helpful, and it has tons of other benefits too! In learning about dinosaurs children learn to follow their own independent interests, research skills, often listening or reading, memorizing facts and then using them in play. As well as all of this, children are introduced to ideas about classification, mathematical measurement and often hone their speech and language skills practicing all those complex names! In short, dinosaurs are a great interest for children as this interest has so many different learning opportunities.
Different age groups will appreciate different toys and products so this is something to bear in mind as you browse the products we've selected, however, many of them will span quite a large age group as we've tried to select toys which are more open-ended and can be used in a variety of ways or combined with other toys to enhance play. Intense interests, like dinosaurs, are ideal for helping children to develop a whole range of skills including; knowledge, persistence, a better attention span, and deeper information-processing skills. In short, this is an interest with the potential to increase IQ so it's definitely one to encourage! We hope that our list has helped you to find the ideal for the dinosaur fan you're buying a gift for.