Barbie has got to be one of the world's most instantly recognizable toys. The first Barbie doll was introduced to the market in 1959 and the Barbie empire has expanded ever since. Playing with Barbie dolls is a great way for children to build social skills and imagination as they play by acting out scenarios and experimenting with different social situations.
Mattel's success with Barbie is down to the fact that they have managed to keep things fresh, improving, innovating and creating new kinds of dolls alongside the original blonde Barbie doll. Today Barbie has a range of houses, vehicles, friends and careers which means that the opportunity to expand a Barbie doll collection is almost endless. With so many different ways to play, and different careers and concepts to experiment with, Barbie is aiming to inspire children to live out their dreams. However, this also means that the choice of Barbie toys for kids can be overwhelming, so we've listed some of the best here to help you narrow down your choice;
1.
Barbie Careers Care Clinic Ambulance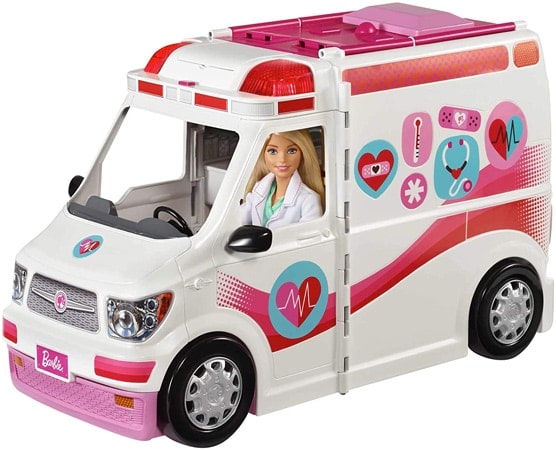 Why we like it: A fully equipped hospital on wheels, perfect for inspiring future medics!
This set is a great way for kids to experiment with an interest in medical professions; The Barbie Careers Care Clinic Ambulance can be folded up to create an ambulance set, or unfolded to create a 3-room hospital equipped with all the medical equipment needed! There's an x-ray machine, a vision chart, an examination room and even a gift shop! The set comes with 20 accessories included, like a stethoscope and blood pressure cuff as well as casts and crutches.
The set doesn't come with a doll but is compatible with all dolls from the extensive barbie range so a child can use their favorite dolls as doctors, nurses, drivers and patients. With siren lights and sounds to enhance realism, this 2-in-1 vehicle makes a great gift for an aspiring medic.
Pros
Encourages an interest in medical professions
Encourages storytelling and imaginative play
20 accessories included
3 rooms in hospital
Lights and sounds
2.
Barbie Dreamhouse Playset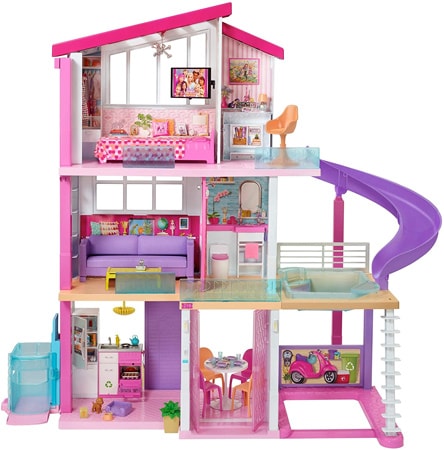 Why we like it: An up-to-date version of the iconic Barbie dreamhouse.
The Barbie Dreamhouse is an absolutely iconic product, coveted by little girls throughout the ages. Every few years the dreamhouse is updated and upgraded and this one has three stories, eight rooms and a real swimming pool! Lights and sounds add further realism and encourage role-play, storytelling and imaginative play.
​This Barbie dreamhouse also comes with more than 65 pieces of furniture and accessories for plenty of make-believe scenarios and of course, everything is compatible with other Barbie products so you can endlessly expand play with other Barbie dolls, toys or accessories and make the play suit your own narrative.
Pros
3 stories, 8 rooms
Swimming pool
Light and sounds
65 additional accessories
Popular Barbie brand
3.
Barbie Dream Camper Playset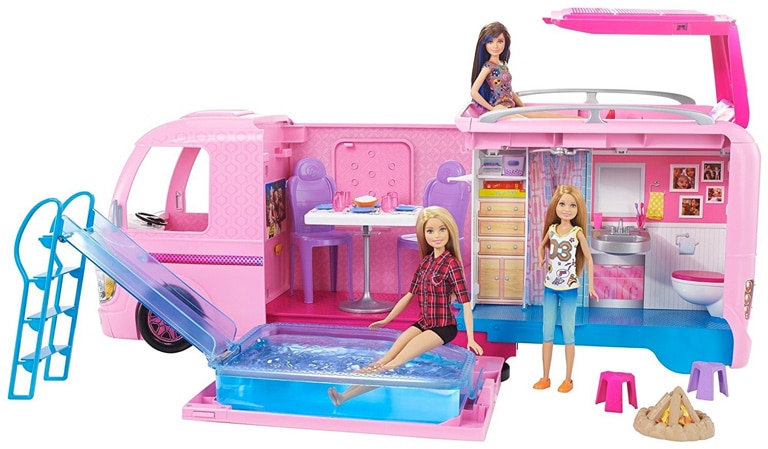 Why we like it: An updated version of the Barbie campervan with a real pool and water slide.
The Barbie camper van set has been around for a while but this particular edition has been modernized and updated to include a range of features. Designed in the signature Barbie pink, this camping RV can be pushed along as a vehicle or transformed into a 2 feet long playset at the push of a button; the side panel of the vehicle opens and the top pops up.
Inside furniture moves and transforms to create bunks, hammocks, tables and chairs. There's even a closet and a bathroom with sink, shower and toilet so Barbie dolls will be camping in real luxury! This set includes a pool that can be filled with water and both a water slide and steps to access this. With plenty of accessories like a fire pit, roasting sticks and marshmallows this set is ideal for storytelling and imaginative play.
Pros
Compatible with everything else in Barbie range
Sleeping spaces for 4 dolls
Swimming pool can be filled with water
Transforms from vehicle to playset
4.
Barbie Ultimate Closet
Why we like it: A safe space to store Barbie's numerous outfits and accessories!
​We all know that Barbie loves clothes and dressing up in different outfits with cute accessories like bags and shoes, but parents of Barbie fans also know that these little bits and pieces can get everywhere! The Barbie Ultimate Closet makes a great gift to solve this problem, with designated spaces to hang outfits and store accessories that will help to keep everything contained, neat and organized and, most importantly, off the floor!
​The closet is of course decorated in Barbie's signature style with plenty of pink and the translucent doors help you to keep a check on what's inside. The fold-out rack turns this product into a mini playset so that Barbies can look through her outfit choices with ease. The carry handle also makes it ideal for taking to friend's houses for playdates or just moving around the house.
Pros
Keeps Barbie accessories organized
Carry handle
Space for outfits and accessories
Translucent doors to check inside
Makes an ideal gift
Cons
Accessories and dolls not included
5.
Hugs 'N' Horses – Barbie, Chelsea and Two Horses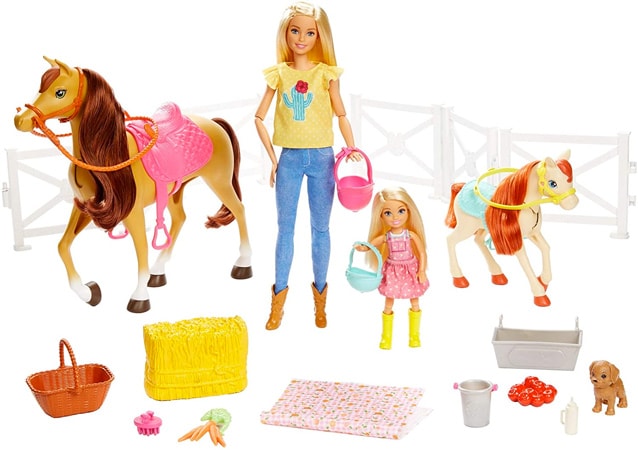 Why we like it: Budding equestrians will love role-playing taking care of horses.
​The Hugs N' Horses- Barbie, Chelsea and two Horses playset is absolutely perfect for budding equestrians or vets. The set comes with 2 dolls; the signature blonde Barbie doll and her little sister Chelsea. Two horses are included in the set so each doll has a horse of her own to look after and ride and there's a significant number of accessories included in the set too.
The horses' heads bob up and down to mimic realistic movements and everything you need to care for horses is included; there's a grooming kit, a feeding trough, ac bucket, apples and carrots, hay bales, a basket and a blanket as well as riding accessories like helmets, bridles and saddles. Perfect for children who love taking care of animals this would make a lovely gift to encourage imaginative play based around horses and horse riding.
Pros
Comes with 2 dolls
15 accessories included
Encourages imaginative role play
Extends interests in horse-riding or animal care
6.
Barbie Dreamplane Playset with Pilot Doll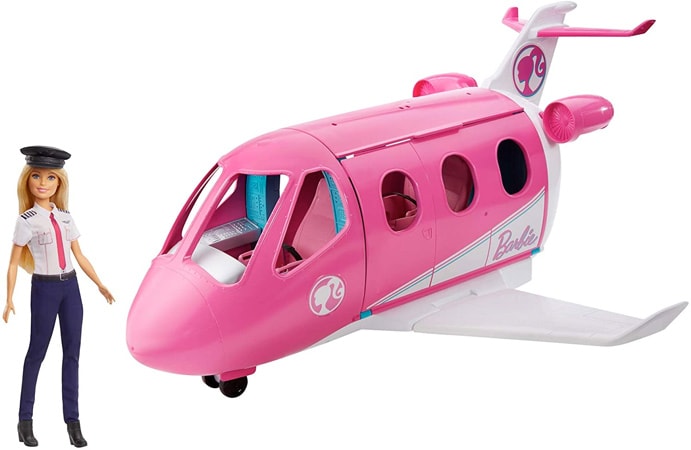 Why we like it: The sky's the limit with the Barbie Dreamplane Playset, encouraging narration and story-telling skills.
The Barbie Dreamplane set is a Barbie-sized plane with all the accessories you'd expect and can be used with dolls from any other set. A plane, in Barbie's signature pink, with wheels can be pushed or pulled along, but easily opens out to encourage easy access for role play. Barbie, dressed as a pilot, will take the controls and potentially inspire children to develop an interest in aviation.
Role-playing going on holiday allows children to improve their narration and story-telling skills as well as recalling and retelling events from their own experience. Barbies are a popular toy to play with alongside other children and with space for two passengers and a pilot, the Barbie Dreamplane Playset encourages this kind of social play. The set includes all the accessories you need to re-enact traveling by plane, such as suitcases, a snack trolley and drinks.
Pros
Compatible with other Barbie sets
Encourages imagination and role-play
Improves narration and story-telling skills
Promotes social play
Accessories included
Cons
Accessories are small pieces requiring careful storage
7.
Barbie Beach Cruiser with Barbie and Ken Dolls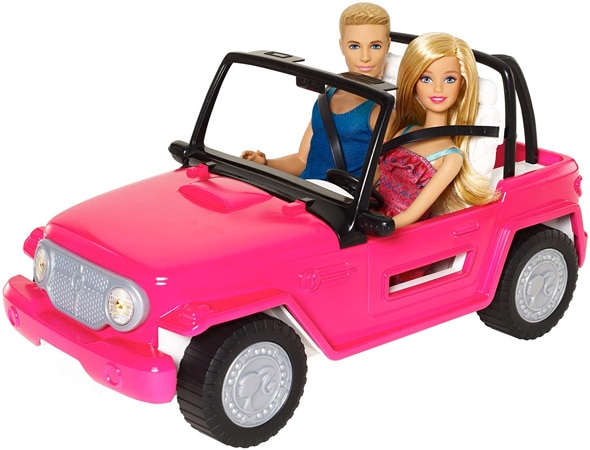 Why we like it: Another vehicle for Barbie! The beach cruiser set includes two dolls so you're ready to play right away.
This two-seater open-top car is the perfect vehicle for Barbie dolls, being a beach cruiser it is designed to take on the dunes as well as the road and of course it's pink! The Barbie Beach Cruiser with Barbie and Ken dolls has stylish design accents on the vehicles such as the shiny, silver Barbie wheels and black accents.
Coming with both a Barbie and a Ken doll this set is ready to play with right away and what's more, both Barbie and Ken are dressed appropriately for the beach; Ken has flip-flops whilst Barbie wears a pretty sundress. This makes this set perfect for imaginative play, dreaming of warm, sunny days relaxing on the beach.
Pros
Includes 2 dolls
Both dolls dressed for the beach
Moving wheels
Signature Barbie pink
Compatible with other sets
8.
Barbie Rainbow Sparkle Hair Doll

Why we like it: Inspire future hairdressers with this bright, fun, rainbow-haired Barbie.
Barbie Rainbow Sparkle Hair doll is perfect for children who love experimenting with different hairstyles. With her long, rainbow locks this Barbie is the perfect model for all kinds of hairstyling fun. She comes with everything you need to create a range of different looks.
Children can use the comb to brush through Barbie's hair or use the hairbands and clips to practice and master a range of different styles including buns, braids and pigtails. Even more exciting than rainbow hair, if that's possible, is sparkly rainbow hair and children have the opportunity to add shimmery glitter to Barbie's rainbow hair using the comb and sparkle gel. The gel tube attaches to the comb to make this less messy and everything washes out with water so they can play again and again.
Pros
Ideal for hairstyling
Hairbands and clips included
Gel attaches to comb for less mess
Washes out with water
Cons
Small tube of gel, will run out after a few uses
9.
Barbie Ken Lifeguard Doll

Why we like it: All set to rescue swimmers in distress, Lifeguard Ken makes a great addition to a collection of Barbie dolls.
Ken is traditionally Barbie's boyfriend and lots of children like to use this to experiment with ideas about friendship, romantic interactions and relationships. Ken, just like Barbie, has a range of different careers and the Barbie Ken Lifeguard Doll showcases Ken dressed as a lifeguard ready to save swimmers in distress.
This Ken doll makes an ideal gift for kids who love the water or swimming as it inspires them towards developing lifeguarding skills themselves. The doll is dressed in a recognizable lifeguard uniform and comes equipped with a whistle and lifebuoy too. At a very reasonable price point, this Ken doll is a great way to add some diversity to a Barbie toy collection.
Pros
Encourages social play
Ideal for kids who love to swim
Comes in lifeguard uniform
Lifeguard accessories included
Cons
Lifeguard tower not included
10.
Barbie Estate Three-Story Townhouse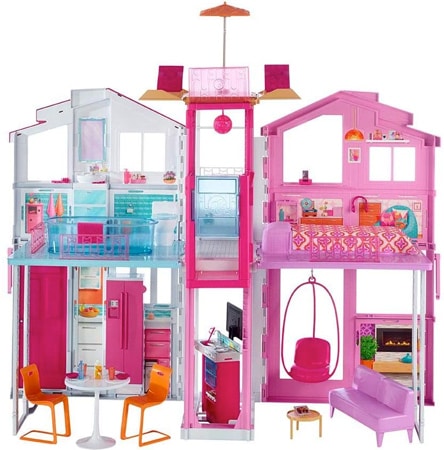 Why we like it: Another beautiful home for Barbie with 3 stories and a rooftop terrace.
Beautiful homes are par for the course with Barbie and the Barbie Estate Three-Story Townhouse is no exception with 3 floors and a roof terrace this tall townhouse boasts plenty of play space, lending itself perfectly to all kinds of imaginative play and storytelling. Playing imaginatively based around home and family is a favorite pastime of children because it is rooted in their everyday experience of home and family life.
With four rooms and an elevator to travel between floors, there is plenty for Barbie and her friends to get up to in this home. Upstairs there's even a closet for her to store all of her clothes and accessories. The set comes with all the accessories and furniture you need to play.
Pros
3 story townhouse
4 rooms
Furniture and accessories included
Perfect for home and family-based role-playing
Encourages storytelling skills
11.
Barbie Babysitter Brunette Doll with Baby and Accessories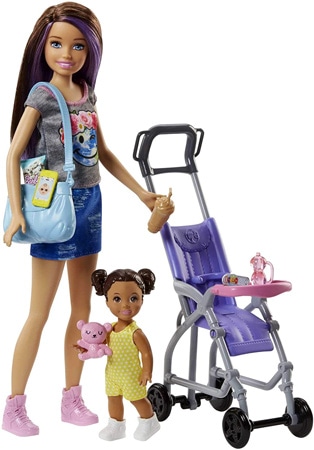 Why we like it: Play out baby care and babysitting narratives with all the accessories included.
Barbie's younger sister Skipper loves to babysit, and this Barbie Babysitter Brunette Doll with Baby and Accessories set is perfect for children who love to play imaginatively with babies. Babysitting is a familiar scenario for many children, lending itself easily to imaginative play narratives.
There are plenty of clever, fun features with this set; you can dip the baby's spoon into cold water and hold it onto the baby's face to see food appear around her mouth as though she has been eating! Then using warm water, you can wipe the baby's face and the messy food will disappear. This is a feature that is sure to delight many aspiring babysitters.
Pros
Brunette Skipper doll
Baby doll included
Perfect for imaginative play
Color change technology on baby's face
Comes with lots of accessories
Cons
Barbie clothes do not fit Skipper
12.
Barbie Dreamtopia Royal Ball Princess Doll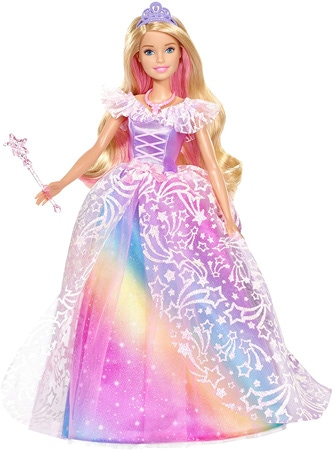 Why we like it: Perfect for princess play the Dreamtopia Royal Ball Princess Doll comes with a range of pretty accessories.
Imaginative princess play is fairly timeless, in that it's something children have enjoyed throughout the ages. The Dreamtopia range is based on an ethereal, sparkly magical world of fairies, mermaids, unicorns and the Barbie Dreamtopia Royal Ball Princess Doll is a doll with a really magical look. She has a glittery rainbow colored ball gown, pink-streaked hair and princess-styled shoes.
​Children can add the finishing touch to the doll's outfit by choosing from multiple accessories that are included with the set; a pink tiara, a purple tiara, a pink necklace, a teal statement necklace and a shimmery pink wand. The set also includes a hairbrush so that Barbie's hair can be brushed and styled.
Pros
Encourages imaginative play
Part of the Dreamtopia range
Multiple accessories included
Hair can be brushed
13.
Barbie Dreamtopia Doll and Castle Set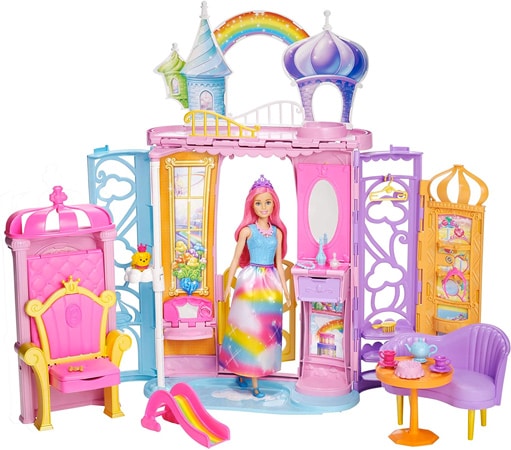 Why we like it: Part of the Dreamtopia range this carry-along playset has some beautiful, magical finishing touches.
The Barbie Dreamtopia range is gaining in popularity fast and with good reason! With plenty of sparkle and magical features, the Dreamtopia range is perfect for supporting childrens' imaginative play. This fairytale castle designed to be perfectly sized for Barbie dolls is designed for portability with an integrated carry-handle.
​The dollhouse opens up to expand the play area and has four different areas with magically transforming furniture to extend the play possibilities; for example, the princess throne folds out into a bed with a soft rainbow-print blanket. The set comes with plenty of accessories including a tea-set and cake, tiaras, necklaces, perfume and a sweet Barbie pet called Honey with his own bone and puppy accessories.
Pros
Four different areas
Furniture included
Transforming furniture
Barbie doll and pet included
Carry-handle for easy-portability
Cons
Larger item requires space to play
14.
Barbie Malibu House Playset
Why we like it: The Barbie Malibu House Playset encourages lots of imaginative roleplay.
Dollhouses promote all sorts of imaginative, creative role play and allow children to develop their speech and language skills as they tell and narrate stories, and give characters speech within their play. The Barbie Malibu House will appeal to a range of ages and can be used with other Barbie products and dolls.
This Barbie house has 2 stories and 6 rooms and opens outwards to create a play space up to 2 feet wide, which makes it easier for children to access the house and play. The furniture is transformable to expand the ways to play; children can flip the wall in the living room to reveal an entertainment room and swing, or pull a bunk bed out of the bedroom ceiling! The set comes with more than 25 accessories to support imaginative play and is ideal for children aged 3 and up.
Pros
Popular Barbie brand
Fold closed for easy storage
25 accessories included
2 stories, 6 rooms
15.
Barbie Skipper Babysitters Inc Climb 'n Explore Playground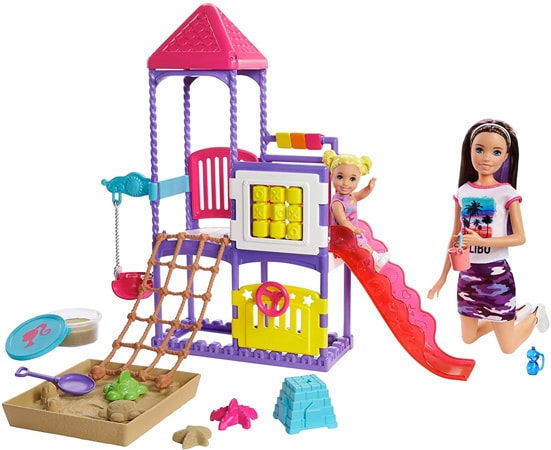 Why we like it: A playground set with working swings and two dolls included.
The Barbie Skipper Babysitters Inc. Climb 'n Explore Playground playset comes with Barbie's younger sister Skipper and a smaller toddler doll. Skipper loves to babysit, making this set ideal for kids who are interested in playing with babies and childcare.
​The playground has a real working swing, moving steering wheel and spinning blocks to play tic tac toe with. The set comes with a container of moldable sand which can be used in the sandbox with a shovel and a castle mold. The set is compatible with all other Barbie sets but is especially ideal for combining with the other sets in the Babysitters range.
Pros
2 dolls included
Encourages an interest in babies and childcare
Working swings, steering wheel and tic tac toe tiles
Comes with moldable sand for the sandbox
Compatible with other Barbie sets
Cons
Standard Barbie clothes do not fit Skipper
Final words
Richard Dickson, president and chief operating officer of Mattel, said:
"Barbie reflects the world girls see around them. Her ability to evolve and grow with the times, while staying true to her spirit, is central to why Barbie is the number one fashion doll in the world."
and we have seen in this list just some of the ways that Barbie toys have evolved for 2022, with a range of different career options, imaginative play scenarios, vehicles and houses.
The great thing about the Barbie range is that all of the sets can be used in collaboration with others; for example, a Dreamtopia doll can take up residence in the Barbie dream house and ride around in the Beach cruiser with Ken whilst Skipper babysits in the backyard Climb 'n explore playground and Chelsea rides the horses! We hope that this list has highlighted some of the best Barbie toys for kids available this year and given you some ideas for gift giving.